The Richard Mille RM67-01 Extra Flat in rose gold – The contemporary "dressy"?
Hi everyone,
I was able to try on, a couple of times, the Richard Mille RM67-01 Extra Flat which was presented in 2015. At the time, it was quite a new offer from the brand, due to its thinner case. In fact, these RMs are maybe one of the most beautiful modern watches I know.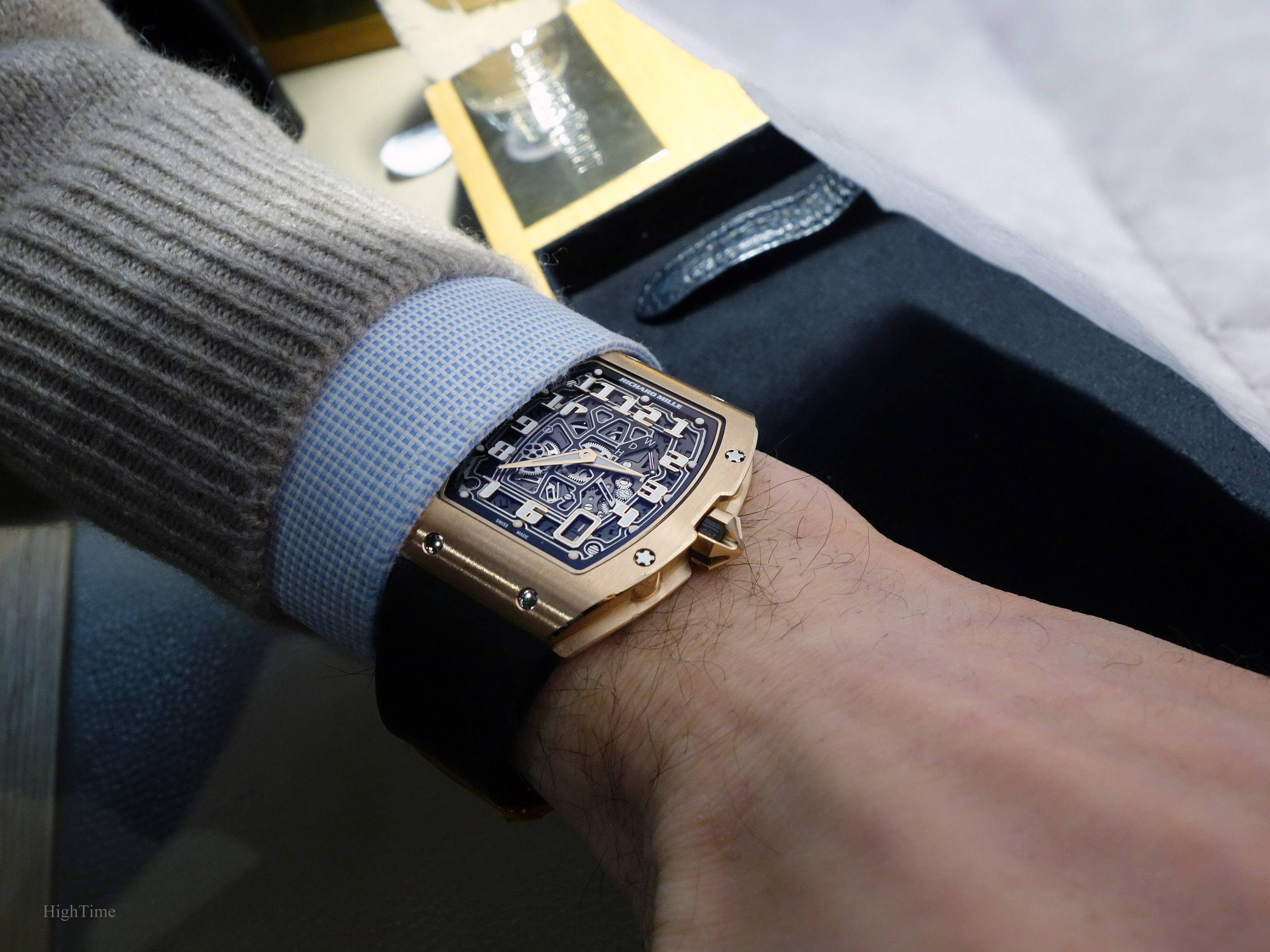 It may have looked as a mere detail back then but compared to the previous models the brand launched, it represented quite a new line-up. Visible below, you may know the square models, the RM17 (Tourbillon) and RM16, that were already thinner (resp. 8.7 and 8.25mm) and considered to be pieces you would choose to wear with a dressier outfit.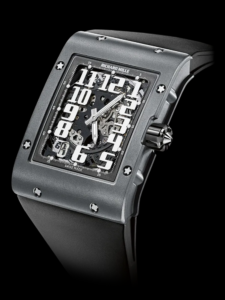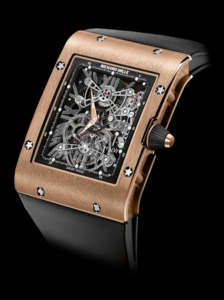 The RM033 (picture below) was another 6.3mm thin interpretation of a classical round piece from Richard Mille's perspective, a modernized round shape case (though a wide 45.7mm).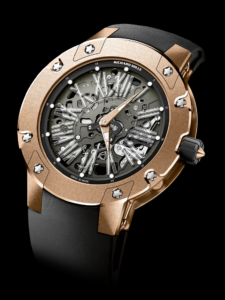 A few years later, we finally discovered the RM027-01 (below), the second Rafael Nadal "extreme" model, that received the first much-thinner tonneau-shaped case (though still 10mm thick due to the Tourbillon and need for a little more space to deal with shocks).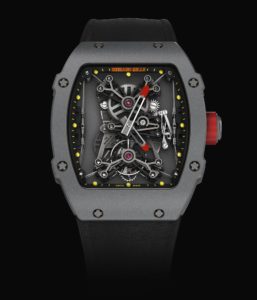 However, people who are more attracted by Richard Mille's tonneau-shaped design didn't have any possibility to opt for a more discreet watch. Such piece would slide more easily under the cuff and be less "visible", especially at work, and would look a little "refined". In a contemporary way, of course.
The RM67-01 Extra Flat is then born to becoming the perfect answer to this question as it doesn't lose what makes RM watches so attractive: the unique style, the modern look, while it is highly technical, very well finished, with a great design and fantastically engineered.
Before entering in the proper review and as a preamble, I would like to say that I'm a great fan of the brand since I discovered it, around 2010, and read a lot about its early period. Many of its strengths, the high finishing (though different from the traditional way), the techniques and of course the materials used, make a whole concept I felt very in line with. Especially since I like high engineered sectors and what is related to automotive fields, space or sciences. The brand brings to watchmaking a whole new definition to finishing or materials. Once we understand and learn about what's behind its specific Hi-Tech terms, it becomes obvious it is right "up there".
A thinner RM philosophy
The watch I handled is in rose gold (and should still be available in white gold or Titanium). When it was launched, the brand was struggling with its limited manufacture output compared to the demand. As a consequence, the Titanium version was delivered more than a year after it was unveiled. To be straight, this case looks totally incredible in that color.
The case (47 x 39 x 7.75mm) is the usual tonneau-shaped 3-part construction. However, it is in a much thinner version than usual. Thus, it is also a little flatter from the bezel's side. Indeed, the central part of the bezel isn't as rounded as an RM010 for instance.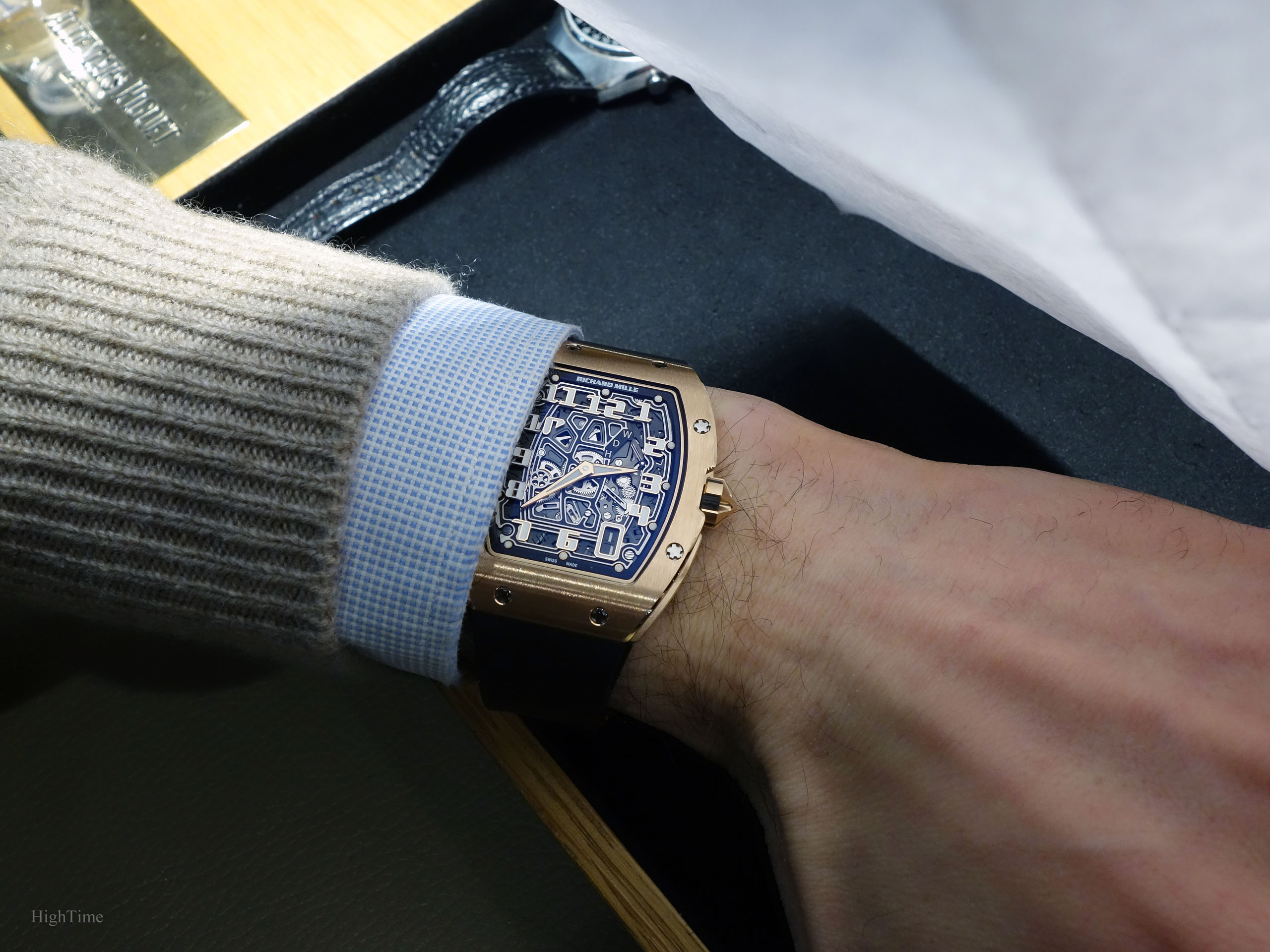 Richard Mille is known as a very desirable sport and highly technical watch brand. As time goes by, I think it is very clever to explore a new side of this aspect (instead of a change in orientation or philosophy) by trying to keep "sport" and "highly technical" meanwhile adding what would seem to be an opposite trend: a touch of elegance.
Indeed, the thinness brings this less spectacular but more elegant spirit that some clients are looking for. When I use the term "elegant" (or even could dare to use "dressy"), you can imagine it isn't in the traditional way. It is indeed rather when comparing the watch to the other sportier models from the collection (thicker at least, sometimes more colourful) and as it can be easily used with a suit. It is a modern interpretation of what "dressy" can be, today and in the future. I think that how things evolve in watchmaking can be bringing new ways of wearing watches or choosing new more contemporary styles we will wear in more dressy situations. Because, in parallel, the standards of lifestyle have evolved significantly over the last decade as well.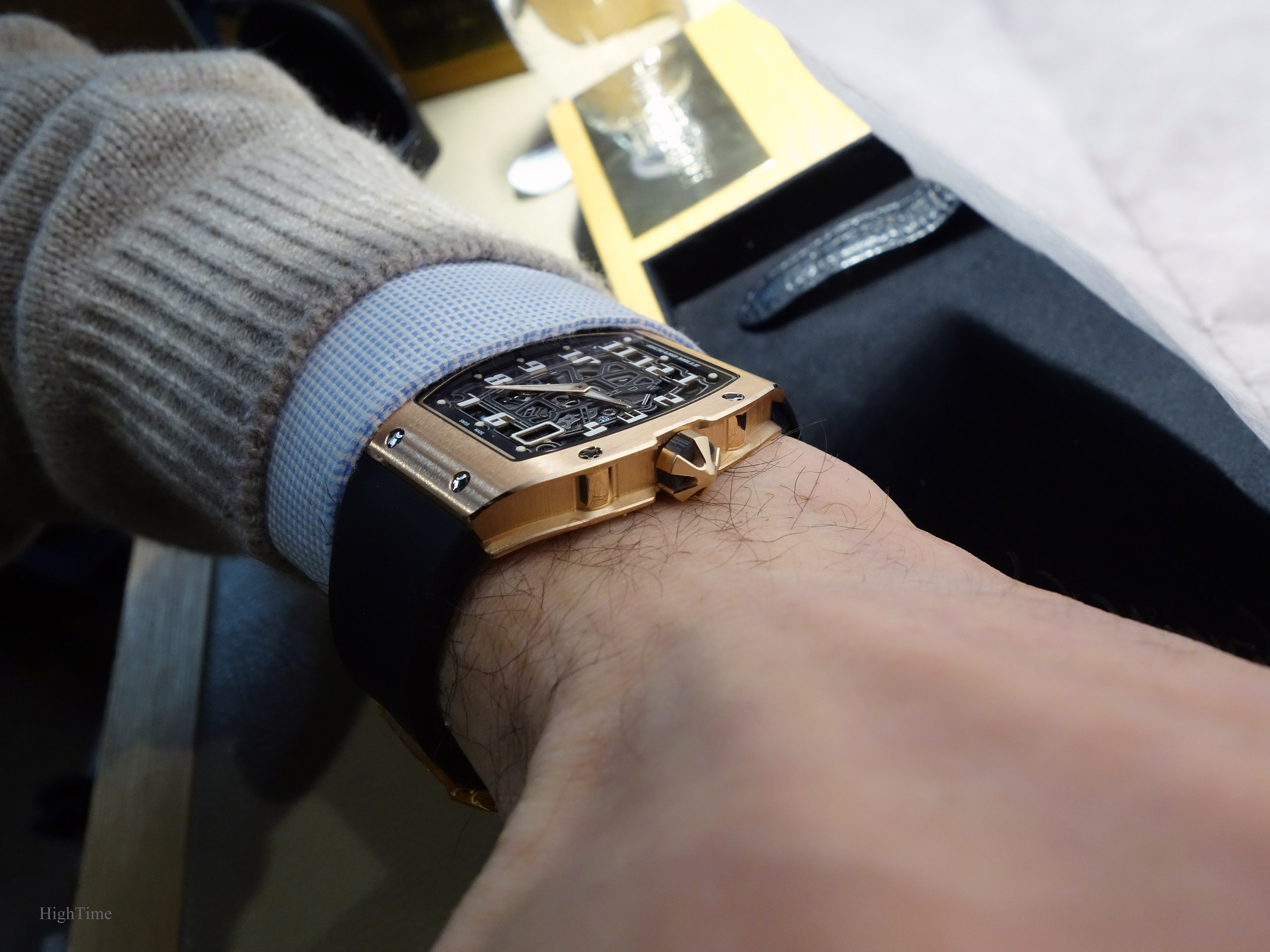 I know that for people who are used to thinking about more traditional watches (and you know my appeal for Patek Philippe), when talking about elegance, it may be strange to define this RM67-01 that way. But it definitely is if we already understand what the RM design brings in today's world: a modern classic.
To analyse Richard Mille watches, one has to re-think and translate its standards into today's aesthetical "vocabulary".
I wouldn't call an early RM (RM001, Perini Navi, etc…) elegant. They are sporty. They are light weight and discreet, especially in Titanium, but they are modern and very technical watches, aesthetically speaking.
Already, since quite a long time now, in fashion, architecture, car design etc. brands are used to mixing periods of time (neo-retro). In link with the evolution of jobs, services, industries, IT-related sectors, the way of wearing clothes and living at work have changed through last generations. In parallel, the need for contemporary accessories is even more thriving.
High-end watchmaking is a conservative field that needs to be pulled forward from time to time not to be left aside. That's also, in their field, what Patek Philippe has been doing over the years.
The RM67-01 will talk to people who are already attracted by RM's style but not only. Also to collectors who have been collecting/owning other traditional pieces but wish to find something else and experience a different way of enjoying watches. Sometimes, people weren't even considering RM before they had the opportunity to experience its unrivaled comfort due to its lightness and shape. This for sure makes it quite difficult to forget afterwards.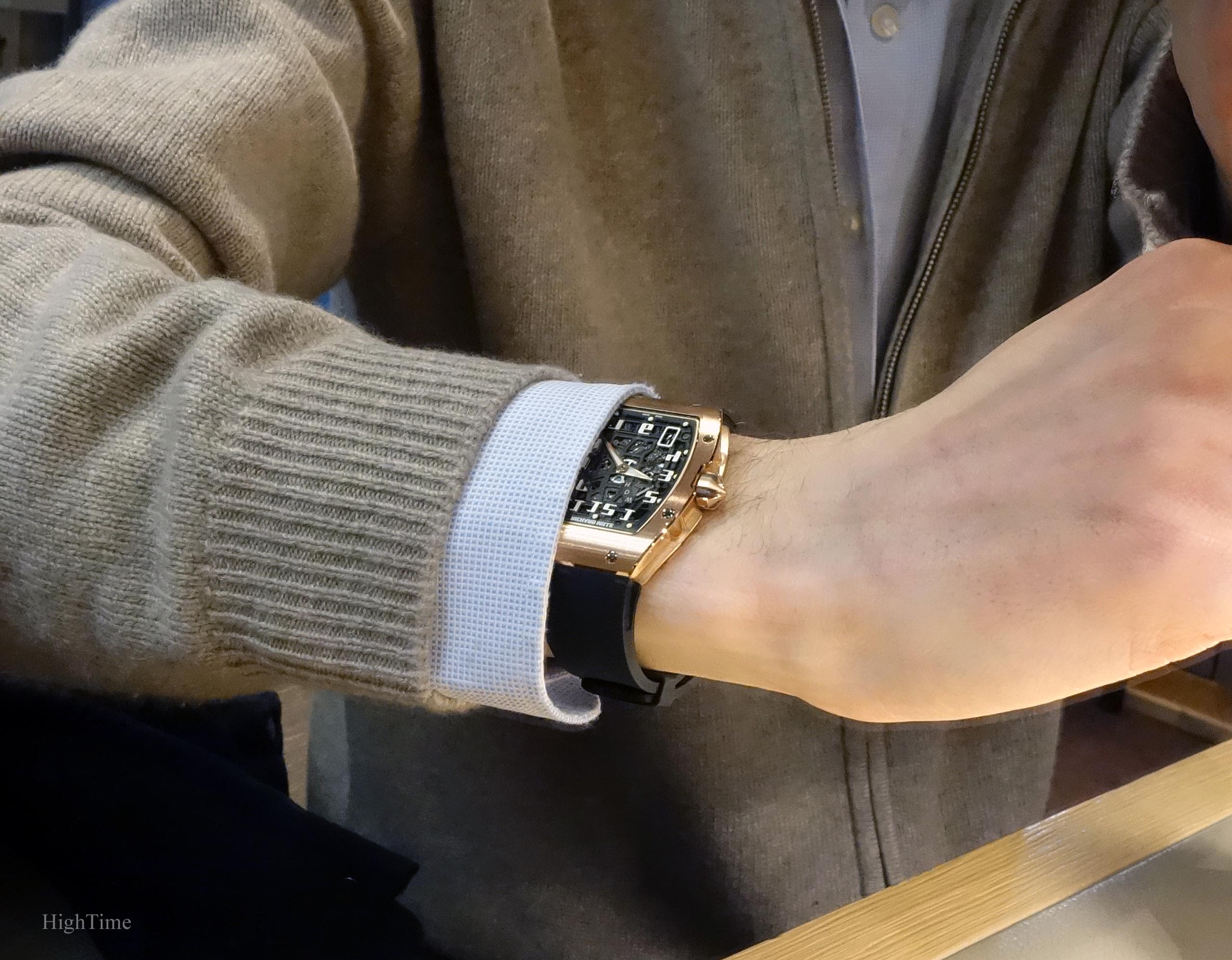 The new thinness provides another opportunity for people to enter the brand's world and who weren't inclined to accept wearing RM's thicker-cased pieces.
More discretion and refinement in a very modern field; I can totally imagine wearing the RM67-01 (preferably in Titanium for me) with a smart casual outfit or a suit. I think it would look fantastic. As I said in the past, Richard Mille watches are modern classics in the making and even more so with this model. This is a trend that was introduced with the RM033 in 2011 (round shape) and that is even more true now with the smaller RM67-01.
One of the most important reasons the brand has known such a strong success is to be found in the aesthete its founder is; Richard Mille himself. That was certainly the strongest ingredient at the early stage of the brand and during the first 10 years of development.
This fantastic case
The brushed case is as appealing as before and even more so for such a watch as the bezel and caseback's edges are polished. RM Titanium bezels are usually left all brushed while the gold ones receive a polished edge. This additional shine brings a very nice addition to the design, especially with a darker Titanium metal. Indeed, the contrast and alternate surfaces finish make it more alive and so appealing in the metal. I saw this edge finishing before in one sportier Titanium watch: the RM055 "All Grey" limited edition. It is the very detail that made me fall in love with it. Hence, I'm very glad to know this finish has been chosen on the RM67-01 as well (as it is also the case with the round RM033 in Titanium).
The brushed and sandblasted treatments of the whole case surfaces are one of the aspects that attract me very much to RM watches.
An additional polishing is applied to the screws' holes inner edge on the front side. This participates in bringing a little more life to the watch as well as showing another clue of the brand's talent and attention to details. By the way, the screw heads are polished too. It matches well the gold versions.
The caseband shows its usual profile but also showcases a polished finish on the 4 little "column" parts that receive the screws to seal tightly the whole watch.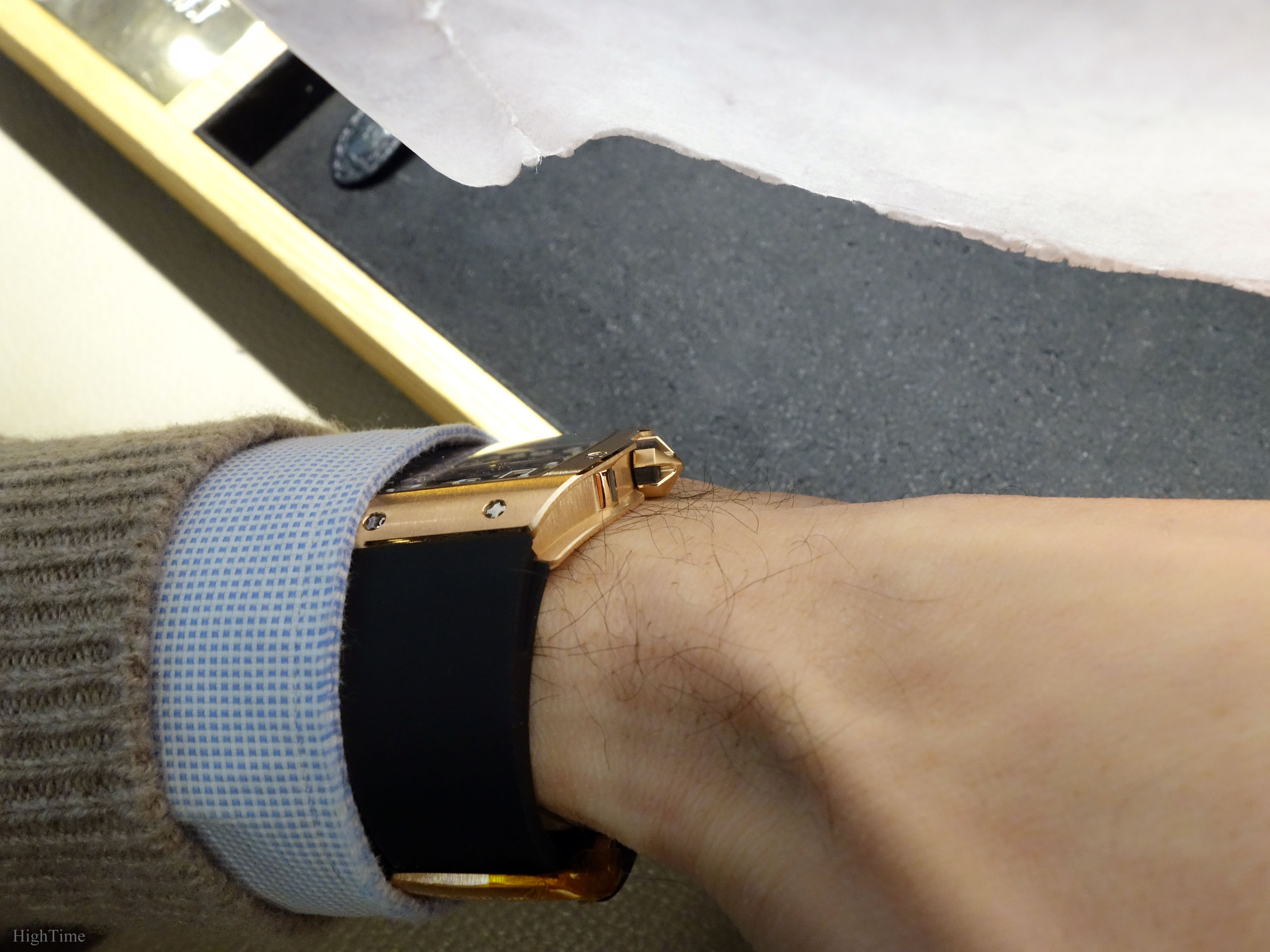 Of course, the back side is made of the same ultra-comfortable see-through caseback shape that makes RM watches certainly the most comfortable ones to experience. This is mainly thanks to the lightness, even with gold cases while the movement is always lightened compared to plain brass calibers.
A last element I wish to emphasize: the stunning two-material crown work in gold and NTPT Carbon (a Carbon weaven design used for competitive carbon sailing masts that Richard Mille also use for cases). You can imagine it isn't the same time watchmakers spend on crafting such a crown compared to more traditional metallic ones. You'll like its design or not (this is certainly not the easiest to love as it is very original) but it is a great work, in design as well as crafting-wise.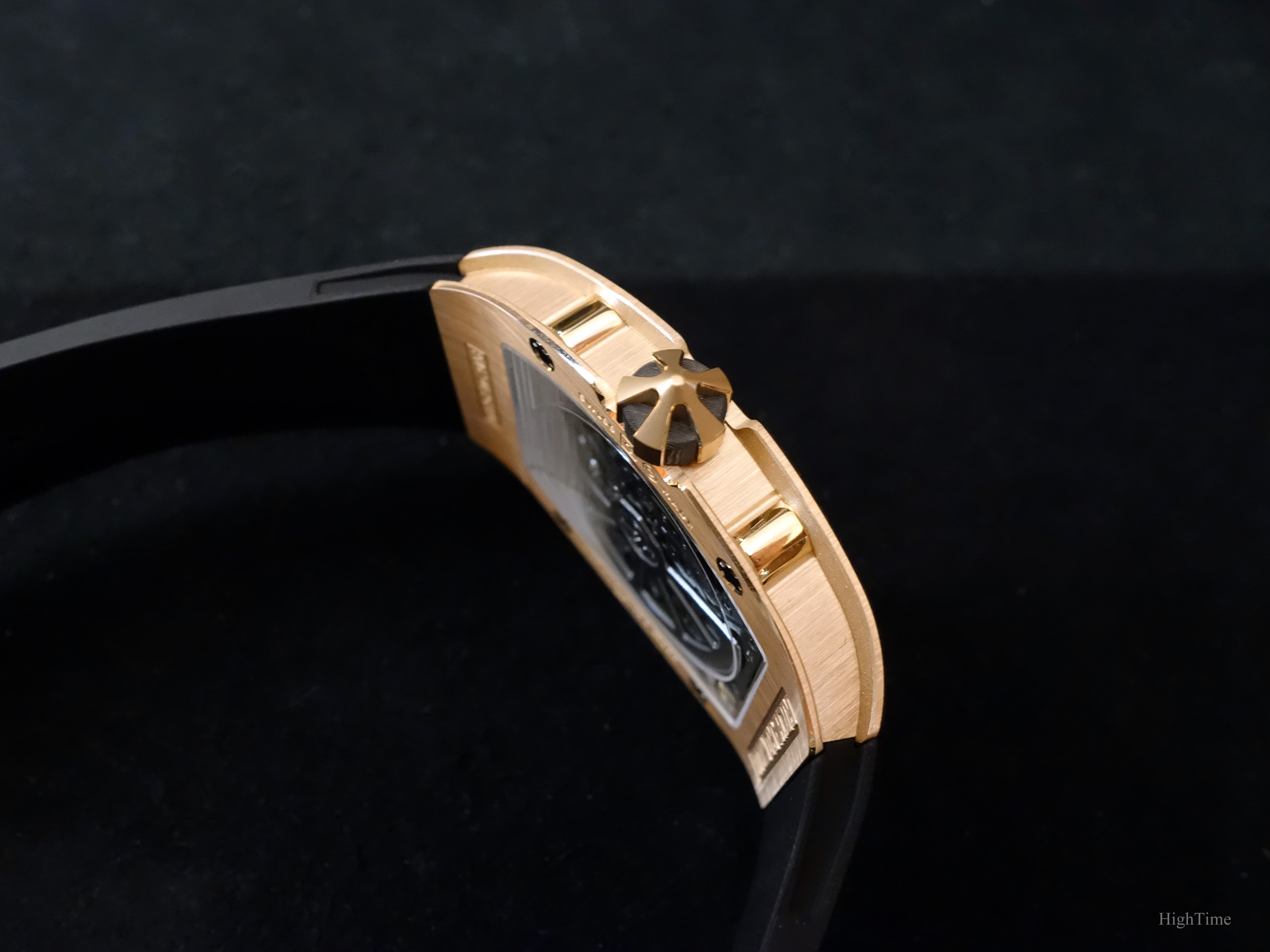 In contrast with the sandblasted remaining surface, its edges are also polished to bring a little more excitement while looking at it.
The watch is equipped with the usual perfect Titanium deploying buckle and is available with polyurethane or leather straps. The clever buckle requires no locking mechanism and is very handy to manipulate.
The leather strap walks a little more on the "suit" or "daily business outfit" side whereas the rubber material matches every situation. I personally prefer the rubber from RM, for the feeling, the comfort but also for the aesthetical way it follows the case's shape and spirit.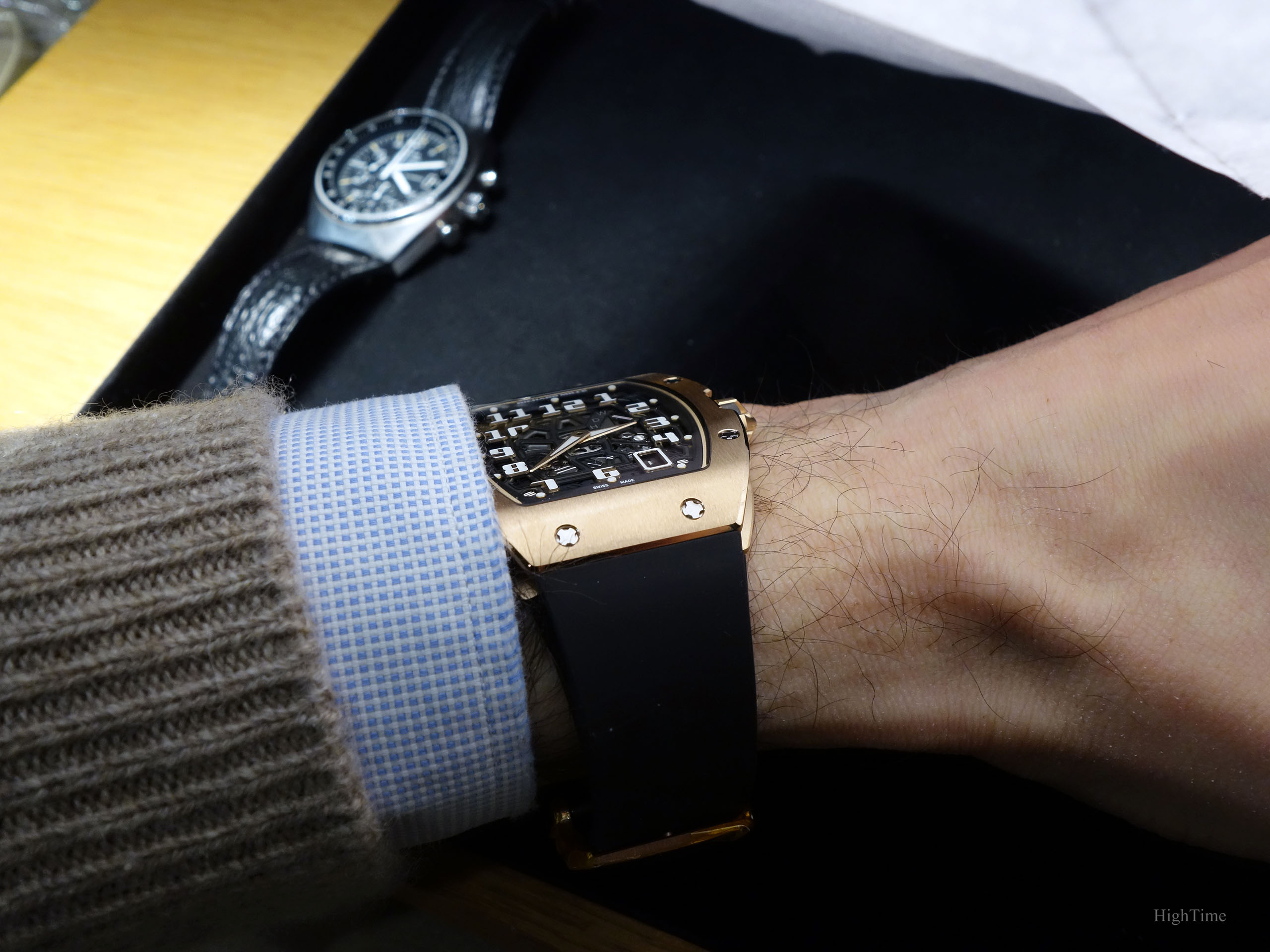 The distinctive dial
The open-worked dial has quite significantly evolved on the RM67-01, compared for instance to the RM010 or RM011's layouts.
The movement is totally new and impacts directly the open dial as the movement is skeletonised. Hence, the watch was the first to show a new design element that it seems we will see more often in the future (like in the new RM011-03): the decoration dial on the top side. It is related to mechanical reinforced parts of a car (alternate cleared out volumes leaving reinforcement structures visible). This is a detail I came to like a lot from the moment I held the watch for the first time, reminding me of the importance of always handling a watch to judge fairly. I don't have a preference between before and now but they sure both look very good to me.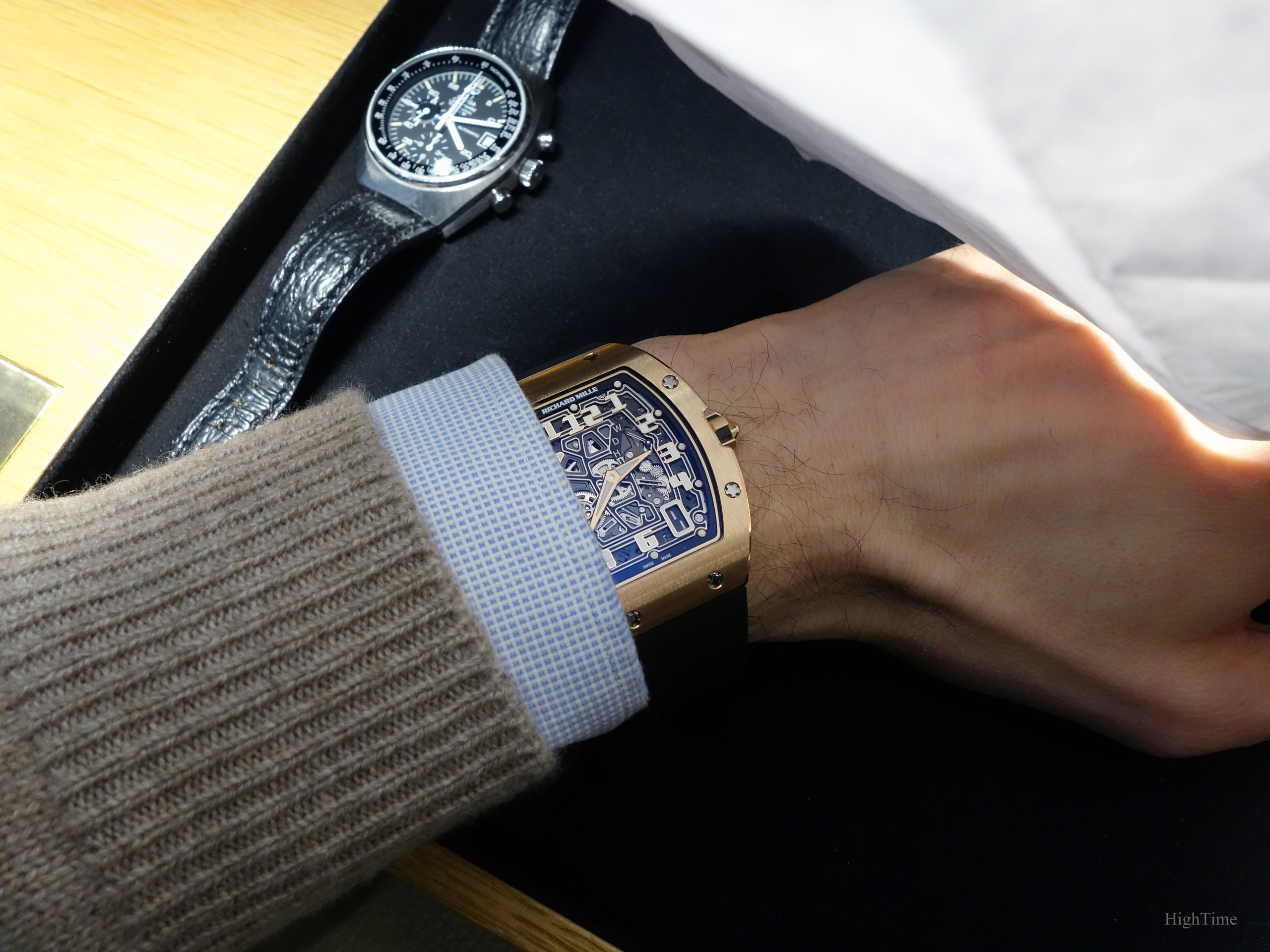 These dial colours work very well with the rose gold case, certainly because of the warmer reflections on the Titanium elements. The movement work balances the rose gold case perfectly. In the RM67-01, the mainplate and bridges are treated via the electroplasma coating technique that was used in the original Richard Mille RM035 "Baby Nadal" case. It is a very resistant ceramic-based coating.
The hands are similar to the ones used in the RM017 (thin square Tourbillon model) and the RM033 (thin round model). They have a little "arrow" shape that I must say I like quite much. It is a balanced combination to fit the already busy dial.
The upper flange is, as usual, in Carbon.
Each position of the crown is indicated via a little hand at 2 o'clock showing the H (setting), W (winding) and D (Date) positions.
Finally, the movement shows the emblematic RM sapphire disk for the date at 4 o'clock.
The new movement
The new movement housed in this RM67-01 is made fully in-house and isn't based on the Vaucher ebauche. The CRMA6 caliber is a fantastic optimized automatic-wound movement, entirely developed by Richard Mille watchmakers. It is 3.6mm thick and, as you can imagine, is amazingly light as bridges and mainplate are made of Grade 5 Titanium (not "2", because of the level of shock-resistance RM wishes to reach). As a reminder, the lighter (manual-wound, time-only, skeletonized) RM035's movement was 4.3 grs.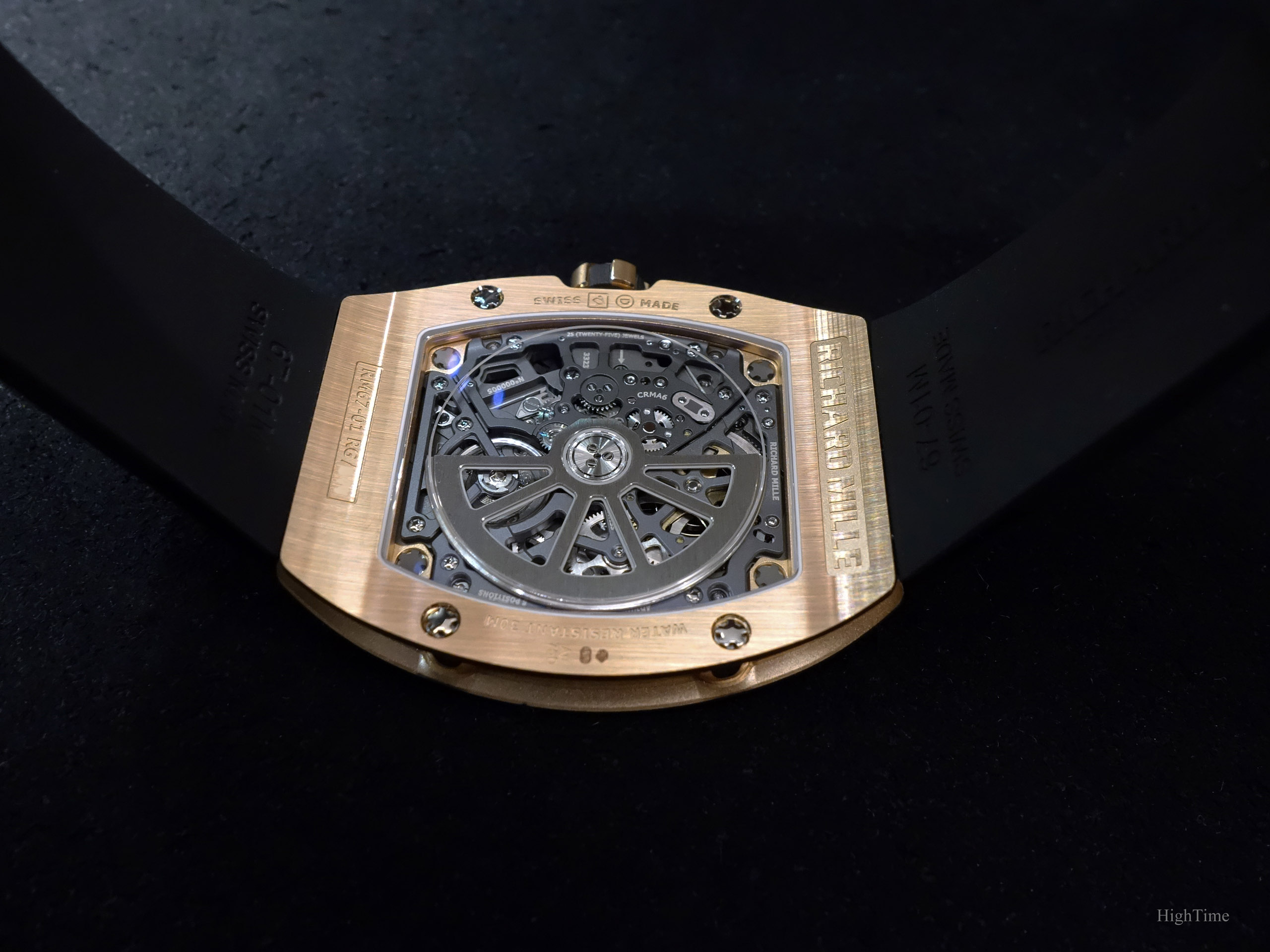 The way the parts are decorated and finished is stunning and flawless, from both sides. That is a subject we are waiting firmly RM about as finishing is a major element allowing to judge of high-end watchmaking craftmanship. As I said above, it is only when our more traditional standards are translated into a different technique sector that RM's work can be seen as a major contender in finishing levels.
When having a look in the metal, not many brands can sustain micro shots as RM watches do. Of course, there are decorations like Geneva stripes or rounded beveling that are difficult to make like the best can do and that RM doesn't chose to provide. Geneva stripes for instance would look misplaced on such watch. However, in Richard Mille movements, every part whether they are wet-sandblasted, polished, brushed, beveled are top-notch. In addition, a modern watchmaking world has to take into account wheels adjustements, lightness (one can feel while winding the movement), impact on balance wheel inertia or frictions. Just because it tells how able the watch can put up with shocks.
The winding rotor is in Platinum (it was formerly a combination of Titanium and a Platinum weight). It fits the watch's style well, but I can't help thinking that I prefer the skeletonised ones we used to see in most other automatic RMs. I don't find this one as attractive compared to the other one. However, I imagine it is thinner, which was required to keep the RM67-01 as thin as possible.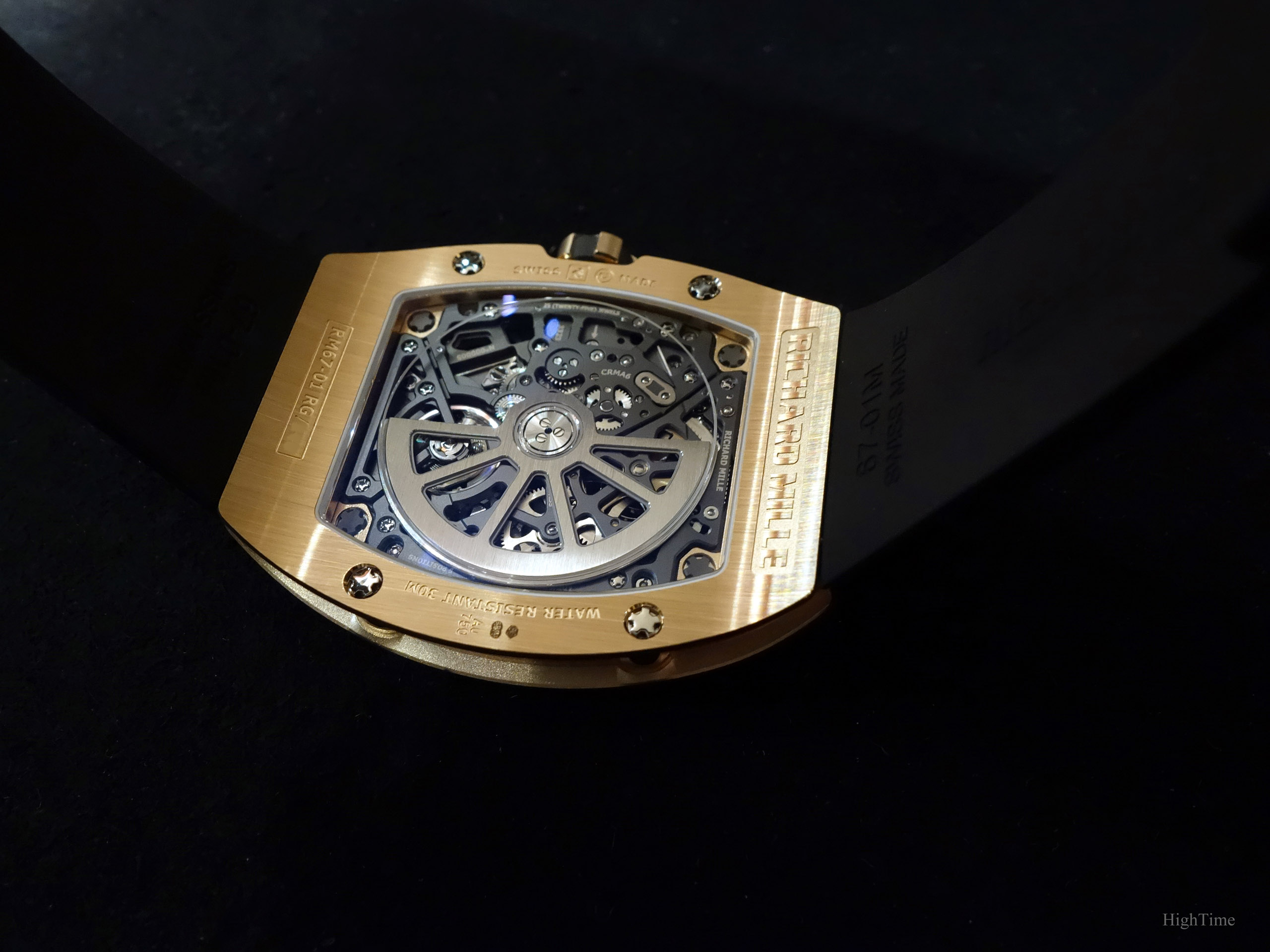 Conclusion and Thoughts
We had been waiting for a long time to see such an offer but maybe it wasn't time until lately. For a new brand (first model launched in 2001), bringing such a modern design, particularly in this very traditional and even quite conservative sector, is very challenging. Thus, it required time for people to understand and appreciate it as it deserves.
But if I can share my experience, once you start observing and trying Richard Mille pieces, a bit like the Nautilus from Patek, you feel you could get more and more of them with the same renewed pleasure.
Now, it is the perfect time. The Richard Mille RM67-01 provides a new offer to RM owners or new customers who wish to enjoy an them more often than they could before. They bring that touch of original but understated watch (for a very modern design I mean) that will look stunning.
Richard Mille's philosophy is quite simple: going as far as they can in techniques and material mastery, without compromise. The man is fond of automotive engineering in general (cars in particular) and no doubt you see it.
Overall, the best uncommon materials of some industrial fields put in a – sometimes very complex – watch. That's something very enjoyable for someone familiar with this high-tech industrialized world. The cost is what it is and partly justified by the material and work that is implied with RM watches compared to traditional watchmaking (much more difficult to work with than usual brass and steel). I think we can in the end still take our time to appreciate them as much as they (and we) deserve.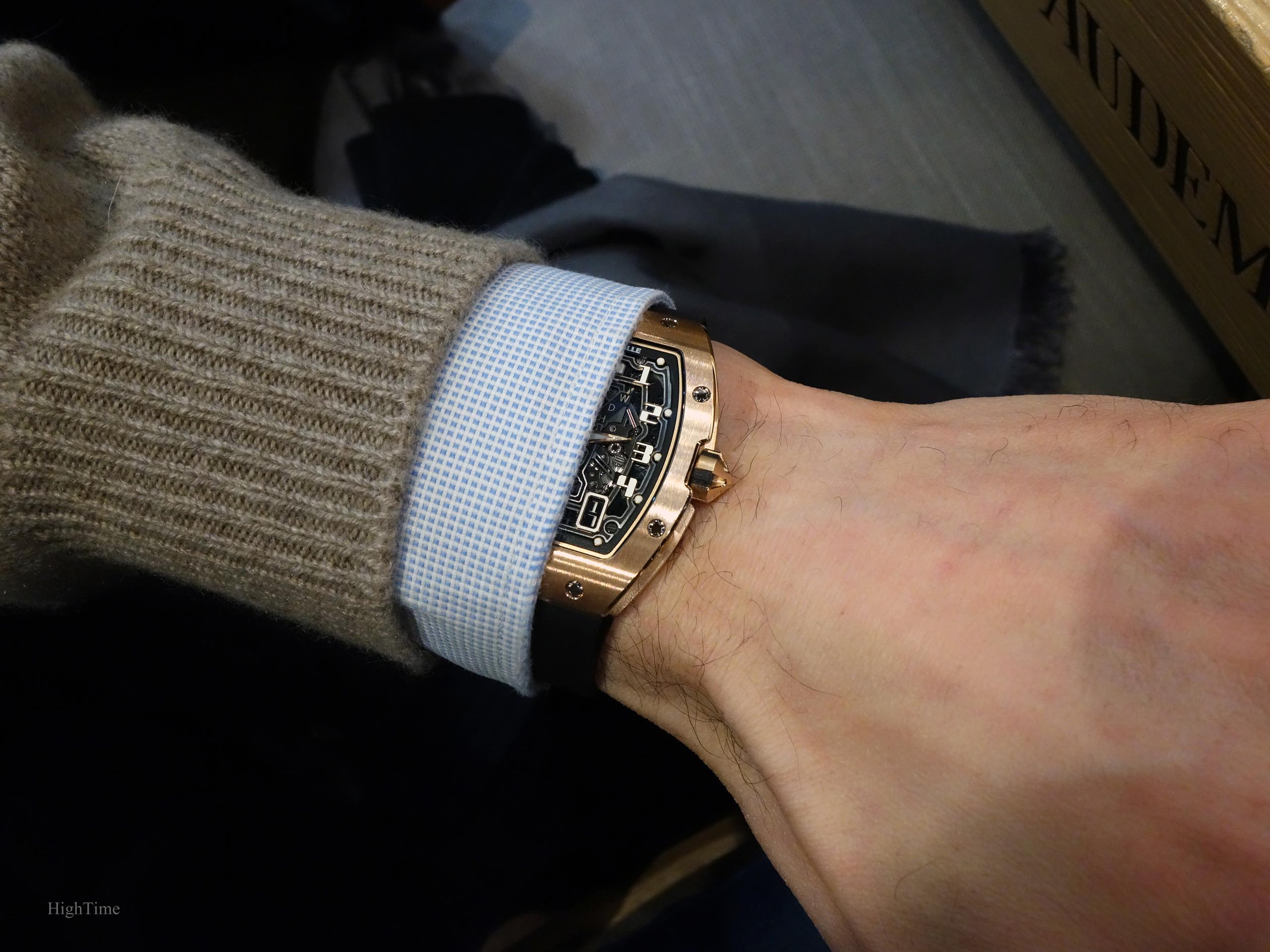 In the end, I would only suggest you to go and have a try to these watches. In general, the Richard Mille comfort experience is second to none as it brings something special in terms of wearing pleasure but also a kind of pride for its beauty and uniqueness among desired watch brands.
It is definitely worth the trip.
In 2016, the rose gold version's MSRP was 112 000 € (incl. VAT) and 89 900 € for the Titanium version.
You can find additional details on the official website, here:
The RM67-01 on Richard Mille's website
Thank you for reading!