The Richard Mille RM39-01 Aviation E6-B – A Fighter cockpit on the wrist
Hello everyone,
I wished to have a view on another Richard Mille. This time, it is a king-size model that reflects quite well the "machine" moto. The Richard Mille RM39-01 Aviation E6-B reference finds its origin in the RM039 Tourbillon Aviation E6-B that was first presented in 2012. Back then, it represented a nightmare in terms of development because of its complexity (hence a few years delay). The 30 pieces RM039 was a very difficult mechanism to finalize (nearly 1000 parts). Indeed, not only is it special for its Tourbillon but, as a "watch for pilot", it brings much more instruments than any other. It is one of the most complicated Richard Mille watches, which isn't a mere thing knowing the brand's accomplishments.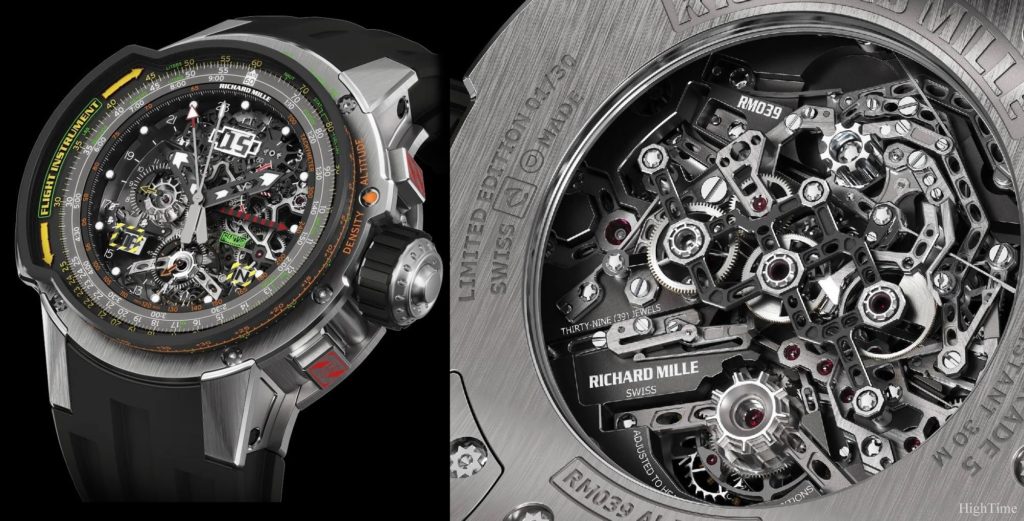 The RM39-01 I wish to talk about is the "lighter" version: Flyback chronograph, Countdown timer disk, UTC indication (2nd time zone), Oversize date, Annual Calendar, Flight speed calculation (with the help of air temperature and altitude) and E6-B slide rule used via the bezel. To facilitate reading the altitude density, the watch has a movable indicator (which goes up and down when needed), incorporated into the pillar at 8.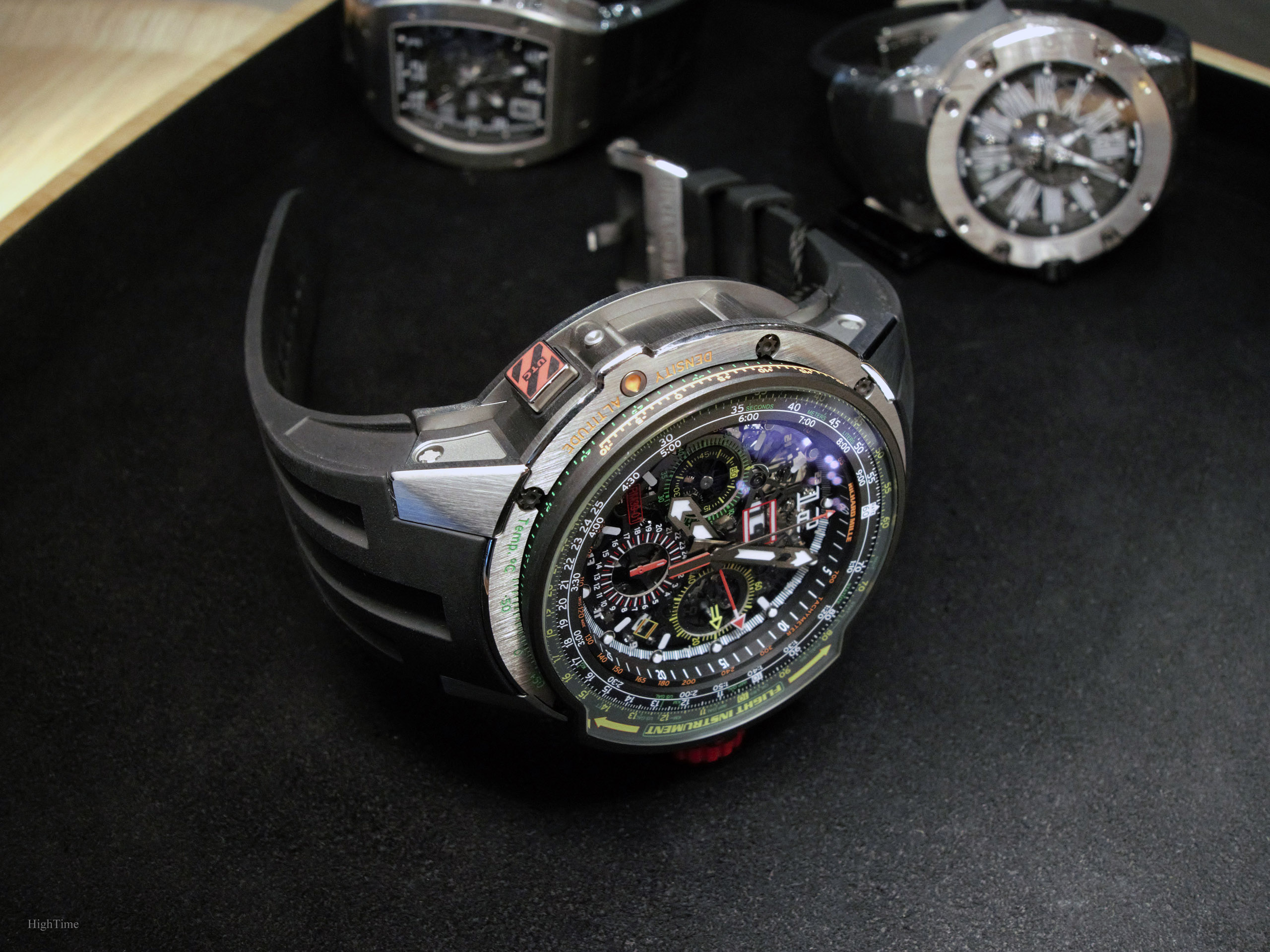 This E6-B slide rule was invented in the 1930's to help the navigators making multiplications, divisions and conversions in an easier way (gallon into liters, km into miles, kg into pounds etc…). This ruler is also well-known in the Breitling Navitimer.
In this version, the RM39-01 is trully very elaborate and a one-of-a-find mechanical marvel to hold. A dream for any high-tech amateur.
About lifestyle and context
The size is big (50 x 16.8mm), similar to RM's Diver references. But I would say it serves its original purpose the right way: big dial for legibility because of the important volume of information available and wide pushers to be manipulated with gloves. Besides, this complicated movement also needs room to store around 620 parts (62 rubis). Just as a comparision, a Patek 5270 has 456 parts (in a smaller volume). Of course, higher numbers don't always mean it is more complicated and less parts for the same function can also be synonymous of "better". Here, the additional functions speak for themsleves.
Aside from these two aspects, let me add the bigger size is also a trend that matches very well some of today's very sporty watches. Those are the ones in line with a certain sporty lifestyle (like for instance on holidays, performing sports activities, by the sea especially…). In such context, a big oversized 50mm traditional watch would not look appropriate to say the least. Nevertheless, some other brands' bigger models can be "toys for boys" I'd perfectly understand to have big (and of course if I had a bigger wrist). You'll find below a few from Richard Mille.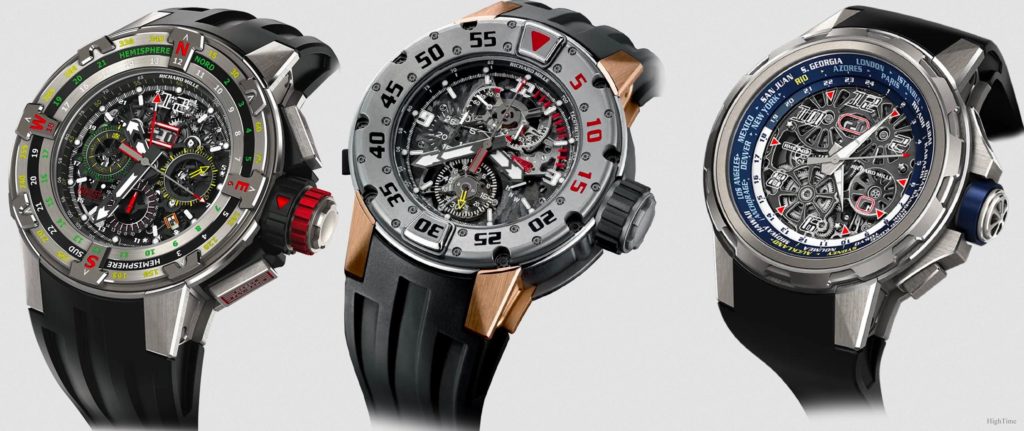 Hence, wearing a nice polo shirt with Bermuda shorts after a nice afternoon of exercise on a boat or in a Trek is a panorama I would see perfectly suiting the brand's and watch's spirit. Indeed, size isn't to be considered out of context; it is subjective or, more precisely, "relative" to the wearer in general, his wrist size in particular and his attire or local aesthetical culture. There is no "absolute" in Styling as it remains related to context, whether it is related to period of time or location.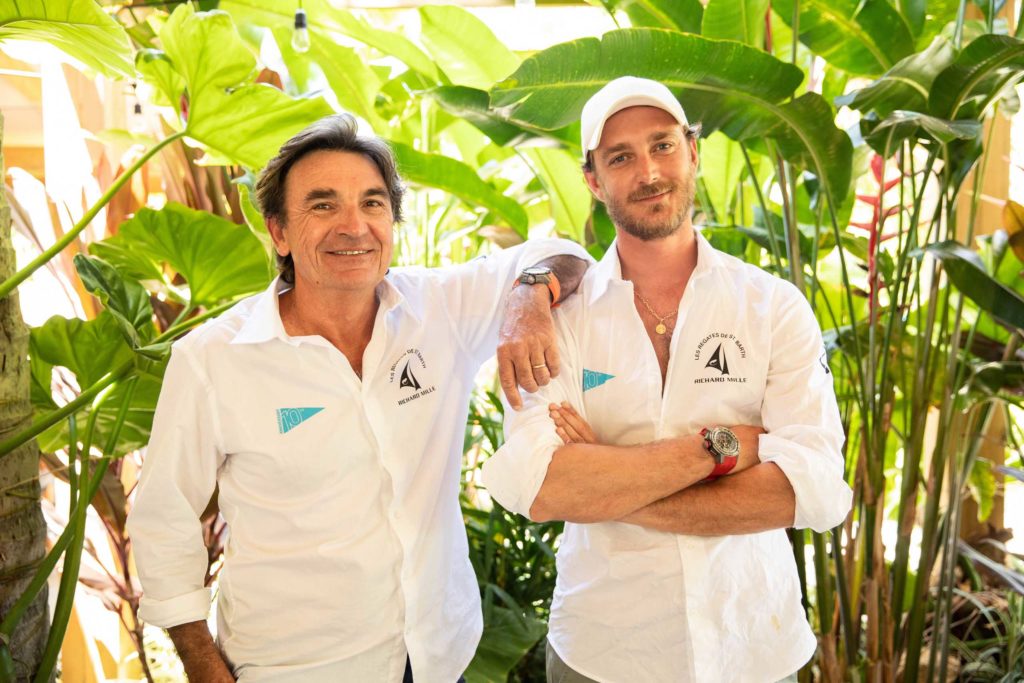 Such atmosphere is what we get from the RM60-01 Regatta's background in the context of the Voiles de St-Barth race (picture above) or the RM63-02 World Timer (2 pictures above) which both look stunning in that matter. It remains a subjective topic but it feels so right and good looking.
In a certain way, thinking how inadequate would be such model in a 40mm size would confirm that feeling.
This kind of watches is perfect for a significant part of today's watch enthusiasts whether in summer time or in winter apparels; a nice "hoodie" under a cool jacket or thicker winter coat would pair this kind of watch perfectly.
All is about context and standards at a certain period of time (also true in other fields), including the wearer's spirit. It depends on the way of life, not only on past aesthetical references.
There are men wearing "big" very nicely, but it would also be a stunner as an accessory on a woman's wrist. An accessory and not only a watch anymore.
But what powers all its incredible appeal, aside from this engineering and aesthetics, is what the light reflections say about its materials finishing.
The watch
The RM39-01 has a very tough 4 parts Titanium case crafted very sharply in order to interlock very precisely with the lugs. I love how these lugs are shaped and how they are crafted to integrate the case so closely. A superb work I already enjoyed in the round RM033.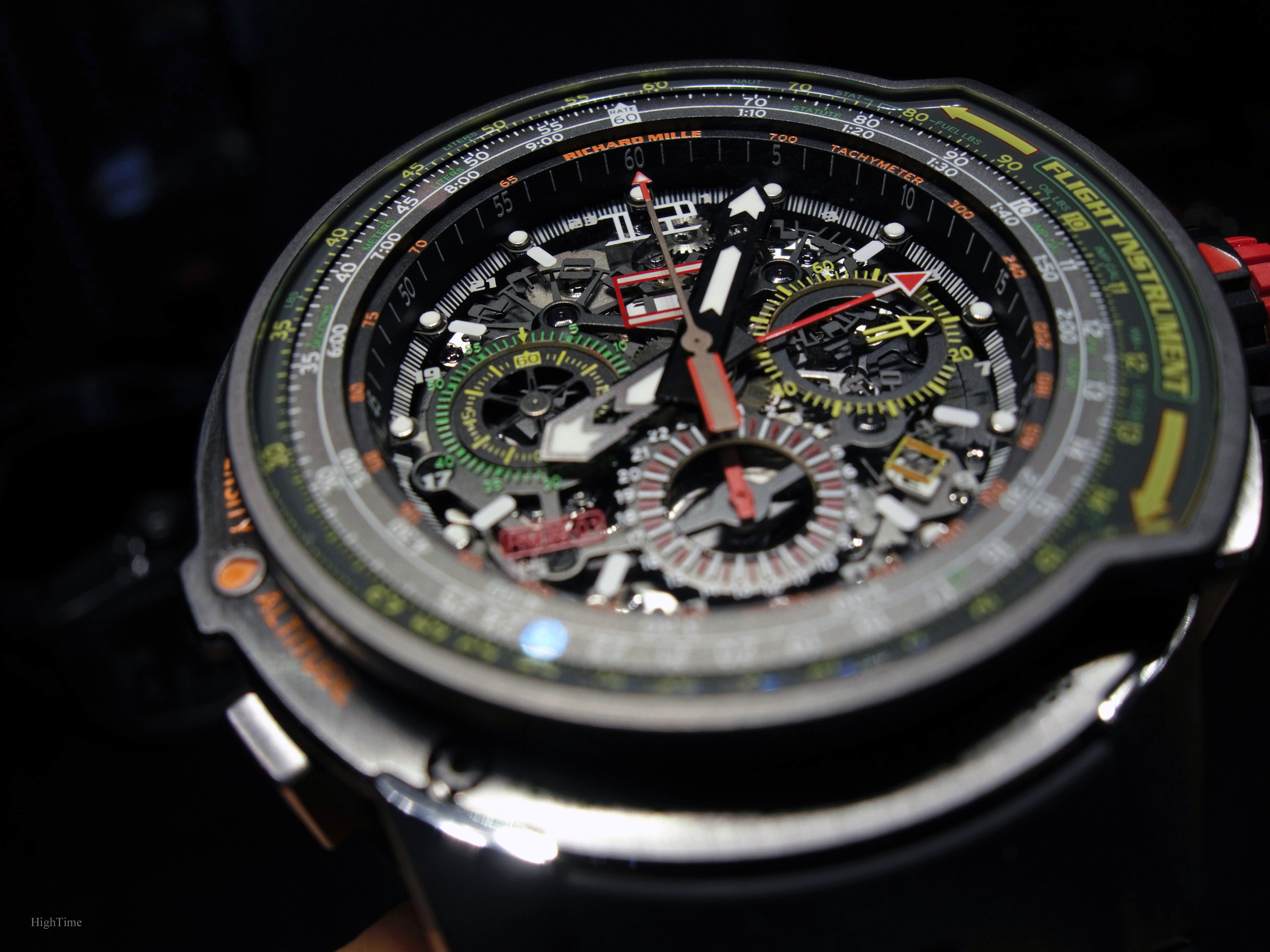 This metallic construction (whatever the reference) is a huge part of the brand's attractiveness, echoing the machines and engineering many men love. I'm addicted to their cases look.
In spite of its size the watch remains very comfortable on the wrist, as usual with RM watches, due to the caseback's round shape. It is much more comfortable than some smaller complicated (or non-complicated!) traditional watches I have tried before. Wearing comfort is a huge strength of Richard Mille cases.
I really appreciate the bezel's design on this model. Some may find the RM039-01 busy but this is the model's philosophy. Indeed, this kind of tools require to display as much information as needed (when flying without electronic displays). Of course, we may not need such tool but the philosophy is respected in every detail, despite the difficulty to produce such a complex work. I love that. And I prefer that bezel's style, very technical, to the Diver's version that looks, though designed to be useful (with a locking system), less appealing to me.
I've always loved busy dials. They look to me very "technical", like measurement instruments. Maybe it comes from the Speedmaster I knew in my childhood and that shaped my tastes in that regard.
In order to prevent any unwanted manipulation, the crown is locked with the feature we already found in the Diver family (RM025, RM028, RM032).
The front glass is 3mm thick which is quite significant even compared to other tool watches.
The skeletonized RMAC2 movement's size is 39.15 x 9mm and embeds the different complications I listed in the introduction. This is one very complex chronograph which has a lot to do with APR&P (geniuses) watchmaking development's feat as Richard Mille's early partner. However, let's not be misled by the brand's young age: this is a very strong know-how which explains RM's prominent position in the high-end watchmaking category. Complications in movements are as exceptional as their material mastery from the highest modern research.
The Flyback chronograph function was originally developed for pilots. It can be restarted without transiting by the stop function. Here, it additionally displays a countdown sequence at 9.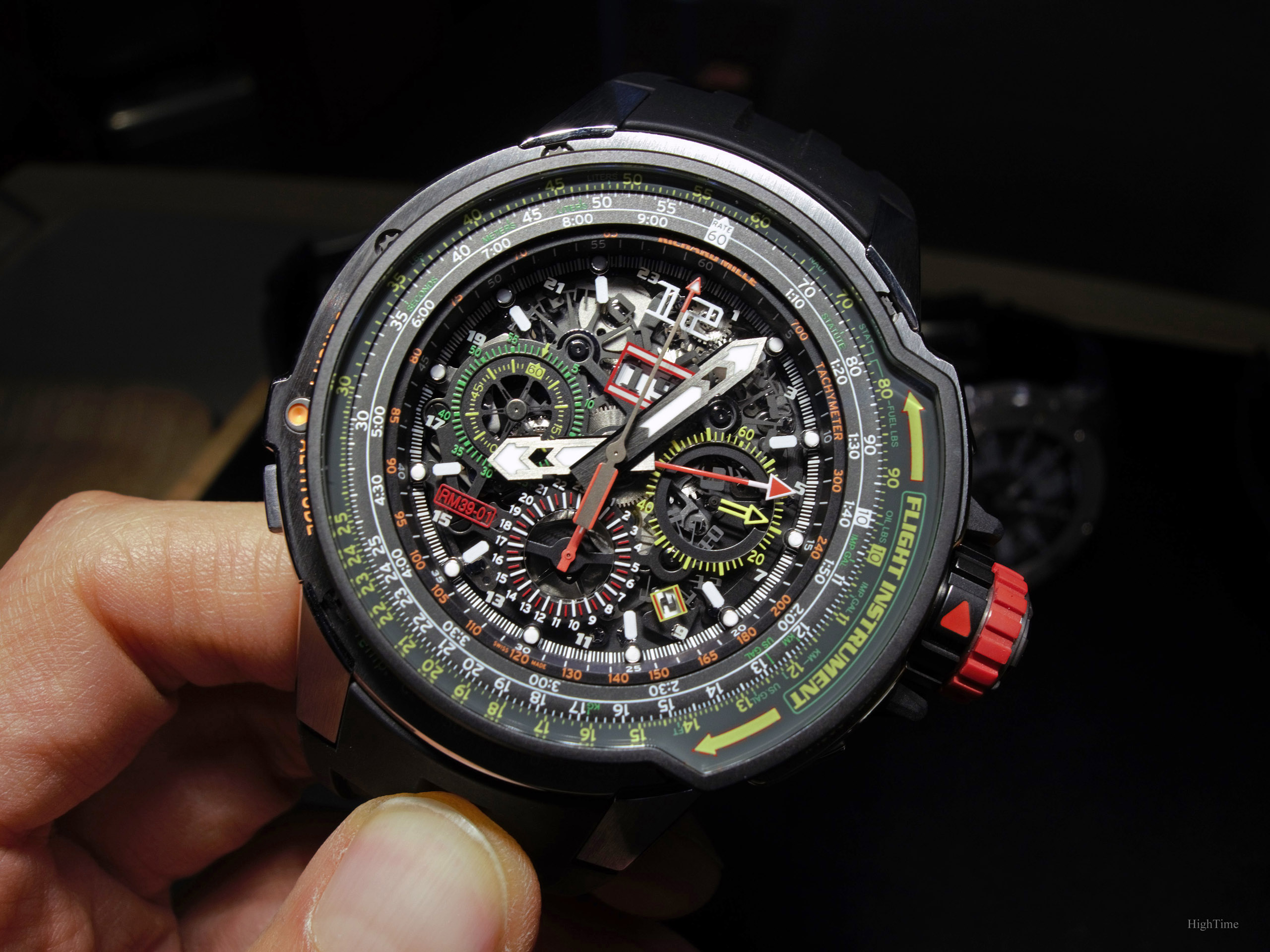 As in many RM watches, the baseplate, bridges and balance cock are made of Titanium grade 5 (90% Titanium, 6% Aluminum, 4% Vanadium) which is good for the light weight but also for the resistance and the movement's rigidity. As an automatic-wound caliber, it is still equipped with the variable geometry rotor (Titanium structure with Platinum mass).
As usual, such size and depth provide a show that not many watches do. This is a field where you can quickly recognize RM's characteristics. The design decides were reinforcement must be placed and leads to very good results in terms of time accuracy, especially when submitted to significant accelerations (Chronofiable testings and such).
Conclusion and Thoughts
I love this watch full of features that could be aimed at being used by professionals. It has everything from Richard Mille's DNA like the fantastically shaped and finished Titanium case, this complex movement, the shock resistance, ultimate wearability, etc… especially considering its size, even though it would need a larger wrist than mine to look good.
The materials and design the watch comes from aren't only about what they face but about the deep knowledge included in their crafting; it reflects the hi-tech technologies and techniques of our modern times. Altogether in a mechanical watch.
That's certainly why Richard Mille is a brand appealing to new but also older watch customers. Tradition and contemporary pieces complete each other and it isn't a surprise that many Patek owners are also RM owners.
Personally, I don't see Richard Mille as a challenger of traditional brands. They have a radically different approach to watchmaking and just have in common to tell time and to be placed on a wrist. That's all.
Not the Richard Mille I would get, only because of its size, but definitely, call this "RM magic", that I'd still love to have.
Try to handle one if you can, it is worth the experience.
In 2020, the MSRP of the RM39-01 was 165 500 € (incl. VAT), and you can find more about this model on the brand's website:
Thank you for reading!