The Patek Philippe Golden Ellipse 5738R – A refinement singularity
Hi everyone,
Well, it isn't excessive to say that the Golden Ellipse family from Patek Philippe's catalogue looks like no other. In that sense, many collectors feel it has a flavor no other has and, once we have seen one in the metal, it delivers quite unique an experience.
In 2018, the brand has proudly taken the opportunity to shine a light on this peculiar bird in the context of the 50th anniversary of the Golden Ellipse (1968-2018). Indeed, they launched the Patek Philippe Golden Ellipse 5738R together with a special 100pcs-limited model, the 5738/50P-01 (Rare Handcrafts).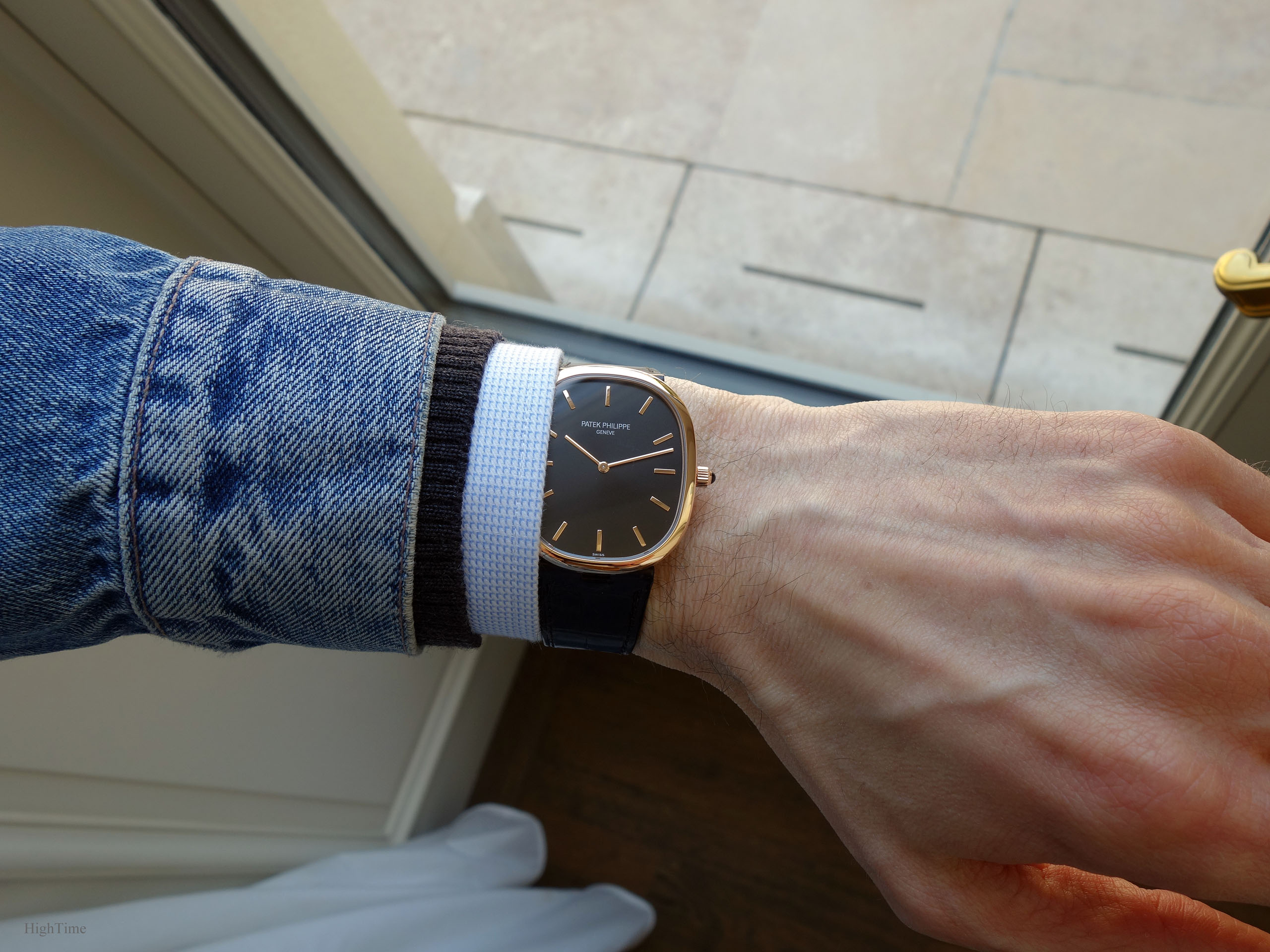 It was a perfect opportunity to reshape the offer considering our present times, with a taste of originality.
_
As a general thought
Nowadays, it's a euphemism to say that we don't see many articles on this Ellipse line-up. Let's say indeed it isn't the natural topic to accumulate views on internet. However, I think that it's good to widen our perspective because, as it increases our knowledge and widen our aesthetical background, it extends the fields we can perceive and appreciate surprises from. And isn't the surprise one origin of emotions (which leads to dislike-like-love-spend too much money)?
There are many sectors in which we have to try and experience several times the same feeling to appreciate it. How many times didn't we like at first sight something we loved afterwards? I'm sure we all did at least once. I did for instance with De Bethune and Richard Mille in the early 2010's.

In many aesthetical fields, one should at least give a few chances before judging. Who knows… it is the very reason to be more curious. Tastes evolve as we keep observing.
_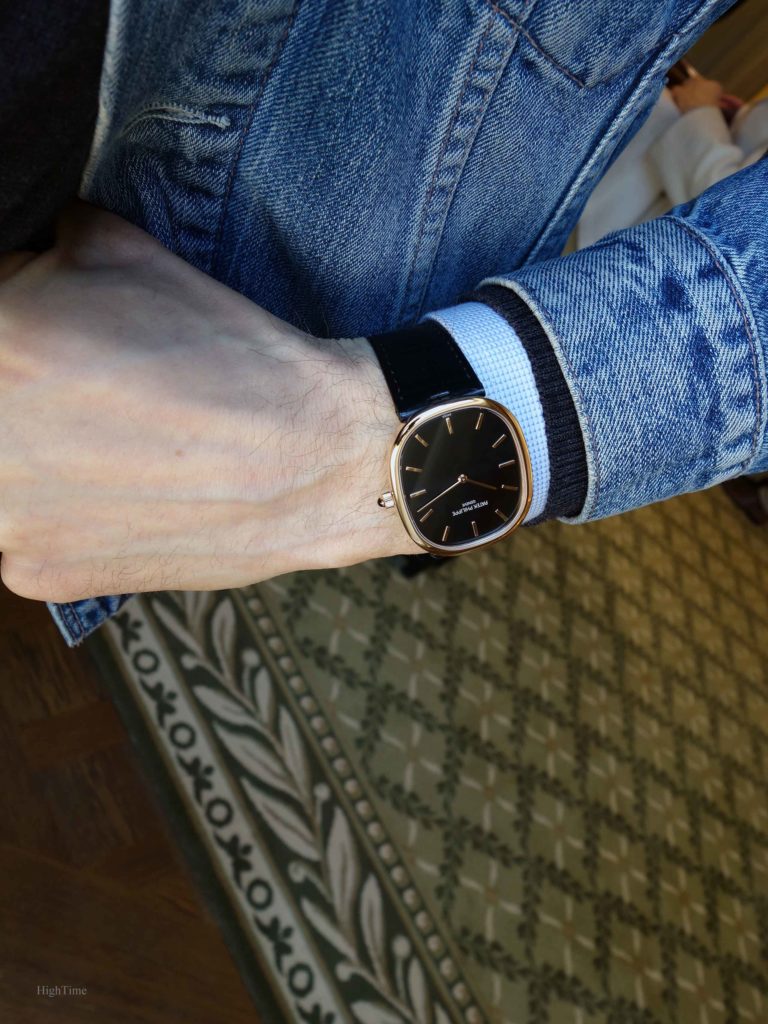 Focus on a few details
The new Golden Ellipse's case, mix of a rectangle and an ellipse, poses on a rejuvenated 34.5 x 39.5 x 5.9mm proportion. This makes it the thinnest case in the catalogue and updates the model to current classics. It follows the same "jumbo" format as the platinum version that was released in 2008 for the first time, for its 40th anniversary (here below).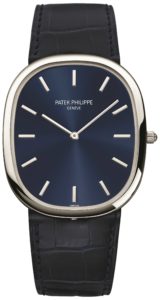 This pure shape has met some tremendous success in the 1970's-1980's (65 versions existed at one moment) and was proposed in many variants (cf. the historical timeline at the end of the article). It has then become a classic of high refinement and elegance, with a touch of "twist".
On this 5738R, two black parts are definitely very important elements of the overall picture: the dial (obviously) and the Onyx-set crown.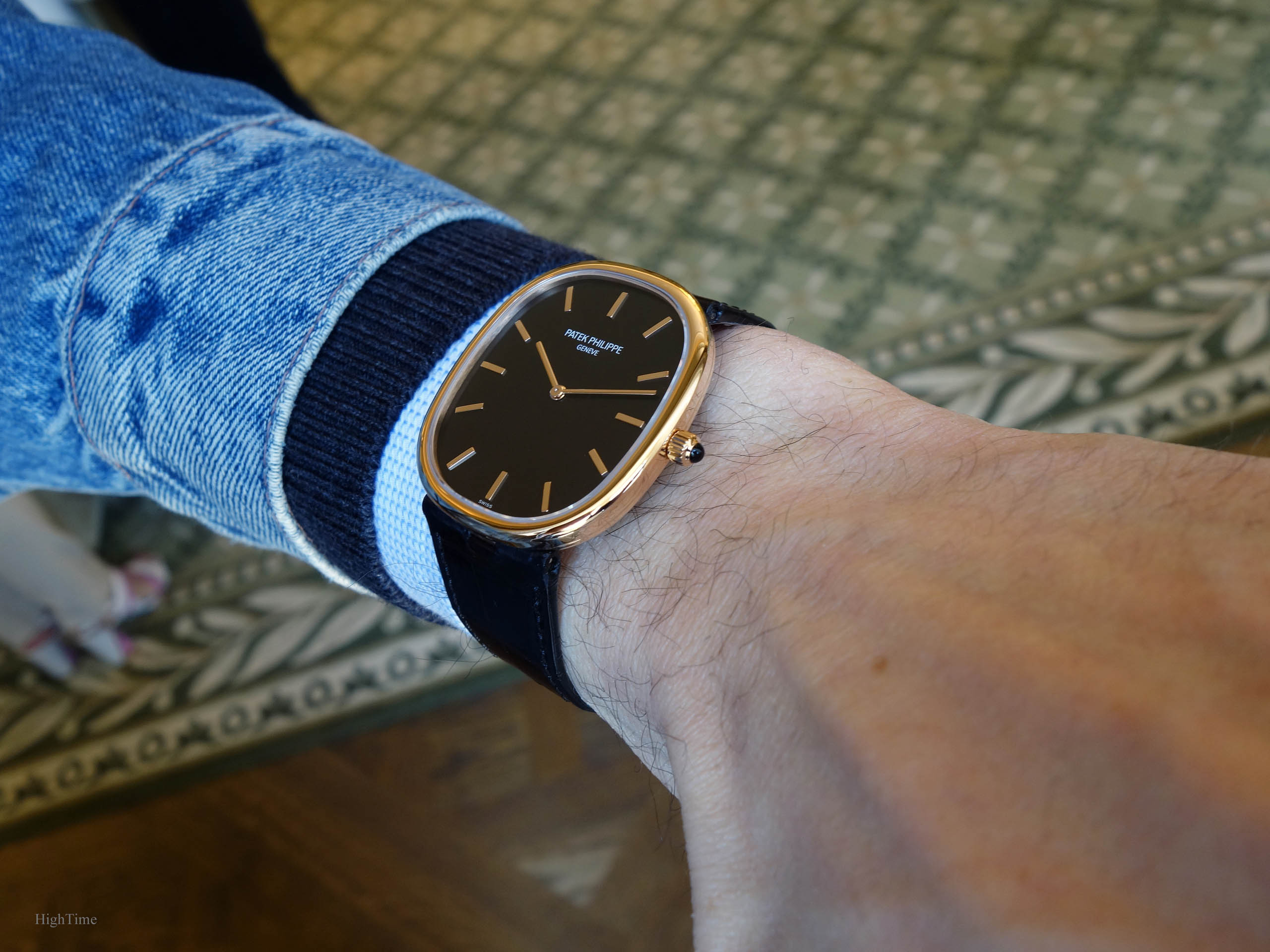 The Ebony black sunburst dial from the Ellipse 5738R is a metallic black (thus not the deepset black) with sunburst pattern (like a 5905P for instance) and applied on a gold plate. Hence, its most majestic dressy rendering lies in the line's purity and the contrast with rose gold.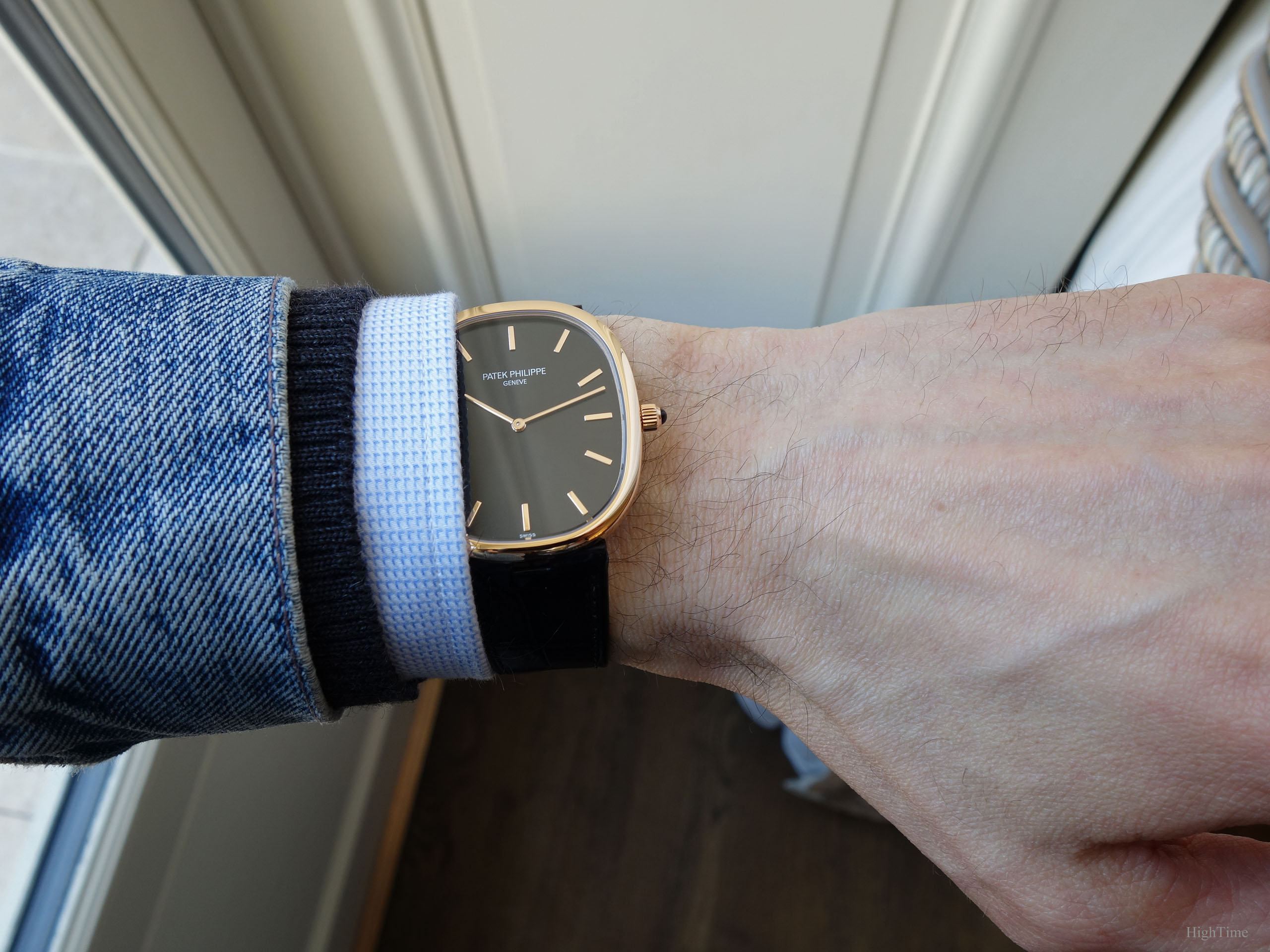 The Onyx gem set into the crown is a detail I've always liked a lot on such watches (Cartier often uses this kind of decoration). As its blackhole-black material allows, it is glossy hence bringing that dressier touch that clearly places the watch on the classical and refined side. In this case, it echoes the dial color which leaves the watch a 2-tone-only design (which is an excellent thing, balance-wise). This "cabochon" is a detail the blue dial platinum version doesn't have.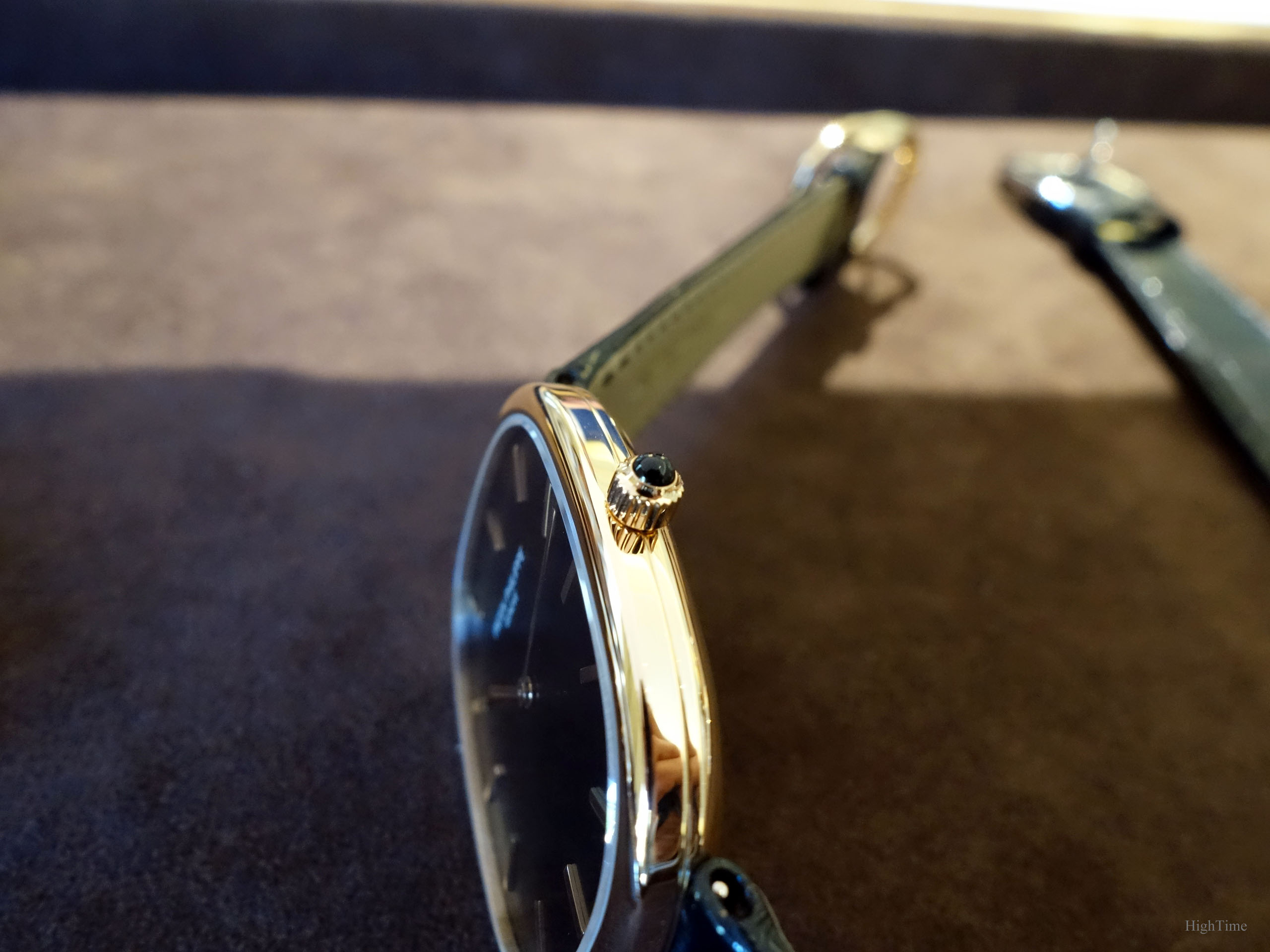 Finally, the watch is served on a shiny black alligator strap equipped with a thin rose gold prong buckle, following the same case shape. It suits perfectly such a thin watch that must fit the wrist as closely as possible.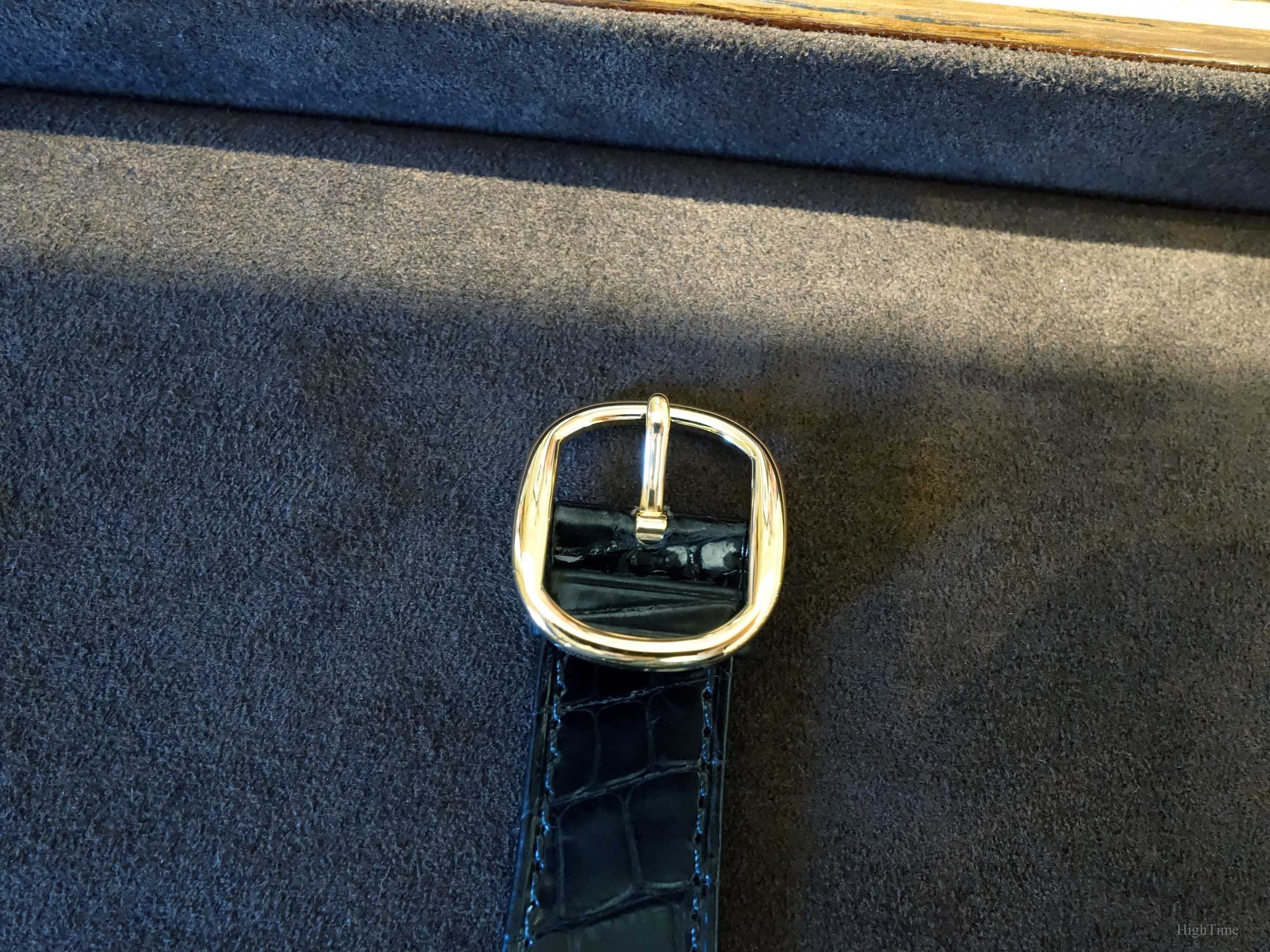 Mechanically, this particularly thin reference receives the adequate movement in the person of the 2.53mm-thick automatic-wound 240 caliber (max.48h power reserve). Its thinness, reliability and beauty are well-known strengths of his. Patek's mastery in that field is precisely what allows offering such a slim watch with an self-winding movement. Indeed, many slim watches are provided with manual wound ones.
However, you won't be able to see it since the model is equipped with a solid caseback.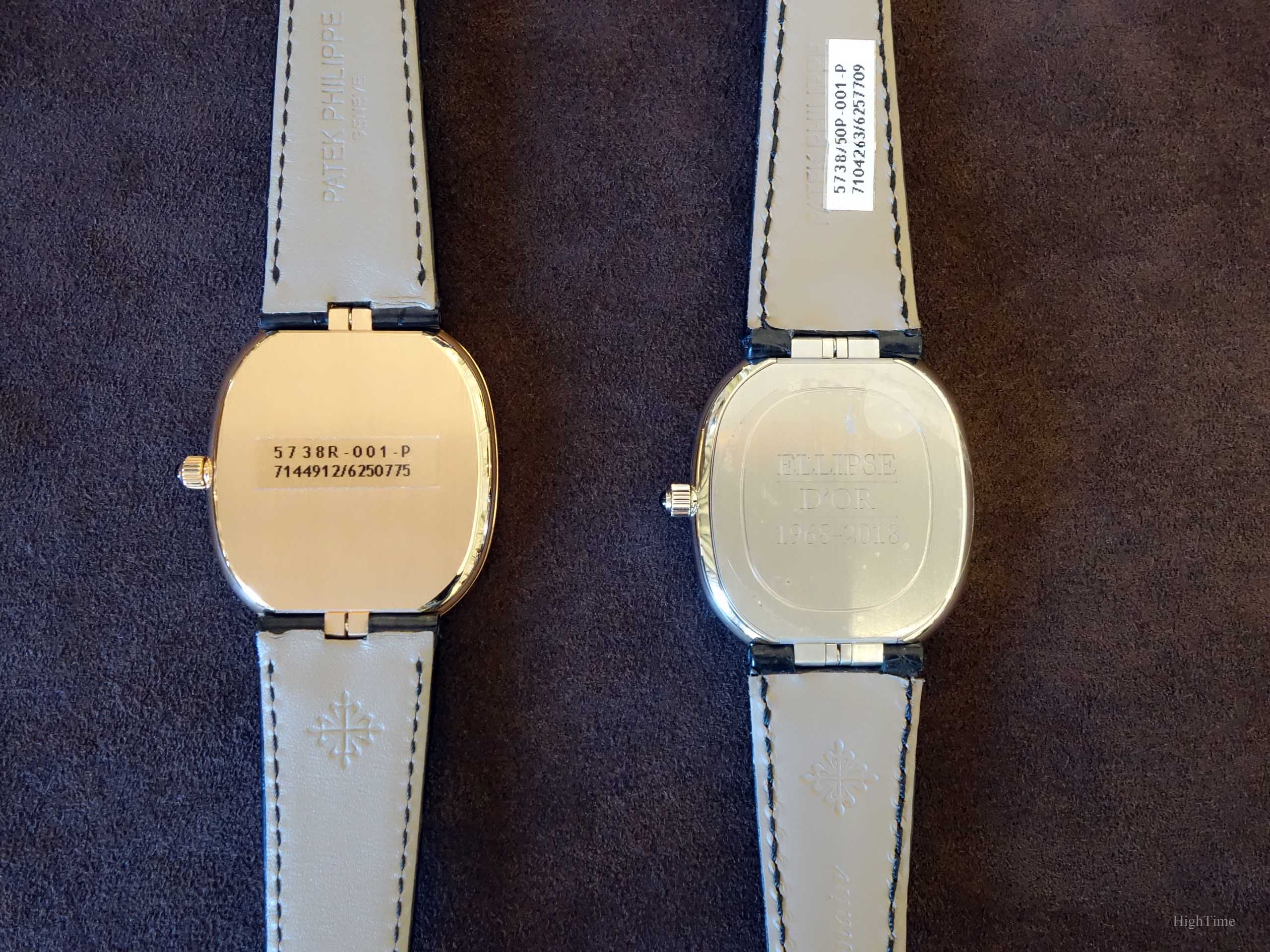 The watch is 30m water resistant.
So, buttercup, what's the spirit?
The watch definitely exhales this particular 1970's old school scent and its specific styling trend. Especially in a time when we see so many products within a same standard design (in clothing in particular). This is certainly the consequence of fewer and fewer hyped-models arising from converging social-media-carried tastes. Therefore, I think it is more than ever important to provide information and learn about aesthetics and designs. Pleasure comes from the surprise issued by diversity and originality but it first requires to forge a background to initiate the process. That's partly why we see today more and more clients willing to explore and gather knowledge in watchmaking or in aesthetics in general.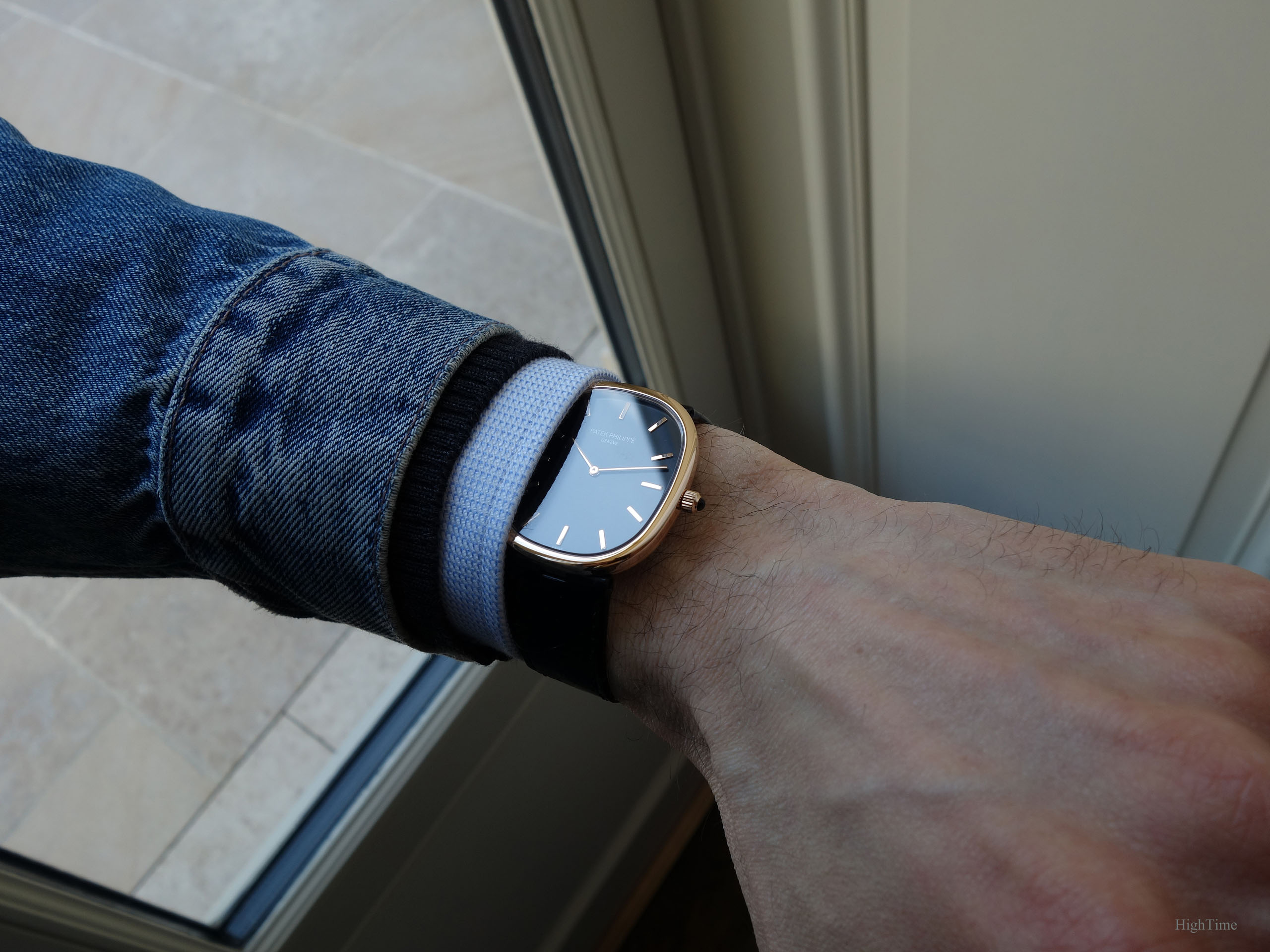 Hence, some people are looking more and more for something new and going aside from the main flow.
_
A little word about…
That's why I salute Thierry Stern's daring decision (Patek Philippe's President) to stop the 5711. At least as we know it today. I hardly can imagine it won't be replaced one day or another. Still, even if I love it greatly, I think we've had enough of the current model. It's true whether we talk about volumes (though remaining low compared to volumes of watches sold each year among established brands) or because it anchors even more the tastes towards one design only, to the detriment of all the other models.

Furthermore, the brand is at high risk of being seen in the future as a 1-model brand (like Audemars Piguet) which will be a problem for the other collections and for us. It's the same issue with too much steel vs precious metal. It will be very hard for the brand to change back to precious metal (priced higher) or dressier models. Tastes risk "seizing" on site, leading to lack of offer (other collections disappearing), lost of elegance (classical might not look "in" enough). Not ideal for the brand in the long run, not ideal for clients and collectors.
_
Nowadays, we can mix many different styles of outfits and patterns. This is a fabulous opportunity to make combinations we couldn't before.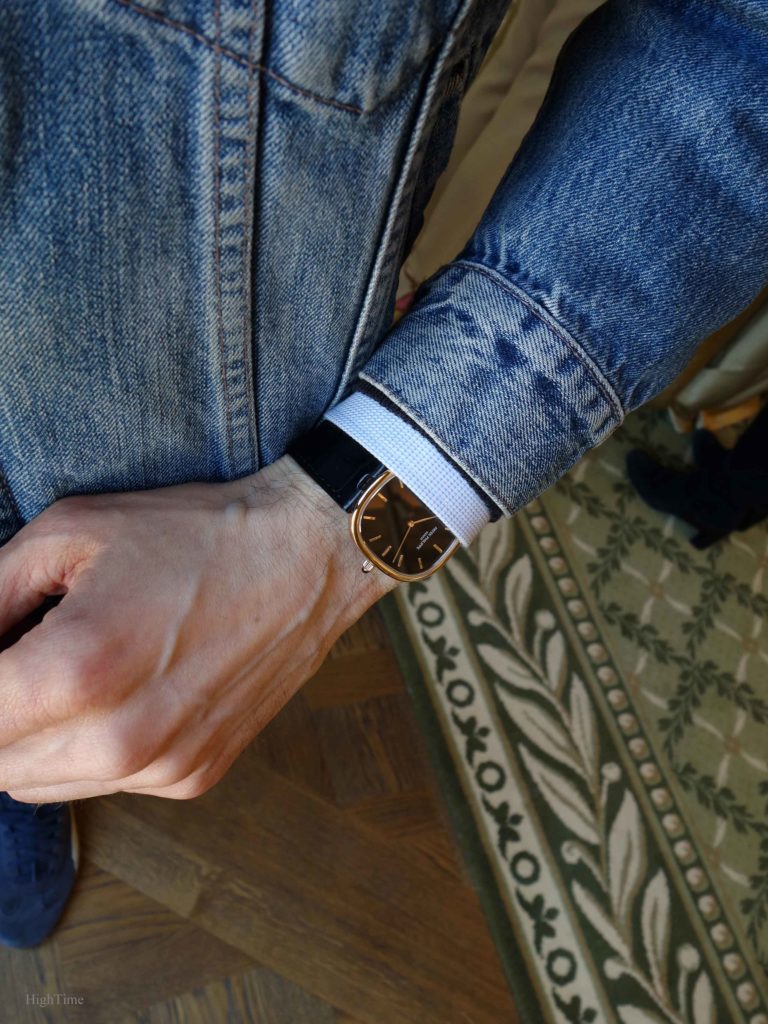 In that context, the Ellipse can work to the finest with a suit, as a marvelous understated round Calatrava alternative, with, in my opinion, a little more style and uniqueness while remaining discreet.
I would tend to think the Ellipse supports elegant attire even more than with round watches. Certainly because, despite it is classical, it is less traditional than round pieces.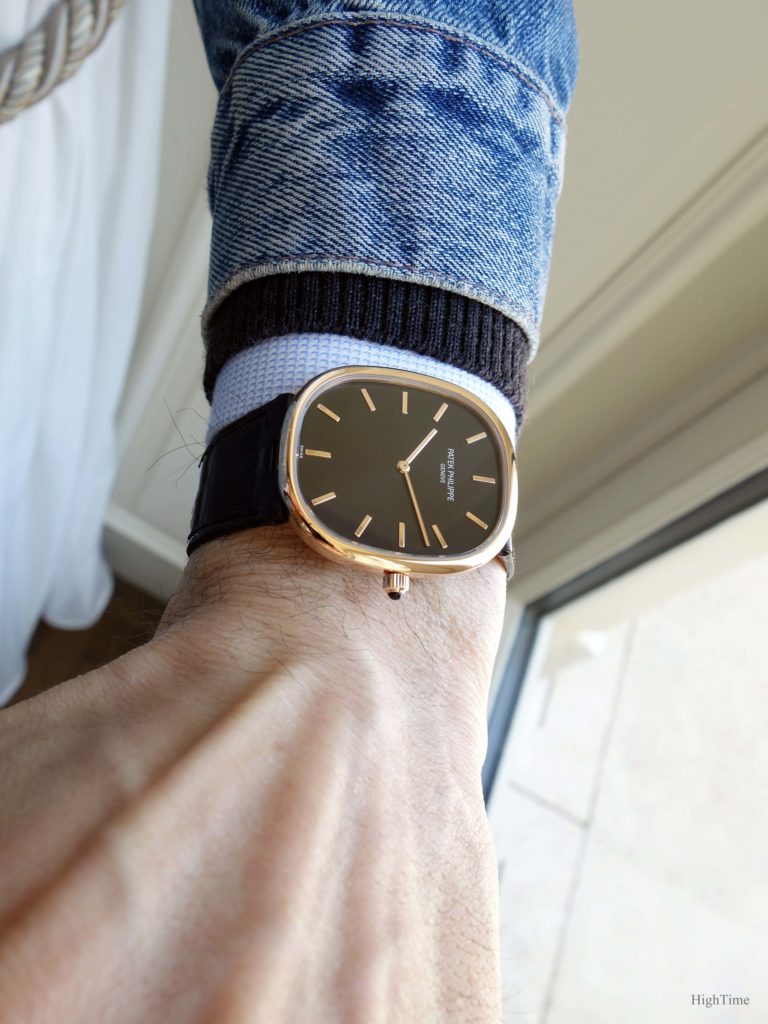 Imagine yourself wearing a classic grey suit (more serious, matching the dial's metallic hue), or a light grey one (more enthusiastic) or finally any kind of cream linen suit (for summer time), etc… I don't see many traditional simple round watches looking as good (of course it remains subjective) because of the additional "fun" and unusual touch it brings.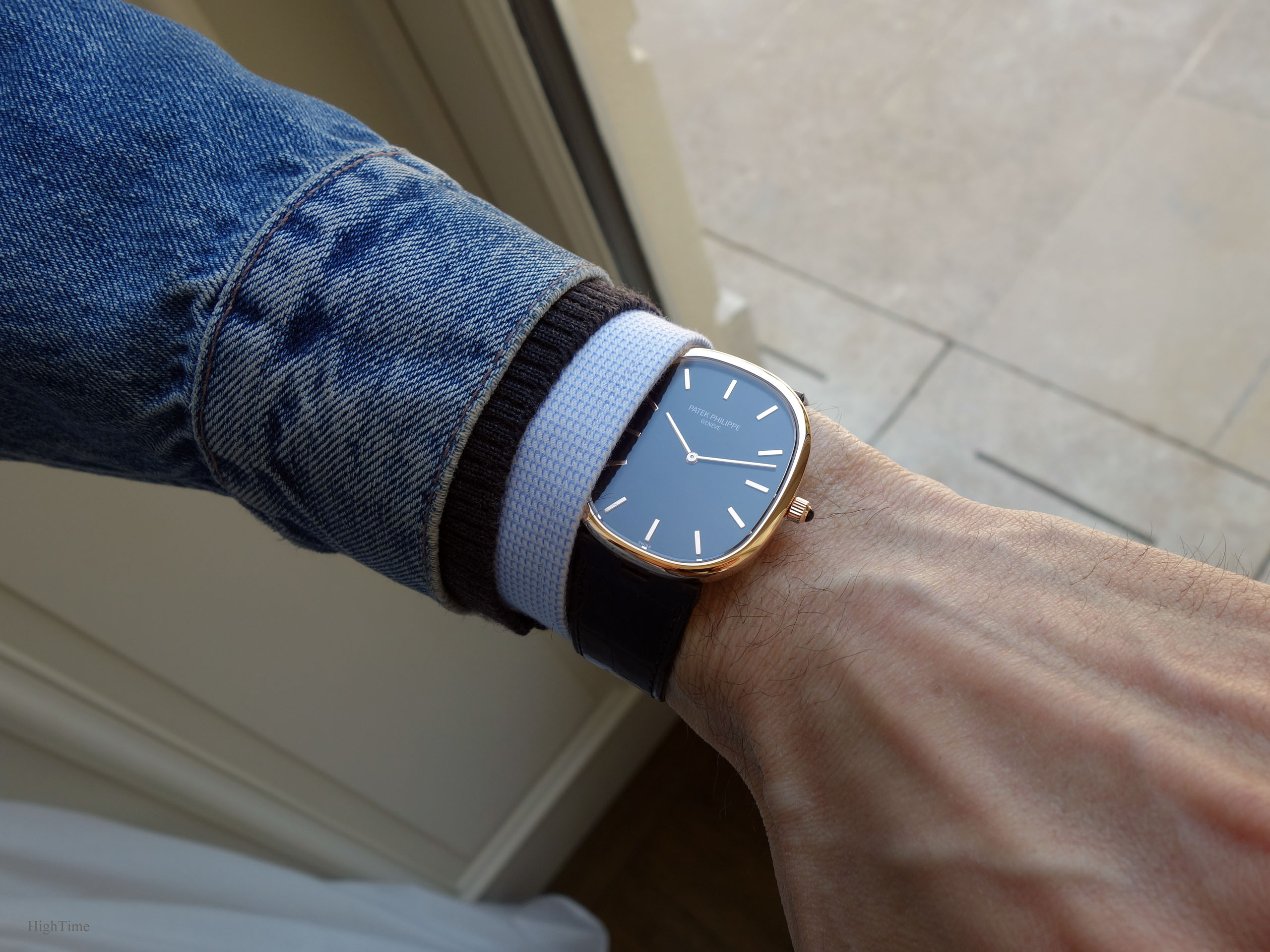 However, thanks to our modern times' aesthetical associations (Sport-Chic and so on), the 5738R can, in addition, very well live a tasteful come back with jeans and colorful jackets or Polo shirts from the best imaginative "in" brands. And how about a pinch of awesomeness with a kaki Fatigue jacket! That would definitely be something.
Sometimes, even if I'm more on the classical side, I like to think about how I could wear a watch and it is only then that the piece reaches its full value, leading to a boost of appeal.
As a side note, the watch can be tastefully paired with the Ellipse cufflinks.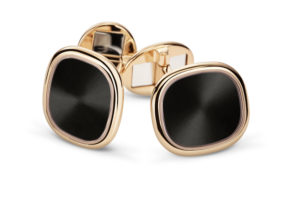 Conclusion and Thoughts
In the field of shaped watches, aside of this Patek Philippe Golden Ellipse 5738R, I liked the 5200G and 5124 Gondolo references and I regret we don't have them in the catalogue anymore (for men). Not only for the atmosphere and pleasure they bring but also for their uniqueness. I personally believe they have their place in the catalogue, especially as, where I live, I see here and there some square watches again. Aside from the pleasure for its owner, it would have definitely brought an additional flavour to the brand itself: originality, history, "fun"… I feel there is a missed opportunity there.
(but, as I wrote before, let's wait maybe for the Gondolo's 30th anniversary in 2023)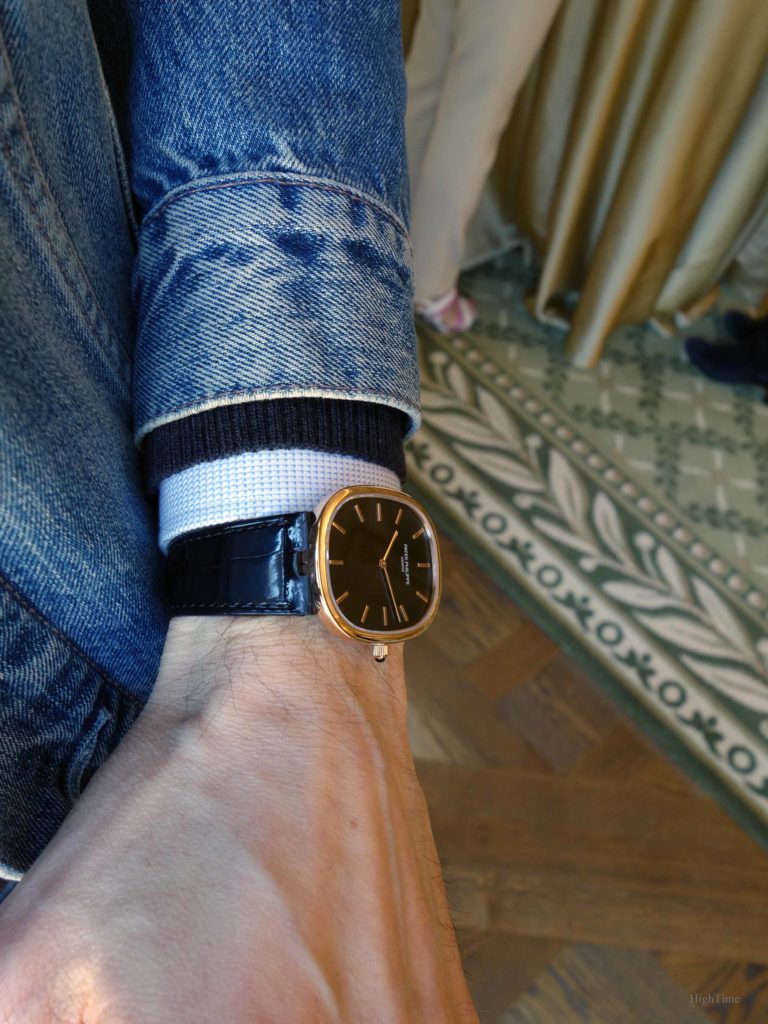 However, that's why I'm glad I can still enjoy the 5738R Golden Ellipse. This is especially true considering its general shape hasn't aged and takes even its full power in situations as far from one another than accompanying classical or very modern outfits.
It's a watch the owner has to dare trying but I think it is rewarded by something other round watches don't provide the same way (even though I'm a mega-fan of the 5227R and 5127R).
When dealing with Aesthetics, let's remember that the idea we have of something depends on the context we knew it in. Hence, this perception can evolve as long as we see it with a change of perspective. For a watch (totally random pick), it depends on who you see it worn on, not in its absolute shape.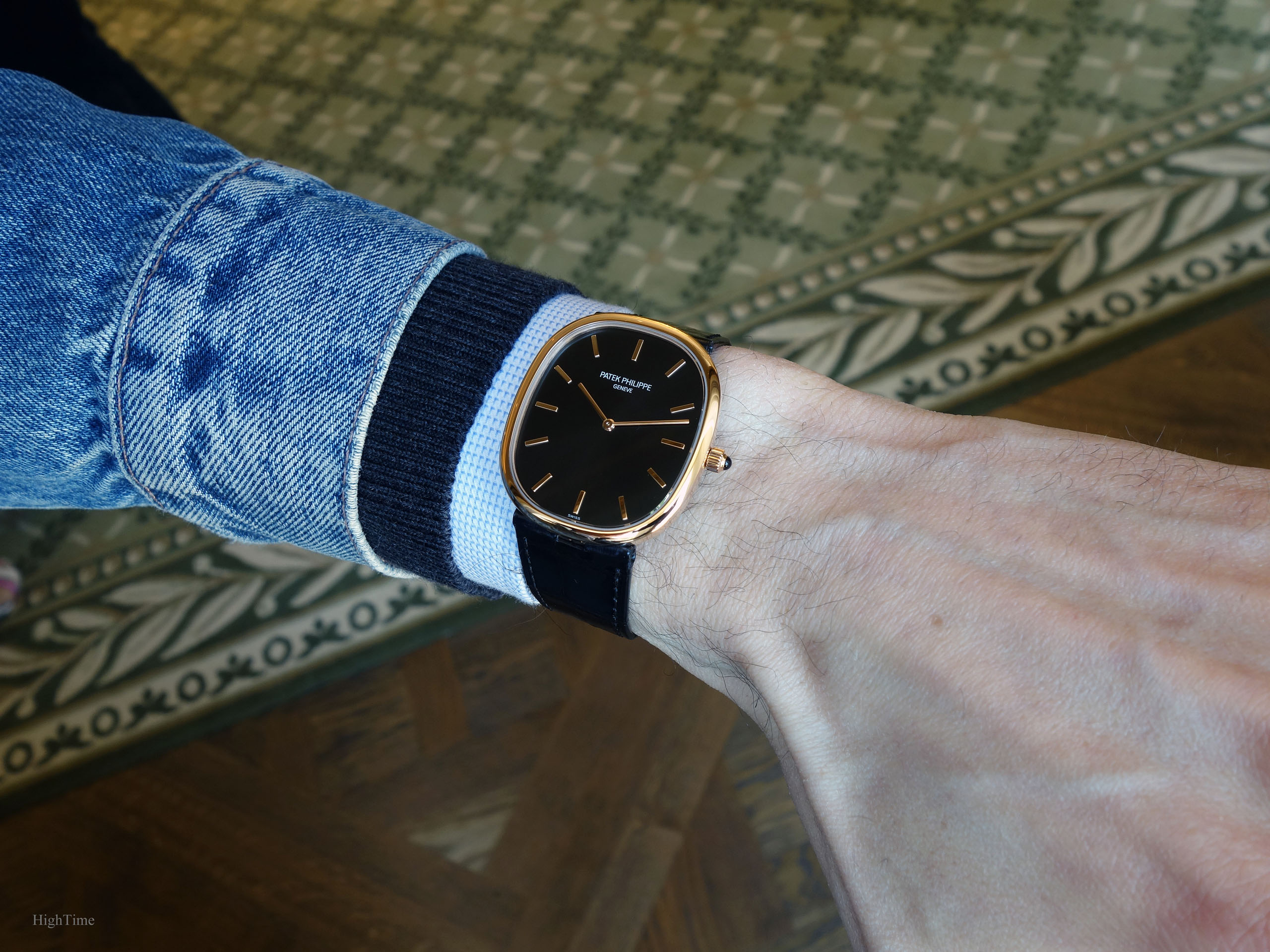 A change of customer generation sometimes makes this "reshuffle" easier and we are today at such point when 2 generations are on the market at the same time. Hence, the style evolution and the brands' evolution requirements.
This Patek 5738R is consequently a model with a lot of potential, as we discussed earlier.
In the present article, I think the Patek Philippe Golden Ellipse model isn't the kind of objects that reflect a trend, it is the ones that make and define trends.
In the end, here is the timeline of the Golden Ellipse lineage from 1968 to 2018: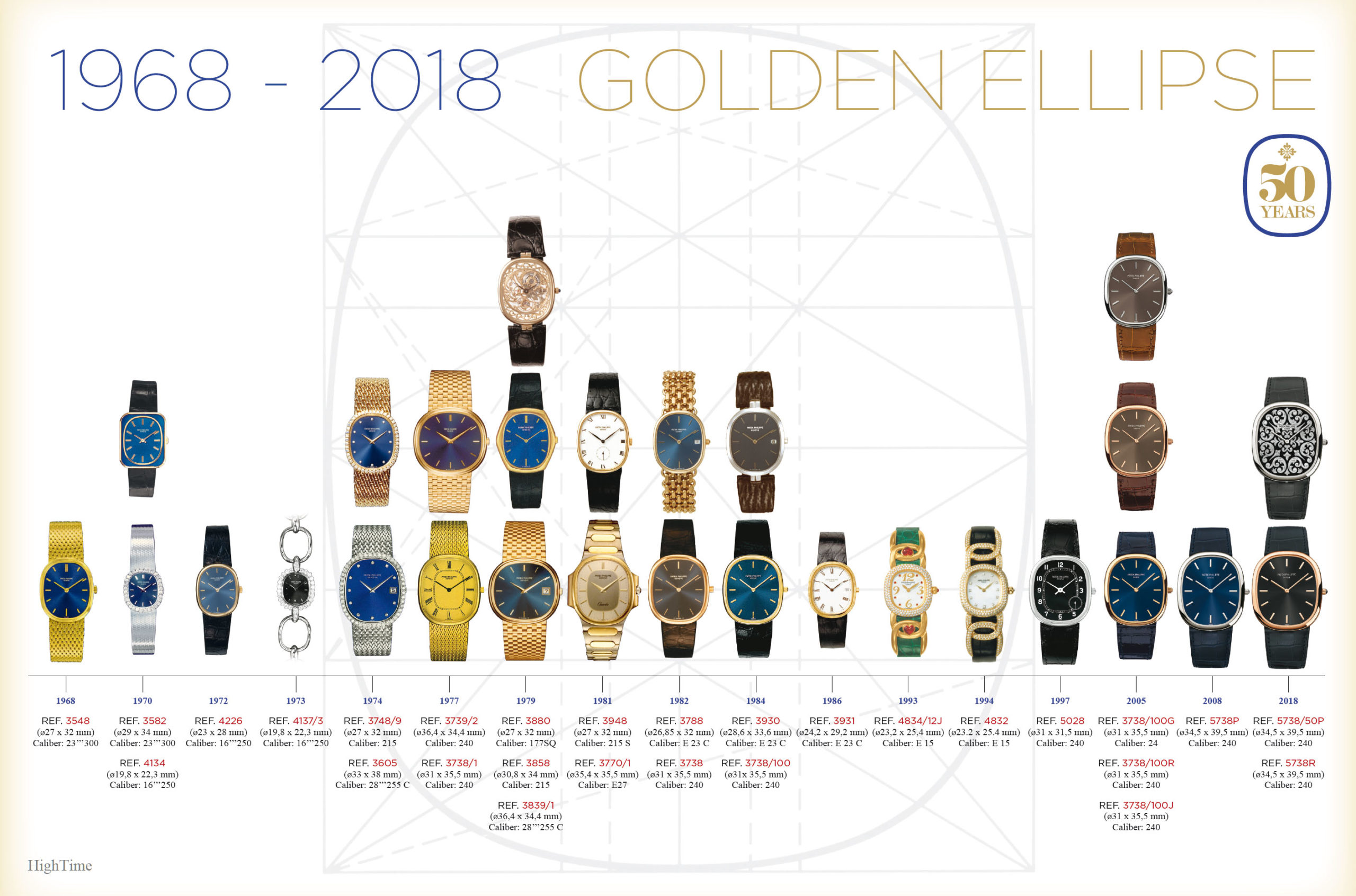 You may find a 2018 Golden Ellipse Timeline video (< 2 min.), here:
The Golden Ellipse Timeline on Patek's Youtube channel
A quick 1min. 2018 presentation of the 5738R, here (from the 0:10 mark):
A Baselworld presentation on Patek's Youtube channel
The MSRP is 29 700 € (VAT incl.) to date (2021) and you can find further information here if you wish:
The Golden Ellipse 5738R on Patek's website
Thanks for reading!