2018 and 2019 Patek Philippe bracelet novelties: a new fold-over clasp and new expandable links
Hi everyone,
As they did with the recent upgrade from the 324 caliber to the 2019 26-330 caliber, Patek Philippe introduced quite discreetly 2 other technical features they didn't talk loudly about. On the one hand, the brand presented in 2018 a new fold-over clasp with the 5740G Perpetual Calendar Nautilus and 5968A Chronograph Aquanaut. On the other hand, in combination with this same buckle, we were provided in 2019 with a new adjustable links display within the 7118 Ladies Nautilus bracelet.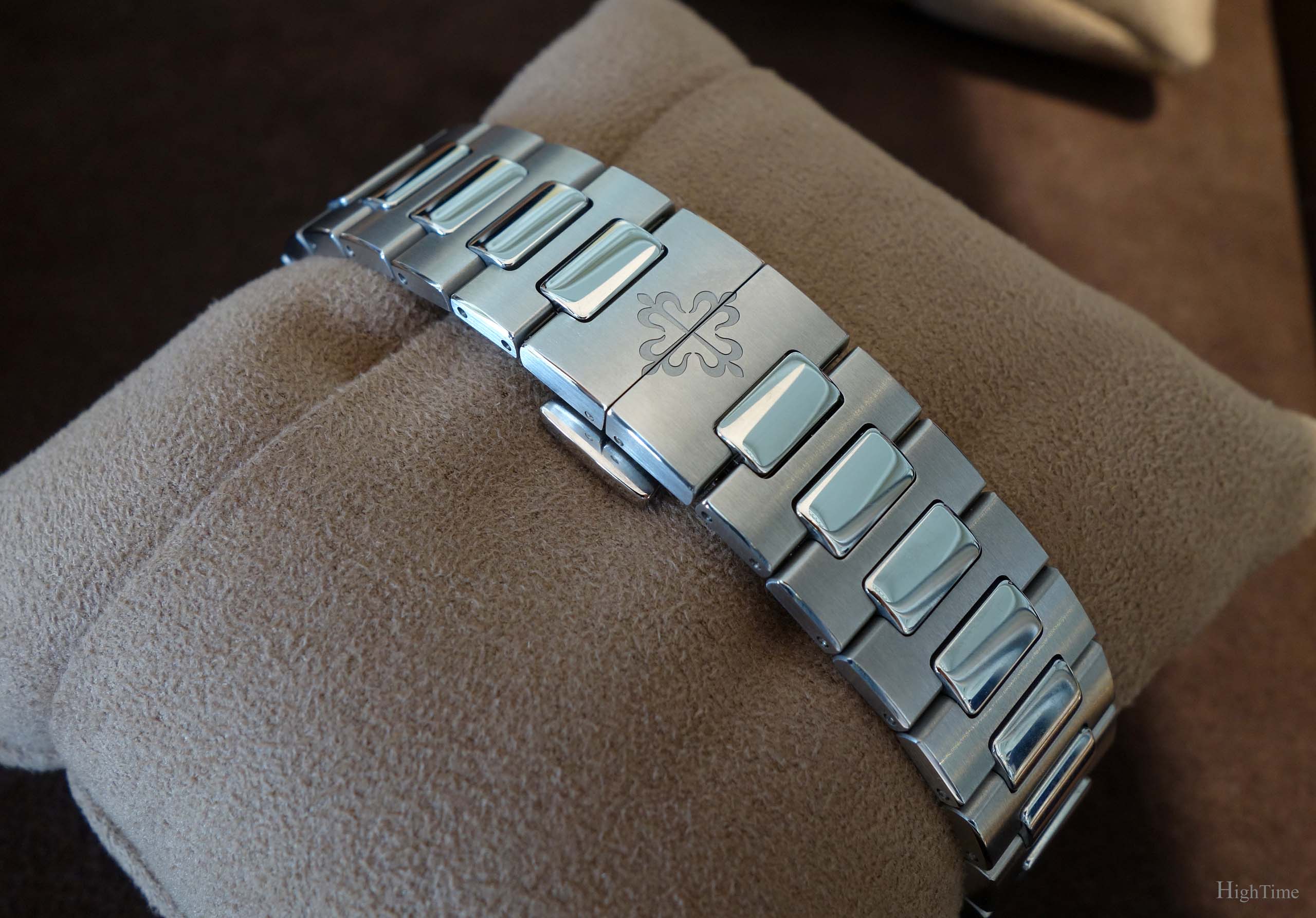 The brand has always favored highlighting watches and movements while accessories should evolve "in the shadow". It's also a way to launch and experiment new features on a very few references before most likely applying the concept to the rest of the models (as with elements taken from their Advanced Research program for instance).
Those 2 additions to the watches are meant to bring even more wearing practicality to already mainly the most comfortable bracelet out there, as well as security.
The new fold-over clasp
When saying new fold-over clasp, it's more precisely about the locking mechanism. Indeed, with the previous folding clasp, the principle was based on the metal's softness: it allows one part to bend and engage into the other (on a male/female pattern, see the 5712A picture further below). The new one works rather like a locker: to open, you push 2 buttons in order to retract the 4 bolts from the keeper.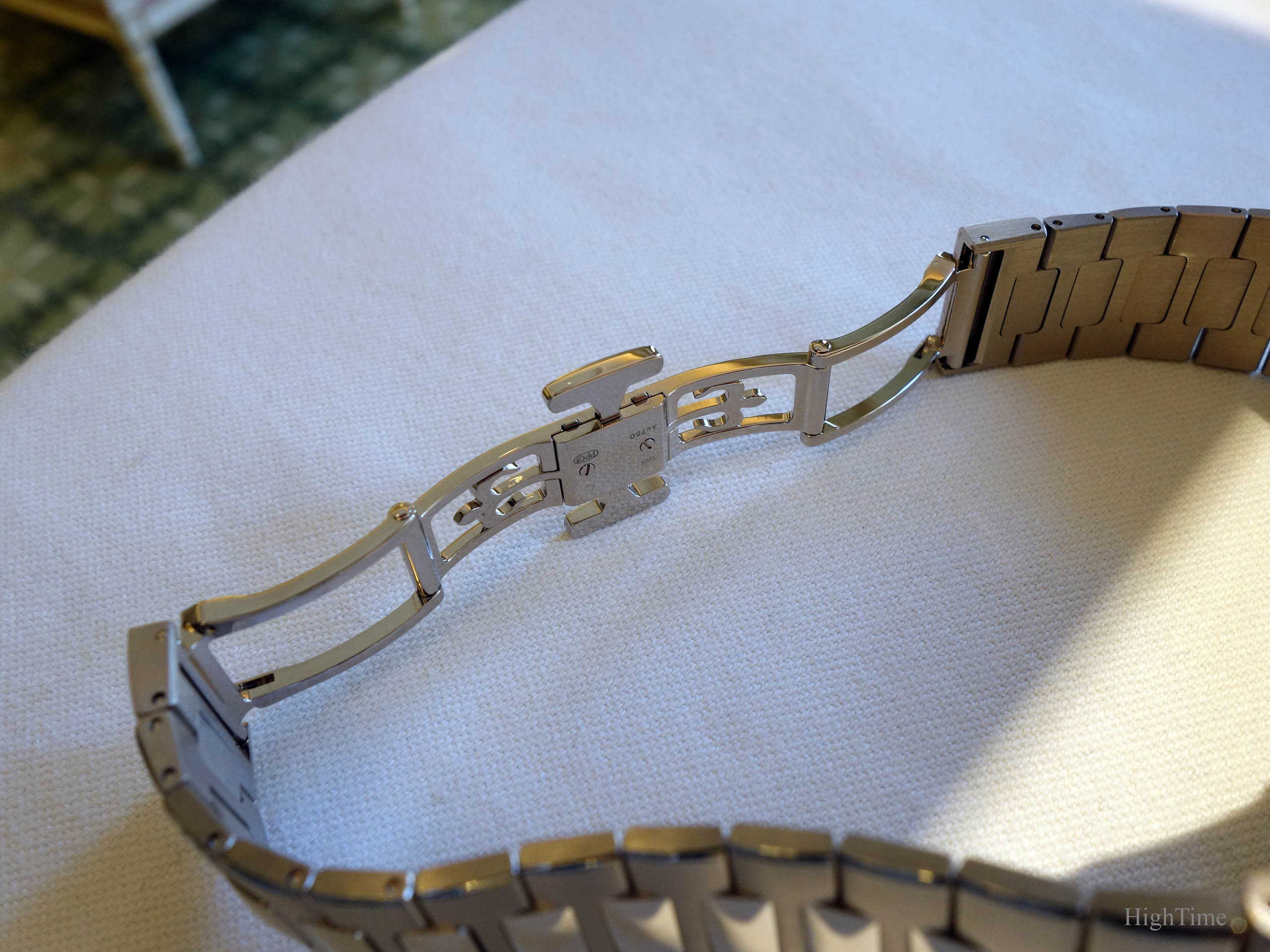 This system brings more security and an easier way to open the bracelet. Closing remains as easy as before with a very nice and sharp "tic". Personally, I didn't have any trouble opening frequently the current model but some people could find it wasn't the friendliest to use. Furthermore, I imagine the previous system required a setting phase in Geneva in order to balance its tightness strength – not too loose, nor too difficult to open.
However, I find the new system even handier.
Even though I never felt it softened after a few years wearing one, maybe the brand thought the multiplication of opening/closing sequences could present a risk of wear (friction) on the (very) long run or getting a little loose over time. Furthermore, even if rare imho, I imagine the buckle could be accidentally opened while directly grabbing the links or when bending the wrist with a loose bracelet (after removing first the security cap though).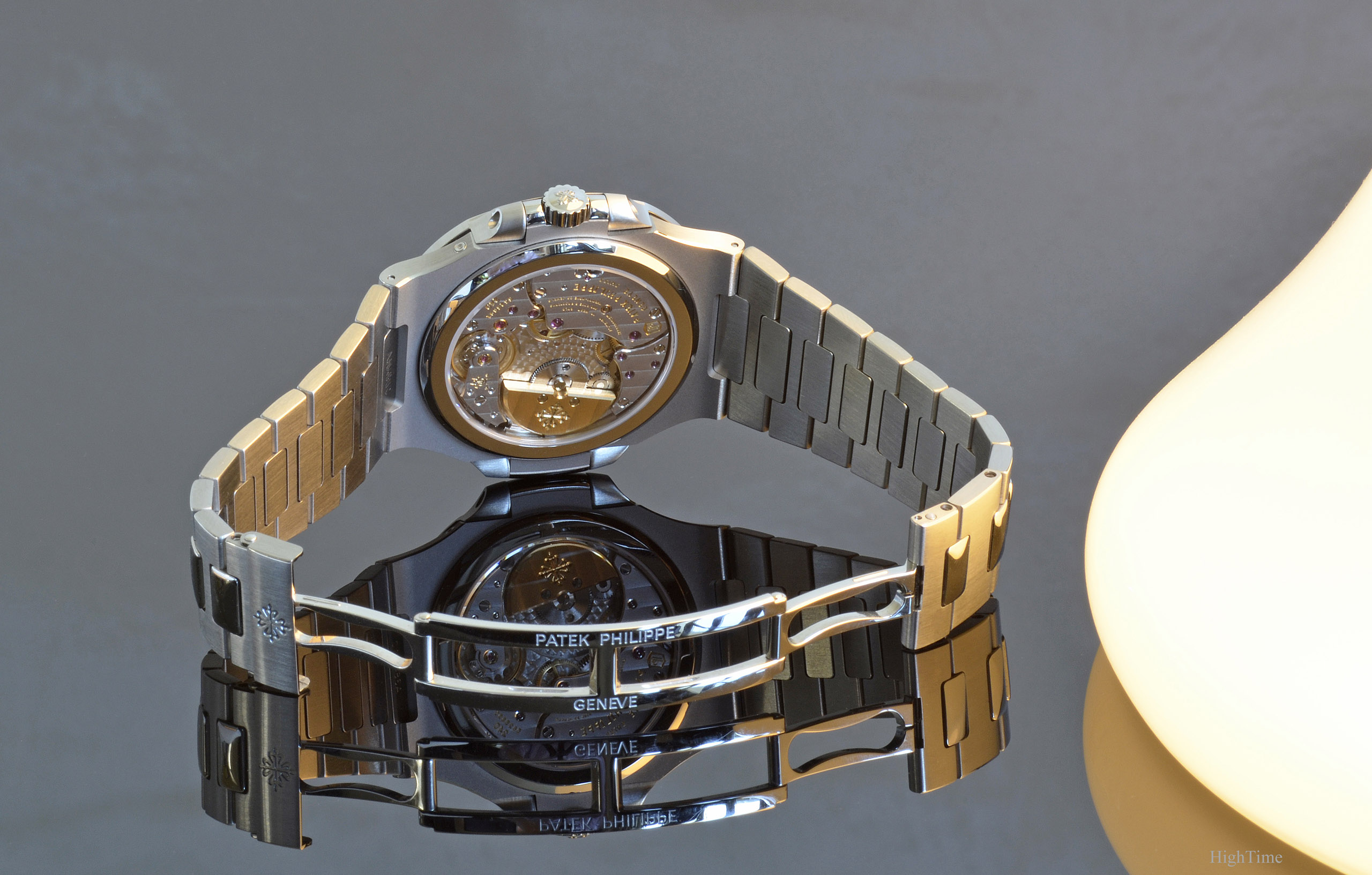 How is it designed: as you can see on the pictures below, when 1 pusher is activated, it opens only one side. Thus one needs to push both pushers at the same time in order to be able to release the clasp completely. Furthermore, Patek's watchmakers reduced the number of parts as low as possible, limiting reliability issues. Indeed, in that matter, a spring metal part is certainly better than an assembly of several pieces. If you remember, the same "bending" philosophy (versus an addition of several pieces) has also been applied with the 5650G Aquanaut Advanced Research's pushers.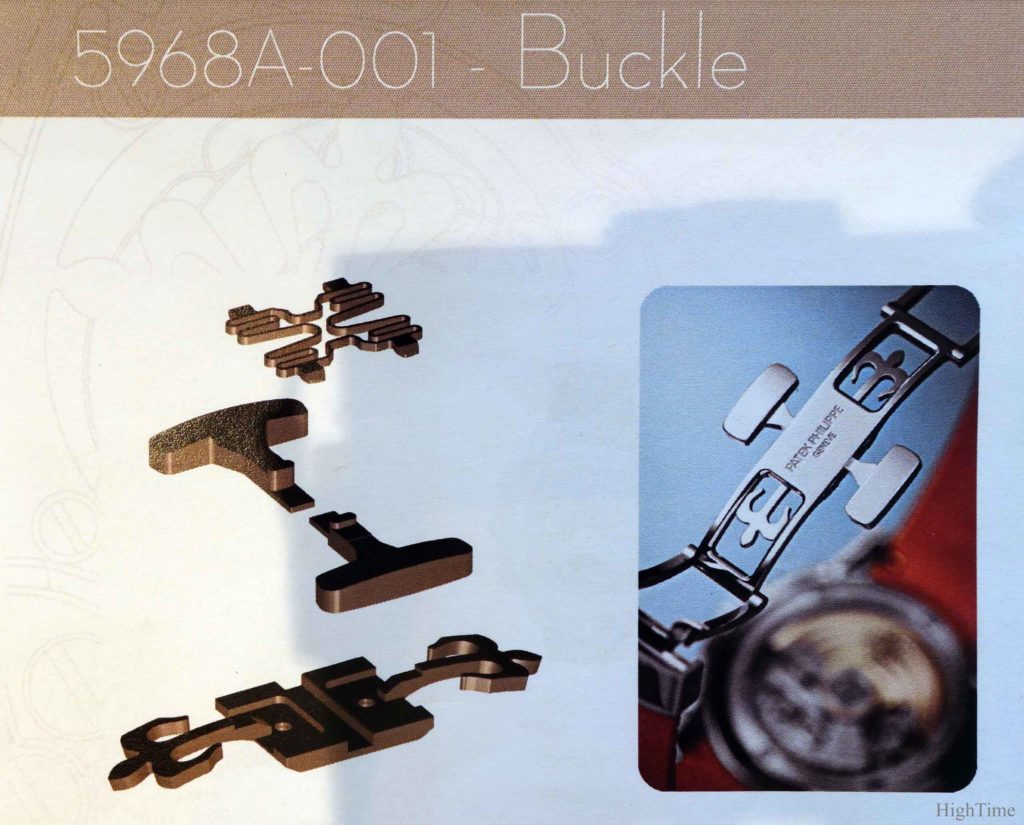 As a result, there is no need of a security cap anymore.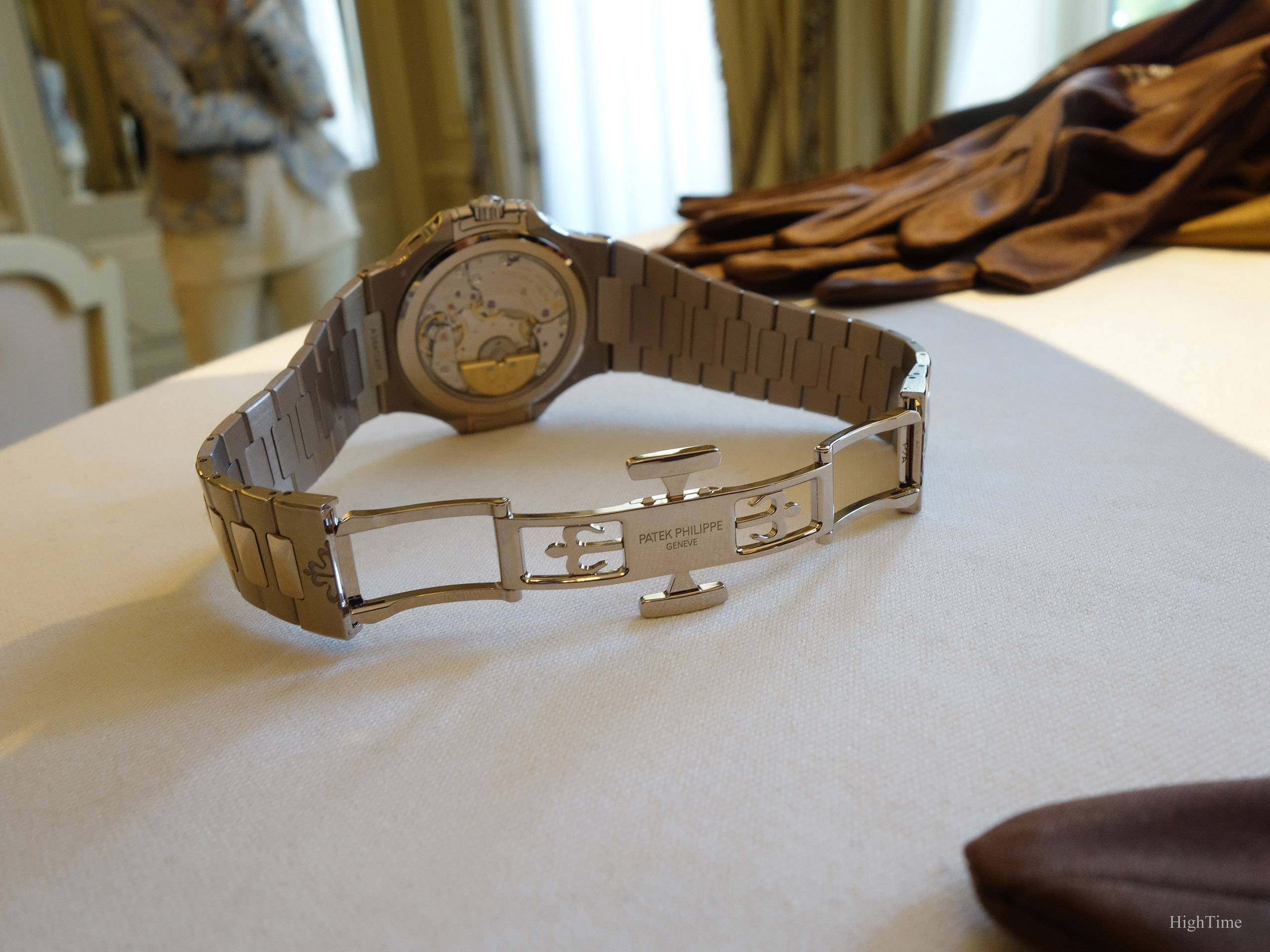 Overall, the previous buckle is very well built, works perfectly and remains very secure but this one adds a little more perfection on every level, in terms of security, manipulation ease and also for the new Calatrava decoration added in its center. And, the usual Patek Philippe trademark, it remains thin.
The new expandable bracelet links
During Baselworld 2019, Patek Philippe followed up by adding 2 new links in their Ladies Nautilus 7118 bracelet. They allow to gain 2 more millimeters on each side when needed (hence making a possible 4mm adjustment).
As you can imagine, this new mechanism becomes quite handy nowadays with these screw-locked bracelet links (requiring to visit an AD to add or remove them). When activity or wearing conditions change, the wearer can adjust the bracelet's length easily and by himself.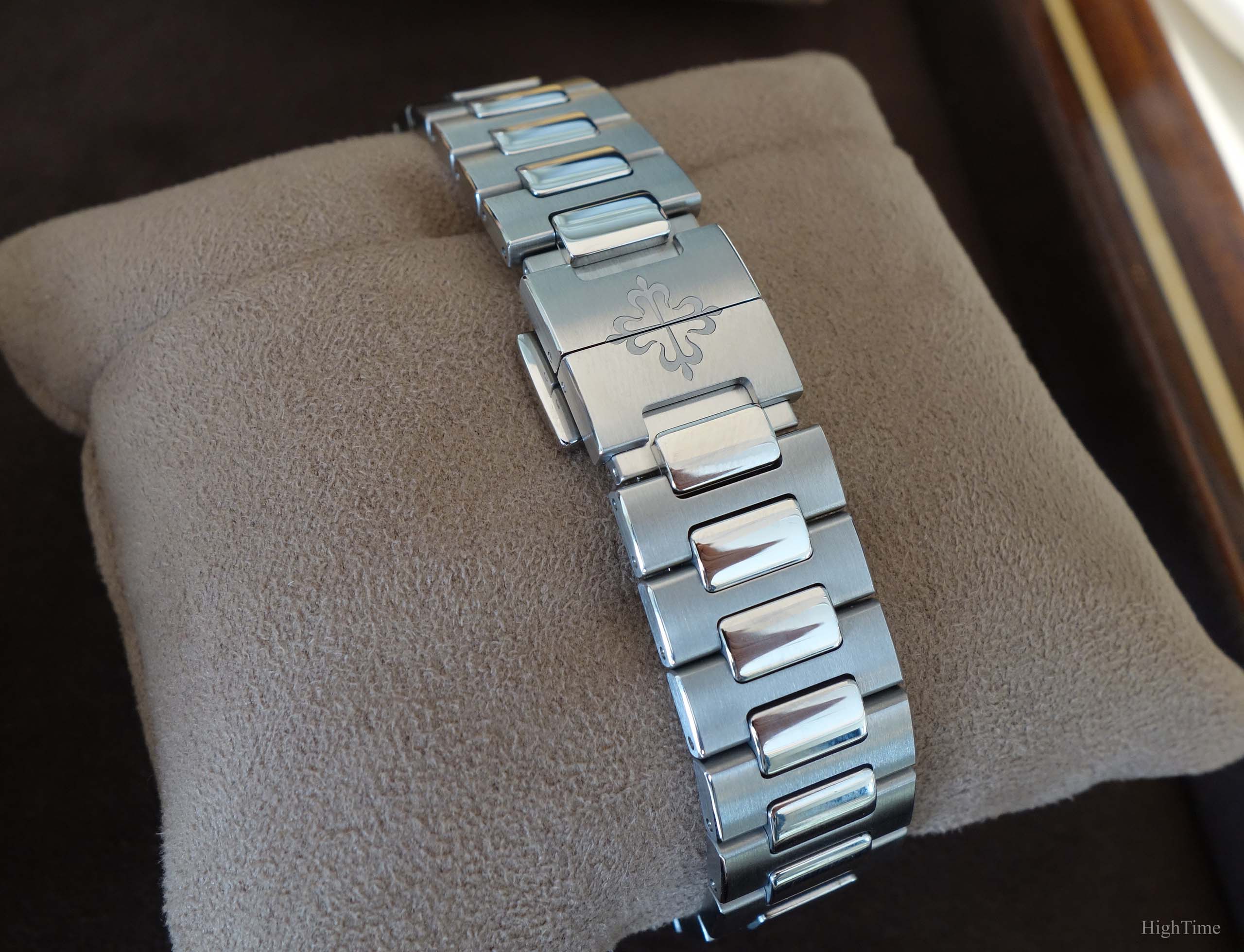 Technically, one of each "special" link is integrated between the clasp and the rest of the bracelet.
How does it work: very simple as you just need first to grab the bracelet with one hand and the last link (attached to the deploying buckle) with the other. Then, you just pull (nothing to remove/unlock prior to this).
To reduce the bracelet's size, you just need to push them back again. Very easy to manipulate and, as it requires quite some strength, this looks to be something stable (time will tell, even if I imagine it has been tested on prototypes for a while).
Even if the beauty of the Nautilus' bracelet isn't as nice in its extended position, you can still appreciate the possibility it offers compared to standard non-adjustable links. You can decide to set it to the closed position (short) for when you're wearing it the most, leaving the extended position for the exceptions when it becomes necessary.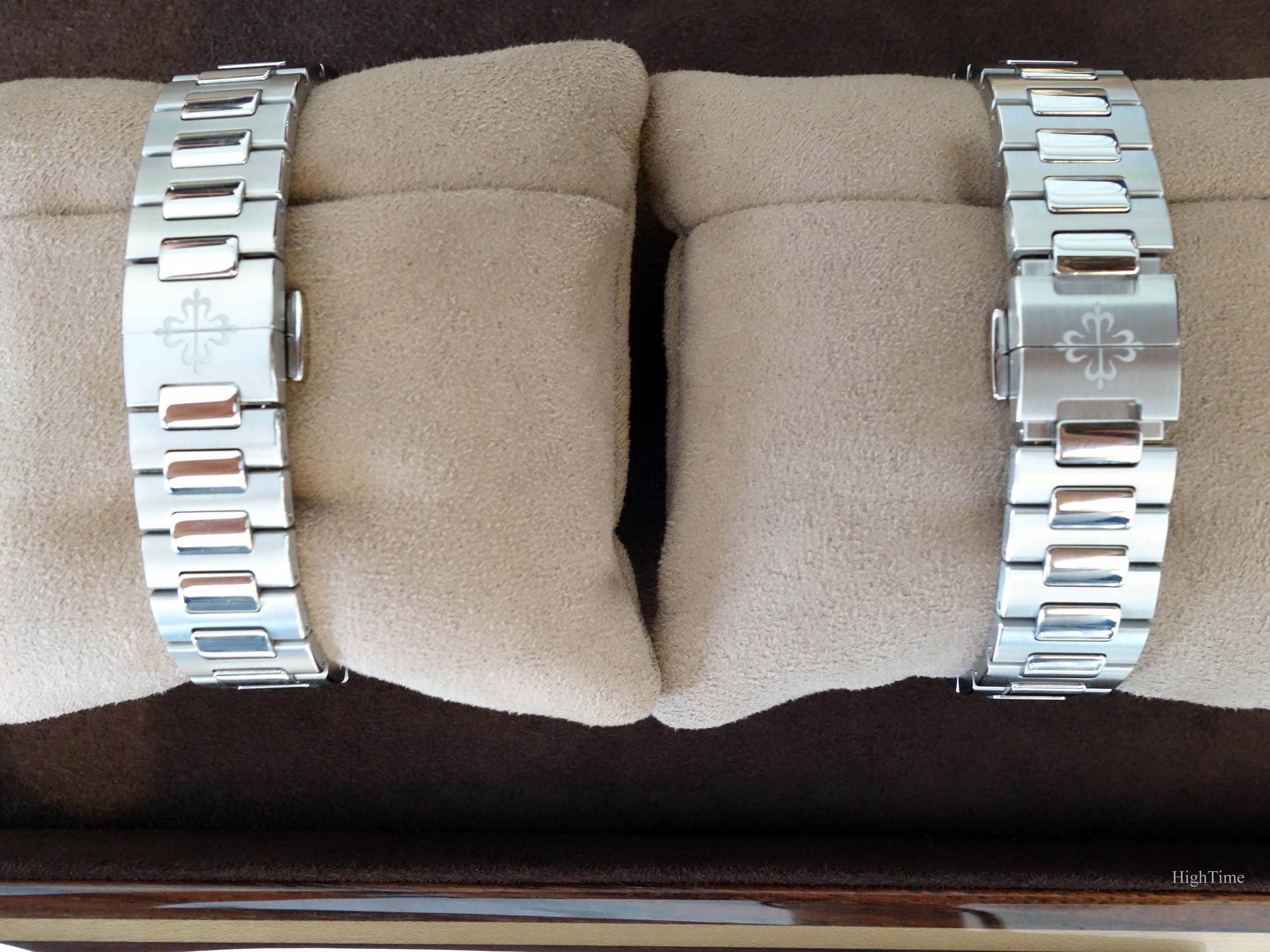 The 4mm you can gain overall is quite practical for most of us I think. Of course, if you prefer, you can decide not to use it and still go to your AD to add and remove links twice a year, as we did before.
In the operation, you can notice the buckle design has changed when in closed position (no more security clasp), with the Calatrava cross engraved in the middle.
Conclusion and Thoughts
As mentioned, those 2 solutions are new features that Patek Philippe has included in a very few watches at first (7118s, 5740G, 5968A). That's what they usually do when introducing innovations like they did with the 29-535 in-house chronograph movement (already in a lady watch at first) or with the first Silinvar new spiral etc…
The fact the brand isn't loud about it shows it doesn't need to over-communicate on what should remain an accessory to a watch. The watches deserve most of the light and suffice for themselves.
However, we can imagine that it might be applied in the future to other watches in the collection using bracelets (or the Aquanaut's resin strap). It would mainly be within the Nautilus and Aquanaut line-ups, in addition to the traditional models available with bracelets in replacement of a strap (usually indicated with "/1").
Here again, practicality and security have led to introducing these evolutions that clients, I'm sure, will be welcoming very positively.
Thank you for reading!