The Patek Philippe 5960G Annual Calendar Chronograph – In a sailing camo
Hello everyone,
In 2017, we had quite a nice surprise in discovering the latest 5960 version: the Patek Philippe 5960G Annual Calendar Chronograph. This is one of my favorite model (hence, the long article) considering the style or the complications combination. A perfect daily wearer that I think deserves a very close look at.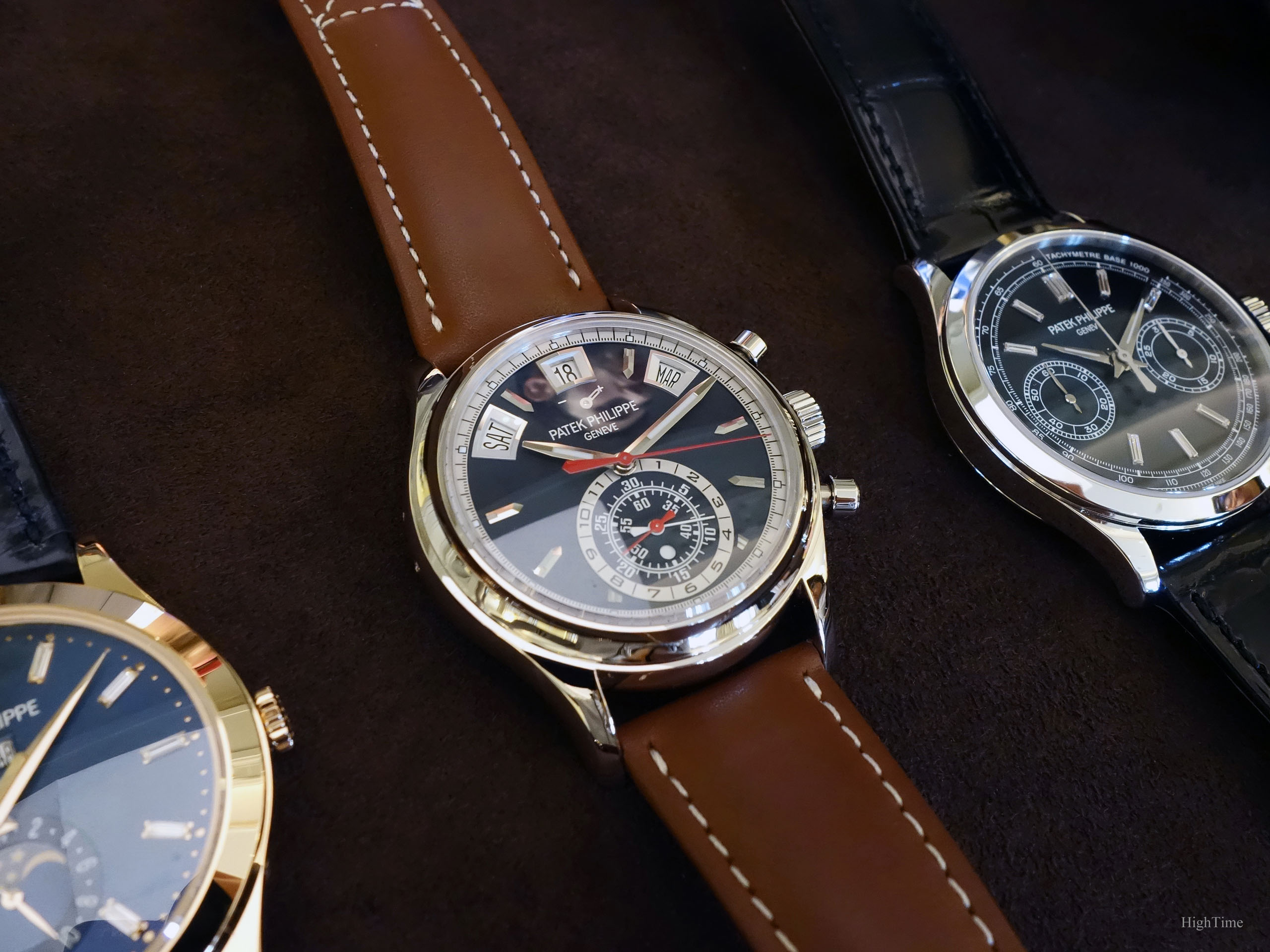 Some background
Back in 2014, I thought the Patek Philippe 5960/1A novelty (in steel), with its very sporty white dial, was the model that might be ending the 5960 period (the non-diamond gold and platinum versions were already discontinued), leaving the new (and bigger) 5905 reference to follow the line's story with the same 28-520 caliber. Today, we know it wasn't and I'm sure we are many to be happy about it.
And especially me, since the Platinum black dial version is certainly my all-time favorite Patek (the grey dial is not far).
Indeed, the 5960 gathers many interesting functions in a very handsome layout. Before the 2014 steel version, the dial spirit was more traditional (leaf hands, different chronograph subdial ring, fonts etc…) and flourished through very attractive versions:
In Platinum, with grey (from 2006), blue (from 2010) and black (in 2013) dials;
The "Moscow" limited edition (blue dial, 100 pieces, the only one in White Gold at the time, only available in the local market);
And, to be complete, in rose gold with silver (from 2009), white and black (both in 2012) dials.
I think these previous models (and especially the Platinum ones) represent fantastic value for money.
Finally, in 2017, a new steel black dial variant was added to the white dial 5960/1A model (both discontinued in 2018), together with this more surprising White Gold model on the same "sportier" base.
In my opinion, it is definitely another way of interpreting the casual-chic theme aside from the Nautilus line-up.
The dial
The specific blue sandblasted surface is a feature I already appreciate in the 5524G "Pilot" or the new 5172G Chronograph. It brings an appealing and casual touch (compared to a metallic or sunburst decoration), without being too modern. Such dials allow playing with different attire or strap colors and it is a welcomed surprise from Patek as modifying a more classical and such successful model, without ruining its original beauty, can be tricky.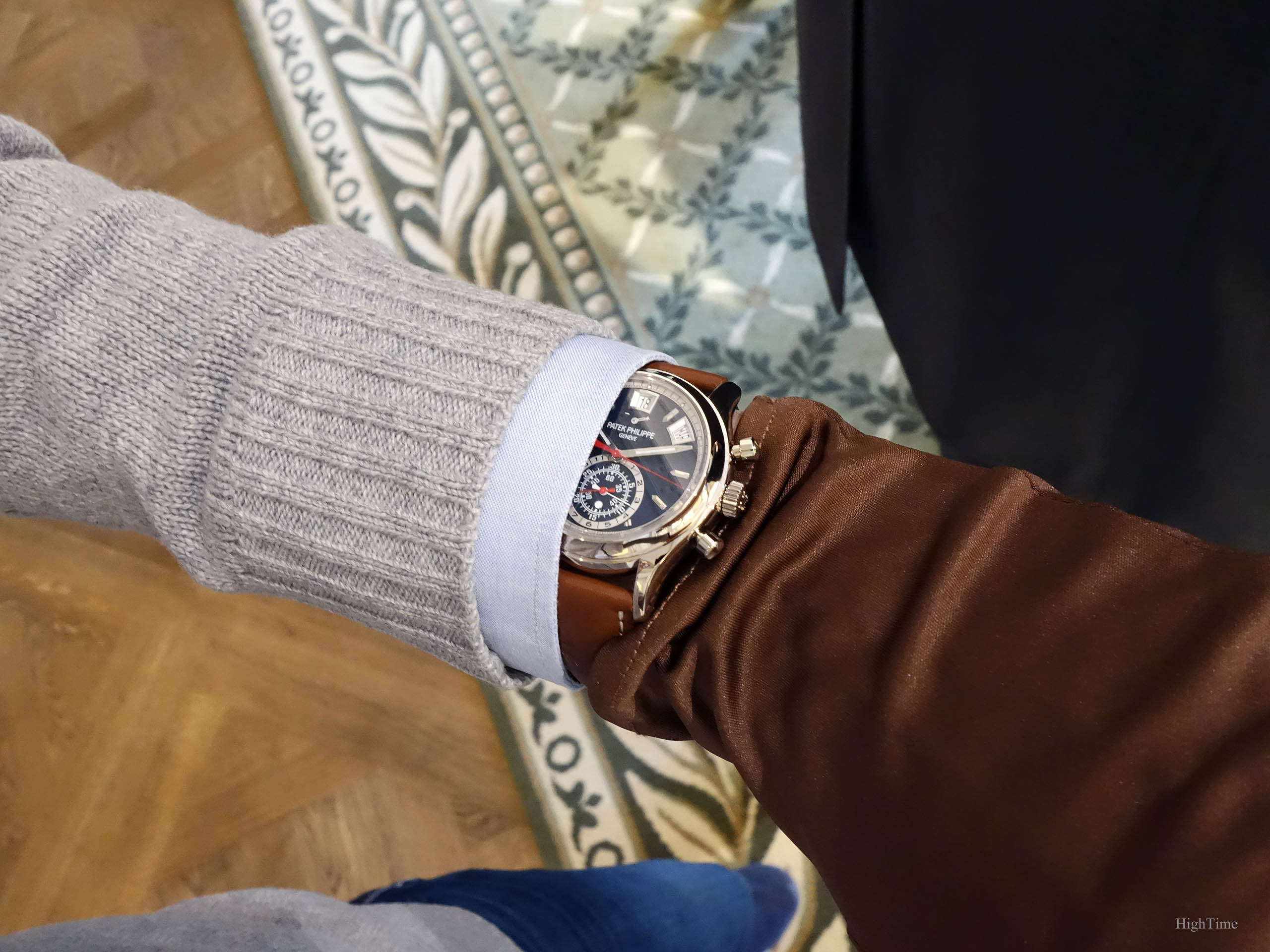 In that outfit, the reference is definitely a sportier model. Meanwhile, it remains elegant and classy (thanks to the colors and material combination, the case shape…) as well as refined (the top-notch crafting execution and details finishing). This is particularly visible through the applied markers' and the Annual Calendar windows frames' beautiful finishing.
Indeed, if you come to hold it, a closer look will unveil how the markers have been conscientiously faceted on the upper side (polished), while reworked on the external end (sandblasted groove). On the same level, the date windows are polished on the front side while sandblasted on the inner parts. These details help the watch play with light and bring that luxury touch that is very appealing in a casual model (and not visible on a picture). For sure, keeping the edges safe and adding those details is time consuming (expensive) and requires a sure skill.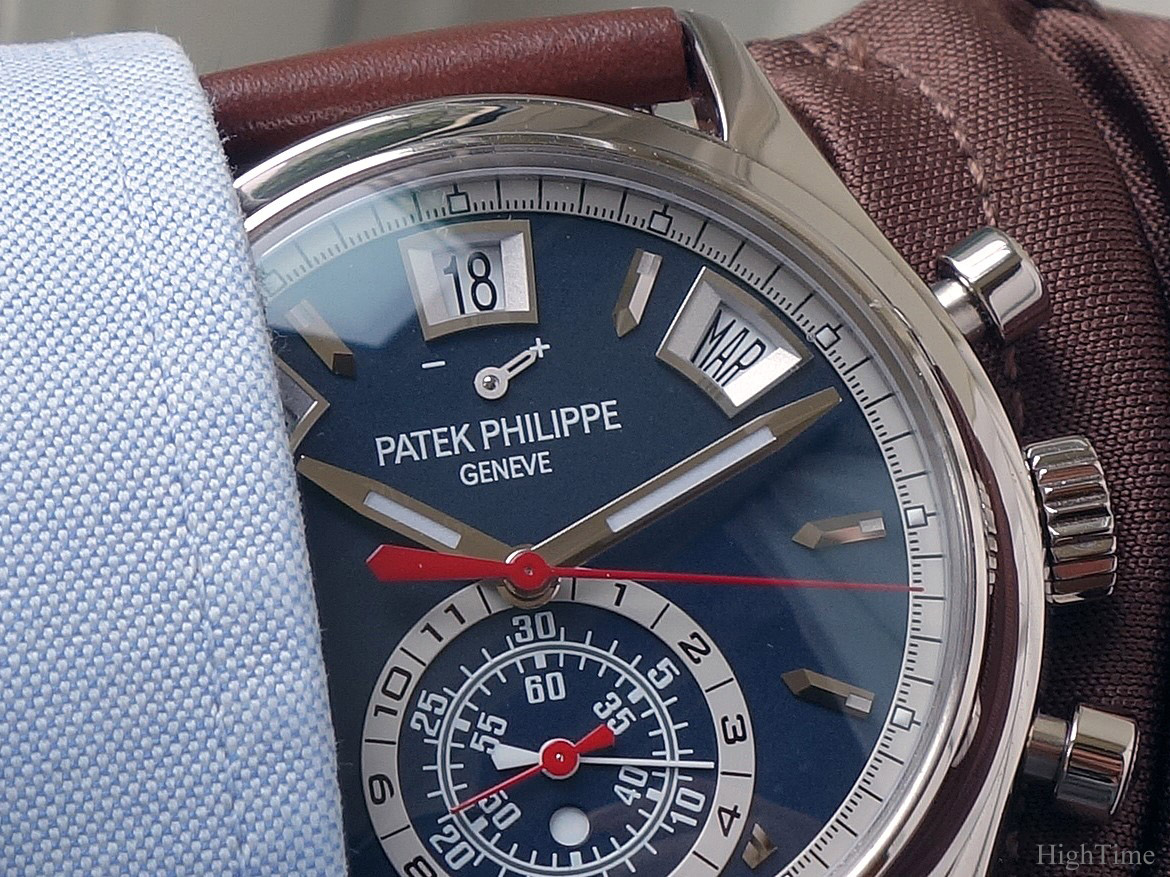 People don't usually pay much attention to such details, but it is when you can put watches side-by-side that you see what they bring, explaining a part of Patek watches' appeal. These characteristics bring luxury in a very attractive way. It isn't ostentatious like we may get with "too many" polished surfaces (as can be found on some bracelet links for instance). This participates to the pride of possessing such a watch.
I already liked, in the Platinum versions, the lume-coating choice for the hands (attractive traditional/casual combination), even if it was with a classical design. The more modern hands we have now are usually not my favorite shape on pictures but they look much smaller in the real. They are better integrated in the overall dial, hence bringing a less traditional look to the new versions. Modernizing was the aim and reminds us the brand has often included new aesthetical features in novelties. This is natural in order to come along with the following generations of customers.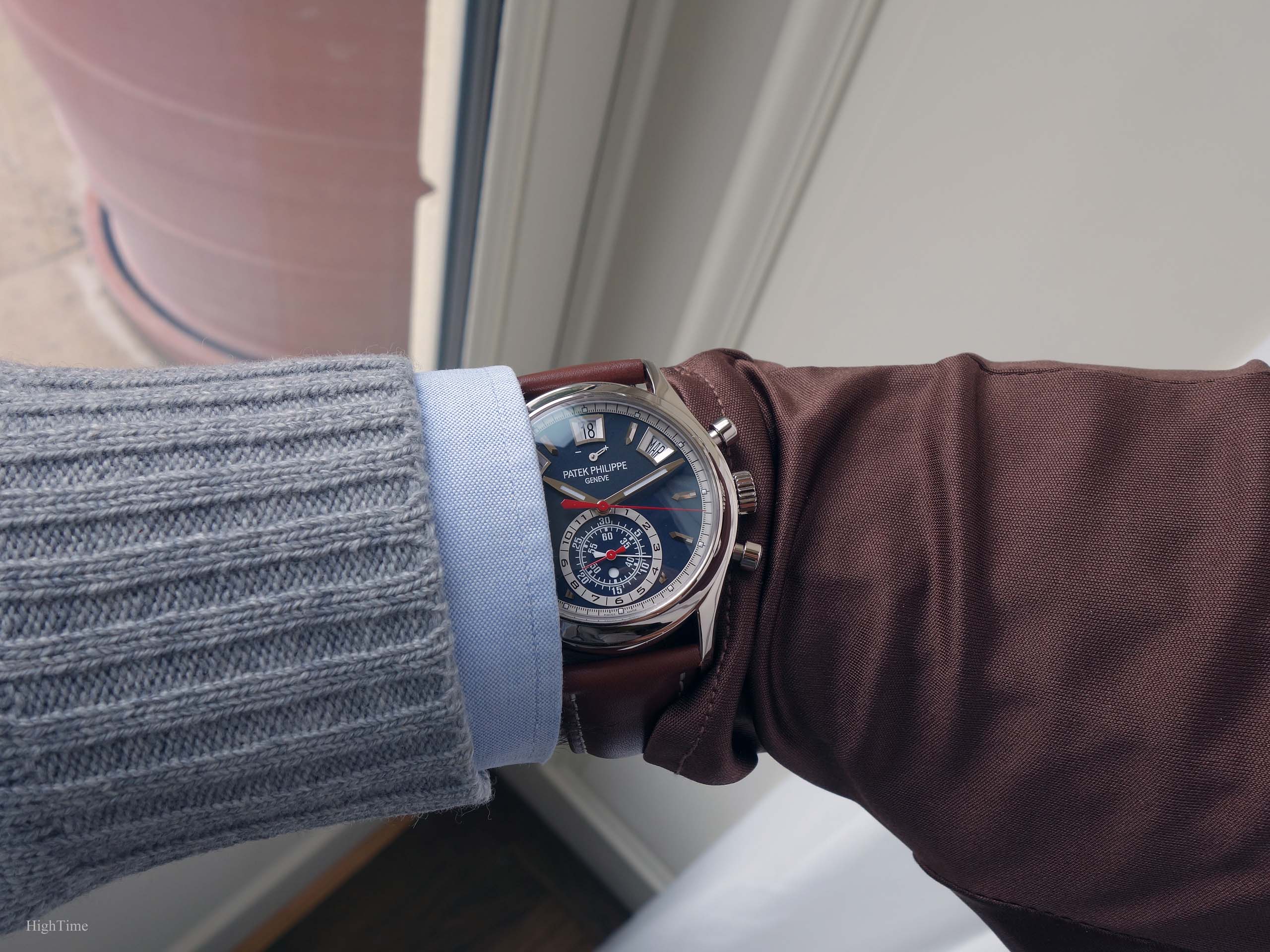 The two red chronograph hands don't come out as much as it looks on official pictures and just bring a nice measure of sportiveness. What I would do for me though, is changing the strap color to remove a color from the picture (maybe also because I don't like brown straps to begin with). This is also the right balance that positively surprised me with the recent 5968A Aquanaut Chronograph's orange ones: not too obvious in the real but giving a specific feeling in the overall picture.
The case
Its diameter is finely tuned for its thickness (40.5 x 13.5mm) and its objective of being a casual and classical watch. The model has a lot of presence and remains very comfortable thanks to the case back's shape. This is an "asset" Patek has been preserving on the long run on their pieces.
I know some of us prefer steel for sportier watches but, as in the 5524G or 5168G, I think White Gold cases bring a lot to such watches, especially in the way light reflections work, a hue that precious metal adds compared to "greyer" steel or titanium for instance. Not forgetting that a majority of owners wear sport watches for non-sport occasions. Hence, I don't think I would have preferred steel here, a material I prefer seeing on Aquanaut and Nautilus models. But that's a question of personal choice and how we intend to enjoy them.
Last but not least, the beautiful new pushers (borrowed from the older 1463 Chronograph produced in the 1940's-1960's) bring a very nice touch I wouldn't have thought of adding (also in the 2018 7150R Ladies' or the 2019 5172G Men's chronographs), especially considering the "casual" aim. This is a perfect example of a working combination between vintage and modern. Please, have a very close look at their end engraving in real. You'll be charmed.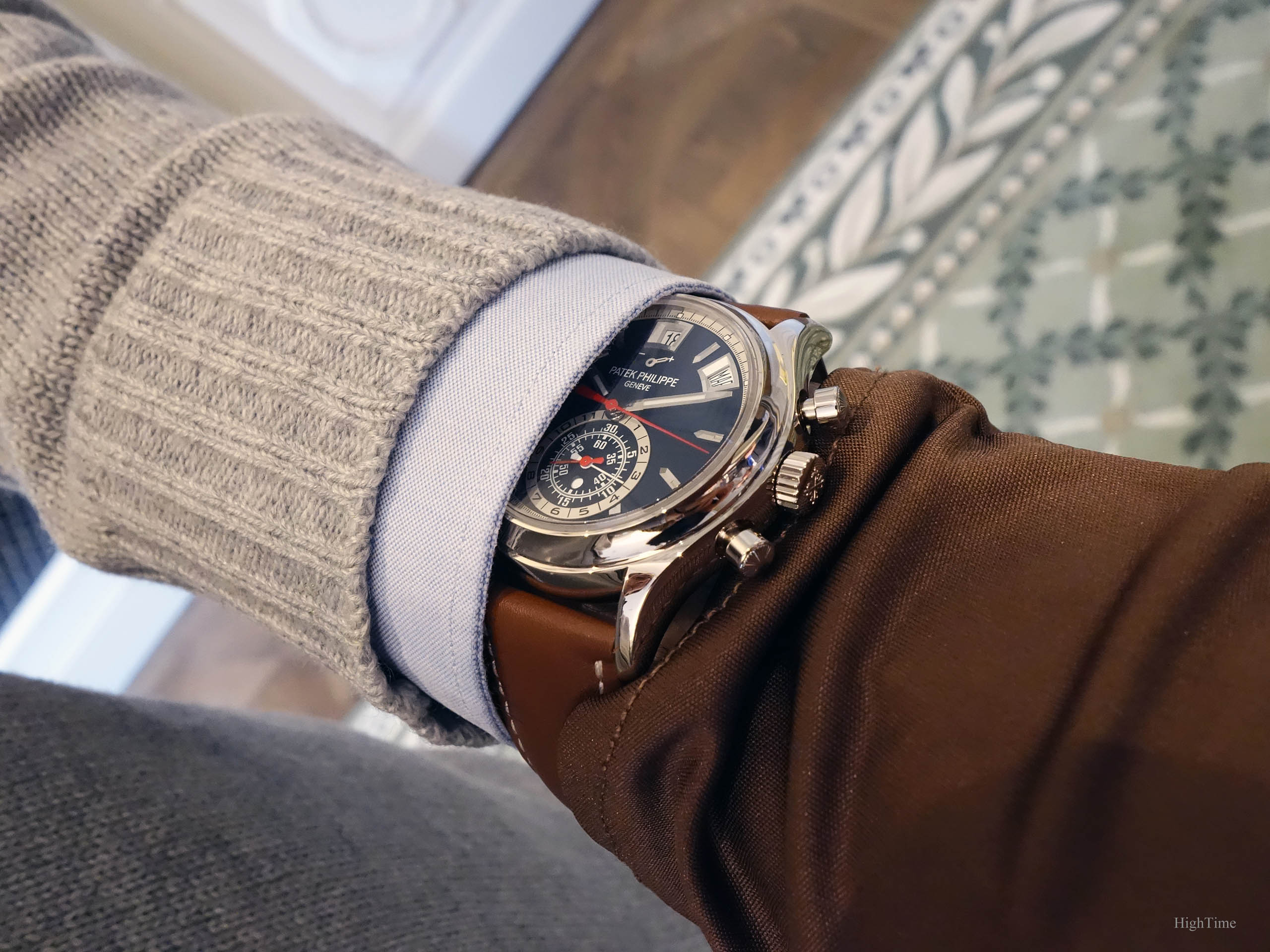 The concave bezel is another appealing element (especially used in thicker Pateks) that helps limiting the visual thickness.
In the context of the 5960 family, I think that these last casual models (including the steel versions) have made the watch a whole new contemporary interpretation from the Platinum and Rose Gold first generation.
Early on, I wasn't that excited when I discovered the 5960G's official pictures. Since, like most of the time, the live experience has proven otherwise. Indeed, after being able to try it on a few times, it definitely keeps this luxury touch, this quite elegant effect (shine) added to a casual sportiveness, that is really attractive. This is what aesthetical style is about today as well: a mix of classical with more modern or casual elements that, again, should be observed in the metal.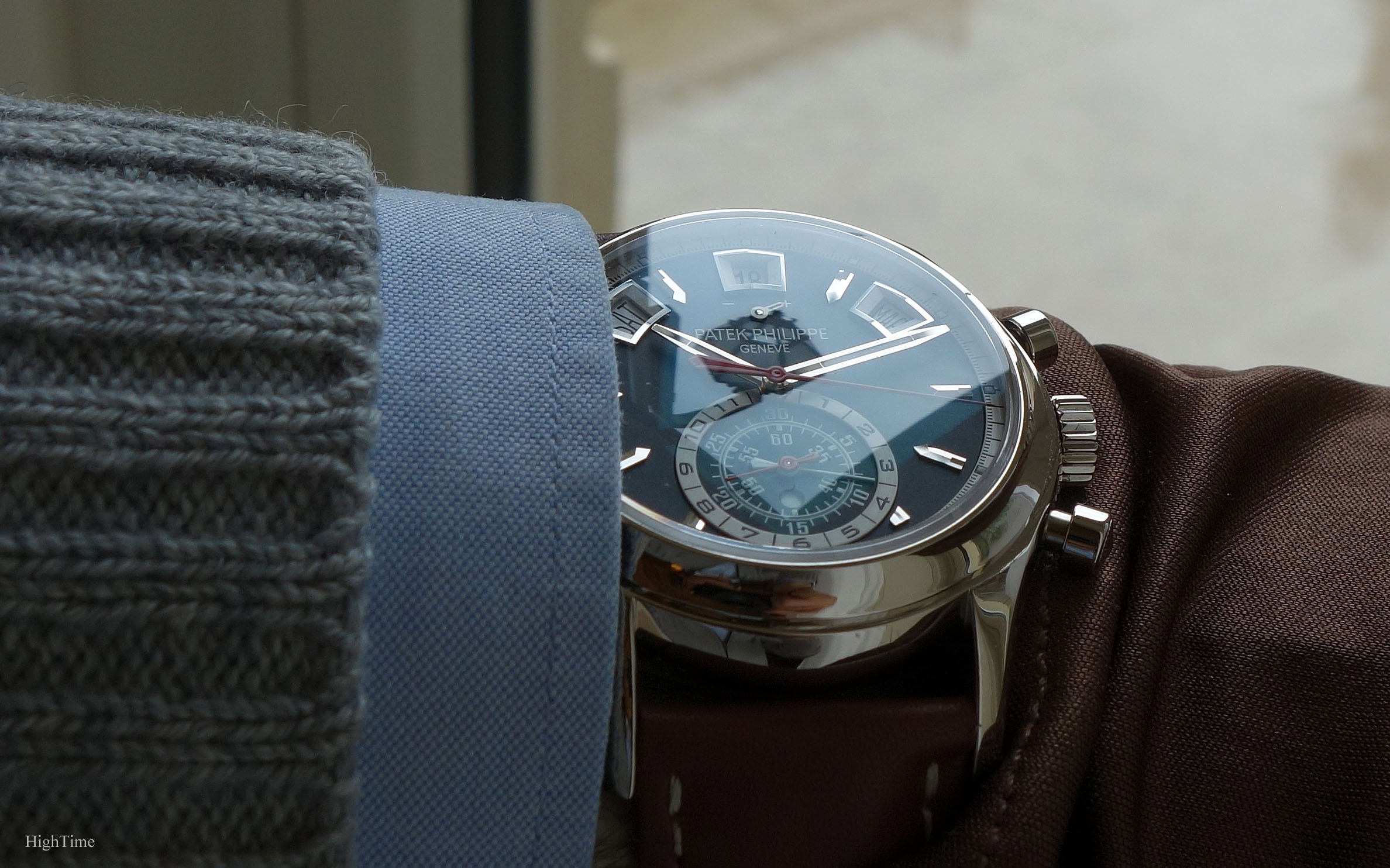 Many clients (and not only the new ones) need/want a Patek that looks more modern and that fits better the casual outfits we're wearing more and more nowadays, even at work. It isn't only about practical needs, it is also about tastes and new style standards. It isn't because it is sportier that a model is less elegant or less beautiful (think about the Nautilus for instance, especially back in 1976…). If we take the example of cars, is a sports car less beautiful than a more classical one? They just appeal in different ways.
This 5960G is today's 5960P imho. At least that's how I may see it.
The caliber
On the movement side, the main complications the 28-520 caliber embeds (first "in-house" automatic chronograph caliber for Patek in the 2006 grey dial 5960P-01) are a very interesting association of an Annual Calendar and a vertical-clutch Chronograph, which:
is "Flyback" (hence can be reset without being stopped first);
has a column-wheel feature (many vertical clutch chronographs don't, as they are activated with cams) that provides a smoother activation feel;
and, thanks to the vertical-clutch design,

gets rid of the little "hand-jump" during the start (when the 2 wheels mesh together);
brings impovement in terms of wear: the two disks stick to one another instead of teeth "colliding" together while running;
brings improvement regarding energy loss: less amplitude loss compared to a classic horizontally coupled chronograph.
This is why Patek claims the chrono function can also be used as a permanently running seconds hand without risking undue wear and without affecting too much the rate accuracy or the power reserve of the watch.
Indeed, it is usually not recommended (especially for horizontal-clutch ones) because of the additional wear and the decrease on the balance wheel's amplitude. Here, with the 28-520 caliber, the wear and the amplitude loss are very low, due to the design. This is a great advantage. Furthermore, since it is a self-winding movement, the torque will remain high during the day.
On a theoretical standpoint, it could be analysed as such (nerd alert):
Despite it should be irrelevant in the case of an automatic movement (remaining fully-wound most of the wearing time), I understand (I'm not a watchmaker) that it doesn't reduce the Power Reserve as it is a fixed number of turns based on the mainspring's length and gear train size. However, the working length should nonetheless decrease, at least a little bit, when reaching the end of the power reserve. Indeed, the load on the gears is increased when the chronograph is coupled (more parts, more energy needed). Hence, the watch stops sooner (the torque is too low). For that matter, when the watch runs out of energy, stoping the chronograph should restart the time;
While the chronograph is coupled, the balance wheel's amplitude should decrease, thus I imagine the tic-toc rythm is increased, hence the time is "accelerating". Furthermore, it would have theoretically led to stopping sooner if it had not been an automatic caliber. However, due to the higher torque (self-wound) and the low drag, this phenomenon seems to be negligeable.
Nevertheless, I find pleasure in analyzing the phenomena appearing in such mechanics.
The chronograph can also be used as a kind of second time zone indicator if started at the adequate moment as it includes an hour hand (unlike the 5905).
Its 28.800 vph rate allows a more consistent balance wheel amplitude during the day.
Discontinuing the 5960 range would definitely have been a great loss especially considering the way these complications are combined and designed.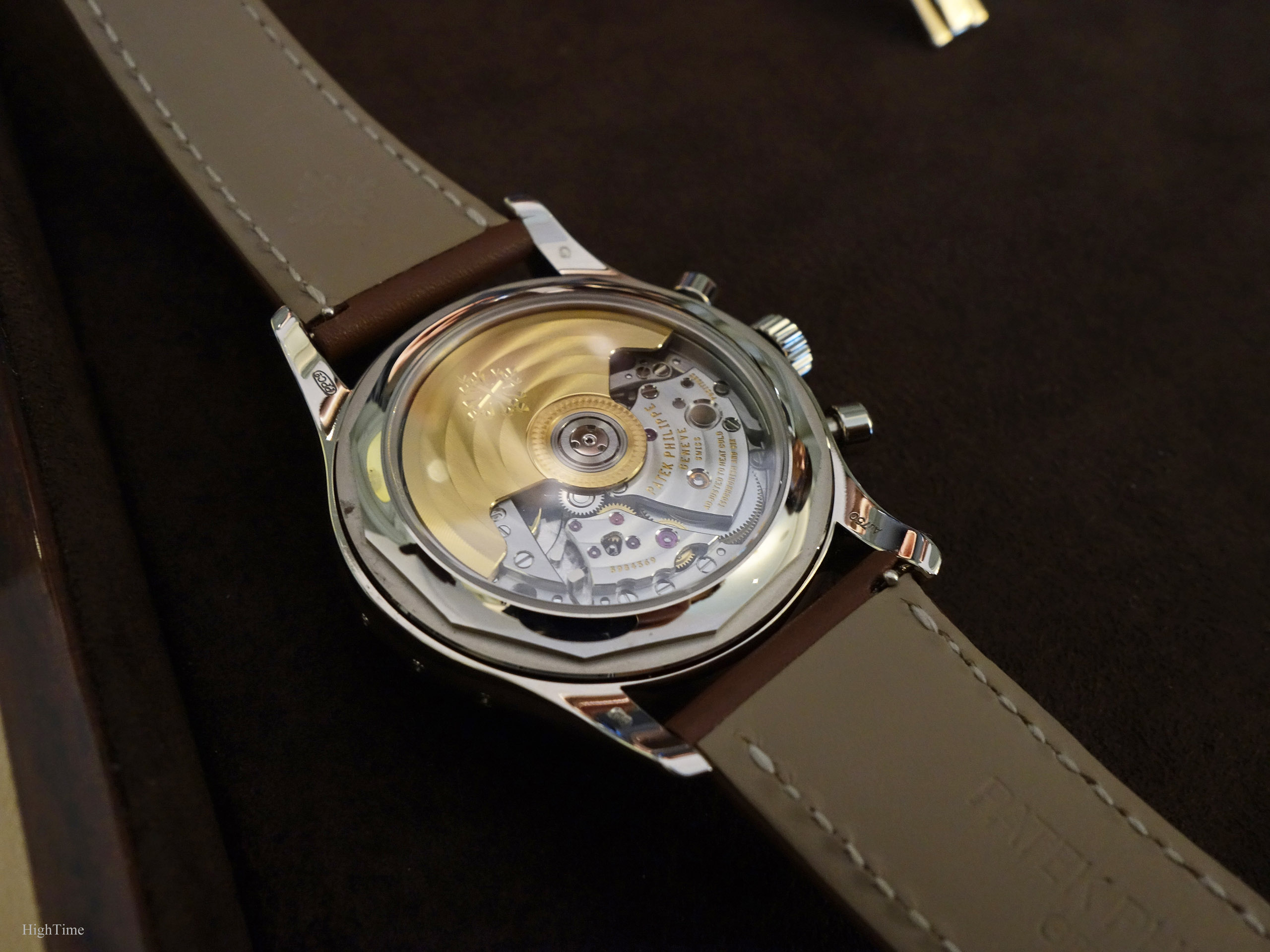 Furthermore, loving automatic watches as I don't "enjoy" winding a watch every morning, I like the useful Power Reserve indicator (my favorite simple feature on a watch, that I would nearly prefer to a second hand). Indeed, I don't run around all day implying the mechanism doesn't always wind enough (especially on week-ends). Hence, I can give a few turns of crown if needed for it doesn't stop before the next day (and thanks to the non-screwed crown I don't have to manipulate each time!). But that's just my own use of watches.
When I think about it, considering my personal use, a 5960 would be a perfect daily wearer:
I don't like winding my watches everyday thus "auto" is my friend;
The chronograph has an unusual but yet practical layout, which can run permanently without wearing the movement as does a standard horizontal clutch version (reason why it can be used as a central second hand);
The Annual Date (originally introduced by Patek Philippe with a patent in 1996, making watches less expensive than a Perpetual Calendar complication if not needed) is well placed in terms of legibility and needs setting only once a year.
Those 2 main complications aren't simple designs and represent a very interesting value in terms of mechanics. Furthermore, the winding feeling is quite special with this caliber: even if one might also prefer "knowing" it ticks, you hardly feel them. The consequence is that it is very smooth to wind, with nearly no resistance.
The movement is reliable, well finished (better imho than many of the main established brands, with similar prices/volumes of course) and truly a very worthy caliber from the brand.
Conclusion and Thoughts
Well, I think that, today, I would hesitate choosing between this 5960G and one of the P versions (same color and price range) considering my lifestyle (considering Platinum models are a little heavy for me). This is something I would have never said before since the 5960P with grey and black dials are one of my favorite Pateks from the last decades. I'm nearly surprised to see they aren't posted even more on blogs and forums.
It is mainly about how we evolve and what would really become another interpretation of elegant and modern style in the years to come. I like the way Patek Philippe is answering it and this move might be well inspired (except the steel bracelet for the 5960A).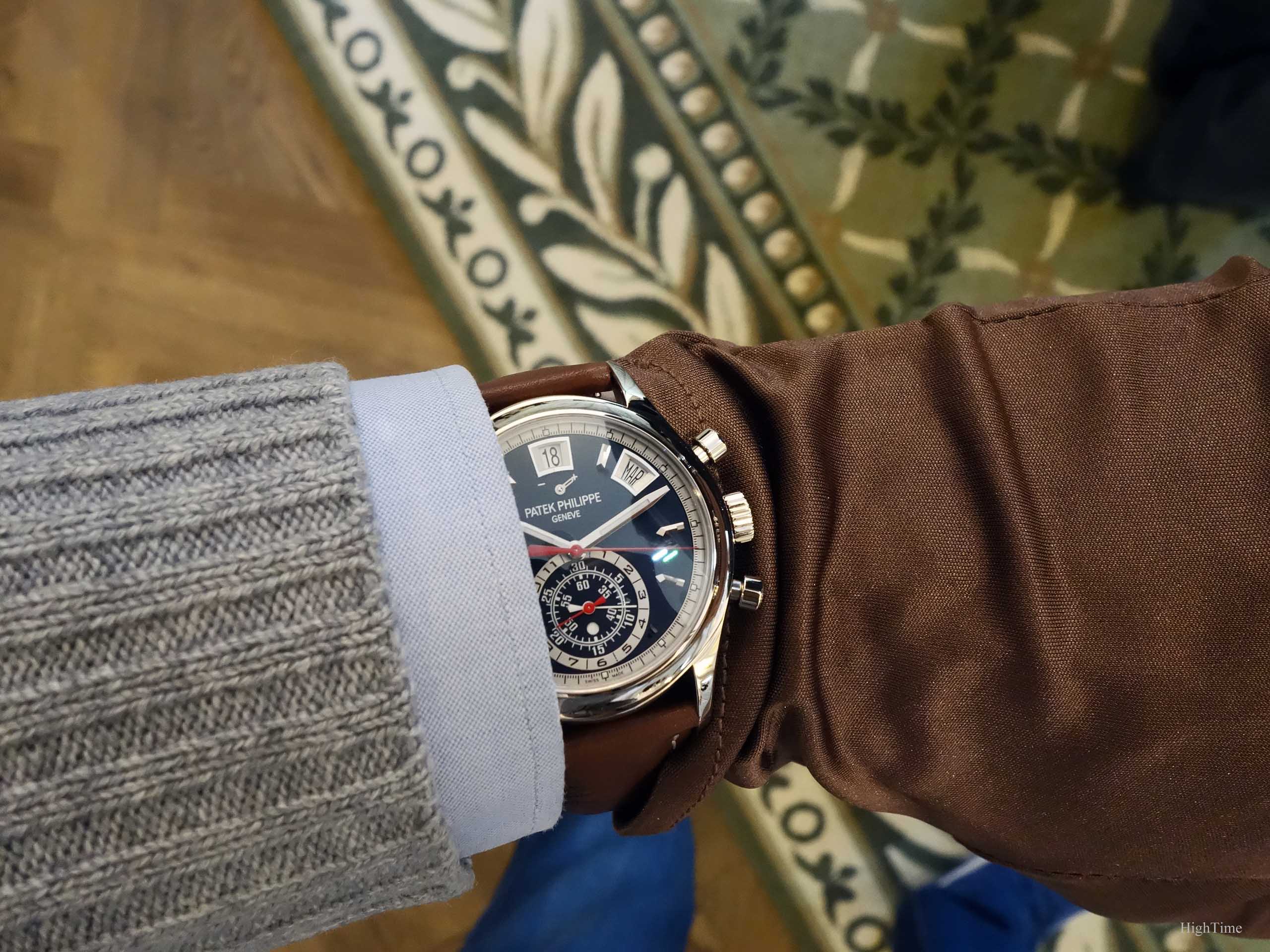 Traditional established brands face a risk of being seen as "too conservative", especially since we seem to see less frequently watches on younger people's wrists and the growth of smartwatches. They have to find a way to "talk" to new dynamic generations, exactly as they had to in the past. It's not new. They should do it while preserving their elegance and classical assets. I guess that a client looking for a modern/sporty watch may not "naturally" stop at such retailers, to the exception of seeking a Nautilus, an Aquanaut or other ROs of course (which by the way have been one of the strongest change in their respective brand's history when they appeared). But Patek Philippe inspires emotions of luxury with a modern touch that a majority of brands can't.
I think the 5960G will be successful (just like the 5168G will be imho) as it is the watch that will talk to people who currently think that classical watches are too traditional (read "old school", not young enough). Patek Philippe is aiming at living with its time, accompanying this movement as it should, following a permanently evolving DNA, and embracing its legacy with a new interpretation. In my opinion, this is what such a brand should do even if, from time to time, the choices might be less "inspired". A risk that must be taken, not only to secure future sales (hence ensuring going concern) but because it is the very nature of aesthetics. It shall consequently bring us new excitement as watch enthusiasts.
It isn't about trying to ramp up new clients volume by choosing a lower taste, material or finishing requirement. It is about, decades after decades, accompanying what people are, without following more mediocre moves. I think this is what the brand is doing and especially since 1932.
I think that this was something important to say. Of course, I don't say that people have to go to the newest versions but that helps understanding why things evolve the way they do, why the brand makes some "unexpected" choices, finally as they always did in the past even if we tend to forget it. The new "elegant" will be different from the 1920's "elegant", the 1950's "elegant", the 1990's "elegant", etc…
This is what the 5172G and 5960G are about (though in a sportier way), next to the still classical other families that Patek has to safeguard in the collections (like the 5930, 5230, 5975 or gorgeous 5327 that have been released more recently).
In the end, with this 5960G (as with the steel versions), a new customer can find a nice-looking piece, including valuable complications, produced by one of the most appealing brands, with the finishing and materials that high-end brands should provide. Precisely a version designed for today and that he can consider pairing with either a casual wear or a business suit.
The watch was officially discontinued in 2020. The last MSRP in 2021 was 59 700 € (VAT included).
Thanks for reading!
_
Here are a couple of 5960G pictures with a strap choice I consider getting for a watch one day (credit: Meertz World of Time). By the way, the 2019 5172G Chronograph has been launched with the same kind of blue rendering (though I don't think it is Nubuck in the latter).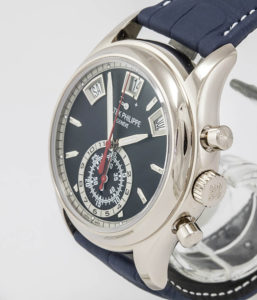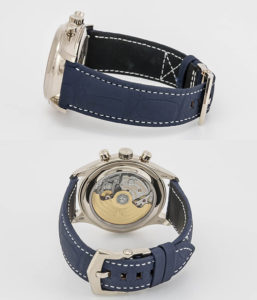 And here are additional pictures (sorry for the plastic protection) just to show another coloring look: