The Patek Philippe 5227R Calatrava – Almost 10 years of this marvel
Hi everyone,
I still remember the day I was presented the Patek Philippe 5227R Calatrava. I was at a Patek Salon to have a look at more complicated models when the salesperson kindly brought this 2013 novelty. The model was replacing the 5127 generation. It wasn't the kind of model I focus on, not complicated enough, hence I didn't spend much time looking at the first pictures available on the net when it was released.
In fact, though I aesthetically like some Calatravas, I'm more interested by complicated watches as mechanism is an important reason why I like watchmaking. Hence, my first thought was that I wasn't very tempted by holding this 5227R when presented on the tray with the others.
To my big surprise, this 5227R just ended to be one of my favorite Pateks from last years, definitely in a "below 150K" top 10 of mine.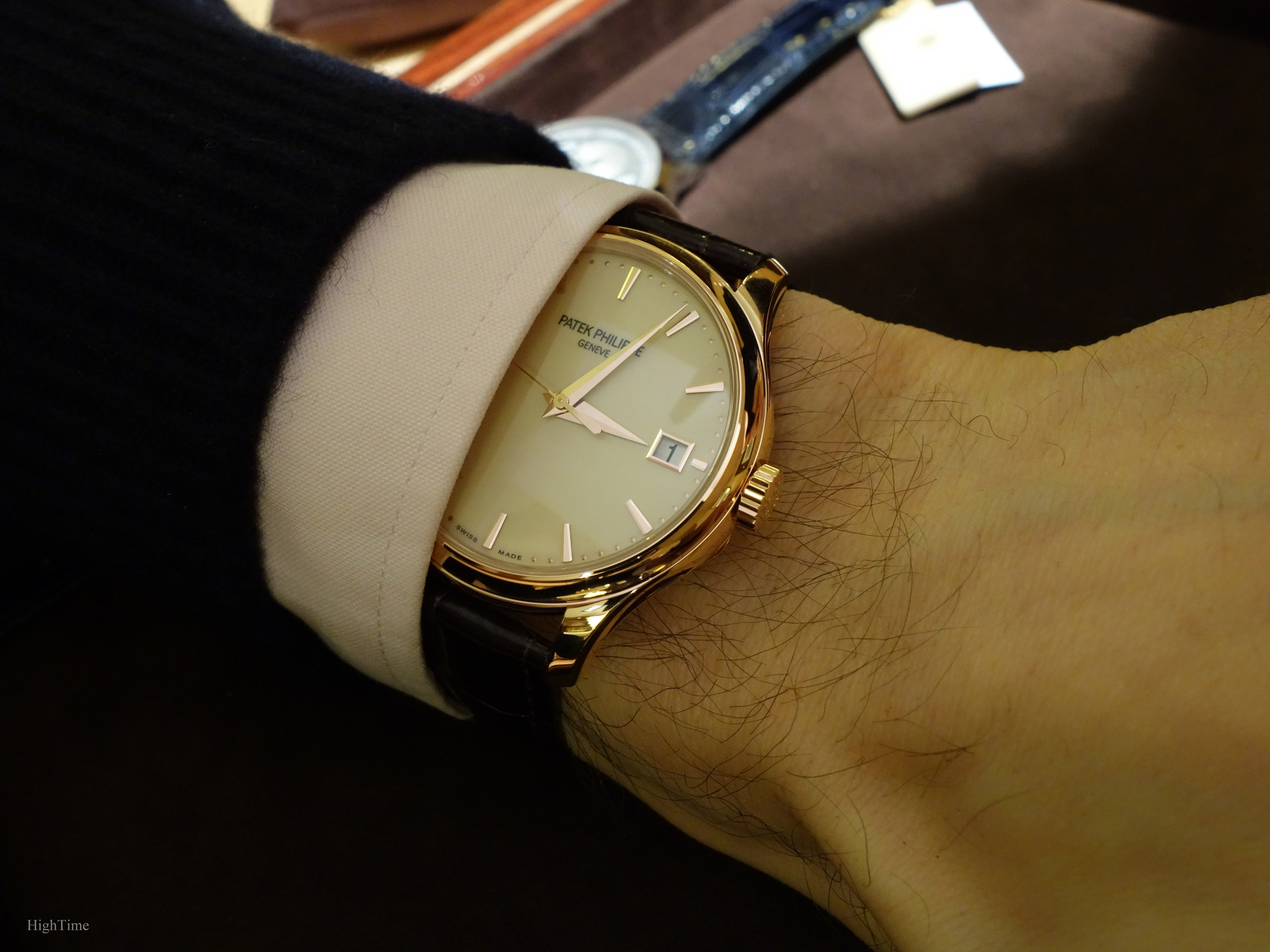 As you have certainly experienced, we often feel that we aren't 100% satisfied after a try, even if we still found it enjoyable. However, some other times, you feel turned on at a point you think about it for days without finding any downside. Well, this is how I felt about this 5227R.
The Patek 5227 is a very classy and very elegant Calatrava. In that field, it has received a few evolutions in its curves since the previous 5127, to match our current times, yet without being called modern. Indeed, next to the crown guards' removal, the main change was brought through beautiful grooves made on the side of the lugs. This is the kind of details that make all the difference, but not only: performed well, it brings beauty and lightness. This detail doesn't attract the attention, but when you've seen it, you just can't stop admiring it during the day. Aside from this visible aspect, there is a cherry on the cake with the feature most of the people who are new to this model don't see: the fact there is a rarely designed discreet Officer's caseback.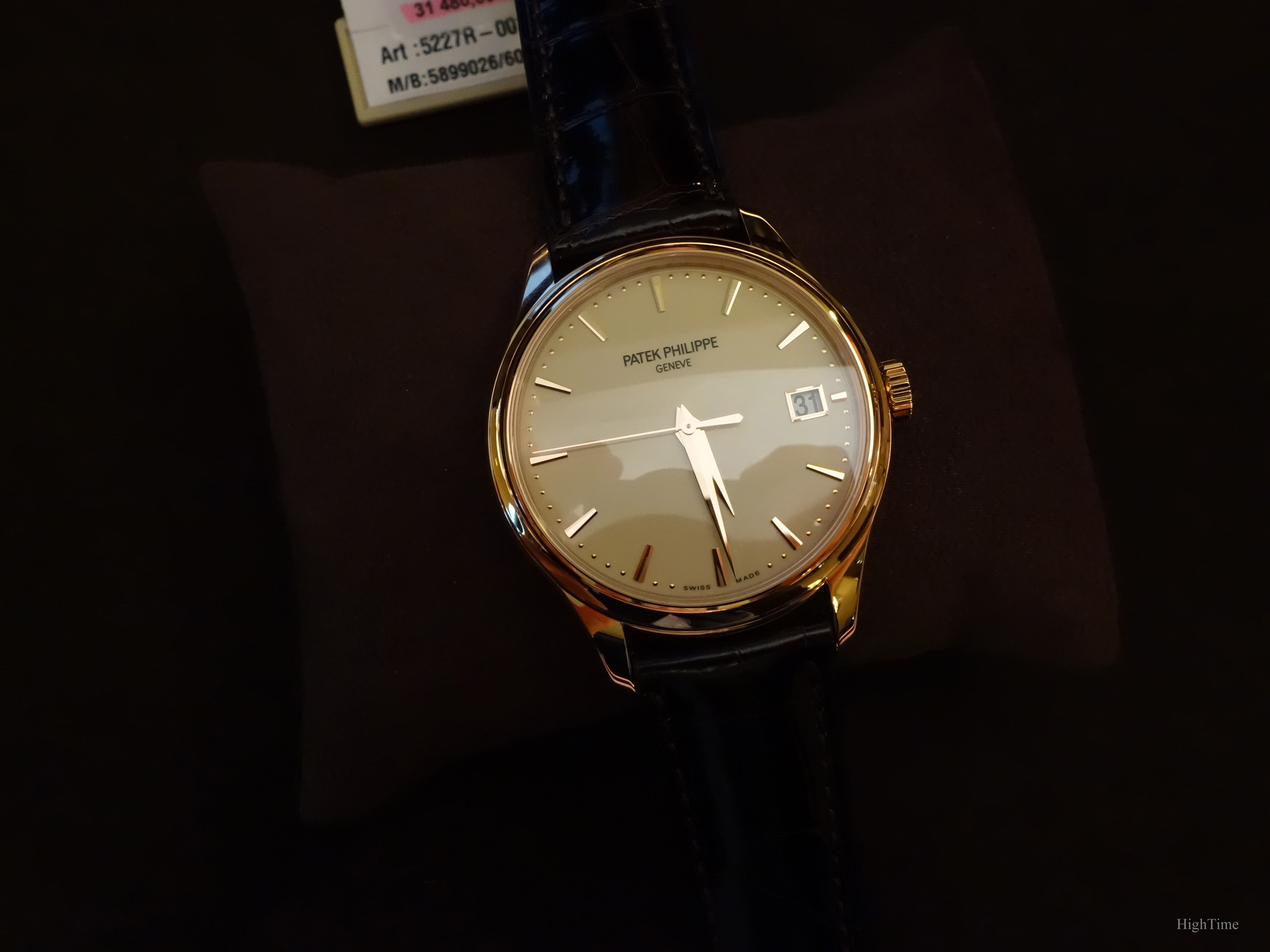 Each Calatrava is a witness of its time and comprises specific aesthetical elements. Hence, each new generation evolves and includes the current style characteristics. This is visible through the wide variety of references the brand offered since the Calatrava's debut in 1932 when the Stern family (then dial makers with Stern Frères) took over the company.
It is sometimes difficult to do so without being too conservative or shy. The evolution from the 5107 to the 5127 was quite limited in that regard. The distinctive elements I presented are the trademark of today when the lines are less made of round curves only, but add an opposition between curves, concave and convex shapes. Hence, contrasts.
This hinged caseback case
The case has grown up from 37 to 39mm (9.24mm thick) and, in spite of the new very thin "Savonette" caseback, the watch doesn't look thick. This is what I was afraid of before trying it. Indeed, officer's casebacks usually bring an additional thickness, a kind of visual "heaviness" as well, which wouldn't have matched with what I think a 3-hands elegant and dressy Calatrava should be.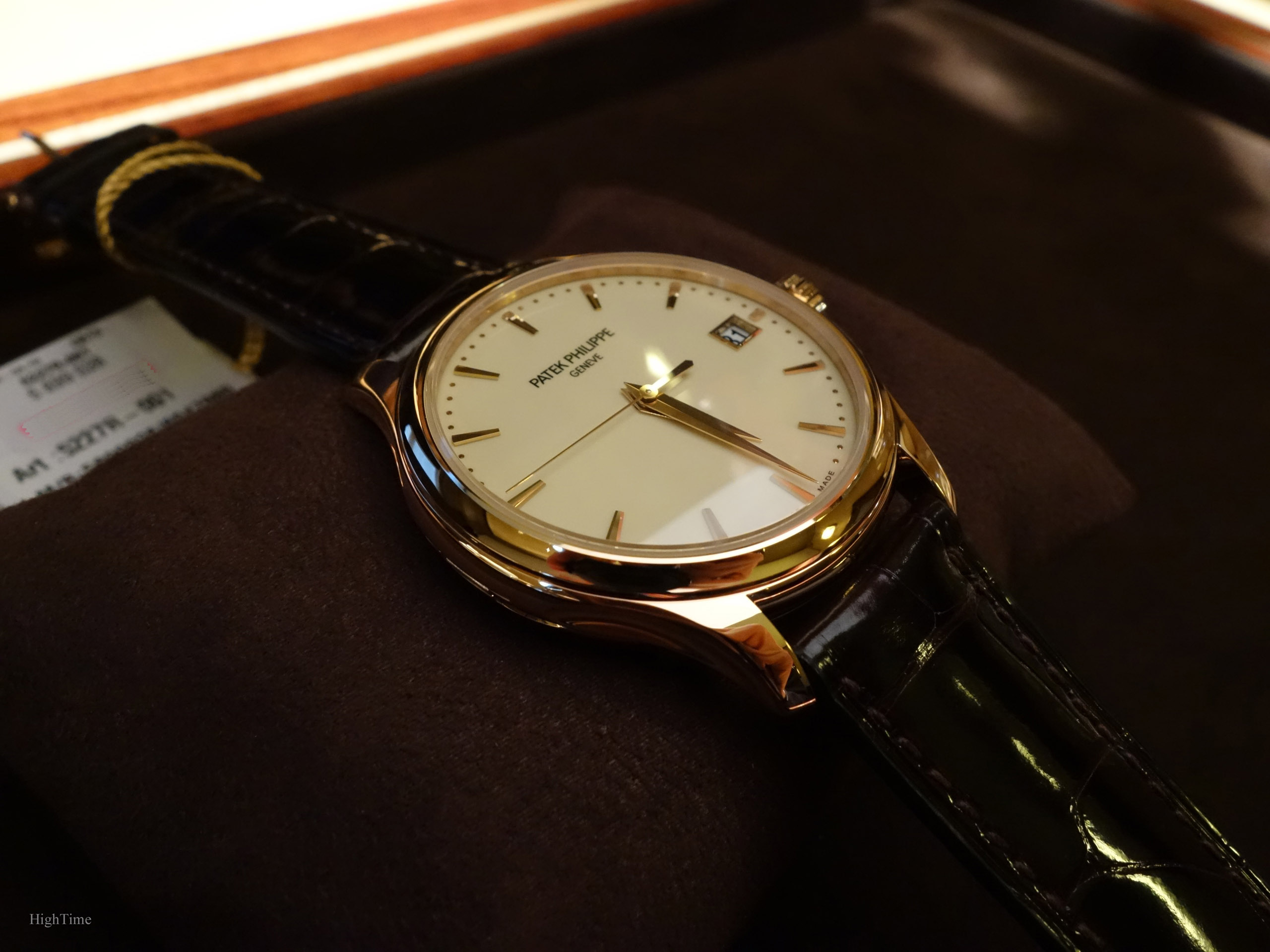 The worked performed here is just stunning. One can realize what modifications it means for the case as a whole; the back "cover" with its hinge and the caseback (sealing purposes) that will find its place in between. The back and forth handwork performed on the different parts' assembly is far more important than on the other versions. Hence, the higher price for such time and date Calatrava.
But indeed, this isn't just a Calatrava anymore.
This hinged caseback is brushed and looks very nice that way. It won't get hairlines as much as a polished cover. Yet, the protected inside of the caseback is still polished, hence can be engraved at the owner's will.
I would really like to emphasize the fact that, from the side (picture I didn't take from that angle) the back cover looks 1mm thick, which is far from ordinary compared to more curved and deep ones I could see in the past. This is a huge asset of such a feature in this 5227 reference.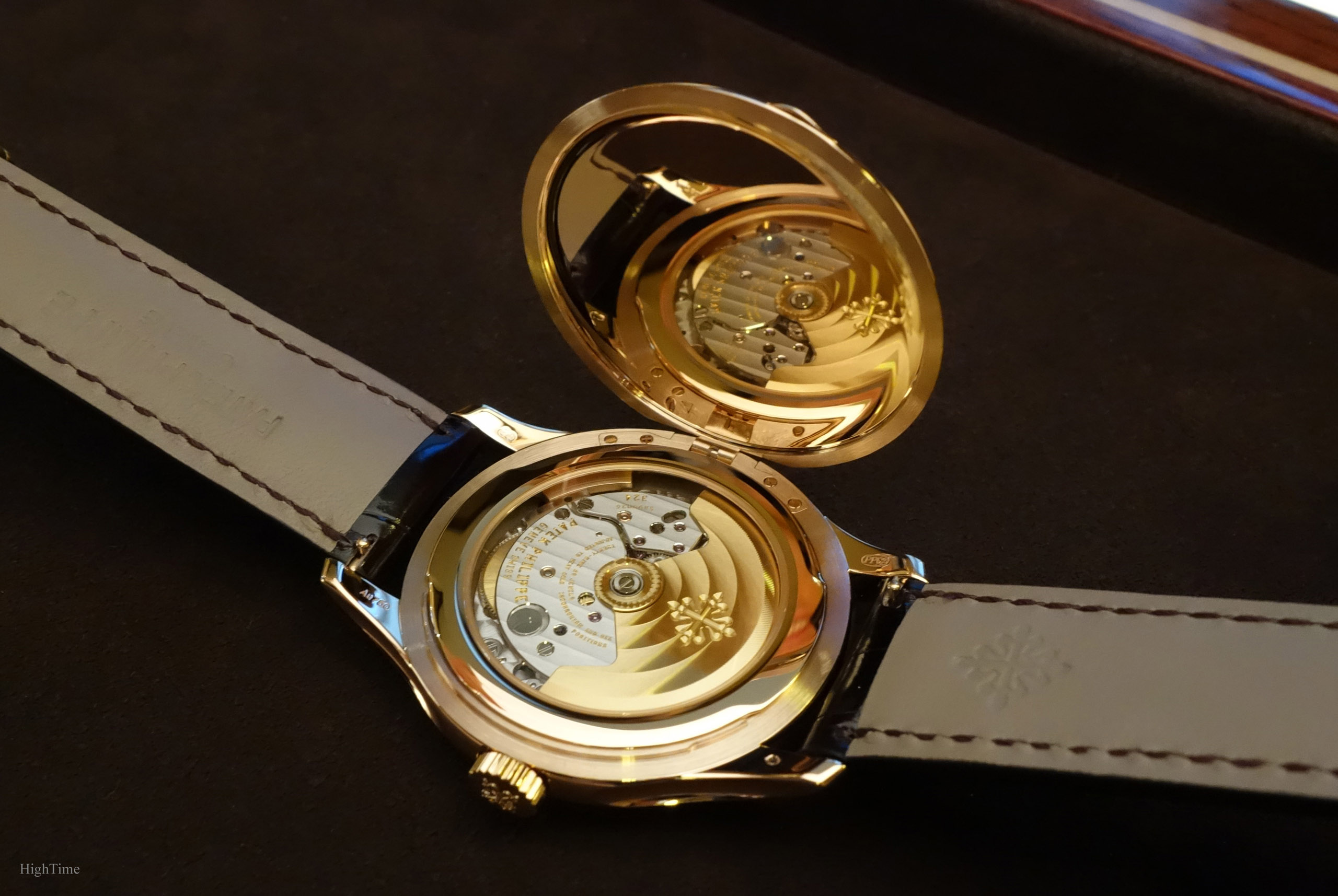 The hinge is a different version from the one we know for instance in the 5153 or 5159 references (pictures here below). Besides, the hinge is placed on the crown side in these models whereas it is placed on the opposite one in the 5227.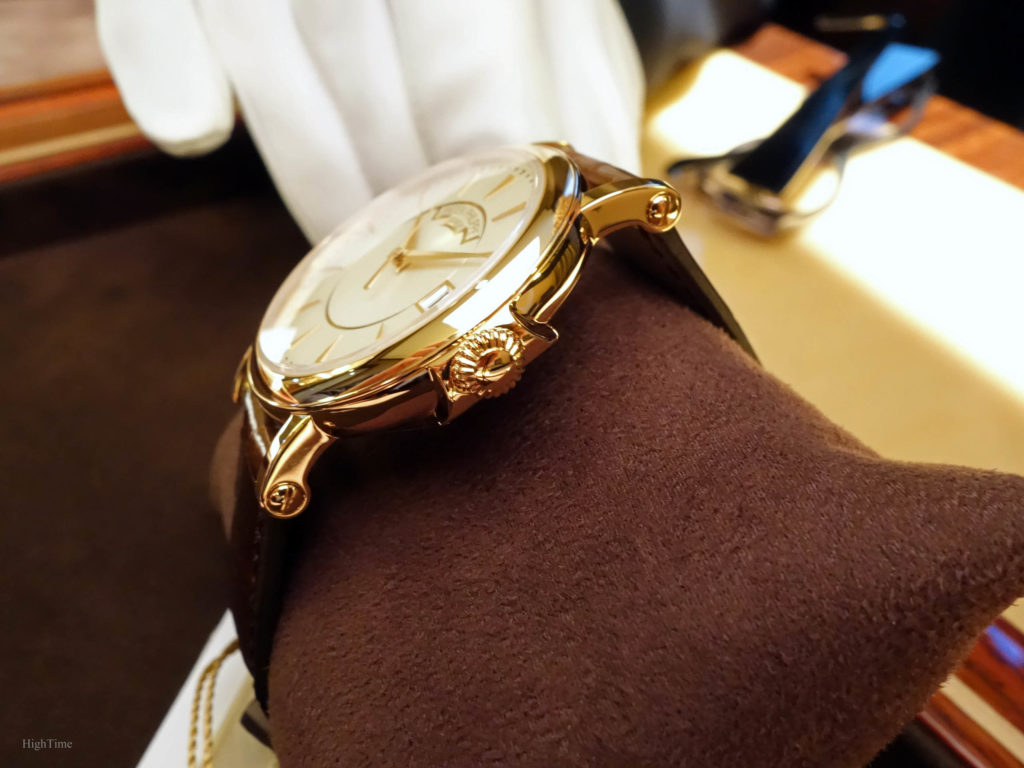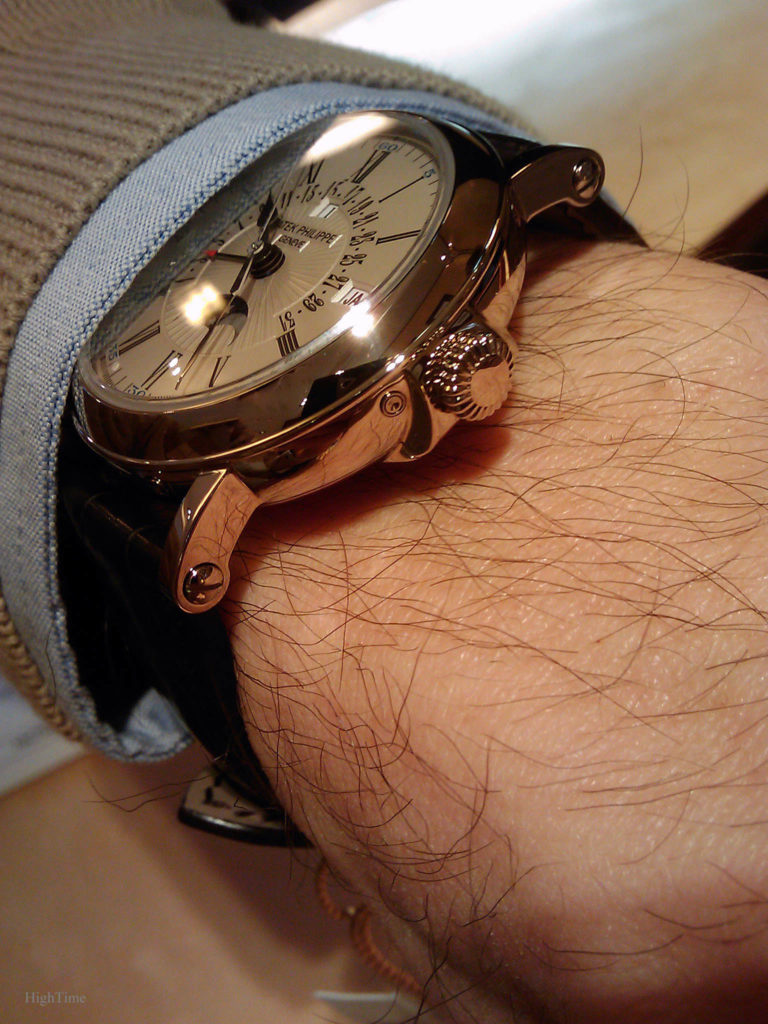 Even if it is very cleverly integrated in the 5153, bringing charm to the watch and part of the case's decoration, the 5227's hinge is very discreetly integrated into the case and remains nearly invisible from the side. It is as close as it can be to a solid caseback. I like to think about it as the owner's little secret compartment.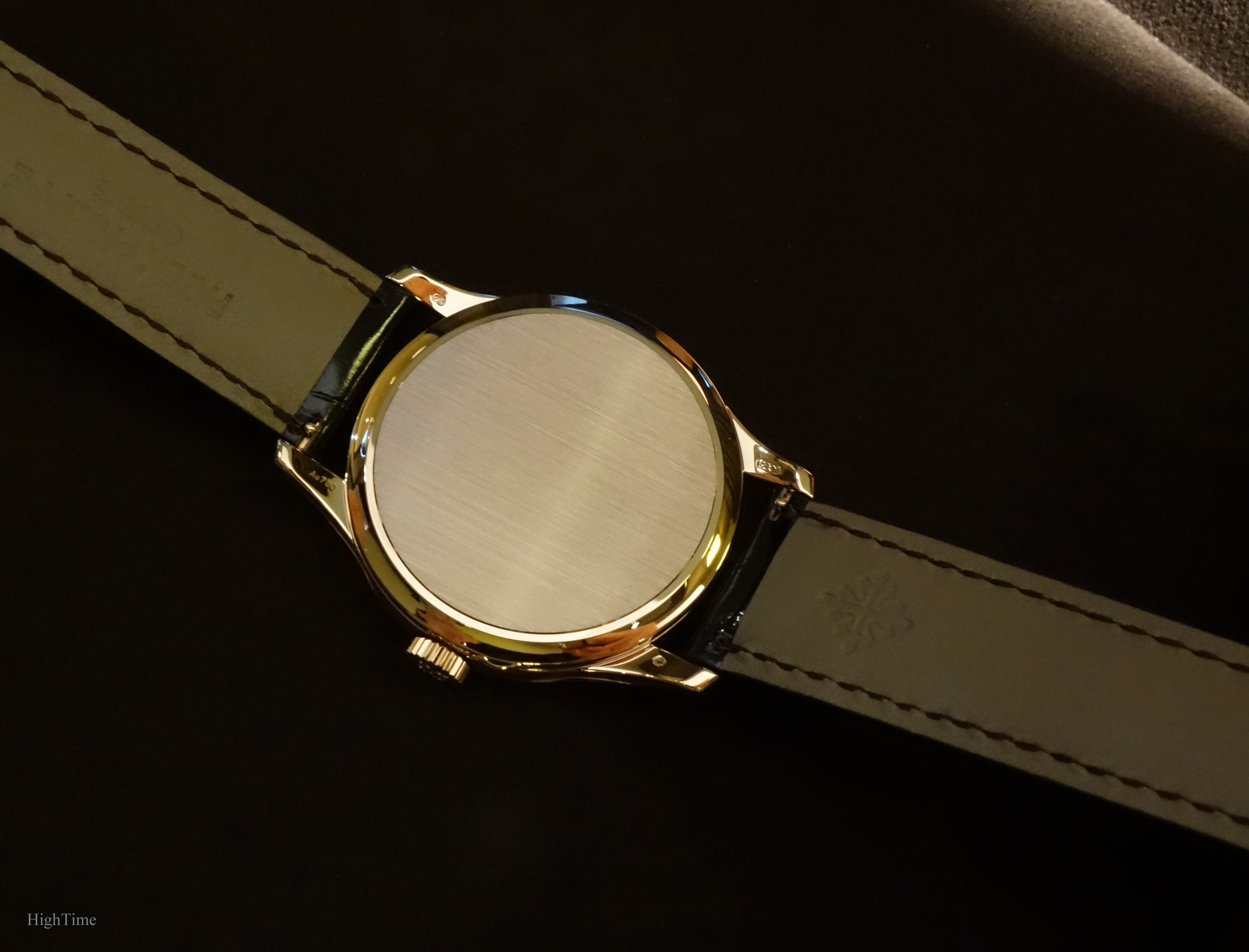 A pure silhouette
As I said above, the lugs are grooved in a very tasteful and nice way. It is easy to hollow curves and holes here and there but it's another story to make it beautiful (polished without disturbing the edges), balanced and cleverly integrated in the whole design. We can't deny the polishing skills of Patek's watchmakers, considering shapes' diversity and design complexity. This makes us assess more precisely what it takes to hand over this mastery from a technician to the other. In addition, the ultimate end of the lug is thinned, with a slight angle and remaining slightly curved (the fold isn't a straight line): that is a very important detail that participates to make all the difference, aesthetically.
These grooves are something we see also in the Patek Philippe 5327 (QP) or 5905 models, or with a light change in shape in the 5205. Patek has mastered this area in such a way you have more than one reference to use as an example. By the way, I find it much more interesting than offering over and over the same lugs throughout the entire collections. Same for the case. However, being time consuming, it is more expensive to make of course.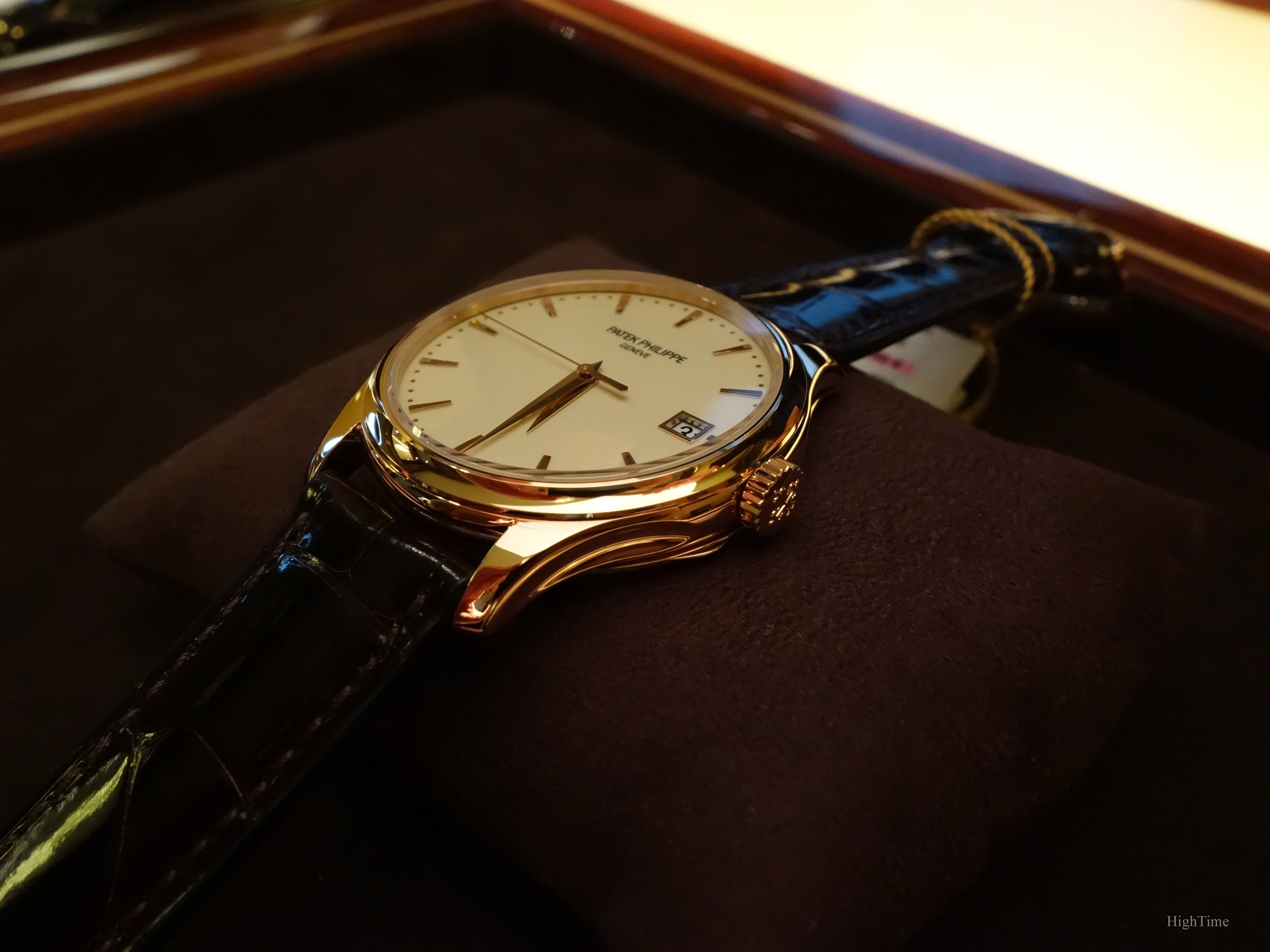 Overall, I find 5227's lugs bring lightness and a little touch of modernity compared to very classical and plain ones. When looking at the front side of the watch, the lugs are very sensual indeed, without bringing feminity to the case, and are a model of beauty: on the exterior side, the curve is pure perfection to me. Certainly one of my favorite lug shape from the whole Calatrava cases.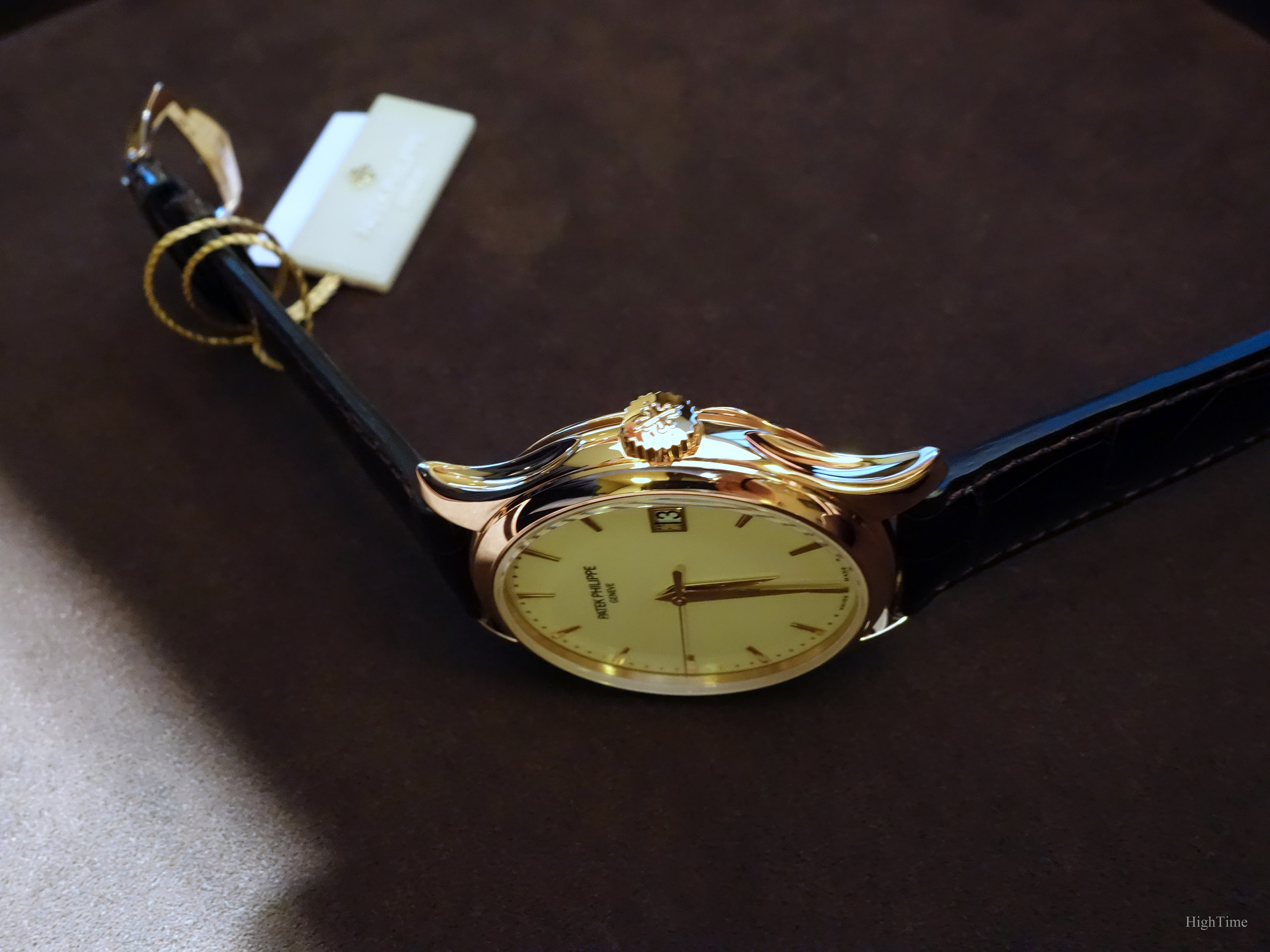 The concave bezel goes the same way and, logically, brings the same modern touch while keeping the elegance we want to find in such a model. A concave bezel helps making the watch look less thick than with a rounded one.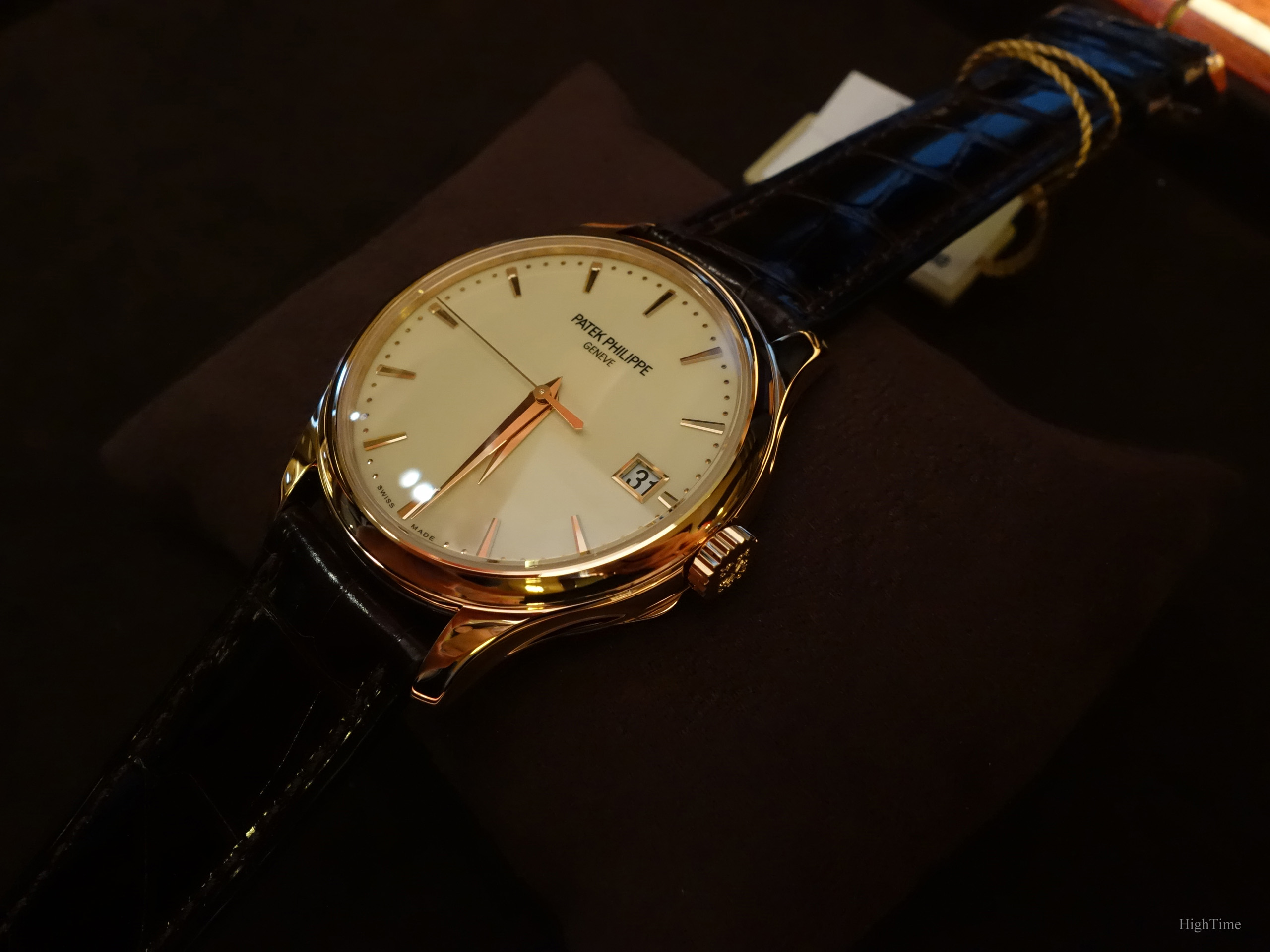 The crown has the perfect size to be manipulated with comfort and isn't too large either in order not to overload the right side.
On the dial
The dial is something that pleased me a lot when I discovered it. When dealing with light color dials, we usually find silvery or Opaline ones. I sometimes would like to see warmer colors or material. Hence the eggshell, crème or ivory colors are something I enjoy in that field (it should be lighter with white metal though, not to look too artificial).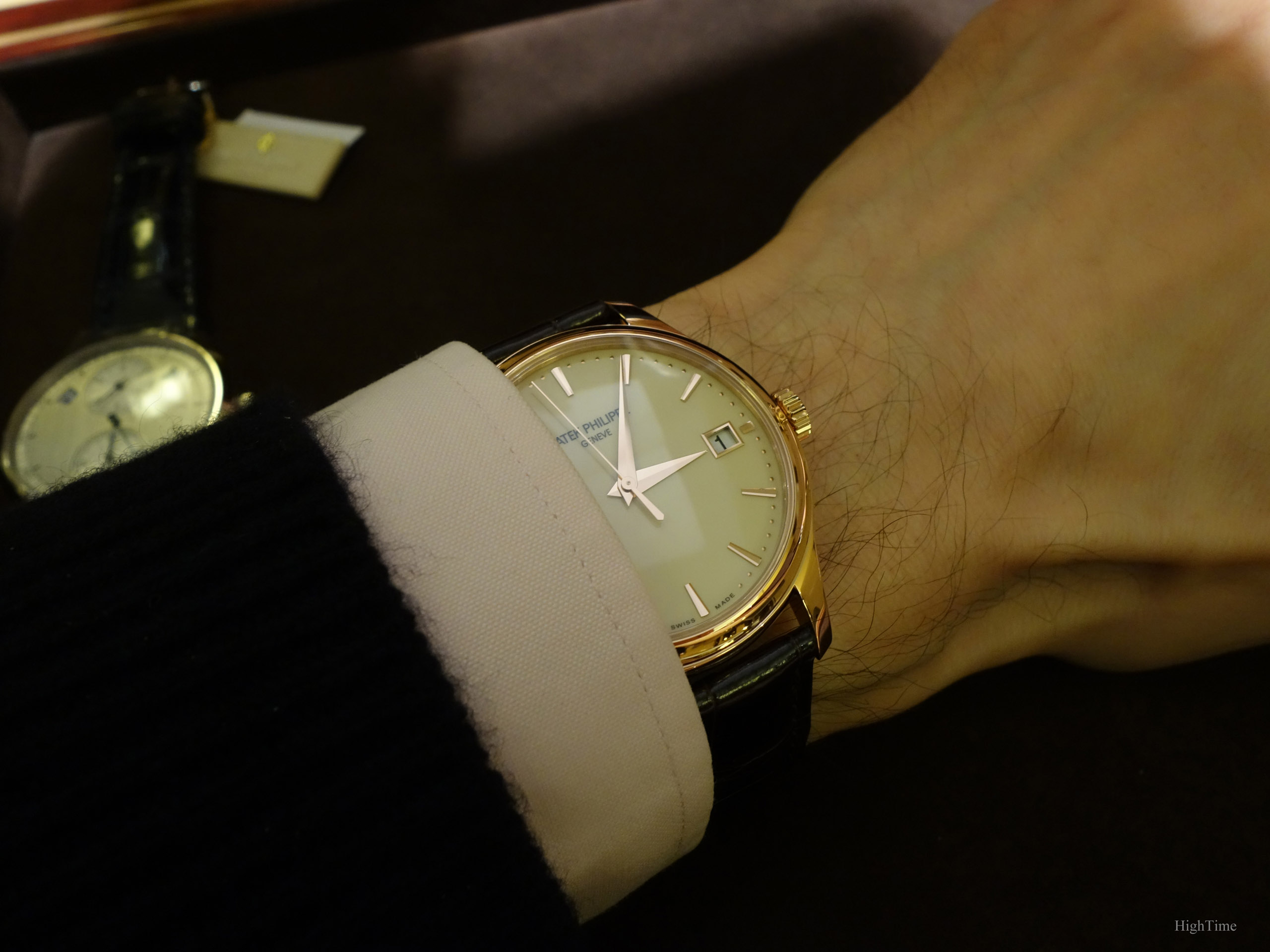 Thus, the ivory one we find in the 5227R (and also the little different one we have in the G version, though still crème-like color) is a wonderful choice to me. This is one of the major elements which makes this Calatrava stand out by its coherence. "White" would have been more modern but its high contrast with rose gold would have changed its smooth spirit (not better or worse, just a different choice). "Silver" is sometimes quite cold as a color, even if rose gold cases shed some warmth on the dial. I remember I loved the dial on the Lange & Sohne 1815 I tried in rose gold, but it was also very nicely sandblasted, hence sparkling under the sunlight. That was a great dial too. Patek sometimes prefers more sober silver dial choices.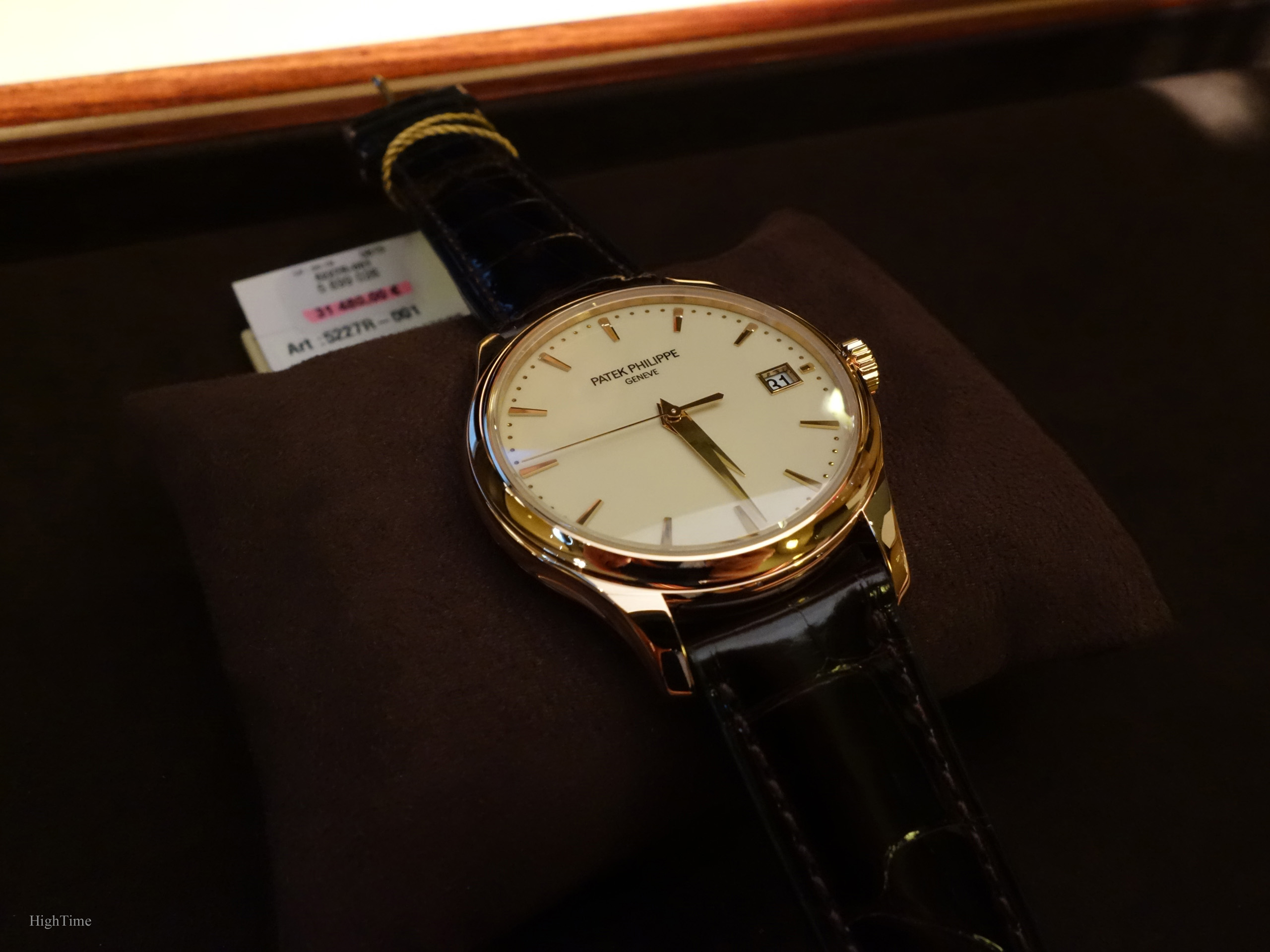 The Dauphine hands are perfect with this case as they bring a little more dynamism and character compared to stick hands or more classical leaf ones. They are often choosen for Caltravas.
Hands design has a very strong impact on a watch's spirit. And, with other elements, can bring contrast, lightness or presence to a watch. The choice should depend on what the watch is already made of (bezel, subdials, printings etc….). Hence, simple or straight hands (stick) can suit modern or busier references, while refined and classical ones (leaf) may decorate classics but not graphical dials (like the 6000/6006 or 5X96 for instance). I think that on a Calatrava, the Dauphine hands bring a little more character and strength (plus a little 60's/70's touch I like a lot).
For instance, as an exercize, what about the 5170G chronograph silver dial? It has stick hands. It makes it rather cold but so discreet and elegant. If it had received (rounder) leaf hands, it would have changed its look completely. Still beautiful, warmer but more presence (i.e. less discreet). I personnally see more the 5170G Silver like a dressy watch than a (usually) bigger chronograph model.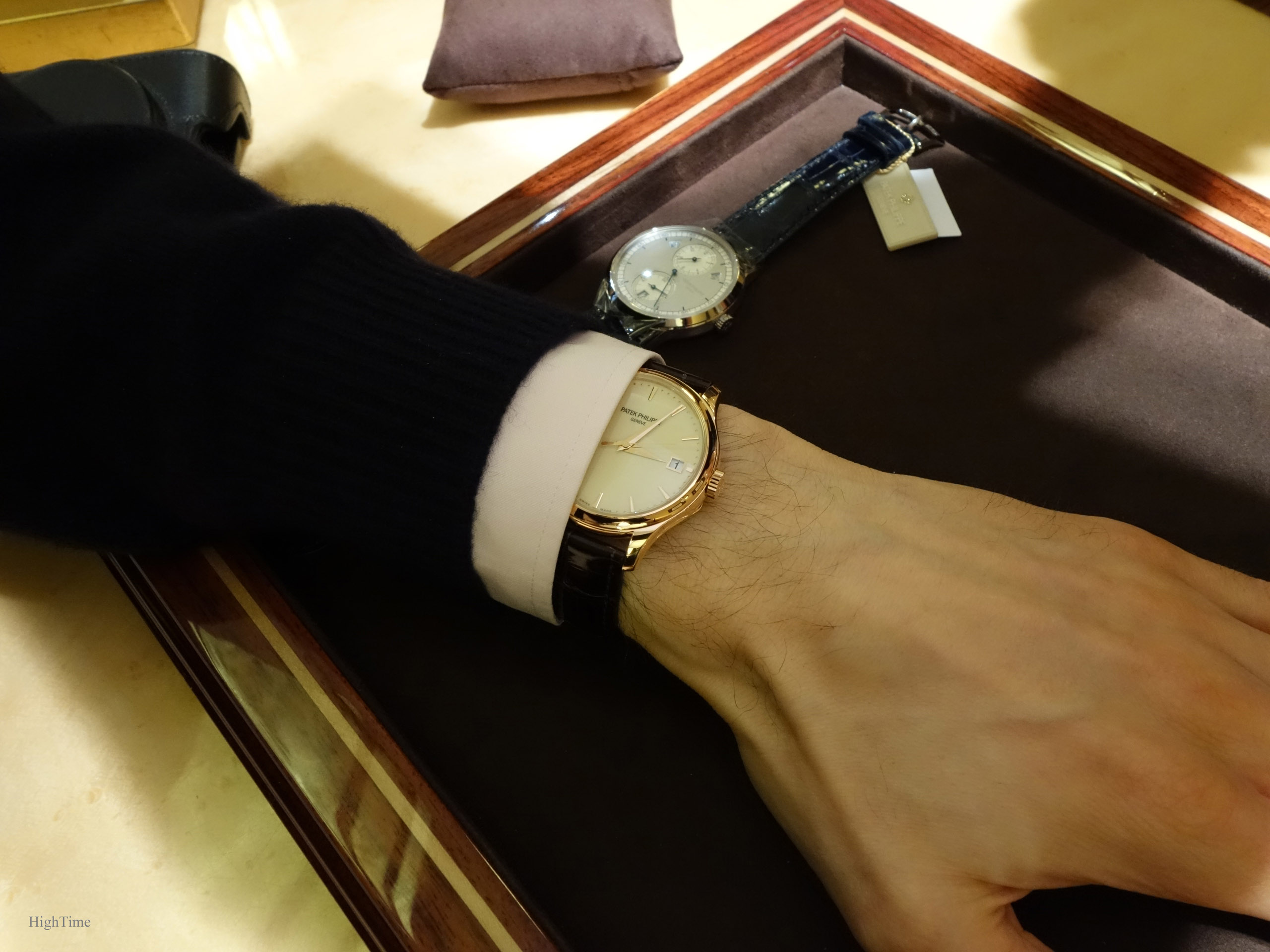 Back to the 5227, the applied markers and minute-dots complete this dial. I like this refined combination as it is what suits such refined timepiece. The single marker at 12 o'clock is enhancing this homogeneity.
I'm usually not a fan of gold frames in busy dials, especially when there are several registers. However, the single gold frame added to the date register brings a little luxurious touch I find perfect. It animates the dial in a very nice manner. I wouldn't imagine the dial without it. You can moreover observe how the markers and frame are facetted; it is far more elaborate than the overall simplicity might communicate.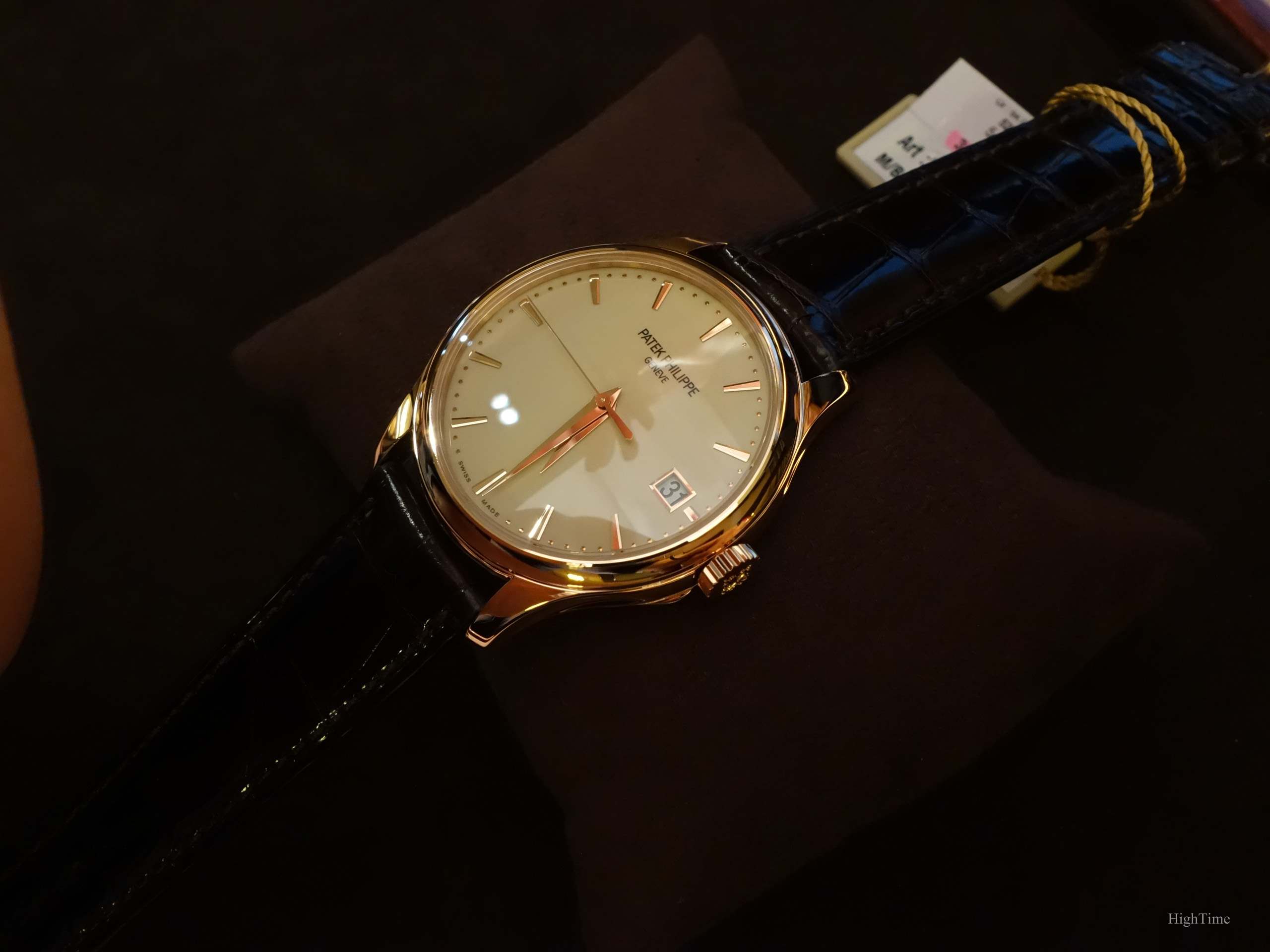 A charming caliber view
On the movement side, the 5227R is powered by the beautiful and well-known 324 caliber equipped with its Silicon-based spiral, the Spiromax. The finishing quality is a wonder to observe with the cover's inside face mirroring the movement and the rotor's swinging.
The movement beats at a steadier 28,800 vph pace and has a max. 48h power reserve.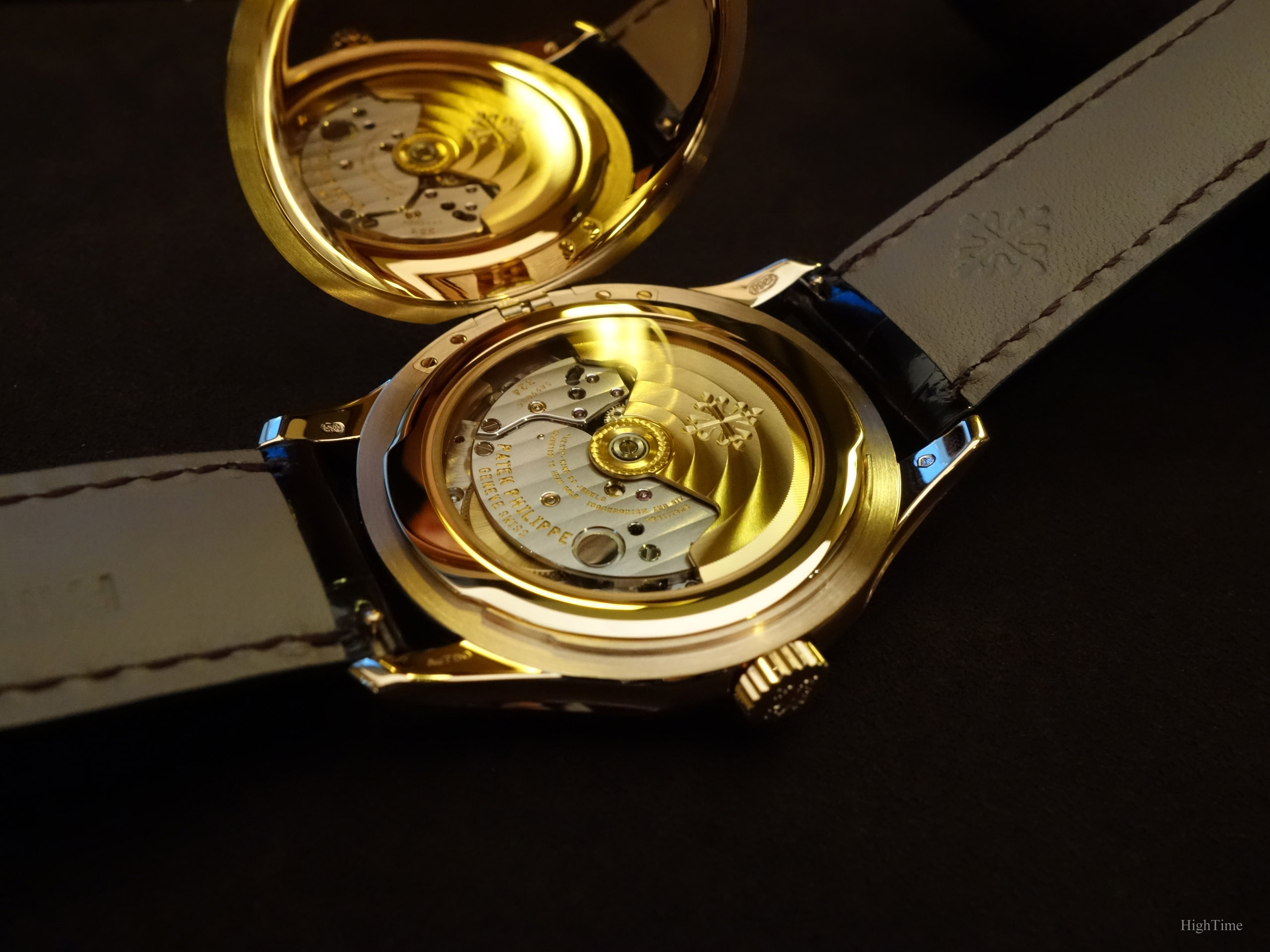 The Patek 5227 is 30m water-resistant.
Conclusion and Thoughts
Well, as you certainly can feel from those lines, I fell in love with this Patek 5227R since 2013. The model has made the Calatrava evolve in a splendid way, keeping what this iconic family must bring. Worthy of the 5127 beauty.
For someone who is looking for an exciting but purer watch, which won't seem too discreet because of a white metal, this version is one of the most interesting. It brings color and a very nice addition to your wearing outfit, whether it is casual or a suit. Its size fits the purpose even more considering today's standards. Colored gold definitely brings a spicy touch to a sober outfit and this is exactly the kind of combination that is very appealing to me.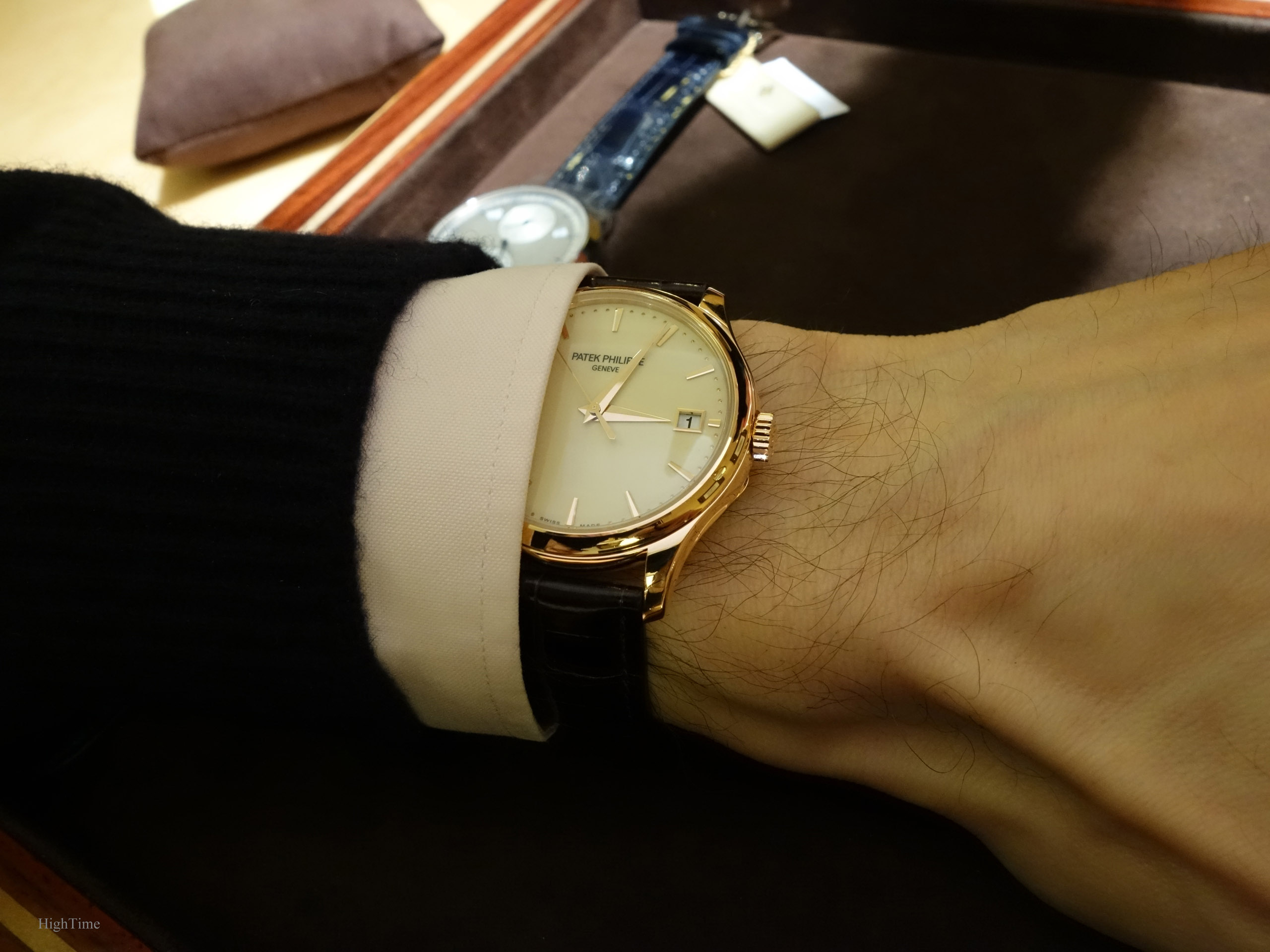 This is usually the kind of understated models we don't review that much. You have certainly observed its elegance, refinement and design. The Patek Philippe 5227R Calatrava is a fantastic reference I encourage you to try if you have this opportunity, just for the pleasure…
The Patek Philippe 5227R-001's MSRP (as of 2021) is 33 000 € (VAT incl.) and you can find more information on the brand's website, here:
The 5227R Calatrava on Patek's website
Thank you for reading!