The Patek Philippe 5326G Annual Calendar Travel time – Get ready to wear it everyday
Hi everyone,
There are watches that aren't the most expensive nor complicated but that get the most wrist time. I'm sure many can recognize their own experience in that statement. It is the kind of watches you feel comfortable with, in every meaning of the word. It is seemless on the wrist, you aren't (too) afraid of scratching it, you find it appealing aesthetically, it possesses one or two functions that are practical to you, a color or a shape that you've been quickly finding yourself very in line with, etc… I have that with an old Speedy of mine.
Presented during the last Watches & Wonders 2022 fair, the Patek Philippe 5326G with its Annual Calendar and accomplished Travel Time complications, is spot on in that regard.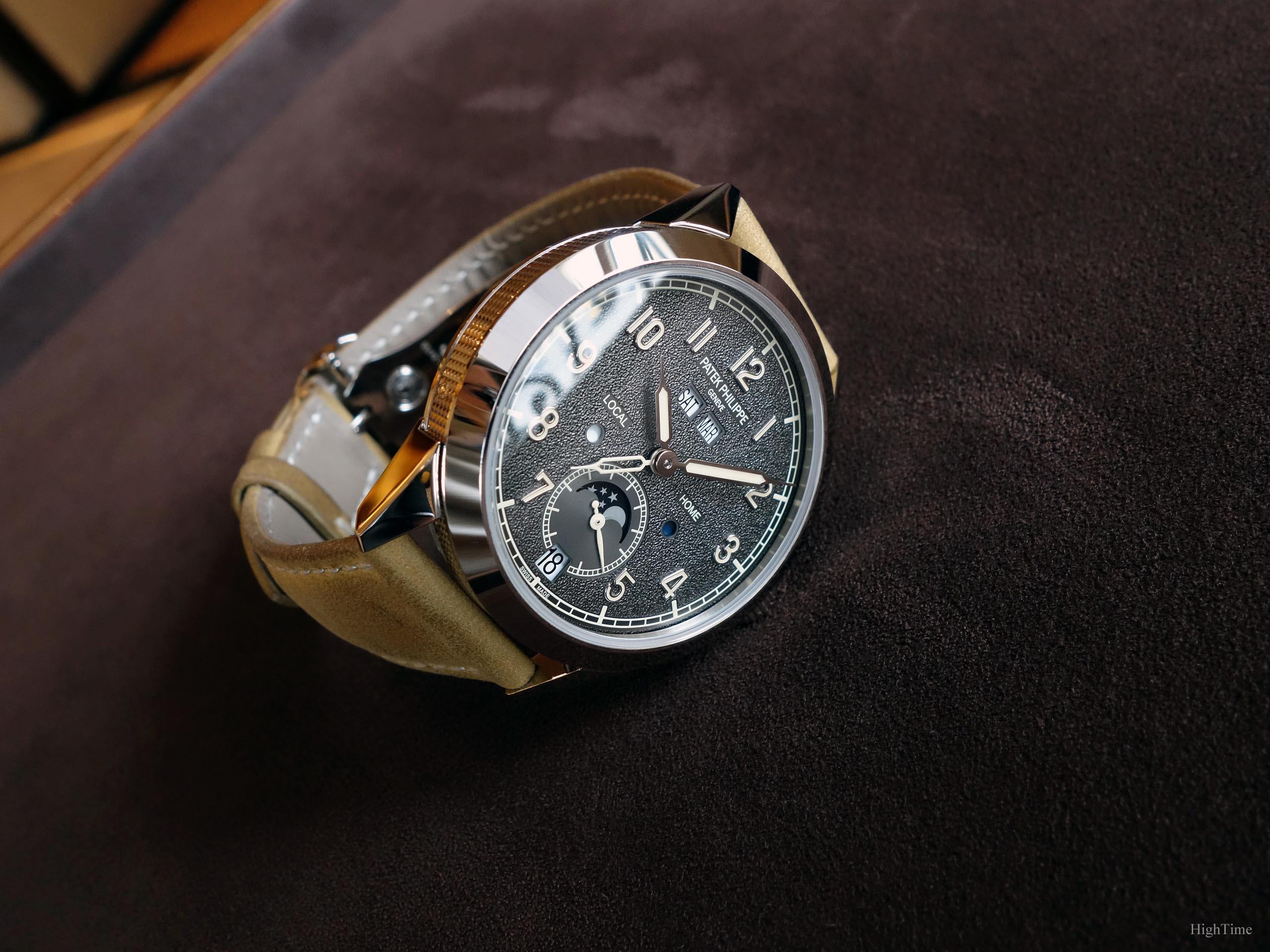 This new reference announces a first-time combination of functions for the brand. We recognize again Patek's major ingredients in the will to provide usefullness, cleverness and reliability for the owner's comfort. Because, yes, this watch is very comfortable to wear, not heavy and with a very well designed caseback to find its right place on the wrist (which is often the case with Patek watches, even when complicated). Not complex to be complex. There are watches that aren't to be worn outside week-ends or peaceful activities and others, like the 5326G, that are tuned to face an active lifestyle. It is practical, discreet, stunning in the metal and its movement is to die for. Aquanauts and Nautilus' should be quaking in their boots already…
Original and charming aesthetics
A case to stare at
The well-proportioned case (41 x 11.07mm) is clearly my favorite element of this new reference. It reminds me a little of the 5975's design philosophy: introduced in the 175th anniversary collection (2014), the caseband is slightly recessed compared to both bezel and caseback. In addition, the 5235-shaped lugs are separately added to the case. In fact, 5326G's lugs are part of the caseback, making the whole 4 lugs and caseback one single part. Aesthetically wise, it is precisely this specific thin separation between the lugs and the caseband that looks very appealing and adds an additional level of craftmanship, making this watch "special".
Aside of the aesthetics, it is another very nice piece to experience. Its comfort and how it sits on the wrist is top-notch.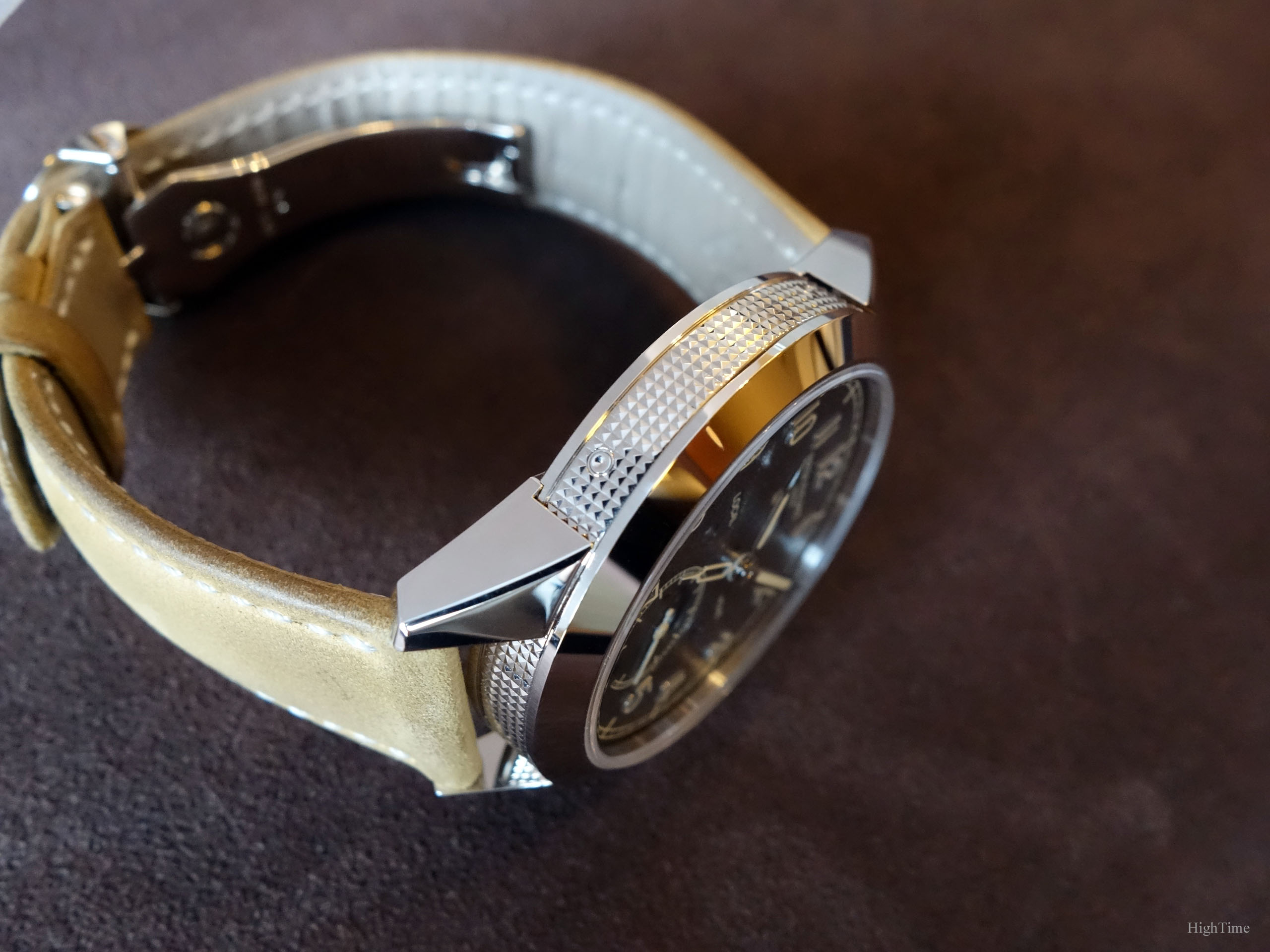 In terms of style, the case's most visible signature is its "Clous de Paris" hobnail pattern decoration. It was a detail 1950's elegant lighters and other luxurious accessories were adorned with. This refinement was also applied recently to the 6119 Calatrava or the beautiful enameled 5531 Minute-repeater World Time.
For many, it reminds of this period's refinement (remember the Mad Man show?) that was carried with a lot of taste, in a rather sober way but with a few original details. Many of today's clients aren't familiar with that era and might perceive this decoration very differently. Its image is currently building up, alongside the context and people we see them associated with.
On this 5326G, the Clous de Paris play strikingly with the lugs since they are very pure in contrast.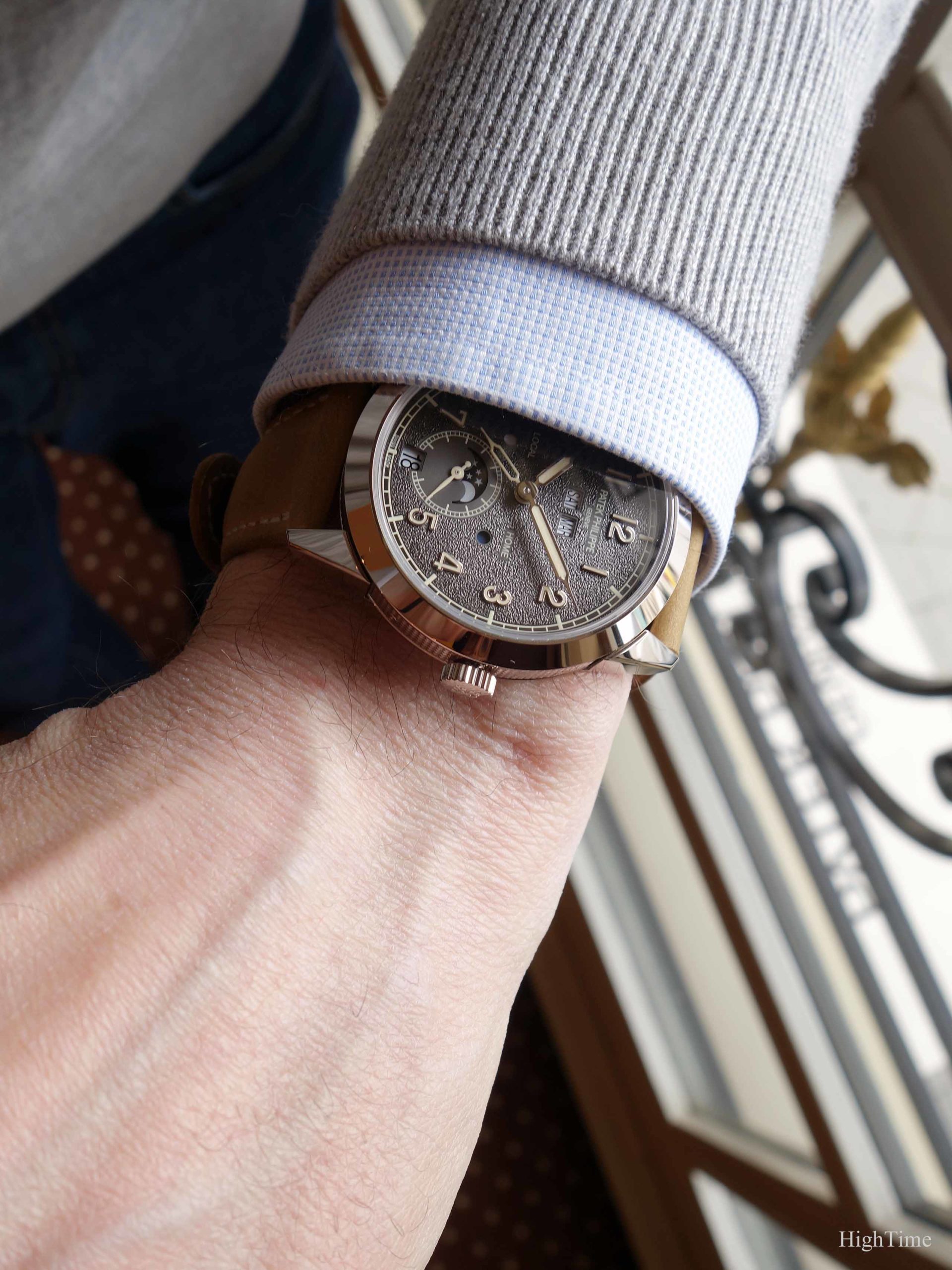 This is one of the most interesting cases from the brand. By the way, we've noticed in recent years that they are subject to a complex designing work, whether we talk about the sharper 5975, 5531 or with softer, rounder lines like with the 5227/5327. Patek is to me the most refined and interesting traditional brand on that matter.
The dial, a few years of maturation… et voilà
Quite some time has passed since the 5524G "pilot" or 5960G contemporary dials were released (or the 2013 Only Watch unique 5004 even earlier). On the front side, the 5326G offers a casual looking charcoal grey-gradient dial with a very grainy finish. I find that it works very nicely and smoothly with the "beige" colours. The level of tone tuning is excellent as it remains quite neutral. It looks casual and will in my opinion totally fulfil the "elegance" slot. It's even not that easy to classify this model in a conventional classical vs sporty scheme. However, in the metal, the result is just stunning.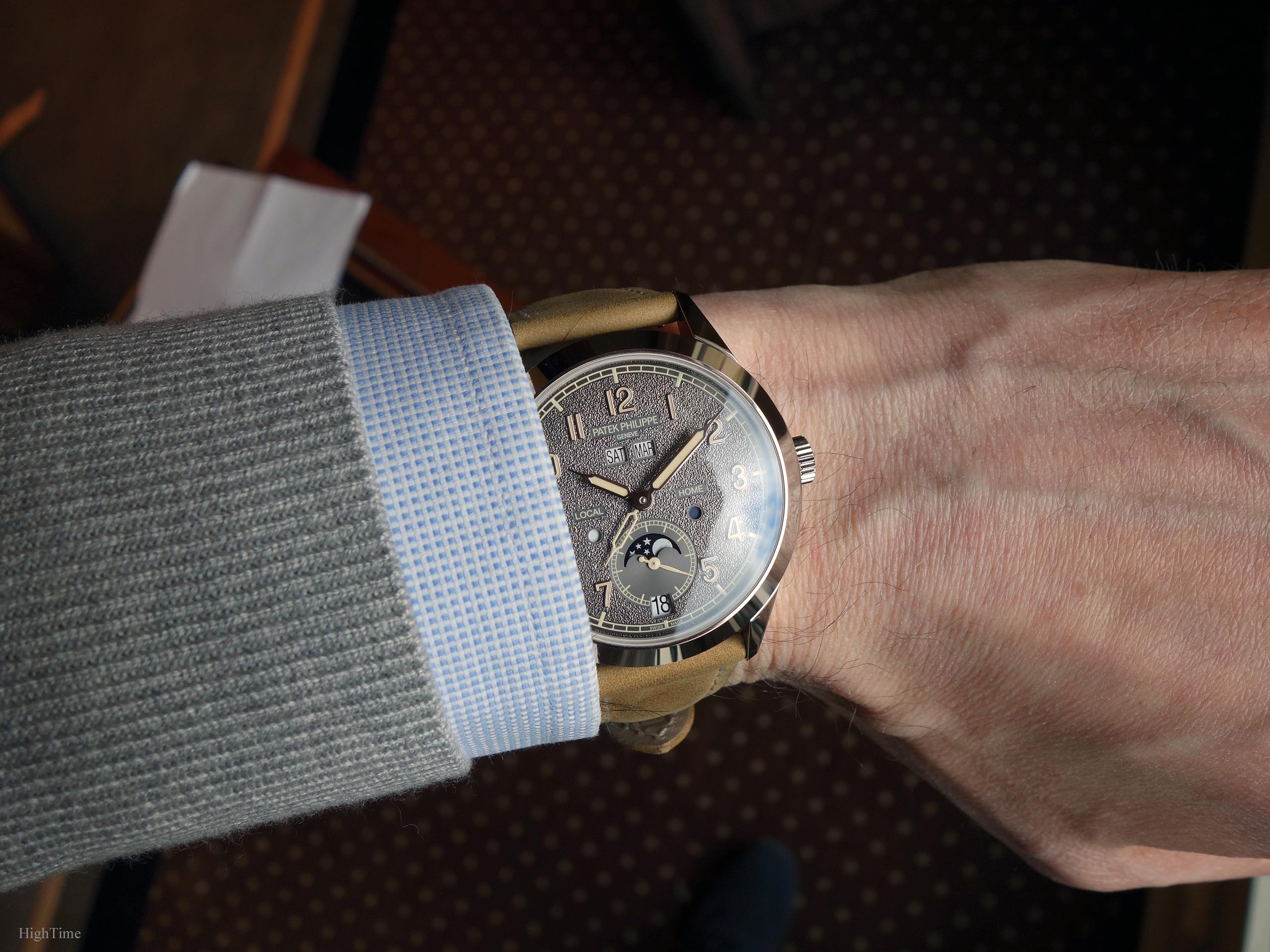 There is another element I wished to emphasize. Early on, I didn't know what it was but there was something very exclusive to this model when looking at its front side: it's in the way the slightly rounded (almost totally flat) glass follows the sloped bezel. The very neat and sharp end lines of both parts combine in a very nice way, especially with light reflection. This is a very important detail I noticed only on this watch, giving a contemporary and significant additional appeal to it (not very visible on my pictures except maybe the first one at the top of the article).
The main dial elements are inspired by the 5320G/5172G with "Seringue" hands (with Luminova), grainy dial (even if a little different) and applied luminova-filled numerals. The way they are polished, with very smooth edges, is very recognizable and characteristic of high-end craftmanship in addition to be very legible. These luminova-filled numerals are also the distinctive feature from the 5524 that are evidence of an excellent craftmanship level (and which isn't visible on pictures). In the end, having this watch on the wrist provides something strong and special, which is the kind of feeling we long for.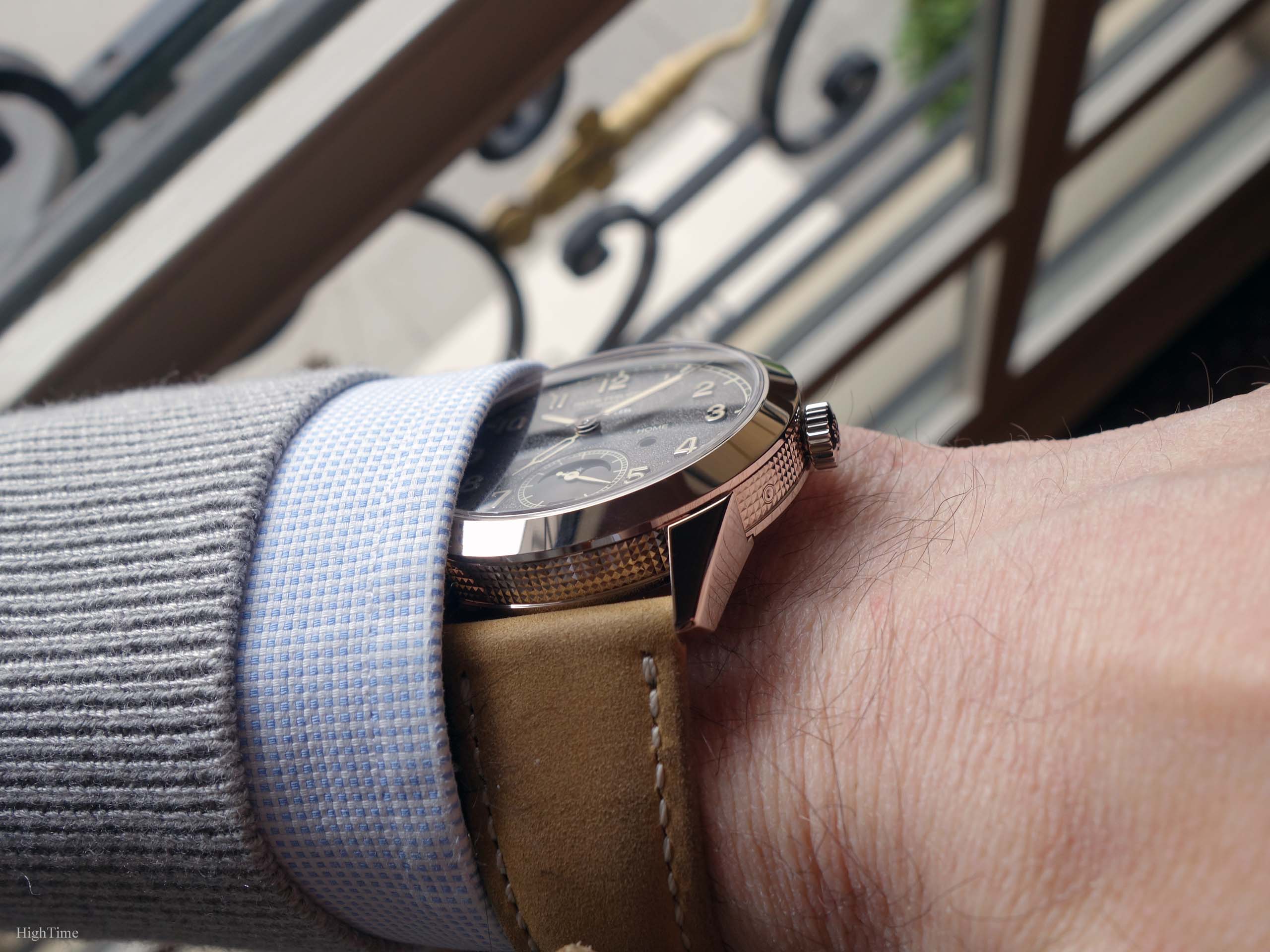 I think it's a very cool looking reference and shows again the last years' aesthetical evolution of Patek. They were looking to find a new style orientation in order to rejuvenate the brand's image and spirit. It's natural to challenge more conservative tastes. Doing so, this model has found a very nice balance: it's modern, elegant, without copying existing other styling and brands. The latter is the major danger such traditional brands can face. Indeed, preserving a personal identity isn't a mere task.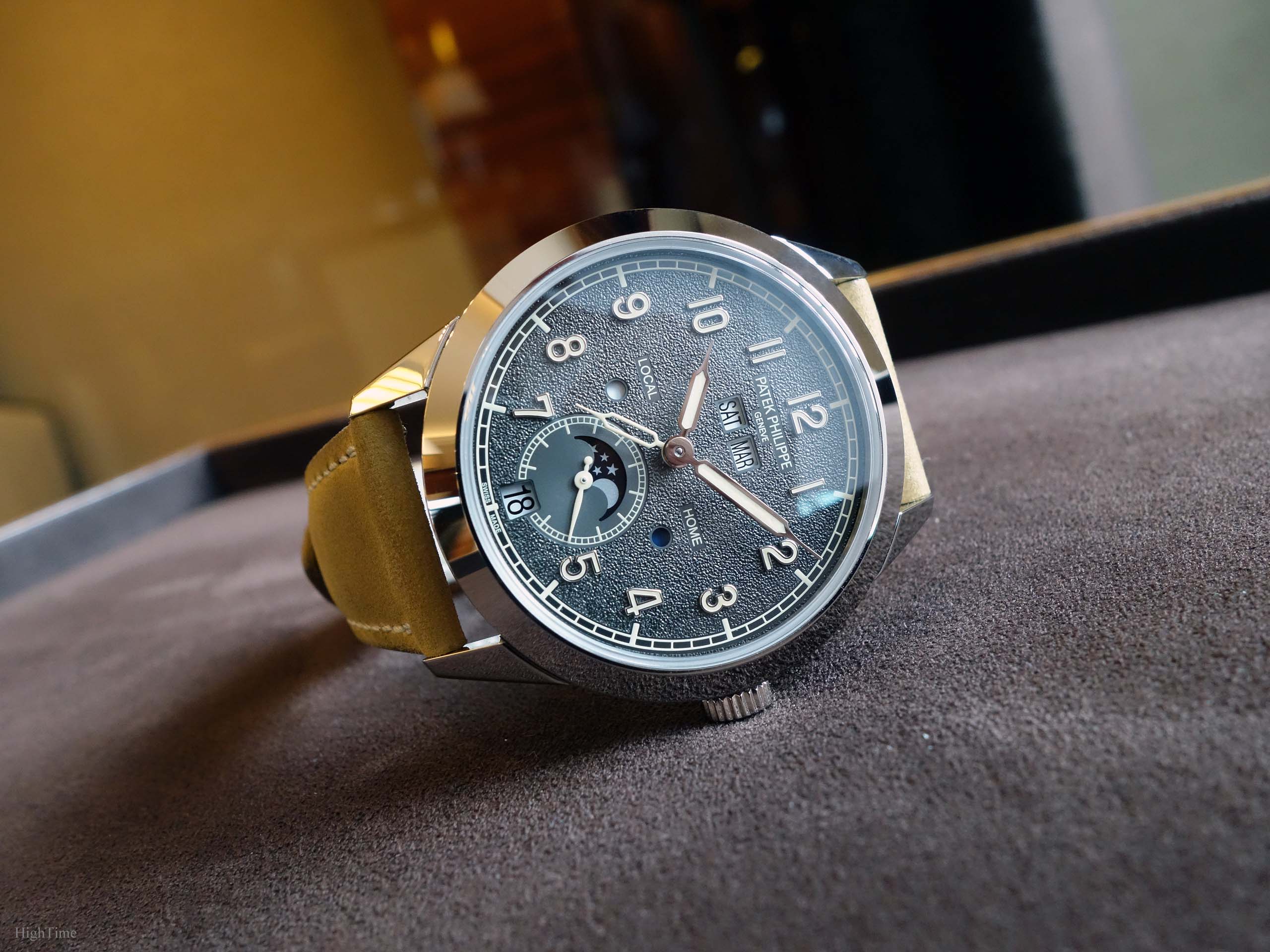 As far as I'm concerned (as with a 5524 or a 5168), the fact they are in gold (white gold here) pleases me a lot. I always found that, versus steel (such successful material nowadays in watch making, we should make wedding rings in steel as well), white gold brings more light and shine. Maybe it also has to do with the fact gold edges can't be as sharp as steel ones. Yet, it brings warmth and generates this appealing luxurious feeling, leading to an additonal visual very attractive sensation. Of course, for someone who enjoys sportier activities (like with an Aquanaut) lighter steel represents a strong asset. The thing is that most of their owners don't use them that way, thus can enjoy the unique lure of a precious metal.
A useful and clever complication assembly
In the 5326G, the Annual Calendar (that Patek Philippe invented in 1996) is a very convenient date function (complete, needing setting only once a year) that has been combined with the brand's clever additional "Local/Home" Travel Time mechanism that can be set forward and backward without jeopardizing the movement around midnight. Besides, due to its conception, it won't be incidentally impacted by international time zone changes (unlike World Time references). This Travel Time module appeared first in the 5990/5164 a few years ago (other less elaborated versions existed earlier). The great challenge and horlogical interest here is that the Local Time is "behaving" in link with the Annual Calendar mechanism (several patents pending).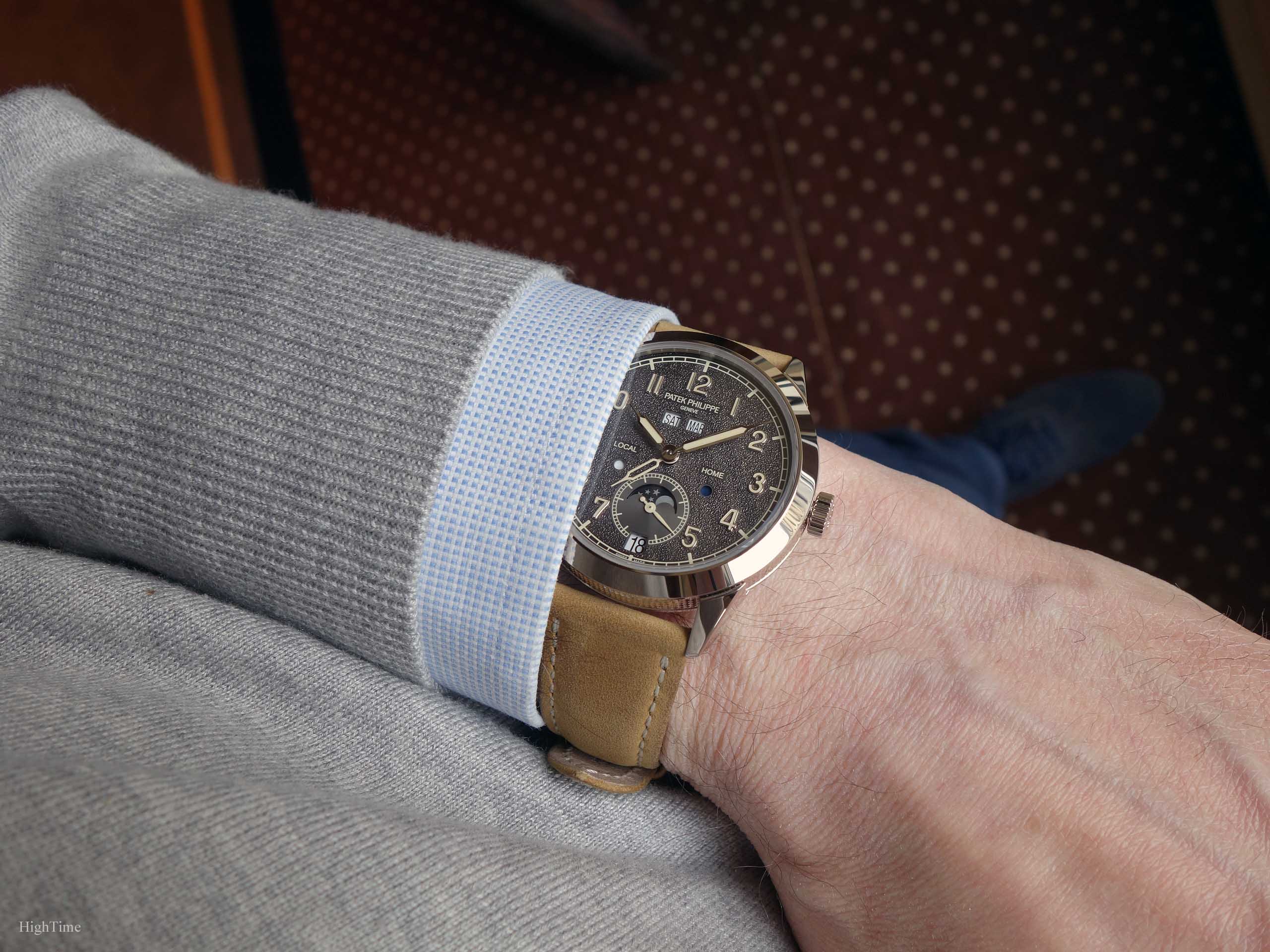 Concretely, when the owner switches its time zone around midnight, the annual calendar date has to be shifted as well. To achieve this, the watchmakers used their experience from the 5531 (Minute-Repeater and World Time) where the Minute-Repeater is linked to the set time zone.
Thus, its Travel Time module development has led to 8 patents that are related to:
Energy consumption reduction: some wheels, only used during a setting manipulation, are disconnected;
Going from 30th to 1st and 1st to 30th without desynchronising the date and the time when adjusting the local time;
Accelerating the date switch (from 90 to less than 20 minutes);
A system allowing to remove the Day disk without disturbing timekeeping or disassembling the movement (2 patents);
Better accuracy when modifying the local time;
Avoiding date double-jumps;
and, avoiding damage when setting date elements during its switch around midnight (flexible blade feature, inspired by the 5650G Advanced Research), also known as the "deathzone".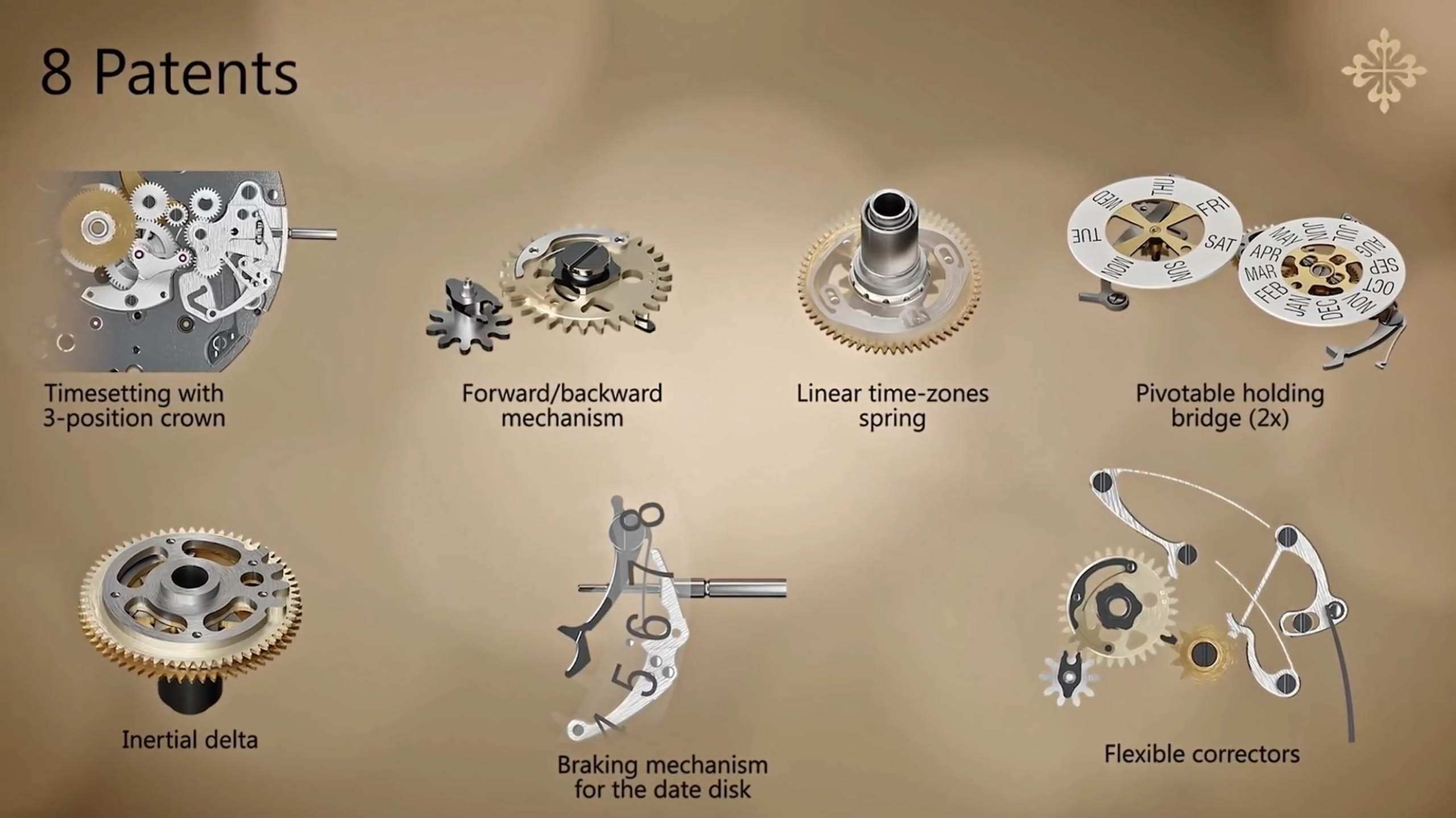 Whereas an Annual Calendar usually switches the date in around 90 minutes, the watchmakers reduced the delay to less than 20 minutes in order to keep the synchronization when setting the local time (to the cost of a slithly higher energy consumption during that phase).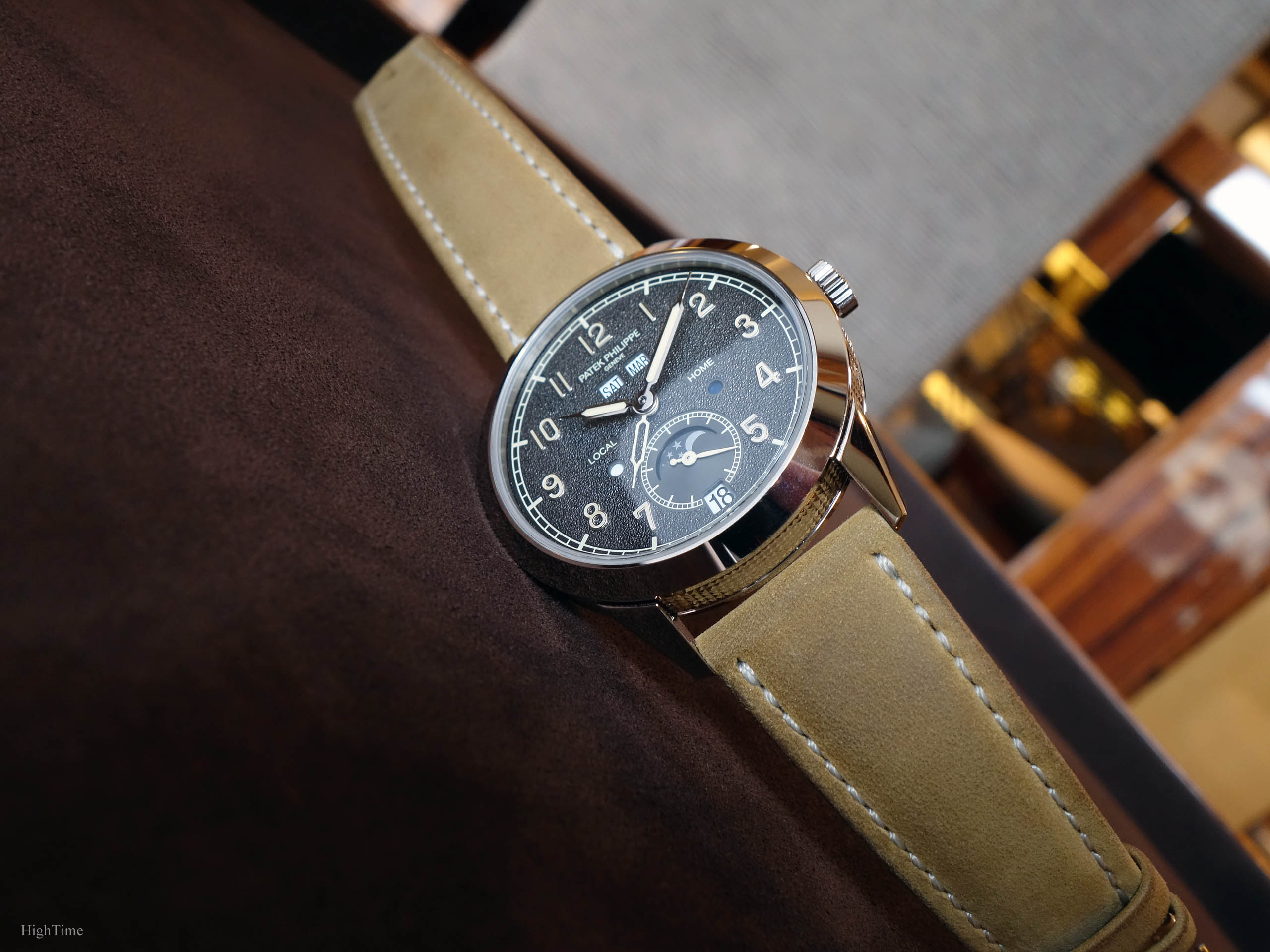 To suit the Calatrava-style case and the hobnail decoration, Patek decided to move the Local Time setting pushers to the crown (with a specific intermediate setting position), which represents a significant technical challenge. In fact, it's a feature that was first introduced in 2021 in the 5269 Ladies Aquanaut. The other date indications are still set via discreet correctors.
About its 31-260 caliber…
The Patek Philippe 5326G receives the gorgeous 31-260 caliber (mini-rotor, discussed further) already visible in the 5236P. This minirotor automatic-wound movement sits next to the 240 in the catalogue. Let me add here what I explained in my 5236P article.
The mainspring's torque (inside the single spring barrel storing the energy) was increased by 20%. As well, the minirotor is in platinum (on the contrary to the 22k gold 240 caliber's), slightly thicker, hence increasing its (unidirectional) winding efficiency (more inertia).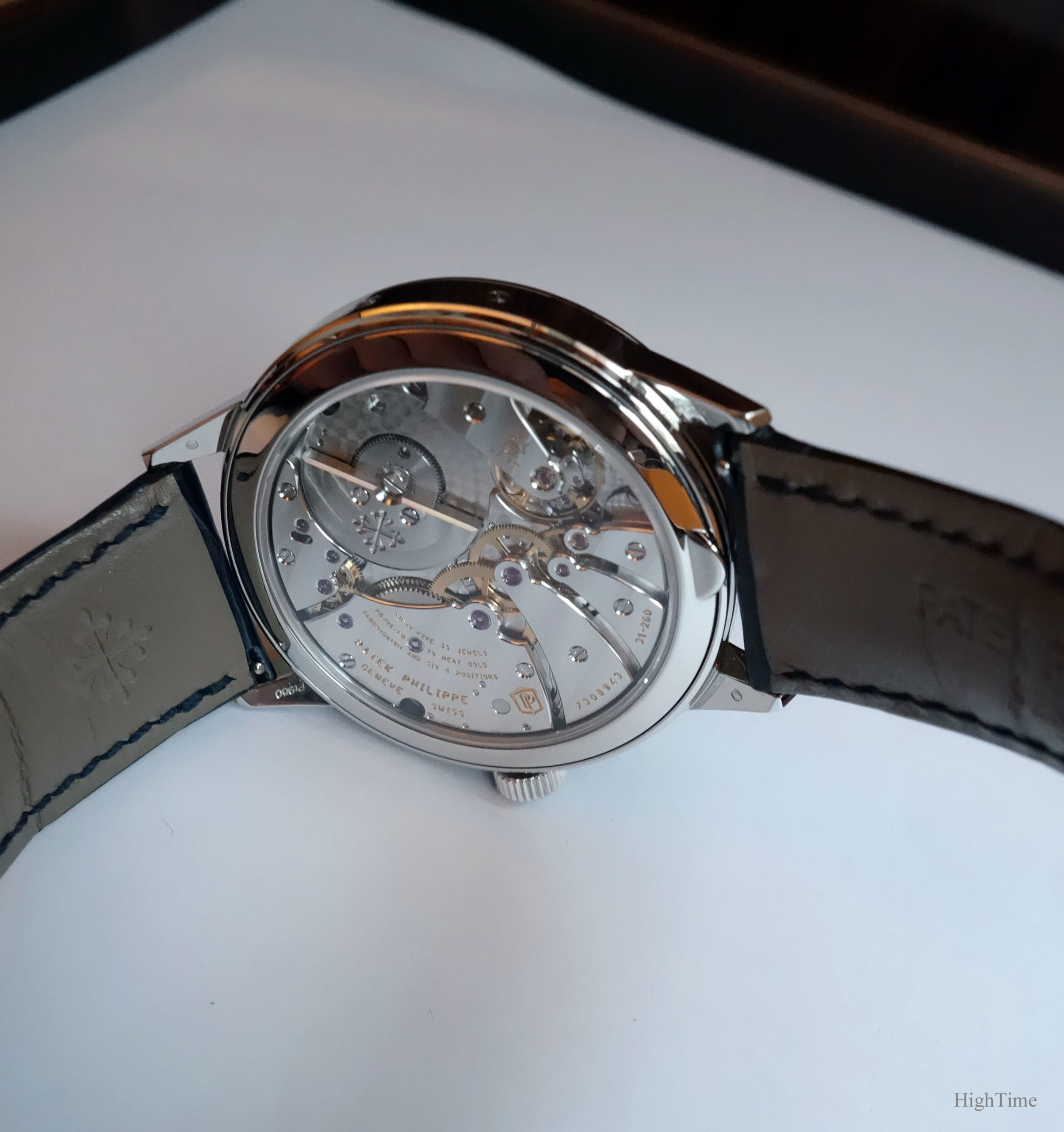 As for the frequency, while the 5235 Regulator's 31-260 beats at an unusual 23,040 vph (3.2 Hz), this 5326G's version rises at 28,800 vph (4 Hz). The higher rate makes the pace steadier during day life (higher speed => higher inertia). The difference is that the Regulator's optimisation is pushed further thanks to the addition of the Pulsomax (Patek's Silicon-based escapement). However, the 5326G receives the Spiromax balance spring made of Silinvar (anti-magnetic, no lubrication needed, temperature low sensitivity).
In the end, the power reserve stands at a standard max. 48 hours. When improving its movements, Patek prefers to improve accuracy over power reserve (as with the new 26-330 caliber replacing the 324). Here, they particularly accelerated (more consumption) the date passing around midnight to maintain its synchronism with the local time.
Like for the new 26-330 caliber, the winding mechanism is equipped with the new reduction wheel: it disconnects the automatic winding mechanism when the watch is manually wound to limit wear and residues.
Finally, the movement receives a hacking second feature.
… and on the aesthetical side
Well, the 31-260 is a splendid looking movement and brings the model to another level since the already excellent 240 caliber. Its original base (launched in 2011 in the 5235 reference) is already a beauty on its own (comparative picture further below). Nevertheless, the way the bridges have been adorned here makes it even more so.
I think that, in a world where we perhaps tend to pass a little too quickly on things, not giving the proper amount of time to observe, it's a facet that can be missed. It's especially true considering what Horology can offer (the new manual 30-255 introduction was discreet too, to say the least). It's an aspect of watchmaking we are many looking to enjoy.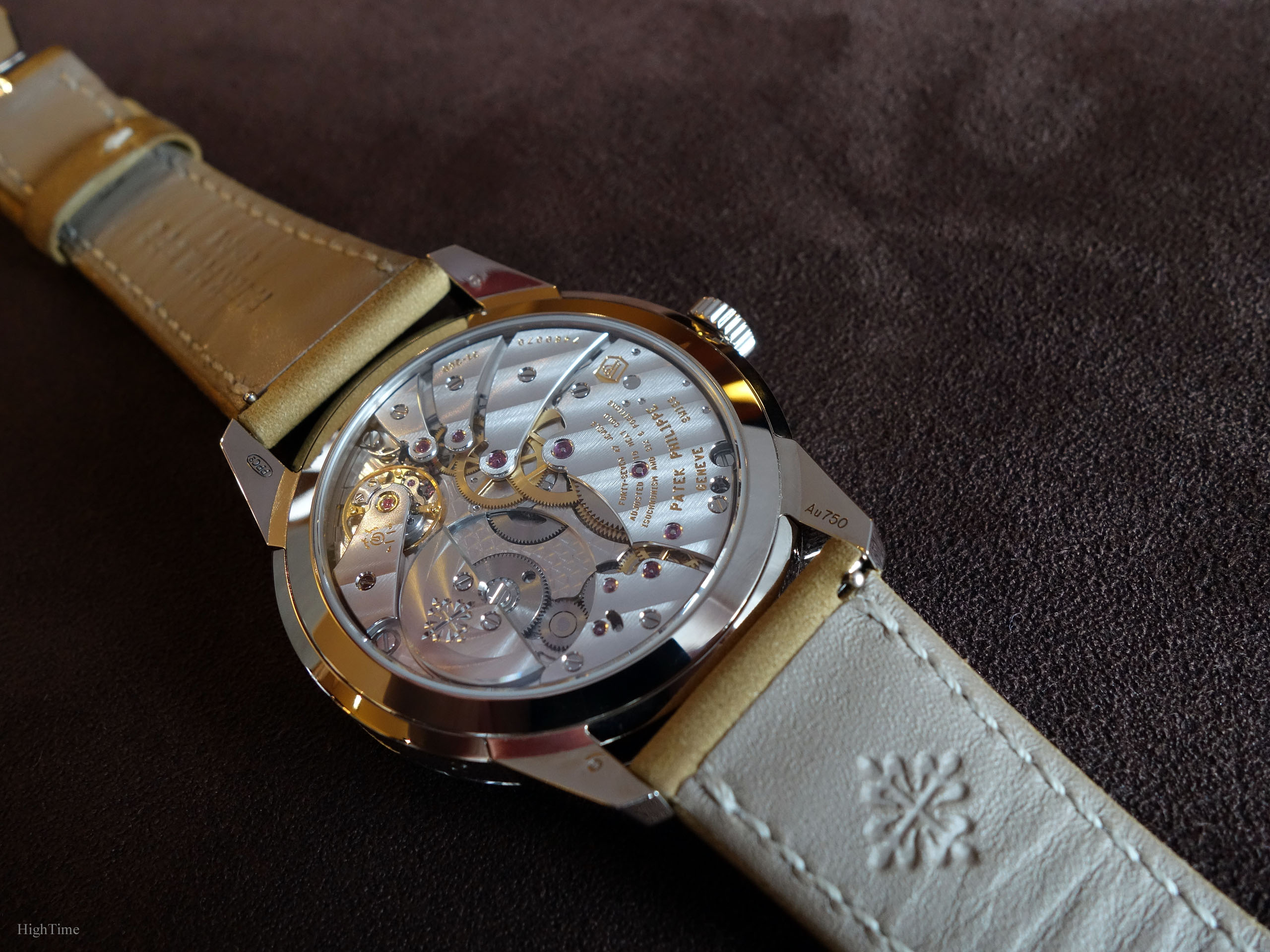 For instance, as you see from the mirror polished pinion holes, the shapes are more elaborate, the total length of the edges is increased, hence it requires more time to polish.
Additionally, the bridges are quite different from the 31-260 included in the 5235 Regulator. Indeed, you can have a look at the comparision picture further below, showing those 3 "coq" individual bridges on the 5326G (left) compared to 2 wider plate bridges on the 5235 (right).
Those new "individual" bridges cut and overall look construction, roughly 1 bridge for 1 wheel/pinion spirit, is outstanding especially today when movements are often simplified in terms of shapes. Indeed, in theory, a wide single plate is more rigid and offers less edges to finish. Hence, choosing multiple smaller parts instead requires quite a sum of extra work.
Furthermore, when having a look at the other bridges plates, we notice they received some "twisted" edges, around the pinions holes. There are sharp endings here and there, instead of round shapes that are less complex to finish and less time consuming. It's clearly illustrated in the picture below. This is also visible next to a 324, 240 or even a 5235 Regulator's 31-260 caliber.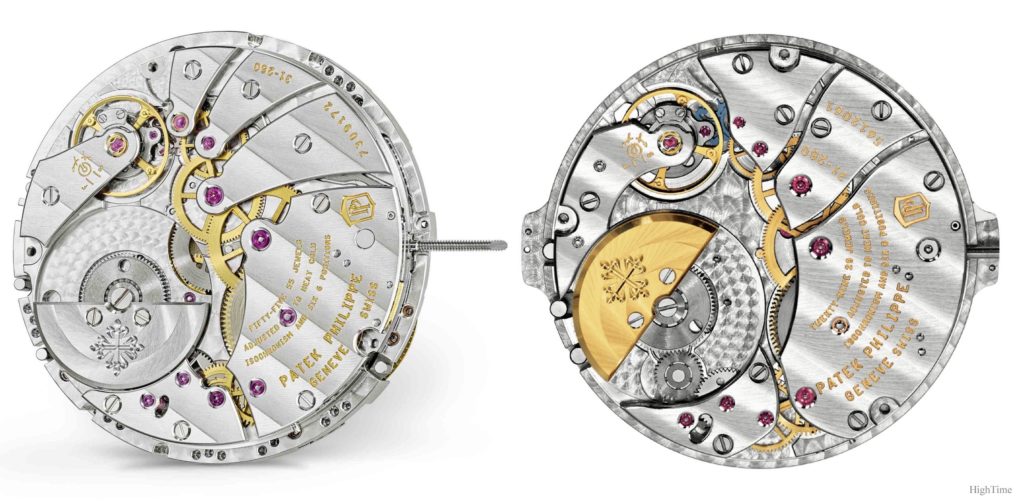 It's a no-shortcut way and the result, as you understand, is staggering. Hence, it clearly represents a strong evolution in the movement offer. This 31-260 shouldn't be overlooked, considering the habit we might get from seeing so many novelties each year. Not many microrotor movements come close to what is done here (even next to the 240 for most of them), especially considering the technical aspects discussed above.
Another detail to mention: the Geneva stripes are harder to apply on several bridges (versus a larger plate) as these stripes have to be perfectly aligned. The 31-260 caliber showcases this decoration beautifully and elegantly.
As far as Patek is concerned, it has rarely (never?) been available at this level before. A quite significative craftmanship work is offered to the owner of this 5326.
This "individual bridges" philosophy reminds me of the illustrious 12-400/600 or 27-460 older calibers (latter pictured below, used in the 3448/3450 for instance over the 1960's-1980's period) that collectors have in their heart. I find it very pleasant to have a look back that way. This is what we should expect from such brands, especially considering their price.
Though the 27-460 (same for the 12-400/600) shows 2 beautiful additional inward angles (picture below), you will notice the other 31-260 bridge edges show much more elaborate surfaces (more and sharper outward angles, complex curves here and there), hence quite a load of additional work on the latter. This shows that Patek has provided very serious performance for this movement, especially since the 240.
On internet, comments on calibers (whatever the brand and often from internet pictures only) are sometimes quick to mention a lack of inward angles but this overshadows the rest, whether it's aesthetical or technical improvements and working performance. On the 31-260 caliber, I perfer its impressive curve complexity and the way the overall creation is rendered to an inward angle that would have been included in a 240 caliber for instance.
This being said, if Patek could provide them as well (especially in a 29-535 chronograph caliber), it would make my day…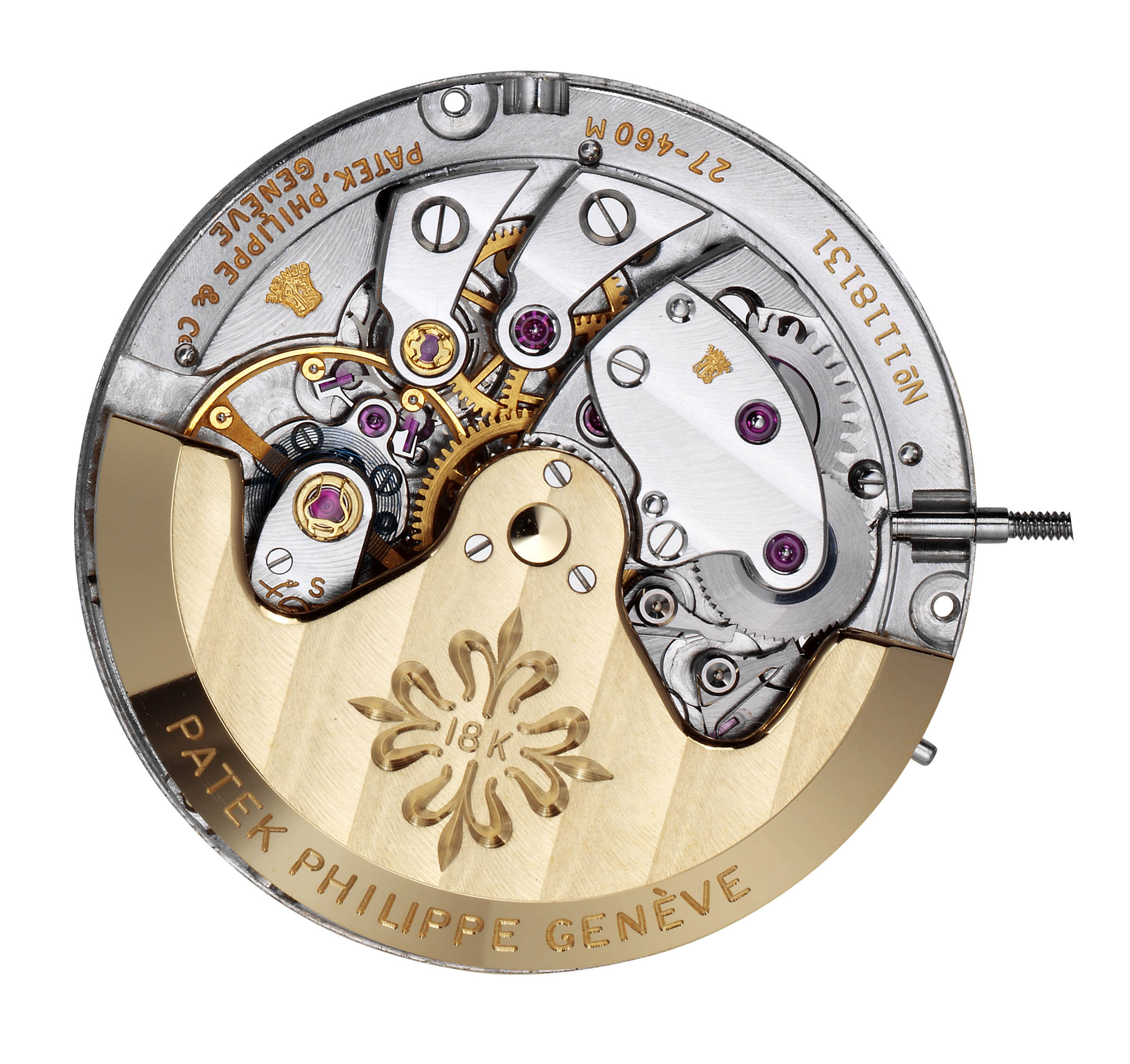 In the past, the 240 caliber (minirotor as well, picture below) was offered in a wide range of complications. It was of course very different times when the 240 (unveiled in 1977), being at the time part of the finest automatic calibers (thin, reliable, nicely finished), could be proposed more widely.
Back then, we observed that competitors included much simpler calibers in terms of design and decoration (and many still do so today), which were often sourced from other manufacturers. It was a time when brands and clients weren't paying much attention to the back side of watches (not many see-through casebacks before the 1990's). In that context, we can feel that the in-house 240 arrival was a major breakthrough in providing a movement worthy of high-end status. Today, it's a legend in its field, like the 27-460 AT was.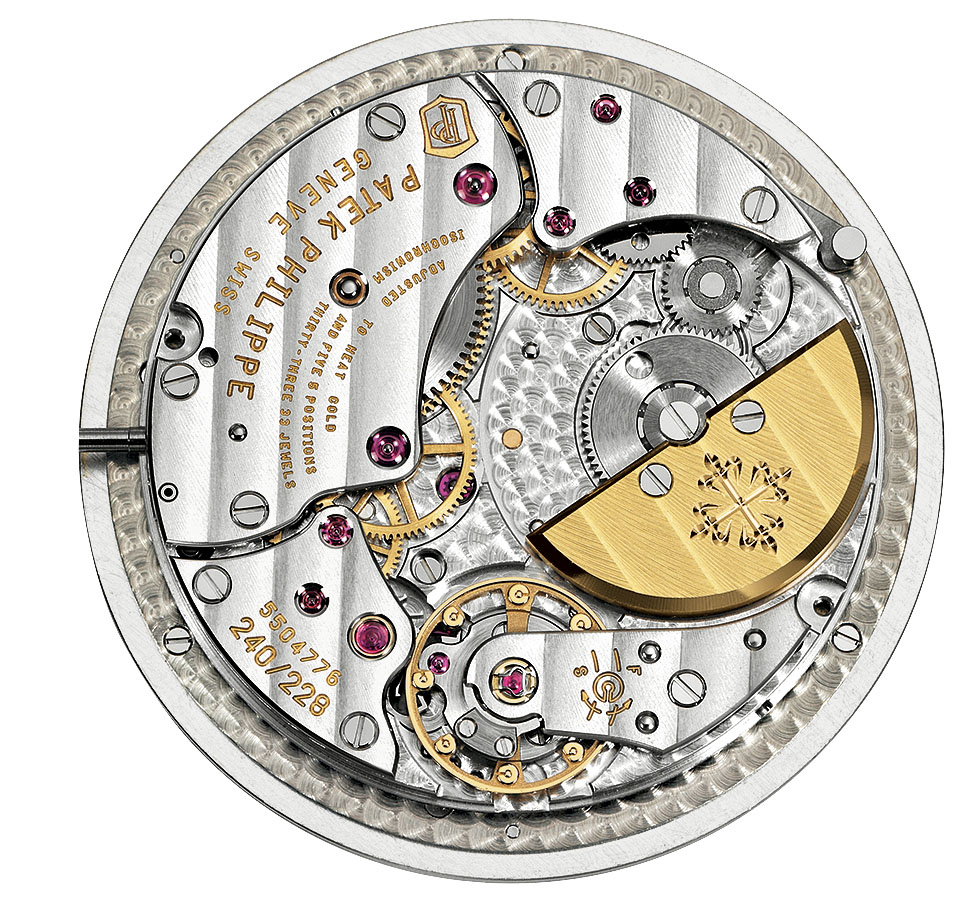 In the end, I think there is no comparision between the 240 bridges' shapes and the new 31-260's inside the 5326G (or 5236P). It's a sign of times and a nice evolution as more and more people come into watches, hence start to feel they would like to learn more about watch making and finishing in particular. How it has been done here is a good way to differentiate the 31-260 we find in the 5235 (with the Advanced Research Pulsomax) from the one equipping here the 5326G. We have 2 fantastic offers, the 5235 having its own "optimised accuracy oriented" segment.
There is only one little thing I regret. While watch making is about miniaturisation, bigger cases seem to lead to bigger movements in order to fill them. That's the only downside but I guess we'll still have very complicated pieces in charge of providing "as small as possible" calibers.
Overall, watch fans sometimes tend to balance between manual and automatic movements, the former being more opened thus spectacular (like chronographs), the latter being partly hidden by a central rotor or wider bridges. That's why, in the field of self-winding calibers, the off-centered minirotor ones are particularly appreciated.
As far as the 31-260 is concerned on these 5236P and 5326G, I think that we've reached a peak, and maybe one of the most beautiful movements of this kind from Patek, and from established brands.
Fresh news on the accessories side
Thierry Stern mentioned that he wishes to offer more colours and textures in terms of straps. It was high time since this is what our current lifestyle evolution commands. It's furthermore an easy way to modernise the brand's image.
Hence, the 5326G is provided with 2 straps and a (not 2) white gold fold-over clasp:
one beige calfskin with nubuck texture, greatly fitting the dial colours and style;
one black calfskin with embossed textile finish and beige decorative stitching, very well pairing the watch as well.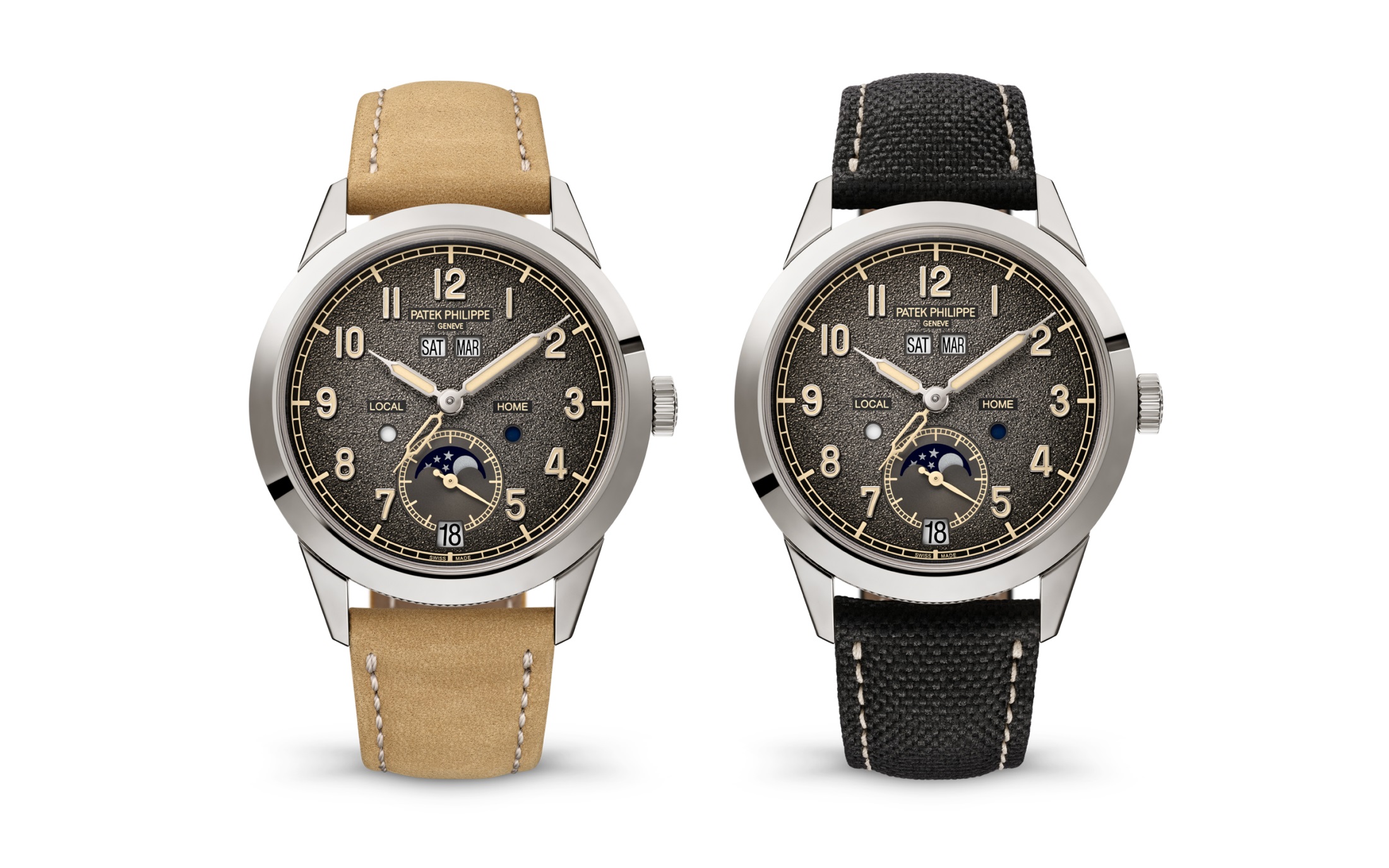 Regarding the black strap, it's the first time we have a textile finish (aside from the 5208T Only Watch unique model) and it seems to look very nice (I've seen if from afar, not holding it really). It provides a very cool sporty look.
The beige one pairs the watch fantastically. It's more on the smart casual side and less sporty. We can imagine bringing this strap on several other references to transform them drastically. This being said, I don't think that such suede strap will remain as "clean" if worn everyday. However, they can be replaced easily and they bring so much originality and appeal compared to the usual ones, thanks to the texture and tone, that it's totally worth it!
To end with, this reference is 30m water-resistant (no screw-down crown).

Conclusion and Thoughts
Together with for example the 5524, 5960G, 5172G, 5212A, etc… and while keeping a distinct classical line-up, the brand has undertaken a challenging and nice exercise in my opinion. So many brands in the past missed this period when tradition had to renew itself. Patek Philippe and his young president received a few criticisms in the early beginnings from more conservative enthusiasts but these novelties have met undisputable success from younger as well as older generations over the last decade.
I spent some time with it and I think the 5326G is another example showing they nailed this soft transition, the 2-hand version, the 5226G young brother, being as interesting. You might of course suggest that more natural contenders in this "casual" category are the Nautilus, Aquanaut, RO, you name it… They are indeed thriving in that field but they aren't "classical" models. On the other hand, it's very rare among classical watches (dressy, classical or oldschool looking) to calibrate casual novelties right. Actually, there aren't many of those traditional models, especially because of their look, the shape of the hands, the numerals, the case or the way they painfully combine with more modern straps that make the cut. With time, the sole existence of a sportier line-up inside traditional houses has even pushed us to refer to classical watches in general as "dressy". "Dressy" isn't a niche anymore, it has become a term to define traditional-looking pieces.
In concrete terms, this new classical/casual merging trend can't come from dressing-down classics (some very dressy watches don't match with kevlar-like, suede or nato straps, even if today we can nearly do as we please). Neither from taking a Nautilus and make it reproduce with an old Calatrava. They have to be designed from scratch with a dedicated set of aesthetical norms. People often make the confusion between style and DNA. The style of a period isn't the definition of a DNA. But different styles can evolve within the same DNA.
Today, Patek Philippe provides very appealing casual yet classical models, released in the last 7-8 years, possessing the very details that makes the link with modernity. These 2 flows, tradition and modernity, perfectly coexist with one another, without denaturing the brand's rich legacy.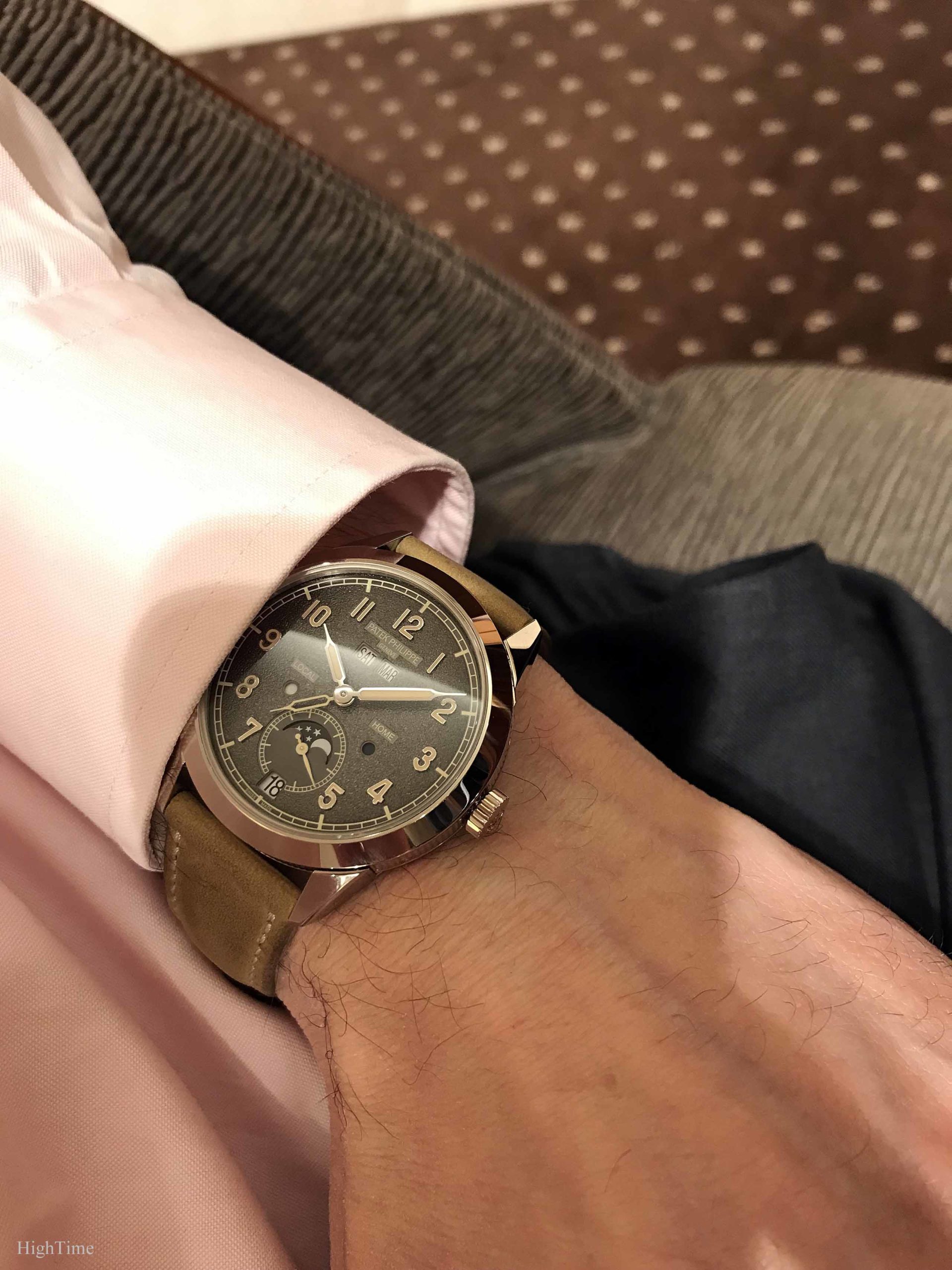 The Patek 5326G (next to a 5172G Blue, 5205G Blue, 5170P, etc…) corresponds perfectly to this new classical/casual world. As such, in the end, it's the kind of watches that could push all the others back to the banksafe for a long while.
This year's novelties, all references as a whole, constitute (for me) one of the most appealing sets from recent episodes in the casual offer. It's often difficult to step away from our habits, especially in such conservative fields as (traditional) watchmaking. Whether we talk about style or mechanism. Presently, I was very excited to be able to hold this exquisite well-born model.
Looking back to the flow of recent years' novelties, I feel that Patek's evolution is finding its way, as the brand knew to manage in the past. They show they can modernise their style, while preserving the quality of their dials, cases, enhancing their movements but also in the very challenging field of keeping a unique and personnal design. Have a look at what is made elsewhere in the watch world, you may observe a clear difference of behaviour among competitors, explaining why Patek is in this position today.
You can find here below a very interesting official video with Mr Barat, Head of Watch Development at Patek Philippe, explaining the Travel Time module (from the 5:15 mark), originally launched in the Nautilus 5990/1A. The module integrated with the Annual Calendar for the 5326 has since been modified but its described features are still valid:
The Travel Time module explained in the 5990
Here is a special page on the brand's website regarding the 5226G and 5326G references:
Patek's 5326G and 5226G presentation news
The Patek Philippe 5326G-001's MSRP as of today (2022) is 72 500 € (VAT incl.) and you can find more on the official site, here:
The 5326G's page on Patek's website
Thank you for reading!