The Patek Philippe 5235R Annual Calendar – The Regulate
Hello everyone,
Unveiled first in white gold in 2011, the Patek Philippe 5235G Annual Calendar "Regulator" was a very surprising introduction in the brand's collection. It was unique regarding their wristwatch history, presenting a rare display format and, even more interestingly, a new brilliant caliber. Indeed, there are sometimes interesting movement evolutions but, this time, we didn't expect to find the brand new 31-260 minirotor automatic caliber, developped in house with the help of their Advanced Research program, particularly focusing on accuracy.
Hence, 7 years later, the white gold version was discontinued in 2019 to hand over to a second version presented in rose gold: the Patek Philippe 5235R "Regulator" Annual Calendar with a dark grey dial. This is the one I wish to present here.
An intriguing bird
In many fields, it's human to appreciate things looking like no other, that differentiates itself from similar profiles. We like to feel we have something unique, sometimes rare, hence a kind of exclusivity. Many objects we wear can reveal a part of what we are. Well, the 5235 is clearly responding to this call, starting in 2011 with the white gold version (picture below), by providing a first layout and an unusual movement in the sense it housed research efforts that Patek has pushed forward in the name of accuracy and everyday reliability. Certainly not a reference easy to come to but definitely one you can't stop coming back to from time to time (at least for me).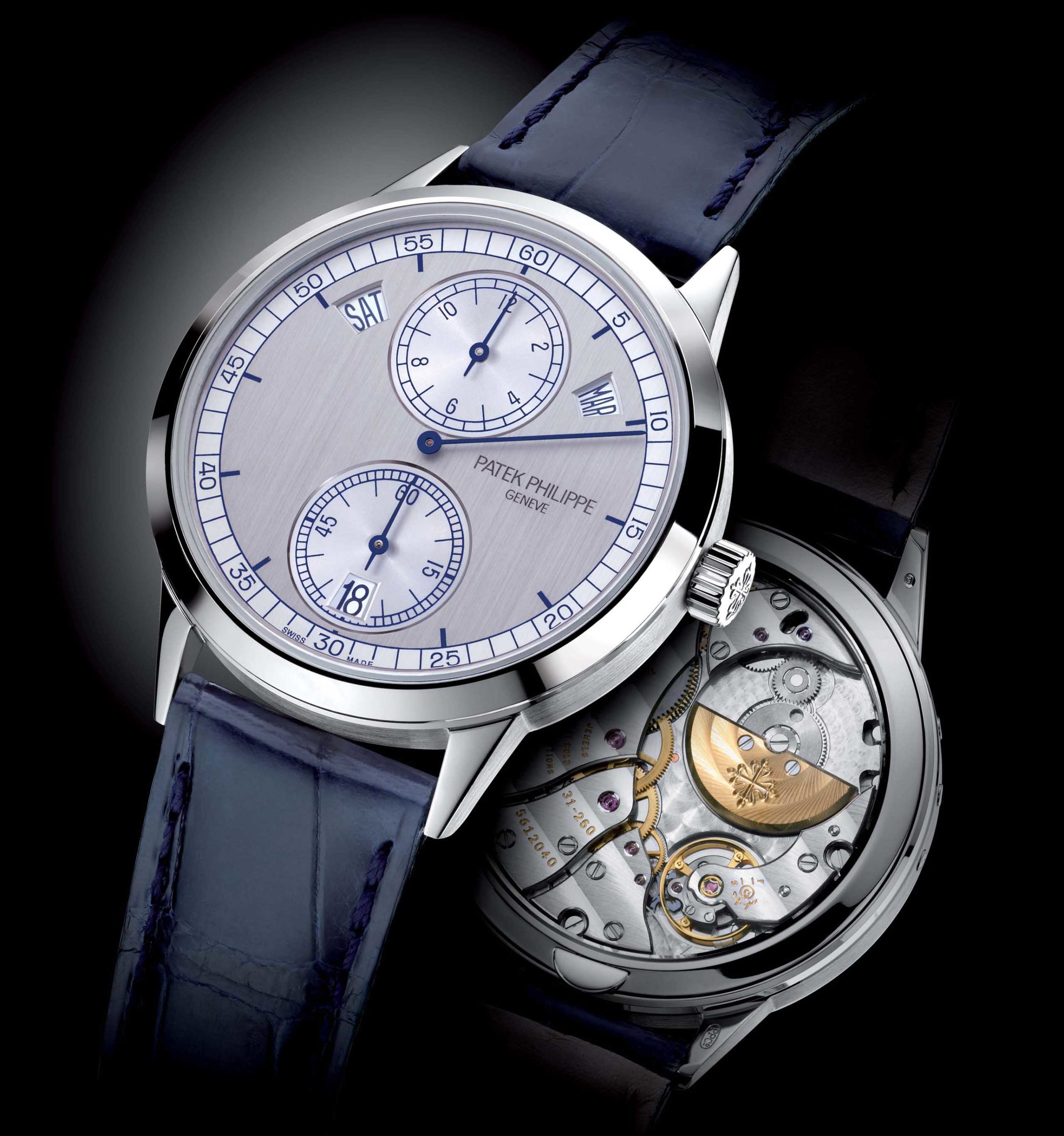 When holding this reference, many aspects of hers excite: it has a unique and non-consensual look, with the kind of finishing quality a trained eye perceives right away. Furthermore, it provides an outstanding accuracy performance and embeds a wonderful looking movement. In particular, we know that in terms of engine design, the brand never disappoints by going halfway.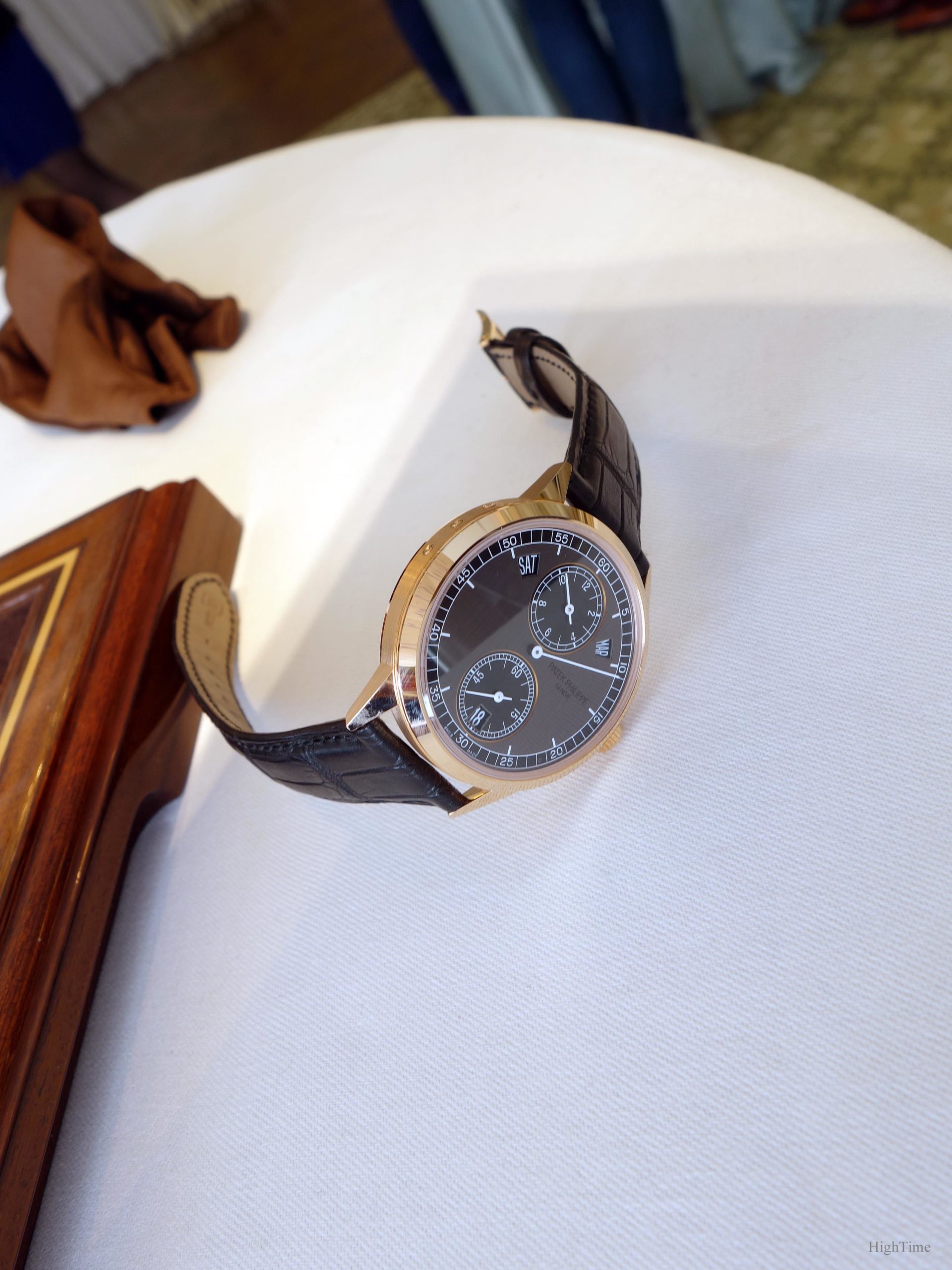 What about its origins? Historically, in old watch workshops, a "Regulator" was the name given to bigger table or wall clocks that displayed the hours, minutes and seconds in 3 separate dials. This allowed an easier way to set accurately and follow the pieces watchmakers were working on. Indeed, the minutes and seconds dials were both visible from the whole room without being hidden a part of the day by the slower hour hand. Such a clock, standing in Mr Philippe Stern's office (picture here below), was the inspiration to kick-off the project.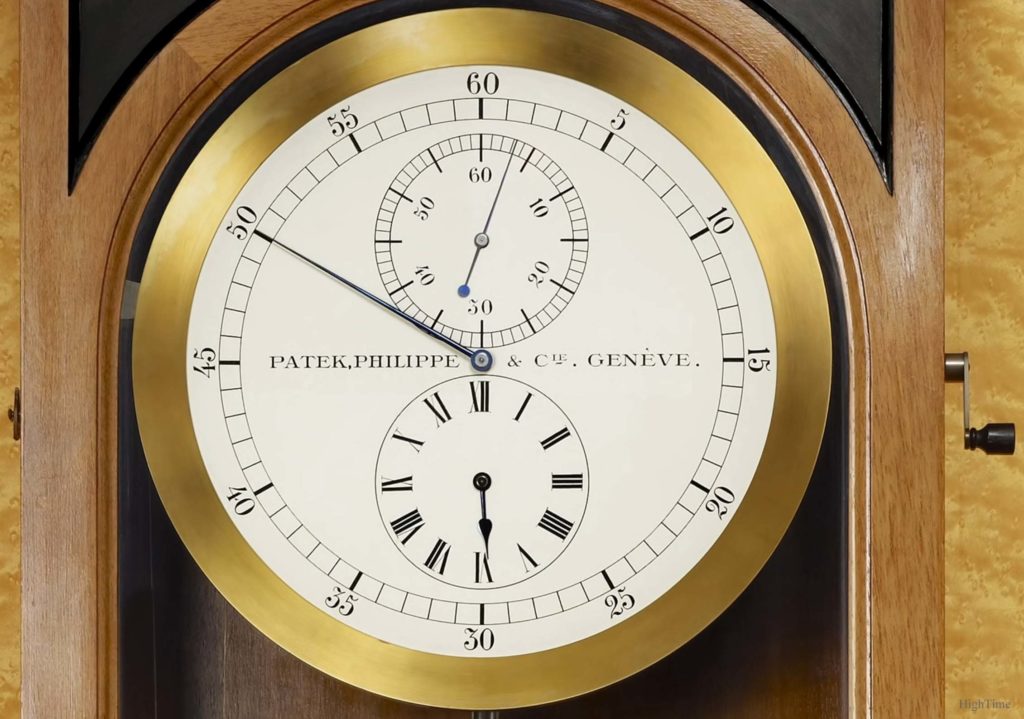 Moreover, serving as a benchmark for precision tuning, the Regulator clock naturally had to be particularly accurate, hence included an improved movement conception. This is the philosophy applied in every ways on the 5235 reference. It helps understanding what's behind the development of the 31-260 caliber and why such distinctive 3-place indication, following the 12 to 6 o'clock line.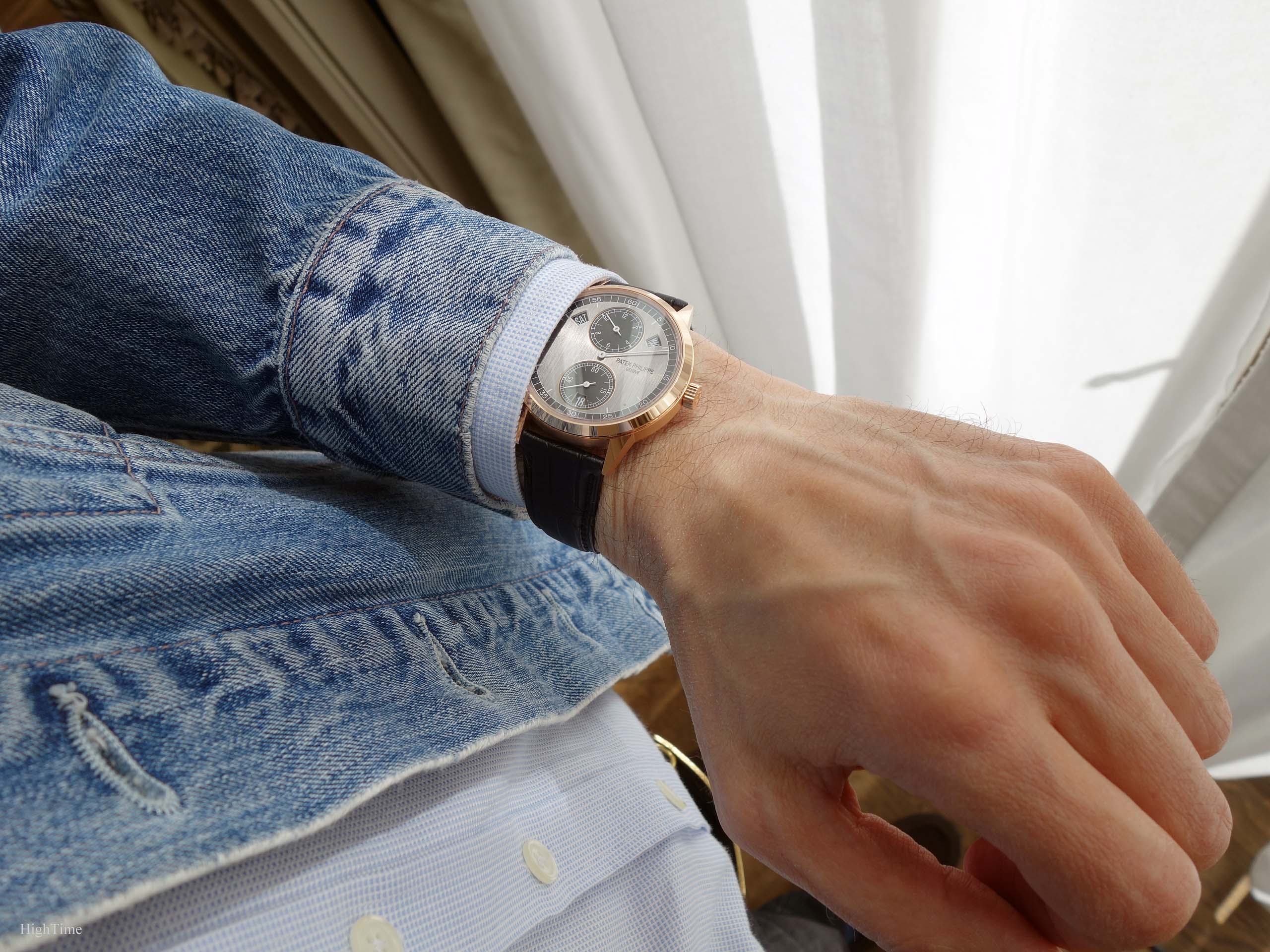 Time keeping champion
With the 31-260 caliber, not only we are offered a beautiful movement but we are introduced to a particularly accurate engine.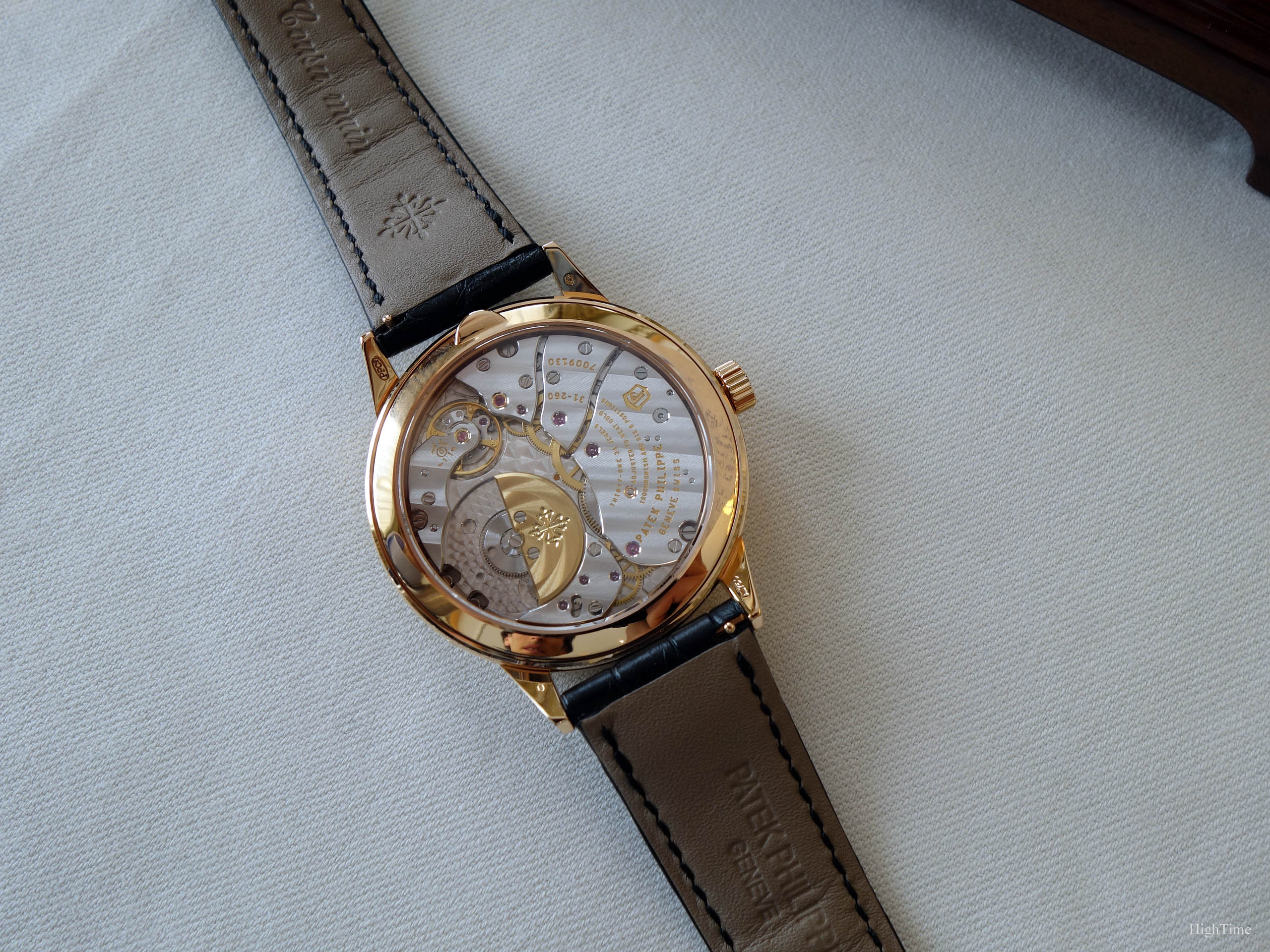 At the beginning of the project, even with the 240 micro-rotor caliber in the catalogue (1977), the new 31-260 launched in the 5235 was the first to allow a regulator's time display. The 240 has indeed its uniqueness: the second hand at 5 o'clock that is nonetheless a major obstacle for a regulator.
As a side note, not only Patek show they take pleasure in exploring new ways of conceiving movements but they don't content with a bigger size and nice bridge shapes in order to make people think it's new and improved. They don't either launch a very spectacular though unuseful feature, to serve as a marketing tool for a few months long communication strategy, surfing on a short-term wave. Watchmaking marketing pushed too far (core temptation of the Luxury sector) isn't serving positively brands' image on the long run for people who dive a little deeper (a minority I concede). I regret that too many watch brands release a new movement to change size only. I believe Tradition should still prevail for these established brands but that doesn't mean standing still by reshuffling the existing know-how either.
Watchmakers have always endeavoured progressing and improving their movements. Especially since clocks were used for long distance navigation purpose for instance.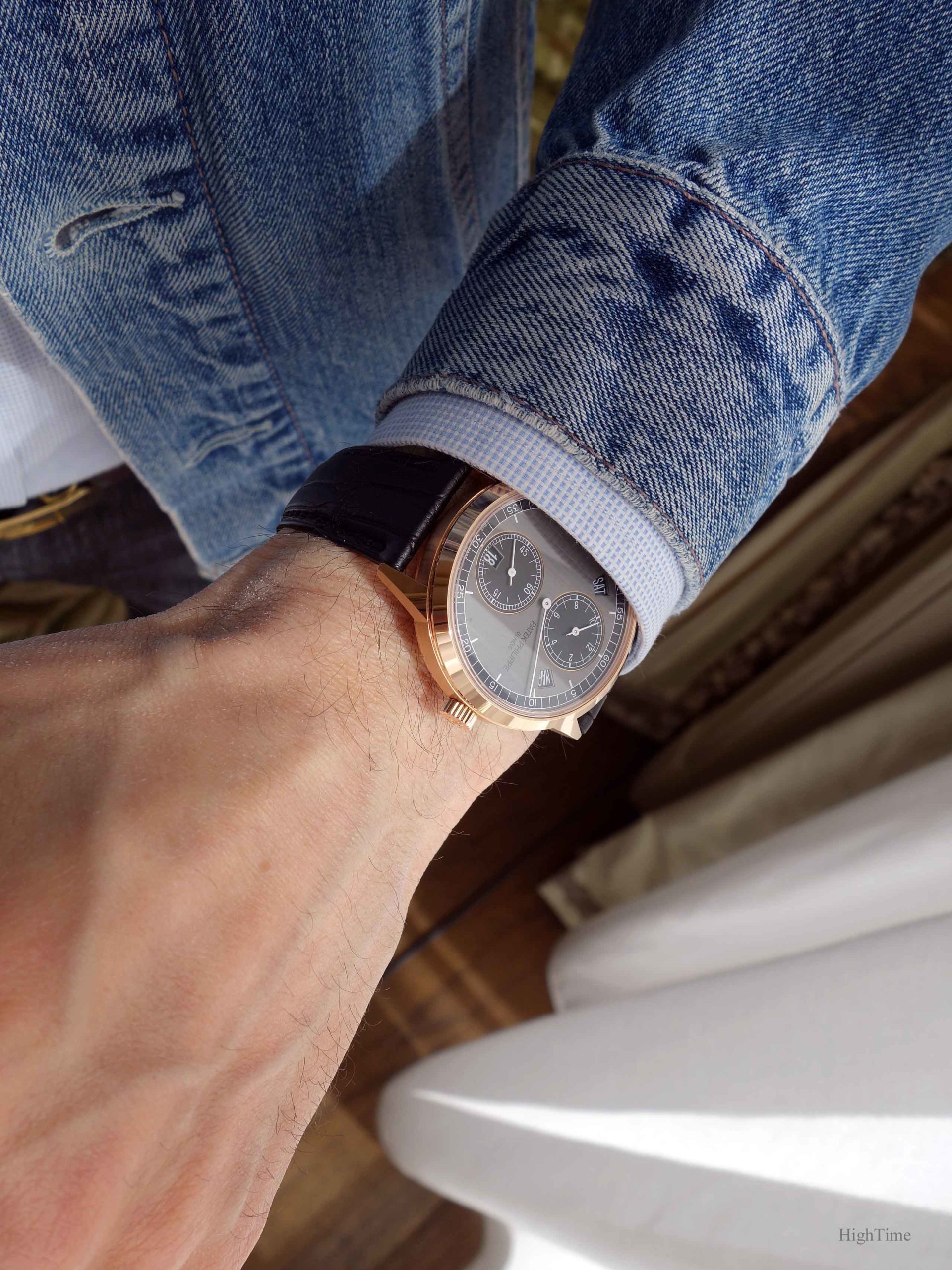 For this new caliber, the development efforts poored into Patek's "Advanced Research Program" quite naturally provided the ideal required technical evolutions to the traditional escapement mechanism, thanks to Silinvar. As a reminder, Silinvar is Patek Philippe's Silicon-based material, developped to improve accuracy, wear, fine rate tuning and reliability (no lubrication needed, amagnetic, etc…).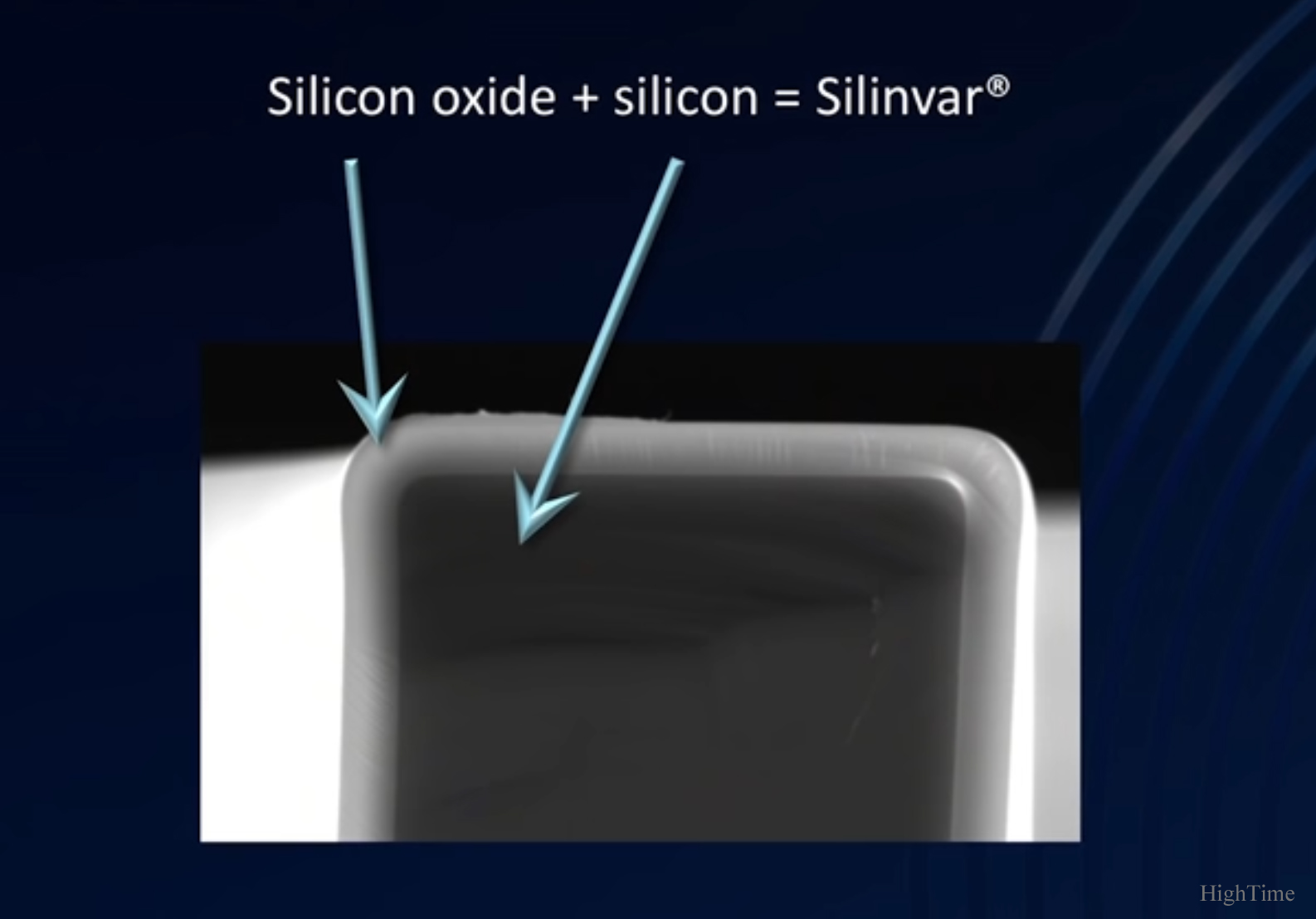 Hence, it was decided to give birth to the 320-part 31-260 caliber, which would house the Spiromax (Silinvar spiral) added to the rare Pulsomax escapement display (Silinvar Swiss anchor + escape wheel).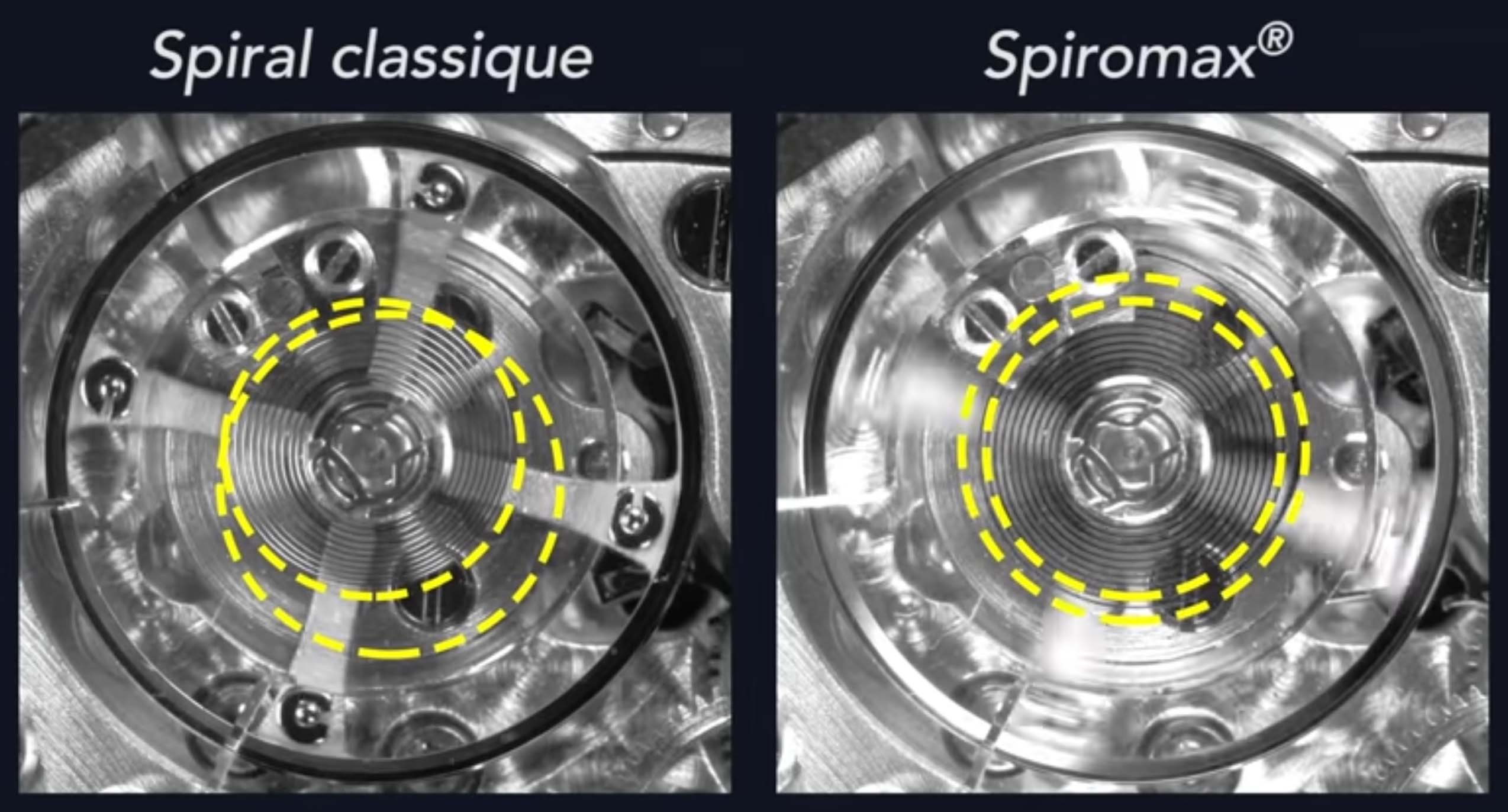 This is a major asset of this Regulator. The escape wheel was introduced solely in 2008 and modified when incorporated in the Pulsomax presented in 2011.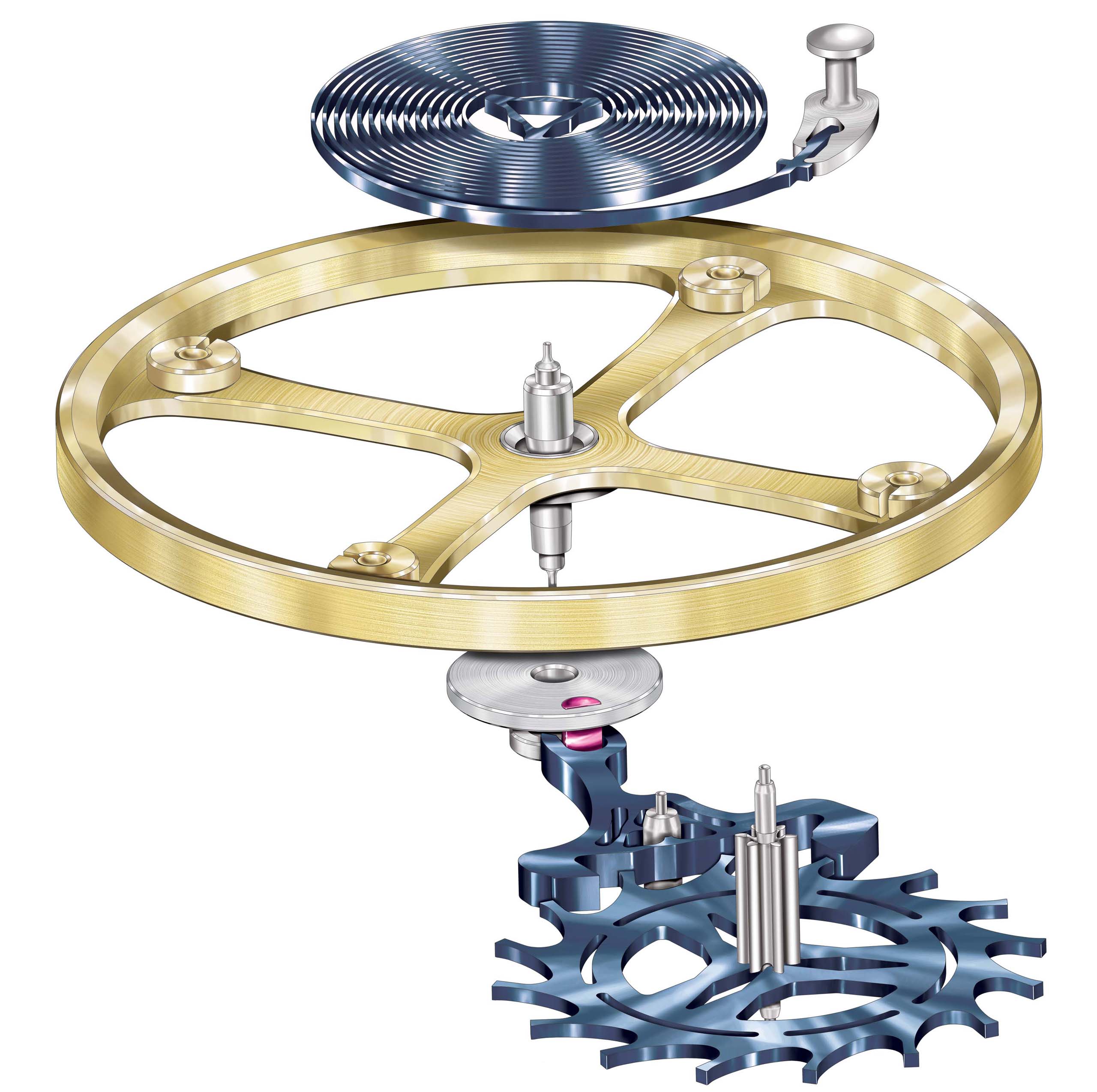 Since the program's debut in 2005, these innovations were implemented in a very few chosen limited editions only, called "Advanced Research" (5250, 5350, 5450, 5550, 5650 and lately the 5750). The exception being the Spiromax Silinvar spiral we can find in most of the recent production, without "betraying" the traditional spirit.
(You can learn more about the Advanced Research Program on the brand's website as well: Advanced Research Program official page)
While previously reserved to the 5450P (2008) and 5550P (2011) "Advanced Research", here, the 5235 is only the third model to receive the Pulsomax in the regular collection, after the "8 days" 5200 Gondolo and the Triple Complication 5208 (Minute-Repeater, Chronograph, Perpetual Calendar). I like that, as it proves it isn't only reserved to Advanced Research very limited pieces (hardly reachable for most of the clients) but that it tends toward being integrated in a (very) few selected references of the collection.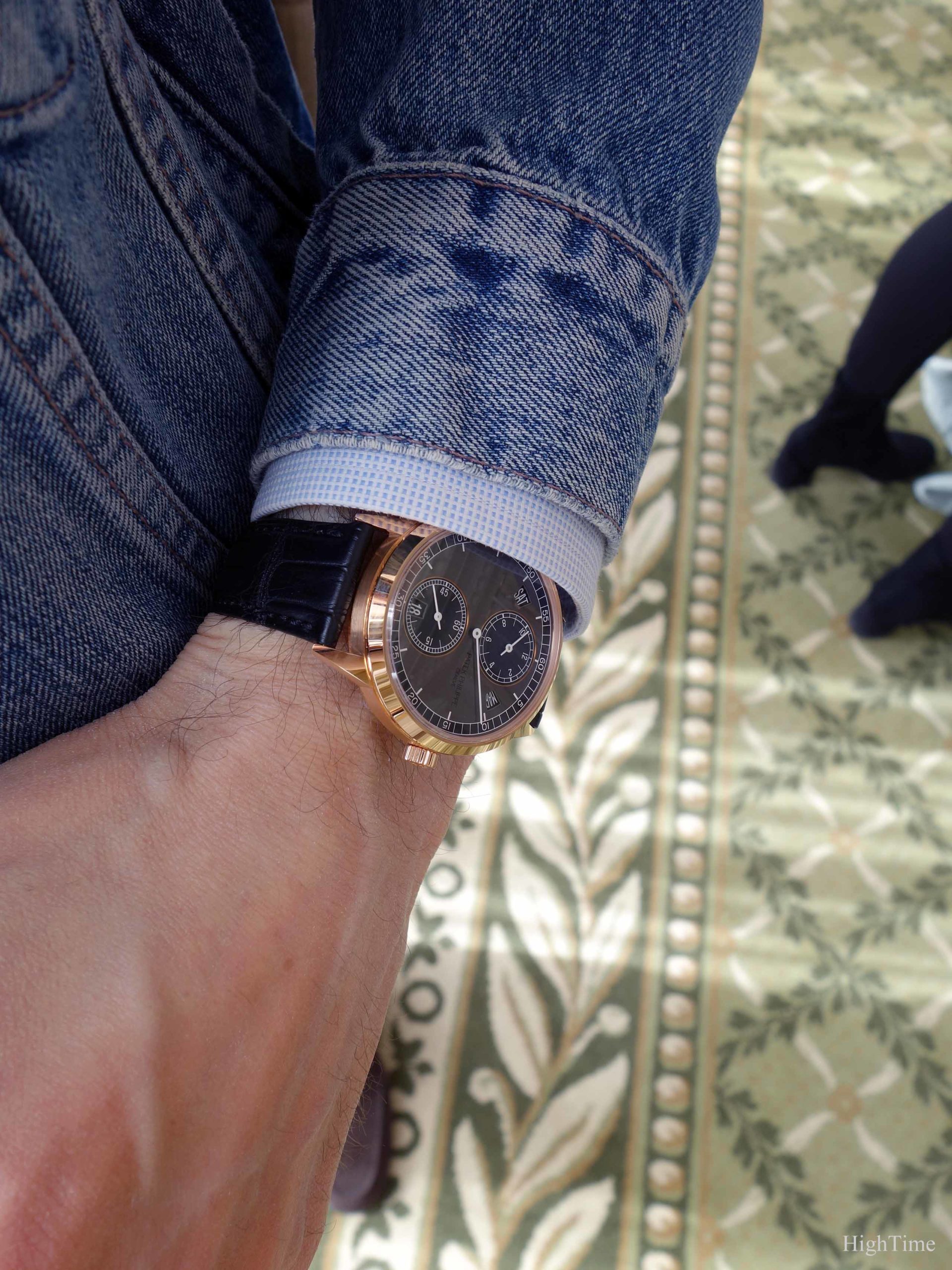 As a reminder those silicon parts are anti-magnetic, they don't corrode and don't need lubrication. It's also offering less friction and wear which benefits to accuracy, longevity and energy savings.
It leads here to a 15% increased energy transmission from the mainspring to the escapement. Finally, they are less temperature-sensitive.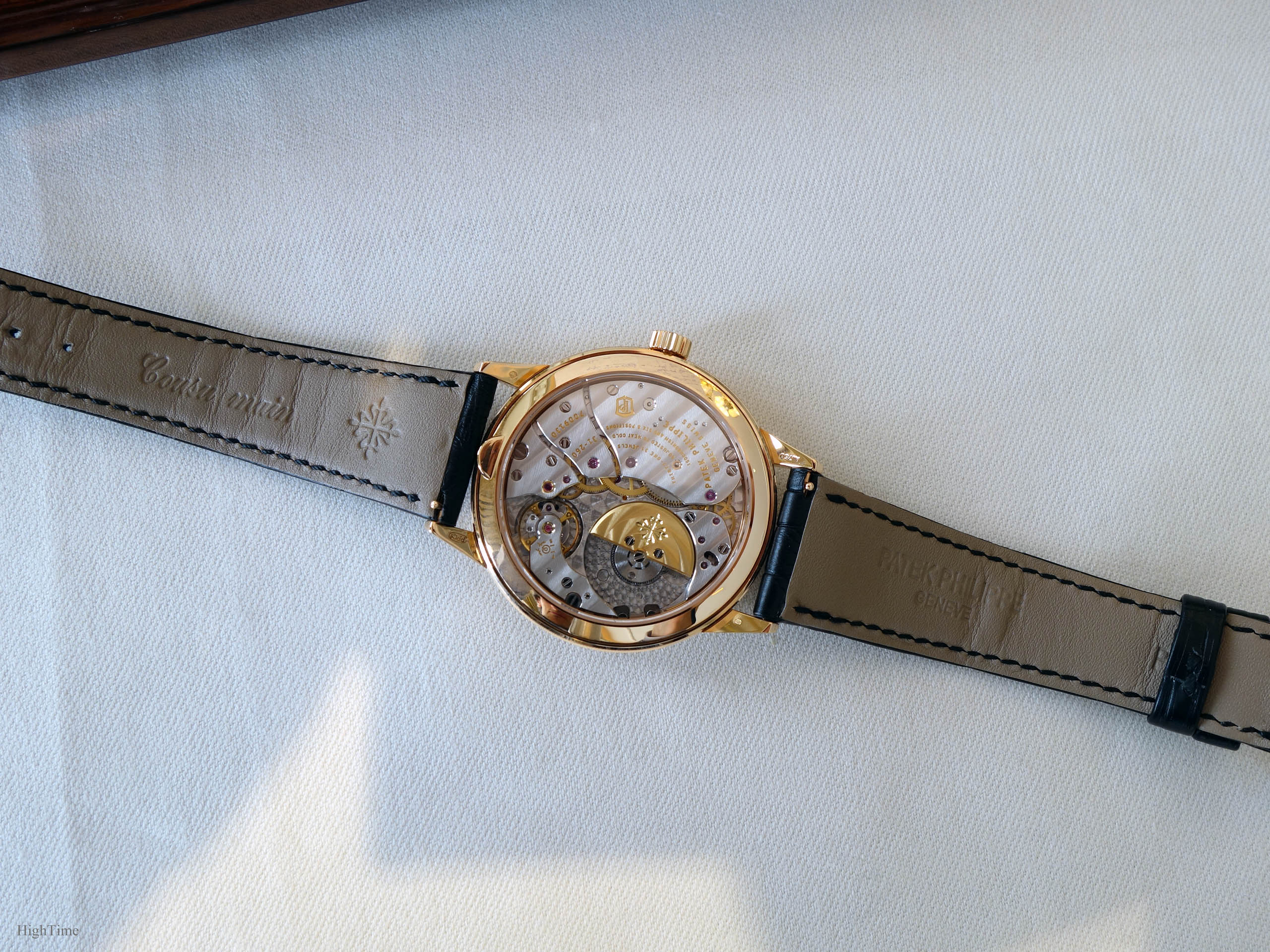 The 31 x 2.6mm movement base (standing behind the "31-260" name, as usual with Patek) houses a slightly bigger (thus heavier) one-way-winding gold weight allowing a slightly improved efficiency, especially for a minirotor.
Between the escape wheel and the spring barrel, the center wheel, the third wheel and the fourth wheel were redesigned (pinions included). As in the 29-535 chronograph caliber, the teeth have been reshaped to improve working efficiency, leading in a low 3% friction resistance.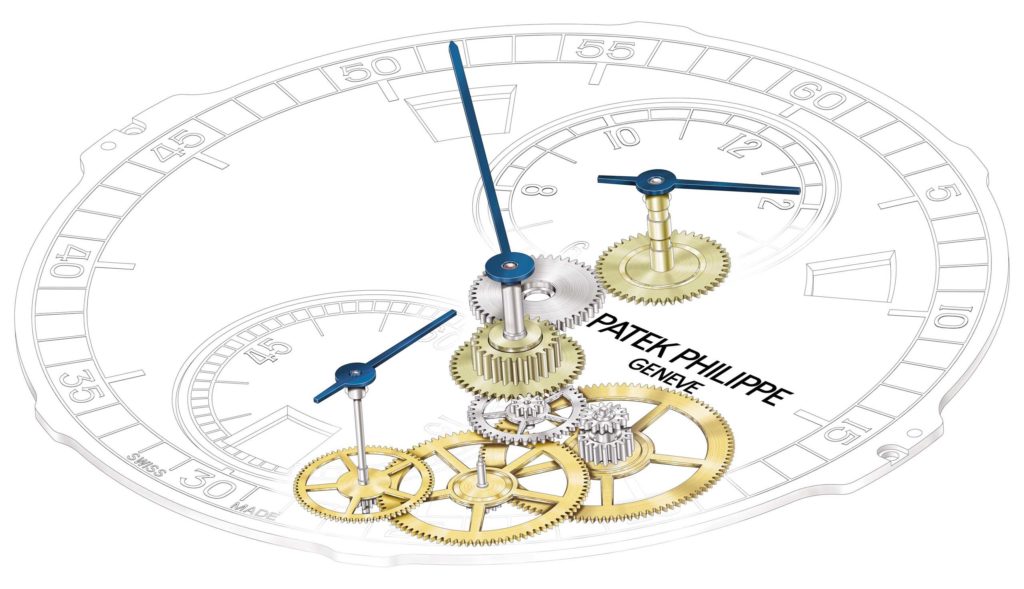 Such setting and characteristics on a 45h power reserve with automatic winding are reasons of the steadiness of time keeping. Another consequence is the fact we need less torque on the spring, hence less pressure on moving parts (wheels, pinions) thus less wear, overall leading to a better reliability over the years.
The Annual Calendar complication has been integrated from the 31-260 caliber's base conception. This date mechanism takes into account the months whether in 30 or 31 days and only requires an adjustment at the end of February, once a year.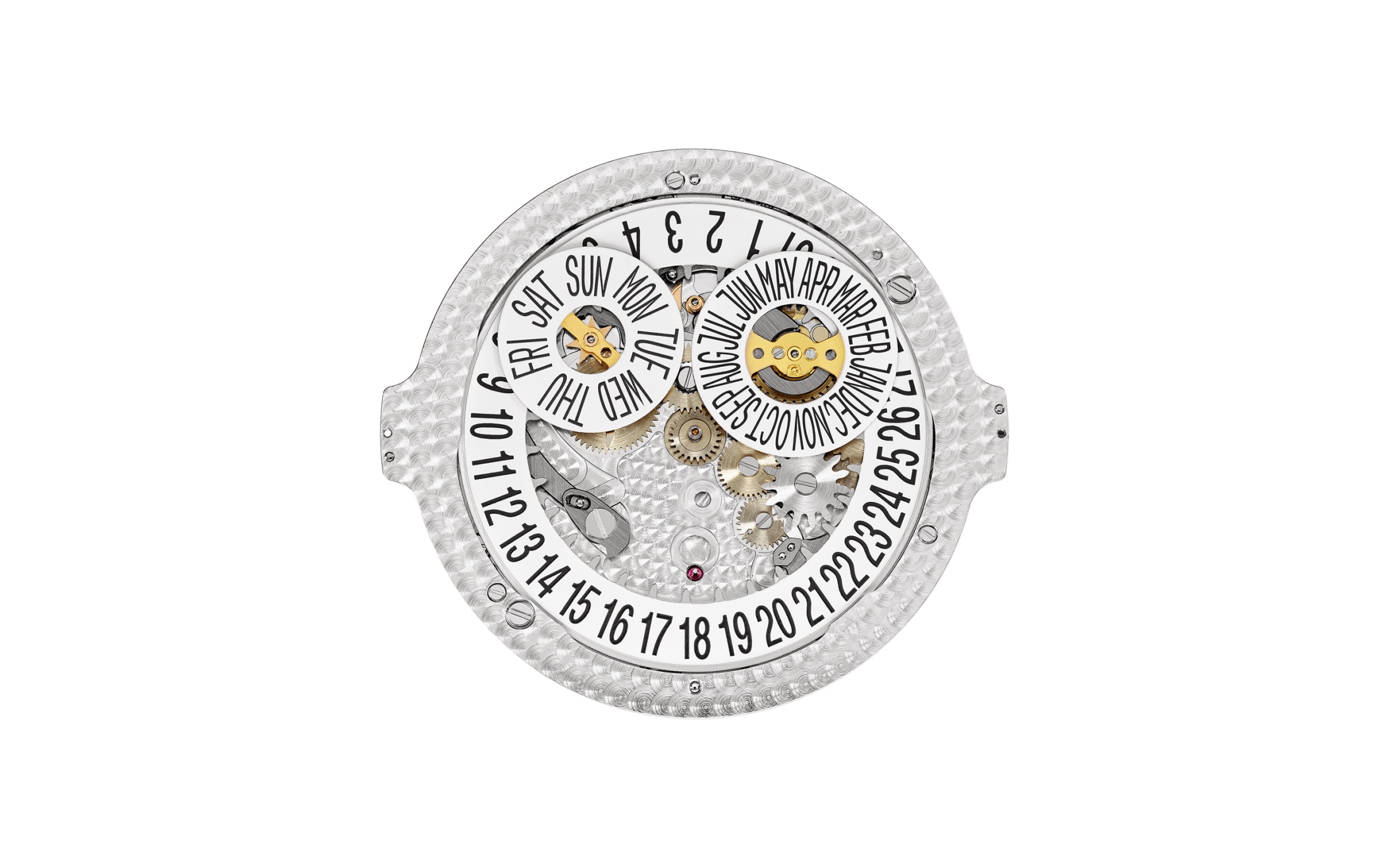 On a side note, the 5235 provides a hacking second feature, which wasn't frequent in the collection, but was adequate for a specifically elaborate caliber that favors a very accurate setting.
On an aesthetical standpoint, this 31-260 caliber is my favorite automatic-wind movement in Patek's collection (aside from the Minute-Repeaters of course). What you would particularly enjoy, aside from the width, is the bridges cut design. Have a closer look at it: the shape consists of a single and continuous soft curve, progressing from the top to the bottom. The fact the wheels are aligned the same way is a characteristic of this movement I find enchanting to look at.
As a side note, this 31-260 caliber is slightly different from the 31-260 version we have in the recent 5236P ("in-line" QP) and 5326G (Annual Calendar, Travel Time) where some bridges are worked differently.
In addition, it reveals a very nice Geneva stripes decoration all over the bridges together with different sizes of Perlage engravings on the mainplate. Especially since it's difficult to make them cross several bridges while keeping the graphical alignment.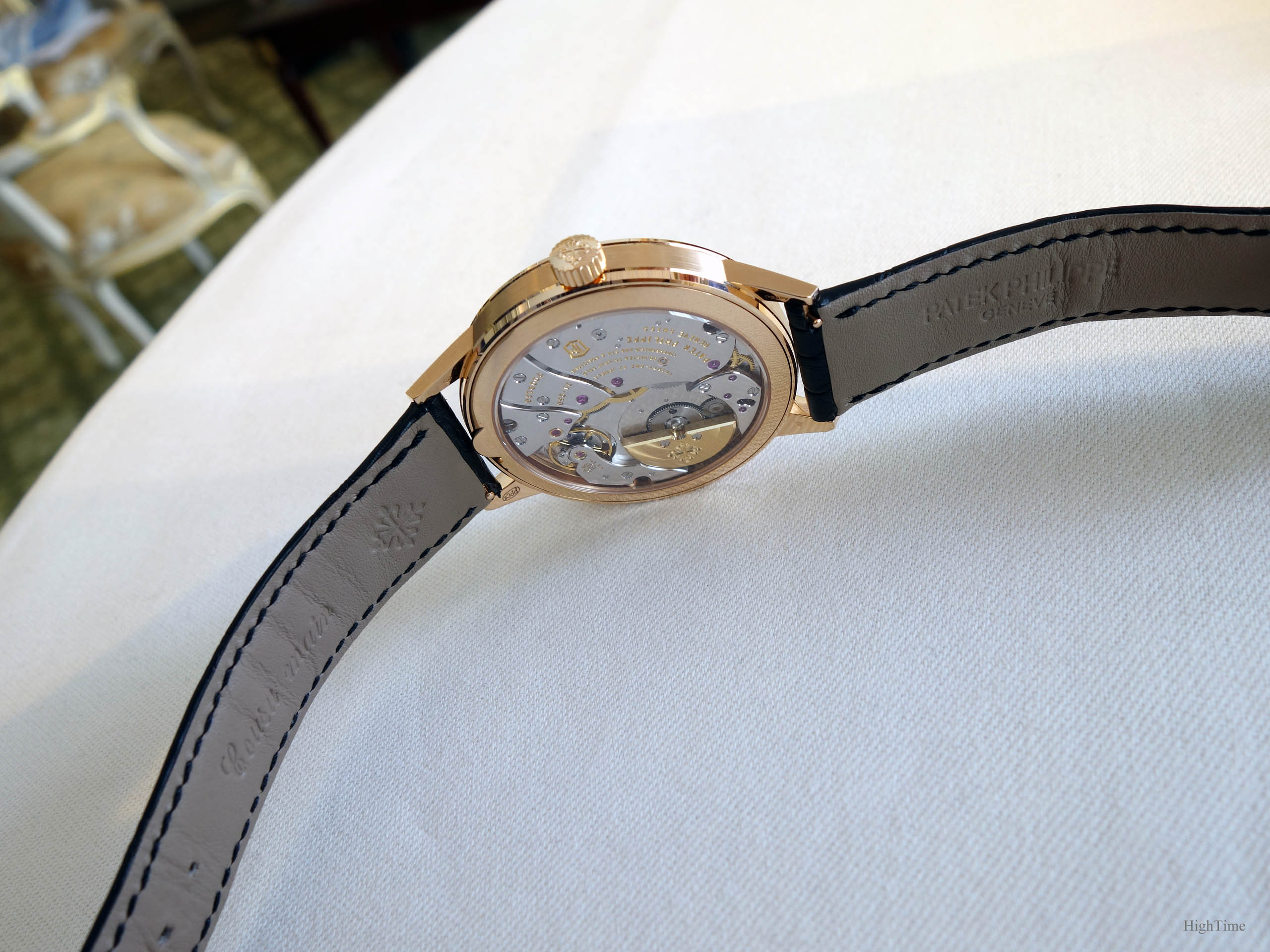 A little unusual detail (yes again): the 5235 is quipped with a snapback (not screwed). It gives a little "old school" touch to the watch. This choice doesn't impact the 5235's water-resistance as it stands at 30m, like most of Patek's complicated traditional watches.
23,040 vph. Well, that's an odd figure. Why this new infrequent 3.2Hz frequency? It's due to the use of Silicon parts. Indeed, the Spiromax association with the anchor and escape wheel have led to different weights hence inertia. It led to recalculate the balancing rythm to such unusual number.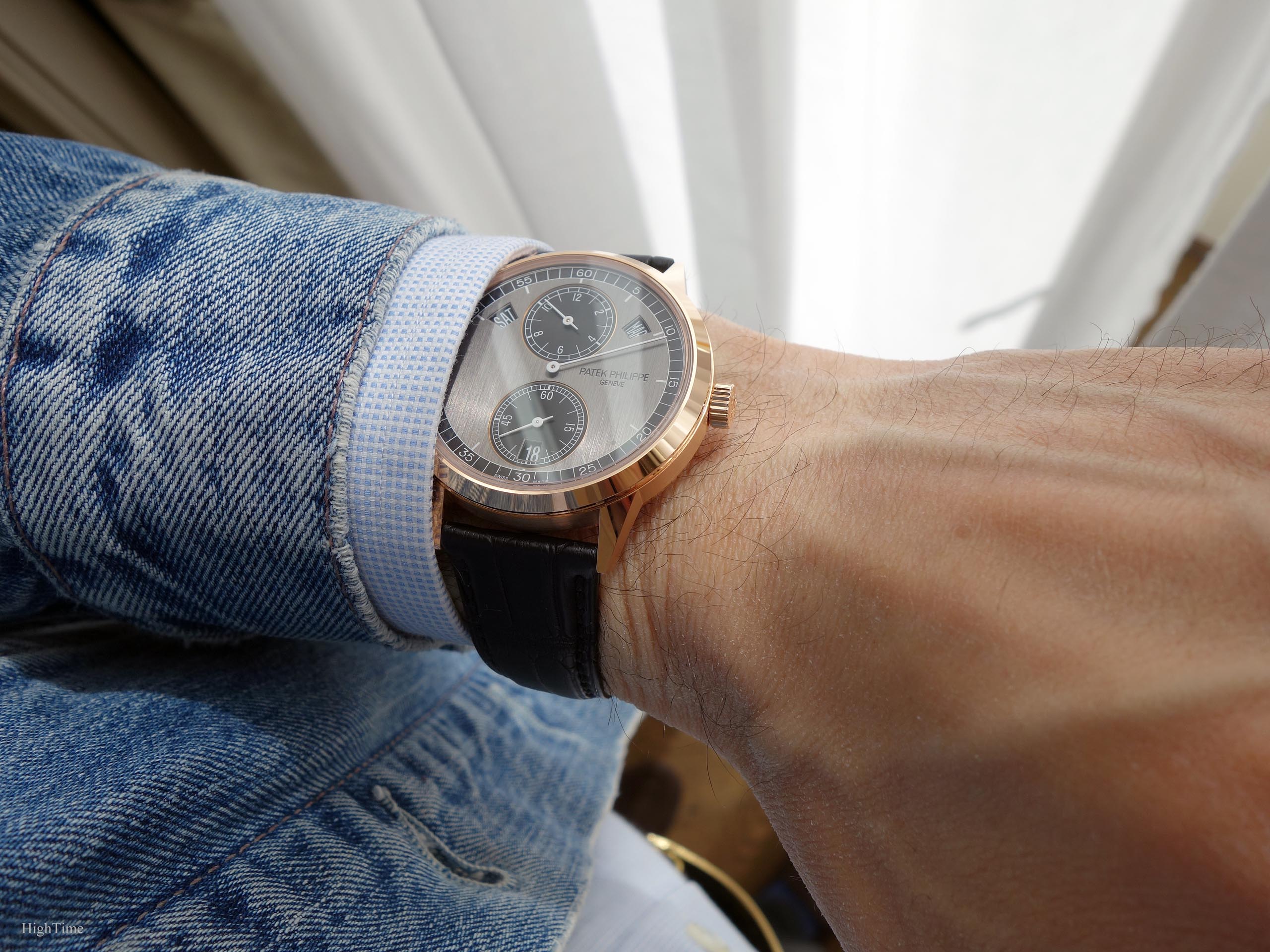 As a matter of fact, the Patek Philippe 5236P Perpetual Calendar released last year with a 31-260 base is set at 28,800 vph (4Hz) as it doesn't include the Pulsomax. Making the 5235 even more unique. And attractive for whom mechanical aspects matter!
The accuracy is claimed by Patek to achieve an outstanding -3/+2 seconds a day. As a comparision, COSC is -4/+6 sec, while the very impressive 5650G Advanced Research housing the brand new Spiromax is reaching a -1/+2 Tourbillon-level performance.
As with the new 26-330 caliber (324's replacement), Patek favors accuracy over power reserve and watch enthusiasts regularly testify of this strength.
New Look
The whole design, whether we talk about the 40.5 x 10mm rose gold case (especially the straight lugs) or the dial, is extremely pure and sober as in the 1950's-1960's period (like the 3448 for instance). Even more in the white gold version considering its colder colours. It also has a very elegant and original layout, not only because of the "regulator" time positioning but also because of the case design. Additionally, all the printings participate to make it very different from the classical references (even aside from Patek). Particularly the engraved Patek Philippe logo.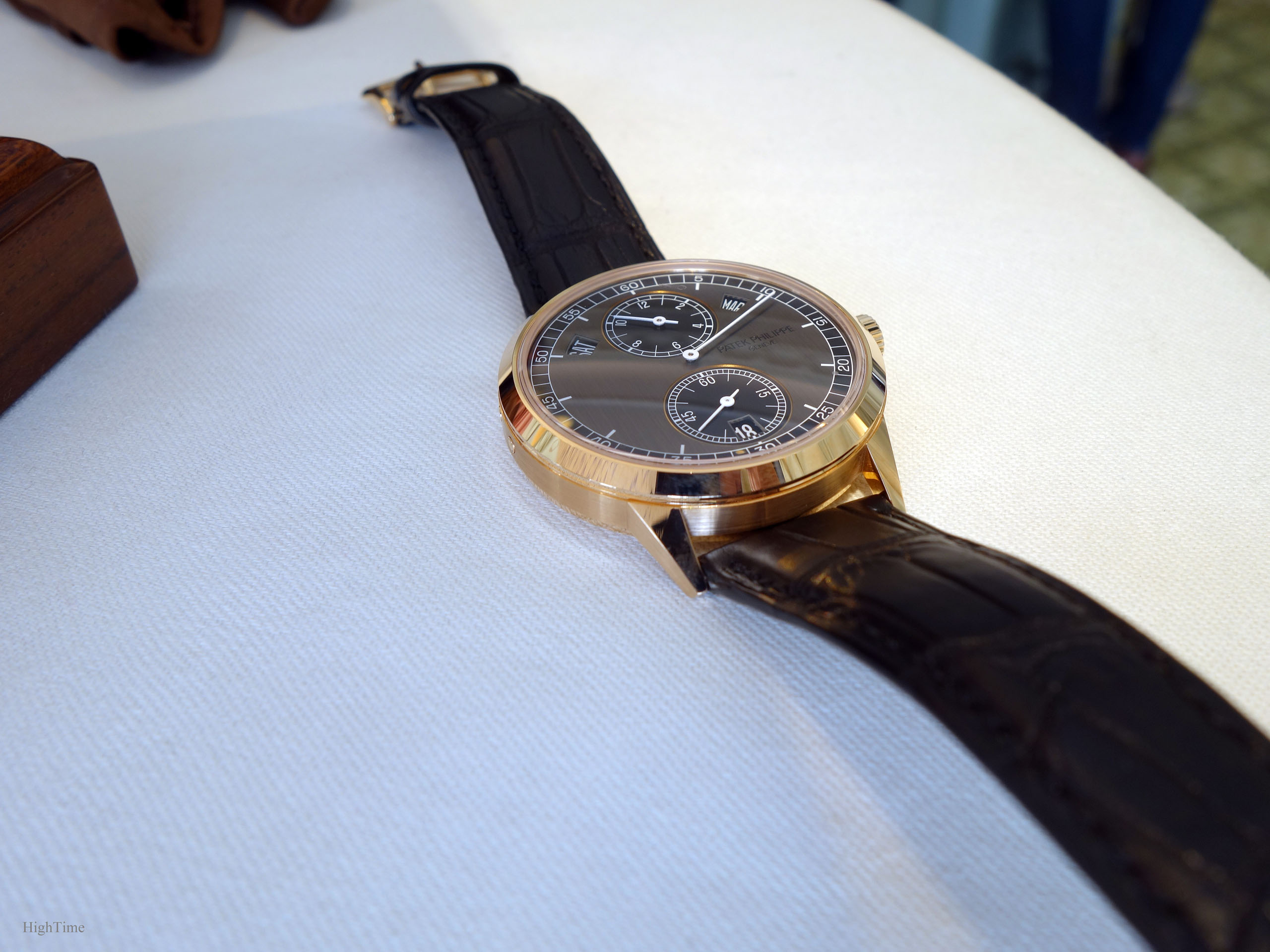 The case remains at such thickness thanks to the 5mm minirotor caliber, which is a very nice result considering the automatic winding mechanism and the Annual Calendar complication. Rose gold is a very appealing material for watch cases, especially when it cheers up our whole cloting.
This rose gold version pairs the case with a 2-tone dial. More precisely, the main surface is a "graphite" grey brushed treatment while the subdials (which receive a circular microgroove decoration) and external minute ring are ebony black. As a final touch, the dial is discreetly embellished by the subdials' rose gold very thin outer ring.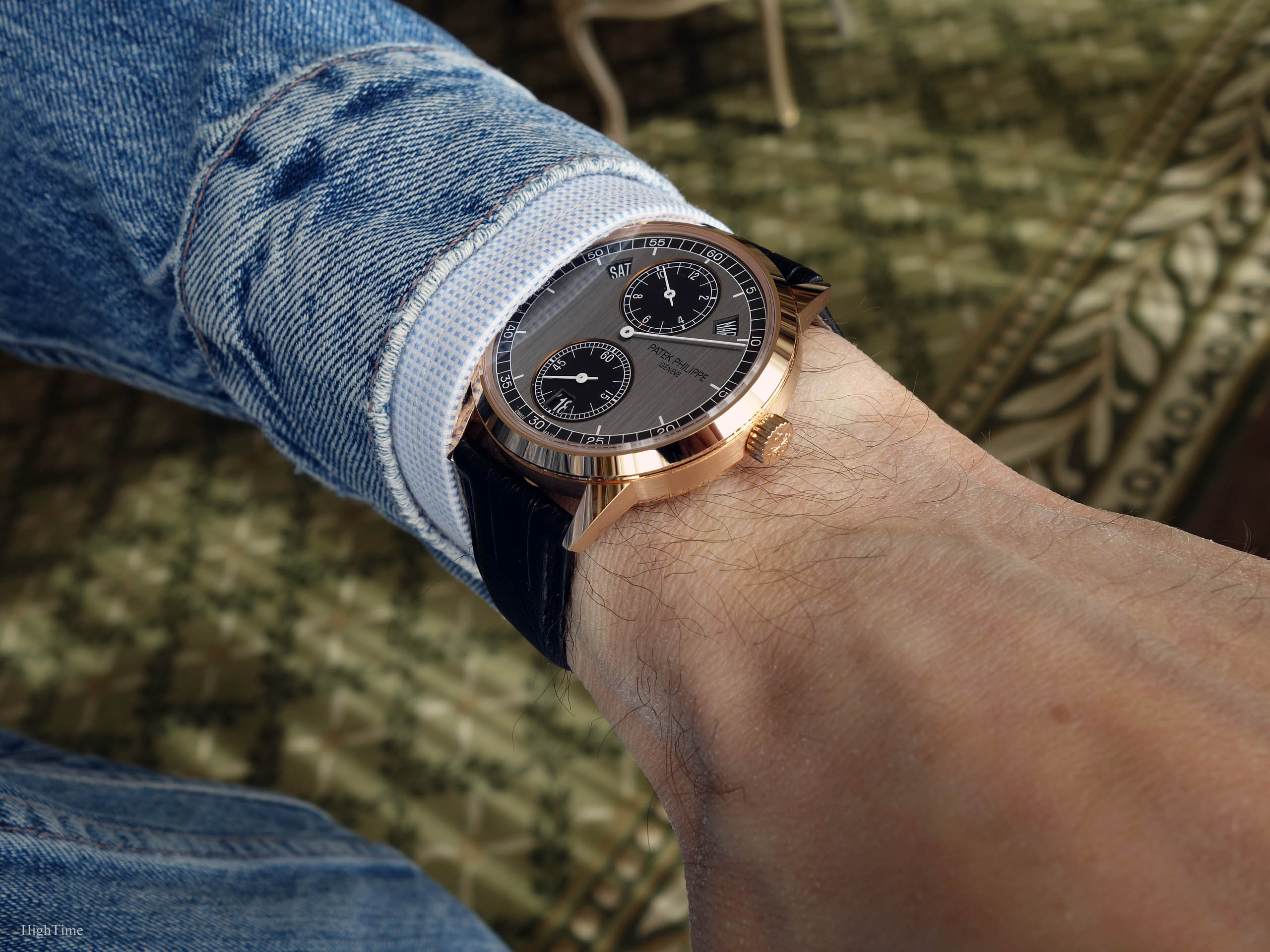 Moreover, together with the contrasted white hands and markings, the whole combination is completely in the trend of our current times: it shows colours, away from more conservative decorations hence communicates more fun and daring tastes that greatly fit with casual attire. White printings have also been used in the last 5170P or 5270P for instance, which were definitely a strong ingredient of this wonderful model's appeal. Talking about the hands, you'll notice that, on this family, the small second is bigger than usual small second hands. Hence, it's made in coherence with the Regulator's spirit.
I didn't experience its use myself but I read from a few owners that you get quickly used to reading the time from this dial after a short while.
The lovely crown with its Calatrava cross still brings an emotion echoing what the brand represents, aside of being practical to use.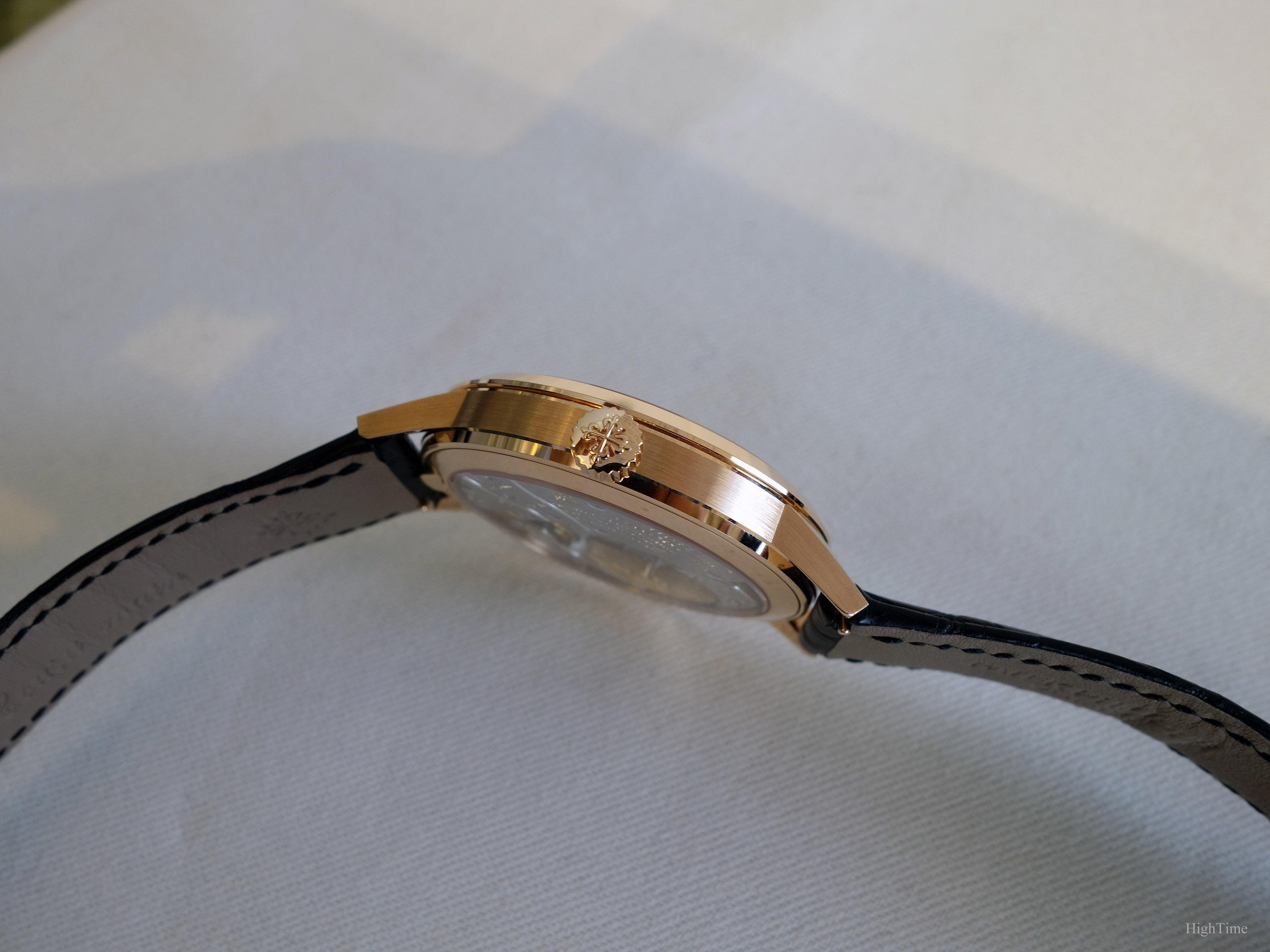 I think, especially in Northern Western Europe, that we are a little too much keen on very sober tendencies. Grey or black clothings, grey or black cars, white and grey interiors… this isn't an ideal absolute balance but a trend. Trends are such that we get fed-up and the ball swings the other way. In Italy, Asia, in the US, colours are more popular, maybe thanks to their culture or a sunnier weather but it remains enjoyable for sure. Even if sobriety is less prone to going out of fashion (vs colourful), if we all experience different contexts we leave in, I think colours can provide more cheerful aesthetics and more choices to pick from.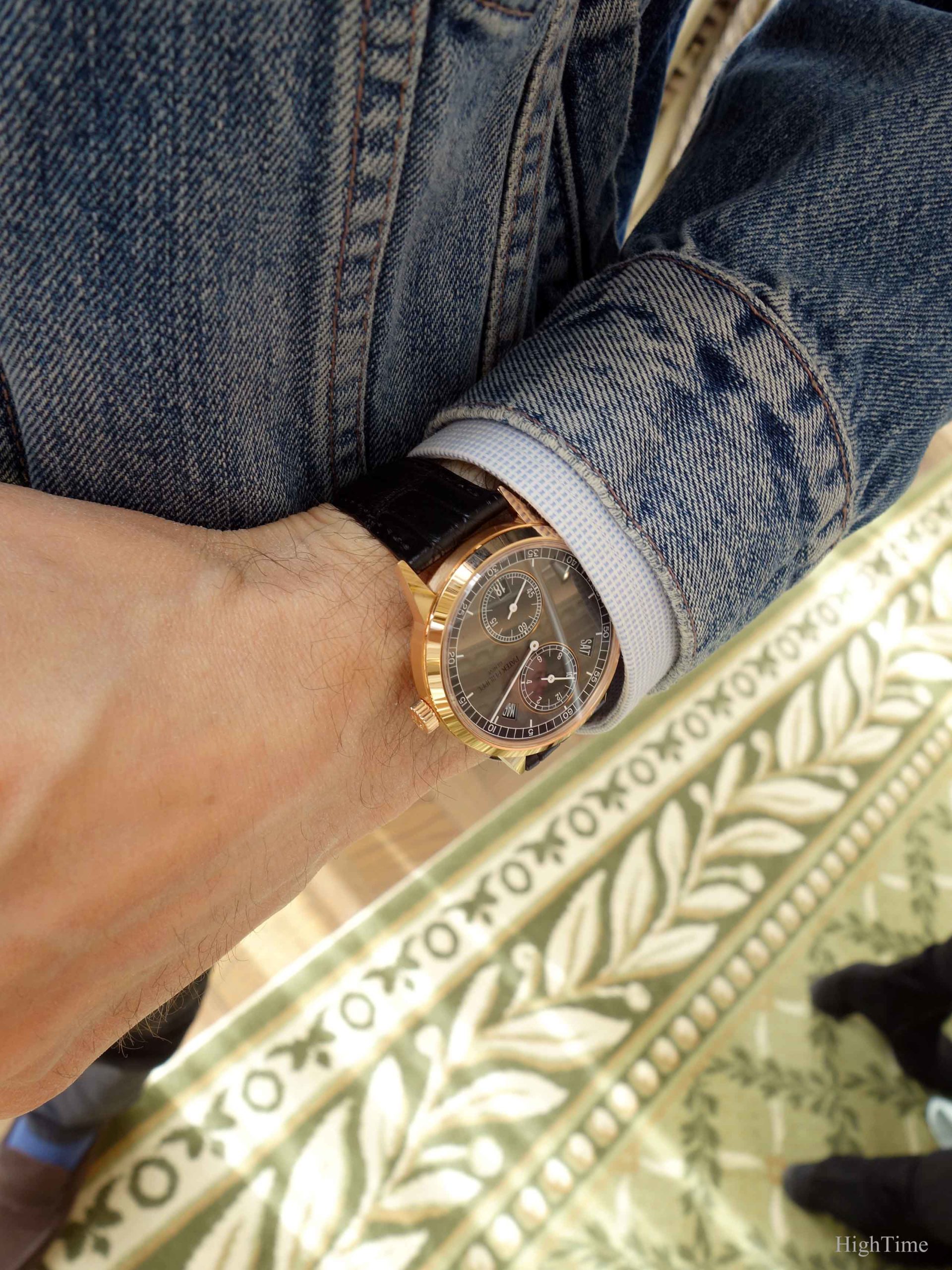 Overall, the glimpse of luxury that adequately exhales from this watch is so appealing, without excess. I'm particularly attracted by Patek's rose gold tone and I think this material deserves a lot more attention.
The main course put aside, the watch is served with a matte black Alligator leather strap equipped with a nice looking "Patek Philippe" engraved prong buckle. The name is polished while the background is sandblasted. The pin receives a nice edge in the middle to combine with the buckle. As with their Pilot references, it's nice to see they do something to embellish more simple pin buckles.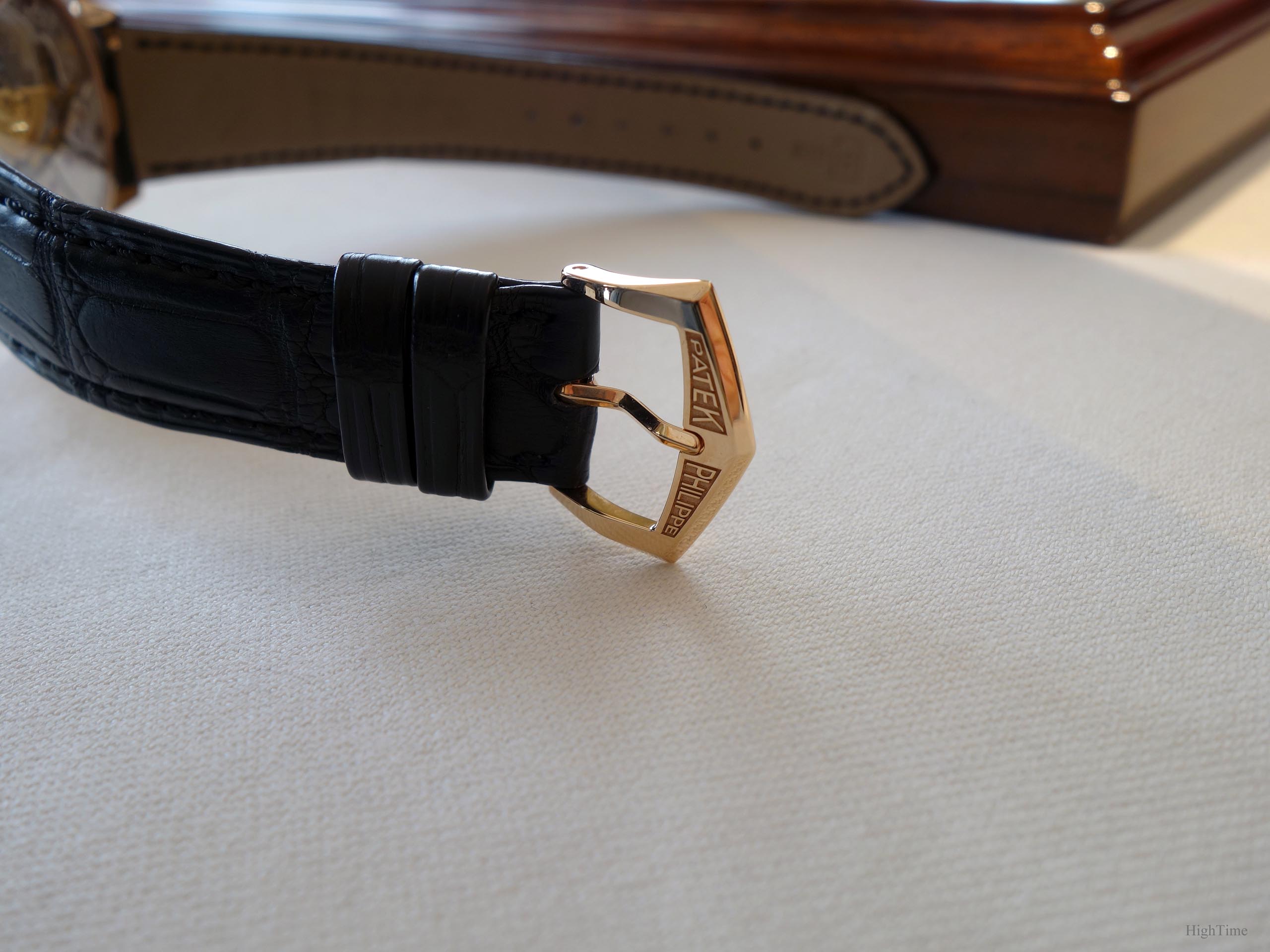 The watch was presented during its launch with those Calatrava-cross cufflinks: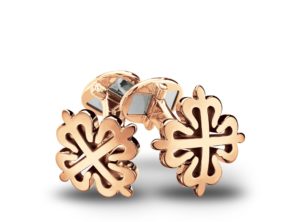 Conclusion and Thoughts
While the "Regulator" display appeared long ago in their pocket watches (with digital hour indication, picture below), the Patek Philippe 5235 Regulator is the first wrist watch of this kind for the brand.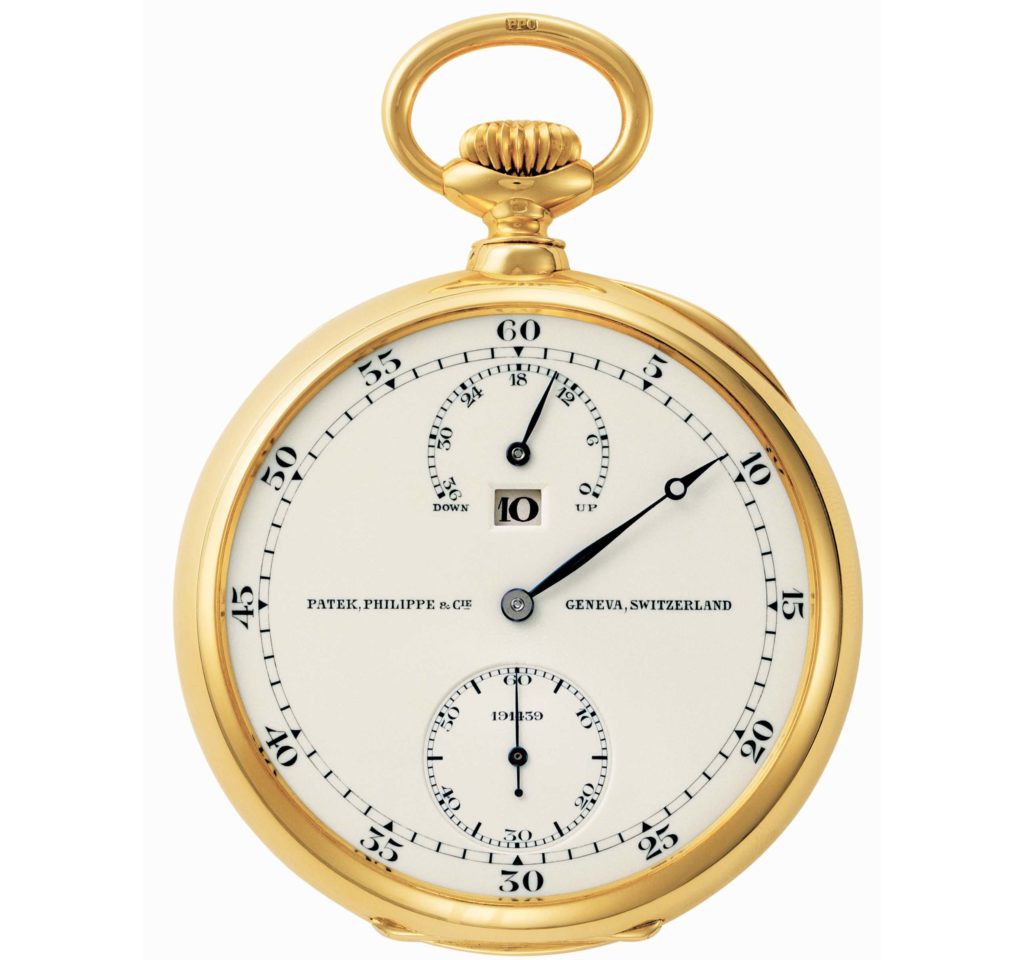 They chose to approach the project with a philosophy turning around accuracy and aesthetical daring uniqueness. It's a showcase of what their discreet evolution process can bring to traditional watchmaking, meanwhile not ignoring our times have improved the tools they are using. I regret that traditional brands too often stay with the same models for decades. We take Patek novelties for granted and sometimes don't realize what they are bringing, what risks they are willing to take and that others don't.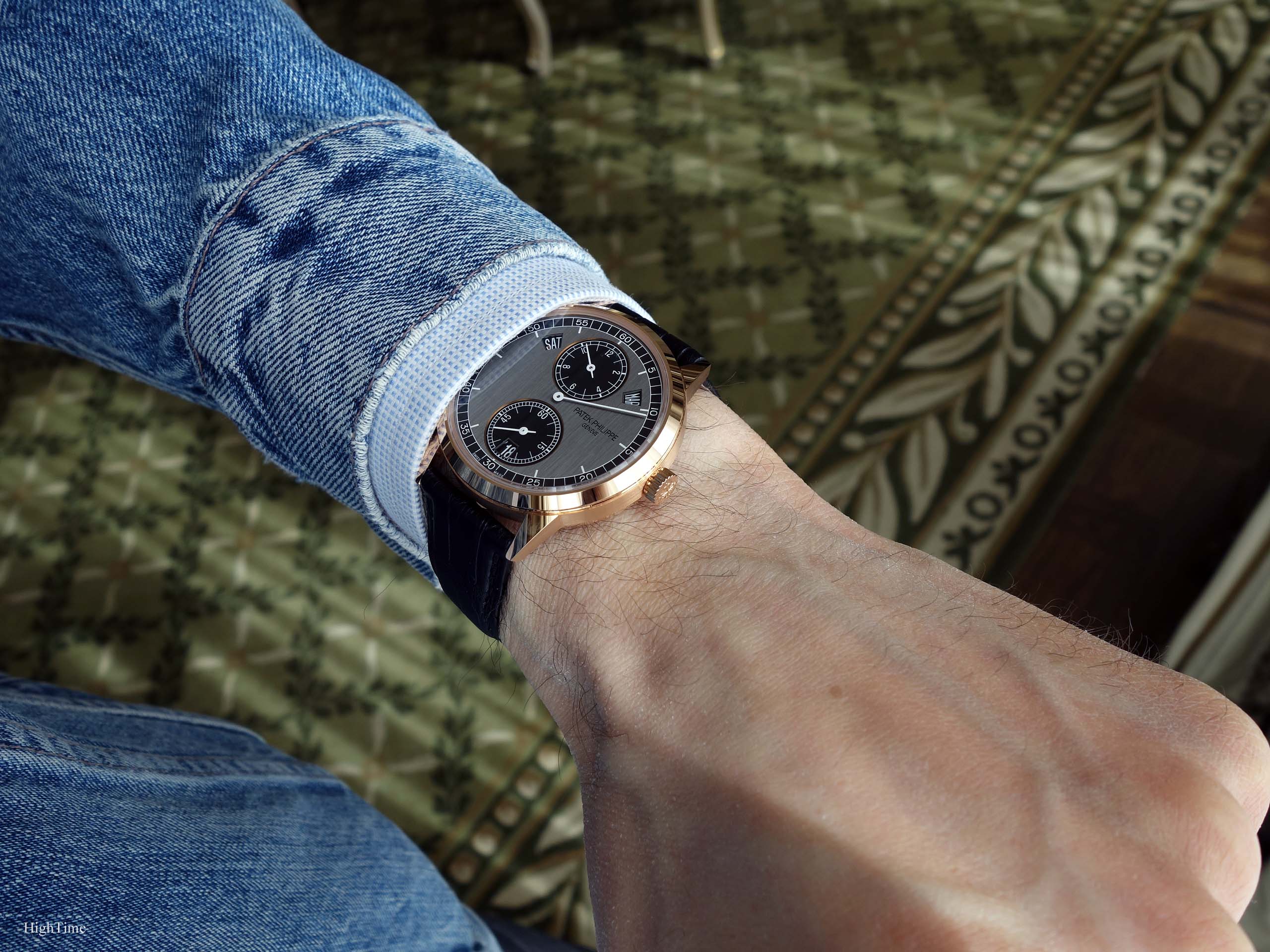 In the end, we here have a sight of a more modern interpretation of traditional watchmaking, aside of the classical line-up using more regular materials (like steel and brass) and I'm glad it happened. It's a very refined style, very straight and pure lines, quite assured though original in its spirit thanks to this dial construction. It's certainly not show-off or difficult to understand either. It shows a unique layout and spirit considering what Patek has produced until now. I think it must feel very rewarding for someone enjoying it.
You may find interesting watching PP's detailed 7 min. video on the 5235R when it was launched:
The 5235R's video on Patek's website
The 5235/50R's MSRP, as of today (2022), is 54 100 € (incl. VAT) and as usual you can find more information on the brand's website:
The Patek Philippe 5235R on Patek's website
Thanks for the read!