The Patek Philippe 5024G Gondolo – Art Deco elegance with a Salmon dial
Hi everyone,
A little pleasure I wanted to post today about this gorgeous Patek Philippe 5024G Gondolo Salmon dial I could handle a while ago thanks to a friend owner of this version. This is a very different shape from the ones we usually experience as it is a Gondolo case showing its appealing Art-Deco style. Its beauty has also a lot to do with the simplicity of a 3-hander and of course its magnificent dial layout.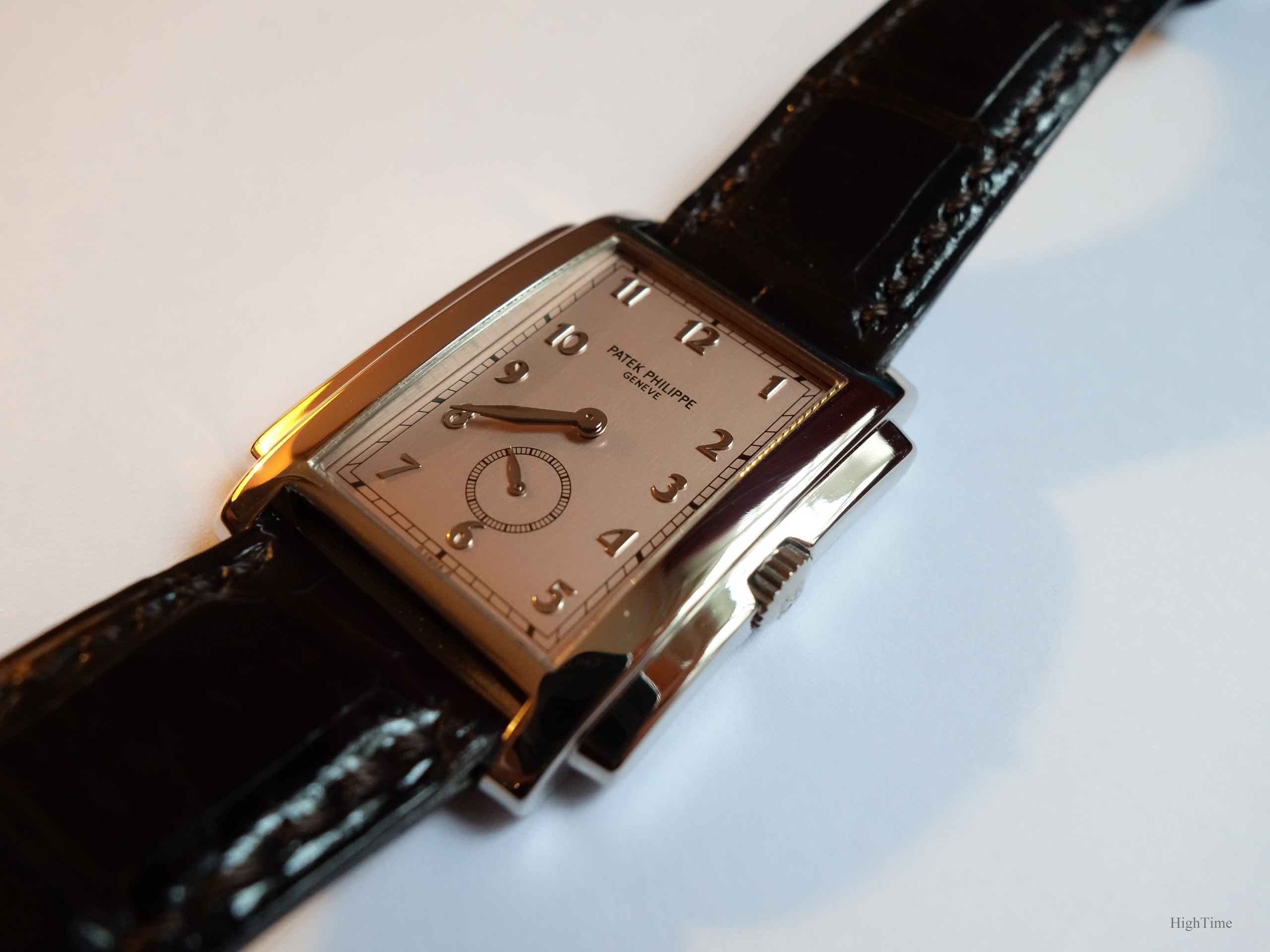 There are watches that were withdrawn from the catalogue many years ago and that we might never have heard of. Especially true if we got interested in watches quite recently.
In the present case, this reference was available over the 1996-2006 period. This rarity is even more so when it relates to shaped watches as they are low in production thus quite limited on the internet too.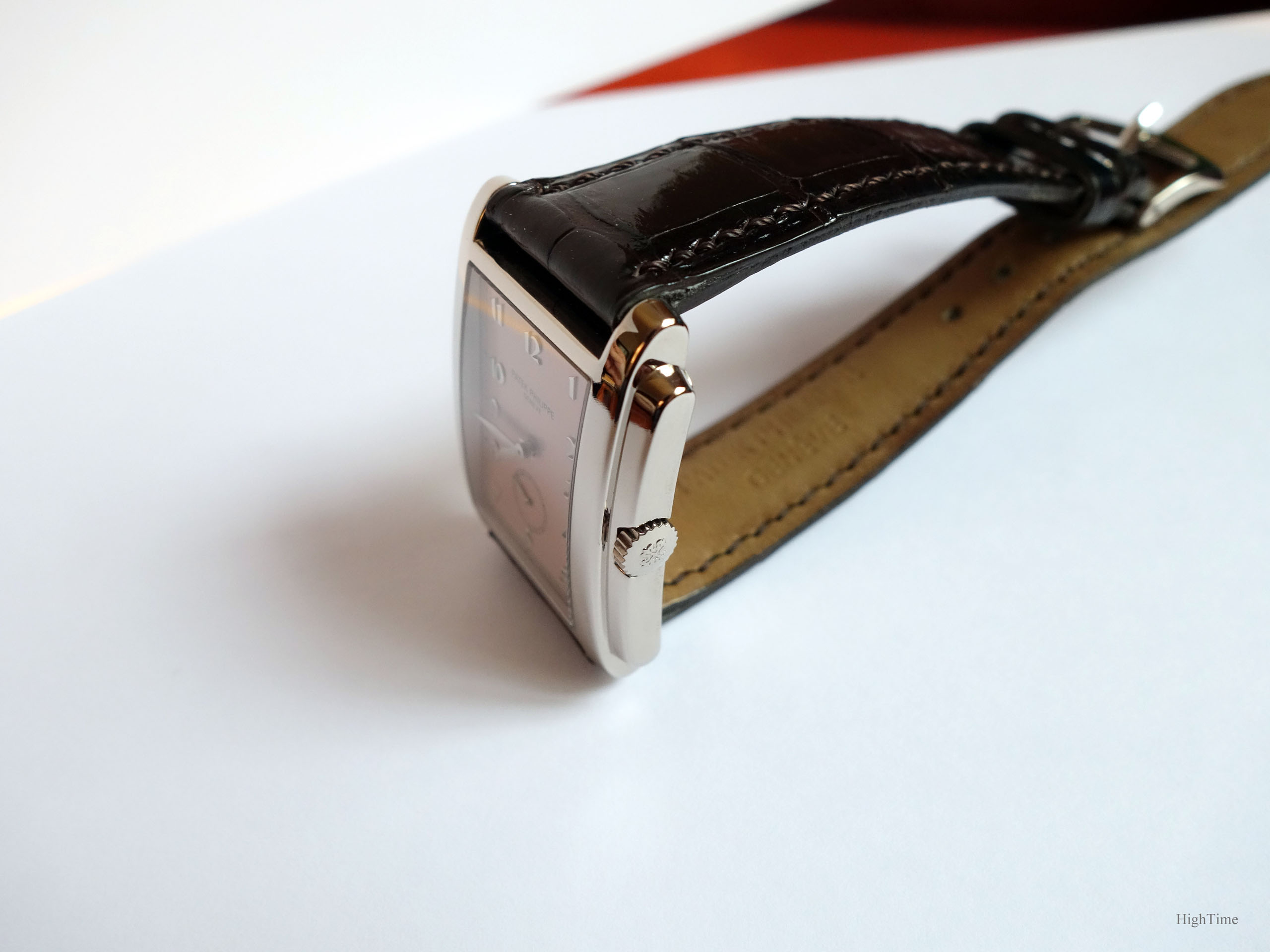 The watch is 30 x 38 x 6.5mm and wears fantastically to my liking (on my 16cm wrist). I regret I didn't take a wristshot back then but I remember well how good it looked which makes it the kind of watches I would get.
As a sidenote, I'm usually not keen on small watches (below 34-36mm for me) but I noticed we start to see a new trend for these sizes. I'm not talking about the step back from the very big sizes which already happened a few years ago but the real appeal for very small proportions, certainly coming from wearing more vintage models.
However, this one is small but without looking like a lady's piece either as the rectangular shape helps taking more room on the wrist.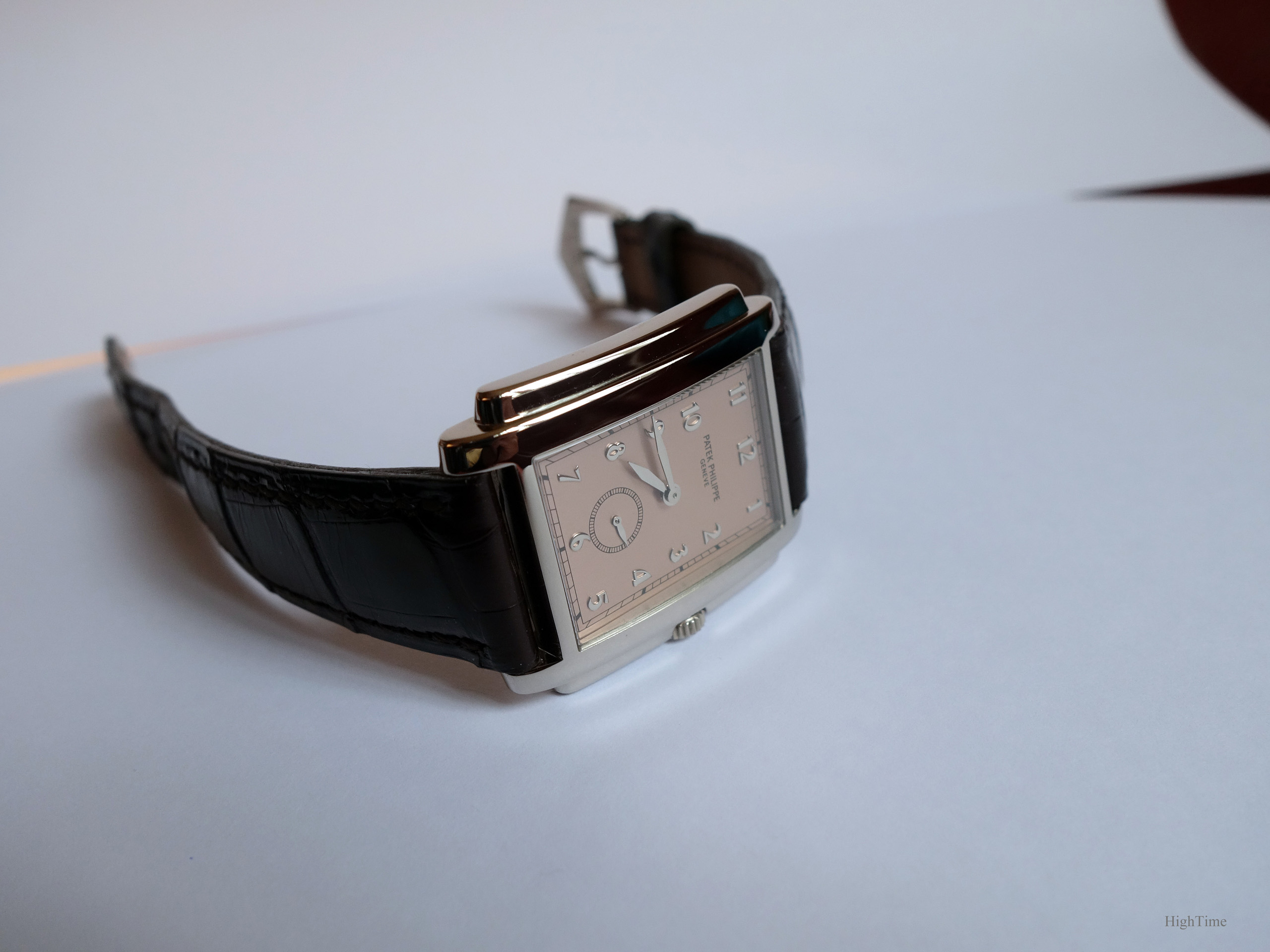 I would add that the Art-Deco styling highly benefits from this Gondolo square shape with its stepped caseband. I appreciate a lot admiring this kind of curves. Besides, as one can imagine, the case's shape makes it feel very pleasant on the wrist. A kind of ergonomic rounded caseback before Richard Mille's!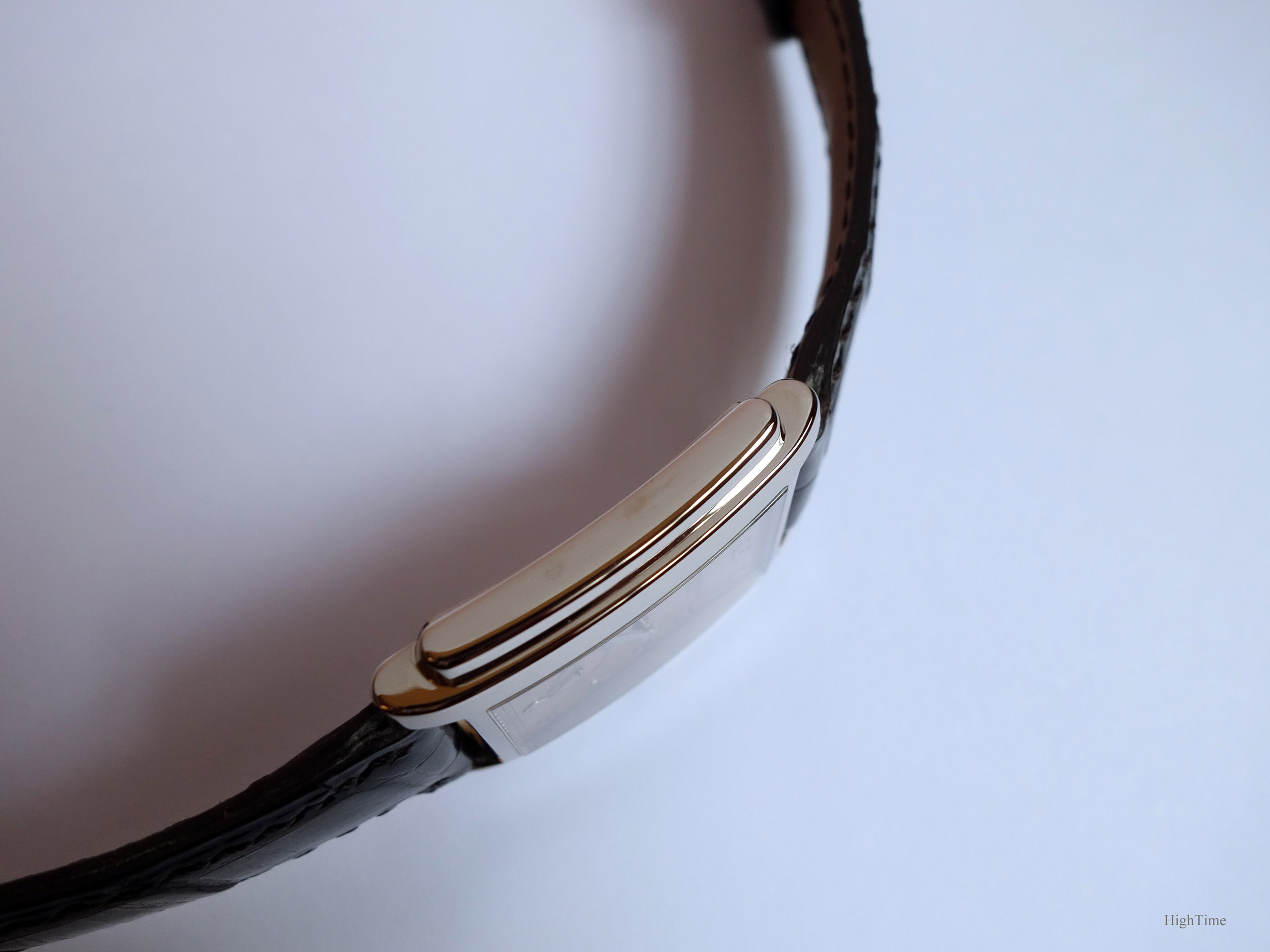 However, the most attractive aspect clearly lies on the dial side, enjoying a stunning window view on a light rose-salmon color. It combines in a magical and sparkling way with the polished white gold numerals selected for that version. The overall piece has a lot of class with a little touch of originality and refinement that I enjoy very much. Looking more closely, you'll notice the very rare numerals' Art-Deco shapes.
This salmon color is quite different from the rather "gold" tone we find for instance in the last 5270P.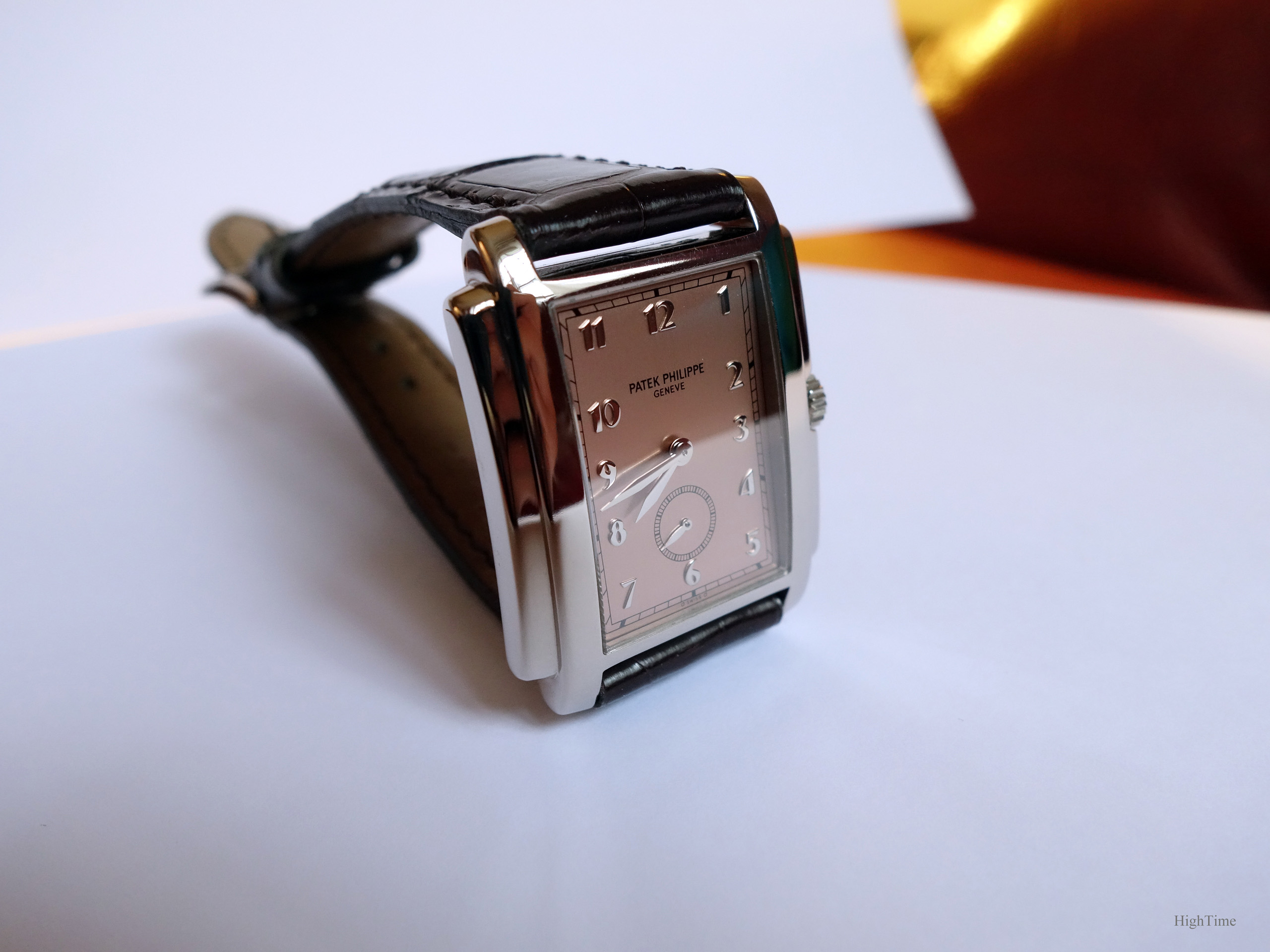 We talk a lot about casual-chic watches because of how nicely they can fit less traditional attire which is today's evolution of how we dress. This combination is clearly one of the exceptions when a very classical model totally works with such casual outfits.
With sober grey clothes, it literally rocks. Even more than that, it is the kind of traditional watches that bring the "fun" touch in a dressy outfit. Which is quite unusual to say the least.
Indeed, in many fields today, we observe the comeback of authentic materials in a world of plastic and plywood standardized goods. When I was young, authentic objects were "oldish" whereas they become rare nowadays. As generations have evolved, they don't perceive these older objects as outdated but, on the contrary, full of "value" in every sense of the word.
This very 5024G reference is especially finely tuned in that old/new combination, thanks to its shape and colors.
Here below is a look at its classic Patek tang buckle.
Please also note that the custom croc strap isn't black but shows a very dark Burgundy color. This makes all the difference between a nice classical but very dressy strap (black) and something showing very fine taste. Indeed, it's unusual and showcases perfectly matching colors. It illustrates once again there is a lot to improve in our watches just by the strap's material and/or color.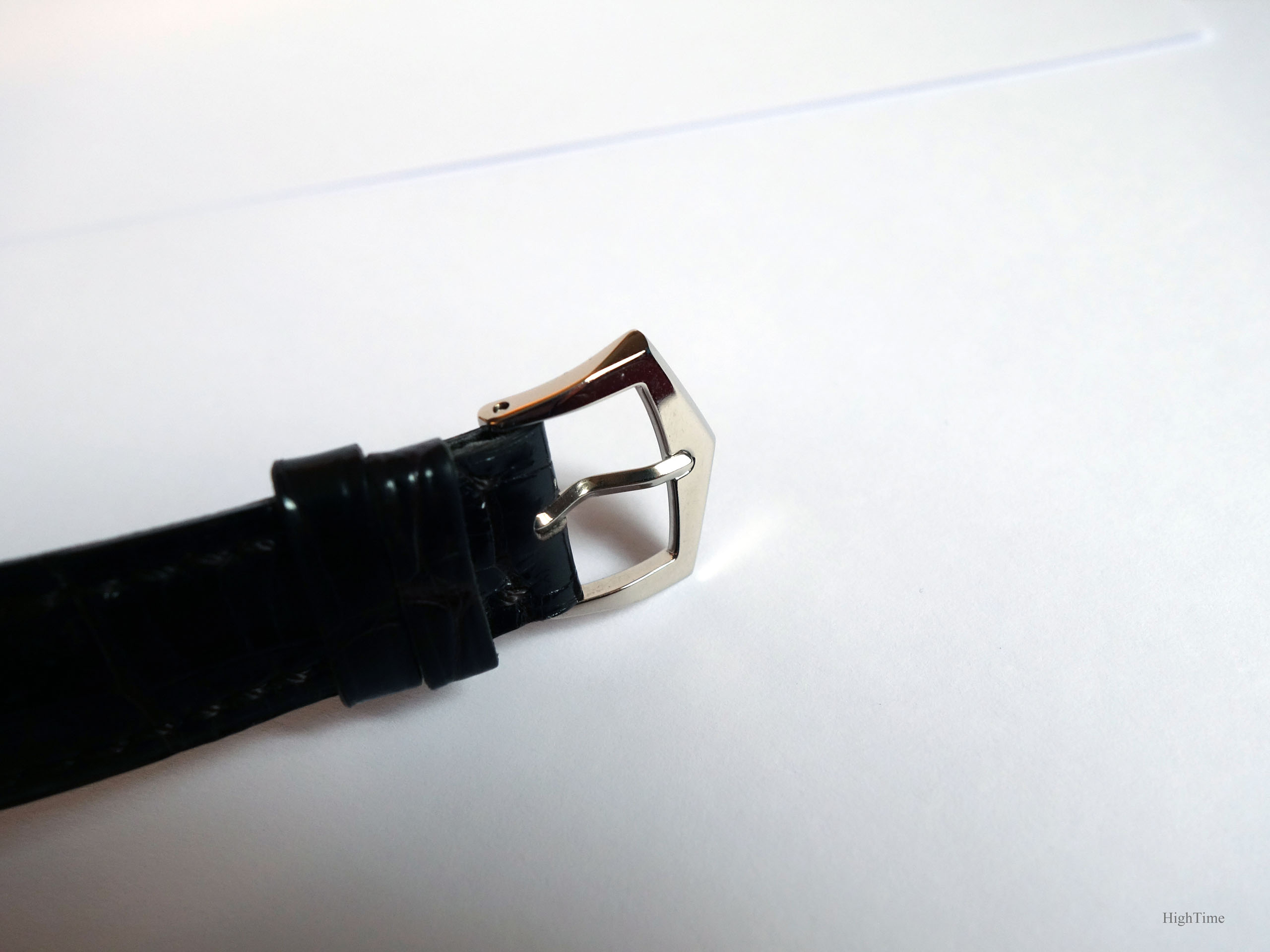 On the movement side, the 5024 is equipped with the manual-wind 215 caliber hidden under a solid caseback.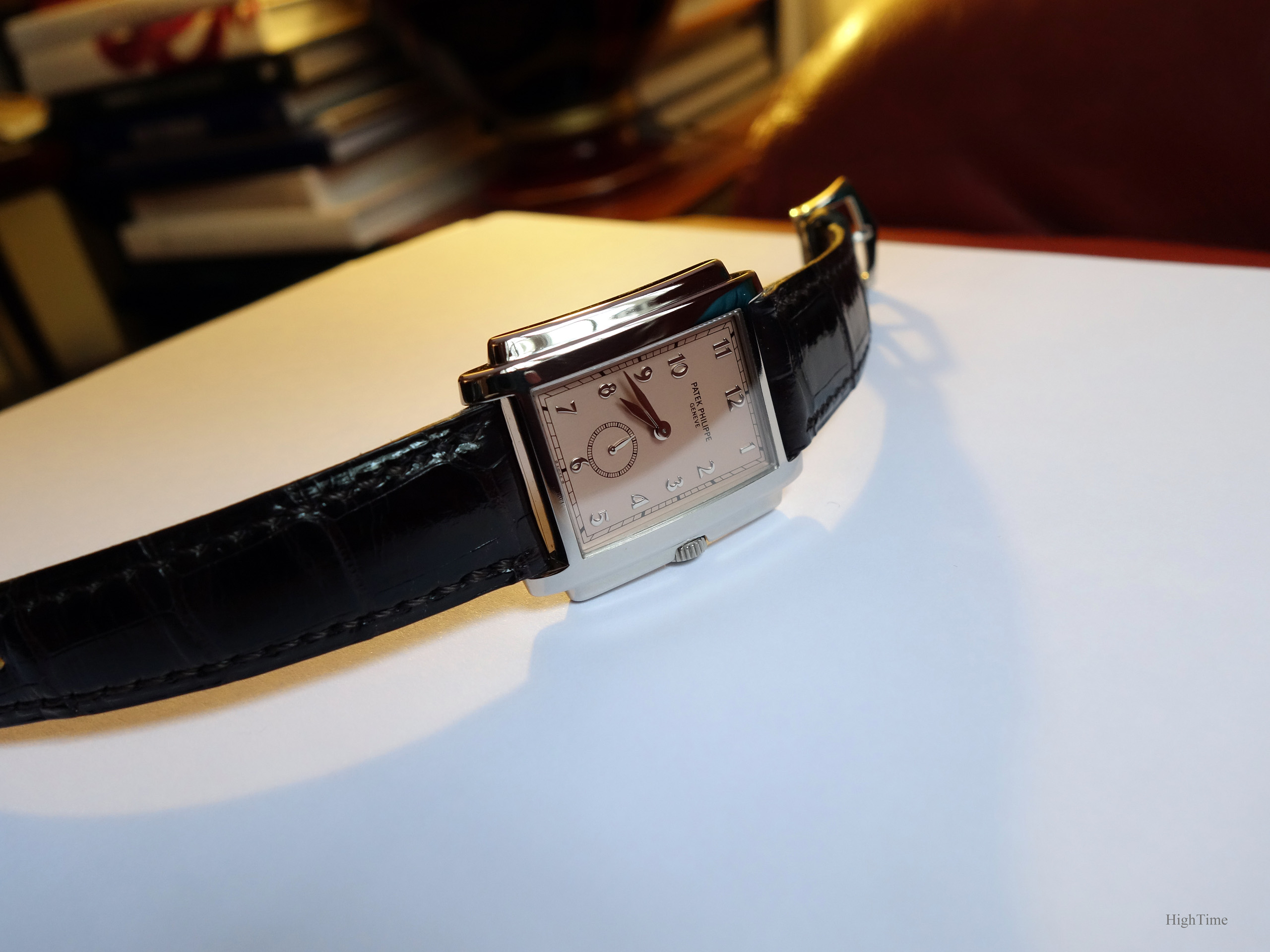 Let me add a last thought about the men's Gondolo line-up removal from the catalogue.
The 5024 was followed in 2008 by the 5124 generation which was 43 x 33mm and was withdrawn from the catalogue one or two years ago.
Hence, be aware that there is no Gondolo for men anymore in the catalogue as of today, which strategy is by the way a little difficult for me to understand. I would say that, even with low selling volumes for shaped watches, it brings a different image to the brand. It offers more originality (diversity of shapes next to round cases) and a different interpretation of classicism and tradition.
Patek said lately they didn't want one reference to become too popular and pushing the brand to become a kind of mono-model one (talking about the Nautilus). Well, in this case, removing the Gondolo is a significant step in a narrower aesthetical offer.
Having a Gondolo kind of shape in a collection is imho highly positive for such brand and market. Especially since I've seen lately more and more shaped watches on TV presenters' wrists and such.
However, the brand might also keep something for the future, and sell the remaining models they have before… the Gondolo's 30th anniversary in 2023.
Indeed, the first collection was realesed in 1993, the same year Philippe Stern was designated President of Patek Philippe.
Wait and see…

Anyway, if you're looking after rectangular models, maybe you will enjoy having a look at the 5124, 5200 or 5100 references from the 2 last decades as well.
Conclusion and Thoughts
As you noticed, this beautiful little Patek Philippe 5024G Gondolo with its rare salmon dial was a revelation to me.
Shaped watches are sometimes more difficult to appreciate than usual round cases as we see less of them in the wild. Our tastes tend to get narrower if we stay in the same environment. Hence, new ones need to be supported at the early stage of a discovery.
Let's not forget these shapes were very much "in" during the 1940's-1960's period. Even though such watches have never been totally out of fashion, what I see here and there makes me hope they can make a stronger come-back in the future.
Until then, this 5024G version is perfectly and naturally working for me, well at ease in today's world.
I wish I was wearing it right now…
Thanks for reading!