Richard Mille and rocket-science materials for watches

Hi everyone,
As you may have notice, although I mainly post about Patek, I'm also fond of Richard Mille's execution regarding watches. I wished to come up to a major subject about what RM is: the manufacturing technique and, more precisely, the materials.
As far as Richard Mille is concerned, materials choices and crafting are a significant aspect of what the brand is, whether we are talking about cases or movements' structures. They select from the most innovative sectors what can be applied to watchmaking, sometimes at the cost of a significant development time.
Its founder Richard Mille, a racing cars aficionado, always had in mind to start from what he liked before designing his models. The result is usually highly priced because he didn't take costs into consideration from the beginning (while obviously convinced there was a market for them). He believed in the price acceptance for what he enjoyed creating. It came as a consequence of the fact he didn't want (and maybe didn't need) to make compromises and do things halfway. Yes, he was taking a risk none accepted back then. And the reward of what the brand is today is well deserved.
Let's add it isn't really a surprise. We know traditional watchmaking isn't a really "avant-garde" field (hence there is room for modernism) and we are many to love technical machines, especially cars. The crossover between these worlds is obvious. We can still like vintage cars but we love when they also add Carbon, Magnesium, new engines, exhaust lines, tires behaviour, carbon-ceramic brakes, etc… in modern ones. We like very high-tech stuff (can be extended to planes, boats, shuttles, etc…) but aren't surprised to not find such evolutions in watches? Well, it's illogical and there should be room for another interpretation of watchmaking in the materials used, in parallel, aside of the motion design area (movement).
From that point, it seems that Richard Mille has found an intense pleasure in exploring new materials for his watches. As curiosity leads, it's finally about finding the way to shape them, by designing and setting the right tools, but also to answer the question "does it bring something in terms of lightness and/or strength", which drives the movement's reliability and accuracy. Rigid hard Titanium or Alusic materials, for instance, prevent bridges and plates from bending or breaking, reduce case wear and tear or provide unequalled wearing comfort. I would make a parallel with shoes: it isn't only about shine and shape, it's also about comfort. Models from established brands offer slipper-comfort at the cost of a higher price.
A watch mechanism can be shock-resistant thanks to very strong materials containing the impact or softer materials absorbing it. Comfort becomes a very important element when you've experienced one of Richard Mille's watches, at the point precious materials nearly feel too heavy to enjoy. In that sense, Carbon or Magnesium can also be defined as precious materials, even more so since their craftmanship is harder to deal with than soft gold. Luxury is a question of relative stance more than an objective state.
In the end, you really obtain from an RM watch an essence extract of what a racing car, satellite, plane or racing boats are. For a tech or racing nerd, this is very exciting.
The cases
Titanium Grade 5 – Richard Mille began with this material in the RM001 Tourbillon, for the baseplate. It's a very hard and light metal that resists well to corrosion. The exquisite brushed finish of Richard Mille has a very nice look on Titanium and is a little less likely to get scratches compared to Steel.
Titanium alloys we see in some watches on the market are usually not "grade 5".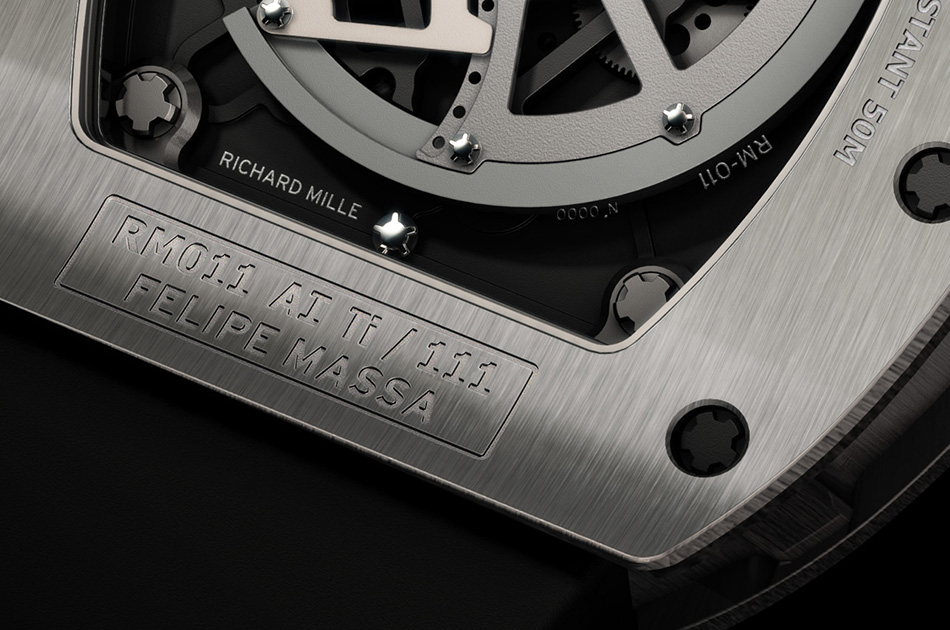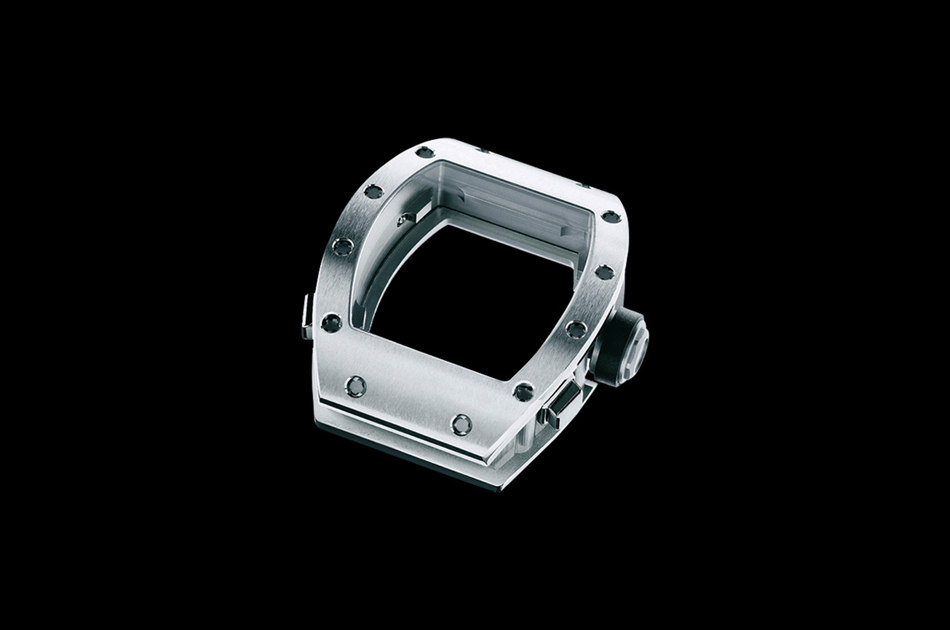 As well, the "All Grey" finish is a very attractive sandblasted treatment of the surface (looking greyer, more matte).
Silicon Nitride Si3N4 – Used for instance in NASA shuttles applications (ball bearings as harder than metallic ones or shuttle engine as high temperature resistant), it's a rare, rather light strong ceramic that was used in the RM011. I think it has been used for a limited number of pieces and may have been difficult (and expensive) to use.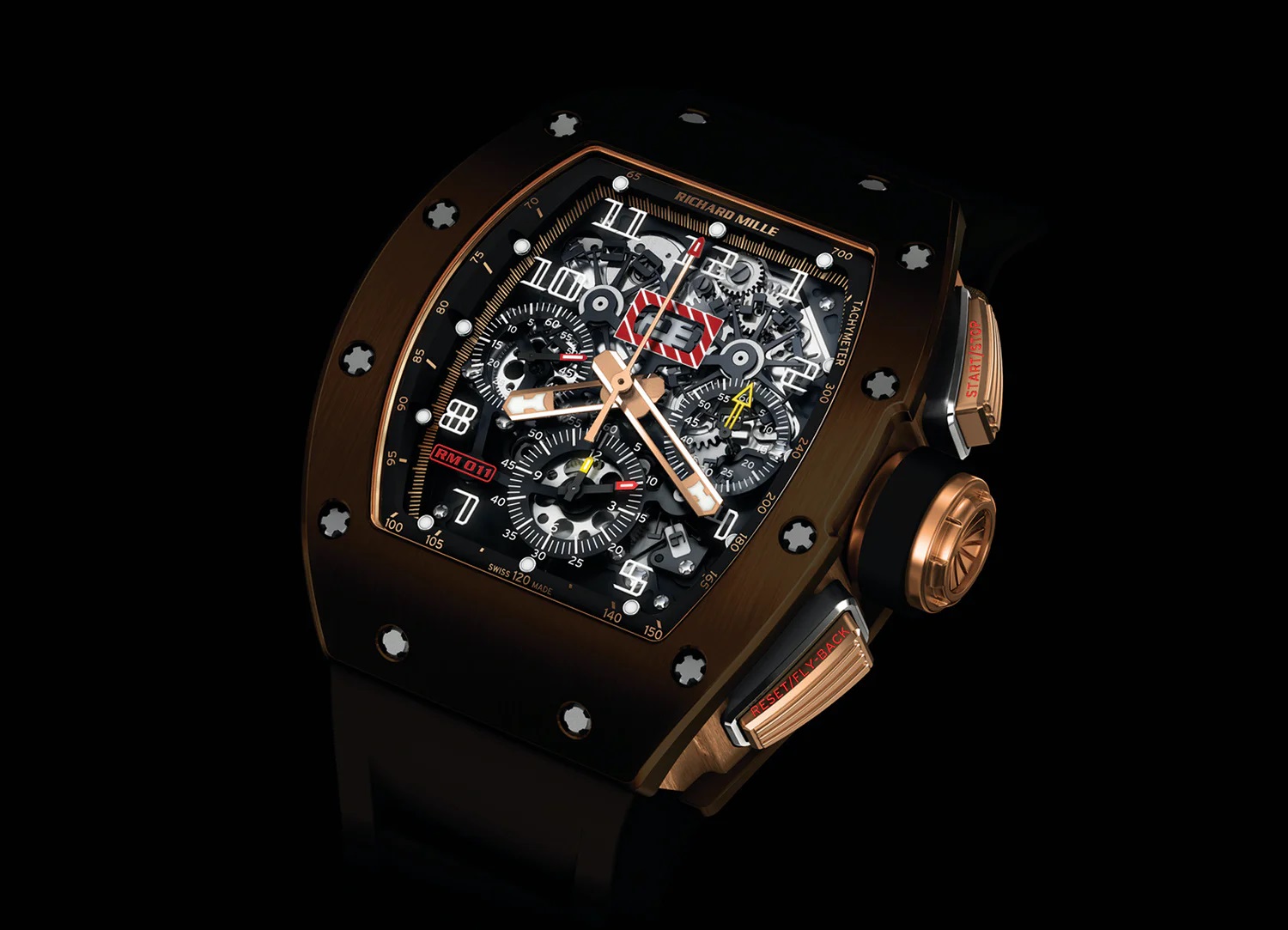 Nanotube Carbon polymer – This material was used for the first time in the spectacular RM027 Rafael Nadal (and opening a new page in sportsmen wearing watches while playing). The very strong Carbon nanotubes are injected in a polymer resin to build a lightweight and very resistant case.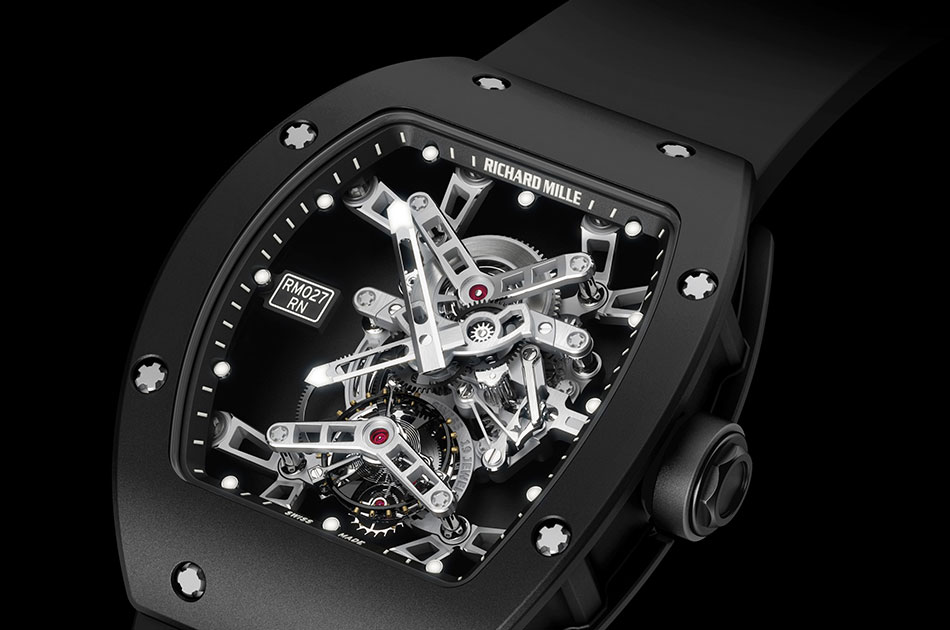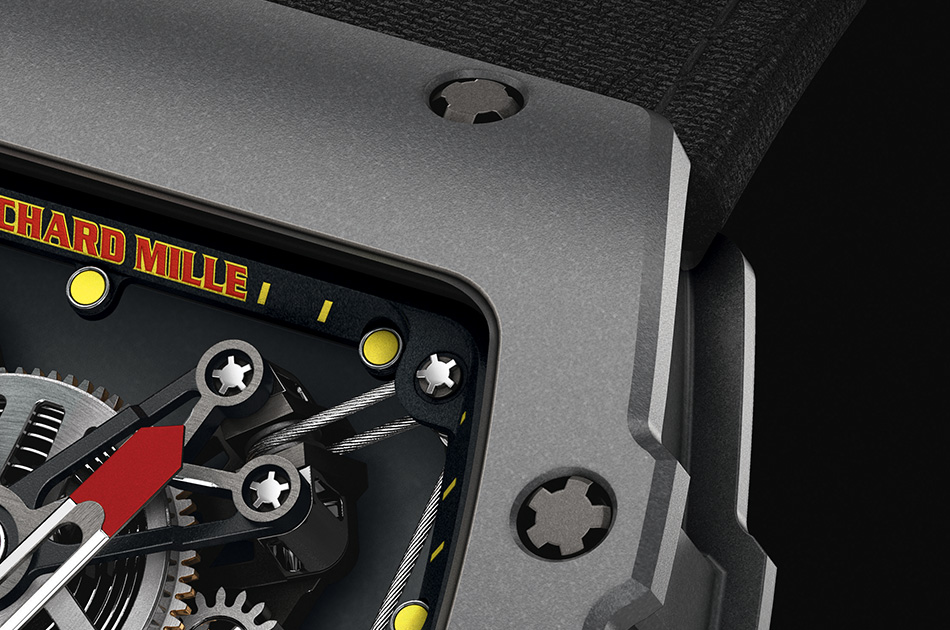 Ceramic – ATZ (for light colors) and TZP-N and TZP-G (different resistance). This is a 95%-Zirconium-based alloy that is more resistant than usual ceramic materials, hence, helps make ceramic more resistant to shocks.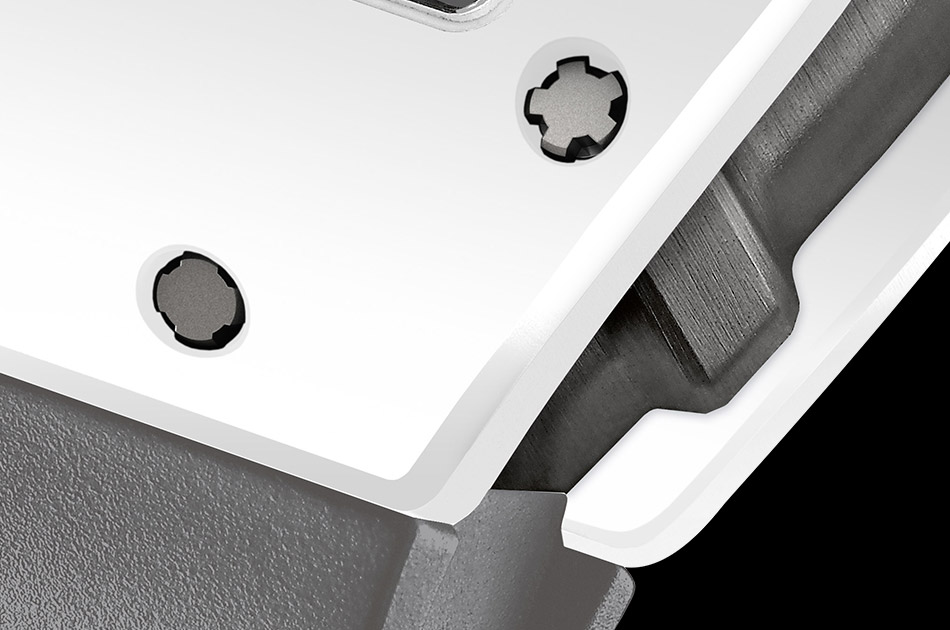 Cermet – It's an alliance of Titanium and Ceramic, used for the case of the RM52-05 Pharrel Williams Tourbillon.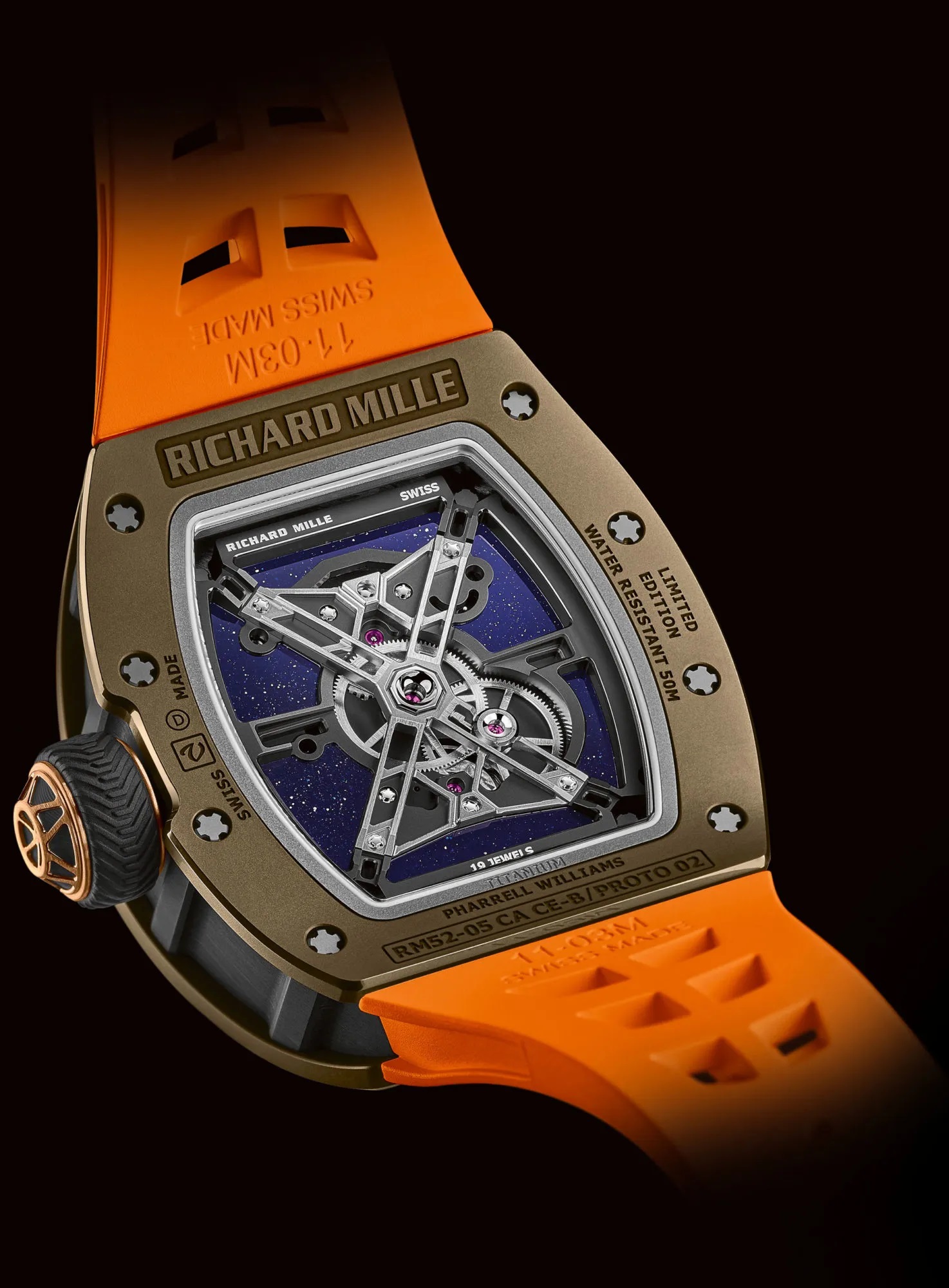 Sapphire – Used for the 1800 Vickers glass used in RM watches as well as replacing rubies in the movement (that's why they are white and not pink), except for the anchor pallets.
However, this material has been used early in the "Boucheron" model (mainplate) and more widely afterwards in the construction of the RM056 line (3 models) where the whole case (and mainplate, bridges or "third" wheel for certain versions) is made of Sapphire. On the contrary to other materials Richard Mille uses, although it's hard, it isn't as shock-resistant as other references. Nevertheless, it's the most impressive material, visually speaking, and I was very impressed by its beauty when I held the RM56-01.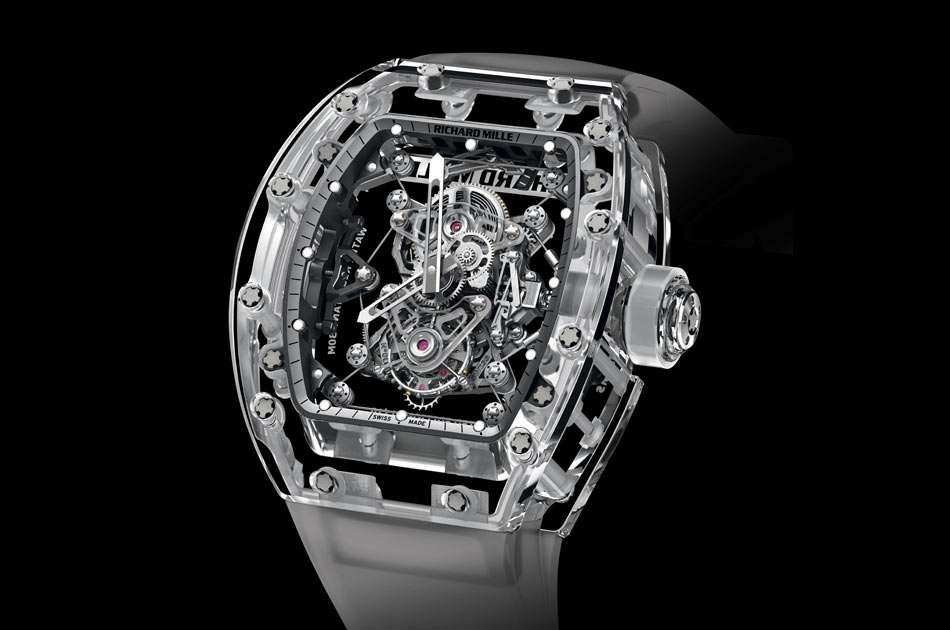 TiAl – The Titanium-Aluminum alloy, used in the RM50-02 Airbus Corporate Jet case, has the rigidity of Titanium with a little more lightness. It's a material used for Airbus Turbine propellers.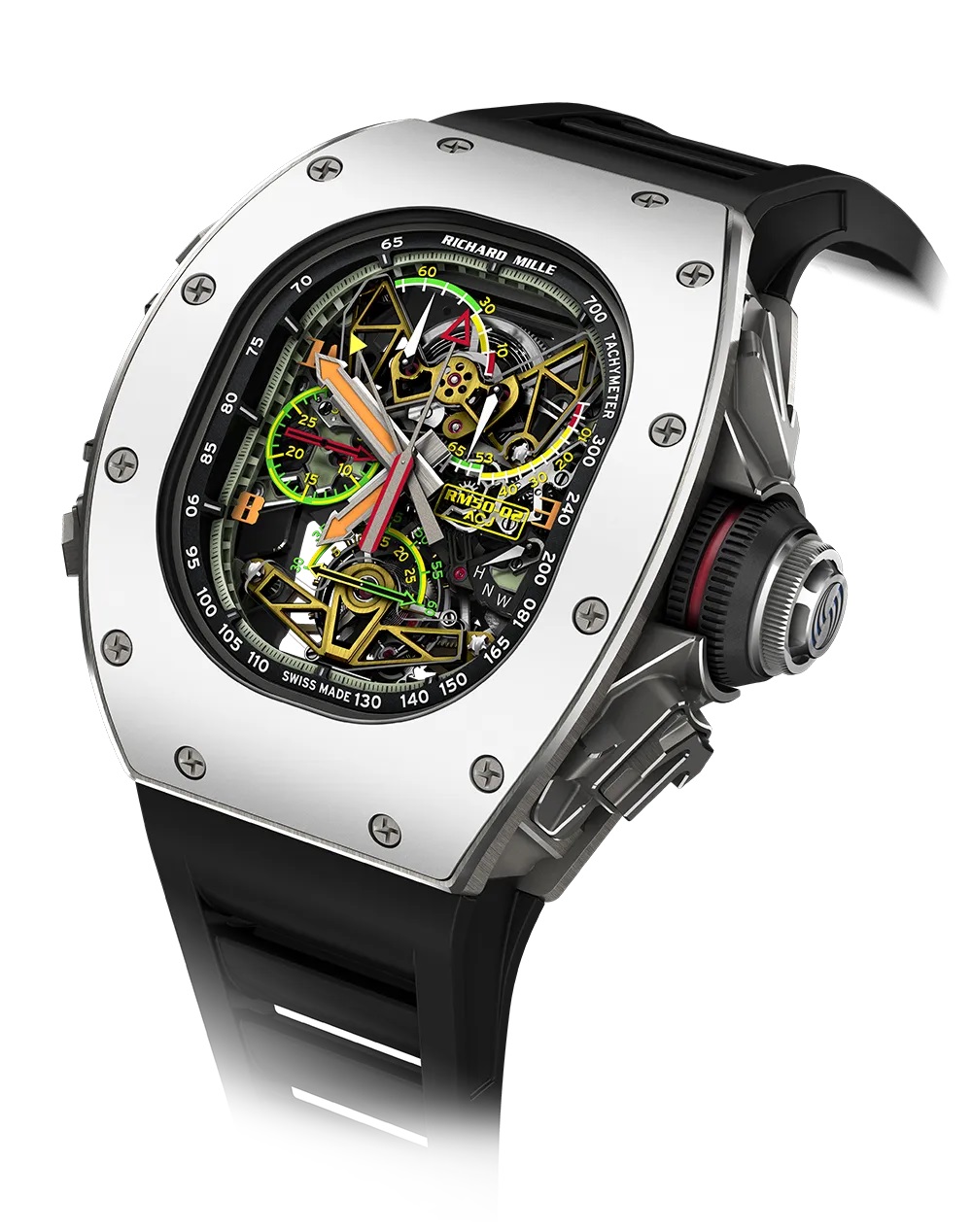 NTPT (North Thin Ply Technology) – This quite recent material used in latest RM watches is made of multiple layers of parallel filaments obtained by dividing carbon fibers. Each of these layers (30 microns thick) are impregnated with resin and woven to modify the direction of the weft by 45° between each layers. An average case is composed of 600 to 800 layers. It's then heated to 120°C at a 6 bars pressure.
This material is originally used in hi-tech carbon sailing masts for instance.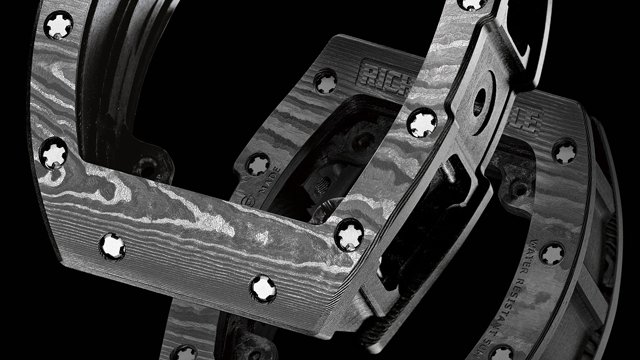 Quartz TPT – This material was introduced in the RM027-02 bezel and caseback. It's based on the NTPT technology but some Quartz layers have been introduced in the woven process. It's another way of exploring material resistance and shock absorption.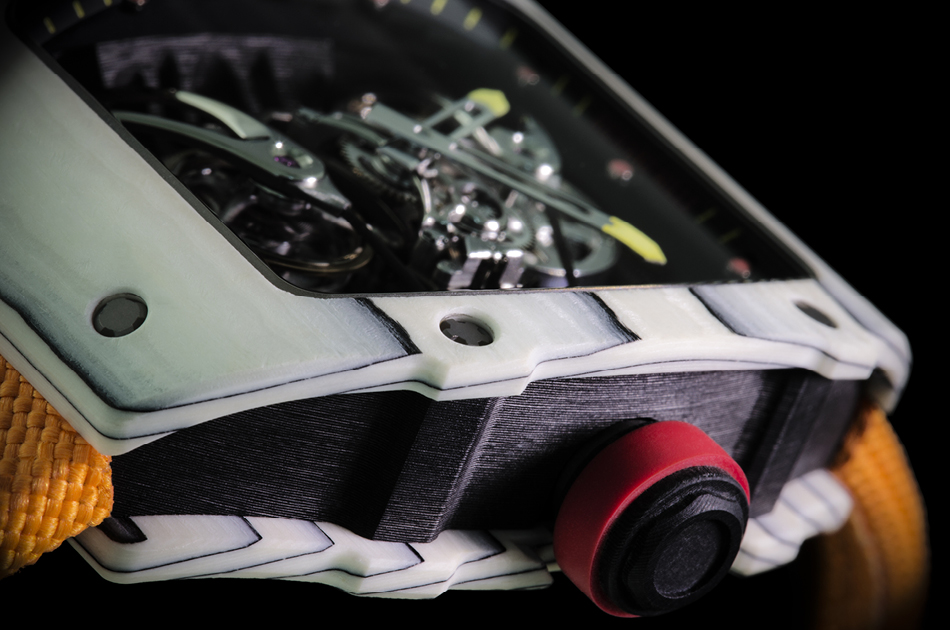 Graph TPT – This new Carbon-based material is made with Graphène which is the recent developed (started in 2004) hi-tech innovation we read about in scientific magazines (especially planned to be used for new-gen batteries), 6 times lighter than steel, 200 times more resistant. Graphene enters in the composition of the Carbon nano-tubes that the first RM Carbon cases (RM027, seen above) were made of.
It's used in the RM50-03 McLaren's case, making it the world's lightest Tourbillon Split-Second chronograph: 38 gr (bracelet included).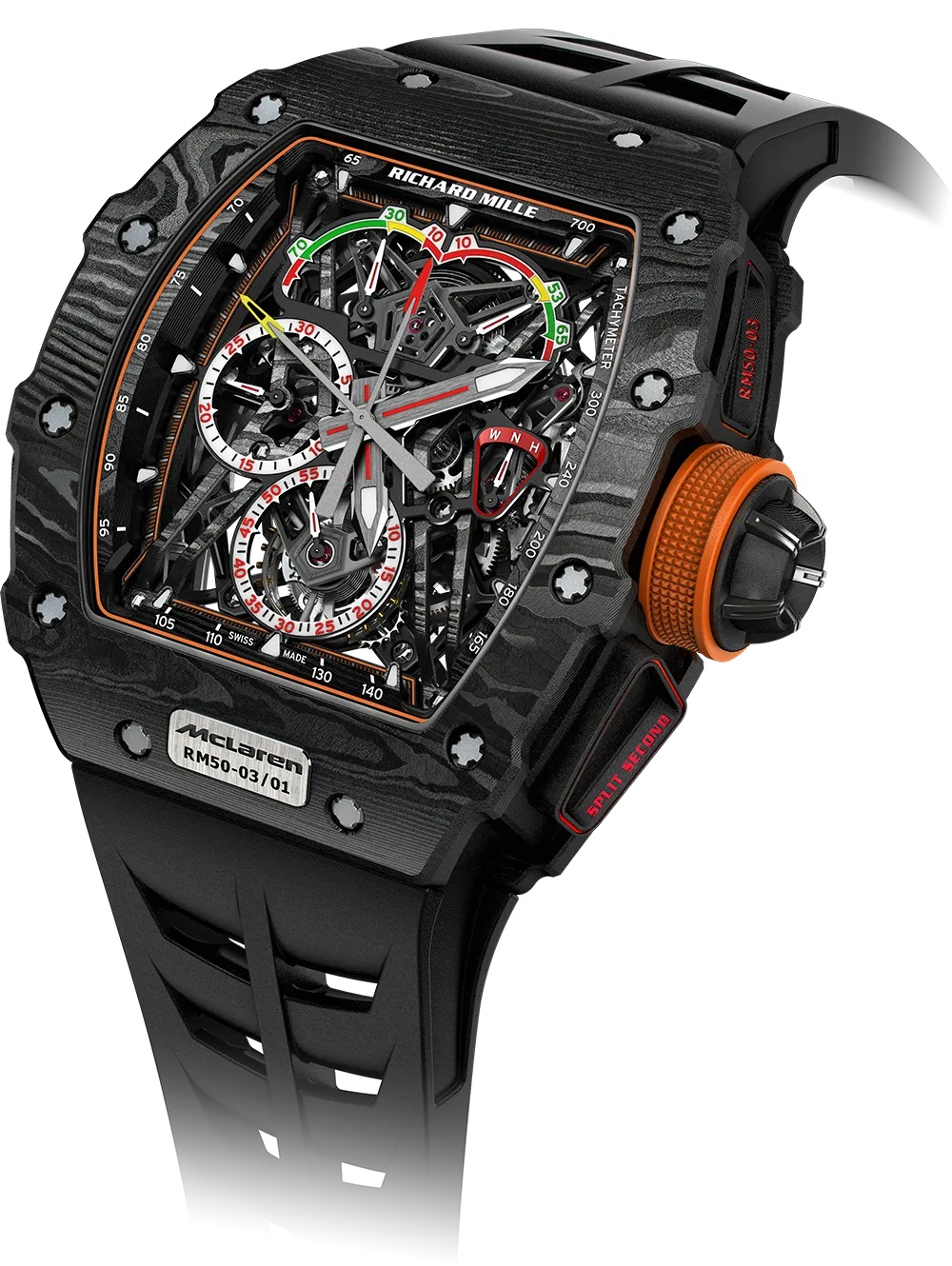 TitaCarb – A new material (Titanium reinforced with 38.5% Carbon) as well, used for the RM27-04 Rafael Nadal's case with similar exceptional characteristics: high corrosion and effort resistance, rigidity, lightness, etc…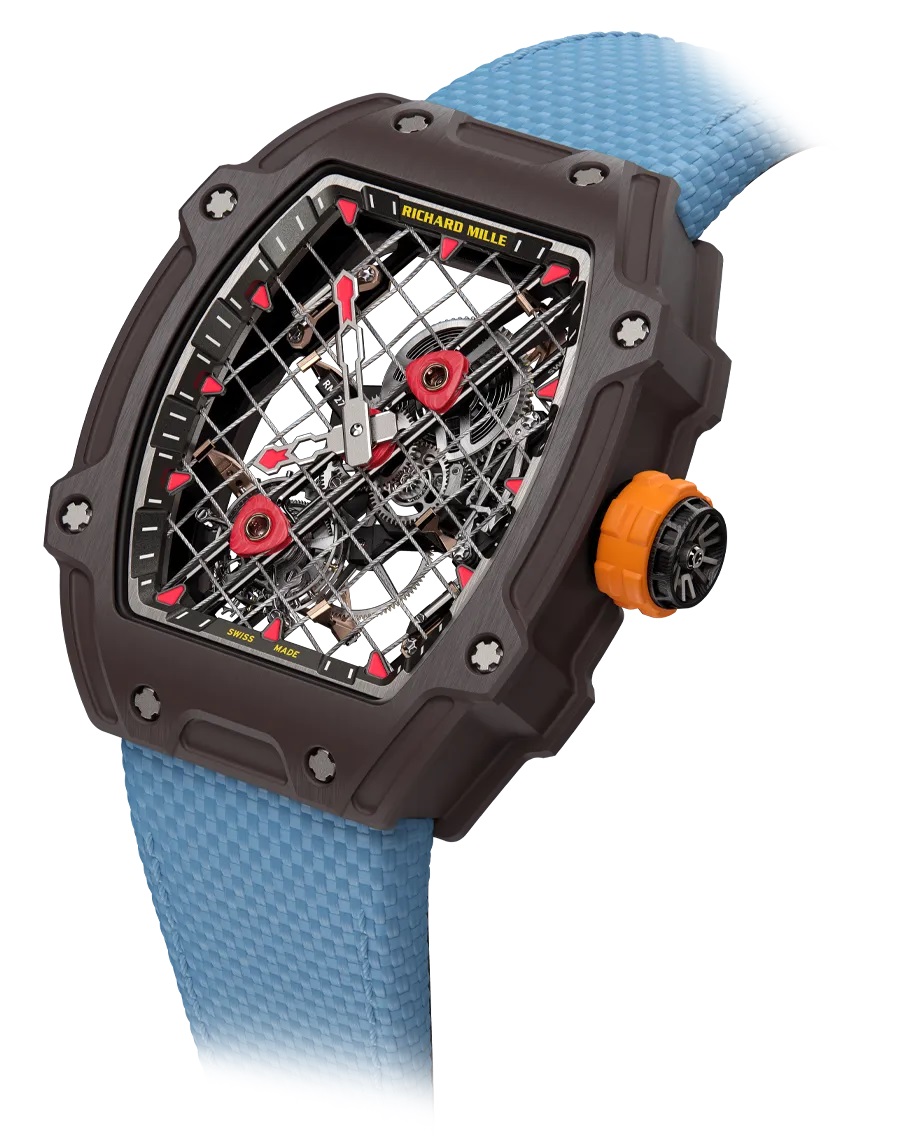 The movement

Titanium (grade 5) – This well known metal is used for its high rigidity and high resistance to corrosion. It's often used for cases but much rarer in movement's construction due to the difficulty to work on it using normal tools.
It was a challenging introduction in watchmaking back in 2001, in the very first RM001 Tourbillon. 
Carbon nanofiber baseplate – It's a material we saw especially in the V2 specification of the first RMs e.g. RM002 and RM003. It offers the benefit of a very limited shape change when submitted to temperature variations which is very important to maintain the gap and hence, the contact between wheels' teeth.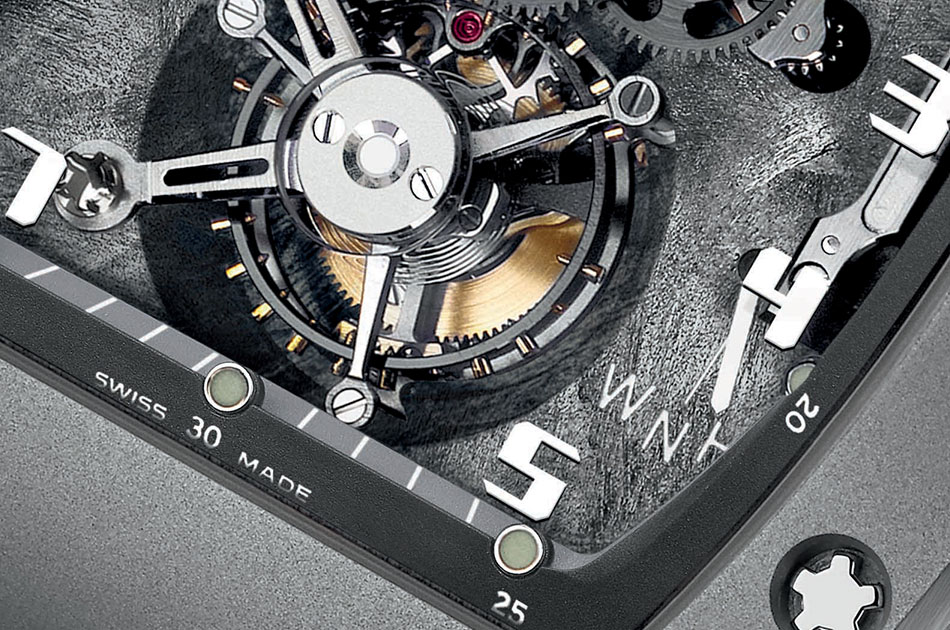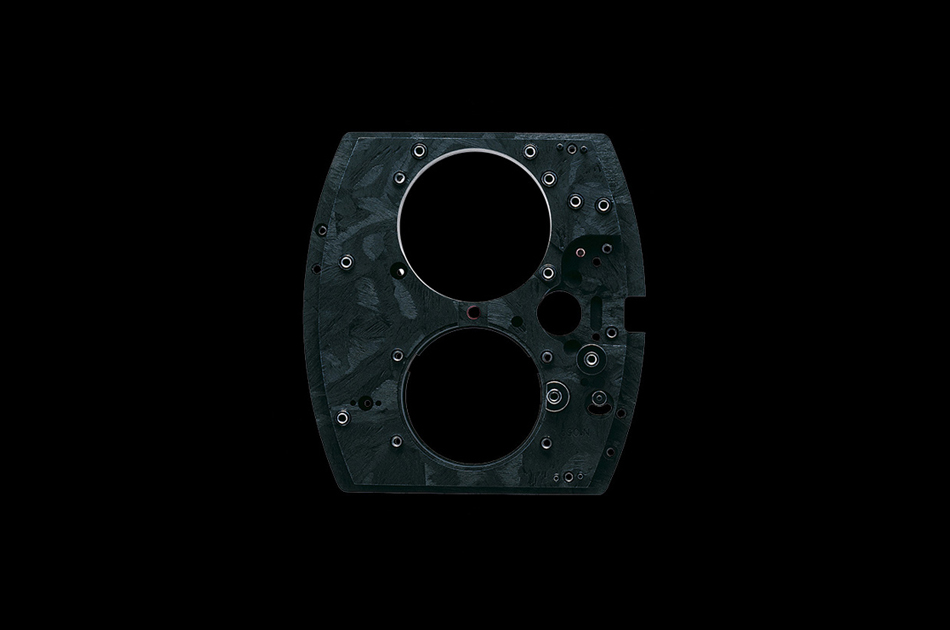 ARCAP – It's well-known for its antimagnetic properties and density of 8.9g/cm3. It's almost completely insensitive to large temperature variation and corrosion. You easily can imagine the interest of such properties as dilatation has an impact on the pressure between wheels. Such properties help maintaining a constant distance between components, thus improving accuracy and reliability. It's used in the RM002 and the RM031 high performance caliber.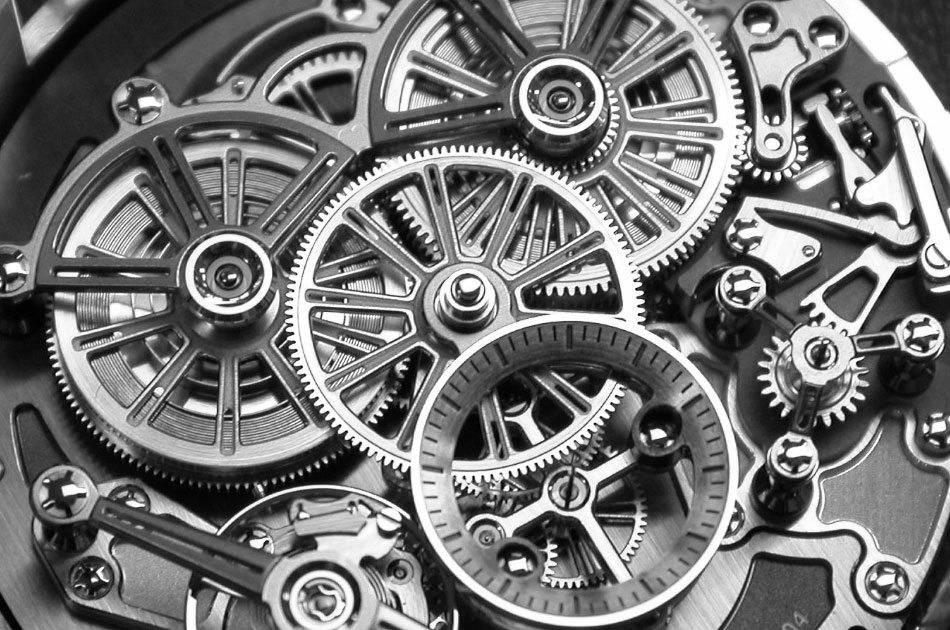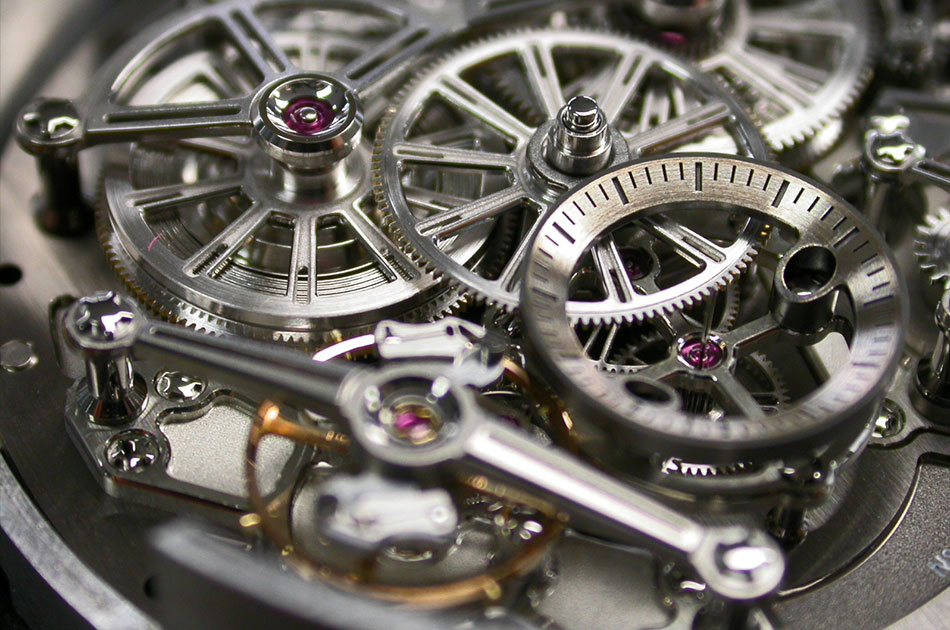 ALUSIC – Aluminum Silicon carbide. It has a very high strength and resistance to wear and remains very light. It's much more expensive to produce than platinum as it has to be diamond cut because of its hardness. It's a material used in satellites and in the RM009. Too expensive to produce in a high volume, it's a material we didn't see much in RM watches. The case and movement of the RM009 weigh less than 30 gr.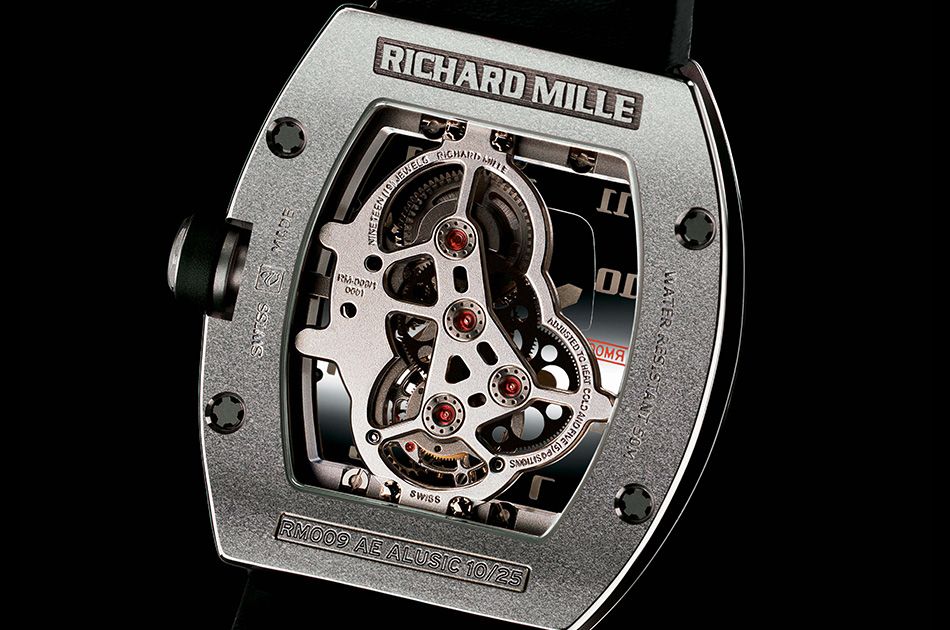 LITAL – An Aluminum-Lithium (together with magnesium, copper and zirconium) alloy used in the RM027 movement. It's used in the construction of Airbus A380 planes and satellite. The special development on Raphael Nadal's wrist made it a good test material to study shock resistance.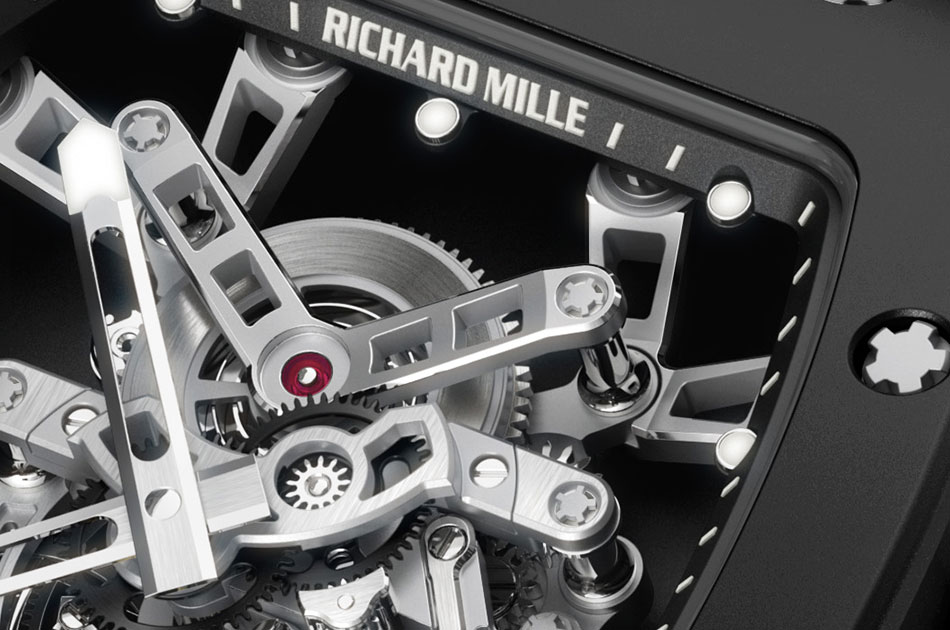 Aluminum 2000 (also called AluMag) – It's used in the RM035's case. It's a 90% Magnesium and 8.9% Aluminum alloy, very light and resistant, used in F1 engine piston production.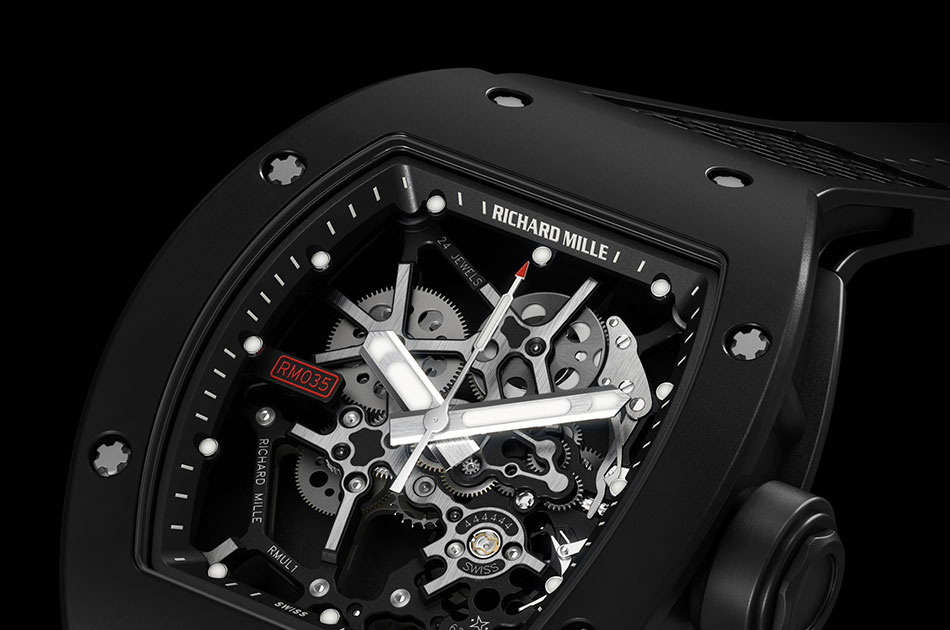 Magnesium WE54 – This 89% Magnesium alloy (with 6% Yttrium) is used in the RM038 Bubba Watson Tourbillon case. As always, lightness helps lowering inertia, thus decreasing consequence of shocks.
Carbon fiber flange – Used to craft the flange in most of RM's watches.
Sapphire – Already presented in the "case" section, this material has also been used for the baseplate of the RM056 (and even for the third wheel in the RM56-01 and RM56-02).
The level of rejected pieces is very high during the manufacturing process.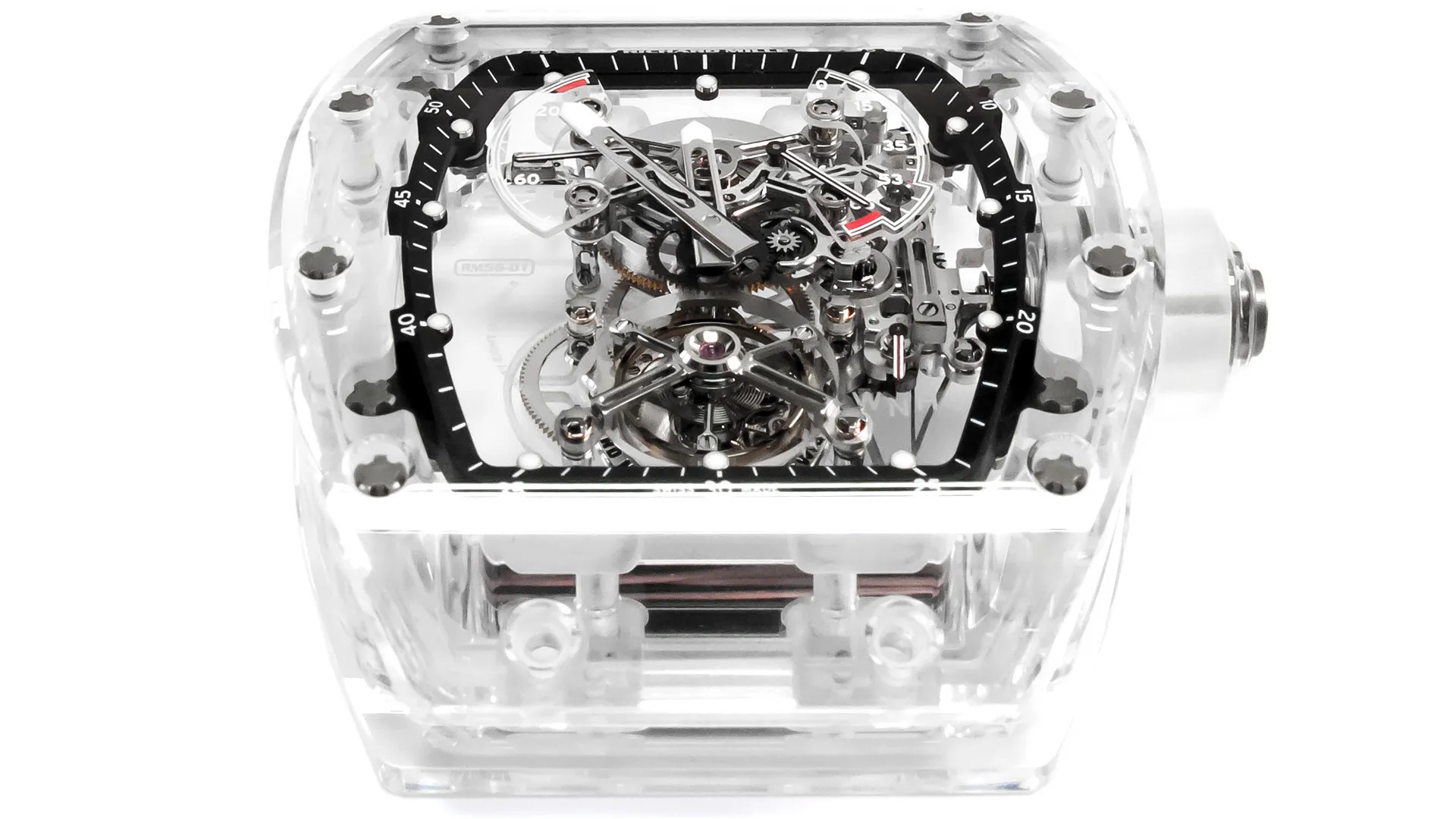 Semi-precious stones – This isn't per se a material made to enhance performance but more to add in a more original manner, stones decoration to the movement. When knowing what is at stake in such wheels in terms of inertia it's far from being an easy task to perform (needed 3 years of development).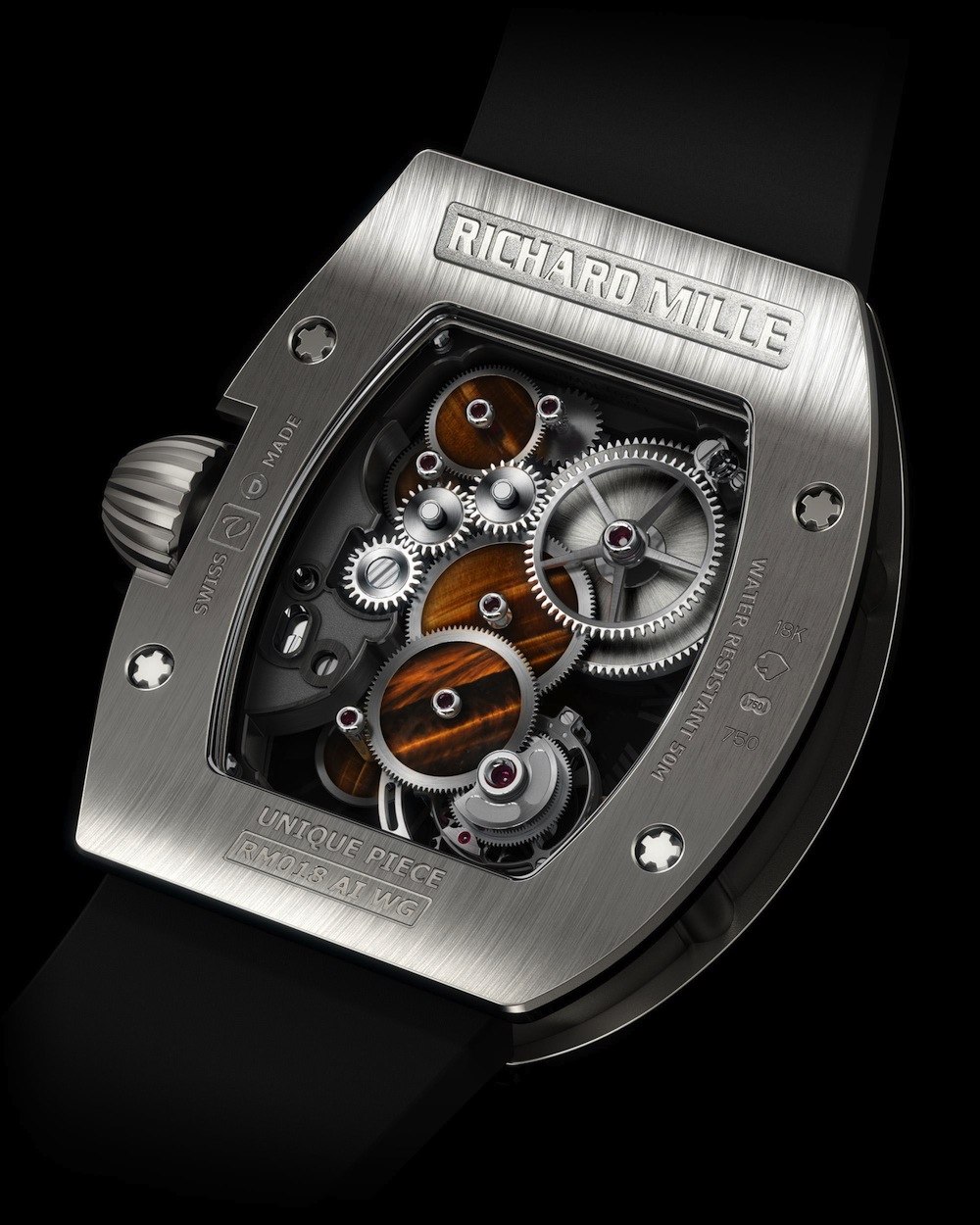 The RM018 Tourbillon "Hommage to Boucheron" is a unique piece. The mainplate was already made of a transparent Sapphire glass (before the RM056). The stone material is made from a mix of Tiger's Eye, Jasp, black Onyx and Diamond.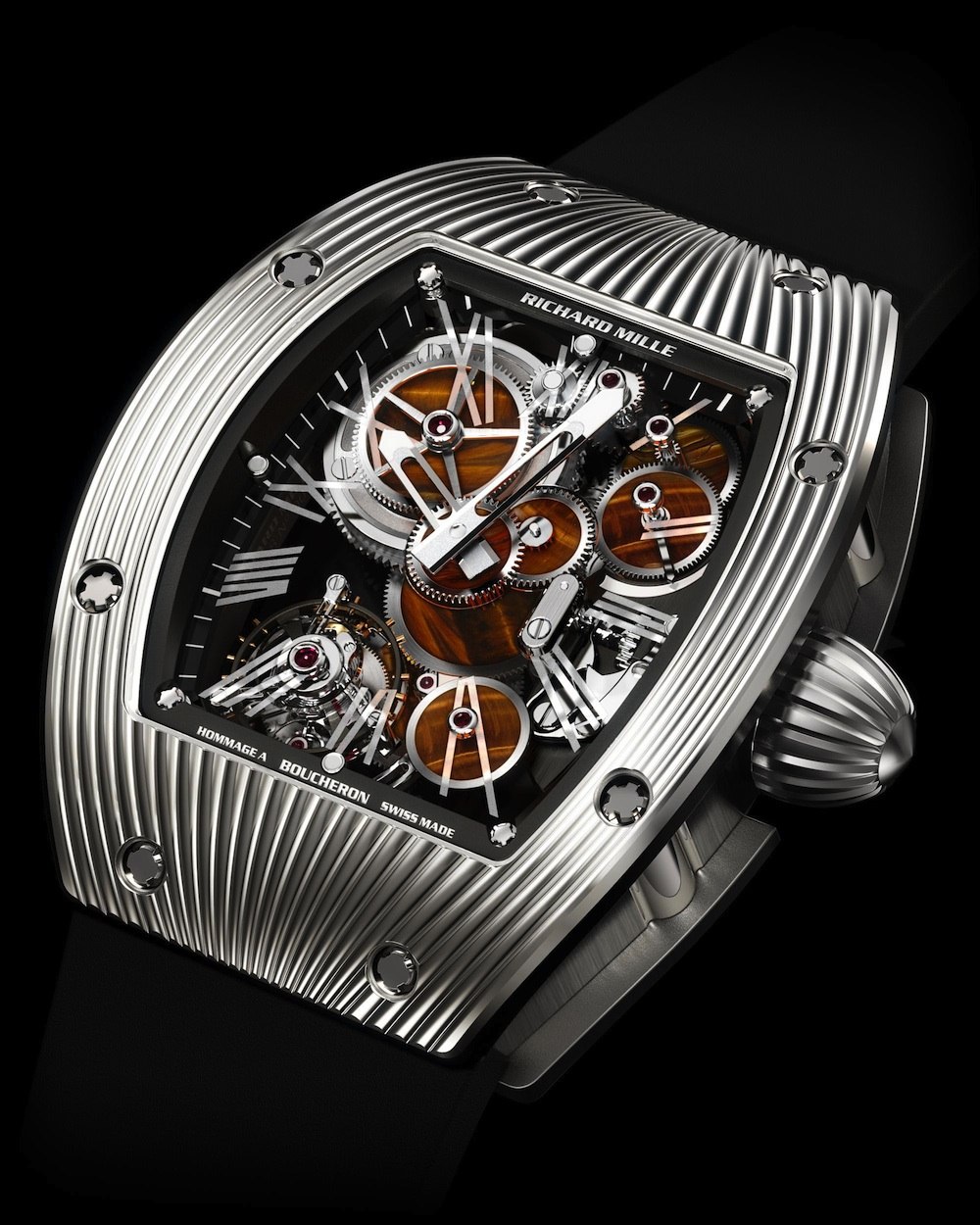 Black Onyx – Was also used for baseplates.
The straps and others
Aside from the usual crocodile leather straps, more exotic stuff is also available.
Polyurethane – It's a hypoallergenic rubber material, very comfortable, easy to wash and shaped to follow the case's curves which is very nice aesthetically-wise.
Kevlar fiber – It's the kind of fiber straps we saw first in Raphael Nadal's models and that became available for other models afterwards. They allow lightening watches even more compared to rubber.
Metallic or Carbon TPT bracelet – A few years ago, the brand has introduced metallic bracelets. They were also available in Carbon TPT, which is not a mere load of work as you can imagine.
Alcryn – It's a kind of rubber material used for making the crown collars.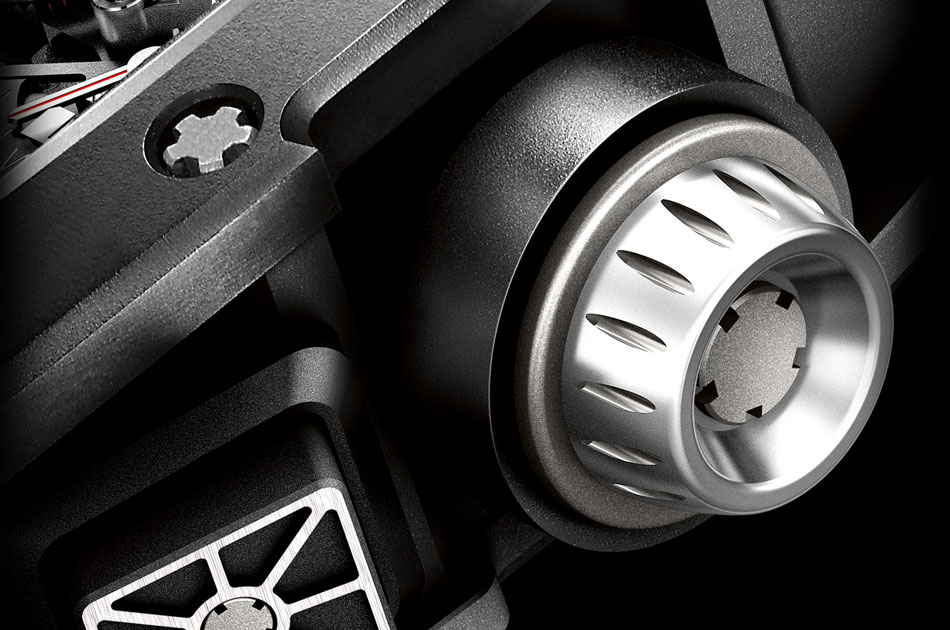 Conclusion and Thoughts
We have seen many very interesting materials that had a significant impact on a watch's reliability or accuracy. The stronger the material is for the wheels, the less wear you have with less chances to break a tooth in case of a significant shock.
The lighter it is, the less inertia there is; with less consequences from shocks for the movement, whether we talk about wear and tear or dealing with time keeping. At the same time, the material itself has to be able to absorb or resist shocks.
Additional pros like corrosion resistance and temperature variation distortions have to be emphasized.
We don't always realize how hard it is to work on these materials and the research needed to imagine how we can use them in watchmaking. It's nothing near what gold or platinum are. It isn't just about the material, it also has consequences on the rest of the watch parts, the tools that should be developed and new engineering to be rethought for a previous movement or case.
Many of these watches are basically full prototypes and this is what is unique in this brand. It's what requires such investment and know-how. They may not always be absolutely necessary but what it brings becomes obvious when you "experience" the collection as it feels so good when they are worn.
To me personally, more than a watch, I feel I have a reduced version of a sports car or advanced machine on my wrist. It echoes their motto "a machine on the wrist" but it's easy to understand it's much more than a marketing ploy. It's real.
Thanks to this brand for going this path no one explores.
You can find more on the brand's R&D page if you want:
R&D page on Richard Mille's website
Thank you for reading!
PS: related to materials, but not directly about watches, here is a McLaren F1 video explaining in a simple way how they work, their resistance, yielding mechanics, etc…