The Patek Philippe 5524R Calatrava Pilot Travel Time – A strong presence for a casual wear
Hi everyone,
It's been a long time since I wanted to review this particular family. The Patek Philippe 5524R Calatrava Pilot Travel Time that was released in 2018 was originaly launched in 2015 in a white gold version. Back then, the least we can say is that this model had created a significant buzz when it was presented at Baselworld. Nowadays, it has attracted more and more fans.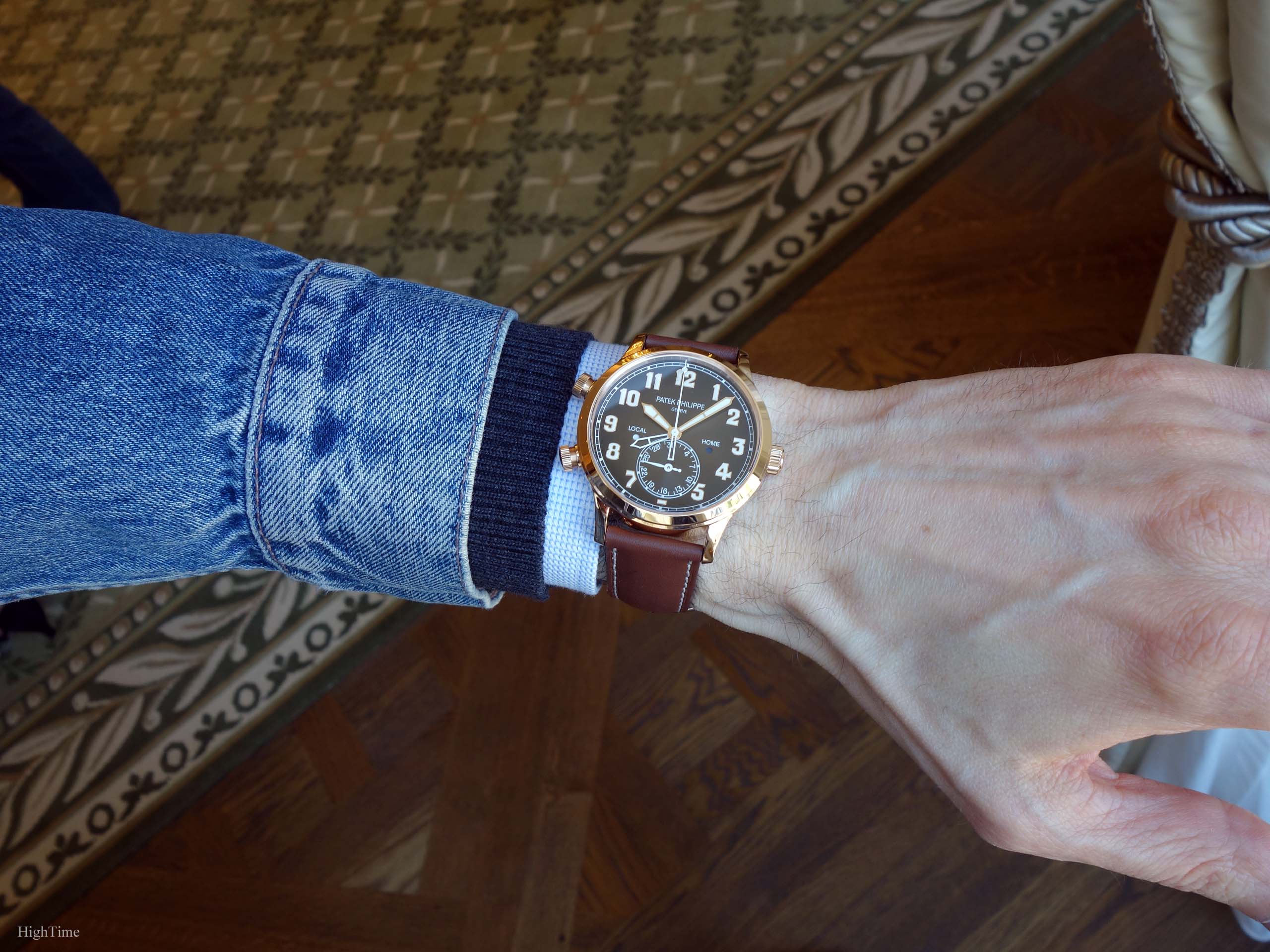 As with the Nautilus (or the 5070 in a lesser extent), it puzzled some older watch enthusiasts while excited an array of older or potential new owners already enjoying a casual yet elegant lifestyle. This trend appeared quite strongly in the 2000's before crossing all sectors where design and style are involved. Later on, the 5524 Pilot-inspired model from such a strong brand like Patek was also questioning conservatism and ensuring the brand didn't get stuck in the past. It allowed many new references which came since to represent the brand's establishment even more. Hence its success today. We could say it's a little like concept cars in the automotive industry; they are created to introduce new trends.
More generally, the artistic work of any brand and their creative crew is based on their imagination but also on the inspiration they get from Art history as well as their legacy. There is a huge difference between copying and getting inspiration from. The imagination and talent to use a brand's DNA is what it's all about.
Today, the 5524, 5522A (3 hands, limited edition) and 5520P (Travel Time and Alarm) Pilot line-up is, without a doubt, a DNA-driven model from its own historical legacy. The finishing and details observed when handling the watch in the metal leave no doubt on this matter. DNA isn't a style pattern, it's a gathering of principles and, for PP, a level of elegance relative to current times. Hence, these traits assume different forms depending on the period.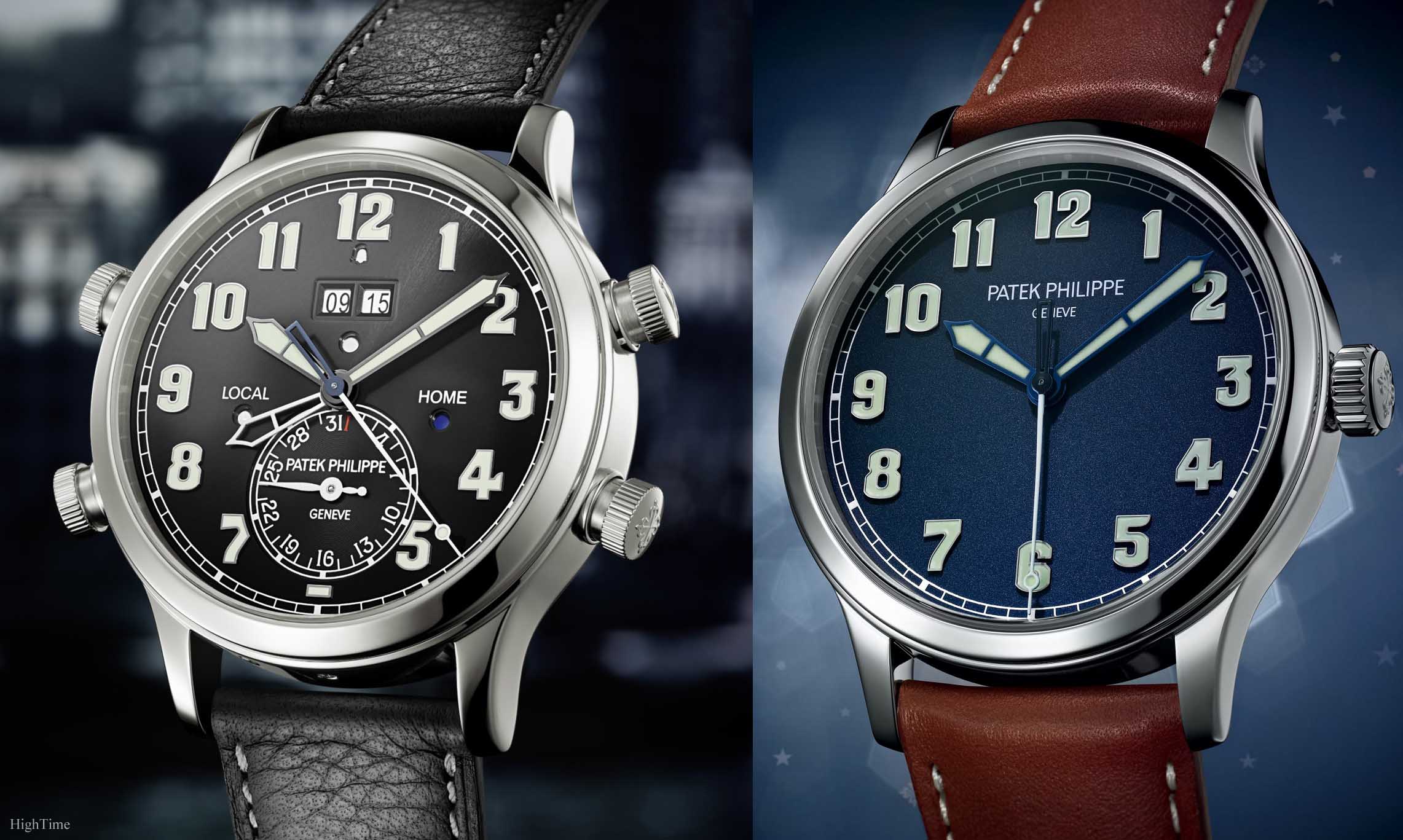 It has come to a time when it's also a very nice accessory, in the lineage of men-size watches worn by ladies. These watches are bigger than usual on their wrists and become an accessory, just like some heavier rolexes have become so on their usually smaller wrists. Hence, the brand has also unveiled lately a smaller version of the 5524G and R for ladies or smaller wrists in general.
There are in the end many ways to appreciate these pilot references and especially different ways to choose them regarding our attire tastes.
Origins and philosophy
Its birth takes its roots in the 1920's-1930's aviation watches. The 1936 model below is preserved at their Musuem.
Using their past to create a new piece from their understanding and reading of current trends is a talent they have to develop and that is difficult to master. From the last 15-20 years, Patek has I think proven it could not only offer something very different from the past, freeing itself from conservative temptations, but also something timeless and clearly fueled by its long legacy. Not only it offers a watch in phase with current ideals but it also, preemptively, shapes clients' tastes. The more you see it and see people liking it, the more you are likely to appreciate it as well. Of course, success and how status comes from a brand, intensifies that phenomenon.
It offers by far the most upmarket Pilot watch today and the only one from the high-end established brands in particular. The position of the brand today has nothing to do with luck but is the result of hard work and courage in sometimes such an old-school sector.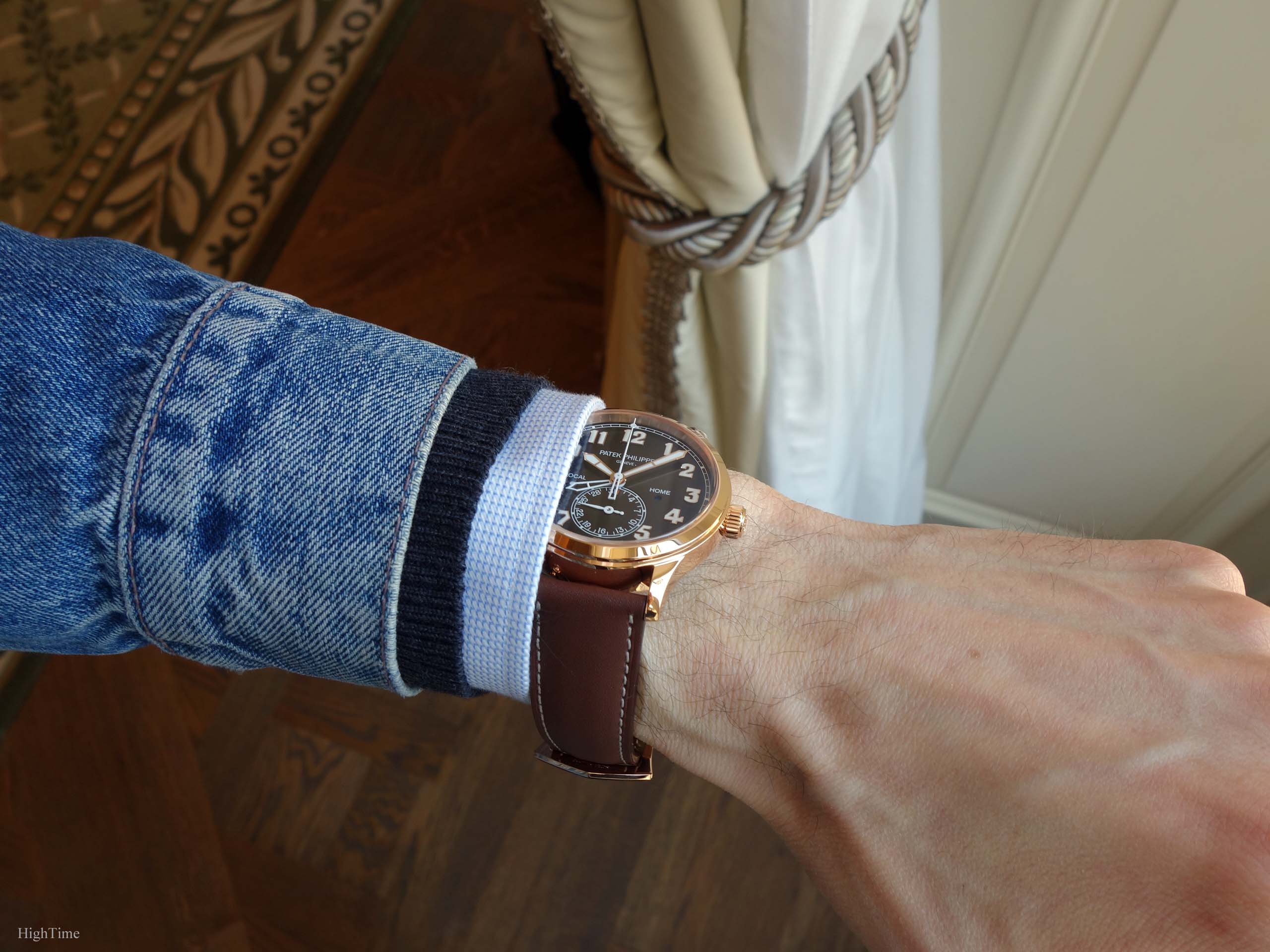 Aesthetically, such Pilot-inspired watch isn't meant to be the easy way to go nor to remain main stream. Because of its size in particular, though quite comfortable on the wrist (as usual with Patek), it won't replace the Nautilus (at least for now). However, it will definitely fulfil a role in the classical casual collection together with the 5326G, 5960G and other 5270P green dial, etc… There are many ways to dress nowadays, more casually, with a customer base that has deeply changed with the development of other regions aside of the Western countries. Hence, aesthetics research includes different climate, different standards regarding shapes, colors and proportions (i.e. size versus wrist).
Doing this kind of exercises is a serious challenge, because of the heritage of course, but also because of the inertia created from the pressure of collectors and fans who all have different opinions or tastes in that field. Therefore, a brand's goal is certainly not trying to satisfy everyone. This would lead to less interesting watches, narrowing the offer. It's to be true to its spirit and create something that will last.
Perfectly sized for its use as a more impressive and decorative watch, asserting a singularity, very nicely proportioned, perfectly finished… It's getting more and more appeal from customers throughout generations. And not only men but also ladies as a smaller version (ref. 7234 in 37.5mm) was released for both the white gold and the rose gold models since (official picture below). The 7234 version will also appeal to men enjoying smaller watches.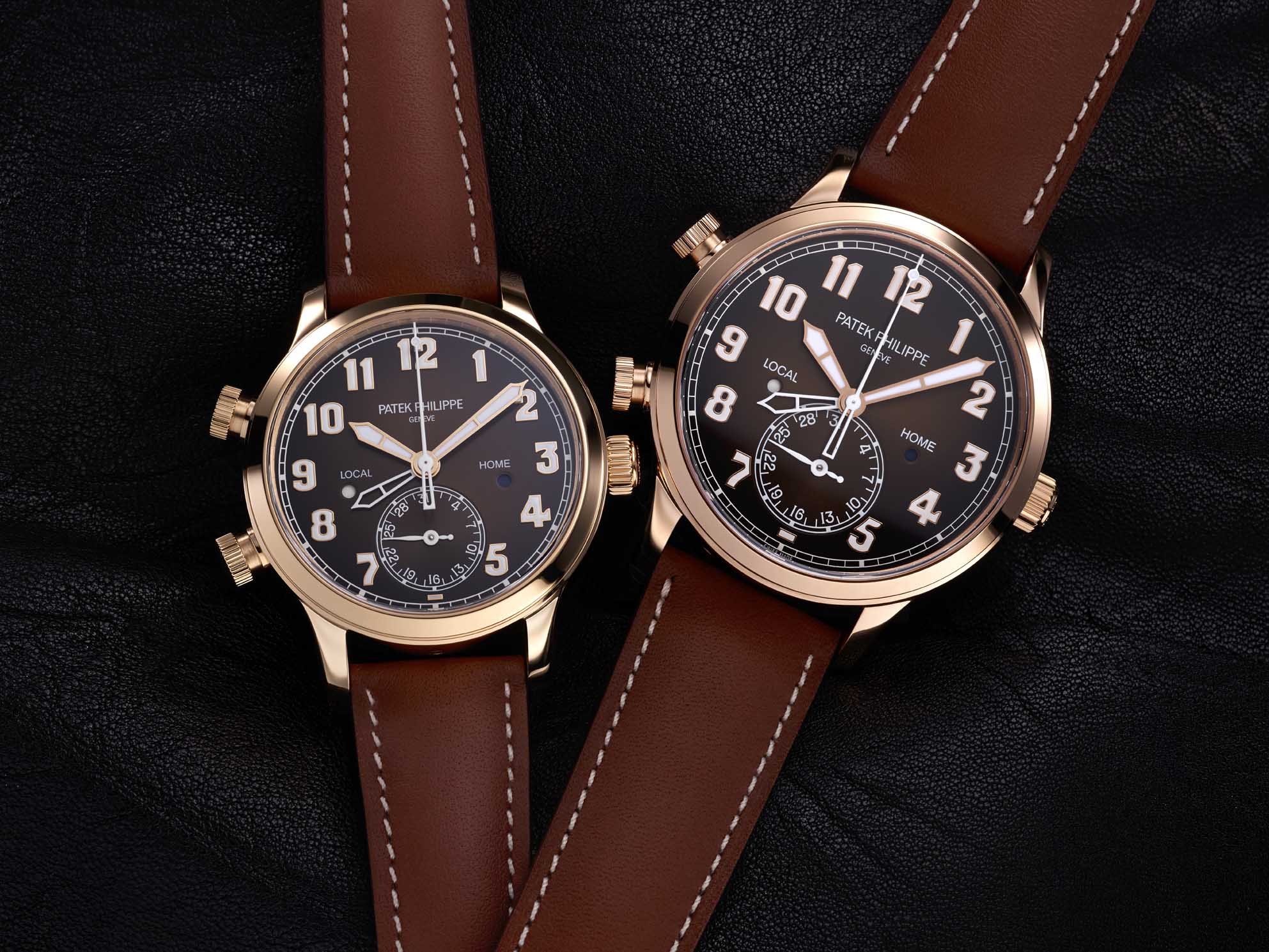 Did they succeed to create that particular watch for those who want to collect something else; a little different from what their favorite brand used to do and at the level we expect from Patek Philippe standards in terms of design and quality? Its success on the net shows it did and, between sportier models like the Aquanaut or a Nautilus and the classical, more traditional models, the casual references like the Pilot line-up have certainly created the right 3rd intermediate family. Not by mixing sport and dress watches but by using the brand's DNA to create a distinct category. I would place the recent 5226/5326 models in that same category.
A unique look among the brand's collections
I find it to be a very masculine and modern reference. I see it as a watch for travelers of course but also people willing to wear a more "expressive" model, sportier for the week-end thanks to a strong character. Meanwhile, respecting the luxury sector standards of Patek Philippe, instead of getting a raw toolwatch, is a non-negotiable part of the deal.
When going into details, I think the unusual hands look really good and keep the watch attached to the beginning of the 20th century. Their uniqueness represents a major detail of differenciation.
The exquisite gold applied numerals participate to this atmosphere. The luminescent green coating power is stronger than on a standard Patek. It's particularly visible in the dark of course but even in the shade.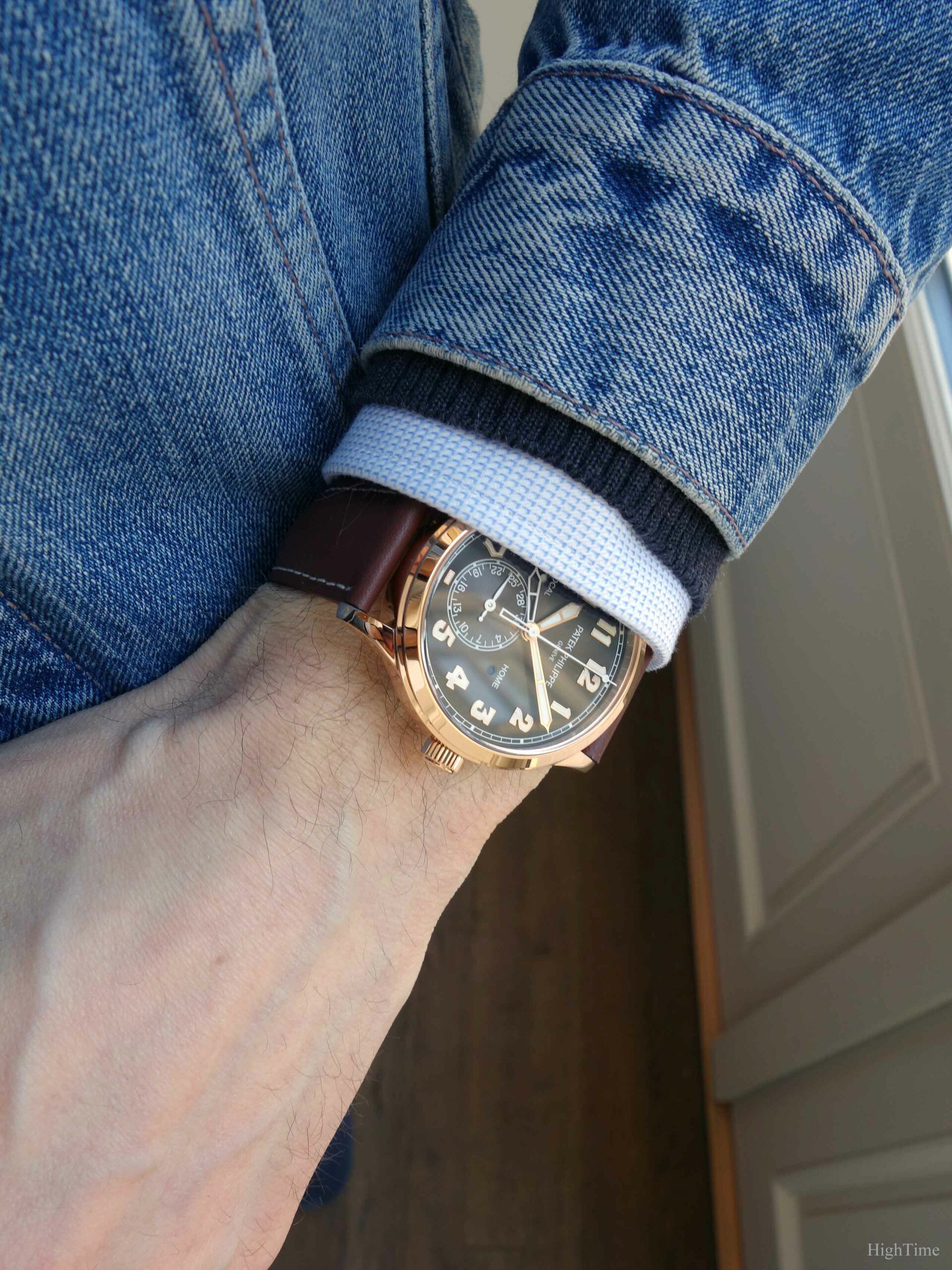 The numerals' frame offers a very nice decorative touch as it brings an additional attention to details, a little bit more luxurious. Indeed, I would like to emphasize that area of the watch. When used to holding watches in real, our eyes get used to "feeling" the finishing, how the light reflects on surfaces. It's obvious in the metal that the numerals on the 5524 (or in the 5172) have carefully been taken care of, the edges and flat surfaces have both been highly polished. Hence, it provides a certain appeal and "pride" that this 5524 is high-end material, at the same level of a 5205 equivalent for instance. Many have experienced these markers or numerals from Patek which edges have this slight smoothness, perfectly calibrated, that contrastes with sharper edges when not finished properly. It's exactly the kind of details that doesn't "sound" important but that makes all the difference for someone whose eyes can notice it. That's why seeing watches in the metal is also a way to educate our senses and is mandatory to judge watches.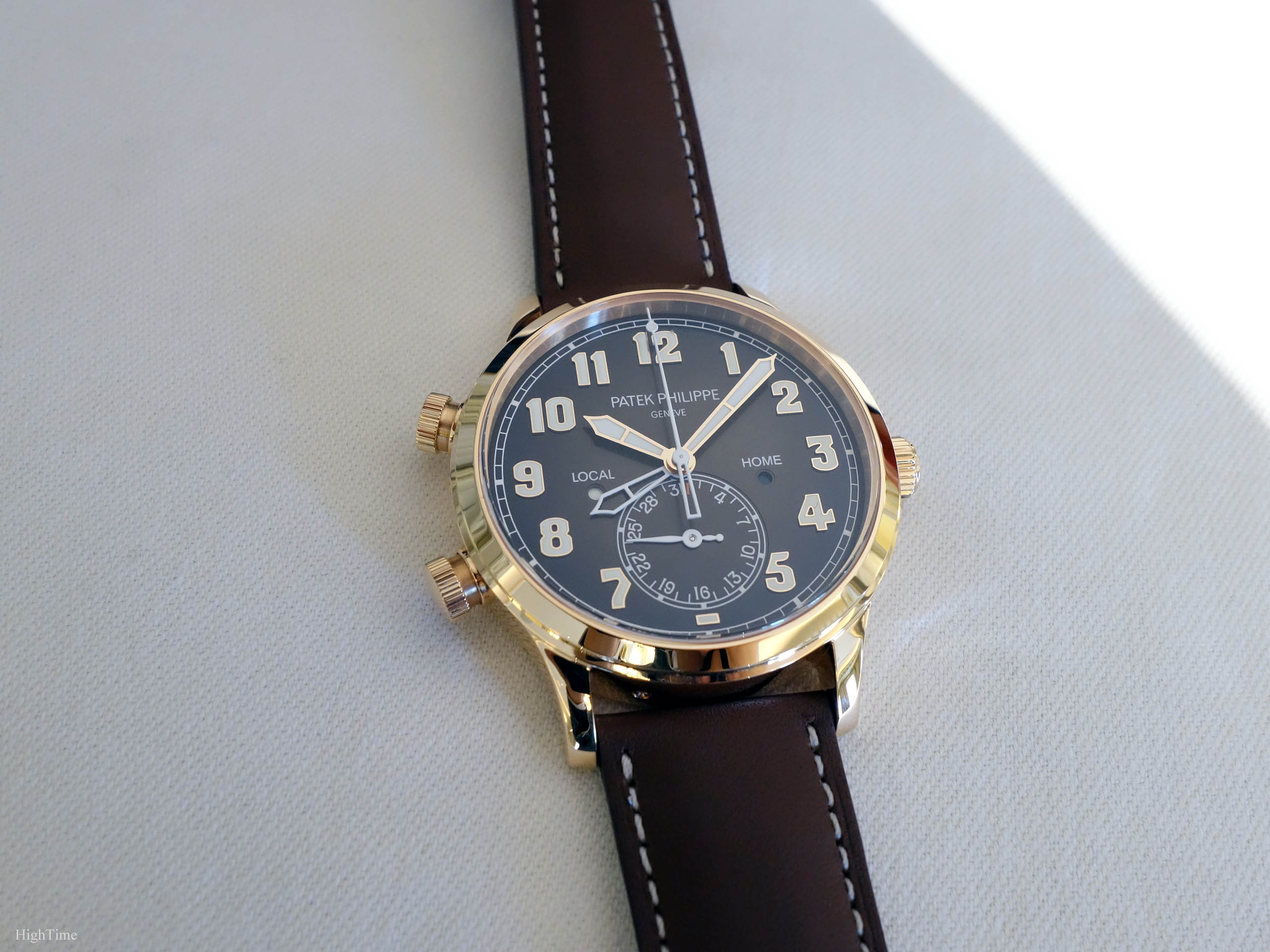 The big pushers are quite weighing on the left of the case but this is a nod to a feature used in original aviator watches as they were activated with gloves. So, it isn't the classical balanced and discreet way but it's coherent with the original design of such instruments and moreover in line with the assertion of a bold style. Besides, they are lockable.
I find the rose gold case (42 x 10.78mm) well designed as it remains simple in its curves. Most of the attention is directed toward the pushers and especially toward the dial. The fact it's in gold makes a whole difference in my opinion. Like I said for the Aquanaut, many clients today wear sport watches for the style more than for the use. Hence, the weight of a gold watch and what it exhumes in terms of luxury and hue are definitely a big asset compared to colder steel.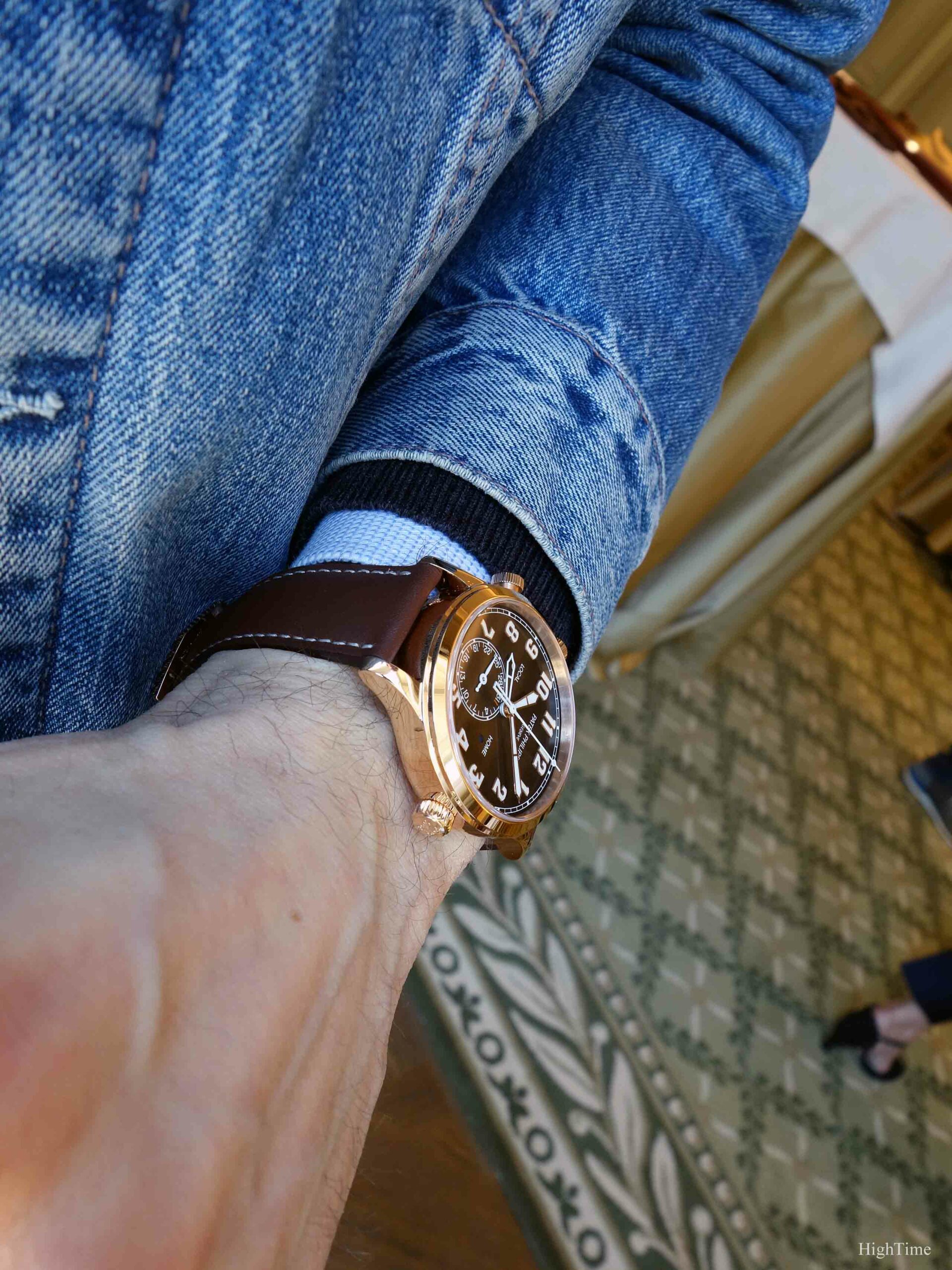 By the way, the brown sunburst dial is another very nicely tuned asset of this version, as well as the colour combination with rose gold. It's black gradated, which animates nicely its large surface. Most of the "action" is on the dial side while the case is more discreet in terms of style.
What we can notice once more here, in comparision to the dial's side, is that all the case, bezel and other "accessories" are really pure and simple in their design. Nevertheless, while digging into the details we see the difference in shape, the recessed parts (like the bezel area work) that participate to the Patek 5524R's attractiveness. I think it helps not getting a heavy looking watch as the dial is already the main attention focus area. Once again, it suits to the "Pilot" theme as watches were toolwatches, flight instruments and not used in a decorative way.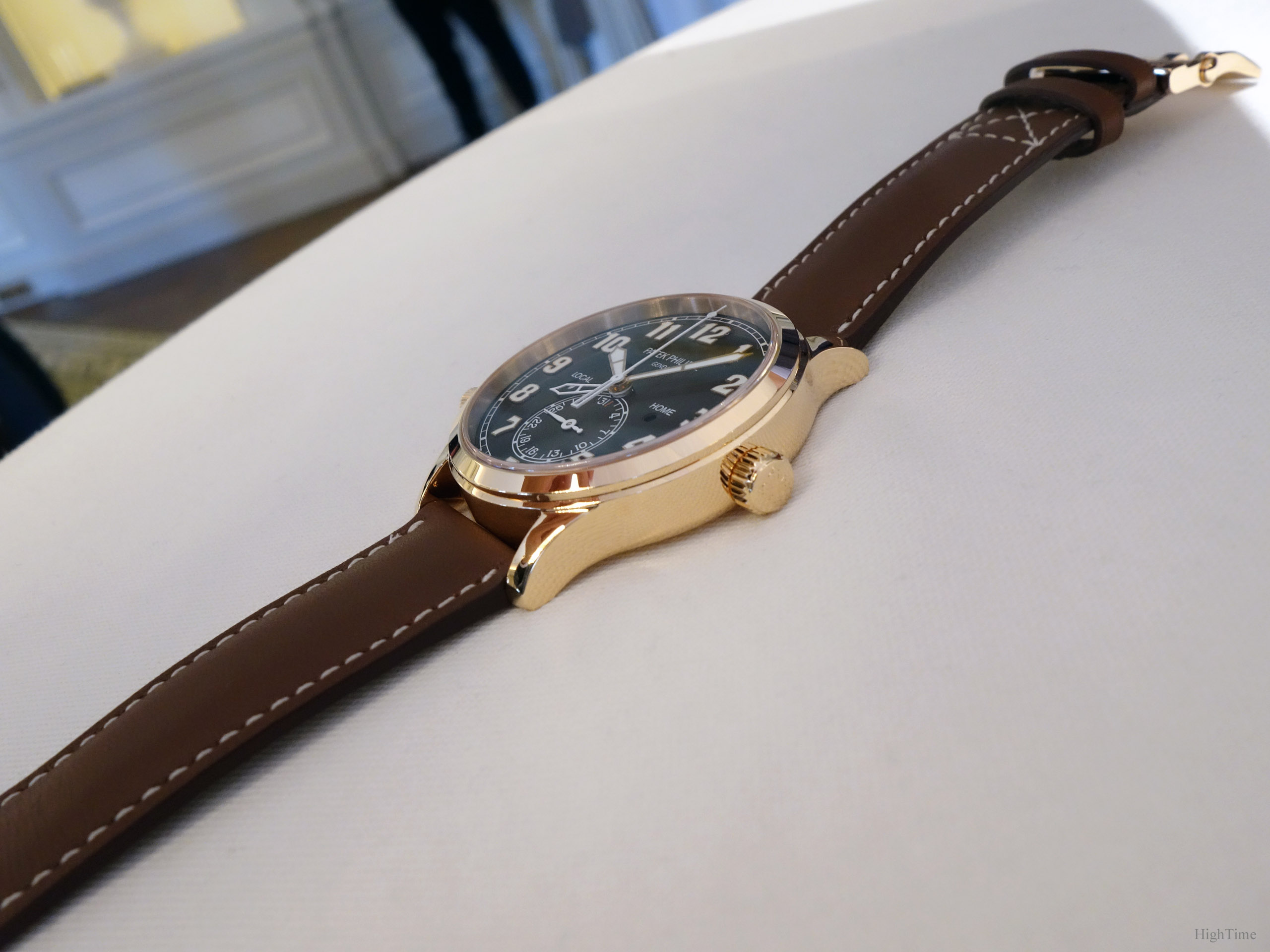 From, the different elements above, it's easy to see what Patek's idea was: creating a Patek Philippe watch worthy of the luxurious decoration and finishing details of the catalogue with an inspiration from the Pilot instruments for a more modern and casual wearing look.
Sometimes, we can say that trying to make two things at a time results in doing any of them right. I think they succeeded here in bringing Patek's standards (material elements) into an iconic toolwatch (spirit). The finishing of the dial is stunning; the white hands' paint, the blued hands, the applied numerals' frame, the white printings, the metallic dial… And this 5524R is unique, especially since there weren't any brown dials aside of the 5711/1R (2015).
The watch is provided with a "vintage brown" calfskin strap and a very nicely crafted pin buckle (of which I provide an official press photo here below as I didn't take it in picture myself). They remain coherent with this "aviation" spirit versus a deploying buckle and an aligator strap.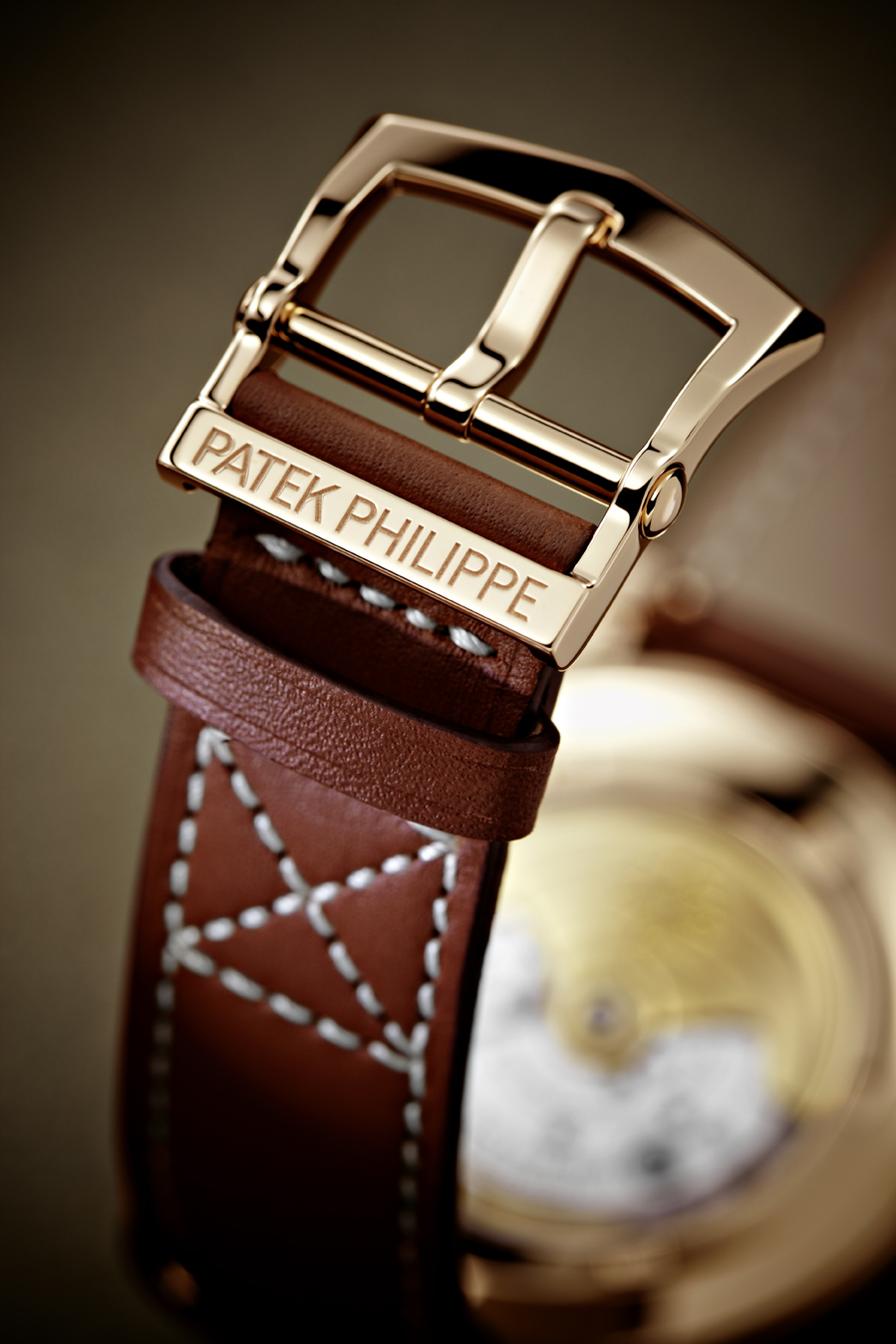 A flight through its engine
The movement used is the beautiful 26-330 automatic caliber (sucessor to the 324 that was used in the 5524G originally) with Patek's specific and clever dual time module. It's reliable and very precise in many conditions of everyday life. One thing I appreciate in this caliber and the 240 is the bridges' size and shapes as well as their decoration. Perfectly balanced to me.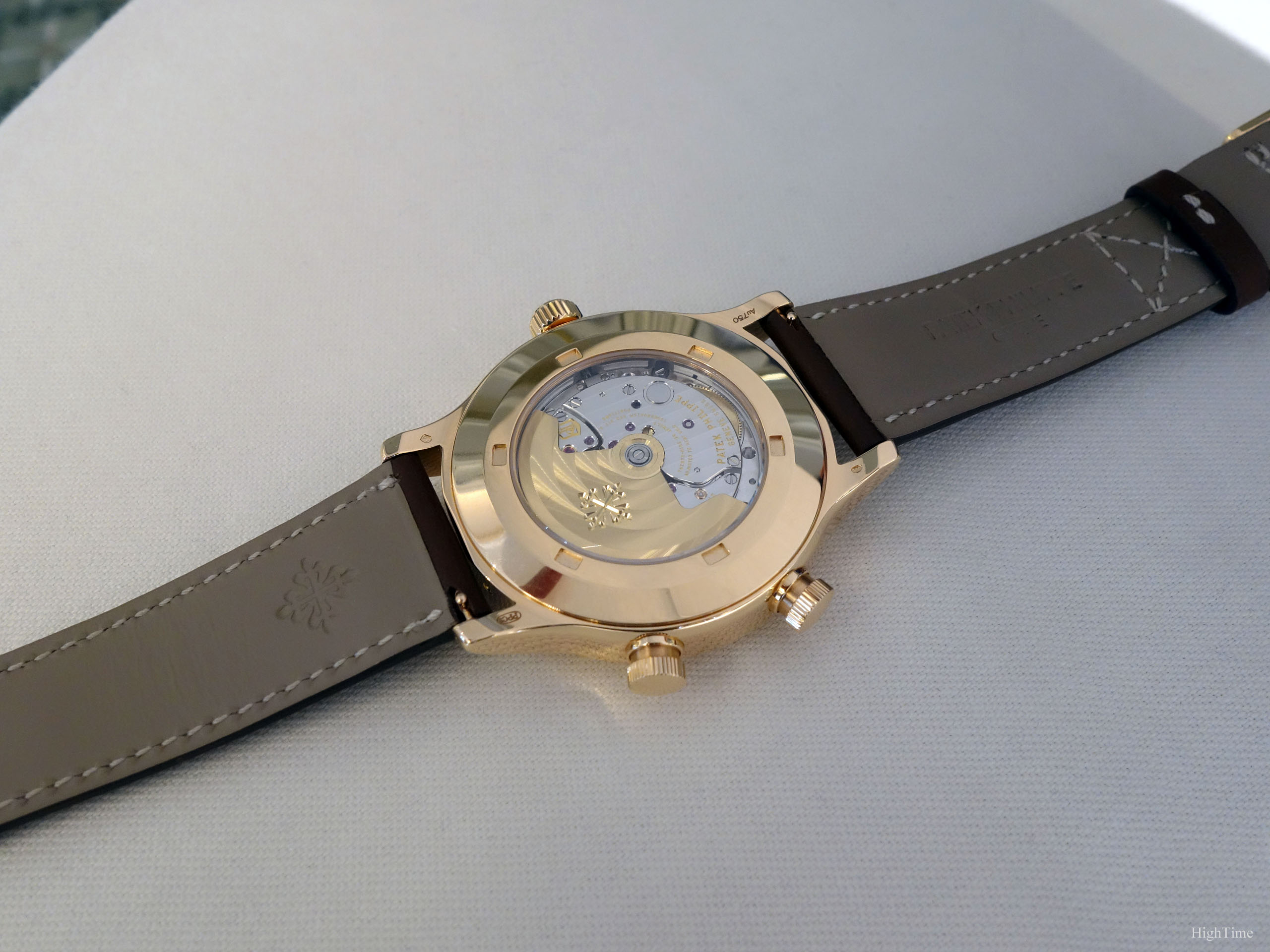 The Patek 5524R has a stop-second feature and is 60m water-resistant.
About the Travel Time complication
I already had the opportunity to say how interesting and clever this Travel Time complication is (5650G, 5326G). Firstly and most importantly, while setting the hour hand forward or backward (with the pushers at 9 o'clock), the date will adapt accordingly around midnight, hence forward and backward too. This is a major design and what makes this Patek complication so special and well conceived.
Secondly, the pushers at 9 o'clock can't be activated accidentally together. A small piece, linked to a pusher, is preventing to do so by disengaging a lever that activates the right gear.
Thirdly, a cam integrated to the hour wheel is preventing the date to be manually changed around midnight.
This a very interesting complication in which many clever and simple (reliable) ideas prevent the owner from making the wrong move. This travel time is indeed very practical, able to be set very quickly and safe for the movement. Besides, it won't be impacted by time zone standard changes.
You can find here below a very interesting official video with Mr Barat, Head of Watch Development at Patek Philippe, explaining the Travel Time module (from the 5:15 mark), originally launched in the Nautilus 5990/1A:
The Travel Time module explained in the 5990
Conclusion and Thoughts
Well, this sums-up what I think of this recent reference and what place it takes in Patek Philippe's catalogue: a very attractive and unusual novelty which will have a positive impact on the brand's fulfilment for sure.
My view is that the Patek Philippe 5524R is a watch inspired by the pilot watch history but isn't one. The "pilot" theme supports the watch for a "sportier" owner, wearing a strong character Patek watch, saying a lot about its wearer, whithout falling into show-off areas. It's the most masculine and casual reference Patek has ever produced. More than a Nautilus or a 5960/1A in my opinion.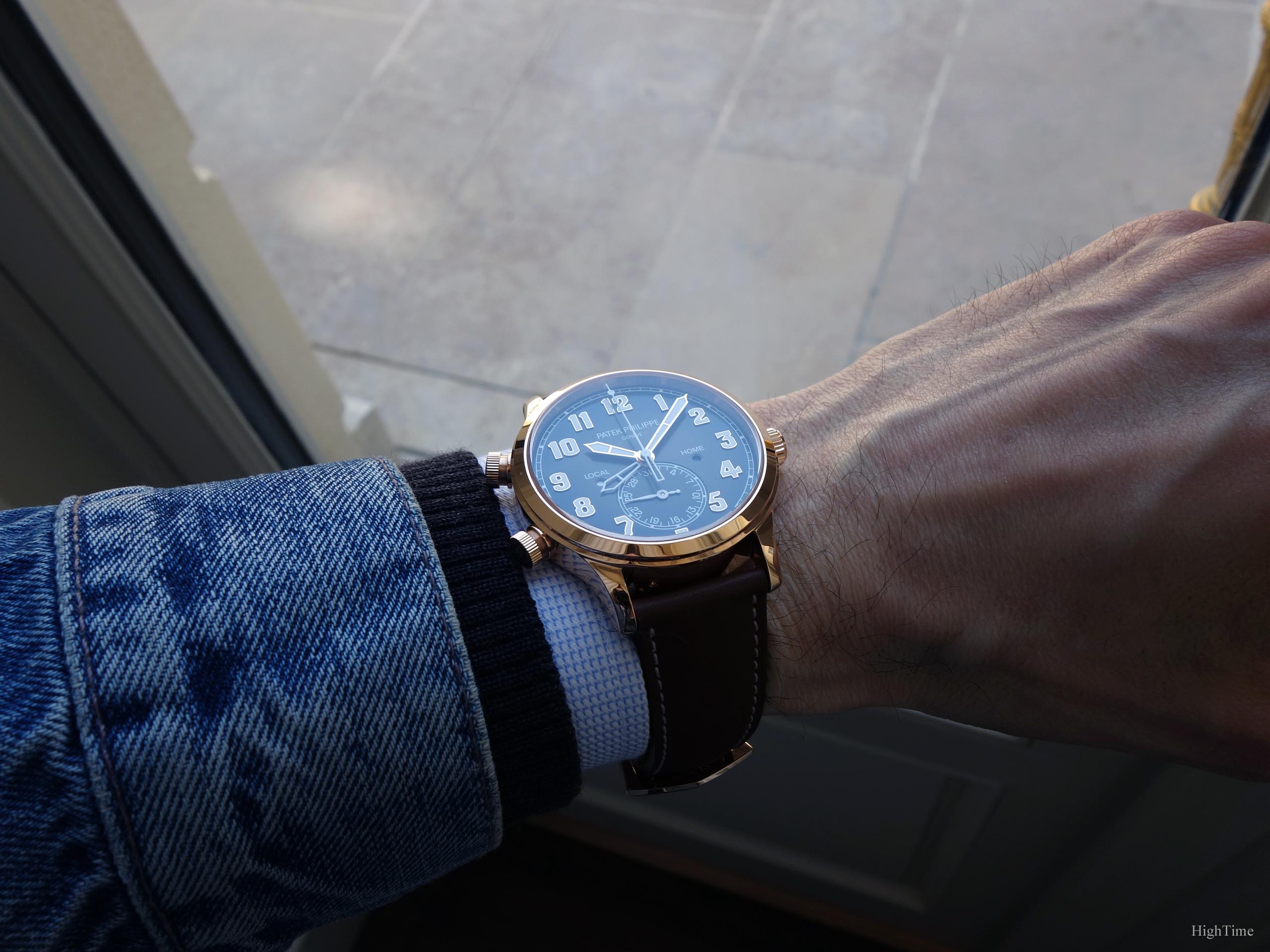 Most of the watches are too bulky or look much wider and don't have the elegance in the material choices the 5524R has (rose gold and dial texture, movement). We can already today, after 7 years from the launch of the white gold first version, observe this family represents a nice hit in its field, and not because of speculation or rarity reasons.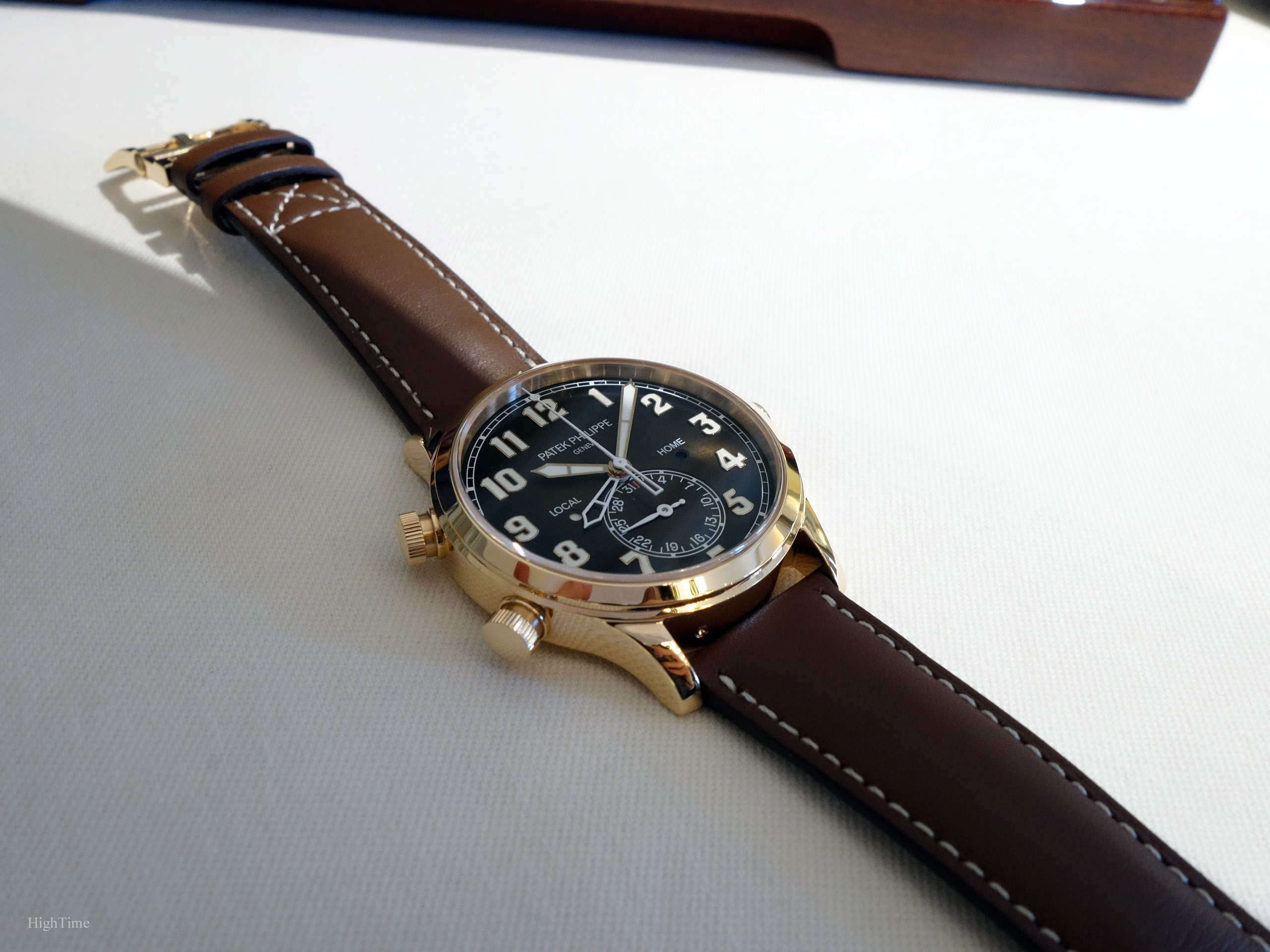 Aside of jeans or kakhi fatigue material, it's the kind of watches you can even wear with elegant suit pants and a shirt with risen-up sleeves. An elegant and casual way. That sportier spirit and use wouldn't make precious metals a natural choice at first but all these sporty watches aren't always used that way. Just like all divers aren't used to diving either. It's a sporty look and a casual spirit that make owners wanting to wear it without caring too much. It was the same principle that guided Patek Philippe to the Nautilus in 1976: Patek owners wanted a watch they could wear outside the office for sports. Since, they also do it for the sporty "lifestyle" look.
With this Travel Time, Patek confirms the trend by providing an everyday wear useful complication for people who are traveling from time to time and find convenient to be able to follow 2 time zones at a time, while being able to change the local time easily.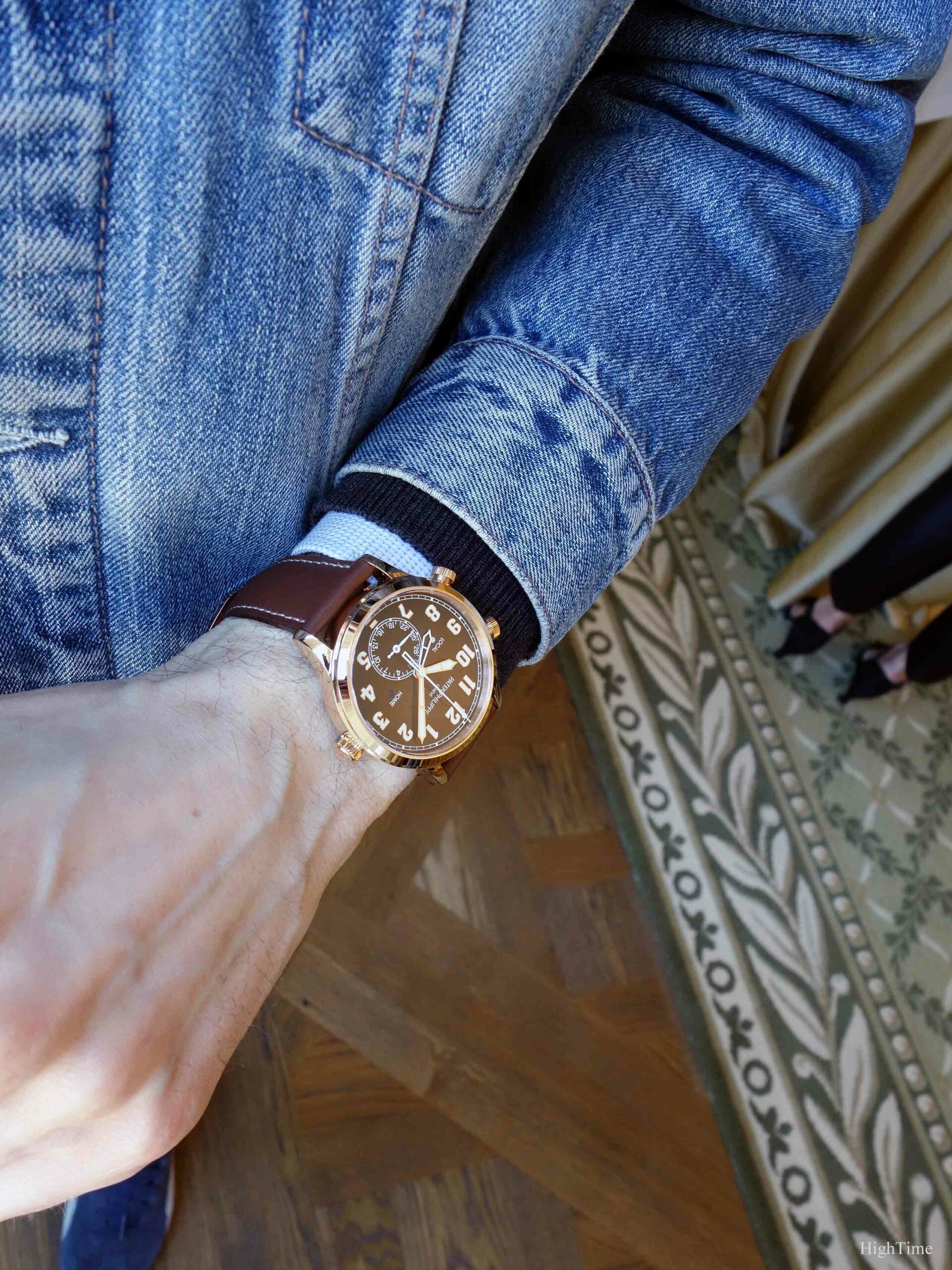 Let's emphasize that accuracy, finishing and technical evolutions in a simple and smart way, not making complex just to be complex, are definitely ones of the brand's great assets.
Of course, today, the world is different and such model meets the pleasure of wearing a Patek Philippe in a more casual and modern way, even with suits if the owners feel like it. Many clients want to wear a sporty watch but with the luxury "dressy" spirit coming from a precious material and its finishing level. "Sporty" should then be taken as a style instead of a use.
From these evolution and needs, it's easy to understand why this Patek 5524R is here to stay, participating in the brand's thriving desirability.
You can have a look here below at the Patek Philippe Pilot references timeline:

As usual, here is the link to Patek's Pilot watches page:
Pilot watches page on Patek's website
The Patek Philippe 5524R-001's MSRP as of today (2022) is 52 400 € (VAT incl.) and you can find more on the official site, here:
The Patek Philippe 5524R on the official website
Thank you for reading!