The long awaited Nautilus – The Patek Philippe 5740G Perpetual Calendar
Hello everyone,
For quite some time before its launch, the Patek Philippe 5740G Nautilus Perpetual Calendar was a kind of dream for many in the sport-chic line of the brand. The reason was it would embed one of the finest functions of watchmaking, the "perpetual" date indication (also called "Quantième Perpetuel"), requiring no setting during the year as it even takes into account leap years (hence February's 28th or 29th uniqueness).
At last, in 2018, we've been provided with the complication echoing the Nautilus' "chic" side. Indeed, whereas the complication was historically observed in traditional references only, the thinness of the 5711/5712 models contained already the seeds of an extraordinary feeling: an unrivaled comfort and elegance. And this is no communication trick as it should really be experienced to be fully appreciated.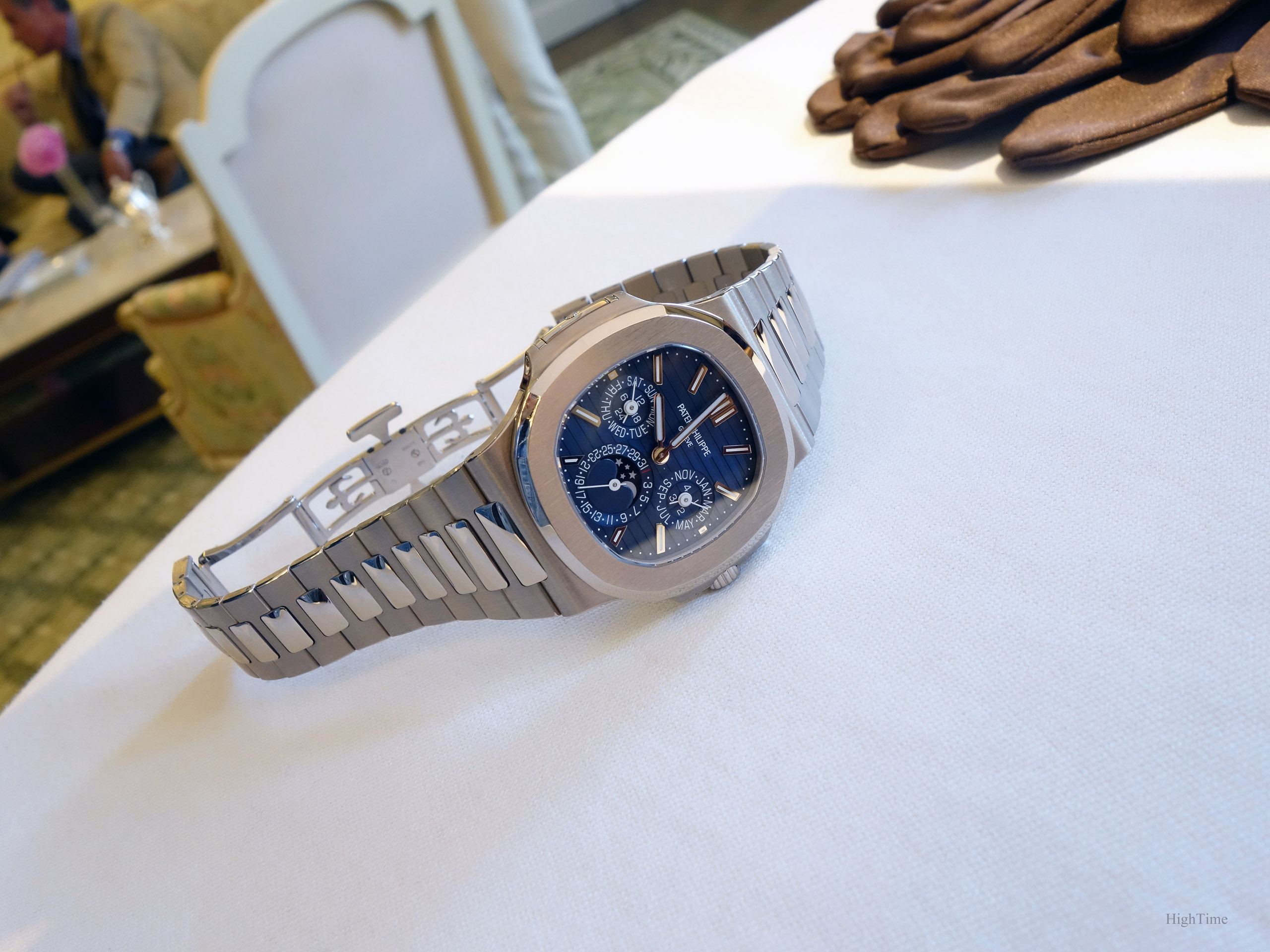 Regarding today's habits, bringing to the Nautilus what are some of Patek Philippe's greatest assets, its Perpetual Calendar excellence, its case and bracelet craftsmanship and its finishing quality and thinness, is a major answer.
The Nautilus body as a perfect cocoon
A white gold Nautilus is an interesting, impressive and fun wearing experience. You can sport such model with any simple attire and it will still look cool. Wear it with a nice shirt, a jacket, jeans and it will bring a casual clever elegance. Empower this combination with a suit, it will express a very fine taste. Finally, wear it with a short and a polo shirt or with latest destroyed fashion apparel and it will feel "like home" the same way.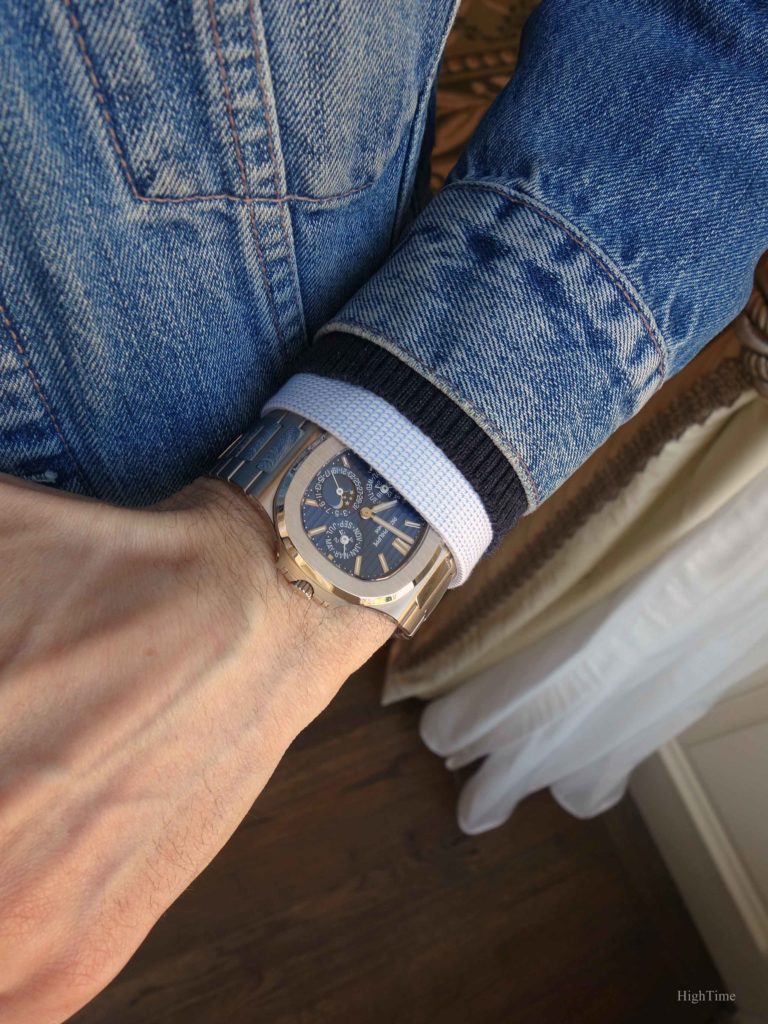 Historically and in demand from most of its customers, a watch from Patek Philippe is expected to remain elegant; always with a classic touch communicating a tasteful way of living.
The 40 x 8.42mm case (to be compared to the less complicated 5711's 8.3mm and the 5712's 8.5mm) makes it Patek's thinnest Perpetual Calendar. Indeed the Patek 5327 Perpetual Calendar, from the classical line-up, is 9.7mm (and 8.8mm for its predecessor, the 5140). However, let's not forget that the dimensions aren't the only characteristic to take into account. Indeed, the proportions are quite ideal as well and this combination is what makes the 5740G so beautiful and refined.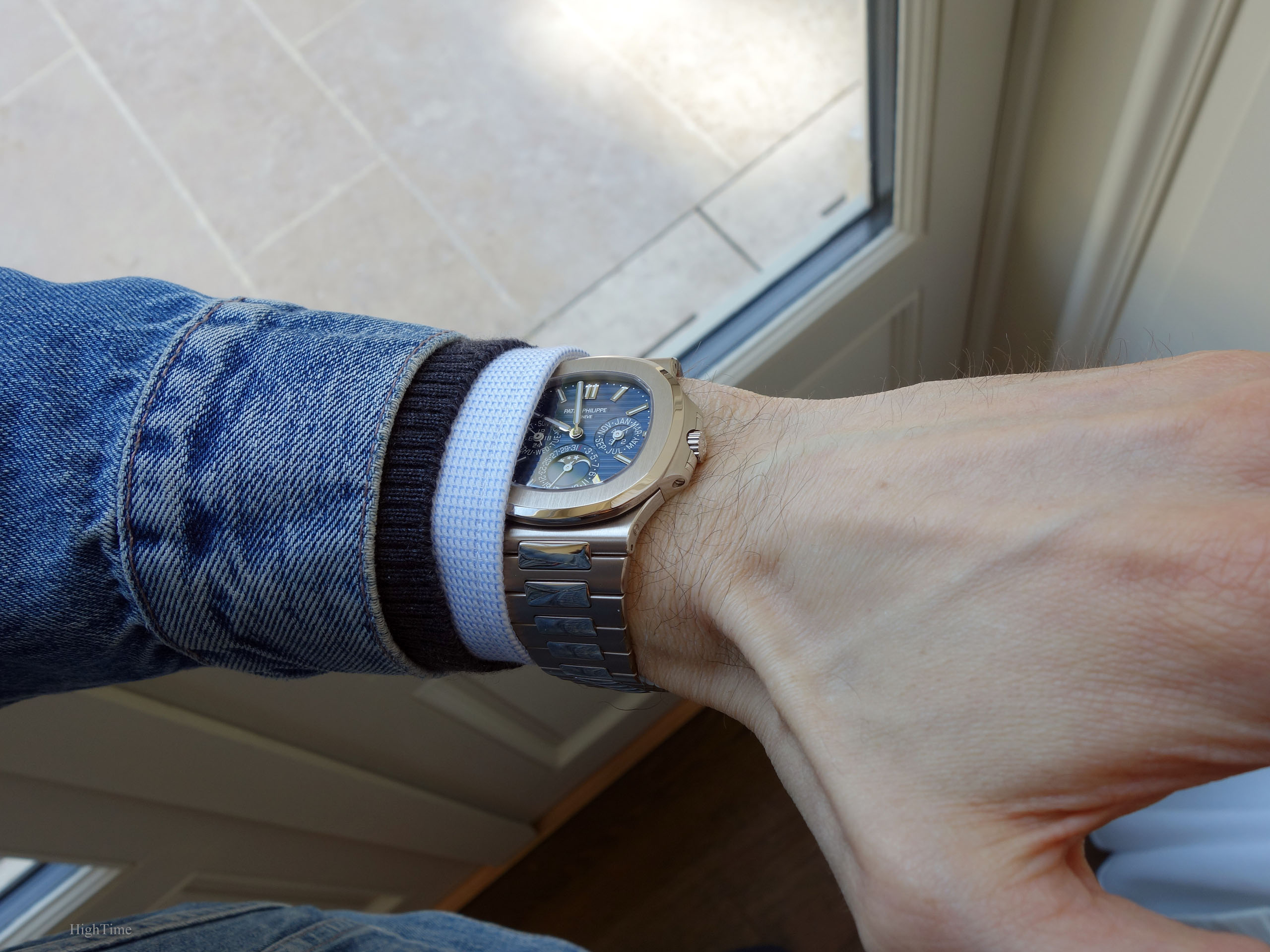 These are the implacable facts we are facing with this new Nautilus model, recognizing a strong asset the brand has mastered and preserved for so long now.
Aside of the case itself, the whole bracelet and case parts require quite an amount of experienced know-how and skill to craft, to say the least. It's difficult to find a craftsmanship equivalent in the case, bezel and bracelet manufacturing process. Especially since we are here mostly dealing with non-flat surfaces. Taking care of rounded surfaces compared to a flat portion of the watch represents an additional complexity that shouldn't be underestimated.
I don't know why but it seems to me that these different surfaces merge to produce a visible contrast, yet within an overall smoothness.
We are often blasé from all the communication about finishing and craftsmanship we're subject to, but it's sometimes important to realize how many years of practice these techniques require. Indeed, the way each link is brushed or polished, the way they so closely and perfectly interlock, and the way they are beveled on the side edges lead to an amazing result.
_
If you are interested, here is how Patek describes its crafting
"The Nautilus, […]; it's also perfect for the purpose of illustrating case and bracelet hand-finishing – and in particular, polishing techniques. The polishing alone includes machine sandblasting, lapping/emerizing, felt polishing, satin brushing, and polishing and buffing.
After machining, it takes around 55 different hand-finishing operations to complete the Nautilus case and bracelet. It begins with preparing the exterior links one by one: emerizing on the underside and satin brushing on top. Then preparing the center links one by one: emerizing on the underside, mirror polishing on top. Next is the assembly of the bracelet: fitting the links together and driving in the pins.
Chamfering, which means cutting away sharp edges, is then performed on the underside and top of the bracelet. The underside and top are then satin brushed for a uniform surface. Next is masking – protecting the surrounding area ahead of the next operation with lacquer or tape, and attaching perforated masking tape along the top of the bracelet. Then the center links and chamfer work are polished and buffed. Next, the clasp is assembled, adjusted for tension, fitted to the bracelet, and the cover riveted (on a triple-blade clasp). A final inspection follows this.
[…] The professionalism of that finish is what gives it its fluid, cosseting feel against the skin, and provides each link's separate interaction with the light it catches. […]"
_
That is a very significant reason of the attractiveness of this Nautilus line-up, which isn't labeled as a complication. Yet, it clearly should.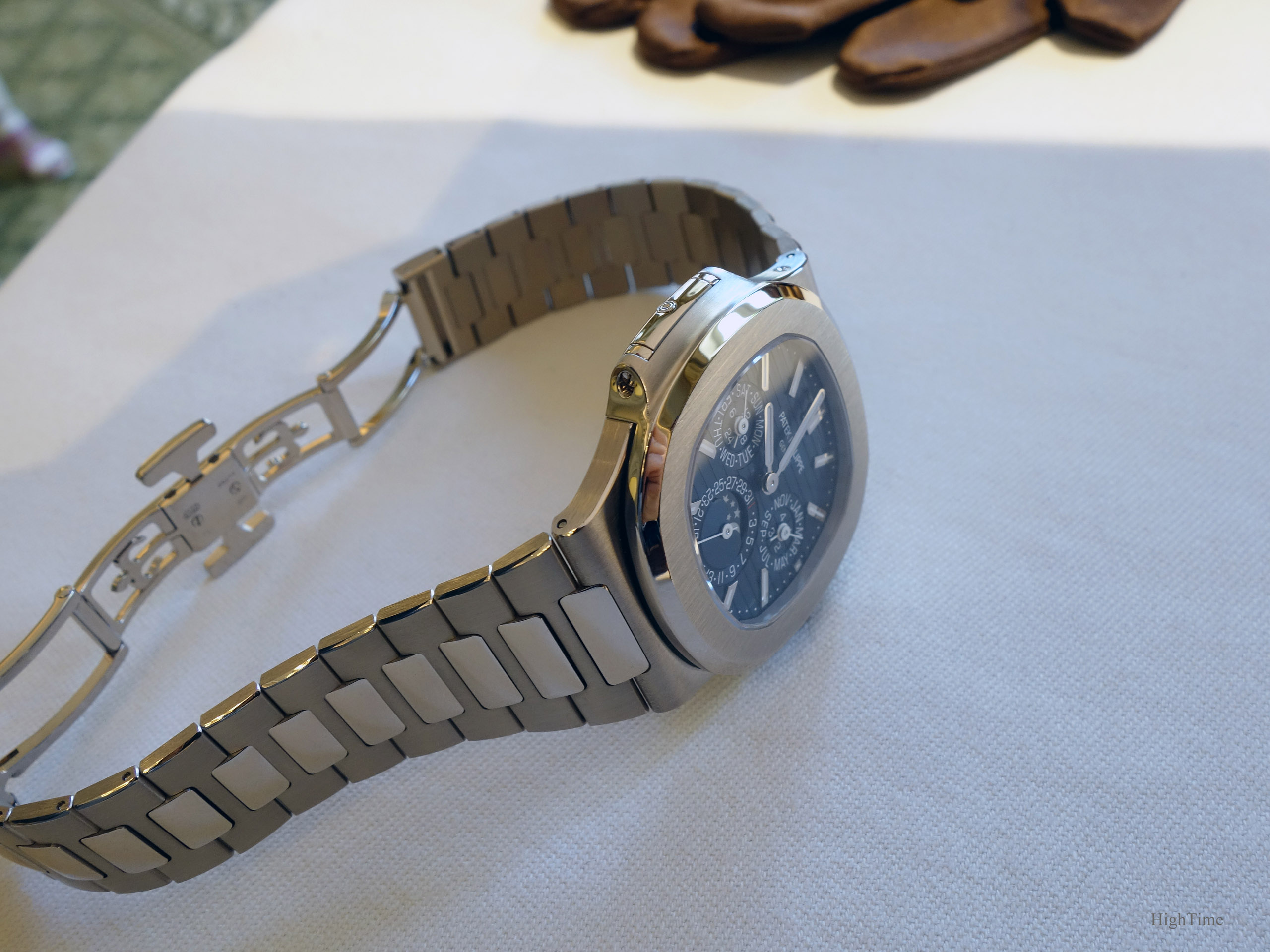 Overall, on a strictly visual and aesthetical standpoint, I think that the combination of polished and brushed surfaces, the nice link beveling, combined with such subtle balance, make that I don't see a real contender that can offer such an elegant and outstanding result.
We don't really pay attention to them anymore but, as an illustration, you can see how beautiful the case hinges are (visible on next picture).
Aesthetics in white gold
A few words about the 18k white gold it's entirely made of. There are obviously 2 main differences compared to steel.
Firstly, it's heavier, and I must say this gives a very nice impression on the wrist while the whole bracelet hugs the wrist warmly. This is a very pleasant feeling that I had noticed long ago when trying a 5711P. The latter experience made me change my mind on the fact I didn't understand such an additional weight at first. It confirmed my feeling that wearing a thin Nautilus is synonymous with feeling none on the wrist. That's maybe a good sign of its well conceived design. Of course, for sports, the lighter the better.
Secondly (and mainly), the brightness and the contrast it brings. It's luminous without being too shiny; it's so beautiful to look at, especially compared to steel. This is something I have observed in some Aquanaut models as well.
White gold has the shine and strength that steel doesn't have. Rose gold has the fun as well (soon to come?). That's why I appreciate white gold very much even though steel is lighter, hence providing an additional comfort, and in high demand today (since quite recently in fact). It was already obvious in the 5172G and 5650G I reviewed.
So, how long since clients switch back to gold love because they give steel the cold shoulder again? No clues, but I know what superior hues gold brings to an object and it is gold I favor compared to steel aesthetically wise and for its rarity.
This is why I believed with the 5164R in 2016 that Philippe and Thierry Stern had made the appropriate analysis of what should be the right proportion of Steel in their output (hence the right place of gold). Precious metals should not be put aside as if it was yesterday's materials.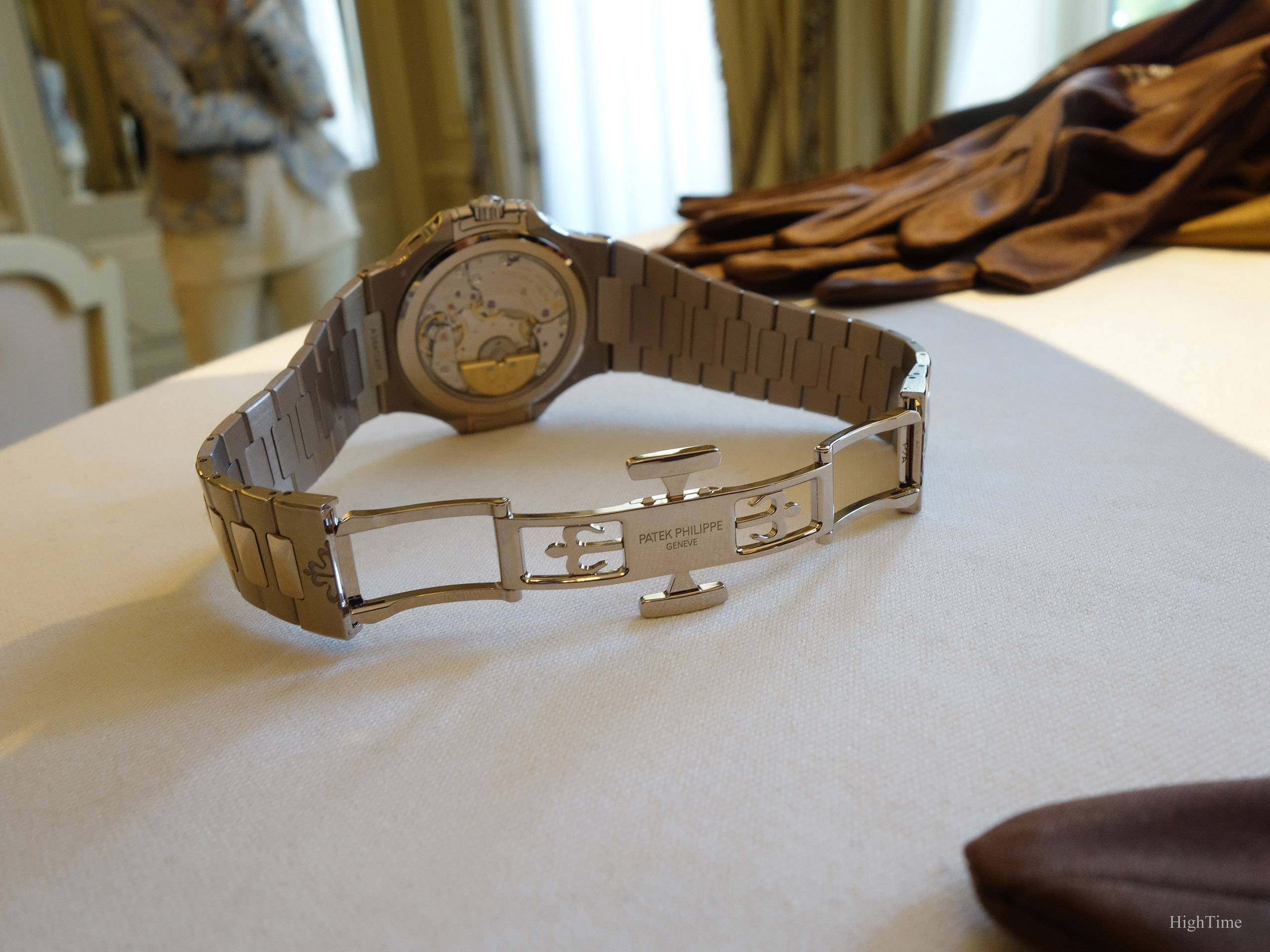 In a nutshell, white gold for the "chic" side and steel when in the "sporty" mood (or need). Both bring an answer to one's envy.
I still remember when I wore a Nautilus for the first time, it was a 5711A, hence a thin model. I was wearing a nice shirt with a navy blue suit. Looking at my wrist, the overall picture looked so perfect to me that it was love at first sight. It's from that moment that I finally understood what all the fuss was about regarding the Nautilus. It was a little more than 10 years ago.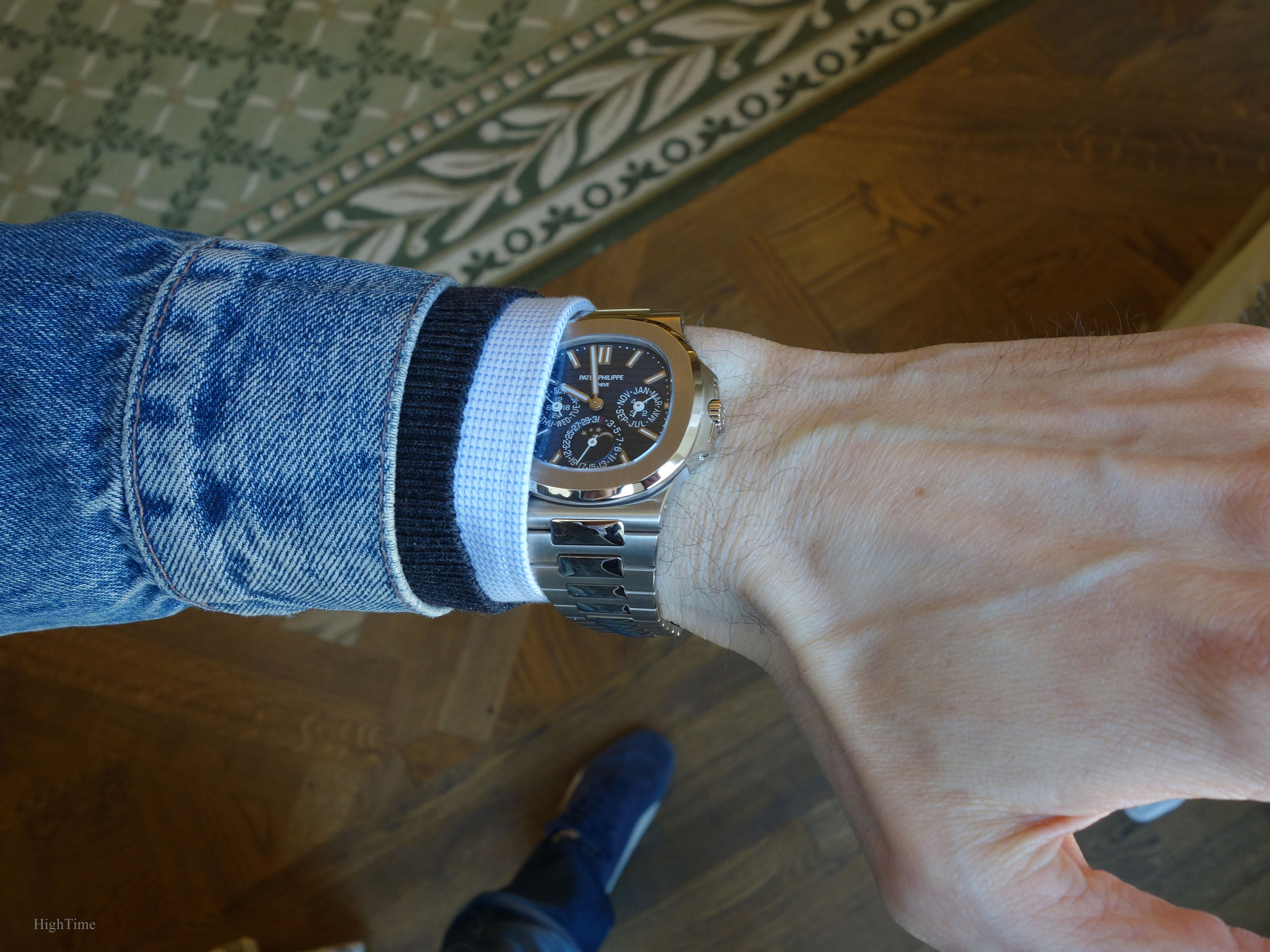 Since then, I always felt the Nautilus line-up was the kind of family I could own several models from.
However, the thinness of the 5711 and 5712 are a trademark on their own as they showcase upfront this unbelievable chic from a casual yet classy metallic watch.  Though it remains something very rare today, even outside the watch world, it is particularly matching today's refinement evolving standards.
This Nautilus 5740G is a reference I admire and I'm glad I could handle as I don't think we'll see many of them in the wild.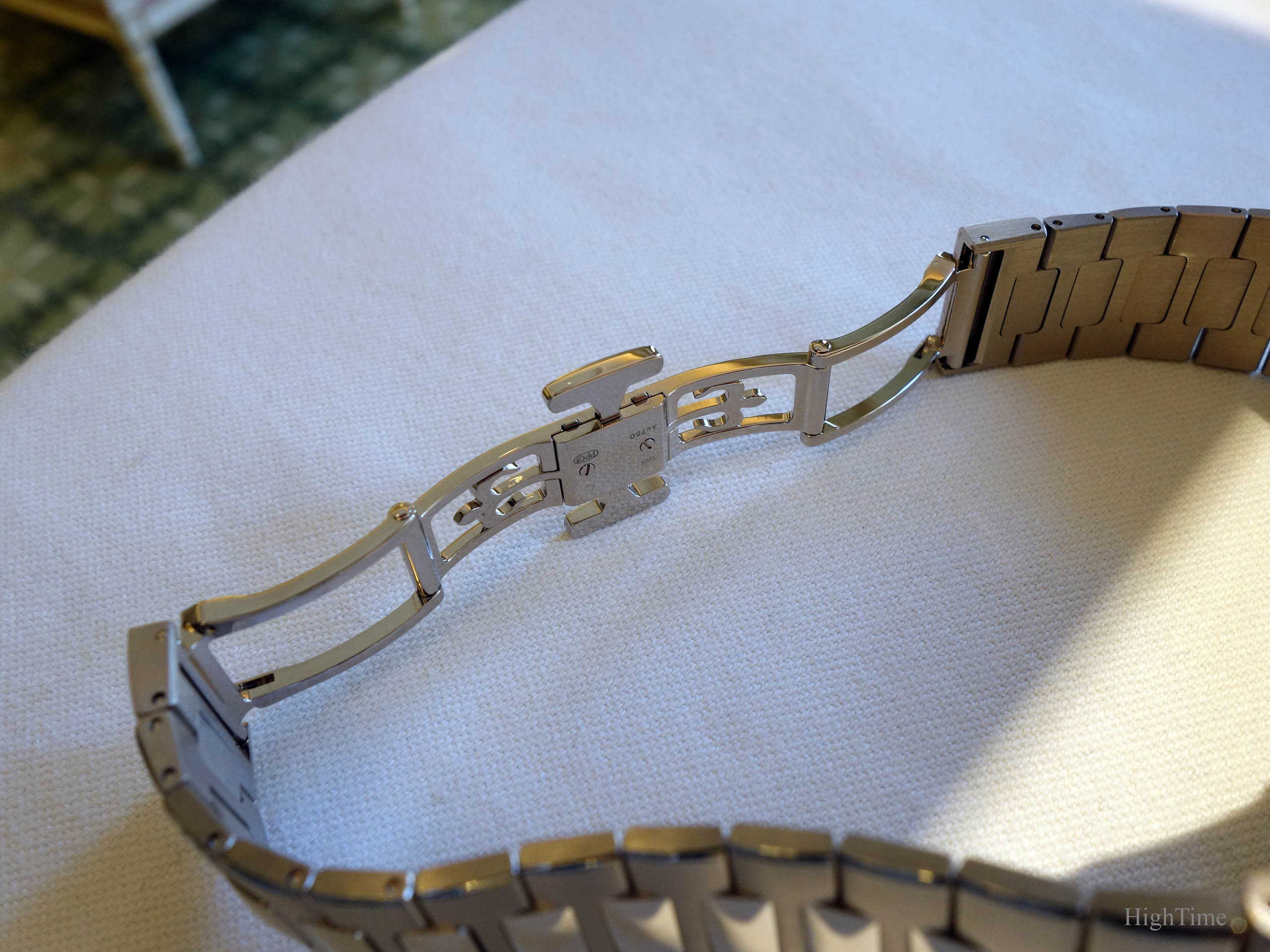 In addition to the bracelet, the Patek 5740G was presented with the brand's new fold-over clasp (patented), thin (hence comfortable) and cleverly designed (cf. my article, here New fold-over clasp review).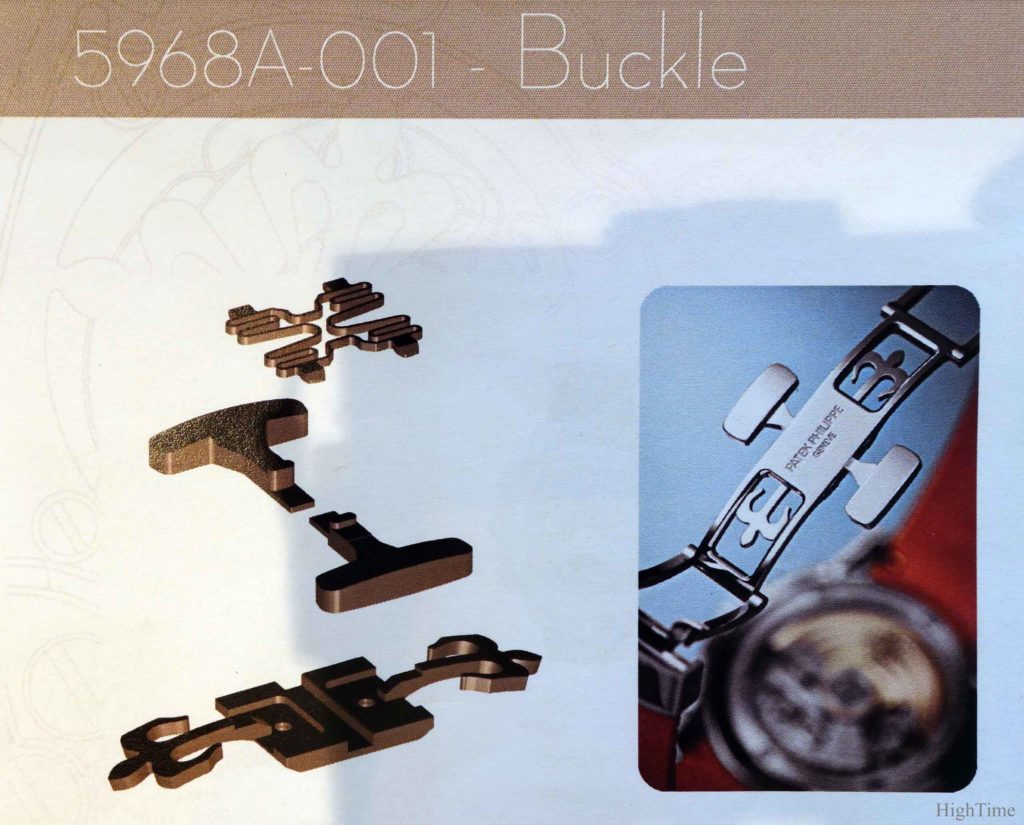 Finally, the watch is 60m water-resistant (30m for the classical 5327 reference).
The dial side
Of course, the dial is another major component of this magic.
Indeed, so much has already been said and shown about this Nautilus dial. Compared to the other thin references, it displays quite a volume of information. This is what results from housing a Perpetual Calendar complication that provides the day, date, month and leap year, without needing setting, even during bissextile years.
The gradated dial counts a lot in the impression the watch leaves. It's a huge asset of the Nautilus line, especially in blue, as the iridescent rendering goes from a dark grey to a lighter metallic blue (due to the galvanic coating technique). When staring at the watch under any kind of light, this is what's the most mesmerizing. The latter word isn't just a marketing superlative. It truly is and you might never get tired of its appeal.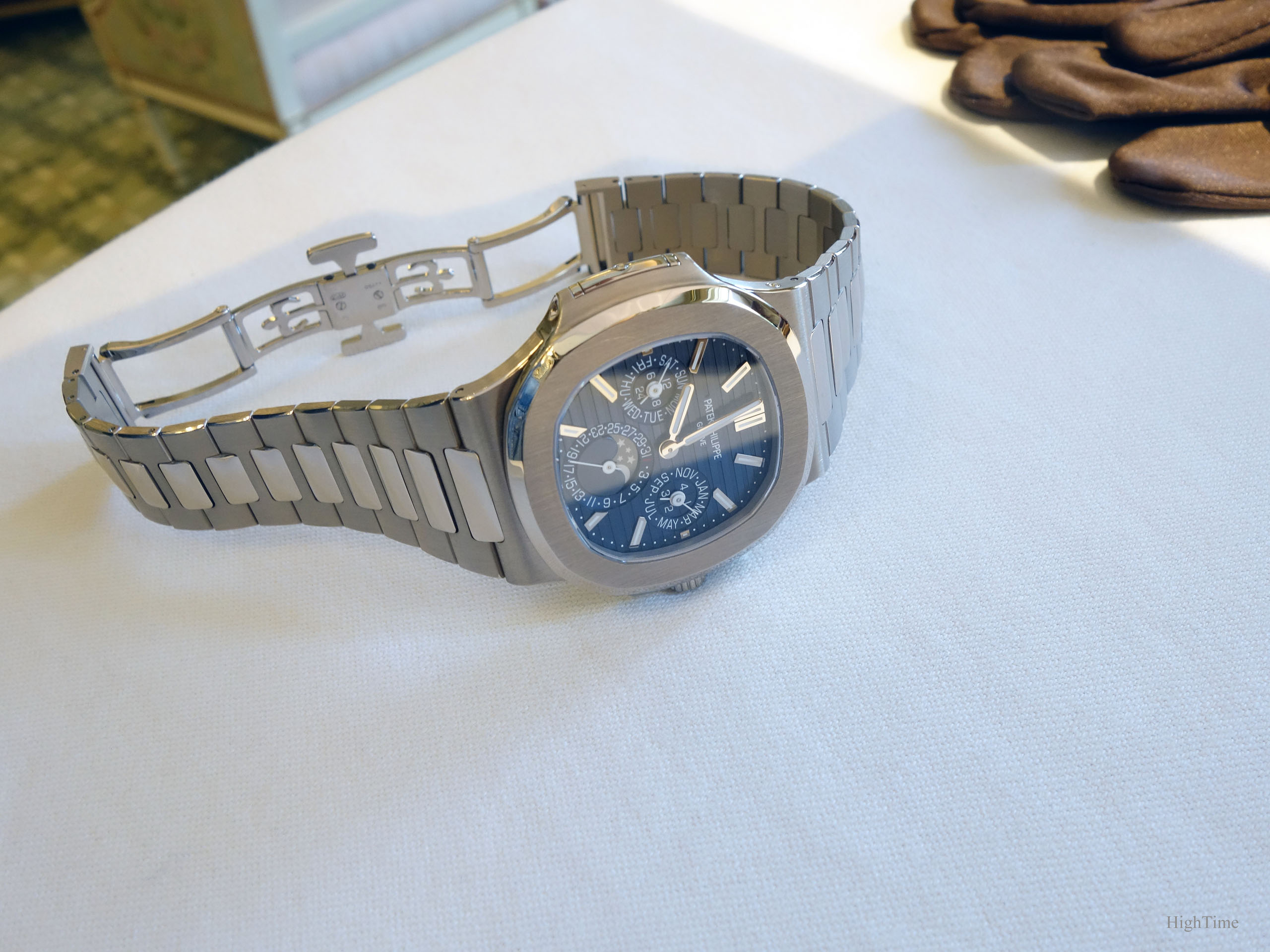 However, in this reference, Patek chose the blue tone from the 40th anniversary editions (2016). Hence it is a little darker than the usual Nautilus blue we can see for instance in the 5711 or 5712.
This is a significant multi-layer craftsmanship I think Patek masters beautifully and coming back from its origins as a dial maker (Stern Frères). The way multiple layers of colors interact is something very important in painting for instance.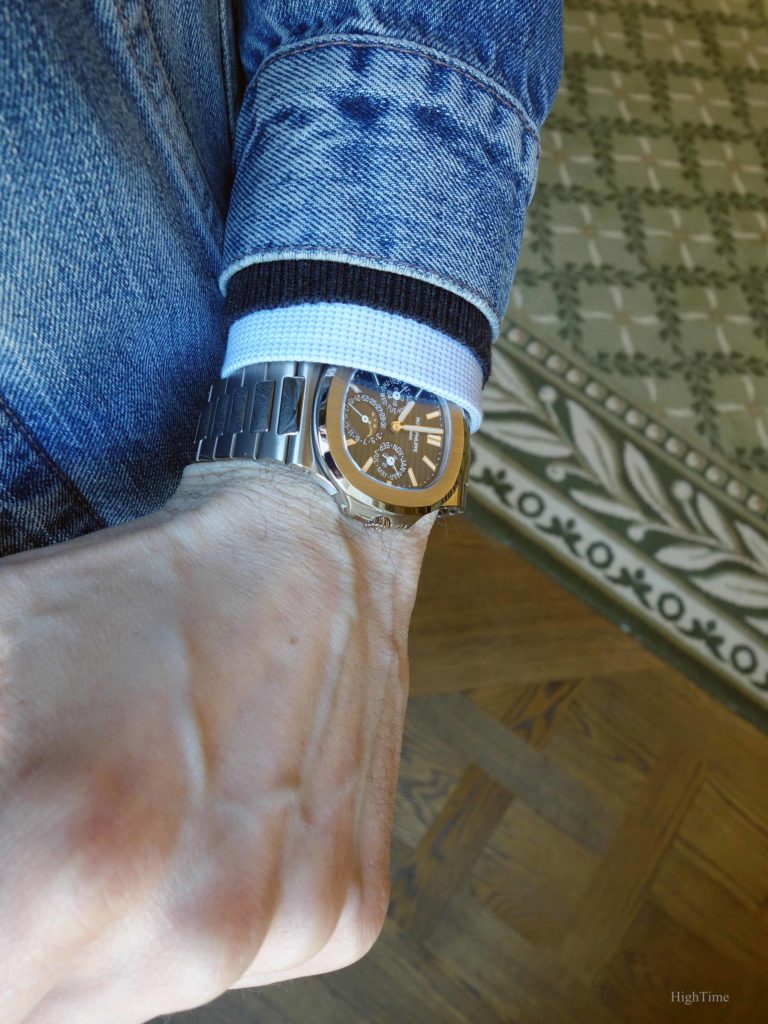 The applied gold markers and hands are still as beautiful. They don't look "squared" but very delicately edged in order to keep this attractive visual softness in the dial composition. This is inherent to high craftmanship and it is something one notices beter and better by experiencing again and again elements observation. The eye ends seeing clearly what was imperceptible at the beginning. That's why judging on pictures only, not only doesn't show the real level of finishing but doesn't allow to acquire this useful acuity with time.
Finally, next to them, the subdials have received white lacquered hands to separate the date from the time information but it also sheds a more casual light on the front side. This has already been done on the 5140P grey dial in the classical line-up.
The movement side
The 5740G is only the second Nautilus (after the 5712) receiving the beautiful, accurate and reliable 240 caliber. The bridges' shape, the way they are designed, the decoration thinness and the size of the movement: everything converges to bring so much appeal to this emblematic movement. And let's not forget the renowned decorated micro-rotor, specific to this caliber. By the way, its architecture is what makes this automatic caliber that thin, hence the case's slimness.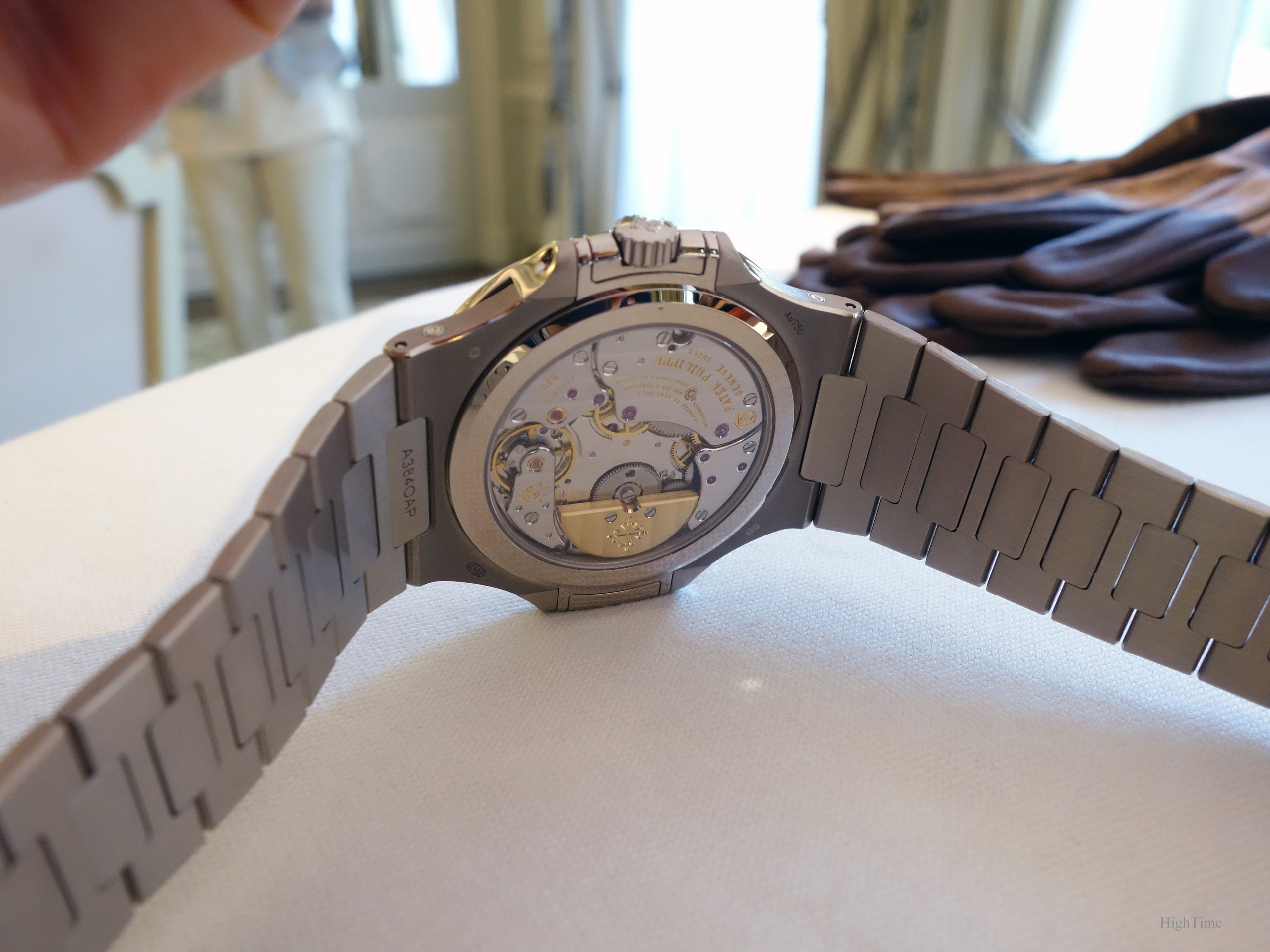 Like many movements coming from the brand today, the 240 caliber is equipped with the Silinvar spiral (Spiromax) made of Silicon (anti-magnetic, less friction, no need of lubricant).
It leads to a very reliable caliber that has evolved from its early conception to a level where it is hard to improve (yet). This 240 movement is just brilliant and this sums-up what this whole new Nautilus is.
Conclusion and Thoughts
As I said before, I personally love the slimmer Nautilus models. In that regard, it's funny to see that the most expensive references are this 5740G Perpetual Calendar and the 5711P. Another sign that thinness is a major asset Patek Philippe is attached too.
The Nautilus looks like no other in the watch world and this new Patek 5740G has the very elegance of a refined watch combined with a contemporary aesthetics (which is quite a challenge for a model born in 1976 from Genta's design).
Those who were especially looking for a major grand complication housed in a sporty-styled watch, couldn't find an offer from Patek's catalogue. With this 5740G reference and its thin Perpetual Calendar movement, they have been served in a particularly handsome and memorable way.
It suits masterfully today's habits, the need for elegance and versatility. It is one of the most comfortable watches out there and a symbol of craftsmanship more and more horologically educated clients were longing for.
For sure, thinness and Perpetual Calendars are core ingredients of Patek Philippe's legacy, yet the brand staged them with such an awesome style with this Nautilus 5740G that it's a masterpiece in its field.
You can find the clickable Nautilus timeline from its birth in 1976 to 2016 (40th anniversary) here:

The MSRP for the Nautilus 5740G is 117 300 € (incl. VAT) as of today (2021) and you can, as usual, find more information on the brand's website, here:
Thank you for reading!