Watches & Wonders – The Patek Philippe 2022 novelties
Hi everyone,
So here it is, the long awaited 2022 novelties presentation which now is held at Watches and Wonders in Geneva. Let's have a quick look at all the wristwatches unveiled this week with a little emphasize on what characterizes them or what should be noticed, as a buyer or just as a watch amateur.
However, as usual, the true appreciation of the watch can only be valued from the "live" experience. The colors, the details' size, hence visibility etc… can be so tricky to assess from pictures (whether they are official or live ones). Yet, it is still worth making a little owner's tour, especially to determine what we should care for.
One thing before starting though.
Patek Philippe (and Thierry Stern) have I think shown with these releases that the casual/sporty bracelet watches aren't the only way to go, in the sense that there are other ways we might enjoy as much (even more?).
While many brands jump into the Nautilus and Royal Oak types, and yes this trend is powerful nowadays, Patek is daring to prove what they said : they don't want to be a mono-model brand and they don't want the Nautilus/Aquanaut (and steel) to take over the rest of the collections. It would not be interesting and would even be dangerous on the long term.
I think that many started lately to agree on the statement but hardly knew how they could realistically achieve that. With some of recent years' novelties and especially from what we see here today, I think that they might have been on the right path from the beginning. The 2022 line-up is quite incredible…
That's the moment when the competitors might realize they missed the train (again) and they are going to have to catch-up.
For people asking, I guess that's why Patek Philippe occupies such a revered place today. We will see what the future says.
Have a nice read!
Nota Bene: all the pictures are from Patek Philippe's official press release. And here is the official presentation video: Patek Philippe 2022 novelties official video
NB 2: the 5470P released later in the week can be found here The Patek Philippe 5470P 1/10th of a Second Monopusher Chronograph – Doing it right
Patek Philippe 5326G Annual Calendar, Travel Time
We are here provided with a totally new complication combination for the brand, hence new reference: an Annual Calendar with the Travel Time function. More than an aesthetical revolution, it is in the technical choices and development process that we recognize Patek's hallmark. Usefullness, reliability, not complex just for the gimmick.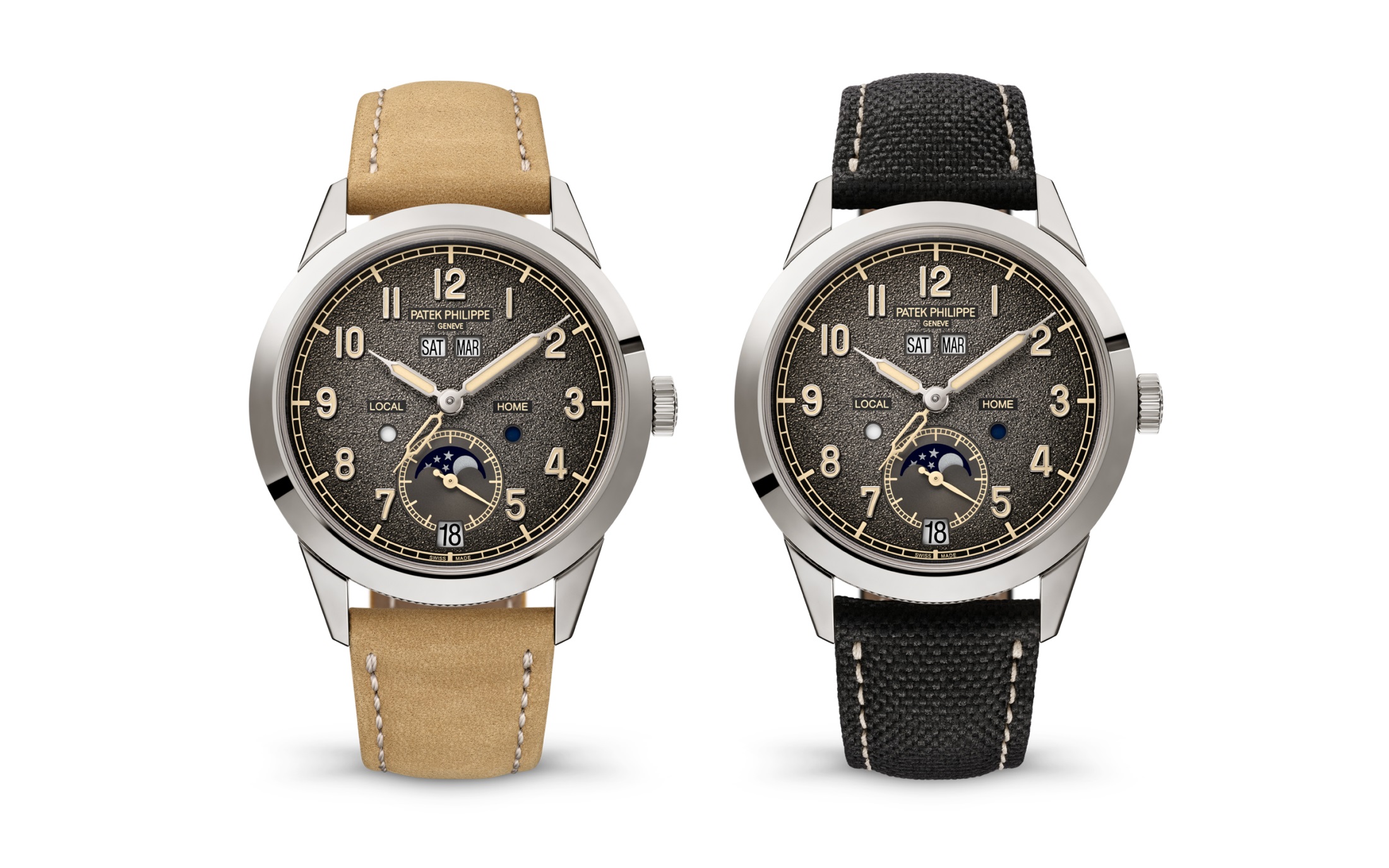 The case (41 x 11.07mm) is inspired by the 5975's structure (the 2014 175th anniversary chronograph, where the caseband is a little recessed compared to the bezel and caseback) and the way its lugs are integrated (5235's lugs shape). Indeed, the lugs are fixed to the caseback, leaving the caseband free to receive the hobnail decoration (already visible in the 6300 Grandmaster Chime or 5531 WT Minute-Repeater for instance). This spectacular junction between the lugs and the caseband just looks stunning and shows again that Patek cases are something appart.
The 5326G offers a very casual looking charcoal grey-gradient dial with a very grainy finish (the brand says it echoes "oldertimer cameras" texture). I find it works very nicely and smoothly with the "beige" colors.
The sideband is decorated with a "Clous de Paris" hobnail pattern and I love the 1950's elegant spirit it gives to the model (remember the S.T. Dupont 1950's lighters?). This is something we see in many models from last years, showing the current styling inspiration: pure 1940's – 1960's elegance. Many new let's say under 35 years old customers are new to this style and can refresh its coolness. The "Clous de Paris" hobnail will have a very different image from the older one that older customers knew.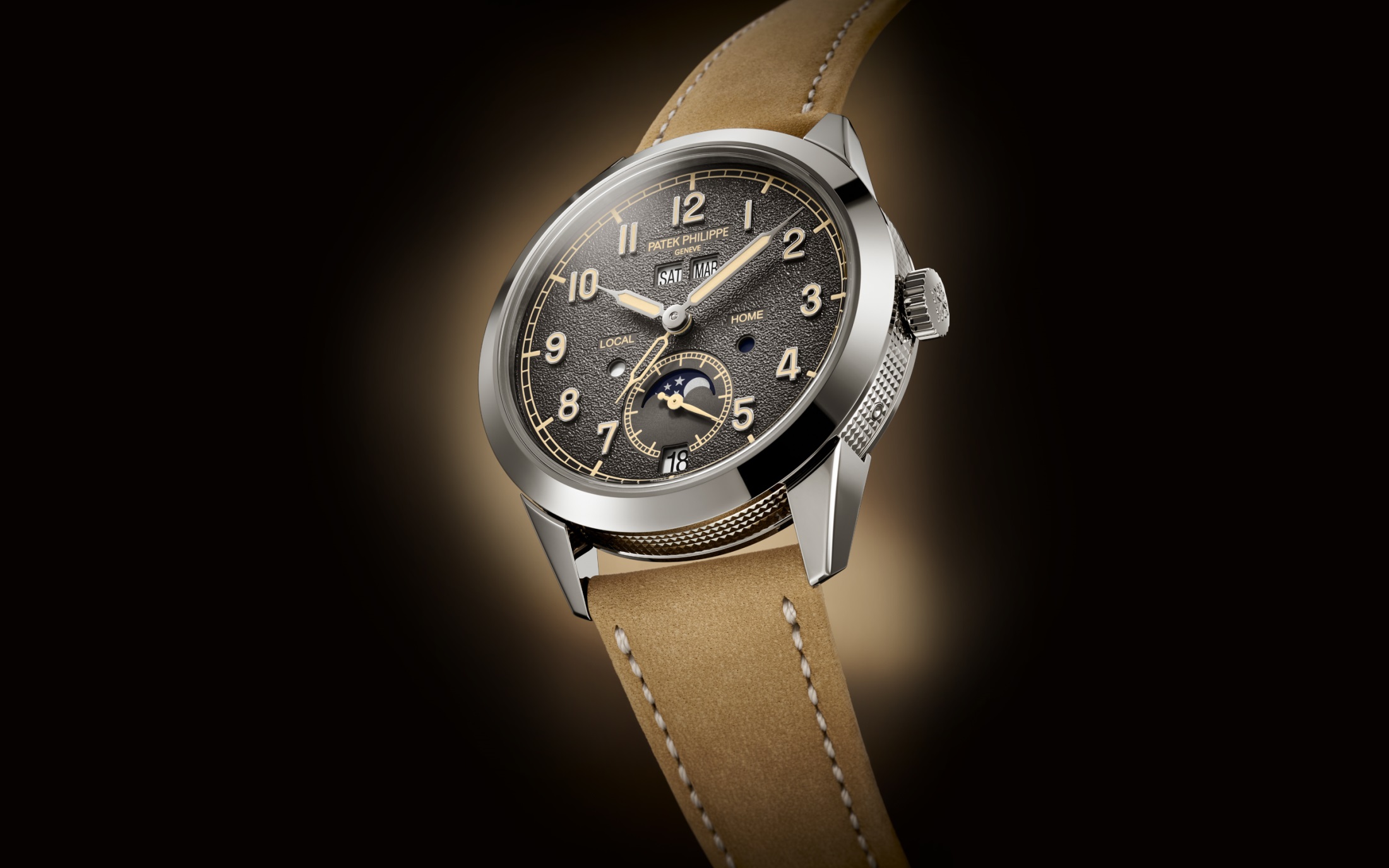 Because of the Calatrava-style case and the hobnail decoration, Patek decided to move the Local Time setting pushers to the crown (with a specific intermediate setting position), which represents a significant technical challenge. The other date indications are still set via discreet correctors.
The main dial elements are inspired by the 5320G/5172G with:
"Seringue" hands
Grainy dial
Applied luminova-filled numerals
The 5326G receives the gorgeous automatic-winding 31-260 caliber (mini-rotor) already visible in the 5236P.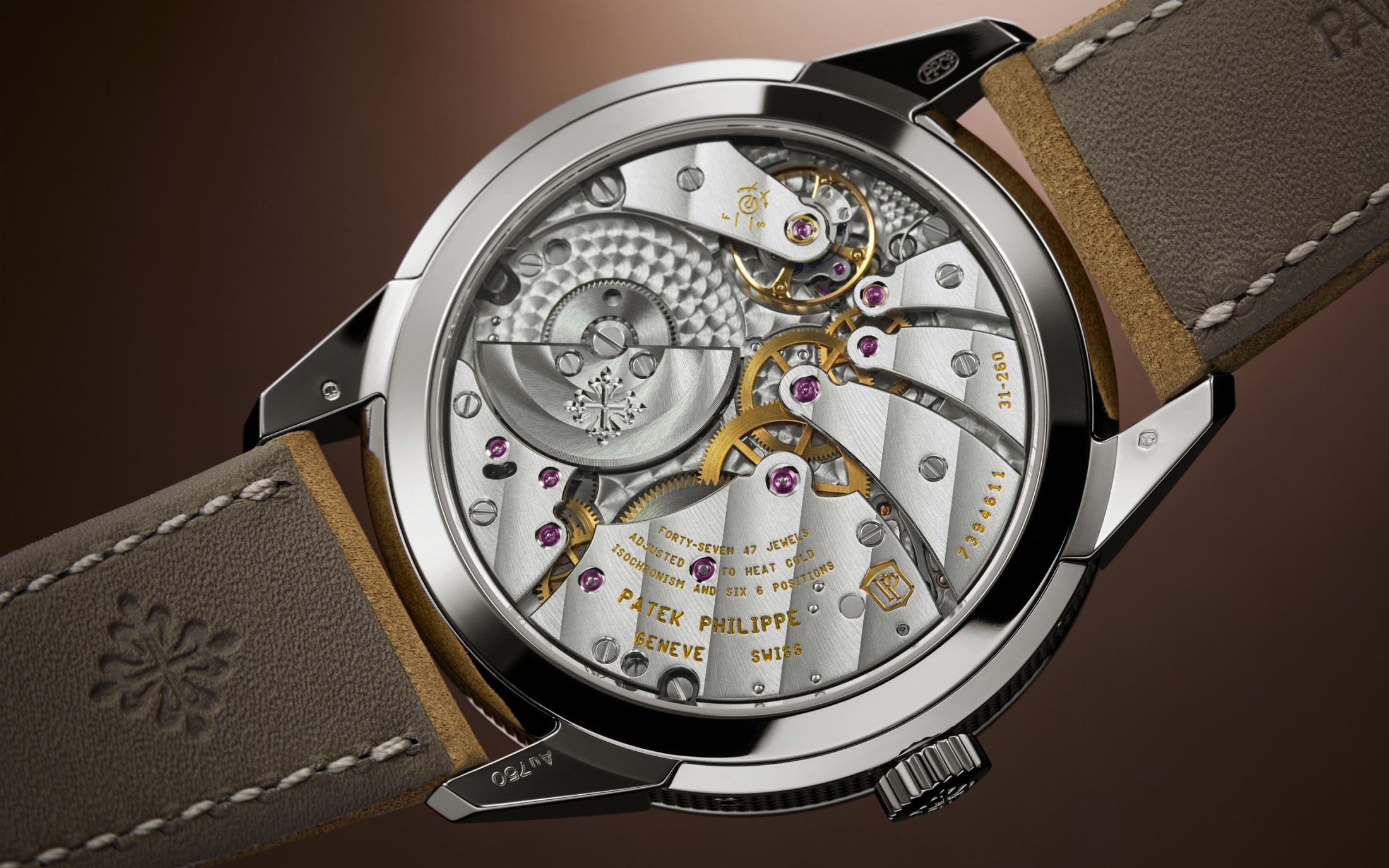 The modules are more complicated than we think, leading to 8 patents.
They are related to:
Energy consumption reduction: some wheels, only used during a setting manipulation, are disconnected;
Going from 30 to 1st and 1st to 30 without desynchronising the Date and Local Time;
Accelerating the date switch (from 90 to less than 20 minutes);
A system allowing to remove the Day disk without disturbing timekeeping or disassembling the movement (2 patents);
Better accuracy when changing the local time;
Avoiding date double-jumps;
and, avoiding damage when setting date elements during its switch around midnight (flexible blade feature), also known as the "deathzone".
The Annual Calendar is a very convenient date function (complete, needing setting only once a year) together with the brand's clever additional "Local/Home" time zone mechanism that can be set forward and backward without jeopardizing the movement around midnight. The latter appeared first in the 5990/5164 a while ago. It is even more challenging here as the Local Time is integrated with the Annual Calendar mechanism (several patents pending). To achieve that, they got the inspiration from the 5531 (Minute-Repeater World Time) where the Minute-Repeater is linked to the set time zone.
Whereas an AC usually switches the date in around 90 minutes, the watchmakers reduced the delay to less than 20 minutes in order to keep the synchronization when setting the local time (hence a little more energy consumption during that phase).
I think it is a very cool looking watch and this shows again the last years' aesthetical evolution of Patek. They were looking to find a new style orientation in order to rejuvenate the brand's image and spirit. Even if it's natural to meet a few bumps or questions from a more conservative part of their clients, I think it is spot on: it is modern, elegant without copying existing other styling and brands. The latter was the major danger such traditional brand could face. Preserving a personal identity isn't a mere task.
As far as I'm concerned, as with the 5524 or 5168 for instance, the fact they are in gold (white gold here) pleases me a lot. I always find that, versus steel (which is a successful material nowadays to say the least), white gold brings much more light and shine, hence contrasts. It generates this appealing luxurious feeling, leading to an additonal visual very attractive feeling. Of course, for someone who enjoys sportier activities (like with an Aquanaut) the lighter steel represents a strong asset. The thing is that most of the owners of such watches don't use them that way.
On the side, it is 30m water-resistant and is provided with 2 straps and a Fold-over clasp:
one beige calfskin with nubuck texture;
the other black calfskin with embossed textile finish and beige decorative stitching.
It is the first time we have the textile finish (aside from the 5208T OnlyWatch model) and it seems to look very nice. It provides such a very cool look for a casual wearing (maybe even better than the calfskin one).
We can imagine bringing this strap on several other references to transform them drastically. To check in the real.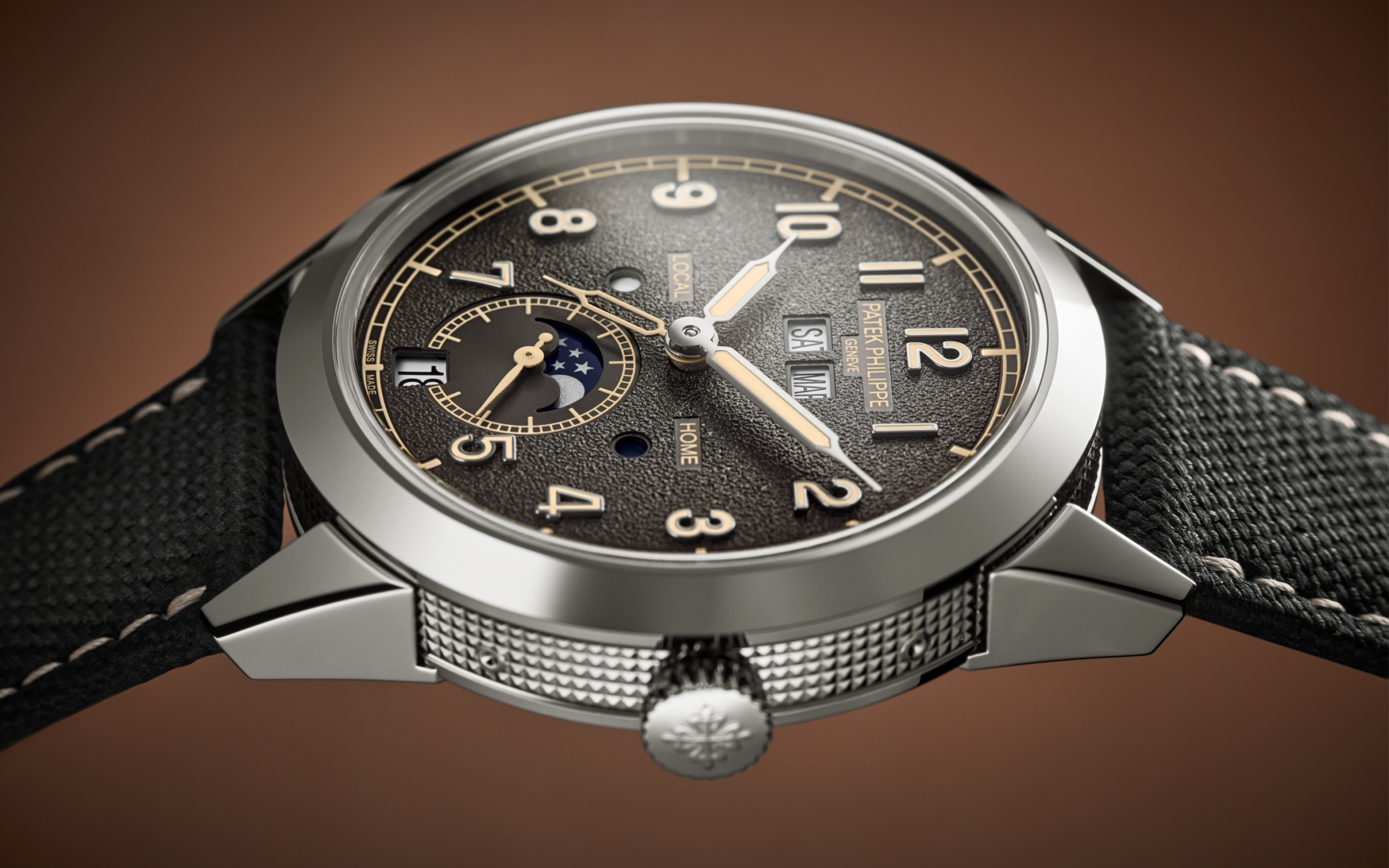 Together with for example the 5524, 5960G, 5172G, 5212A, etc… and while keeping a distinct classical line-up, the brand has undertaken a difficult and nice exercize in my opinion. So many brands in the past missed this period when tradition had to renew itself. Patek Philippe and his young president were criticized (to me, rather unfairly) in the early beginnings but these novelties have talked to younger as well as older generations over the last decade.
I'm glad they did. Still, to be seen in the real.
The Patek Philippe 5326G on the brand's website
MSRP: 68 800 € (VAT included).
Patek Philippe 5226G
This totally new reference as well is born with the same spirit as the 5326G above but with a simpler 3-hand and date variation (like the 5227 Calatrava but with a totally different aesthetics).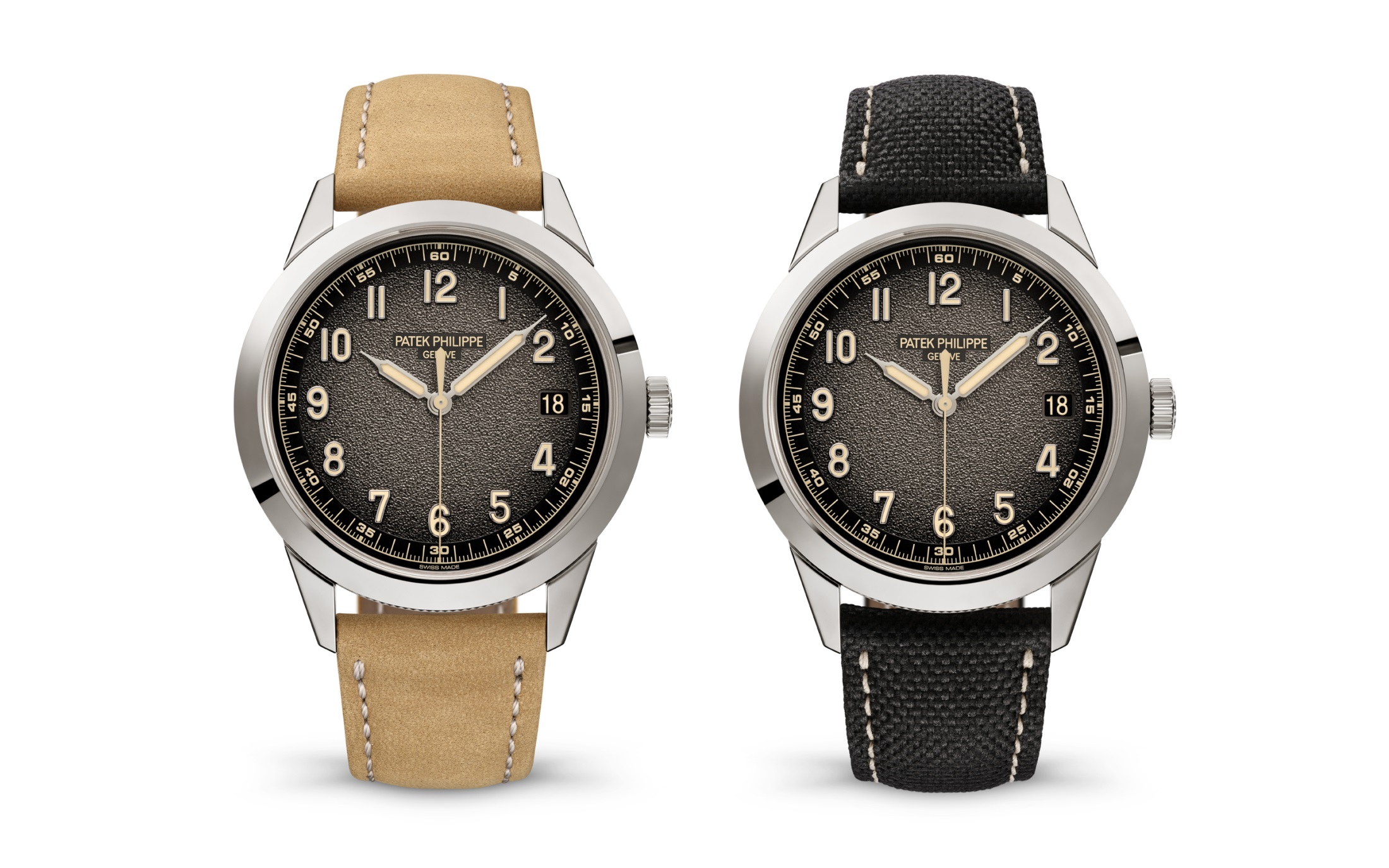 This time it is a 40 x 8.5mm case with the same 30m water-resistance, housing the manual-winding central rotor 26-330 caliber (the 324's successor unveiled in 2019). Maybe I'm wrong but it seems the crown is a little thinner on this model than on the 5326G. It gives a little more classical 3-hander spirit. That's a nice touch in my opinion.
As a side note, the date disk is black whereas it is white on the 5326.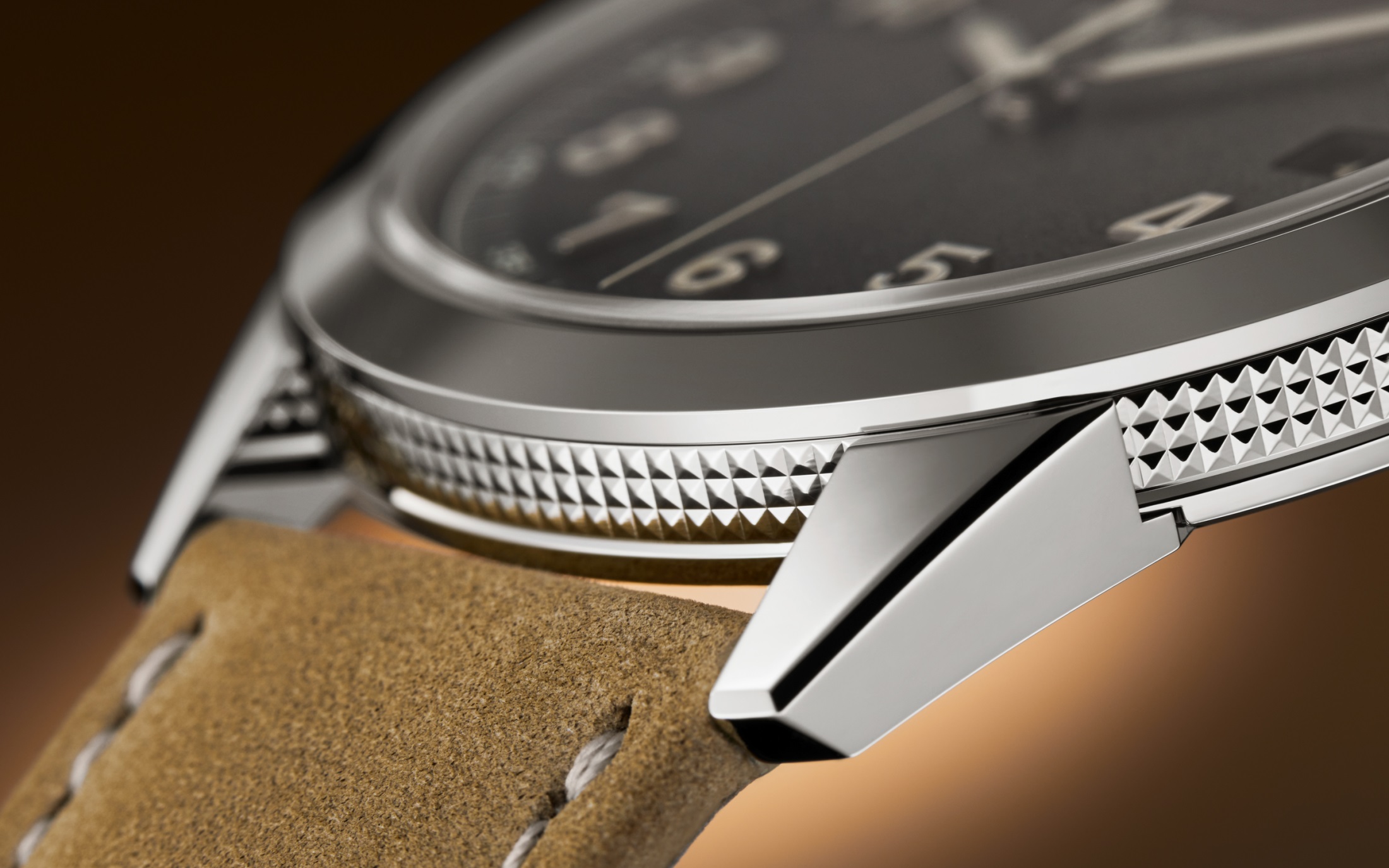 In a way, together with the 5326G, it feels it carries a similar spirit to the 5522A (New York edition) or a similar use to a cool 5212A.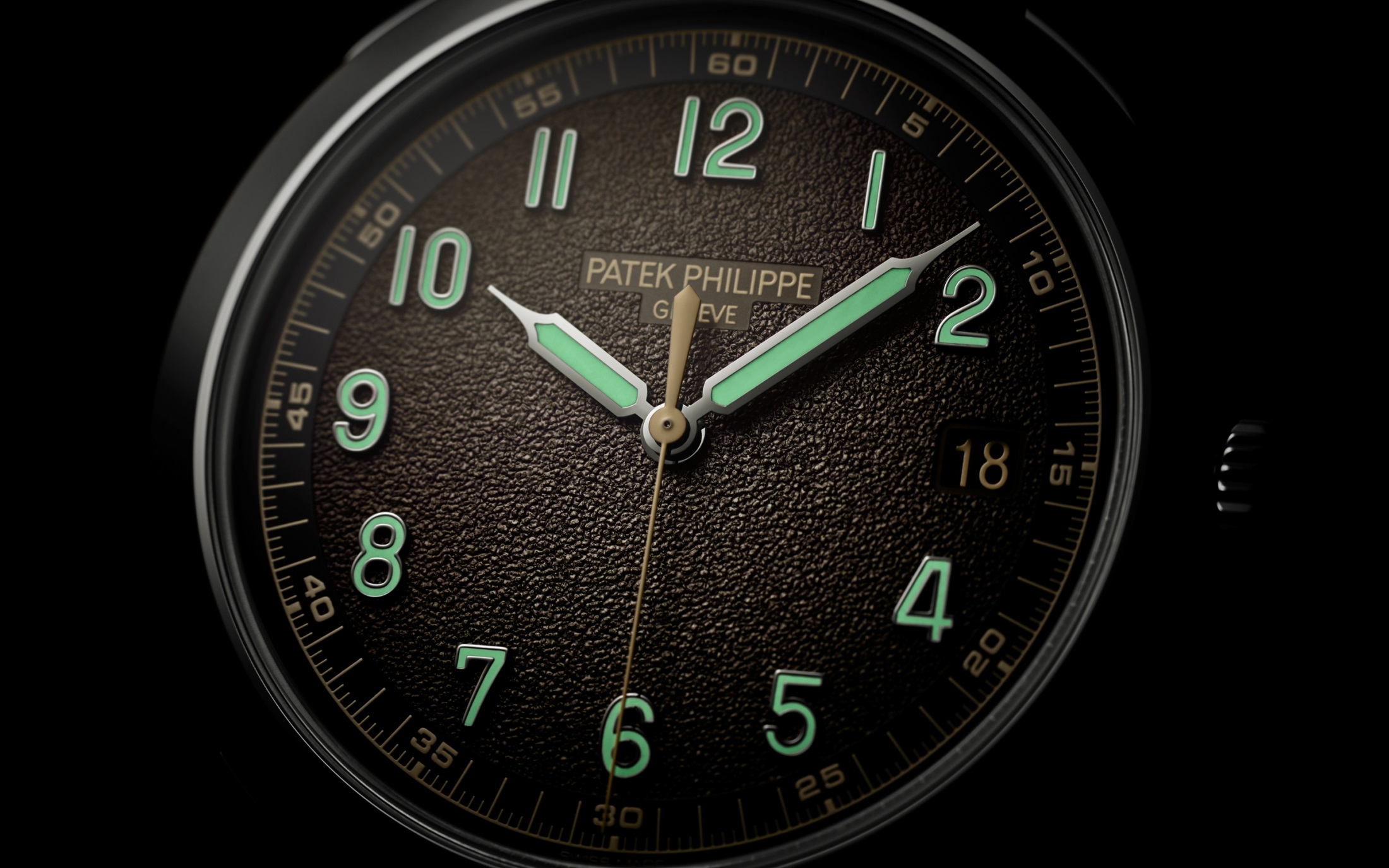 The 5226G is also 30m water-resistant and is also provided with 2 straps but, this time, with a Prong buckle:
Calfskin, nubuck finish, hand-stitched, beige (originally fitted);
Calfskin, embossed with fabric pattern, hand-stitched, black (additional strap).
The 5226G and 5326G are Casual watches, not Sport watches. Indeed, many owners wear those watches for their "sportier" look but not necessarily for related extreme use (water-resistance, strap, polished surfaces…). They are the perfect offer for most of today's use.
It is not because we like to wear a 5227R that we have to wear a suit with it…
The Patek Philippe 5226G on the brand's website
MSRP: 35 000 € (VAT included).
Patek Philippe 5172G Chronograph with Salmon dial
Well, we know this 41 x 11.45mm 5172G in the blue dial configuration and surprisingly, before a possible rose or yellow gold version, we are offered a white gold and Salmon dial model.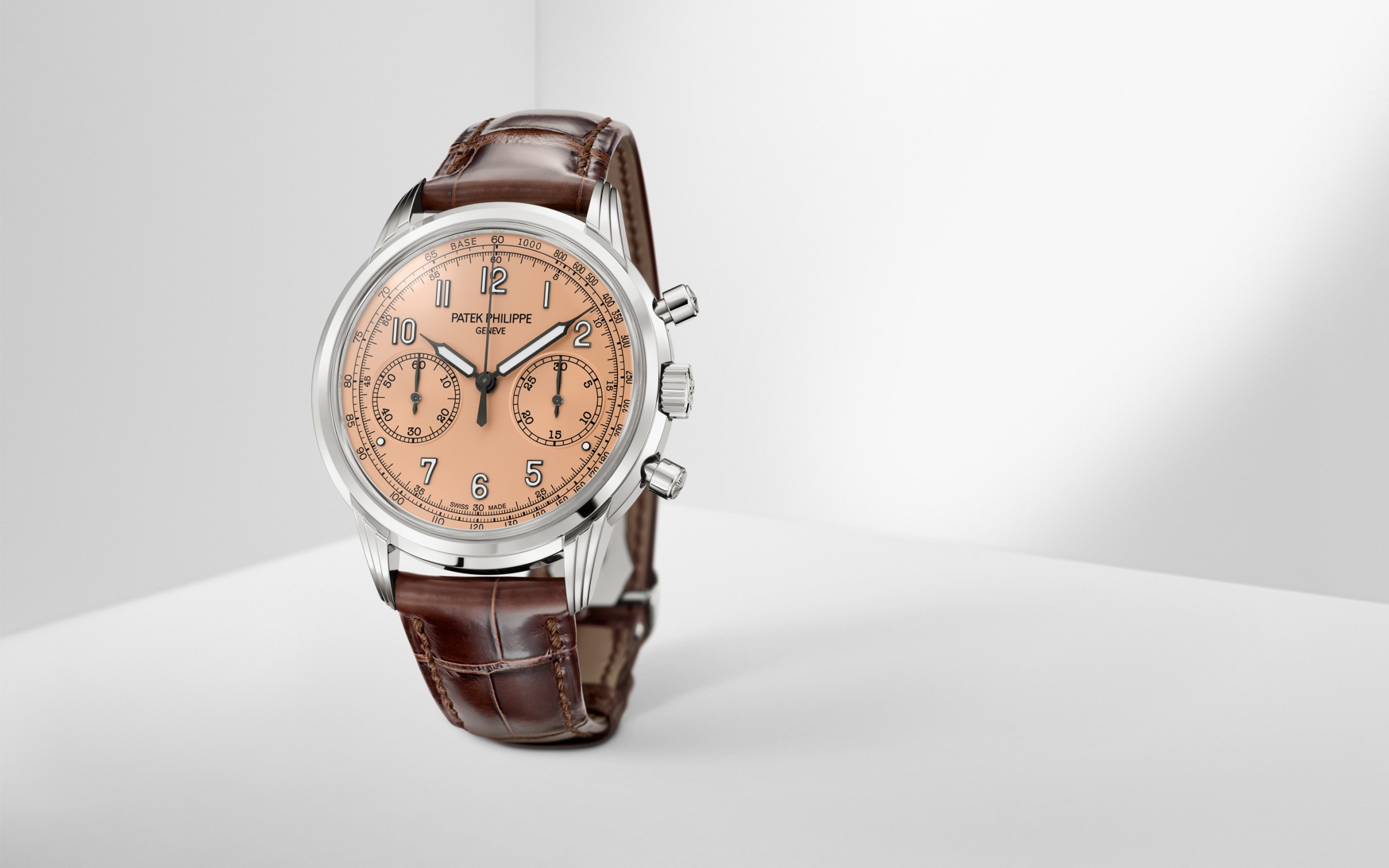 The color is called "Rose-gilt" opaline, but I don't know if it is more on the gold side of the color (more orange, like a 5270P or 5450G) or on the more rose side (like the 5024G for instance). As often, it is paired with blackened hands and numerals. Otherwise, the dial looks identical to the previous version (on the contrary to the green 5270P which differs from its cousin).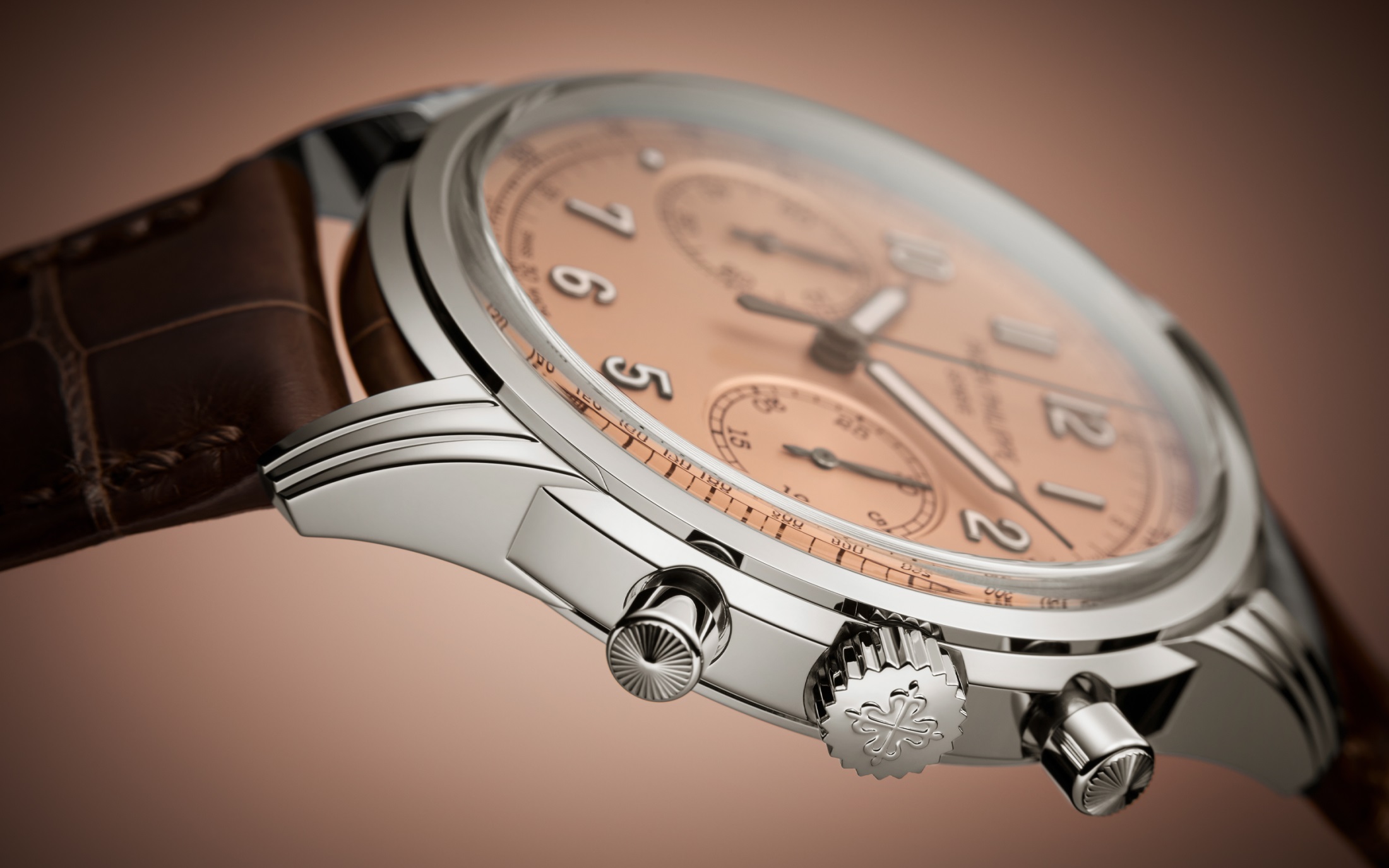 It reminds me of the 5070G Salmon dial from the London exhibition, it was just gorgeous. I love the blue 5172G as mentionned in my review and I think this one might be a stunner as well. To be confirmed in the real.
The Patek Philippe 5172G on the brand's website
MSRP: 72 000 € (VAT included).
Patek Philippe 5320G Perpetual Calendar with Salmon dial
A new version of the 41 x 11.1mm 5320G Perpetual Calendar is unveiled with a Salmon dial. Like with the 5172G above, the dial color is called "Rose-gilt" opaline. We'll see if it is more on the warmer or on the rose side of the spectrum but it is also very attractive this way.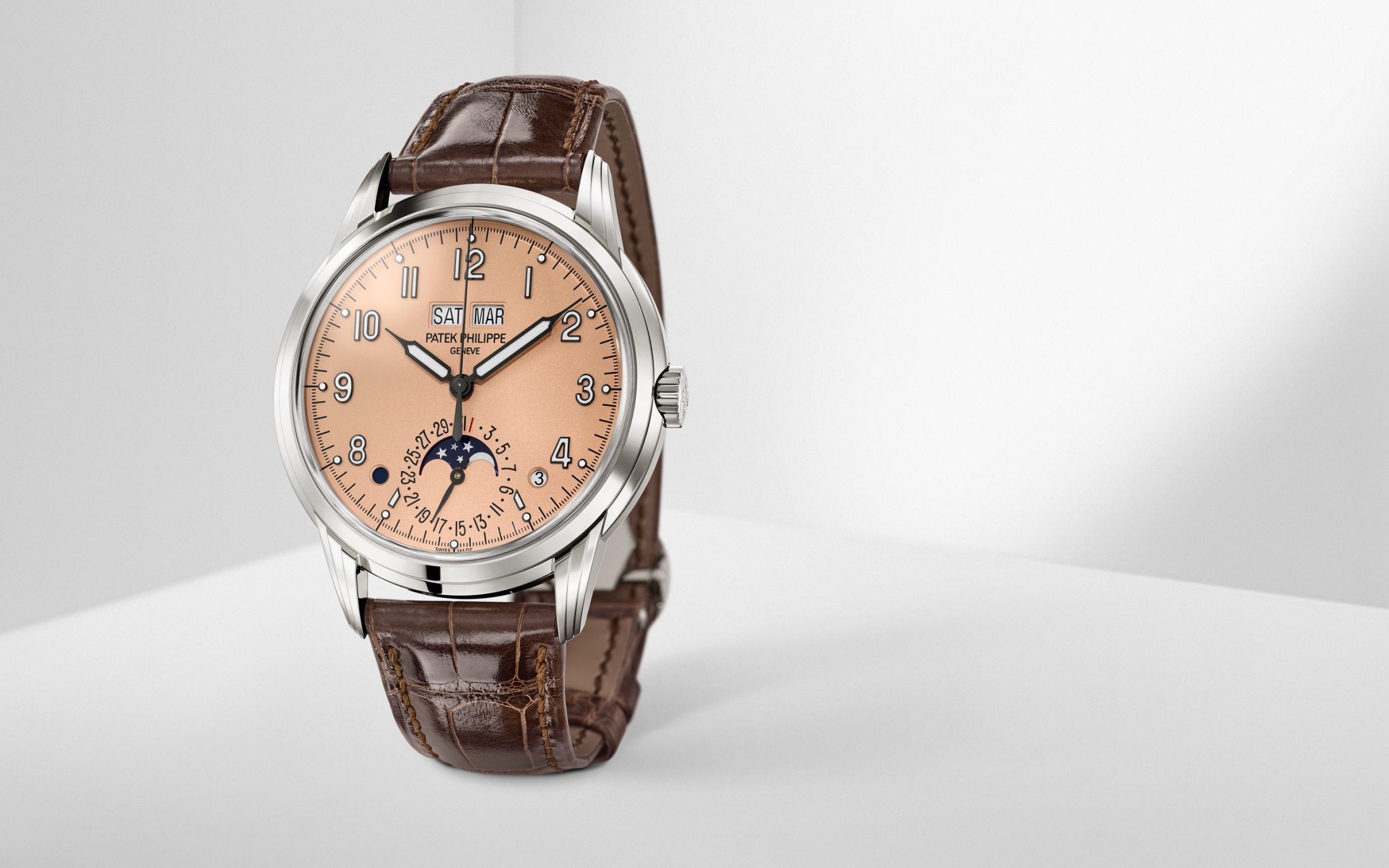 Its case and dome glass conception is very interesting to study. As often with Patek, it is a very enjoyable exercize to observe in detail how it is shaped and built, especially considering the required polishing expertise to reach such result with these edges.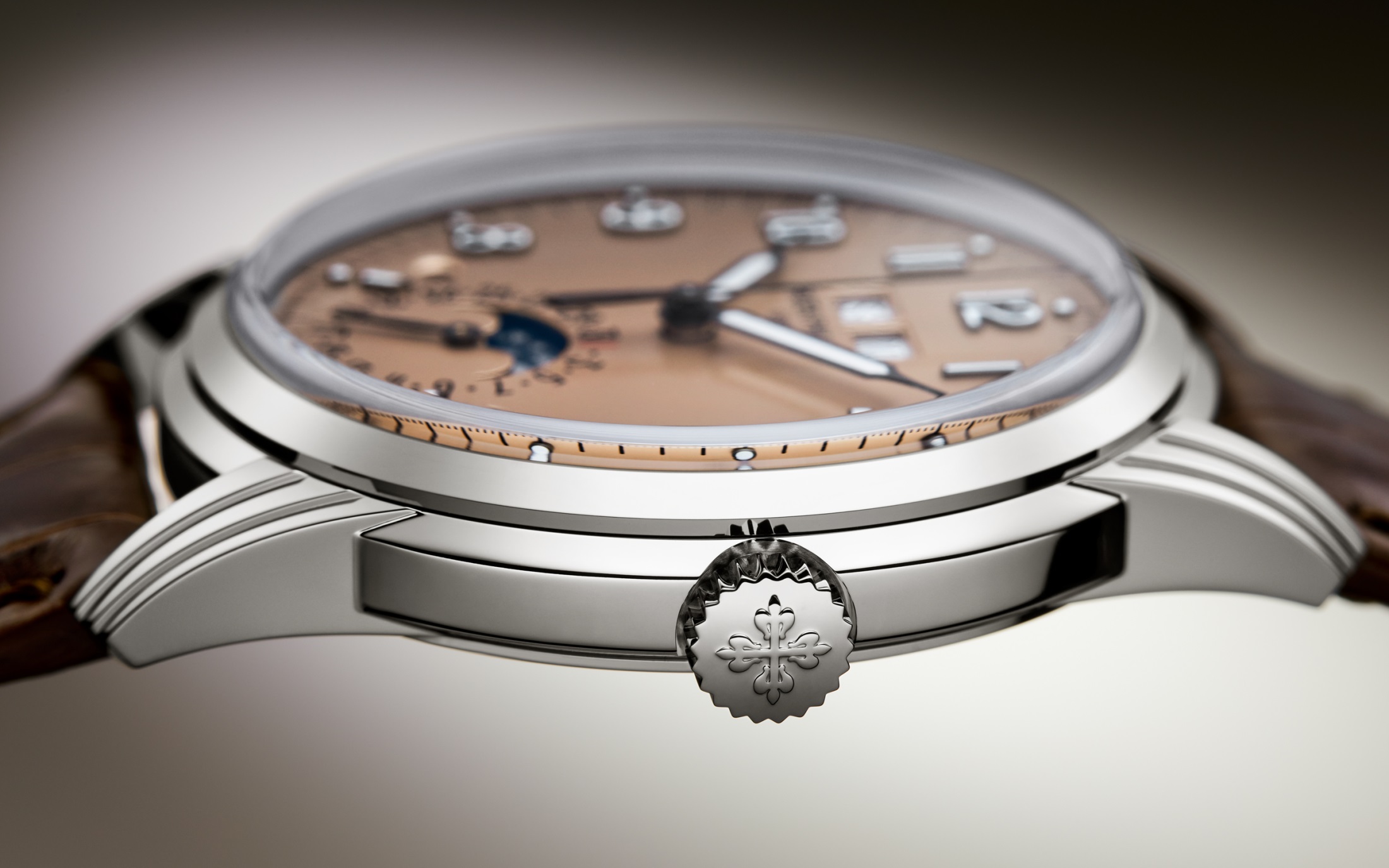 This model will certainly appeal to people looking for a more casual-styled PC who didn't like the "vintage" white/yellow previous lacquer.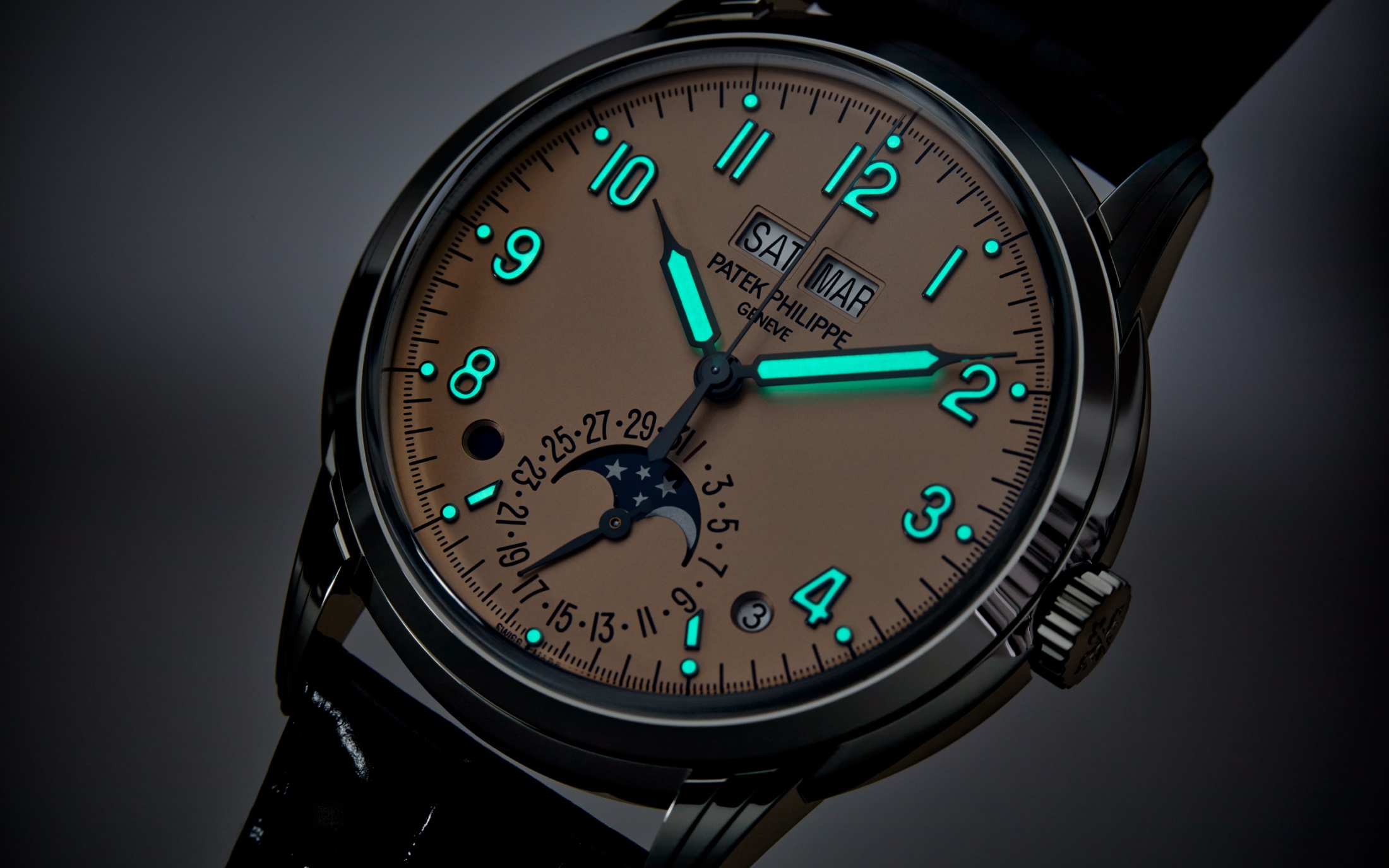 The Patek Philippe 5320G on the brand's website
MSRP: 84 700 € (VAT included).
Patek Philippe 5270P Chronograph, Perpetual Calendar with Green dial
The 5270P has just been discontinued in the Salmon dial version. As unveiled in a few recent watches (5930P, 5168G, 5711/1A), the green dials are "in". To see another platinum version is quite a surpise. While we have been used to seeing several dials for steel and gold materials, it is true we also had a 5905P available with blue or black dials or a 5204P in silver and black dials. Nevertheless, it seemed that, to the exception of limited custom or celebration pieces (Patek Philippe Exhibitions, anniversaries…), it remained very rare. Now, it seems we might see more (5172P versions next?)?
As long as it looks gorgeous in the metal, that's what all counts to me.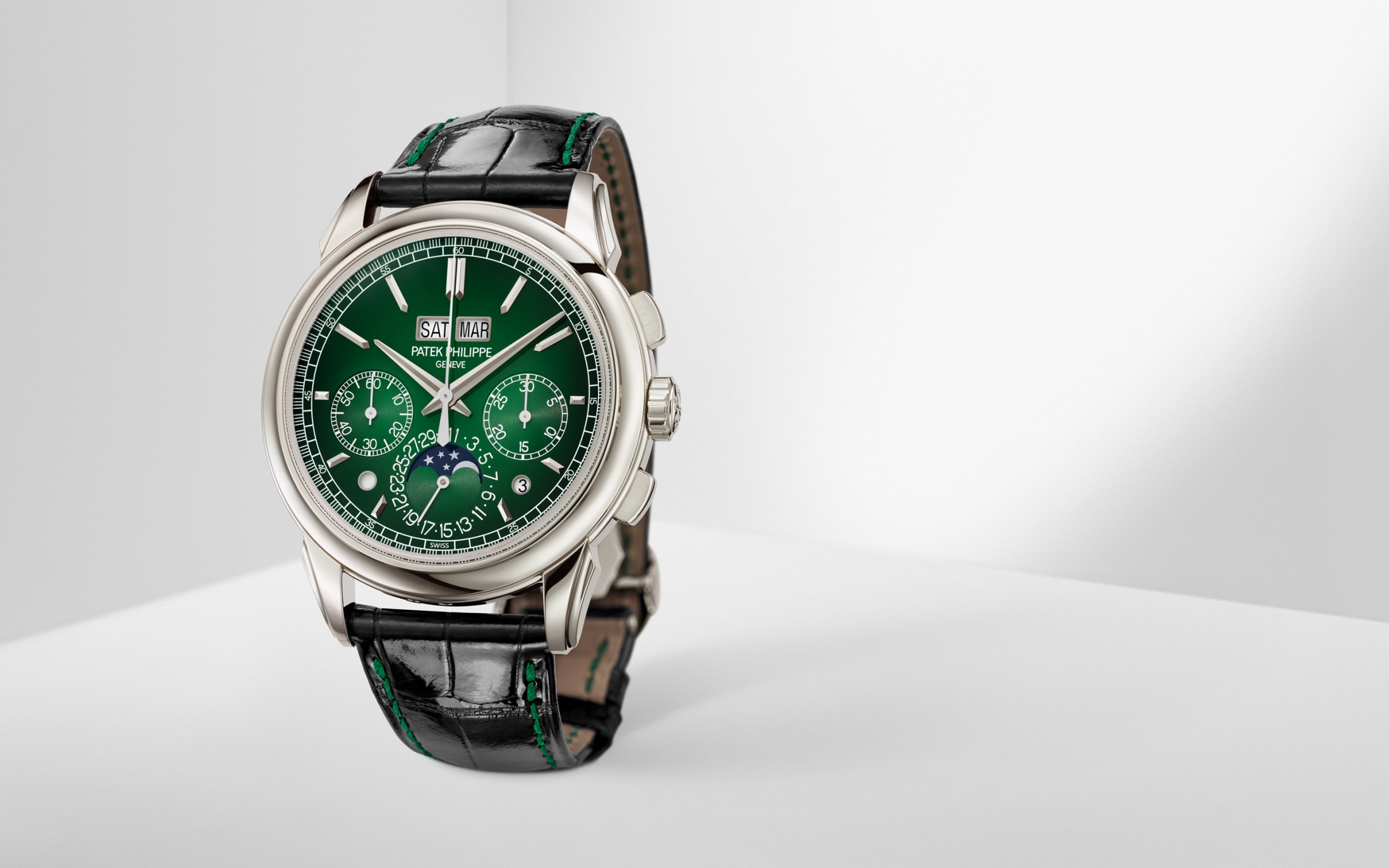 As for the Green, the colors we historically got from the traditional established brands were very classical and sober for so many decades. Black/Grey cars, suits… and watch dials. This was true in some regions of the world but certainly not everywhere. As I said before, in sunny countries (Southern Europe, USA) or in Asia for instance, there are trends where colors are much more favored (or should I say "accepted"). Especially today, since people like to diversify and combine their outfits, black isn't something easy to pair and grey isn't the most appealing "color". Blue is still elegant and classical but more enjoyable, that's why I appreciate very much seeing them lately in Pateks. Green and Salmon (even if the latter was already seen in watchmaking, very rarely, and not that successful in the 1980's) are definitely something to go for a change. We also might see red (5930G Singapore) from time to time or this year's 5326/5226 charcoal/beige tones. I think they might bring much more than a trend we would at first consider as "fashion".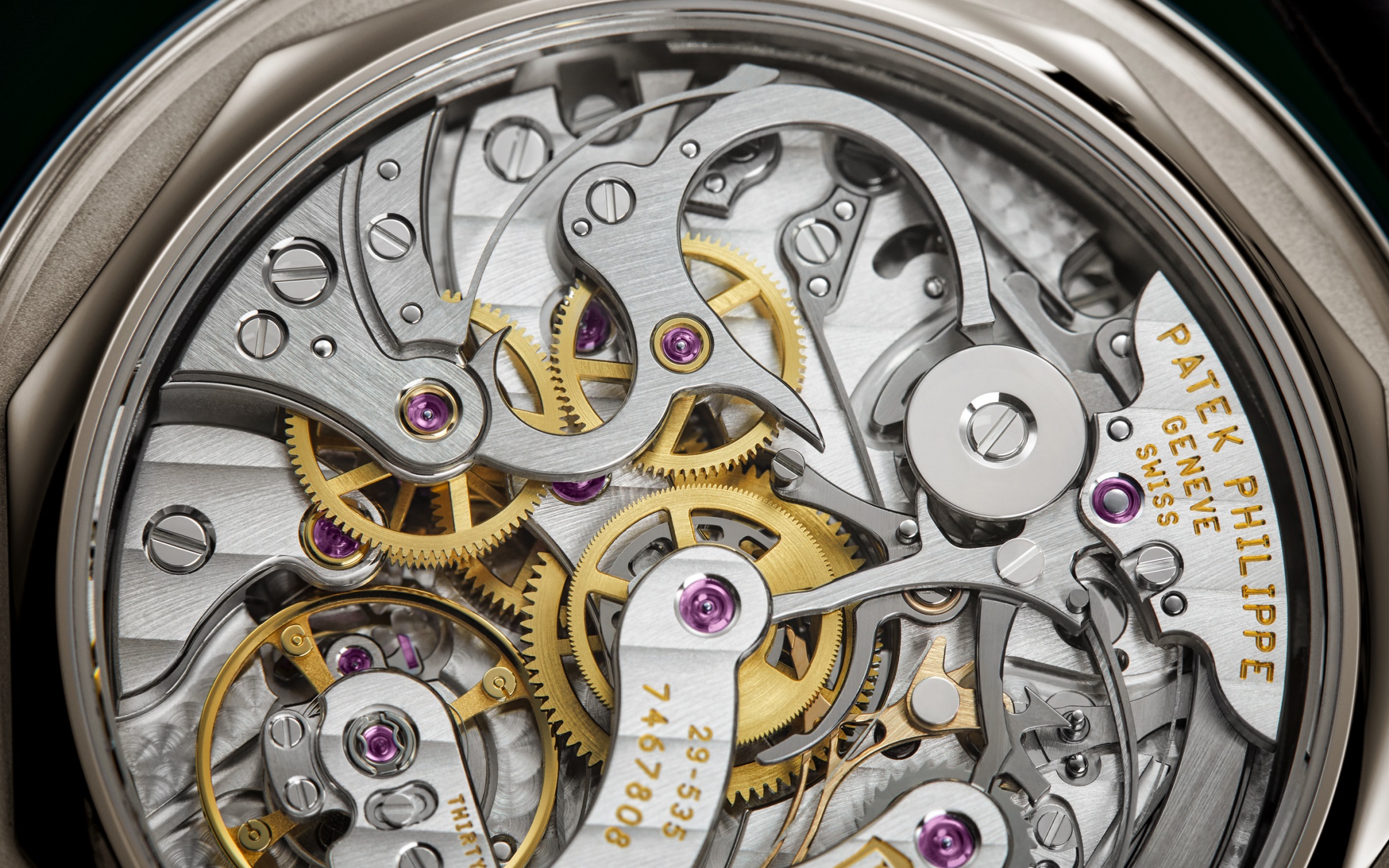 Of course, the more a style has character, the more likely it might come out of fashion. However, there are (so many) exceptions: in the automotive industry for instance where they can be unique, in a way or another (sports cars for instance), or more simply when the brands keep making a shape evolving through the decades (911, Chanel bags…).
I've seen the 5930P's green dial and it is mesmerizing. If brands succeed in taking us a little away from this very narrow grey/black territory, we might really not want to go back the ultimate seriousness route again.
Time will tell and to each his own taste and will to give it a try, but I think it remains very interesting and it will at least move the lines a little.
I'm waiting to hold this 41 x 12.4mm 5270P and its green black-gradient dial to see how well it works. However, let me say the dial is lacquered which means the overall picture could potentially look amazingly nice in the metal.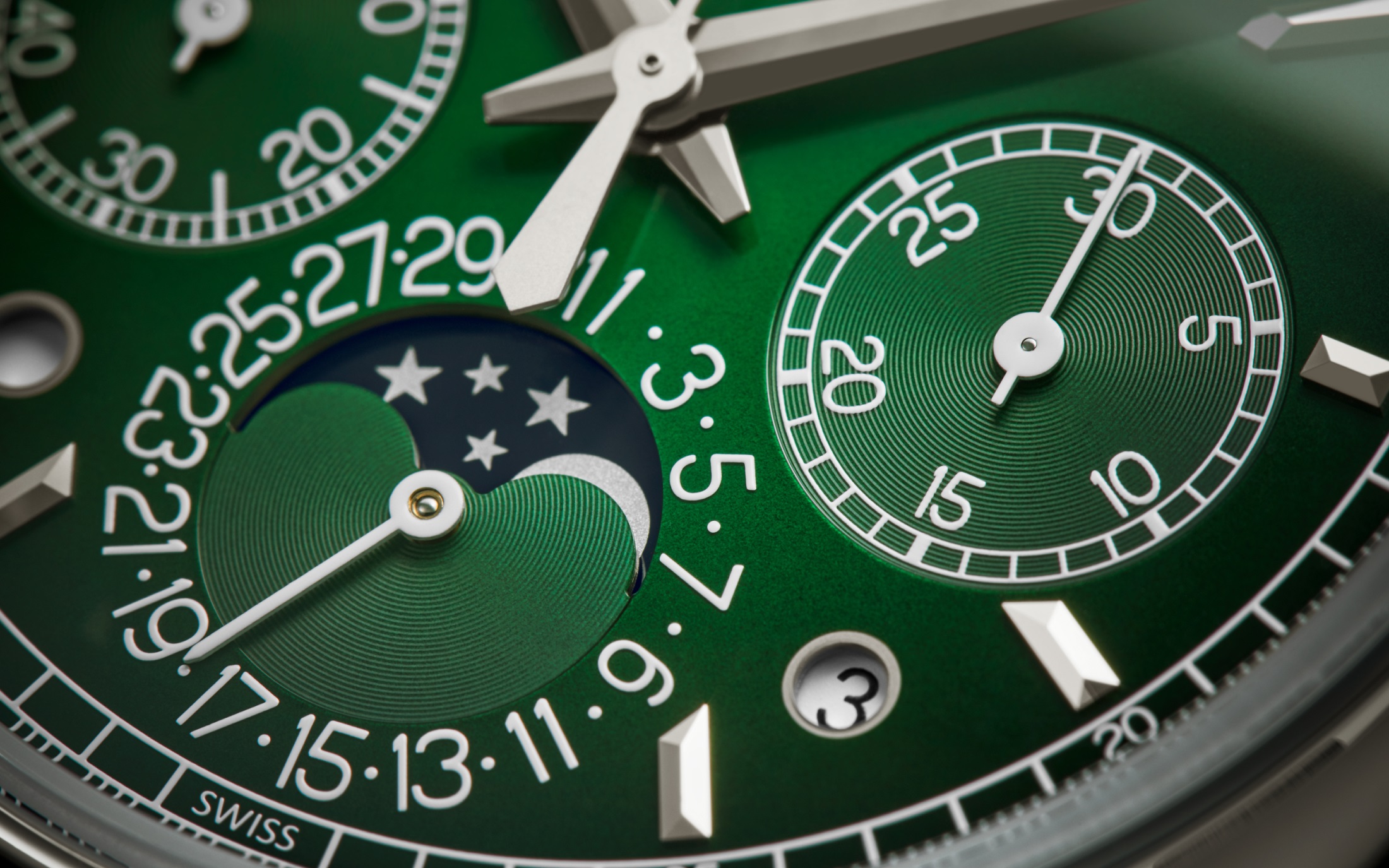 Besides, you'll notice, compared to the Salmon version, that:
Dauphine hands replaced the leaf ones and are not blackened anymore;
the Tachymetre scale has disappeared;
the applied luminova-filled arabic numerals were replaced with applied markers;
the fonts are modernized.
These modifications provide a more modern or more casual offer. I'm eager to see what the live experience looks like.
The Patek Philippe 5270P on the brand's website
MSRP: 189 500 € (VAT included).
Patek Philippe 5205R Annual Calendar with Green dial
The 40 x 11.36mm 5205 (and the 5960) is a model I enjoy very much. This rose gold/olive green sunburst dial configuration works wonderfully here and definitely differentiates itself from the crowd. You will definitely not wear a piece similar to your other watches.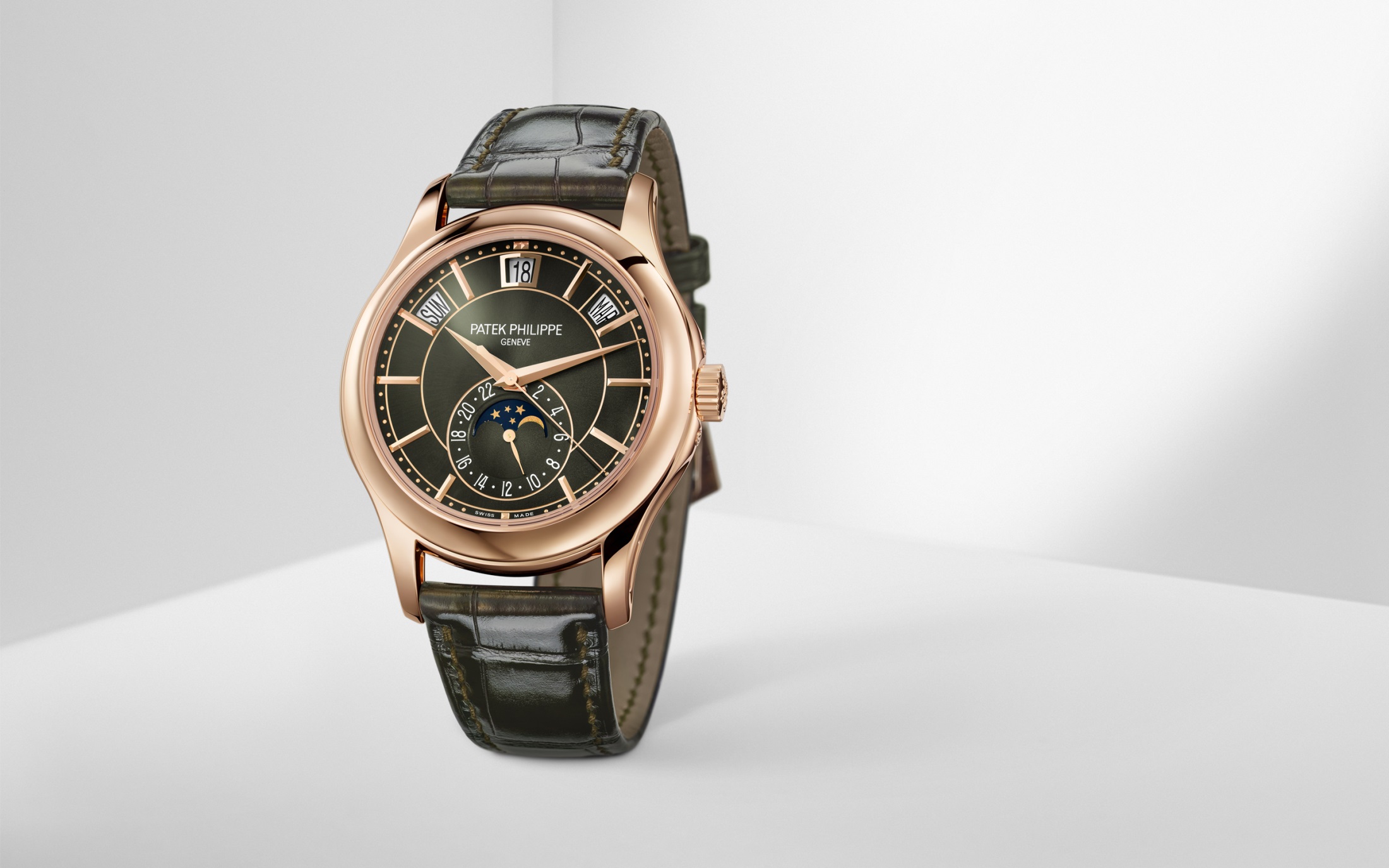 It seems this green dial is more like the 5905A's which means it isn't a strong green (like the 5930P or I imagine the 5270P) but more a grey color in which the brand has poored a little touch of green. In the 5905A, it was very subtle and very desirable.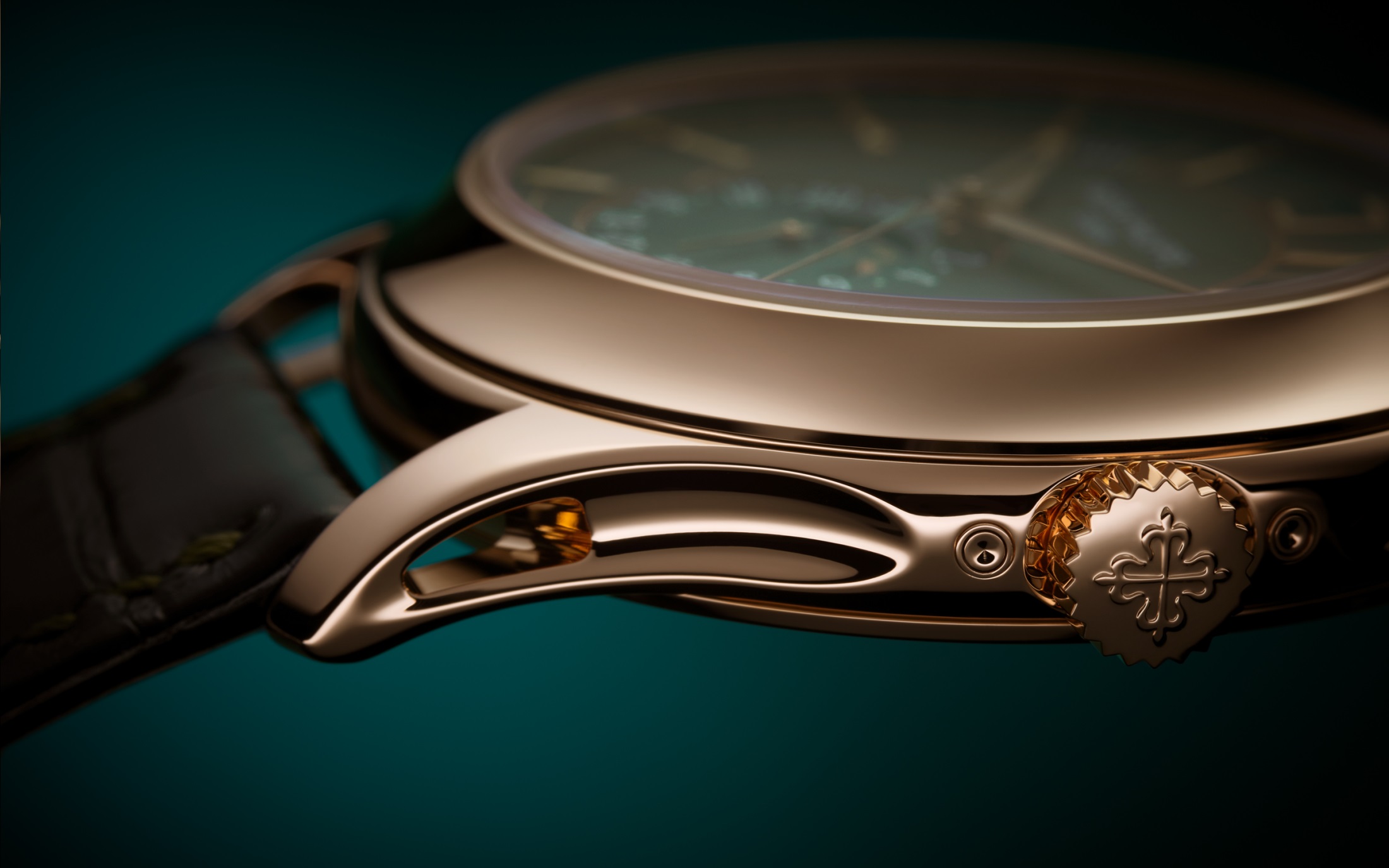 It comes with a Prong buckle and might look wonderful in the metal.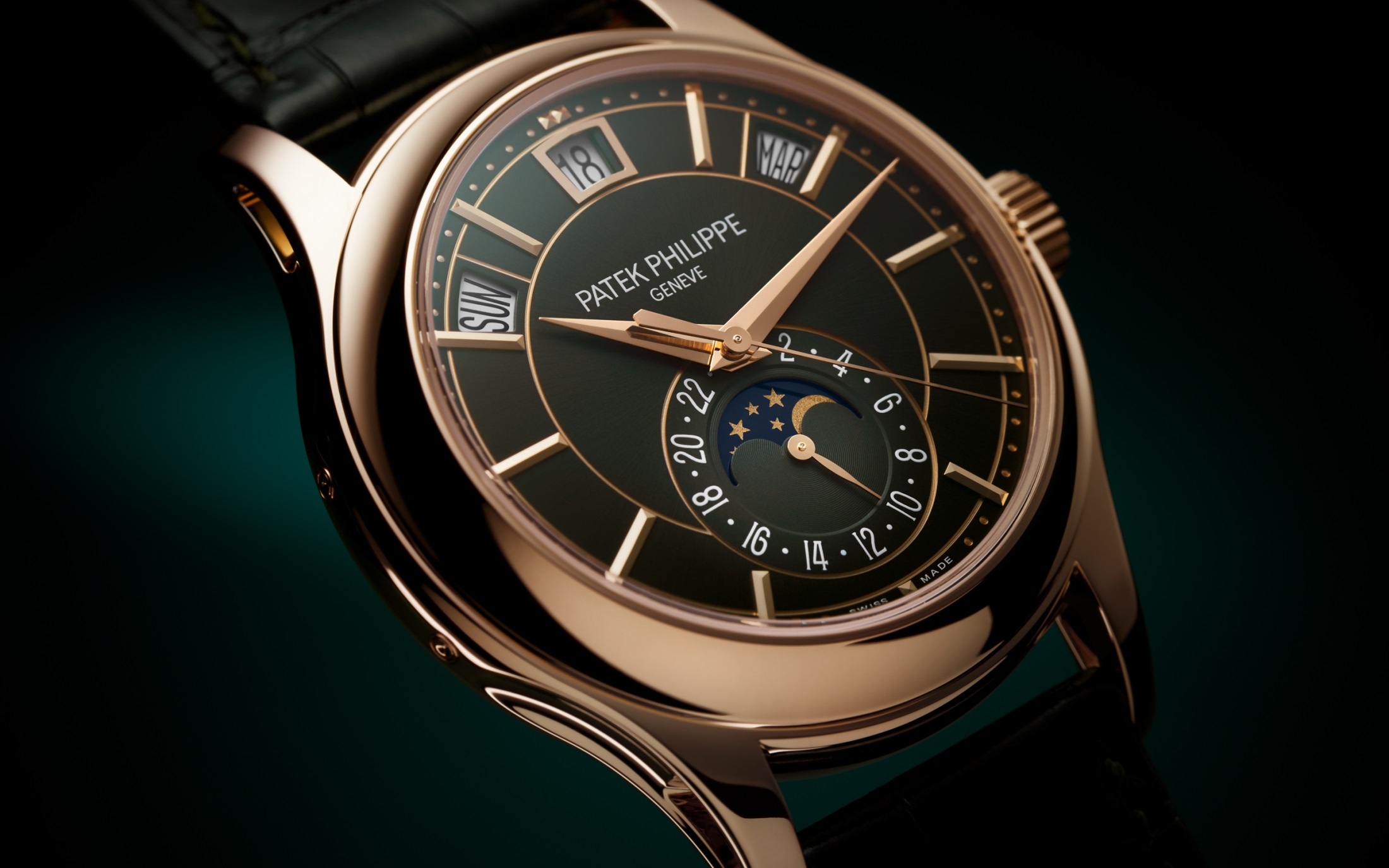 The Patek Philippe 5205R on the brand's website
MSRP: 49 800 € (VAT included).
Patek Philippe 5231G "Enamel dial", World Time
One of the most sought after classical models from the brand is unveiled in its white gold configuration. The 5231G features Oceania and South-East Asia with a "Grand Feu cloisonné" enamel center.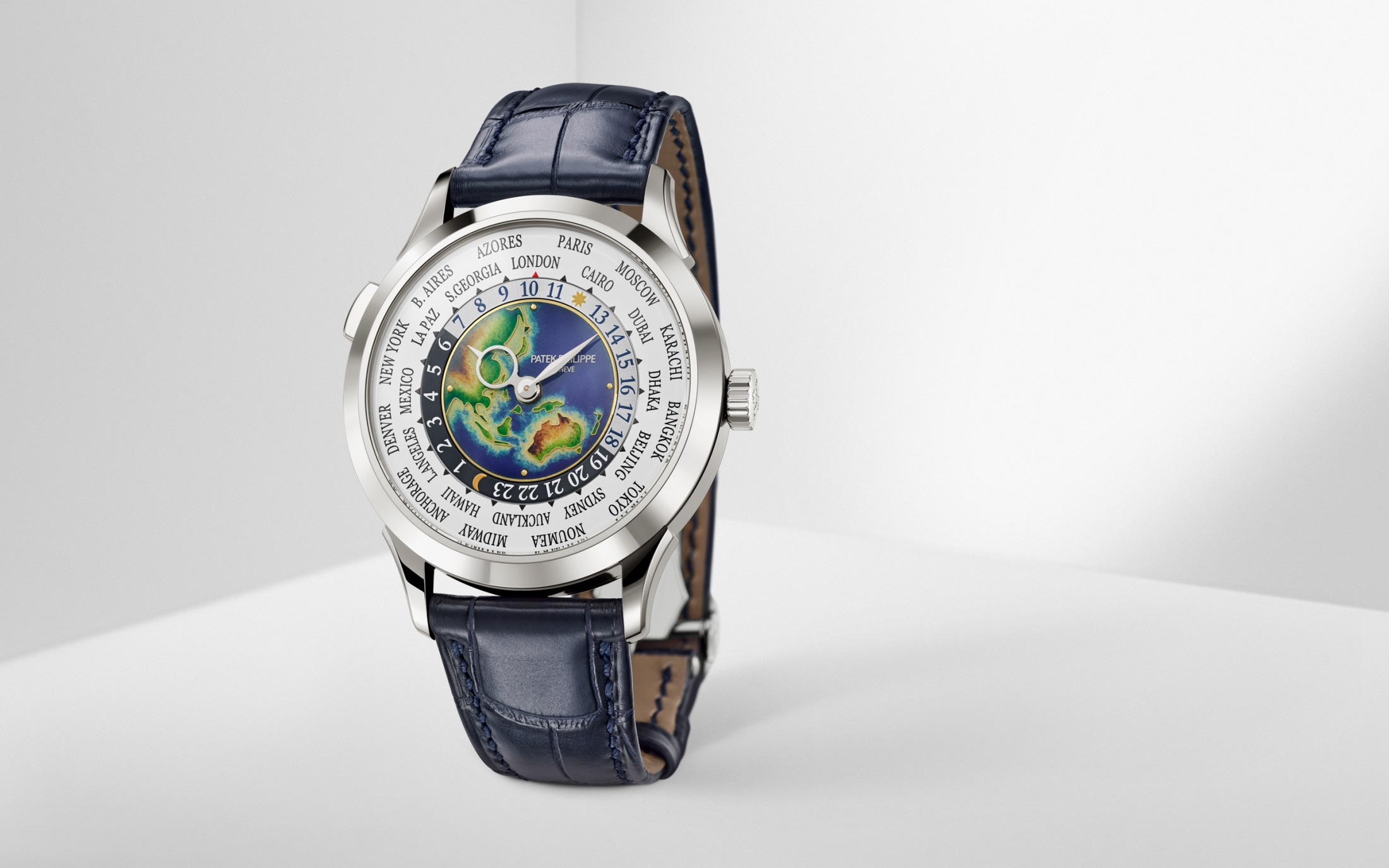 These pieces have a very low output thus remain rare.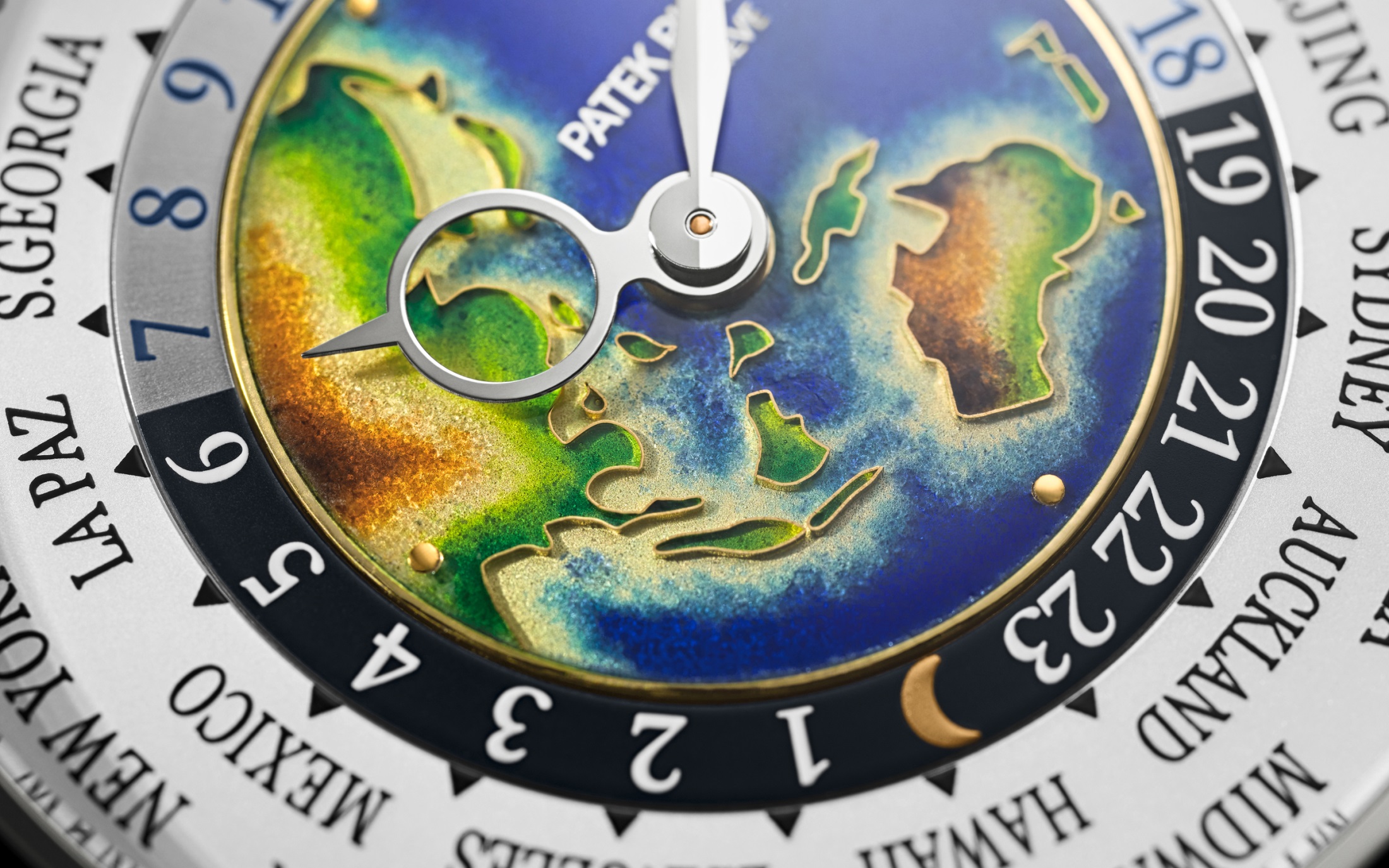 It takes after the J version that just got discontinued.
The Patek Philippe 5231G on the brand's website
MSRP: 79 400 € (VAT included).
Patek Philippe 5230P World Time
The 38.5 x 12.2mm 5230 was introduced a while ago in white and rose gold. It was high time we were offered a new version and it is the platinum material that was chosen.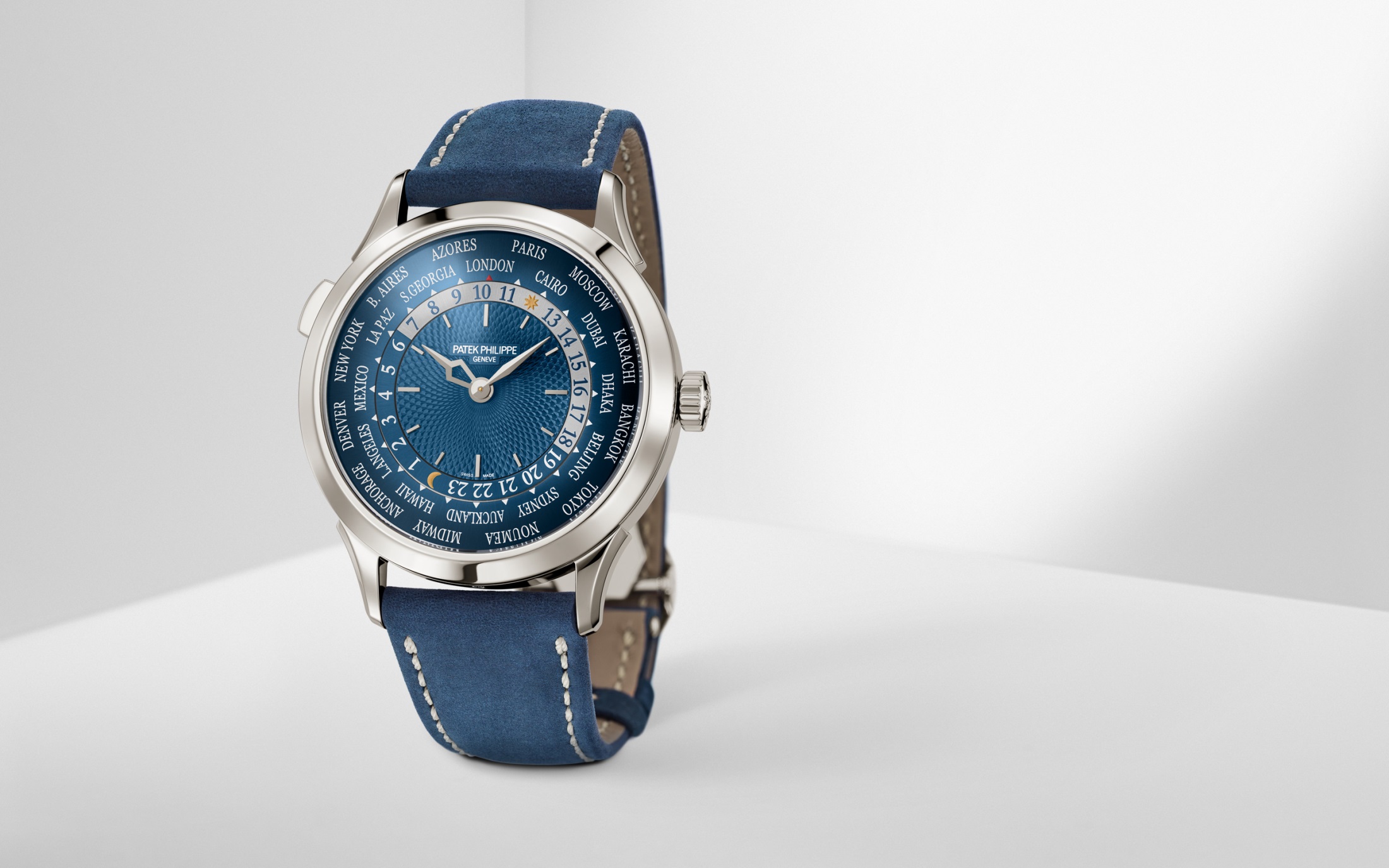 It looks that it has the 5930G's blue central color while the outer city ring seems to receive a darker blue tone. It should look beautiful knowing Patek mastery as a dial maker.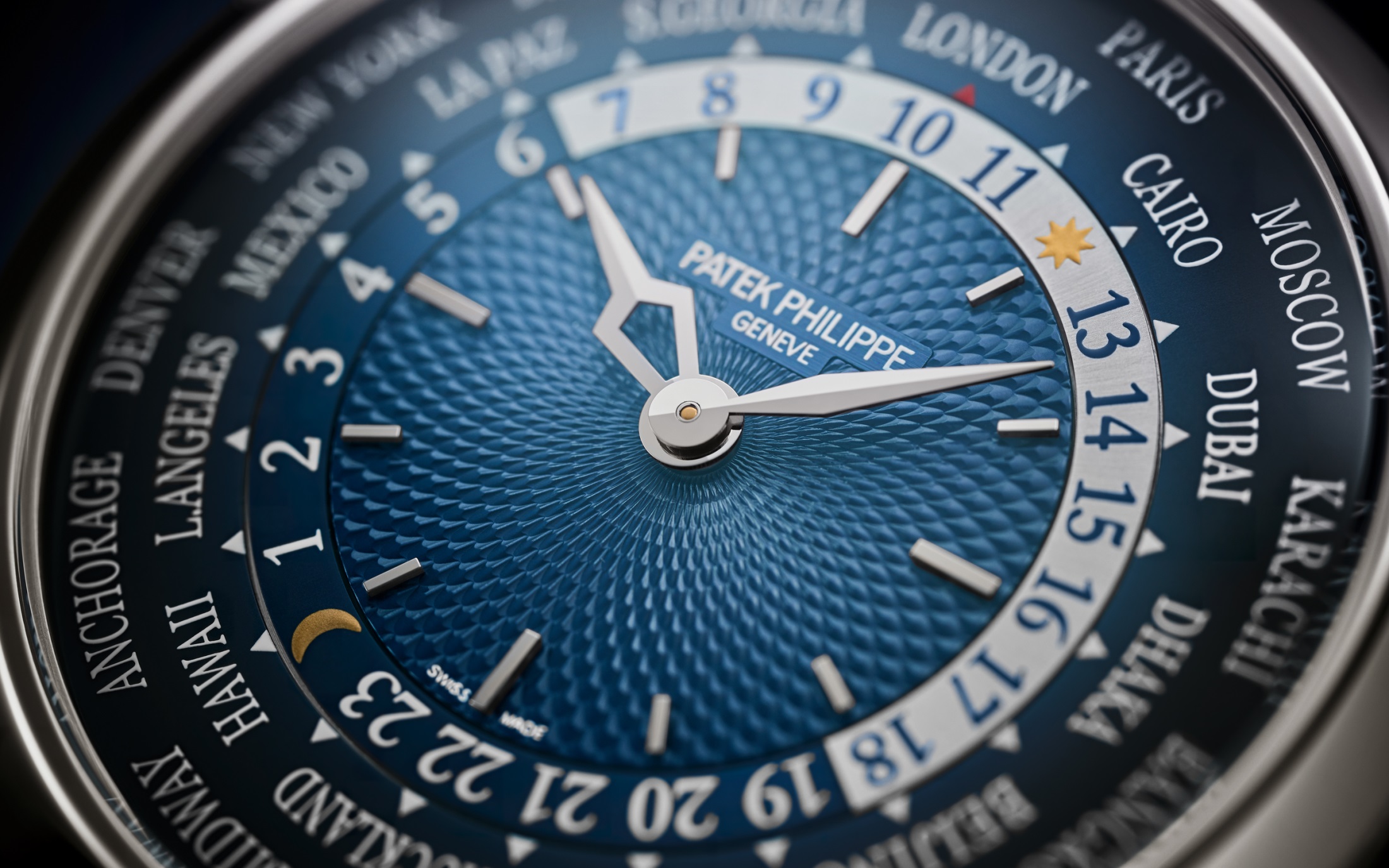 The previous version, the 5110P and 5130P were very appreciated by collectors and this generation seems to follow the same route. I'm eager to see it "live".
The Patek Philippe 5230P on the brand's website
MSRP: 63 500 € (VAT included).
For the ladies, Patek Philippe 4910 Twenty~4, 7130R World Time and 7121/200G
Three new models have been released for the ladies, with 2 green dials to catch-up with the other men's models and a dressy diamond-set Calatrava.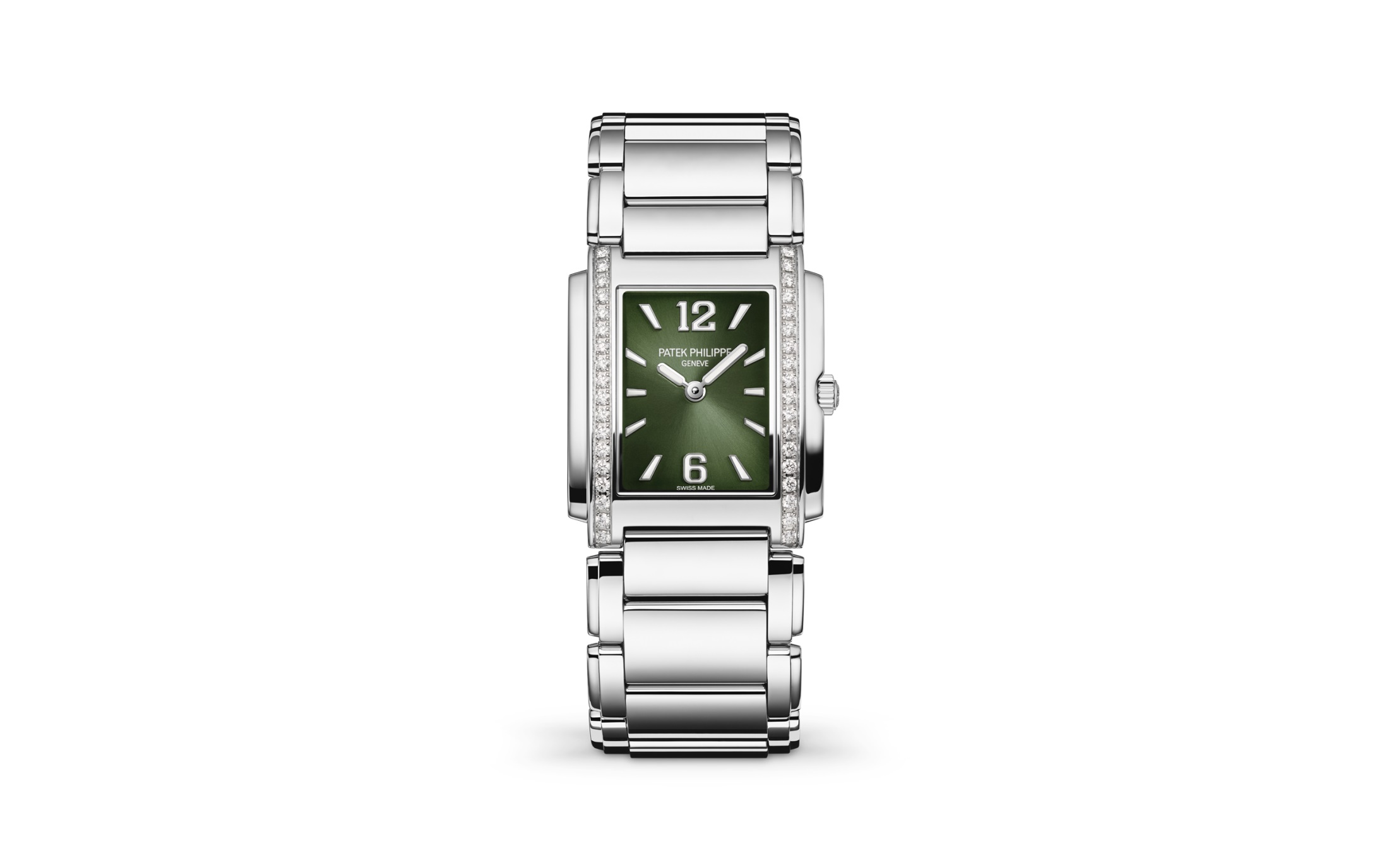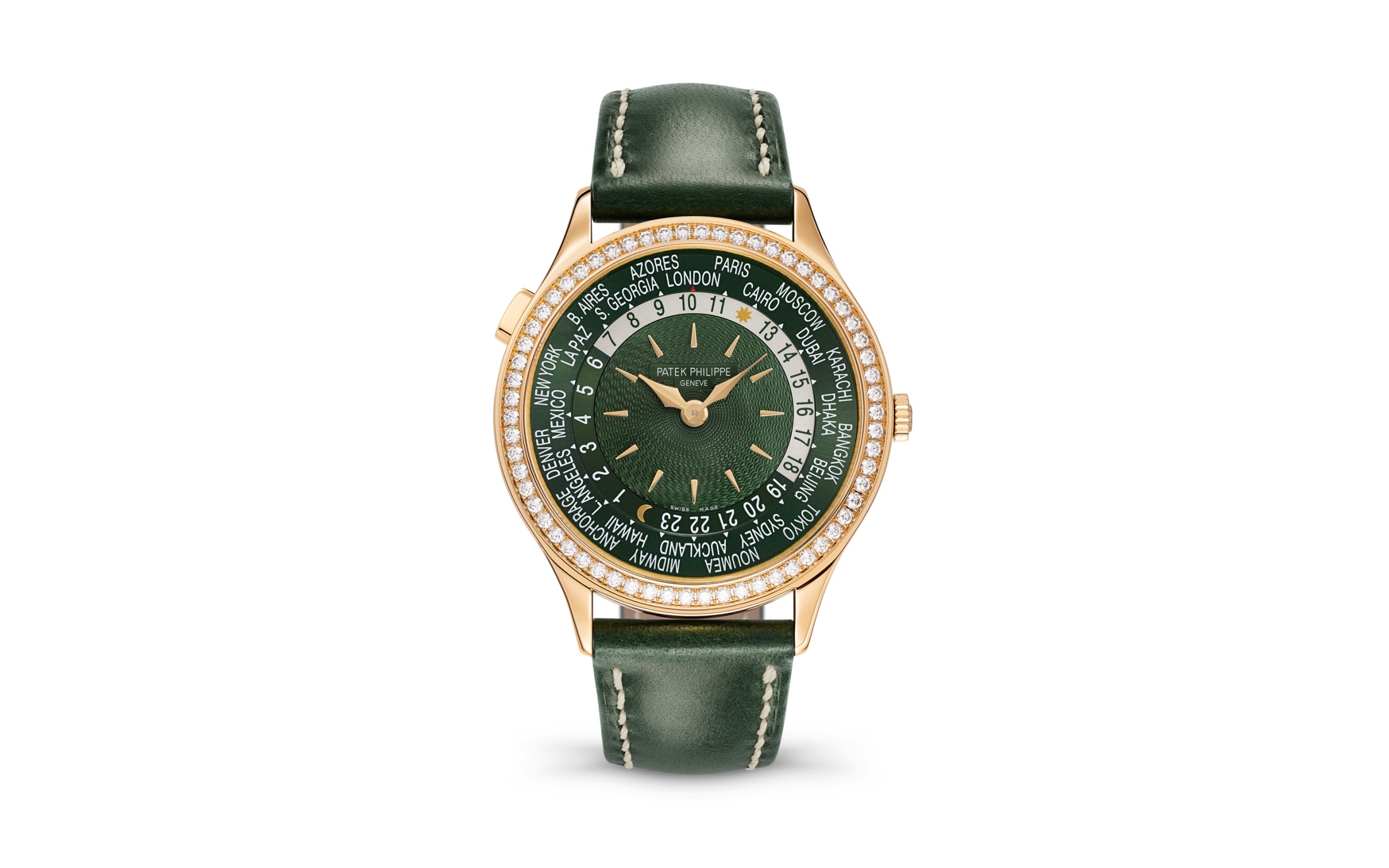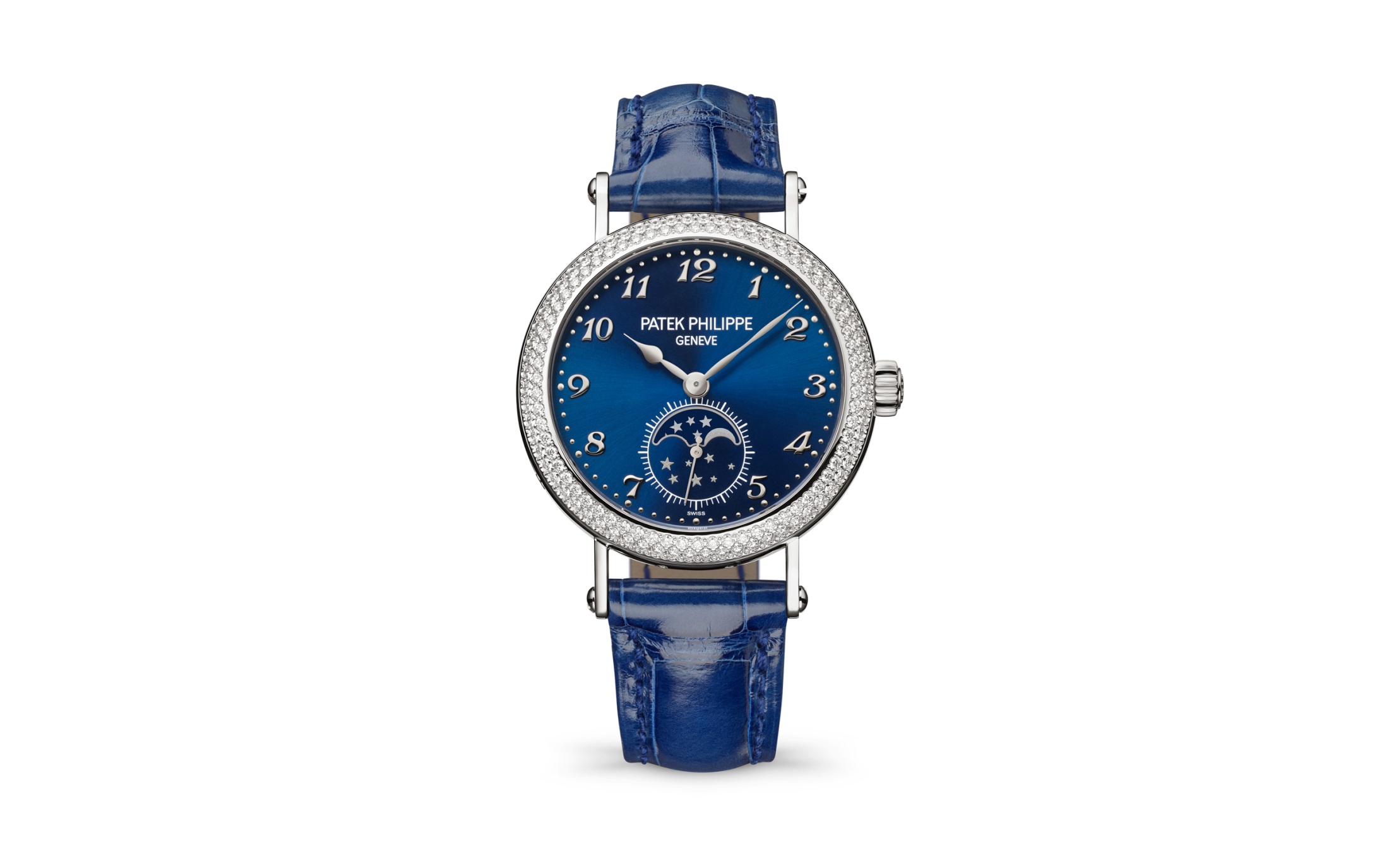 MSRP: respectively 13 800 €, 51 900 € and 38 100 € (VAT included).
Rare Handcrafts collections Exhibition
Please note that Patek Philippe will also unveil their 2022 novelties from the Rare Handcrafts department. They will hold a dedicated exhibition at their Geneva Salons from the 6th to the 30th of April 2022.
More here: 2022 Rare Handcrafts exhibition on Patek's website
Thanks for reading !