The Richard Mille RM055 All Grey – Shades of grey perfection
Hello everyone,
There is a Richard Mille that, among my all-time favorite models from the brand (and probably all brands considered), provides nearly the same rush of appeal (and envy) each time I see it (even on pictures). It's indeed the Richard Mille RM055 Bubba Watson "All Grey" limited edition.
Strangely, it isn't the most complicated as it is a time-only reference, but as with all RMs (even the ones I don't like), the engineering and philosophy behind their conception is so unique and powerful for a curiosity-driven guy (as with someone just interested in discovering any kind of innovations in general) that I'm always excited when I can hold one. However, for this very piece, this precise spec' (let's talk automotive) is what made it an unbelievable watch to enjoy.
That's why I'd like to share with you my experience, thoughts and excitement after I could hold it some time ago.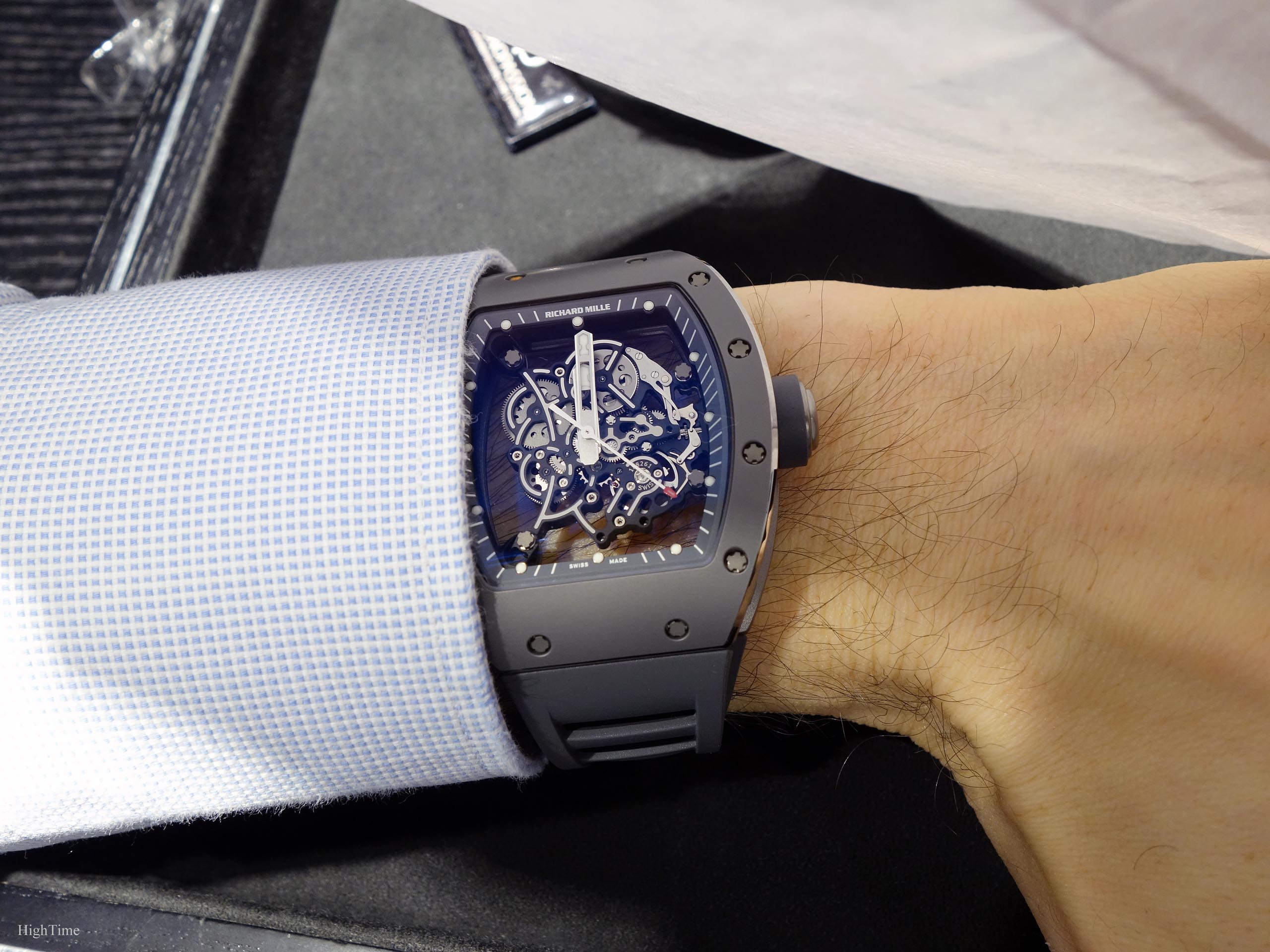 Grey, All grey
The RM055 Bubba Watson is originally a white time-only bigger-case model (picture below) housing a deeply skeletonized movement. The bezel is in ATZ (Ceramic family, a mix of Zirconium and Aluminium Oxyde) while the rest of the case is in grade-5 Titanium protected with a rubber coating. Together with the see-through sapphire caseback, it gave a very clean and deep view on the 5000g-acceleration-resistant movement.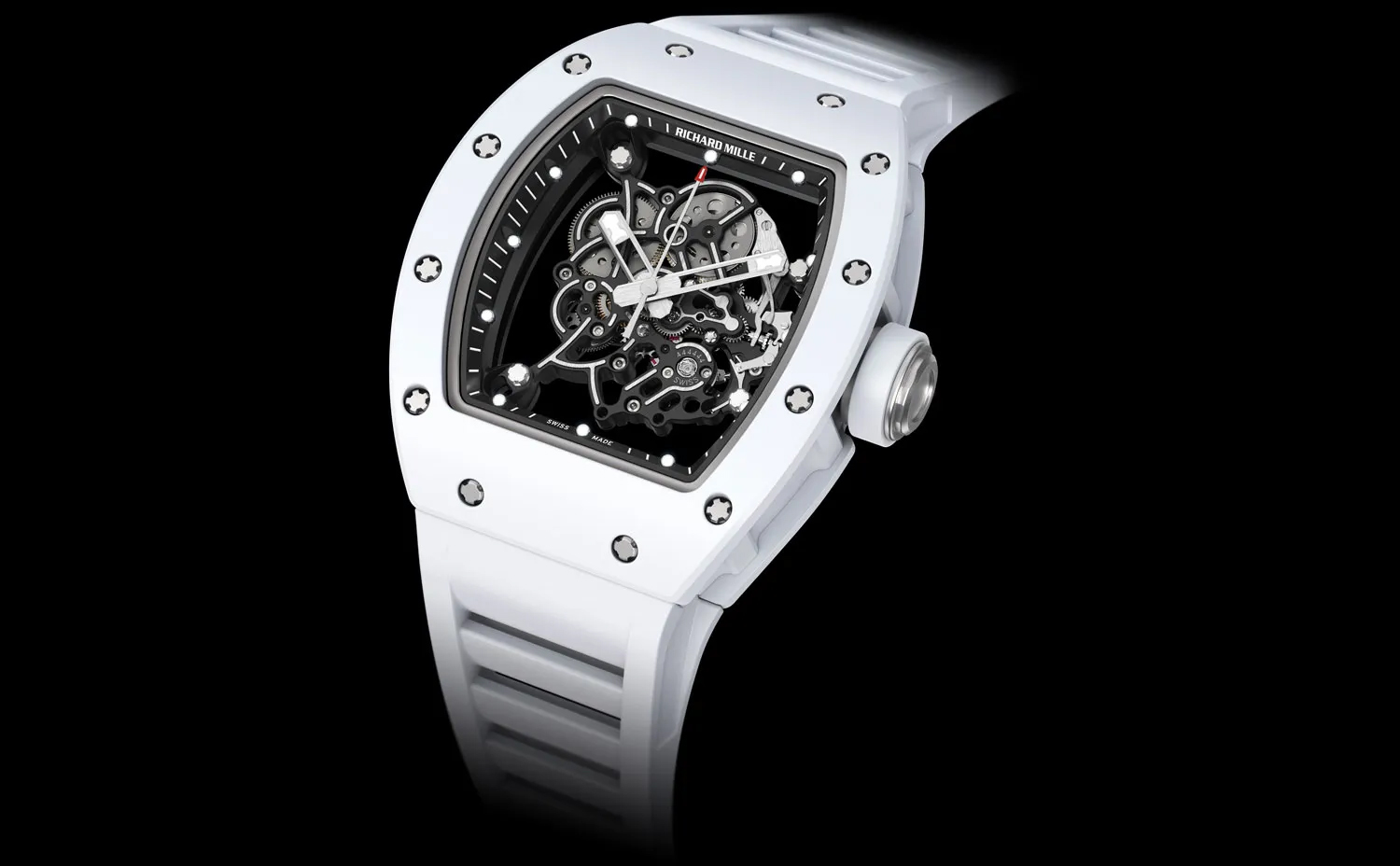 Within Richard Mille's world, the "All Grey" designation means that the case is sandblasted (instead of brushed), on the contrary to the usual brushed case finish. It still has a grade-5 Titanium caseband and caseback whereas the bezel is this time made from Titanium Carbide. And this is what makes this version's specificity.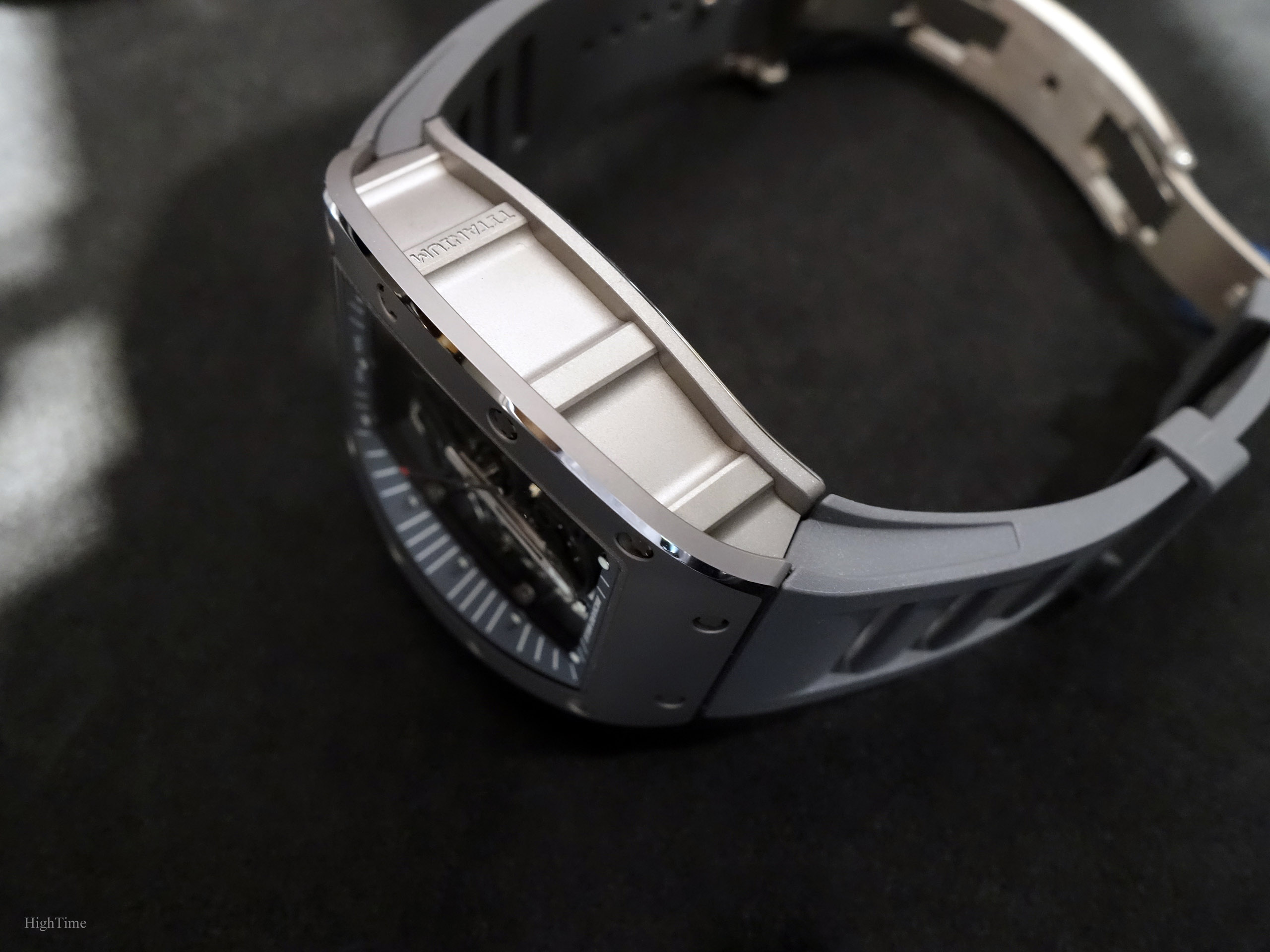 Indeed, this bezel is made of a stronger Titanium-Carbon alloy (which had been used in the Pablo McDonough RM053 Polo watch) that ends to be harder than grade-5 Titanium. This choice is particularly relevant, hence practical, considering the more exposed bezel part, especially since its gorgeous most stunning detail lies in its polished edge.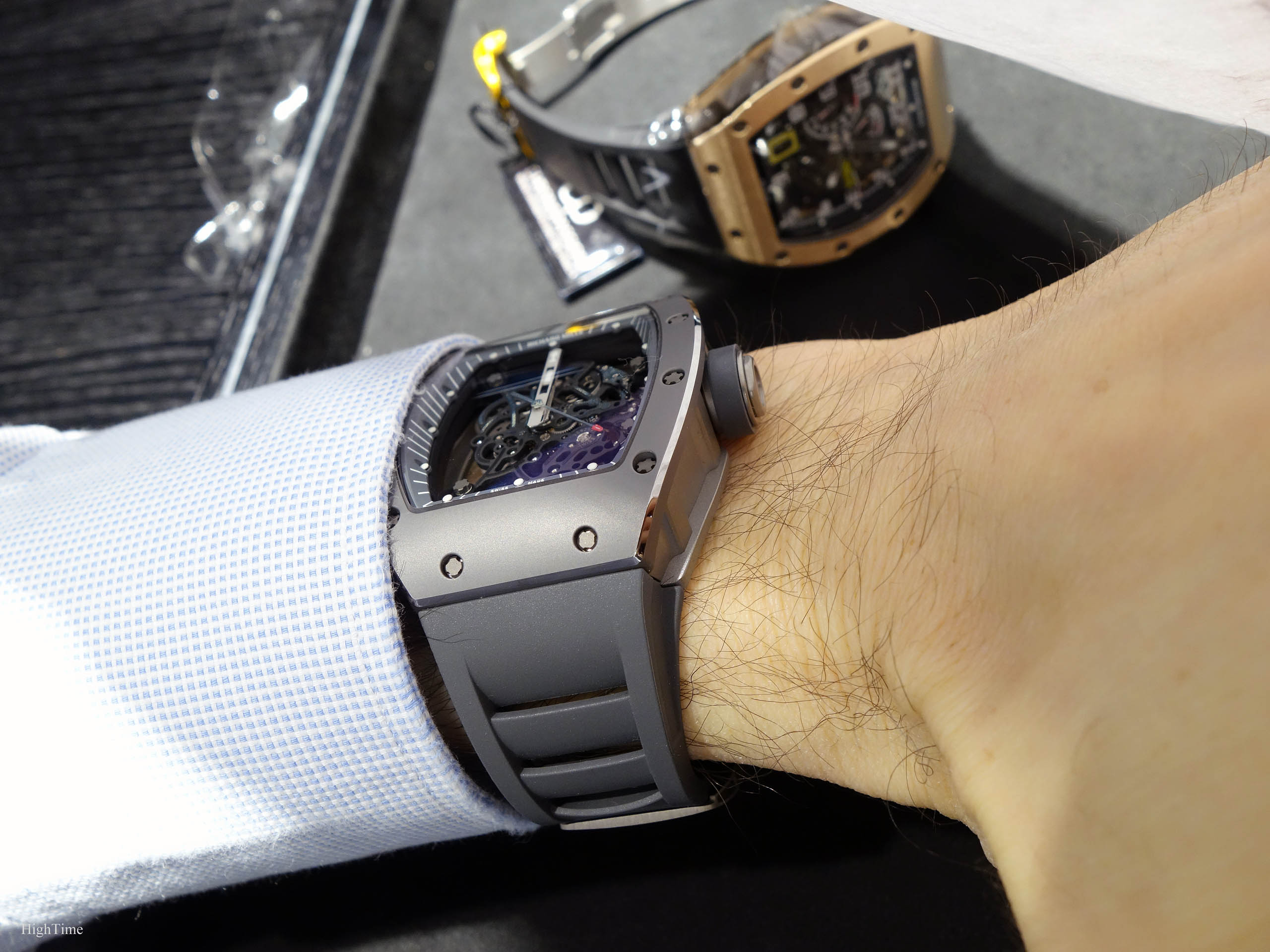 This being said, the "All Grey" model was launched in 2 versions:
A "Boutique Edition", in 50 pieces, with a black minutes flange;
A non-boutique "Limited Edition", in 100 pieces, recognizable by its grey flange, which is the one I'm talking about and posting pictures from in this article.
I saw the 1st one on its stand in a boutique showcase but I tried the 2nd version. The latter is really (to me) the one I prefer as I find that the black flange (boutique version) breaks a little the all-grey harmony of the watch. This harmony is the very detail that makes it so subtle and coherent to me, thus so alluring.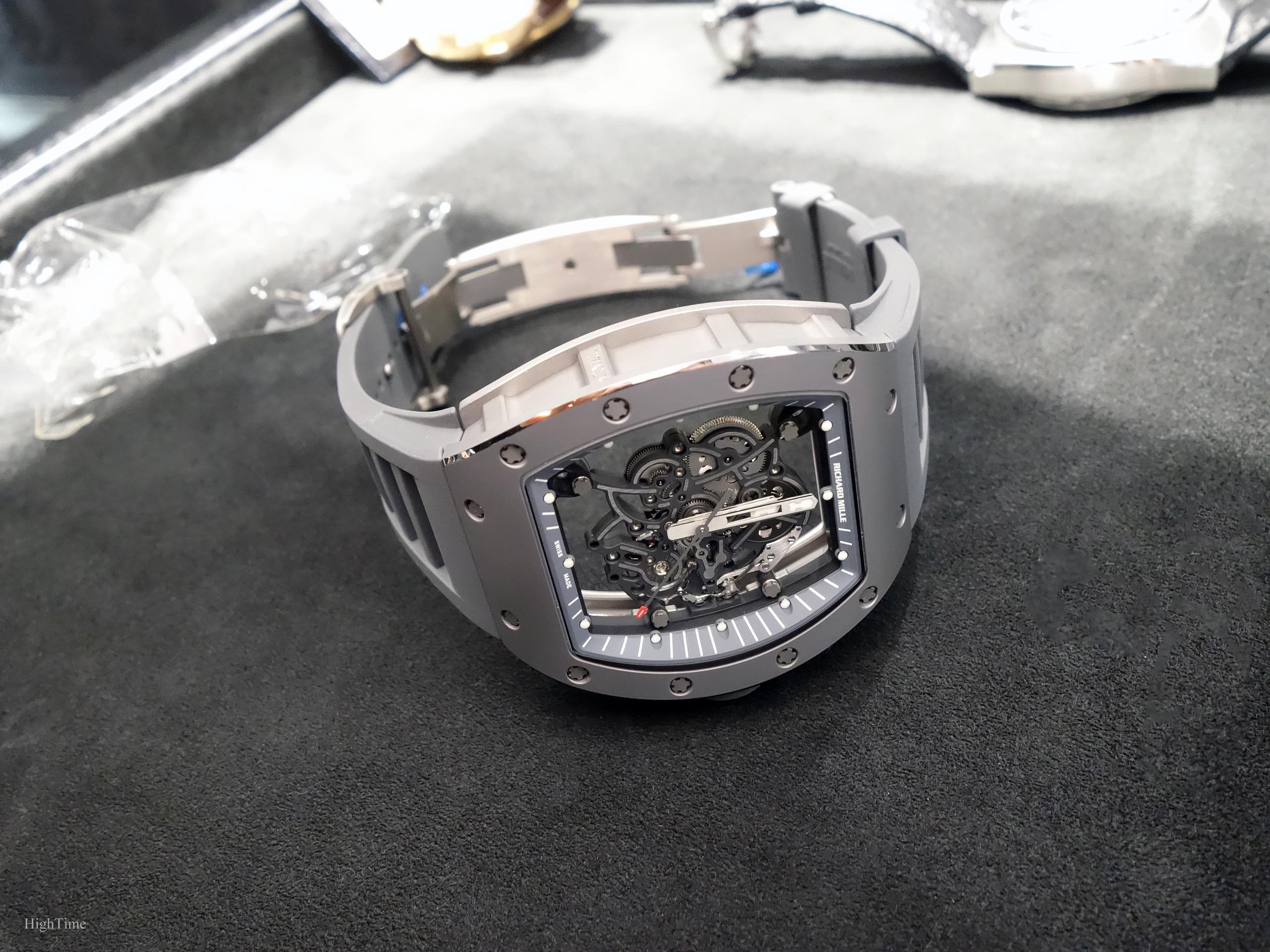 However, the most appealing detail (and why I love this piece so much) is that the bezel's edges are polished (like the caseback but it is obviously less visible). It is hence even more attractive as it sheds a very cool shine to a quite mate overall combination, without being too sparkling (like large polished surfaces). It is sometimes that ultimate detail, the stroke of genius, that you can find in aesthetics, that makes a huge difference.
In the end, it helps keeping the watch rather discreet in terms of light reflexion while being mesmerizing.
This is why I love it so much.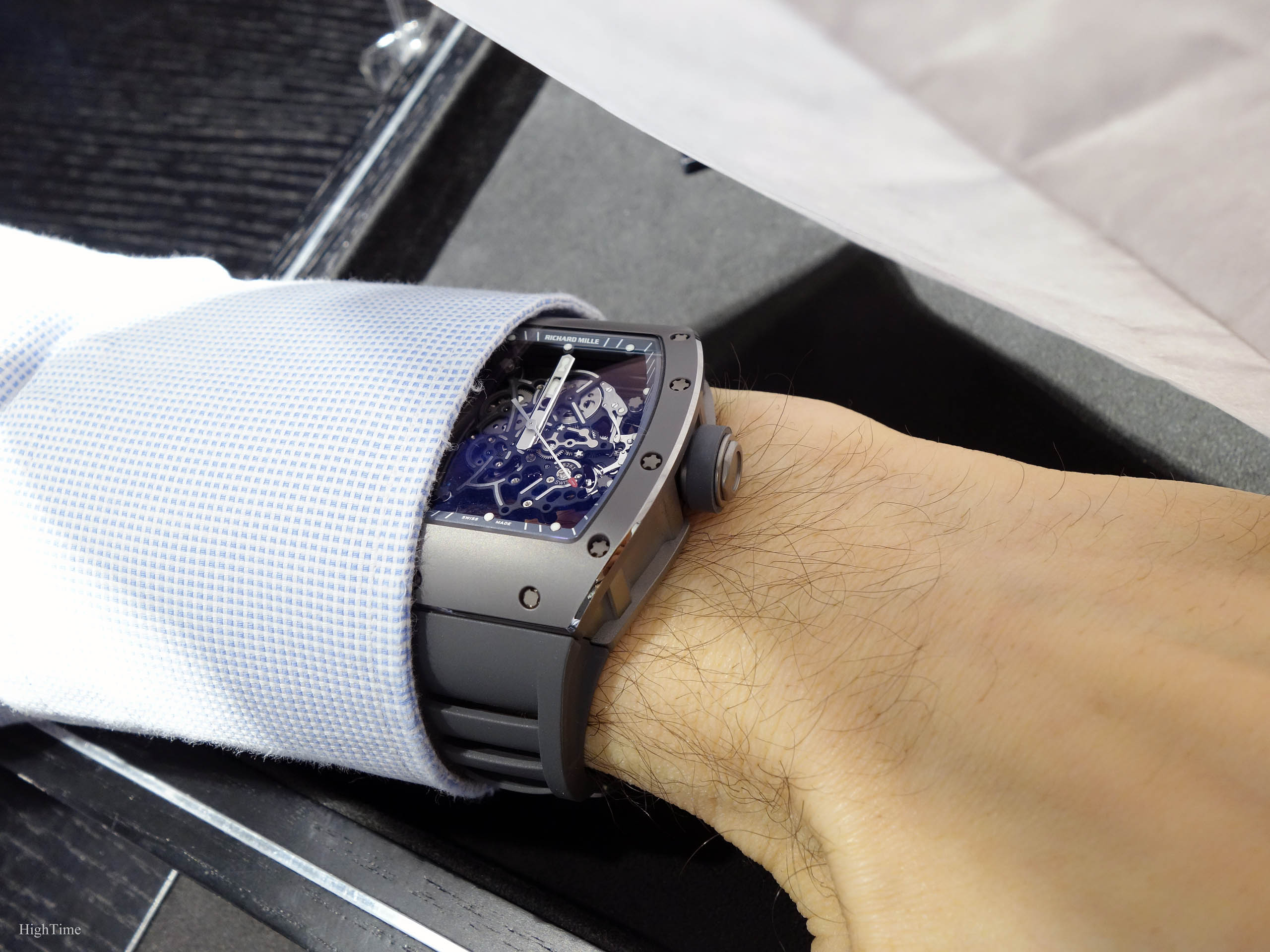 It is done with a lot of taste, and the fact the watch is entirely made of grey colors, in different tones and finishing, makes it the exceptional watch it is.
Of course its flatter surfaces and edges help a lot in that matter, on the contrary to a traditional round case. However, the grey multiplicity is what makes this watch stand out. To tell a few, we have a global view on the bezel, the grey resin strap with its Titanium clasp, the grey minutes flange, the case Ti screws and the skeletonised movement's grey coating. Even the crown is in Titanium with a grey Alcryn collar (hypoallergenic rubber).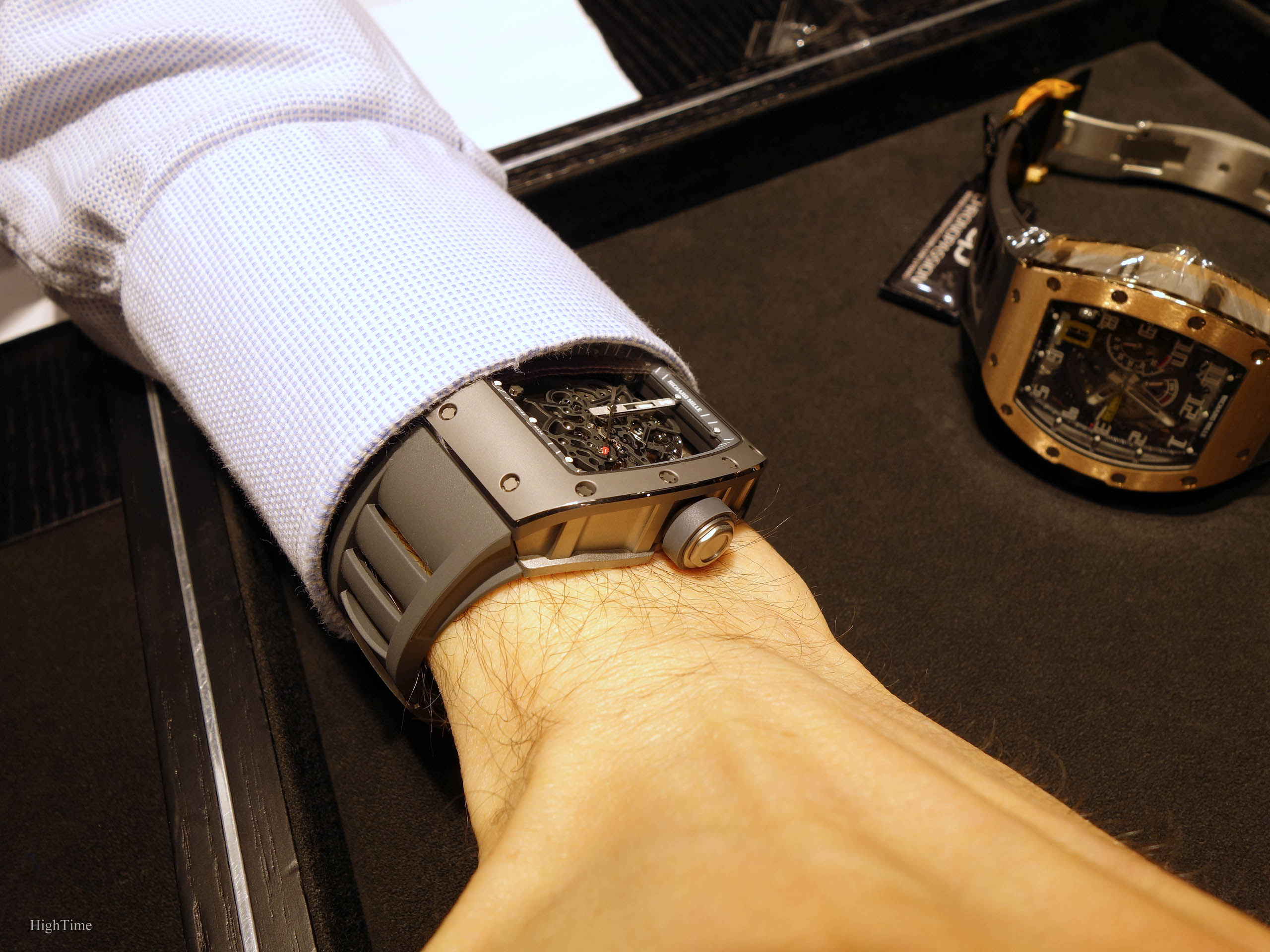 The dimensions are on the bigger size level from the brand (49.9 x 42.7 x 13.05mm) but it wears pretty well thanks to the overall grey aspect and ergonomic shape.
Participating to the use and wearing pleasure, it is equipped with the brand's Titanium 3-part deployant buckle, very soft and easy to clip.
What do we see through
Inside, its modern 28,800 vph (4Hz) paced engine is the manual-wind RMUL2 caliber. This fine movement is lightened as much as can be: the 3.15mm thick caliber is a mere 4.3 grams and is resistant to 5000G. Hence together with the frequency, its timekeeping is top-notch (I've tested on a similar caliber) and it will live through an everyday life style, sports, Tesla's ludicrous mode or frenetic clapping session like a pro.
Yet, it is difficult to realize how much effort has to be put in developpement to come to that level. It's unrivalled especially when thinking about our favourite traditional brands. These elements strongly fuel the interest for such watches and contributed to how RM is perceived today. It is no accident that RM reaches such a position, in a field no other brand has pushed boundaries as far.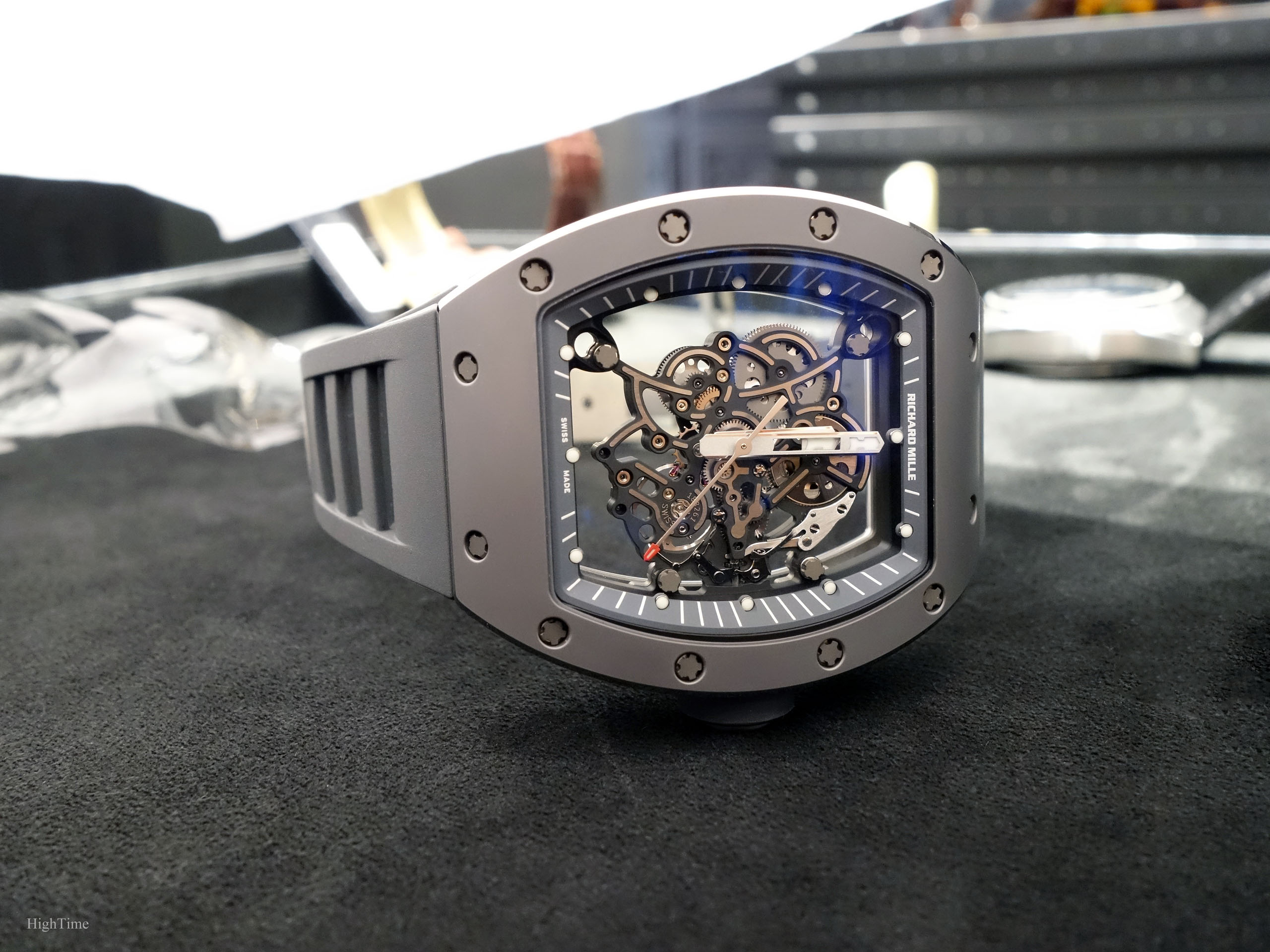 The first RM035 "baby Nadal" (2012, picture below) was also designed in a way to simplify the movement to the maximum, reducing the number of parts being subject to accelerations, hence improving reliability (fewer pieces, fewer risks). They follow the same ultra-light philosophy through every detail.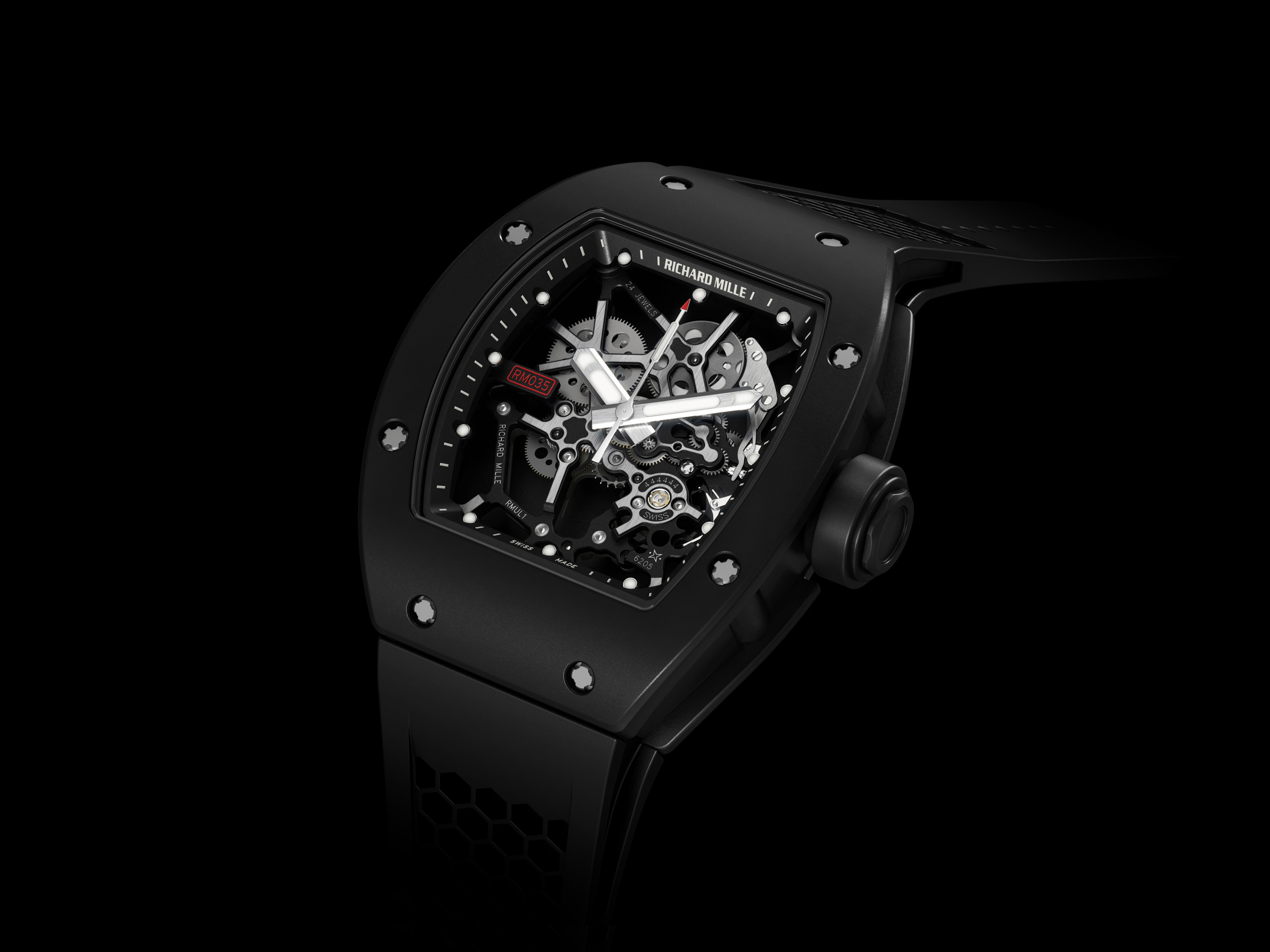 The original white RM055 launched nearly at the same time back in 2011/2012, embeded a very similar caliber with different bridge shapes. It looks like if RM's watchmakers couldn't remove a single more gram of grade-5 Titanium, the material the mainplate and bridges are made of.
It has a 55 hours power reserve thanks to 2 barrels in a series which gives a very tight accuracy on the long run as the torque remains more consistant.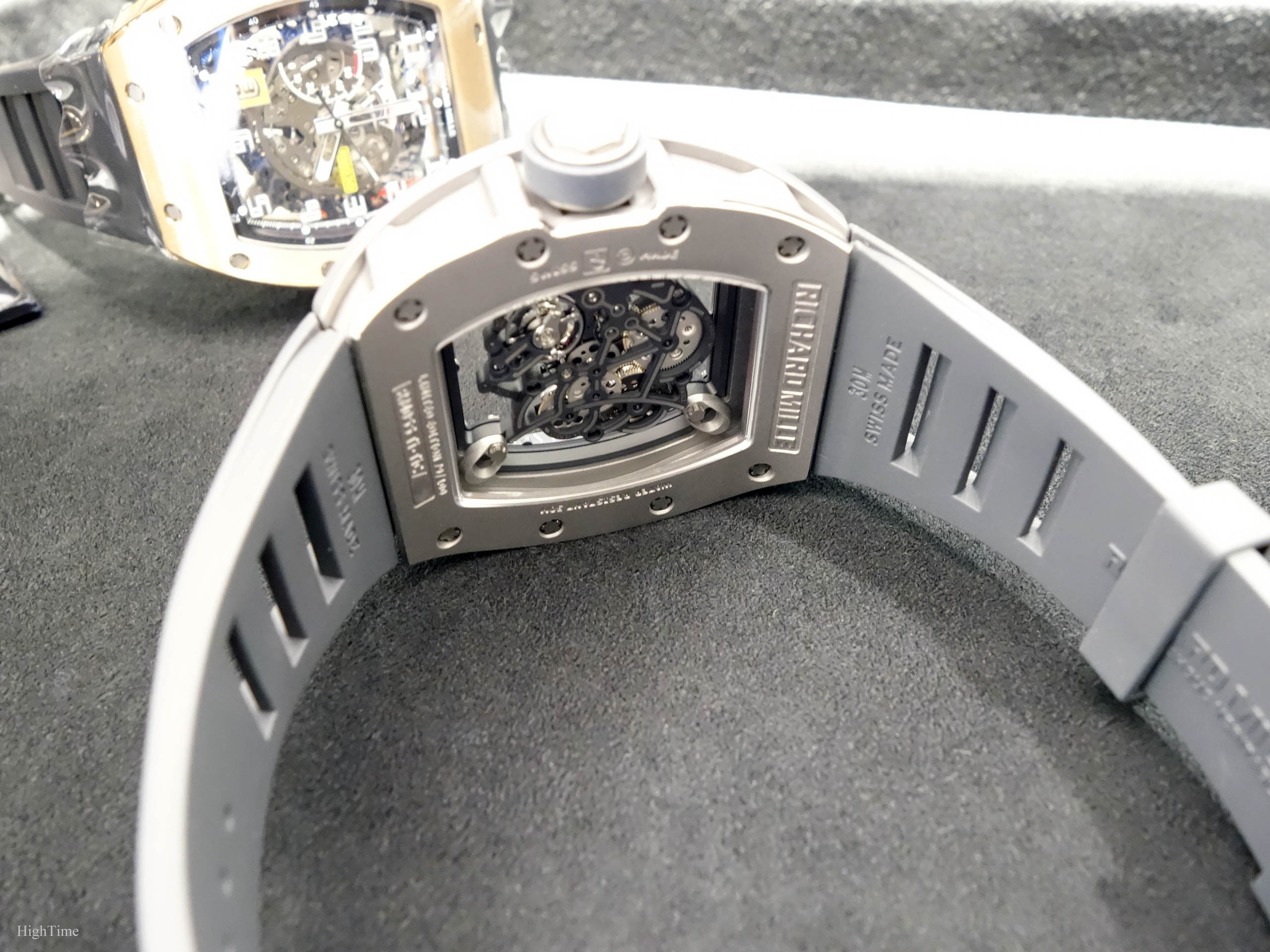 ABOUT:EMOTIONS
As I said in the past, what is very impressive and leaves a very strong impression when holding a RM is the awsome view on the whole movement and case association. The surfaces, edges are polished, brushed, treated differently like an intricate but homogeneous picture. We meanwhile trully recognize what we've been used to seeing in many fields of high-tech development, whether we talk about aeronautics, automotive, racing etc… This is speaking to car and other tech nerds.
However, something people don't expect to experience is when these watches are placed on the wrist. Not during 5 minutes with an unadjusted bracelet in a retailer's showroom, but on the longer run. It is all about the comfort due to the shape and its unequalled lightness. As I said in the past, once you've enjoyed it, it's hard to go back to gold.
Many great but heavy watches don't pass the test of time.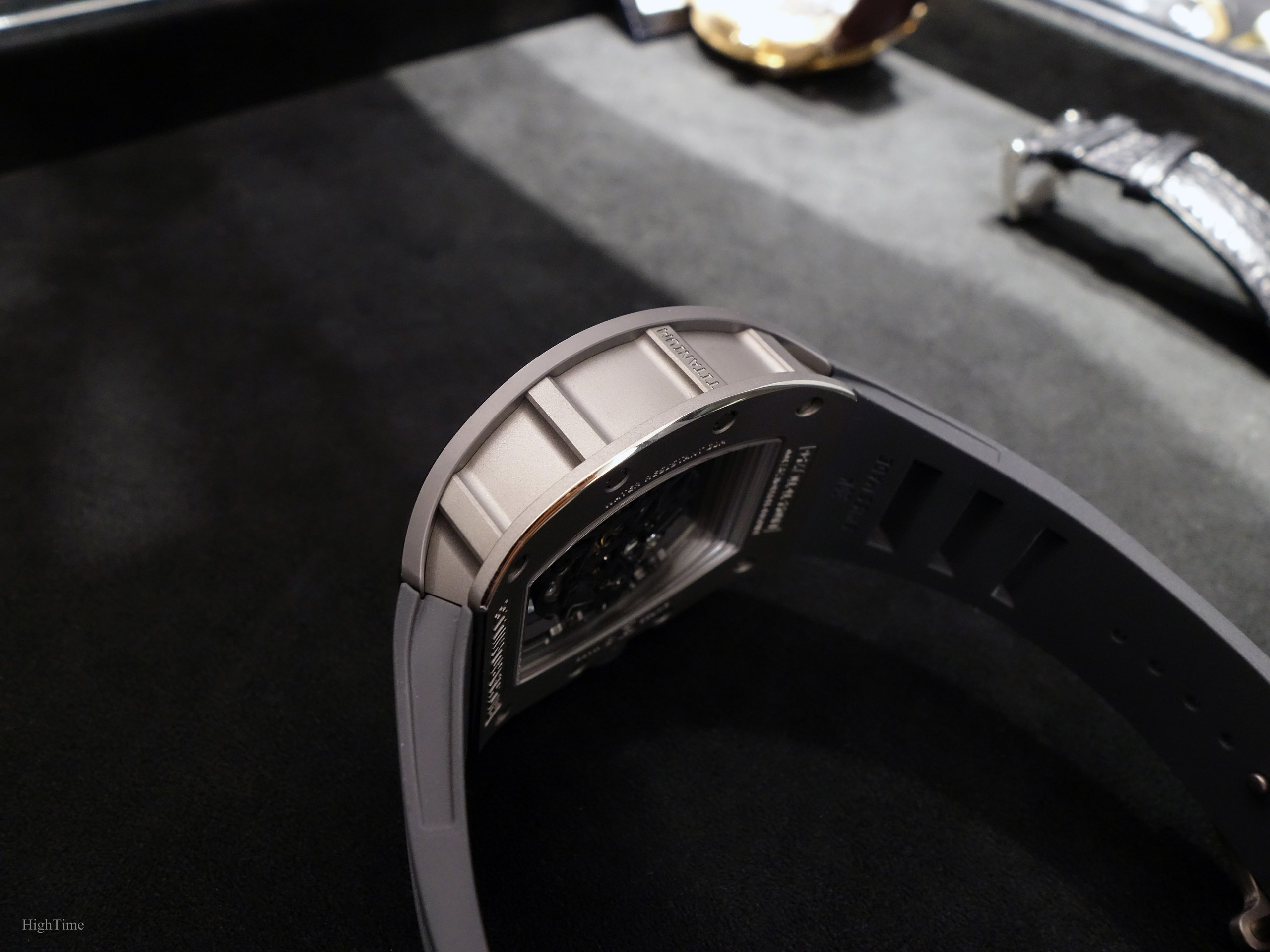 In a sector where watches are often assessed from the gold or platinum heft feeling, this was quite a daring way to go when Titanium started to be used in the early 2000's for the RM001's baseplate at first, and cases later on. And even more so when the first nanotube/carbon cases and baseplates were added to the collection afterwards.
Let me precise, Complications have their part in watchmaking as they shed a light on the limits watchmakers can reach. We love this. However, simplicity, materials know-how and shock-resistance (which is the main problem a mechanical watch can face in an everyday life), while remaining accurate, are very difficult to combine and, imho, represent a complication on their own.
To be clear, the shock-resistance matter isn't just about making a very hard case; the problem is on the movement side.
RM might be the only one at that level, especially in combination with the case (isolation). We all see today brands communicating through the "Carbon" gimmick without facing the kind of efforts RM watches can.
Richard Mille doesn't take inspiration to make watches look like a sports car, they take the engineering of a plane, satellite or racing car to make a watch with similar characteristics, which is to say, improved resistance and performance.
It takes a lot of work to deal with these materials (crafting) and especially to adapt (R&D) their physical or chemical behavior in these smaller dimensions. Time consuming, trial and error, high waste percentage during development or even regular production are the daily challenges to overcome.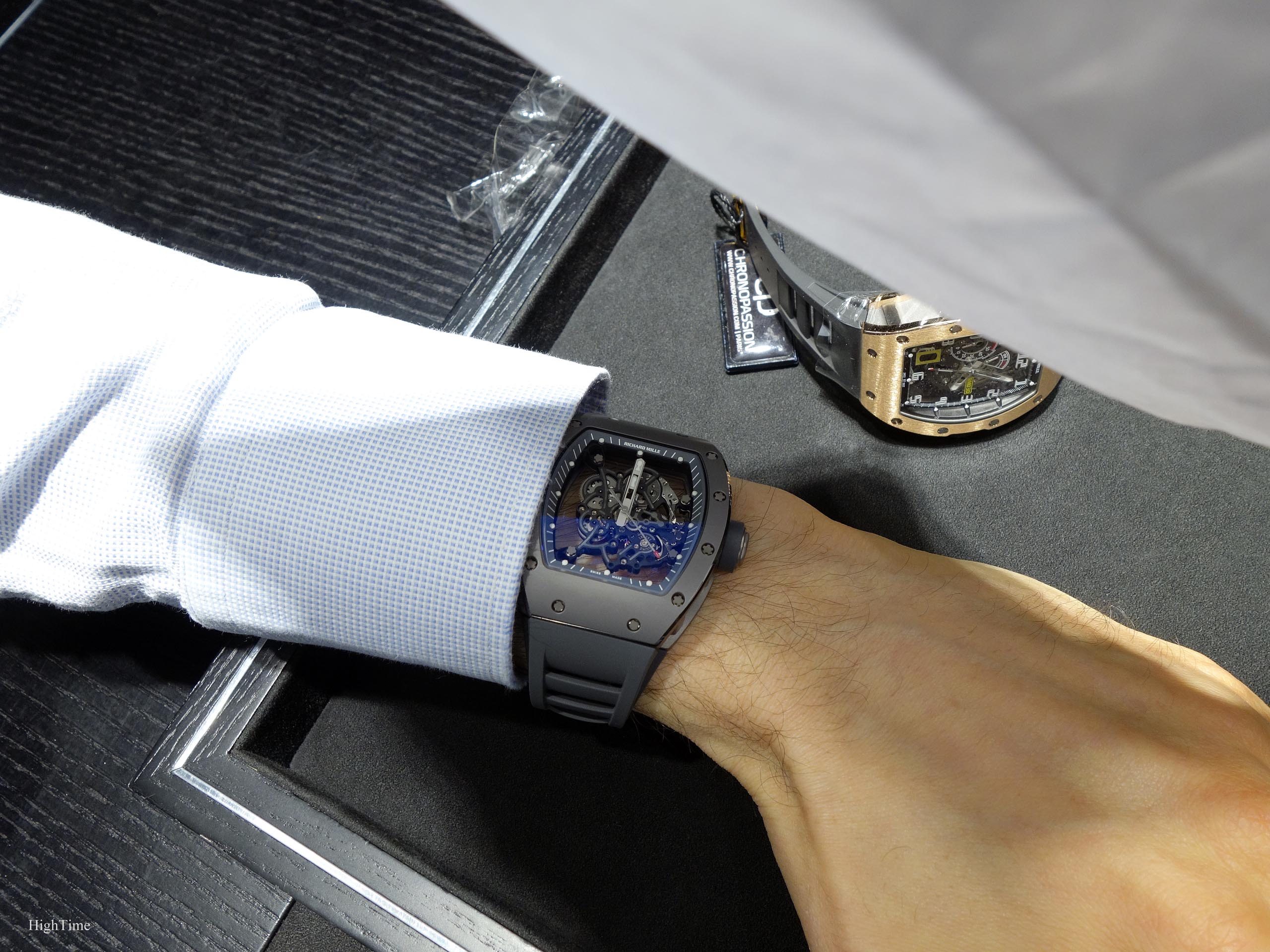 Overall, the Richard Mille 055 "All grey" is, just ahead of the RM056-01 Sapphire, my all-time favourite RM (from the ones I could see in the metal). Those 2 models, I'm sure, aren't the ones people would rank in such place from the models they have seen here and there on pictures. I was among them. Ultimately, the real life experience was both a surprise and a very memorable experience.
In the end, brands can craft cases, assemble movements but this isn't what we seek. We are avidely looking to find something that arouse one phenomenon: Emotion. This is what, for me, sums up Richard Mille watches.
I hope you'll enjoy the pictures and I encourage you to try them if you can. This is a great watchmaker to experience, though very different from traditional watchmaking. Like any RM I could try, it is worth the discovery, and it sometimes makes it hard to go back wearing traditional pieces. The brand has a soul and its founder Richard Mille, car racing fan and collector as well as enthusiastic esthete, is at its genesis.
Believe me, it is second to none in that field.
This RM055 "All Grey" limited edition (non-boutique, 100 pieces) cost approximately 108 000 € (VAT included) back in 2015. You can find additional details on the original "Bubba Watson" white model on the official website, here:
The Richard Mille RM055 white version on the brand's website
I hope you enjoyed the read!