The Patek Philippe 5650G Aquanaut Travel Time "Advanced Research" – A technical landmark
Hello everyone,
2017 was the Aquanaut's 20th anniversary. The brand was willing to mark the event with the launch of two new references, the 5650G Aquanaut Travel Time "Patek Philippe Advanced Research" together with the Patek Philippe 5168G Aquanaut (with a dedicated article in the future).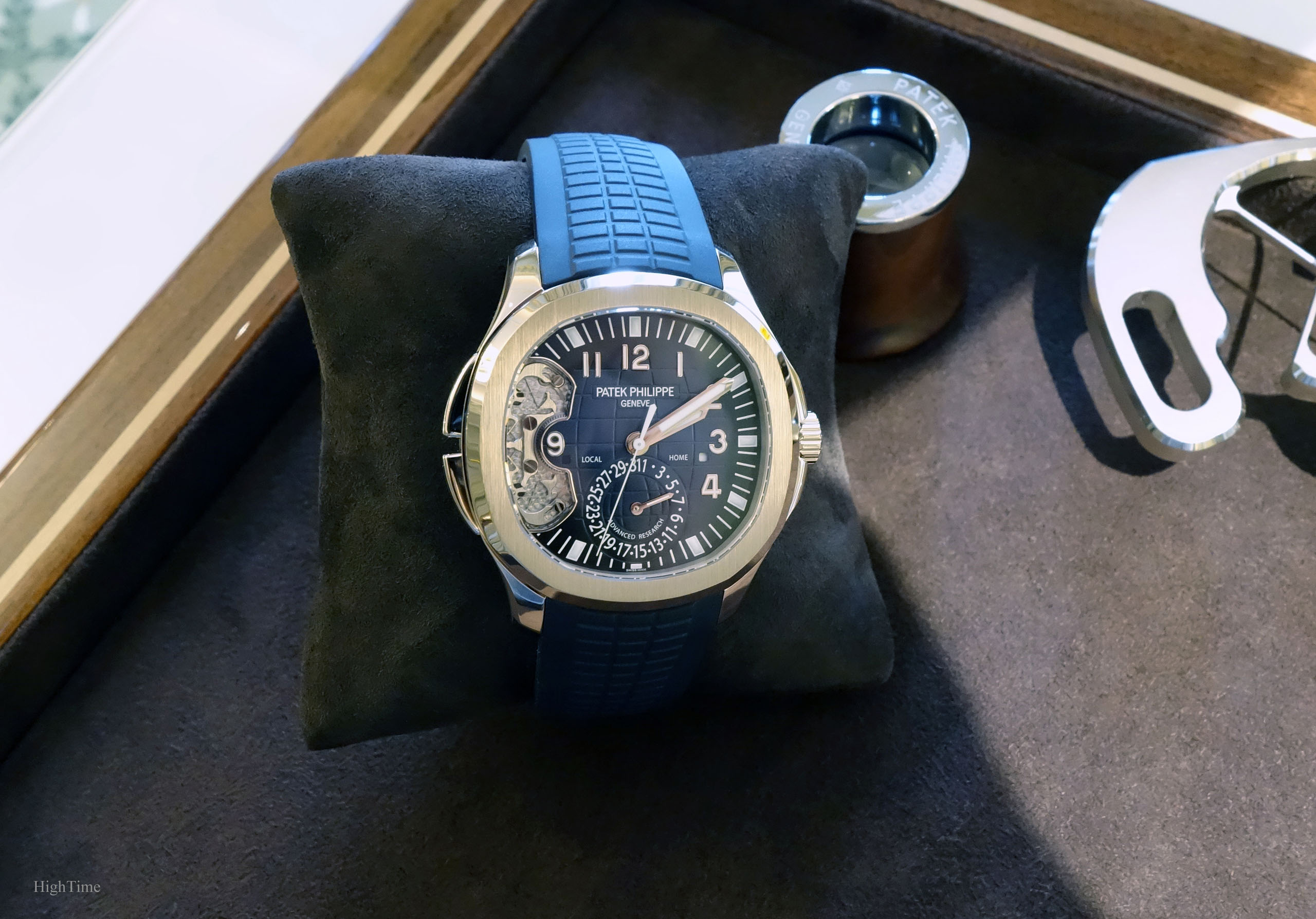 Some context
As a reminder, in the early 2000s, Patek Philippe decided to create the new "Advanced Research" innovation program which would aim at preparing the future in developing new technologies and working on new materials. Since long ago, Patek Philippe, apart from its wide historical legacy, always considered they shouldn't ignore progress and new possibilities.
Some of the main issues watchmakers are facing since the traditional Swiss lever escapement's beginnings are related to lubrication, wear, magnetism, temperature compensation, accelerations, etc…
Hence, for the two last decades, the Silinvar® material (a kind of oxidized Silica developed by the CSEM, Centre Suisse d'Electronique et de Microtechnique, in Neuchatel, upon the impulse of a joint group composed of Patek Philippe, Rolex and the Swatch Group) helped addressing some of these issues, through program's limited references first, possibly followed by a regular version (as for the Spiral for instance).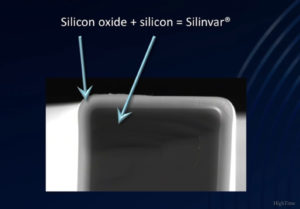 This is how we've been provided with the references:
5250 (2005, Annual Calendar, 100 pcs);
5350 (2006, Annual Calendar, 300 pcs);
5450 (2008, Annual Calendar, 300 pcs);
5550 (2011, Perpetual Calendar, 300 pcs).
However, in 2017, we've discovered another kind of innovation in the Patek Philippe 5650G Aquanaut, the 5th Advanced Research reference: a new Spiromax balance spring and a new pushers display.
(This is a long article but I thought it was worth it!)
The movement and its 2 new innovations
What is the original purpose of a watch or, more precisely, of a movement: it's about accuracy and reliability. Both innovations included in this "Advanced Research" 5650G are cleverly and simply bringing a concrete improvement in those fields.
As usual with Patek, this is something that isn't obvious at first, that looks simple, but that definitely brings enhancement to watchmaking.
New Spiromax Balance Spring with patented terminal curve and inner boss

The new 5650 Aquanaut is firstly including a new innovative Spiromax balance spring made of Silinvar (a Silicon-based material). To improve isochronism, they added a new inner boss to the outer boss introduced in previous references.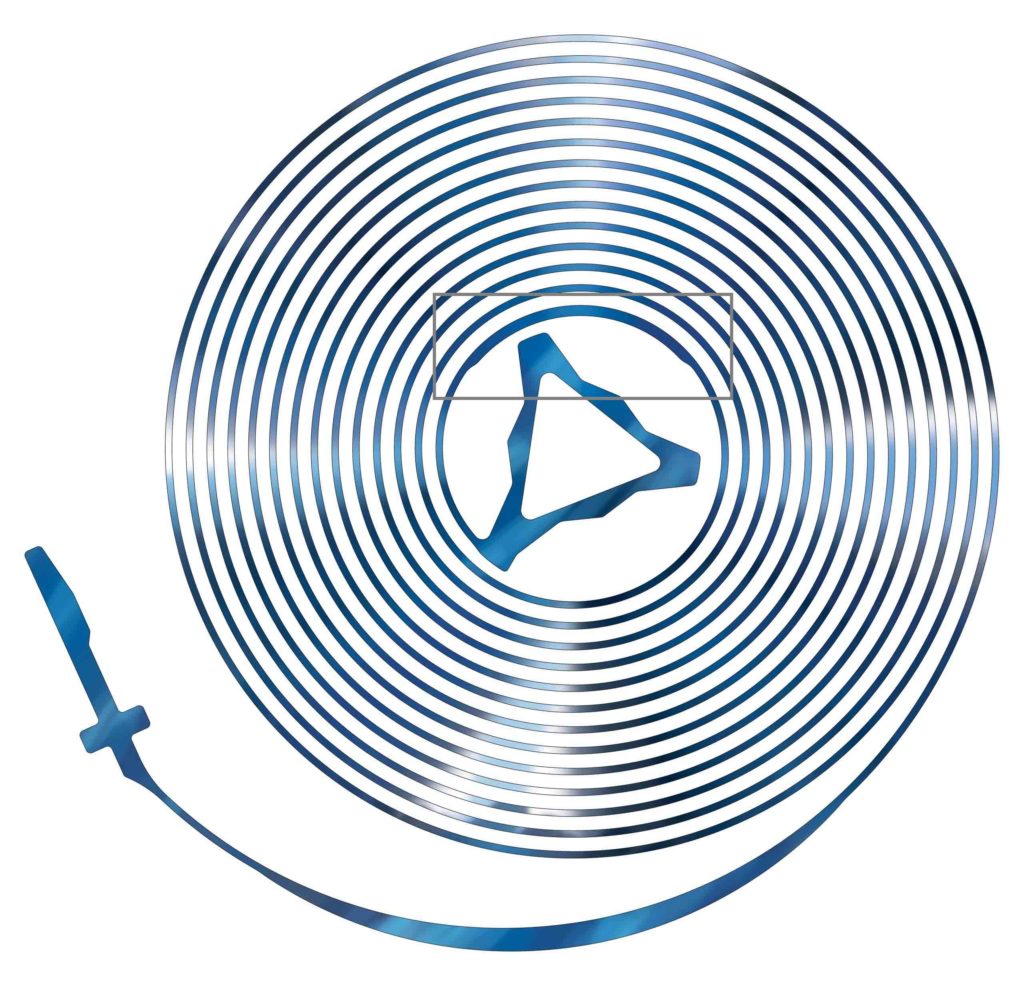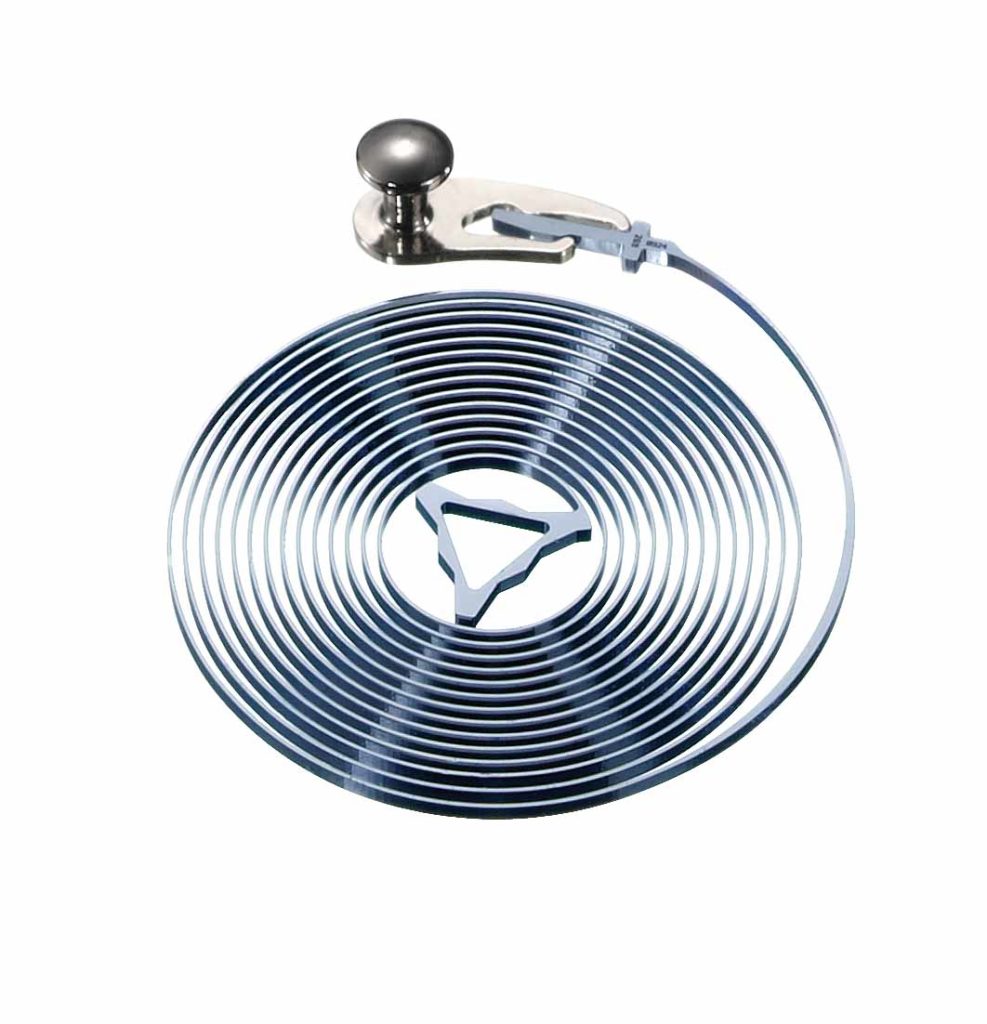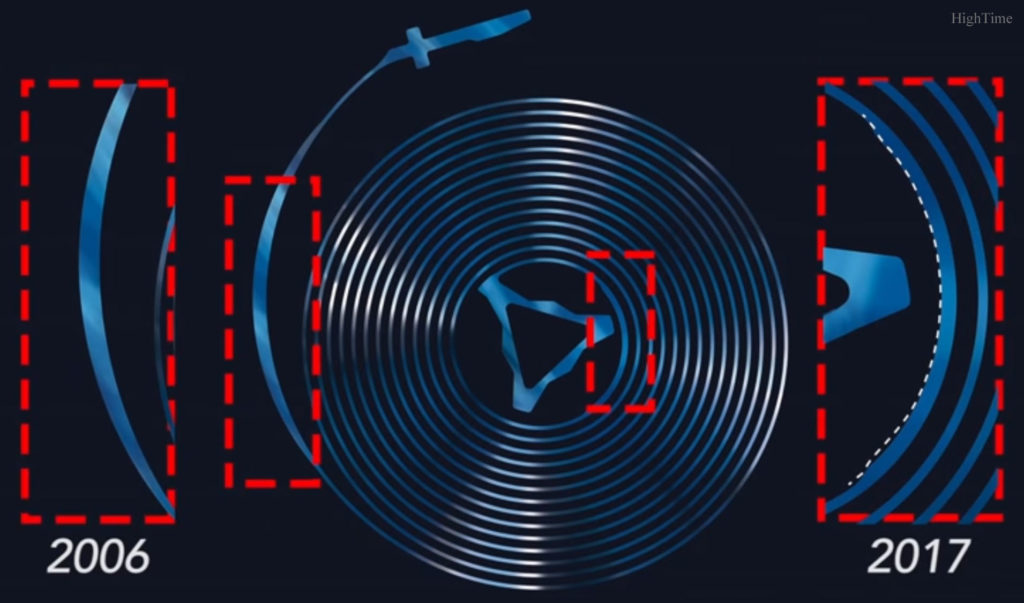 In other words, watchmakers try to make the spring "breathing" in a more concentric way than before, i.e. trying to limit its gravity center moving away from its central axis when the balance wheel rotates (cf. comparative picture below). Indeed, most accuracy errors come from watch positioning (especially vertically-wise) or shocks but, even before that, we can understand that the more balanced the watch is before leaving the manufacture, the better.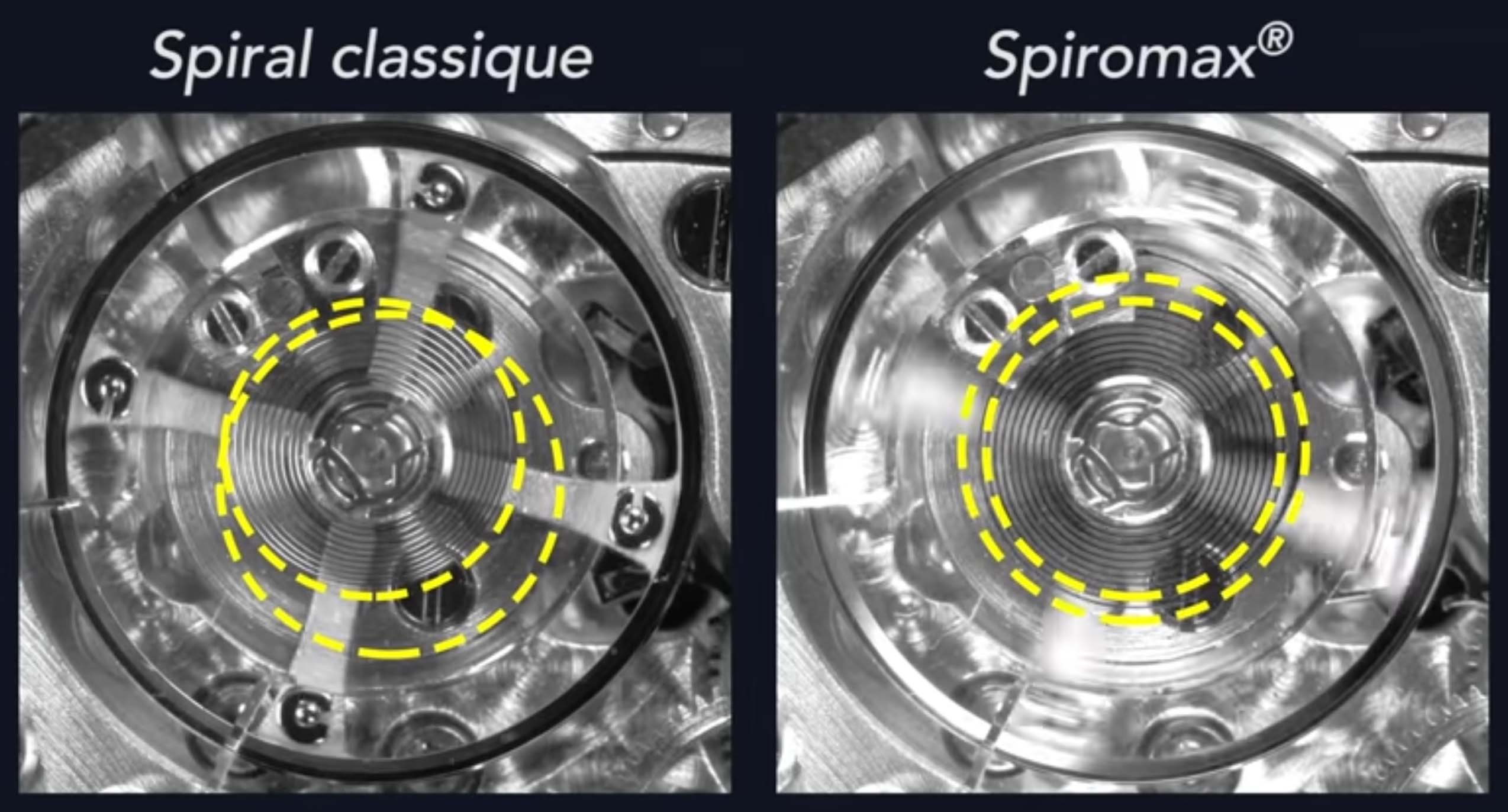 Here, this addition leads to an impressive Tourbillon accuracy tolerance of -1/+2 seconds per day. As a reminder, Patek's seal requirement is -3/+2s per 24 hours (except 3s for a Tourbillon) whereas COSC is -4/+6s.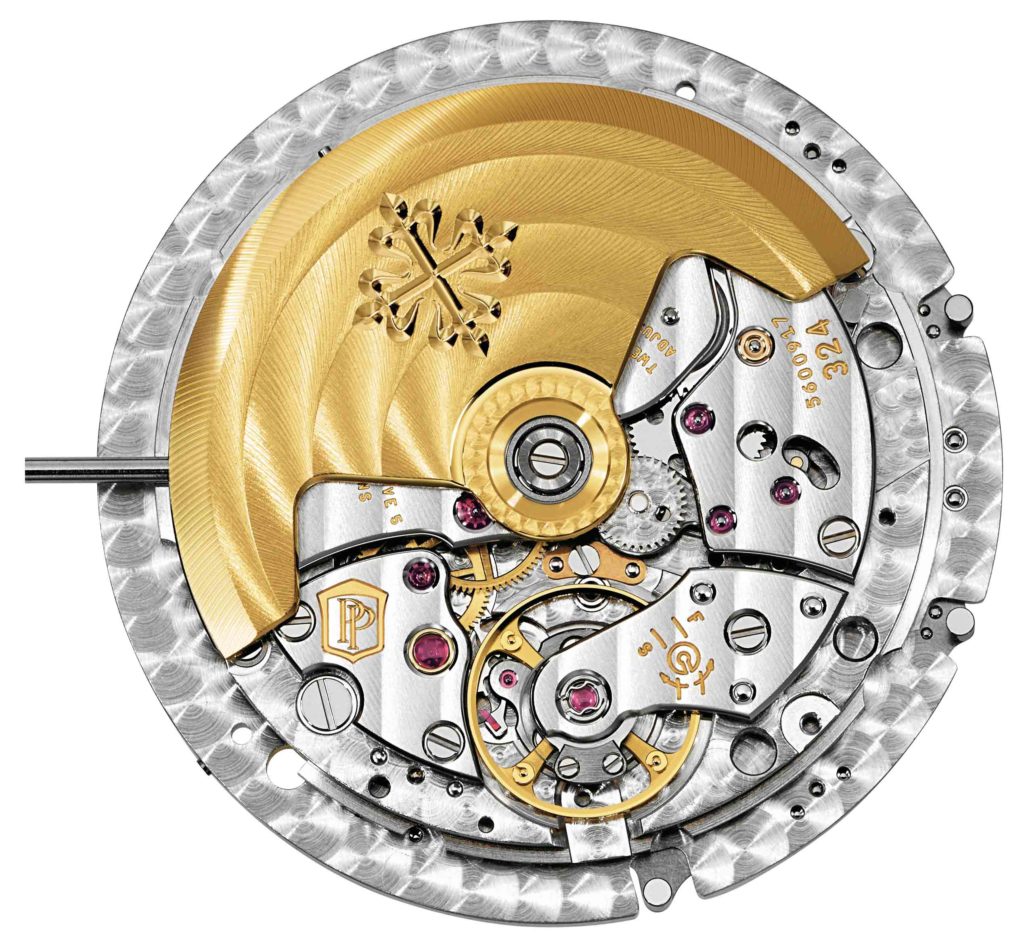 To realize what it represents, we must think about the context when the Tourbillon complication was created in 1801. It wasn't like today about showing watchmaking know-how (even for all the pleasure this kind of complications can offer) but about how making pocket watches more accurate.
In this new reference, it is as accurate as a Tourbillon but with much less thickness in the escapement area, more reliable and of course much more affordable. That's very interesting for the future of timekeeping improvements in mechanical watches.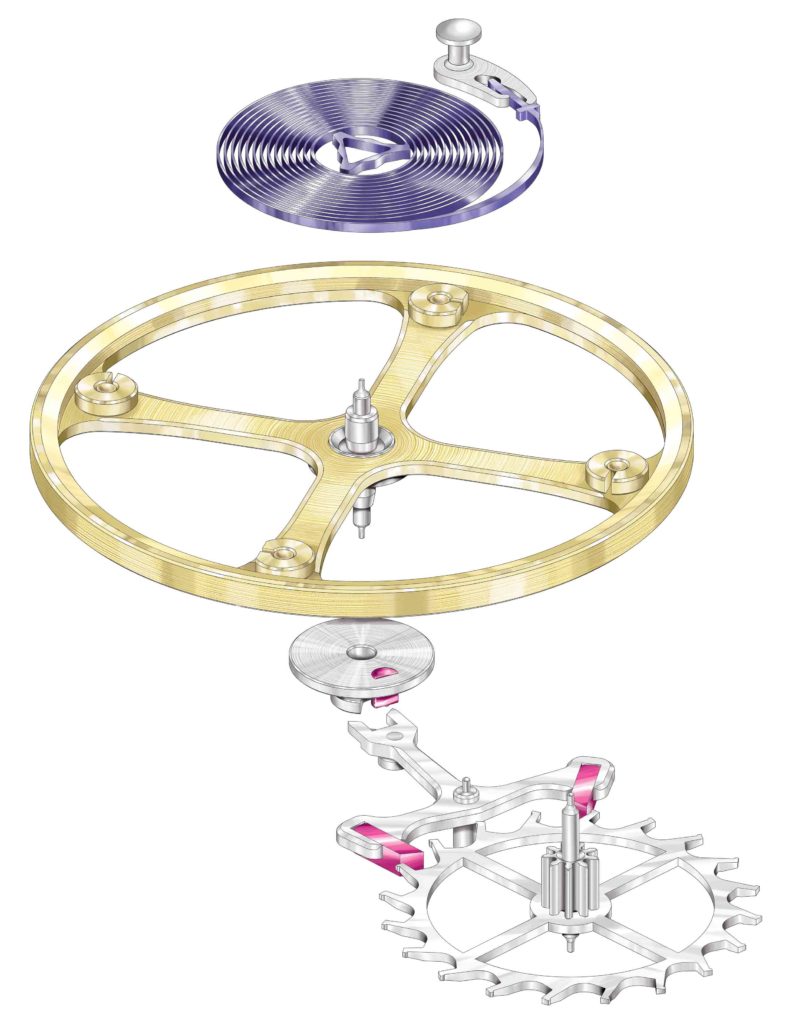 Today, 90% to 95% of the calibers have the 2006 Spiromax (Silinvar spiral) that was first introduced in the 5350, improving significantly timekeeping and allowing Patek to promote a better accuracy requirement via its Patek Seal (-2/+3) compared to COSC (-4/+6). You'll find a testing report (source: Patek) here below:
Thus, we can imagine that this new 5650G spiral evolution, implemented in the 324 caliber base, can be included in the standard collection in the future as well to bring a very significant evolution in terms of timekeeping.
This solution is simple (as long as a brand can master its production process) and keeps the mechanism reliable compared to more complex solutions. That fits perfectly the use of an everyday wearer.
Time Zone correction with compliant (flexible) mechanism in Steel

The second significant innovation is to be found in the flexible steel display used in the Dual Time activation mechanism.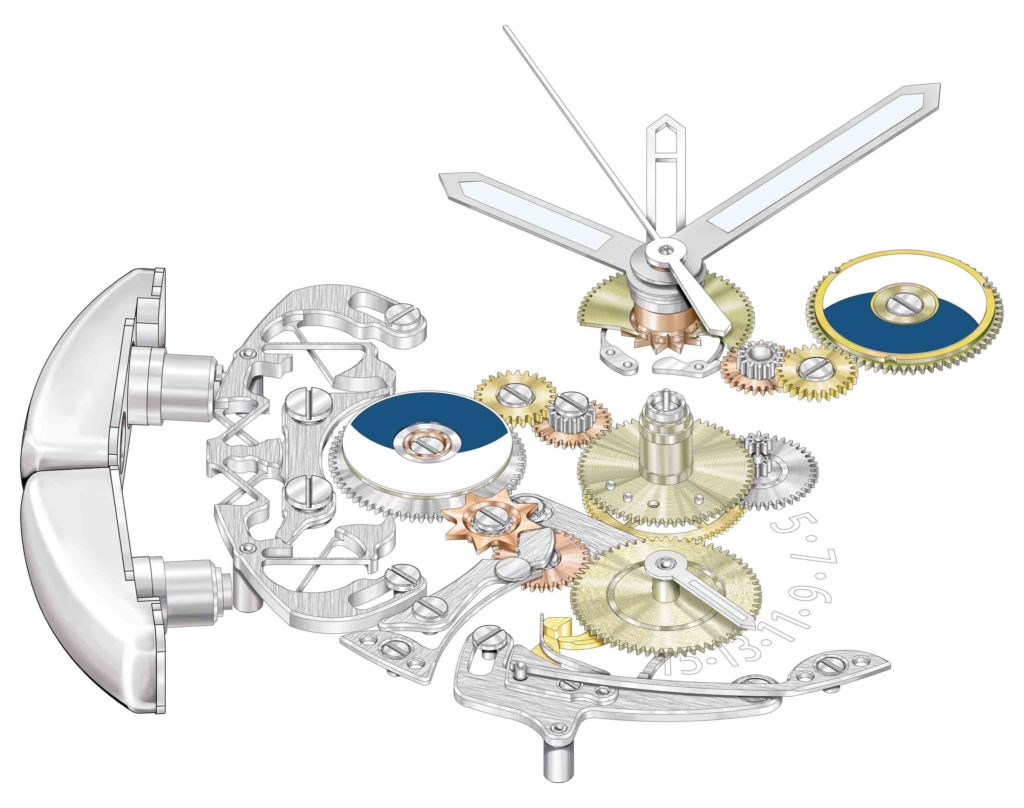 The Travel Time complication remains the very cleverly engineered version implemented in the 5990 Nautilus and 5164 Aquanaut for instance.
_
A few words about the Travel Time complication itself

The Travel Time complication is very clever as it can be set back and forth without risking damaging the movement.
Firstly, the hour hand is conveniently able to go forward or backward (with the pushers at 9 o'clock) and the date will then follow the hour hand passing midnight (hence forward and backward too). This is a major design feature that makes this Patek complication quite special.
Secondly, the pushers at 9 o'clock can't be activated accidentally together. A little piece, linked to one pusher, prevents from doing so by disengaging a lever that activates the right gear.
Thirdly, a cam integrated to the hour wheel prevents the date from a manual change around midnight.
This is an interestingly developed complication in which several clever and simple (thus usually more reliable) ideas prevent the owner from making the wrong move.
This travel time is indeed very practical and can be set very quickly (with buttons and not via the crown) with safety for the movement.
The 2 Day & Night indicators allow to follow the moment of the day for each places (practical to avoid awckward middle of the night calls)
_
Back to the 5650G, aesthetically, you have certainly noticed that this 5th Advanced Research generation received an unusual open dial (that I didn't know what to think of from the press pictures). In real, not only the finishing and light reflections are very enjoyable to look at but you just keep on playing with the pushers to see the flexible parts moving (useful during meetings).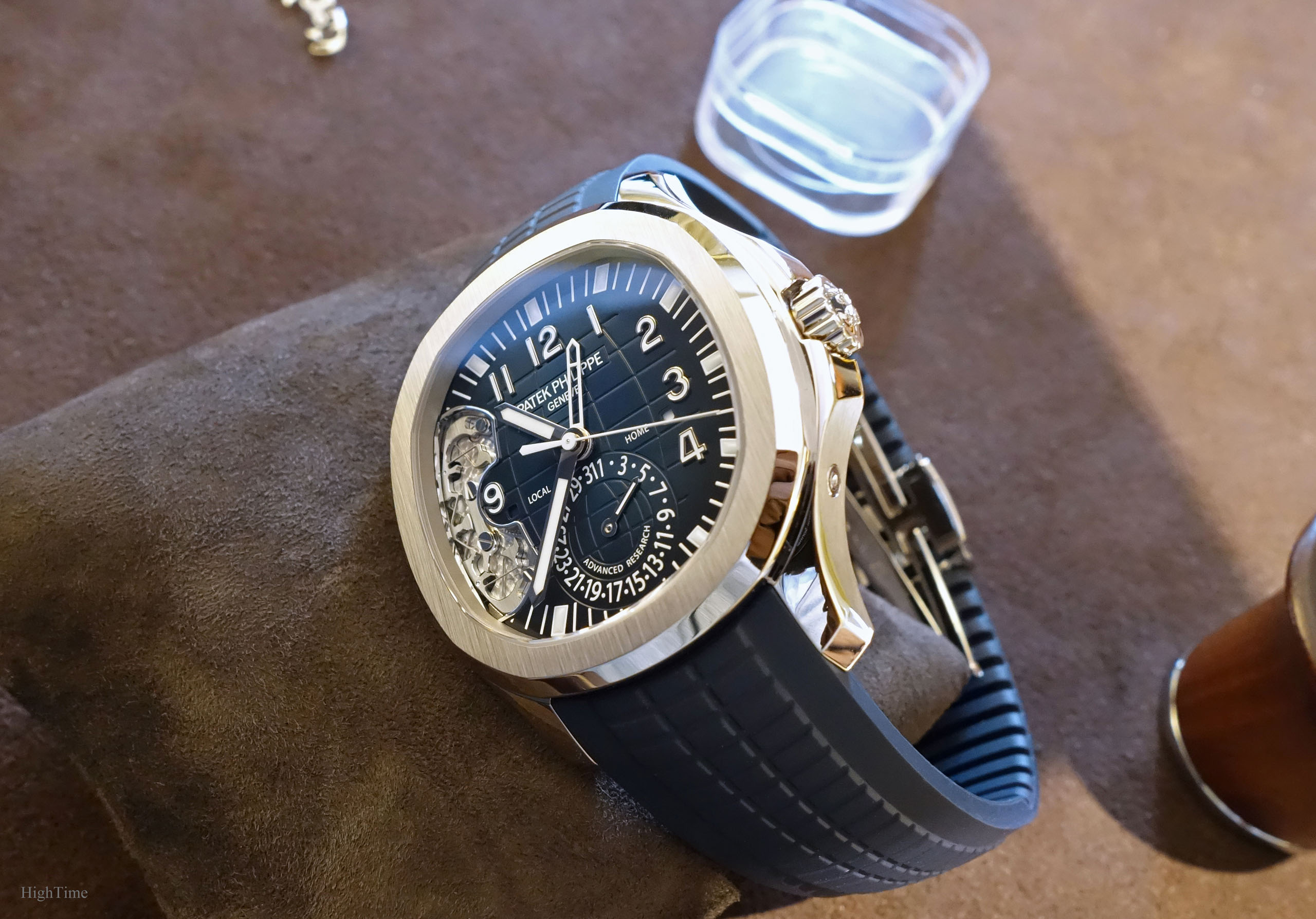 In fact, this is where you can observe what this innovation is about, instead of leaving it hidden inside this "prototype" piece. Because yes, those Advanced Research models can be seen as first sellable prototypes for clients.
– Origins –

Concretely, Patek Philippe has awarded a chair to a specialist who, after a long research, came with the idea of a flexible display that could for instance be used for the escapement mechanism. Patek watchmakers carried out a reflection about what it may bring and studied other places where they could apply such feature first.
As the pushers' activation mechanism from the Dual Time complication didn't need the parts to move from a wide angle, the use of a flexible display appeared appropriate.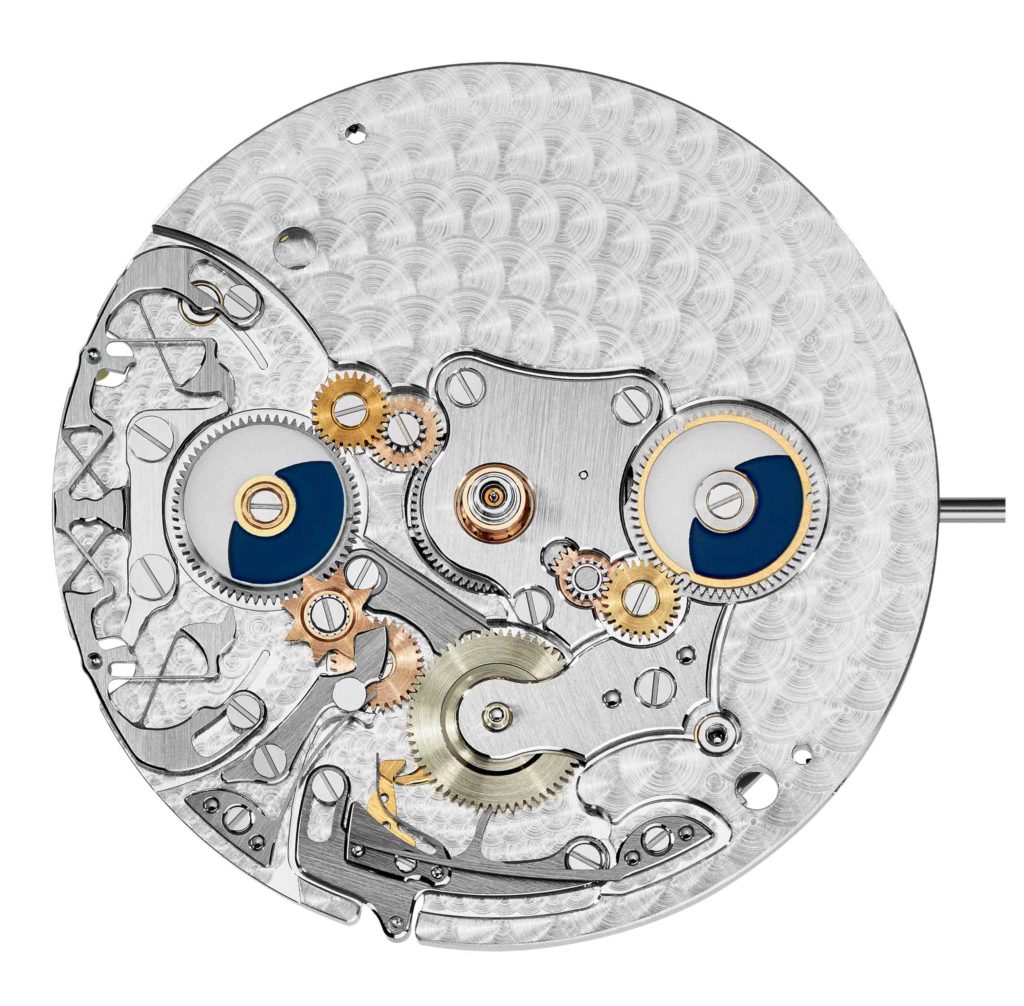 Material-wise, Patek rejected the use of Silicon for this part. Indeed, on a mechanical standpoint, there is no real interest to choose this material over Steel as it isn't a part requiring lubrication (only Dual Time setting pushers activation). Furthermore, it wouldn't have allowed the brand obtaining the required flexibility nor to apply better finishing decorations. Indeed, watchmakers wouldn't have been able to apply traditional finishing techniques on such Silinvar parts which need to be Plasma-cut.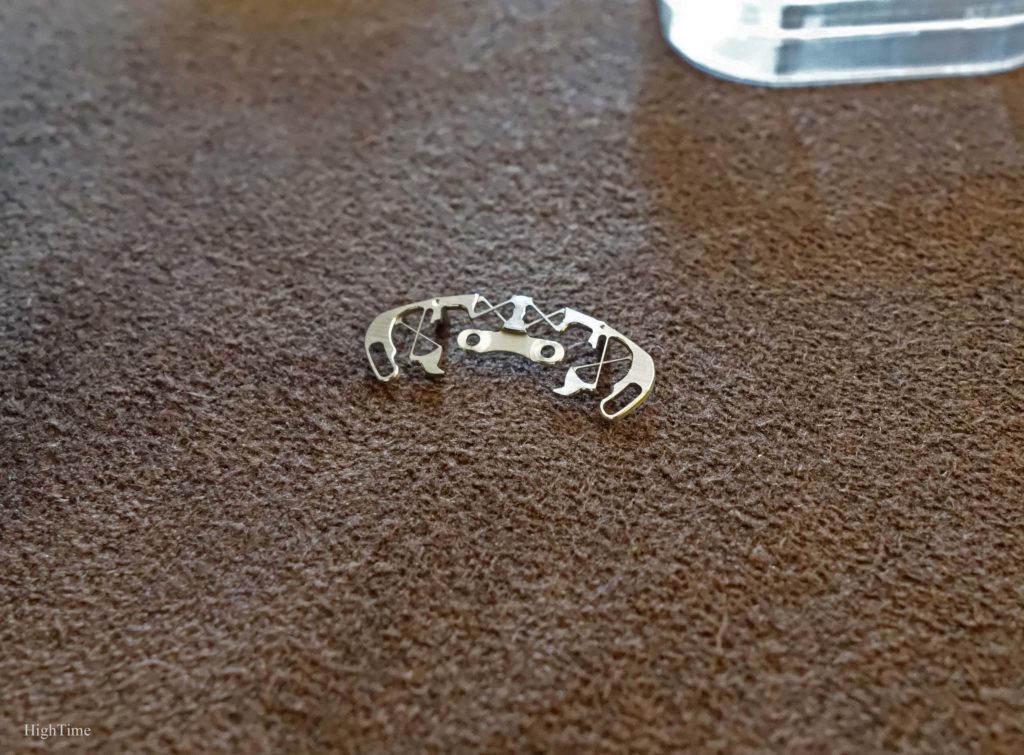 Hence, Patek watchmakers could have chosen what would have been an interesting marketing gimmick (Silicon) for selling purposes. But, instead, they ended choosing what suited the function best for a non-moving part (Steel).
– In the real –
The transition from a higher scale prototype (that you see on the picture below) to the final 1:1 scale piece has led to significant issues regarding finishing. Indeed the "anglage" and sandblasting techniques modified some parts' flexibility properties, thus impacted their function. However, they finally achieved their goal as you can see on the same picture.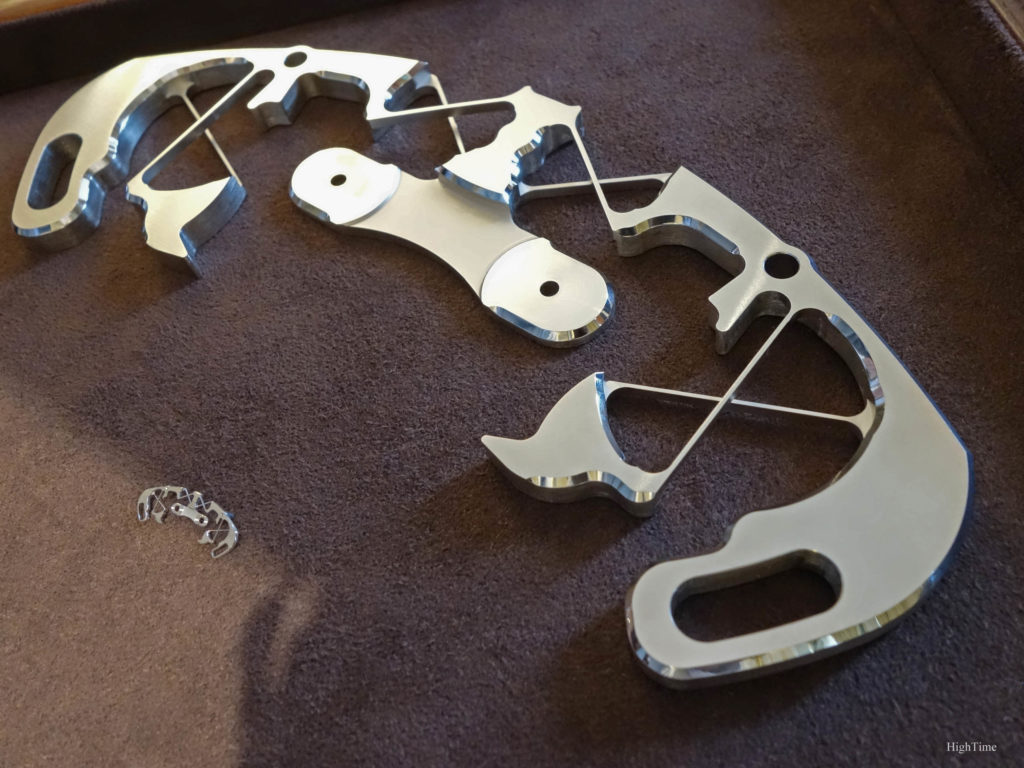 The evolution appears even clearer if you take a look here below at the original display (in yellow, from the 5164 or 5990 for instance) compared to the new 5650G version (in blue).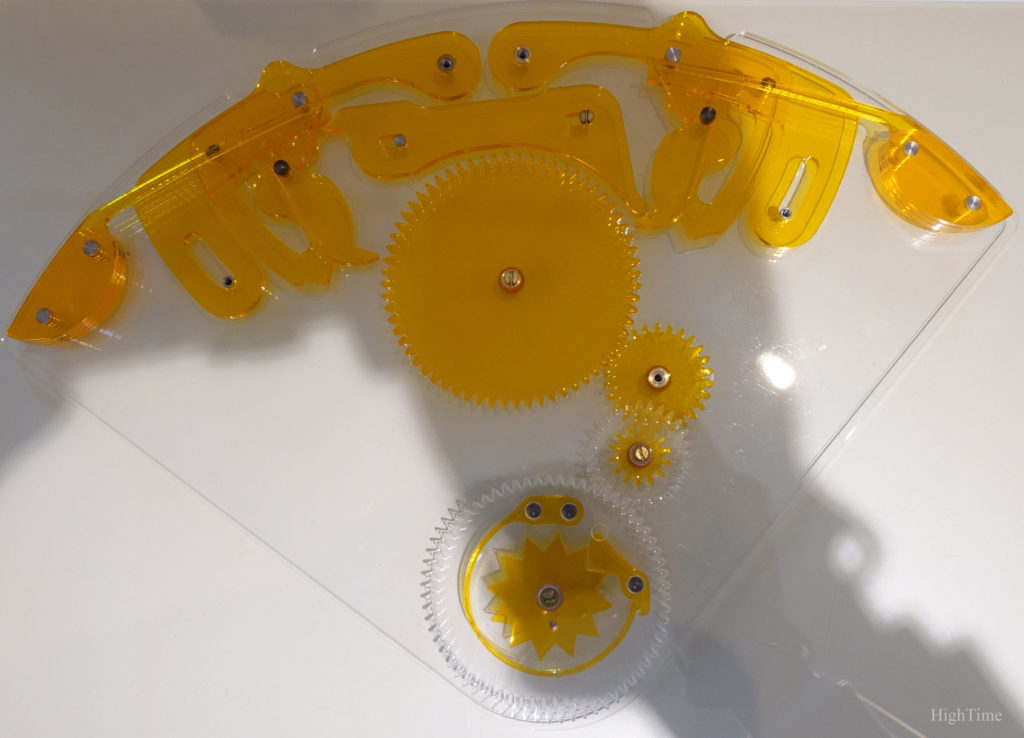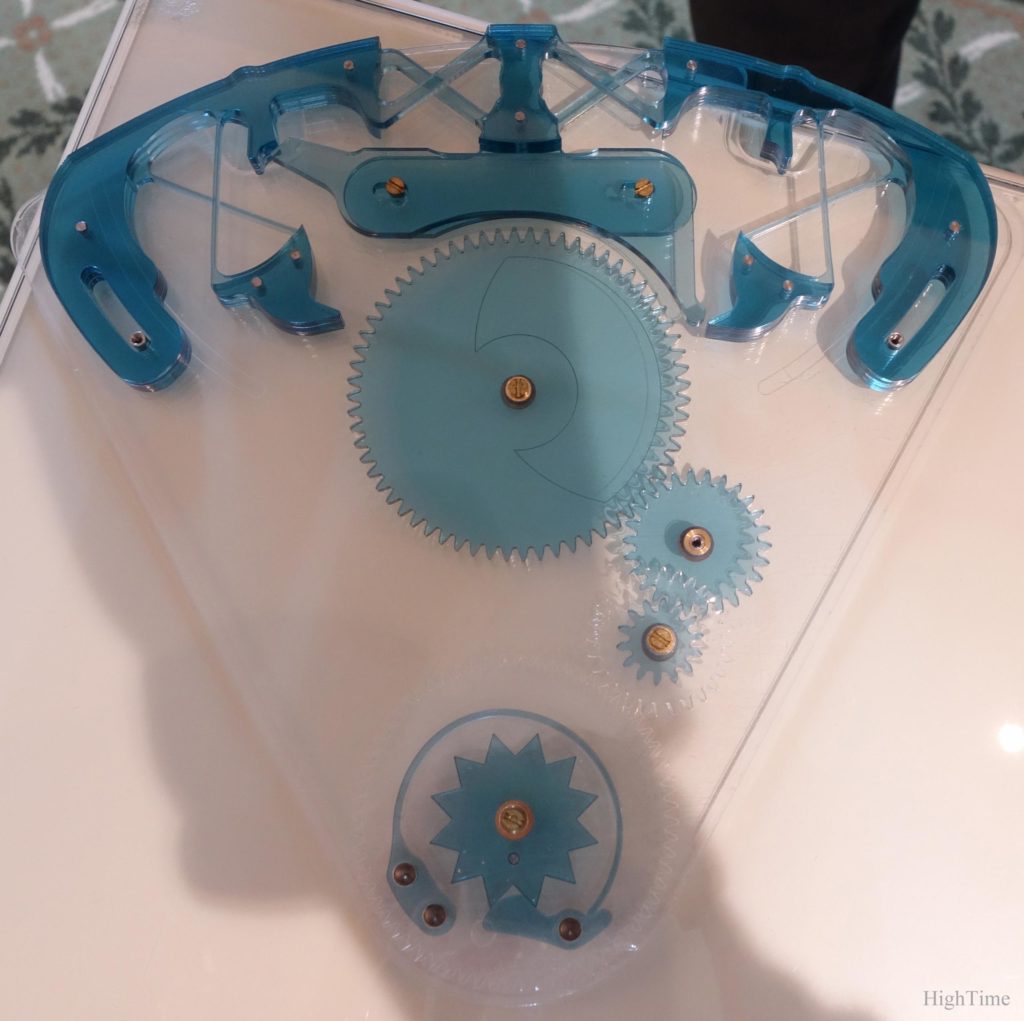 Let's emphasize from these pictures that it brings in the end a great improvement in terms of reliability (and assembling or servicing on the brand's side) as there are no pivots or springs attachments. This is obviously a strong asset for a movement that can be used during sportier activites.
Furthermore, there is a gain of space (narrower and thinner display, 1.45 -> 1.24mm) as the number of parts has decreased from 37 to 12.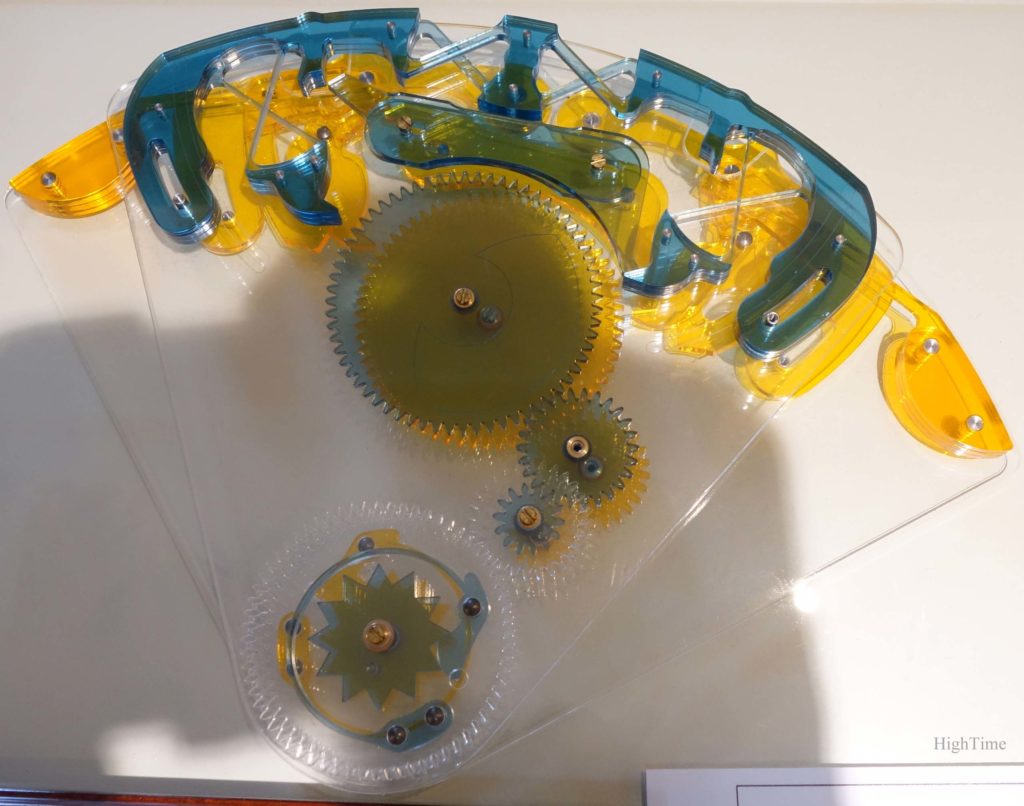 Today's habits wearing context
This is where it particularly takes all its meaning when included in a "sporty" model. Indeed, although it's a white gold model, the Aquanaut is used today for sportier activities. People have a different use of their watches nowadays. The classical leather-strap gold references remain at home while clients pick their Nautilus or Aquanaut when exposed to potential scratches and dings. Whether they are in steel or in precious metals.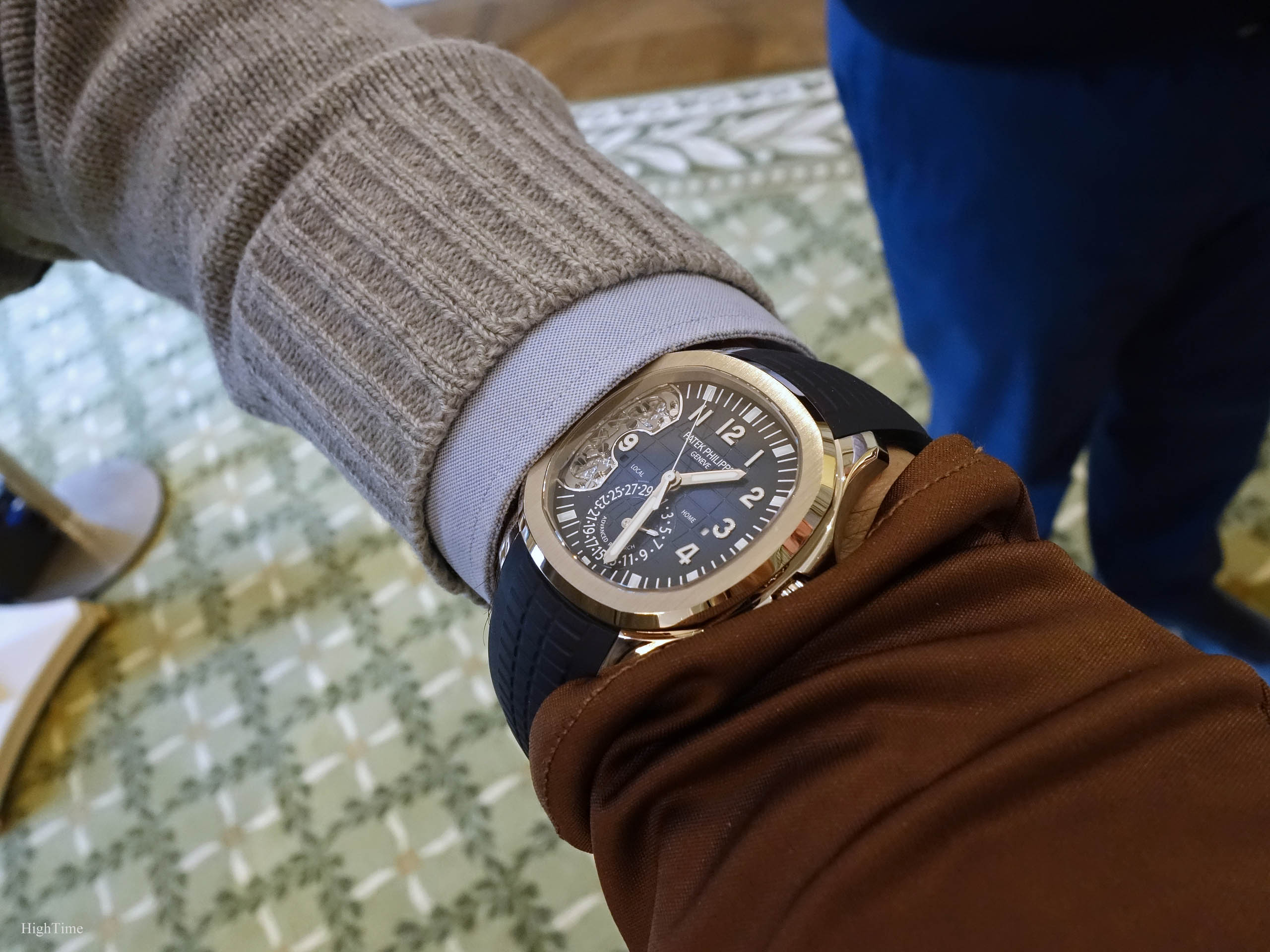 I think this dynamic model, matching with today's casual wearing habits (40.8 x 11mm, 120m water resistance), was a very good way to support the modern development of this program.
If we go a little further, though nothing is official, we can easily imagine that we can find other areas where such a principle can be applied. This is where innovation can bring very much in terms of reliability, space, servicing (no lubrication), etc…
Indeed, Sport watches needing reliability could be able to accept fragile complications they couldn't before. It could also be chosen when implemented in a place where it can't be visible from outside (like under a dial etc…), especially while reducing the watch's dimensions (and smaller dimensions are a field in which Patek excels).
That sportier spirit and use wouldn't make such precious material a natural choice at first but all these sporty watches are not always used that way. Just like all divers aren't used to diving either. It's a sporty look and a casual spirit that make many Aquanaut owners wanting to wear it without caring much about scratches. Remember that it was the same rationale that motivated Patek Philippe to unveil the Nautilus in 1976: Patek owners wanted a watch they could wear outside the office for sports.
Hence, it isn't a watch to use for the toughest adventures but certainly a luxury watch that can face many sporting activities.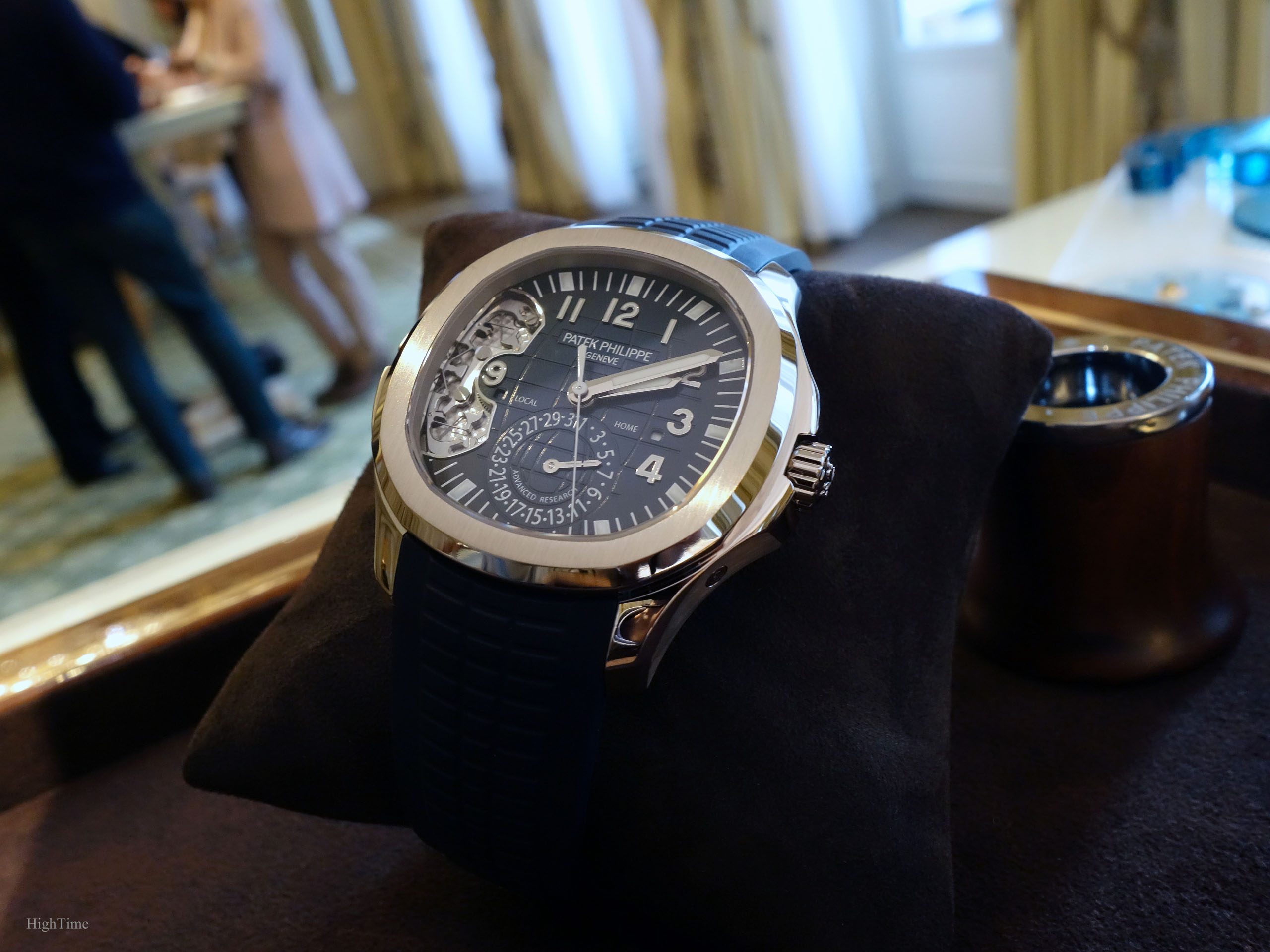 With the Travel Time version of the Aquanaut family, Patek confirms this trend by providing a useful complication for people who are traveling from time to time and find convenient to be able to follow 2 time zones at a time, while being able to change the local time easily.
What I find interesting is that clients who will be able to get this new very accurate reference will be able to use it as an everyday-wearer, whether for holidays or during business trips considering the usefulness of its complication.
Let's emphasize that accuracy, finishing and technical evolutions in a simple and smart way, not making complex just to be complex, are definitely ones of the brand's great assets.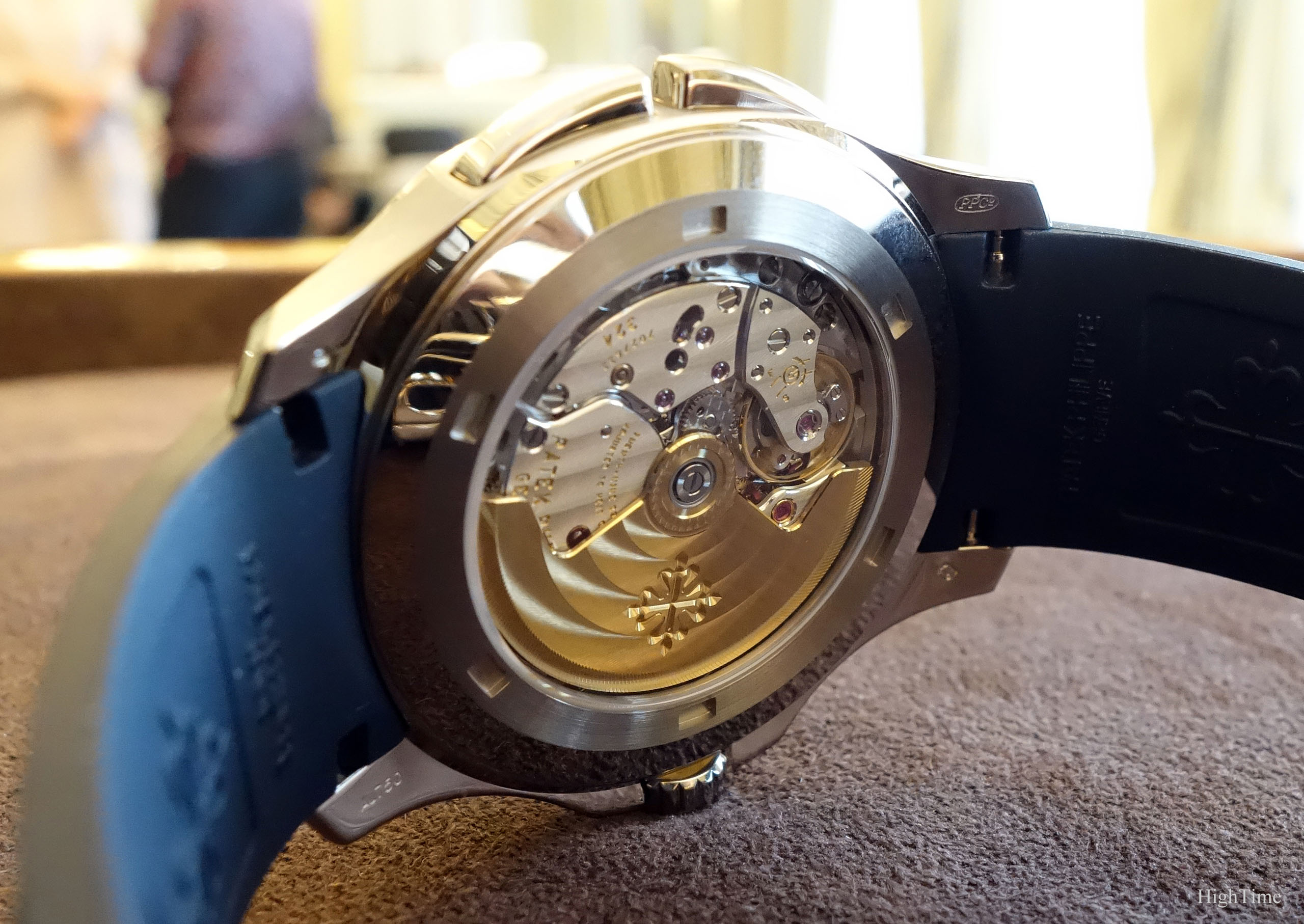 However, as a side note, I imagine that Patek will also decide where this new display should not be implemented to favor the traditional approach that we appreciate from mechanical watchmaking and that is more pleasing to look at (like manual-wind chronographs for instance). In my opinion, it's often that very design complexity (pinions, levers, springs etc…) that makes us like those intriguing pieces in the first place.
A few words about Aesthetics
From my experience wearing this watch for a moment, I think it looks just gorgeous. I haven't been an Aquanaut fan (before the 5650 and 5968) but I loved this one from the first minutes I spent with it.
When I came close to the table it was sitting on at the press event, the main attracting feeling came from the combination between the dial and strap's blue with the case's white gold. White gold, compared to steel for instance, brings more contrast and looks much brighter or clearer. I find this is a very appealing material for a case, much more than steel.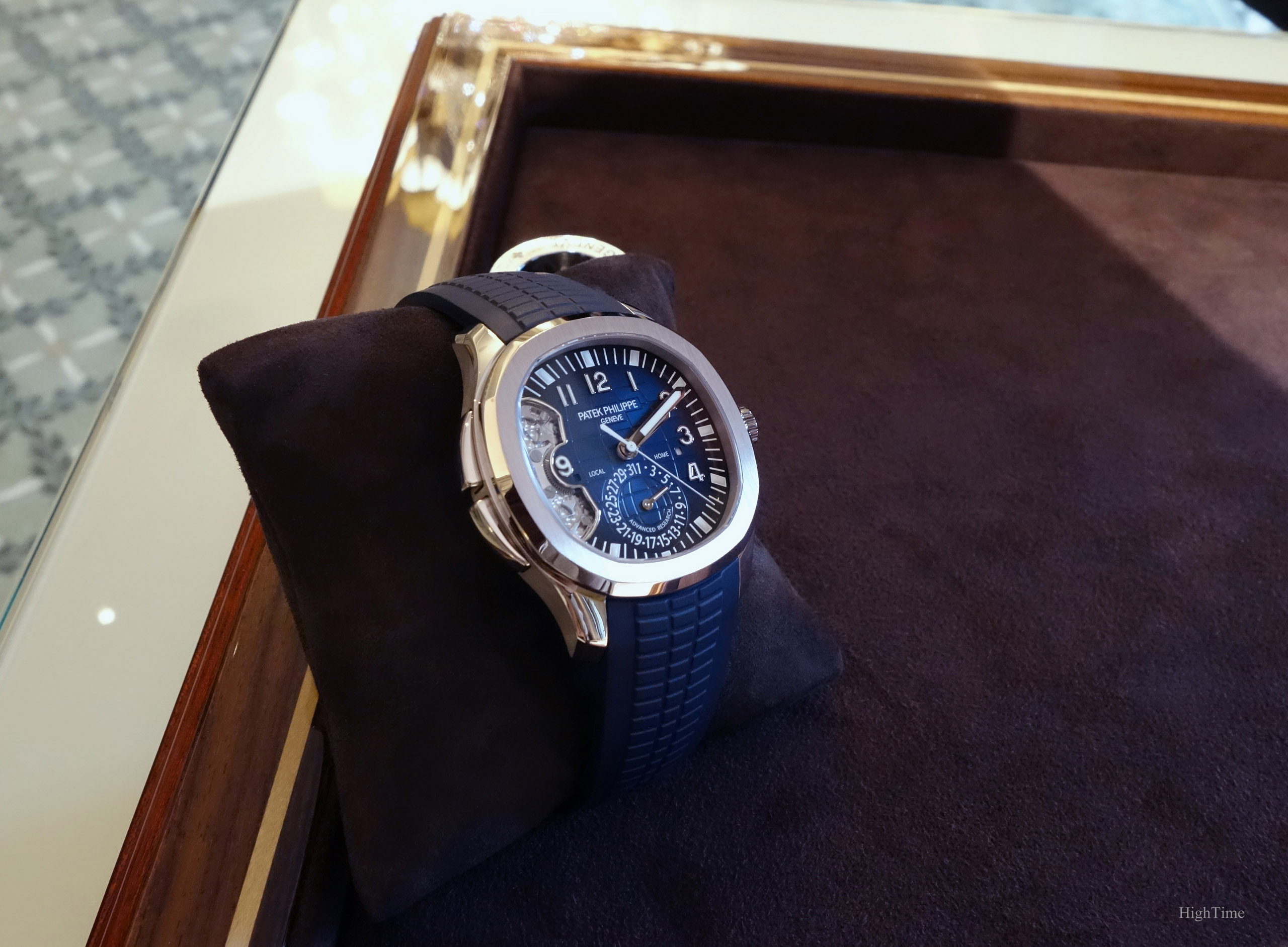 Of course, today, the world is different and such Aquanaut meets the pleasure of wearing a Patek Philippe in a more casual and modern way, even with suits if the owners feel like it. Many clients want to wear a sporty watch but with the luxury "dressy" spirit (coming from a precious material). "Sporty" should then be taken as a style instead of a use.
From these evolution and needs, you understand now why the white gold choice can perfectly be relevant.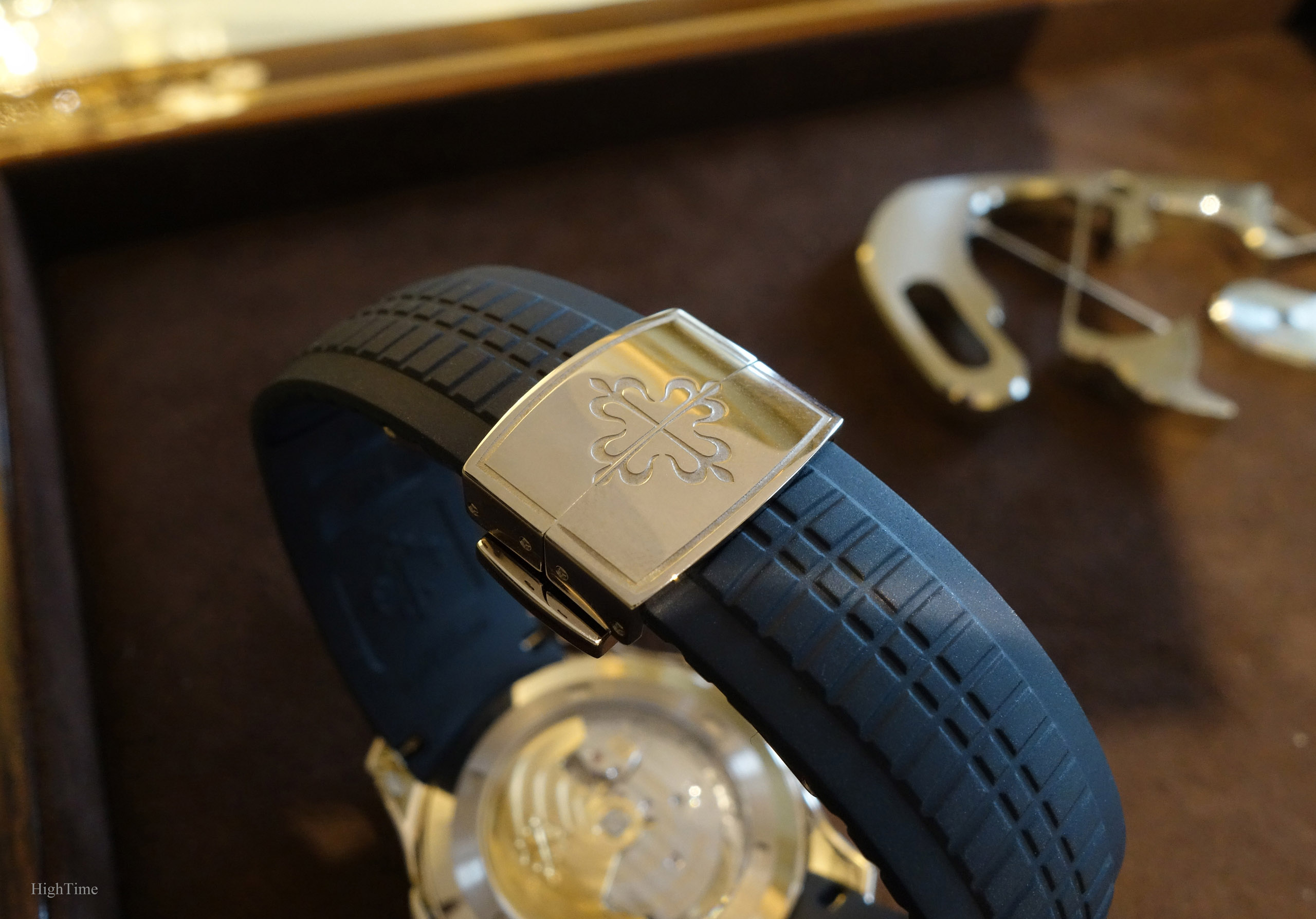 The resin strap adds a casual and very unique touch to the watch. Its "night-blue" color is perfectly fitting the dial tone. It was available for a very long time with previous references in dark brown but it was high time to offer new colors.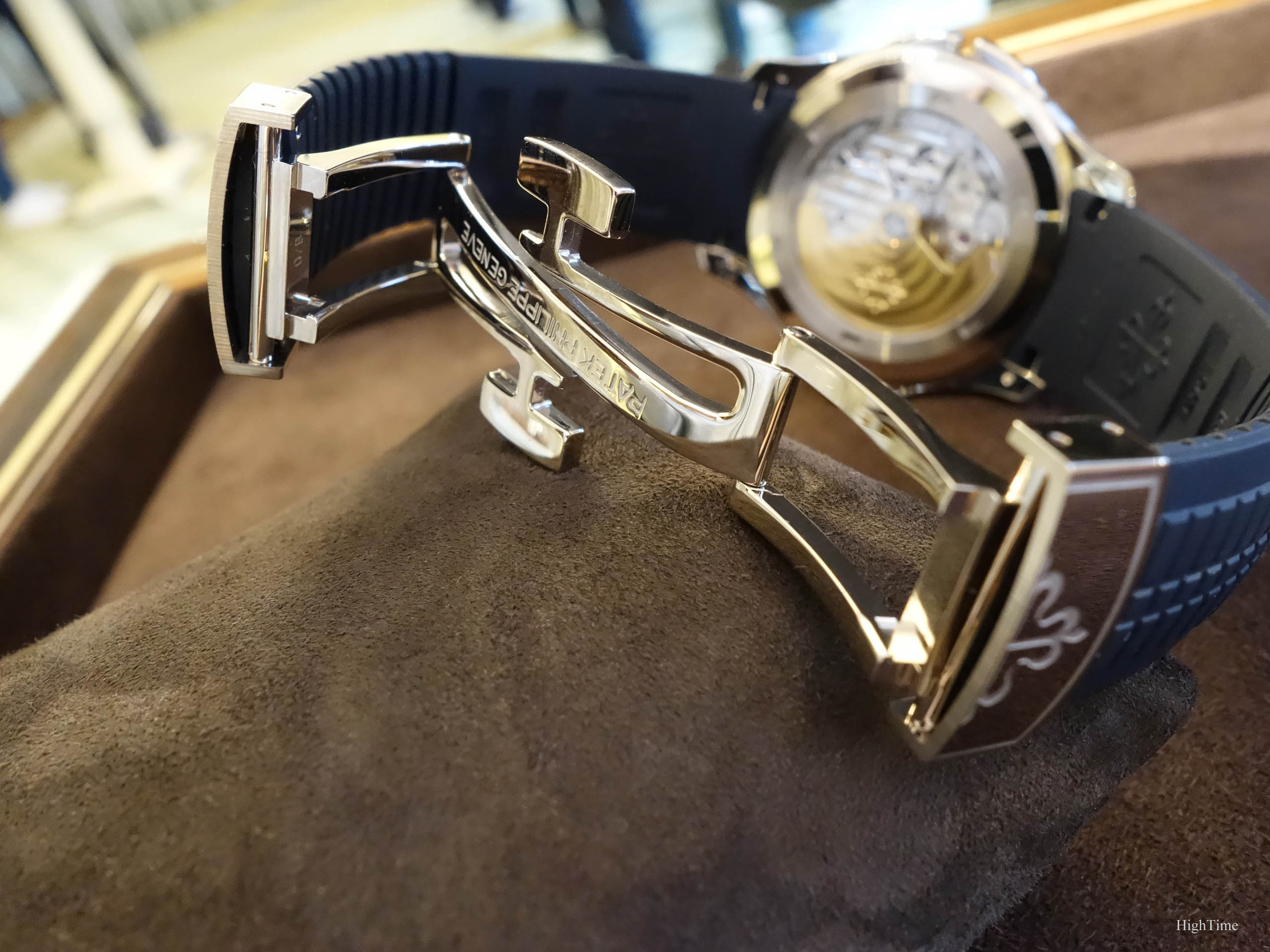 Finally, for those who wondered how the open dial looks like, as often, there are elements that you clearly see differently in the metal compared to oversized pictures. The way it looks while handling the watch is perfect and when you know what innovation it's showing, I was in the end pleased to be able to observe the parts moving. Besides, I must add I wouldn't have liked it as much if it had looked like a standard 5164 dial.
Conclusion and Thoughts
I like the Patek 5650G orientation very much as it's perfectly coherent with the collection and represents a wonderful way to celebrate this 20th anniversary event. The launch of an Advanced Research model is always something special and I'm glad I was able to handle the watch for a while. For its aesthetics but also for its technical uniqueness, it was in the end my favourite from the 2017 Basel fair.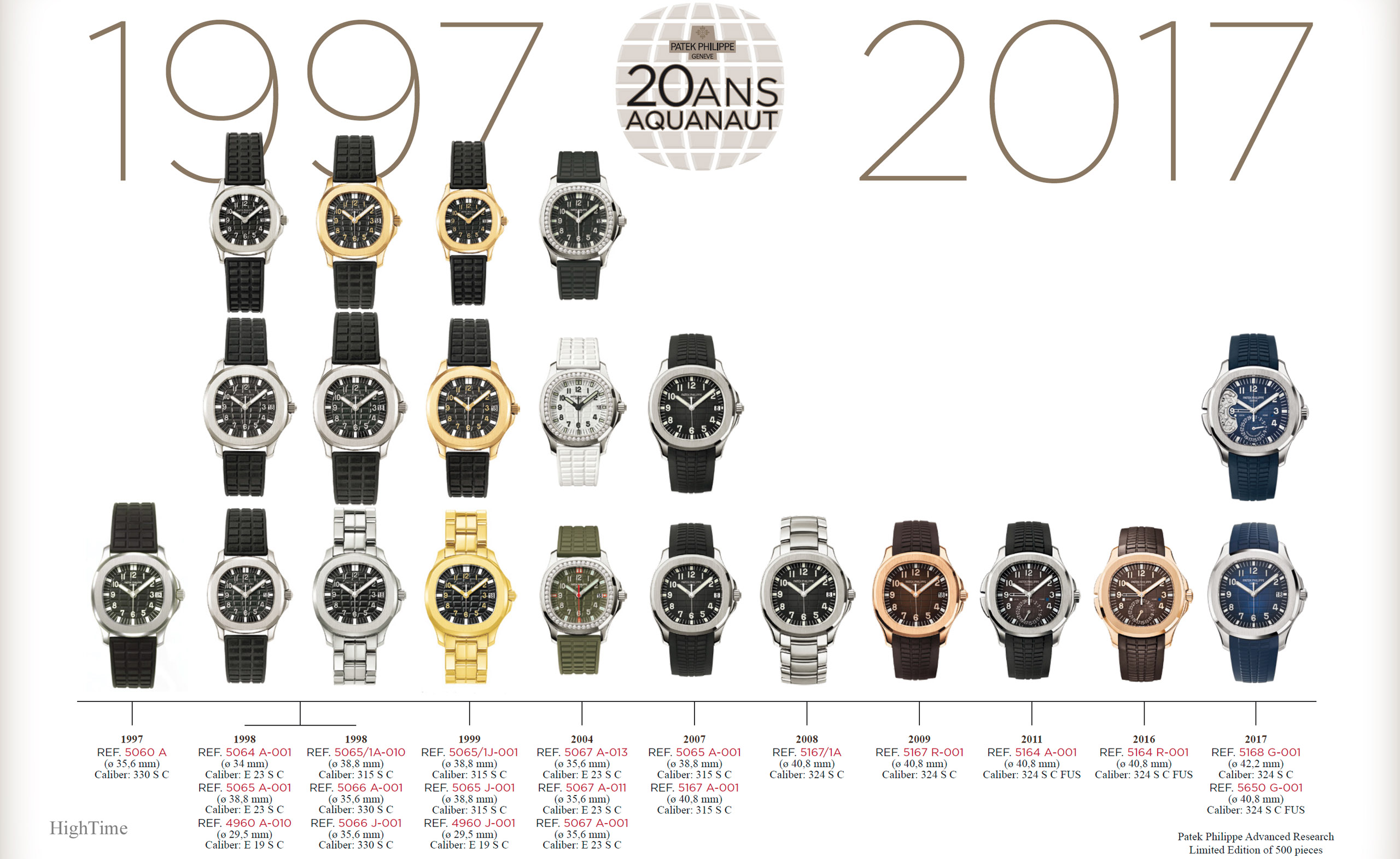 I thought from the first announcement, that this novelty looked a little less overwhelming than previous models. However, even though it's too early to make a ranking, the 5650 is clearly as exceptional as its predecessors.
Whether with the Advanced Research program announced in 2000 or since the earliest times when the brand developed new patents (Perpetual Calendar wristwatches, free mainspring with a slip bridle in 1863, important developments in self-winding wrist watches, Gyromax balance in 1949/1951, the Annual Calendar display in 1996, Chronographs…), Patek Philippe has always been discreetly involved in innovation programs, cleverly pairing Research and Tradition.
That's why I appreciate Patek very much: it follows the conservative line while bringing much more than what we find in some brands' commercial assertions, even more so in the Luxury sector.
You all know the "for the next generation" motto. Yes, it's known from the brand's campaigns but I think it's especially true as far as Patek is concerned while they have shown a long timeline of great references that are still working today. They have respected their history (not all brands have) as they have indeed been taking care of older references much better and much before other brands started approaching so, in such a standard process (i.e. before the recent market growth). Hence, we can expect that these Advanced Research watches will live long.
Patek said in the past that they would introduce innovations as long as they allow providing more complicated movements than what is possible today and bring more accuracy. While we love watchmaking for the ability of men to create these small complicated mechanisms, we also like when they optimize chronometry.
This is what the Patek Philippe 5650G Aquanaut "Advanced Research" is all about, side to side with more traditional movements. We are in that field exactly, as the Time Zone setting mechanism design has been improved (reliability, maintenance…), with steel-based material, no need of something exotic, and with the incredible -1/+2 seconds per day timekeeping.
It is, I'm sure, a landmark in Patek Philippe's mechanical timeline.
The Patek Philippe 5650G's MSRP was around 53 500 € (incl. VAT) back then and was available in a 500-piece limited edition while the previous models' 300 pieces are to be assessed in a time when the market was nothing as flourishing as nowadays.
Let me first add 2 interesting videos about the project:
Patek's YouTube channel video 1
Patek's YouTube channel video 2
And, if you wish to, you can also find more details on the 5650G Advanced Research on Patek Philippe's website:
Or here, the whole Advanced Research section :
The Advanced Research program and models on the brand's website
Thanks for reading!