The Patek Philippe 5712/1R Nautilus – Thrill in rose gold
Hello everyone,
I'm a huge fan of the Nautilus line-up, the thinner models in particular, which I discovered more than 10 years ago, much before last years' market strong blossoming. I find it's a watch according casualness and elegance wonderfully. Excitingly (and finally I would say), we've just been presented a new 5712: the Patek Philippe 5712/1R Nautilus (the "1R" meaning rose gold metallic bracelet). While this meant on paper a very finely crafted model, thin hence immensely delicate, it doesn't give the slightest idea of how tremendous the watch looks in the metal. This is mainly due to the presence of rose gold of course and I'll try to give a hint about this specific point in the next paragraphs.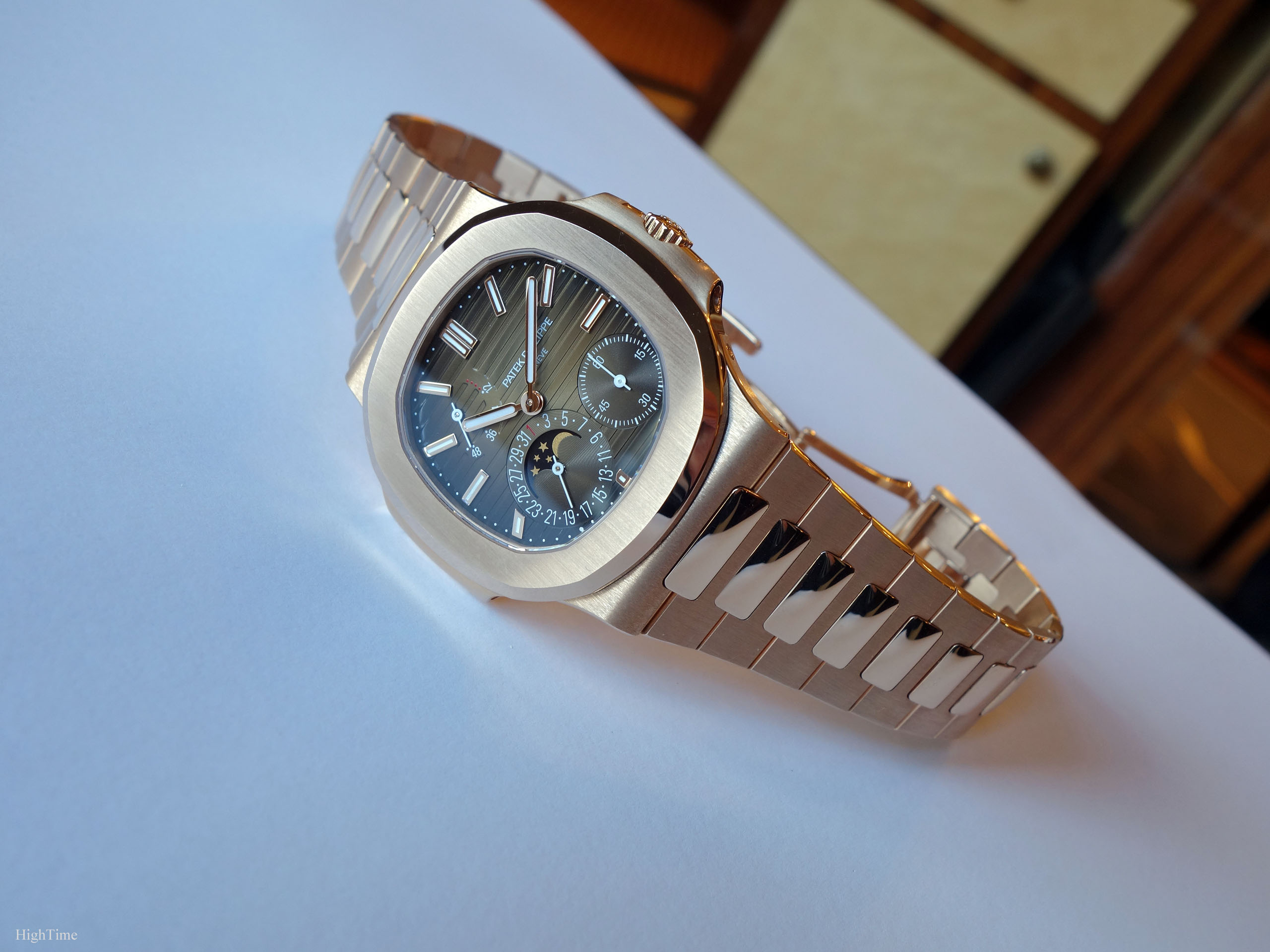 In an era when bracelet casual watches are highly coveted, the launch of a new Nautilus, especially in rose gold, is an event on its own. Launched in 2006, we've been waiting 16 years to get a full gold bracelet 5712. Since the 5711/1R version (2015) was discontinued early 2022, this 5712/1R is the only thin rose gold bracelet Nautilus in the catalogue, especially with this same dial. This rarity is particularly important to emphasize as you don't handle the Nautilus subject the same whether you're talking about thicker or thinner versions.
A different philosophy
Recently, Patek Philippe has started to offer more gold models in the usually sportier line-ups which is to say the Nautilus and the Aquanaut. In the context of more casual wearing trends, precious materials offer very much in terms of hue and visual attraction. Though steel provides lightness (for those who wear them during sporty activities) and especially at a lower price tag, gold reflections on the other hand are so enjoyable to observe. Some people also enjoy the weight of a gold watch on their wrist.
Gold isn't just about price increase, it's mainly a completely different experience, whether visually or in terms of wearing feeling.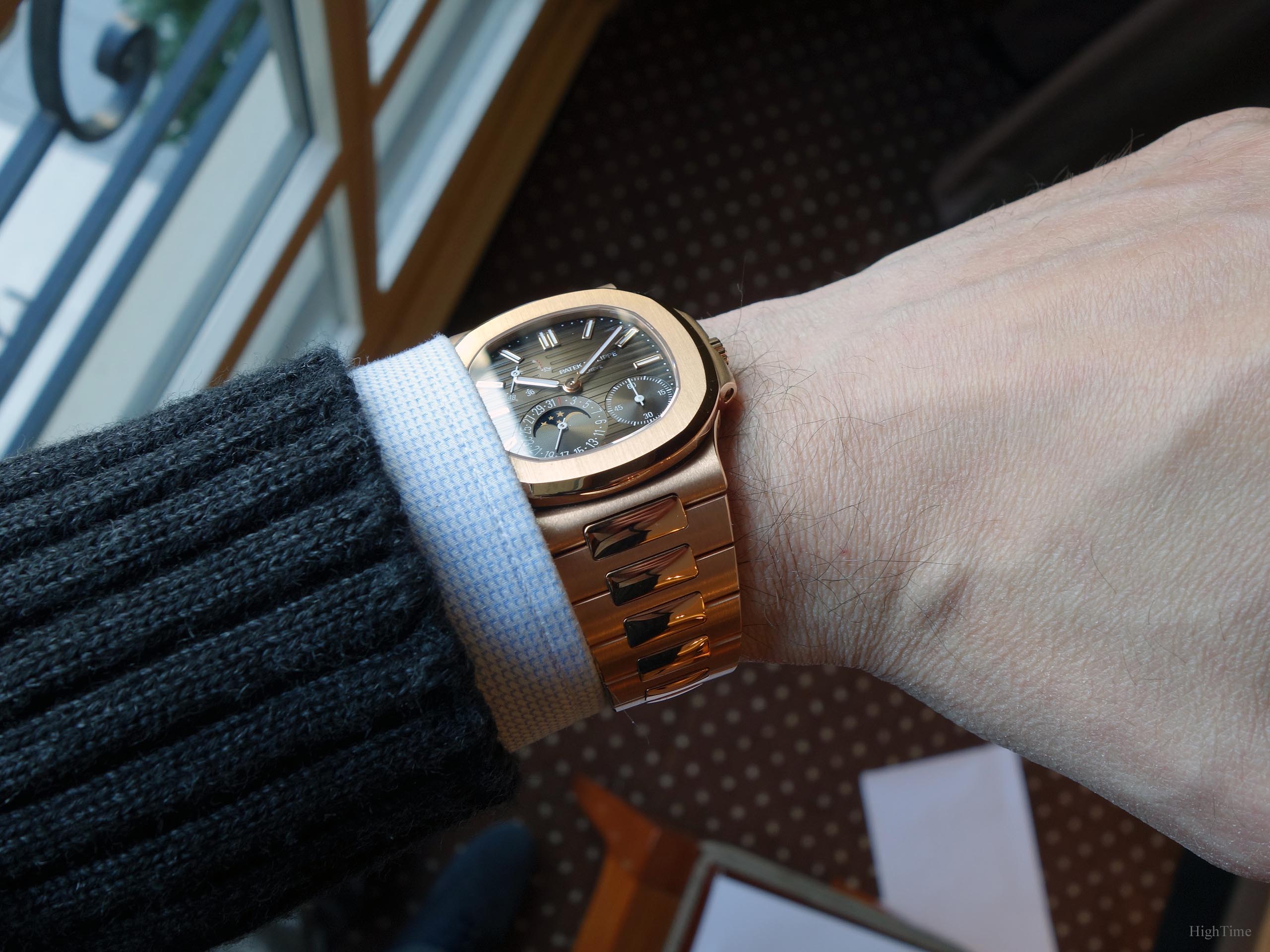 As I said for the 5650G Aquanaut or the 5740G Nautilus for instance, gold in general brings a hue that colder steel doesn't provide. To a higher degree, a rose gold watch compared to a white metal one also brings a very different sensation: much warmer, looking more luxurious and pairing so nicely with either casual or suit outfits. Quite often, wearers prefer a more discreet look, thus steel, white gold or platinum. But I think it's such a shame as colored gold is more impressive and fun to wear. You can wear one with any simple clothes and it can look cool enough. You can wear it with a nice shirt, a jacket and it will look very elegant, as long as you don't overload it with other strong character stuff.
Even if, for some regions of the world, special decorations (diamond-set cases, polished bracelets…) can be available to satisfy other tastes and cultures, a watch from Patek Philippe is expected to remain elegant; always with a classical touch. In the Nautilus line-up, there are so many variations over different philosophies. The bigger 5980 and 5990 are already available in full rose gold: they look completely different because of their size mainly, more sporty with more "presence".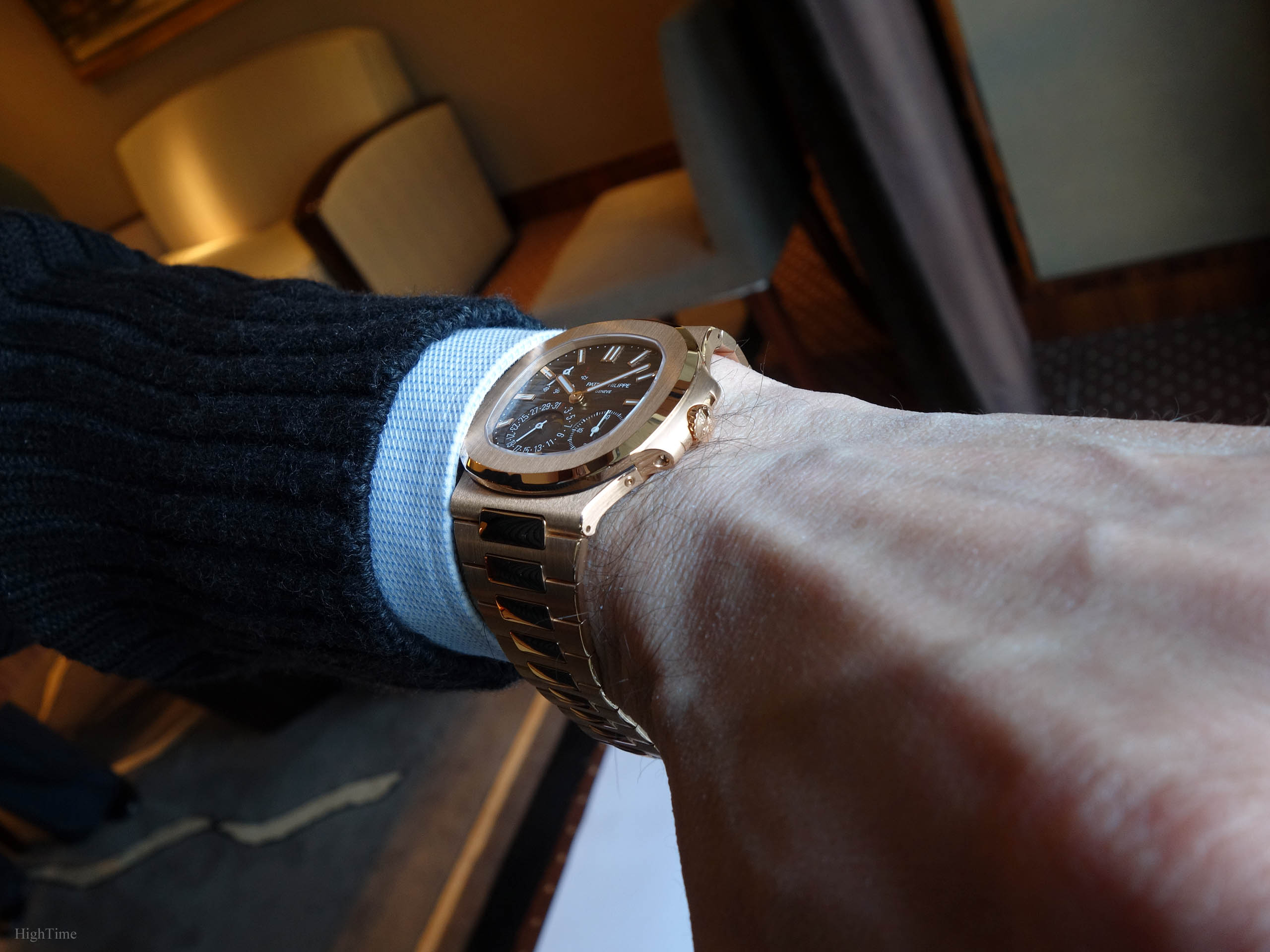 On the other hand, the 5711 and 5712 play in a completely different world in that regard, due to their thinness. Of course, the new 5712/1R is more visible and spectacular than in steel but Patek's rose gold is quite "soft" in terms of color compared to other brands (like Rolex for instance). As for the dial color choice, the result is less contrasted than with a blue, black or white one. It's also more "retro". Wearing it can really be, from my point of view, a very elegant and tasteful way of living. It suits masterfully today's habits, the need for elegance and versatility.
An outstanding Bodywork
The 5712's dimensions lead to a very different wearing experience as well as visual feeling from the thicker versions. This model remains with a 40mm case (10-4 o'clock), 43mm overall (9-3 o'clock), 38mm wide bezel and a 8.5mm in thickness (8.3mm for the 5711).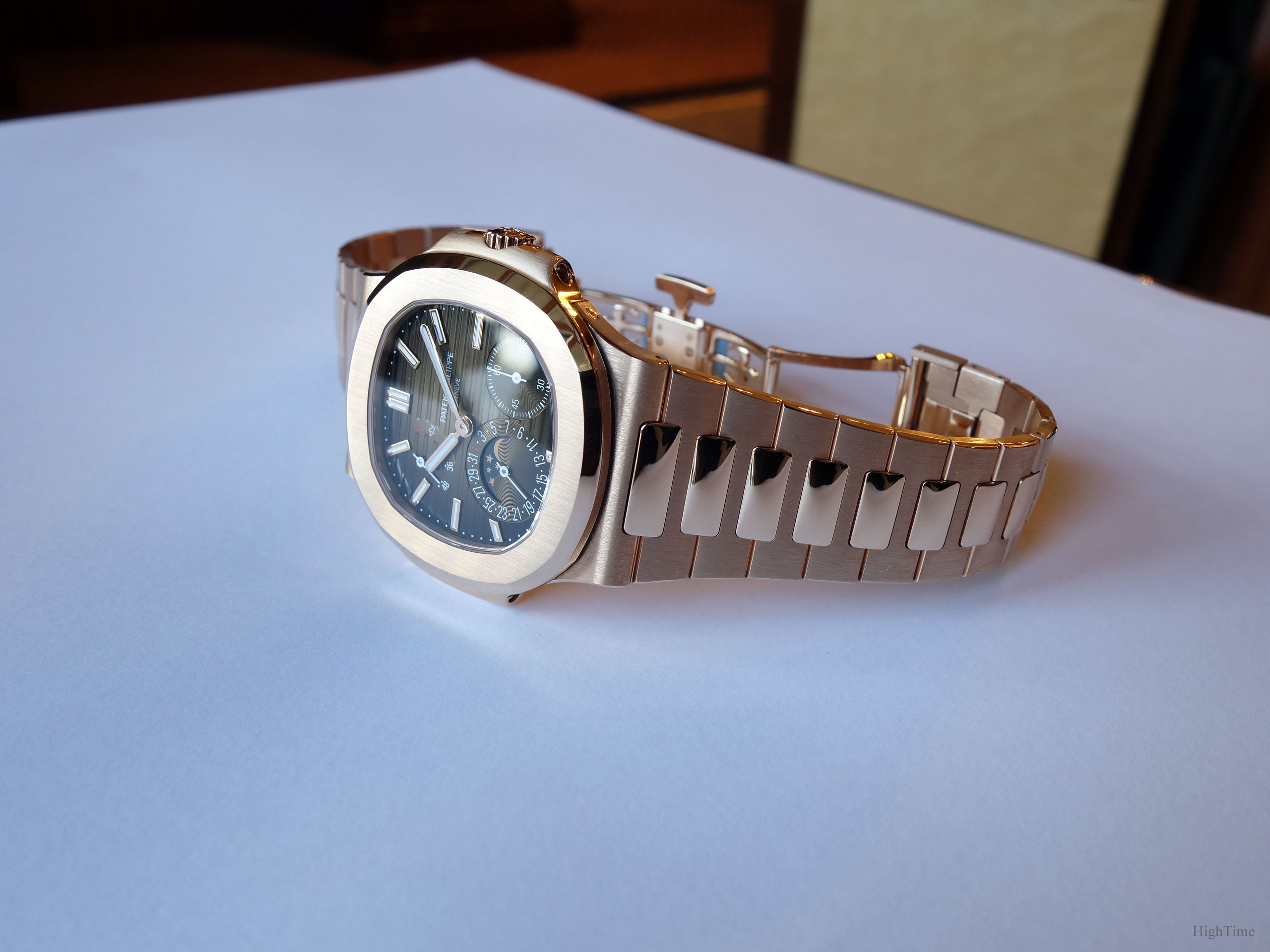 The bracelet is very challenging to craft and requires quite some know-how. So are the different parts of the case. The Nautilus case, bezel and bracelet work remains something rare (if not unique) in the market today. The way each link is brushed, polished or sandblasted, the way they so closely and perfectly interlock and the way they are beveled on the side edges lead to an amazing result. This mastery is a very significant asset of this Nautilus line-up.
It's only in the metal that one can fully understand it.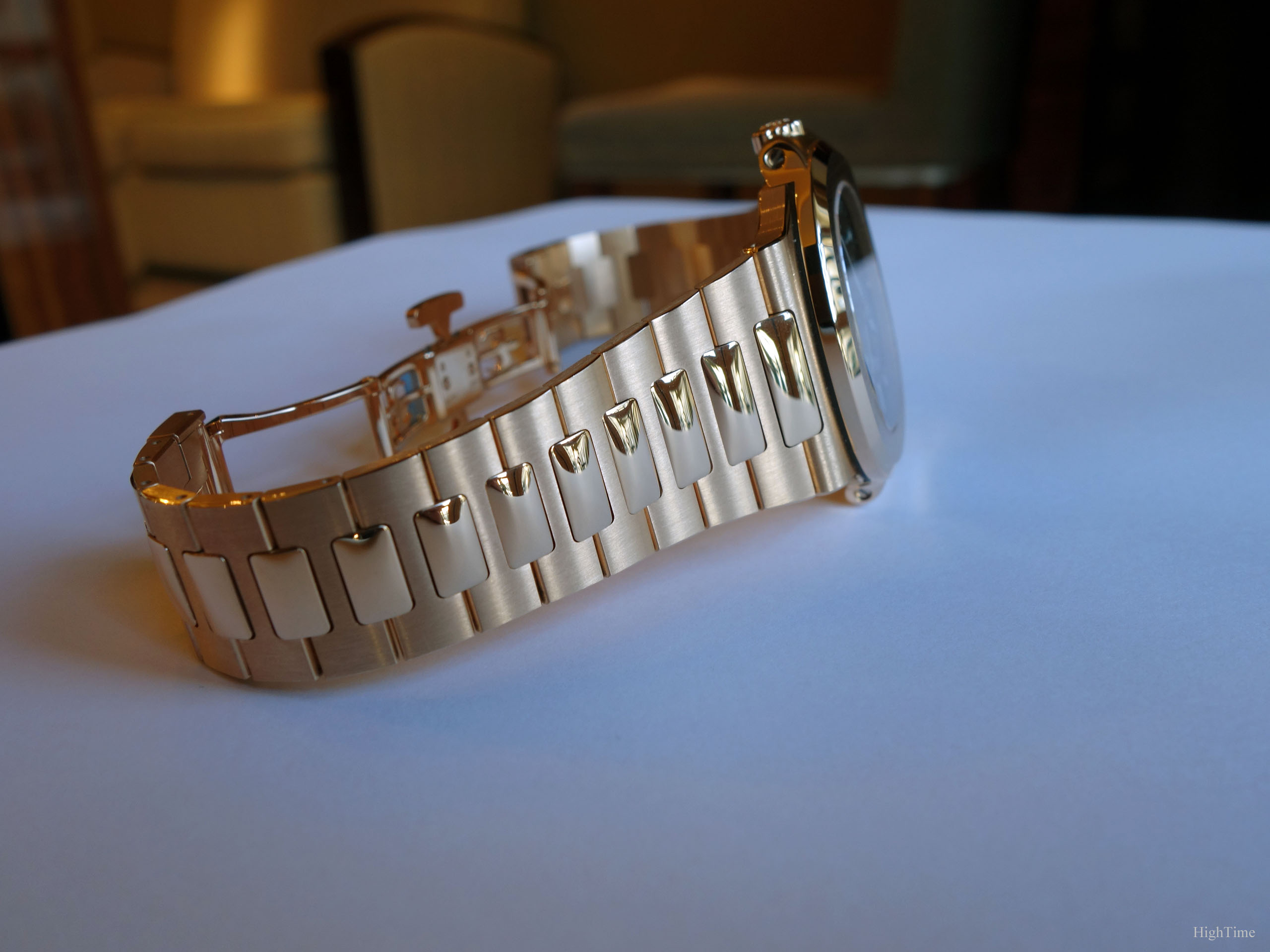 As I mentionned before, it's difficult to find a craftsmanship equivalent in the case, bezel and bracelet manufacturing process. Especially since we are here mostly dealing with non-flat surfaces. Taking care of rounded shapes compared to a flat portion of the watch represents an additional complexity that shouldn't be underestimated.
_
If you are interested, here is how Patek describes its crafting
"The Nautilus, […]; it's also perfect for the purpose of illustrating case and bracelet hand-finishing – and in particular, polishing techniques. The polishing alone includes machine sandblasting, lapping/emerizing, felt polishing, satin brushing, and polishing and buffing.
After machining, it takes around 55 different hand-finishing operations to complete the Nautilus case and bracelet. It begins with preparing the exterior links one by one: emerizing on the underside and satin brushing on top. Then preparing the center links one by one: emerizing on the underside, mirror polishing on top. Next is the assembly of the bracelet: fitting the links together and driving in the pins.
Chamfering, which means cutting away sharp edges, is then performed on the underside and top of the bracelet. The underside and top are then satin brushed for a uniform surface. Next is masking – protecting the surrounding area ahead of the next operation with lacquer or tape, and attaching perforated masking tape along the top of the bracelet. Then the center links and chamfer work are polished and buffed. Next, the clasp is assembled, adjusted for tension, fitted to the bracelet, and the cover riveted (on a triple-blade clasp). A final inspection follows this.
[…] The professionalism of that finish is what gives it its fluid, cosseting feel against the skin, and provides each link's separate interaction with the light it catches. […]"
_
In the 5712/1R, I find the links' side edge line polishing is more visible than on a steel model and participates to the mesmerizing shiny/matte contrasts. Overall, on a strictly visual and aesthetical standpoint, I think that the combination of polished and brushed surfaces as well as the nice link anglage, combine with such fine taste that I don't see a real contender that can offer such an elegant and outstanding result. As an illustration, you can see how beautiful the case hinges are.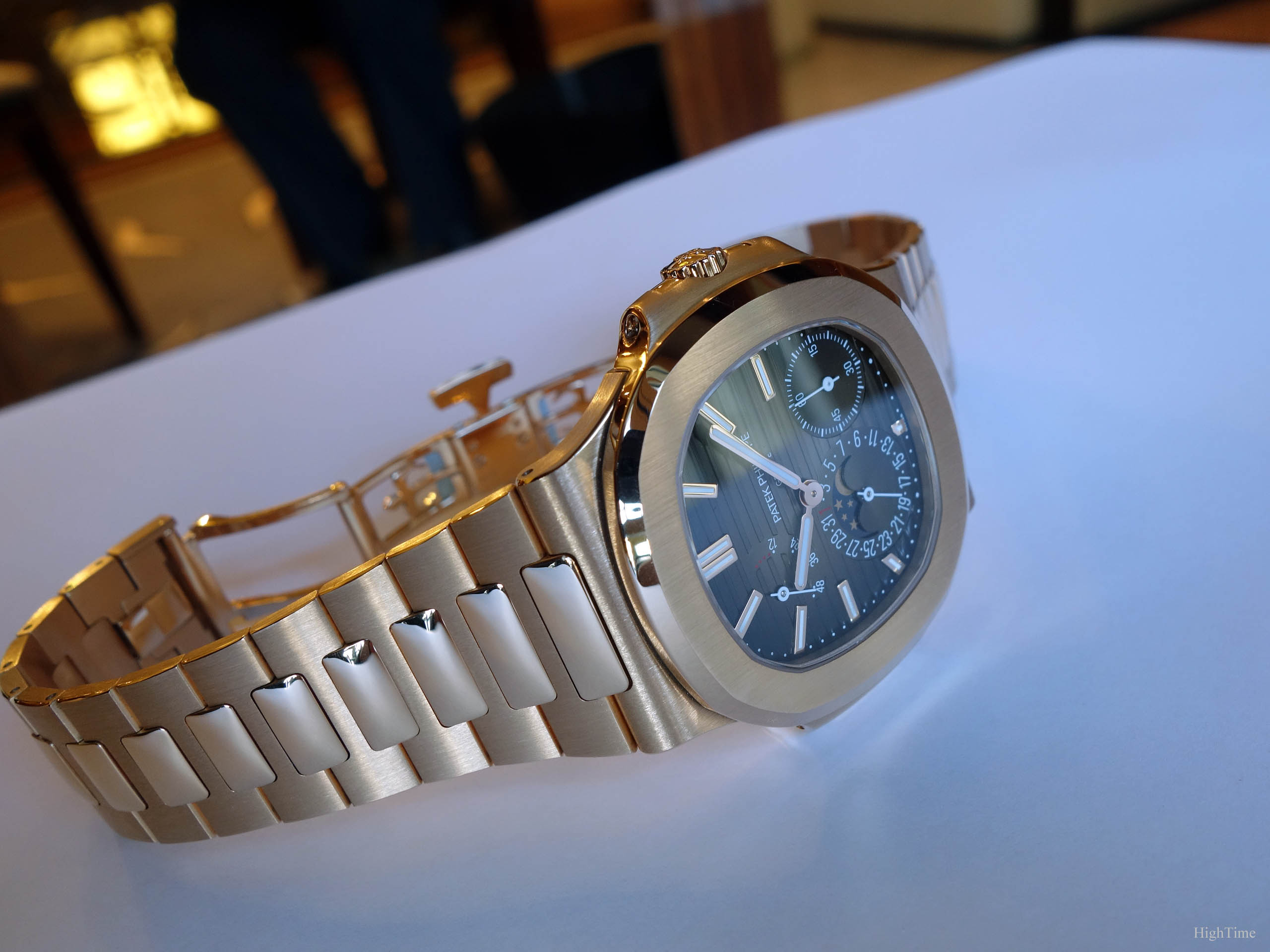 Indeed, I don't know why but it seems to me that these different surfaces merge on the R version to produce a more visible contrast than on the "colder" steel bracelet. On the latter, it plays on the overall shiny level. On the rose gold version, it offers a wider array of finishing techniques rendering that the owner of such model won't get fed-up staring at.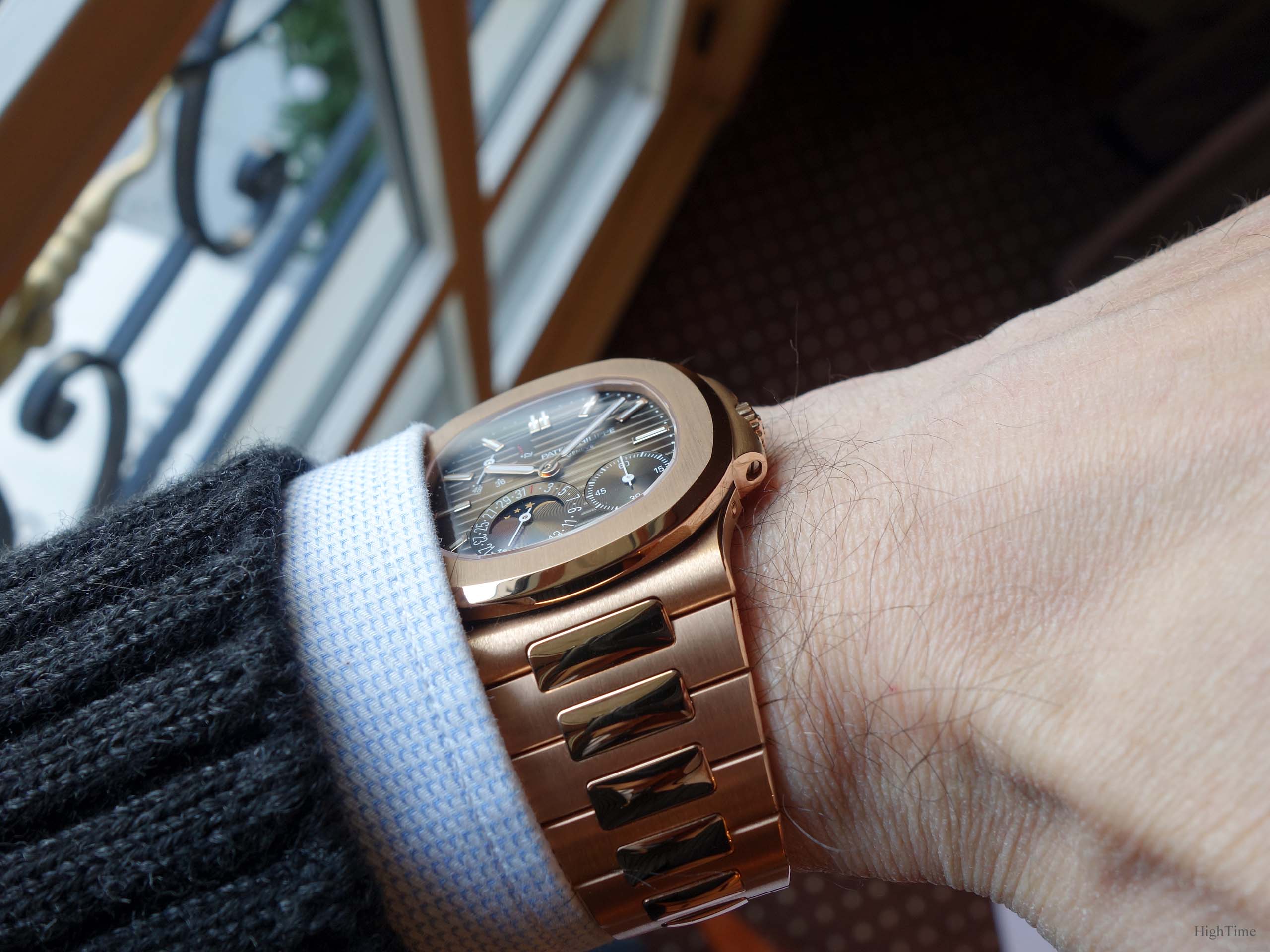 The bracelet links are thinner than for the 5726 (QA) or the 5980 (chrono) and the same is true for the case. The sandblasted caseback and the brushed bracelet's inside surfaces are very pleasant to touch and to watch. Moreover, the links' finish and their assembly is a caress for the wrist. It's no secret that Patek watches are one of the most comfortable out there. As a consequence, such a thinner model slides very easily under the cuff. Besides, the polished/brushed hinges' work (on the left and the right of the crown) makes it particularly nice to look at: neither flashy nor dull. It's a perfect balance.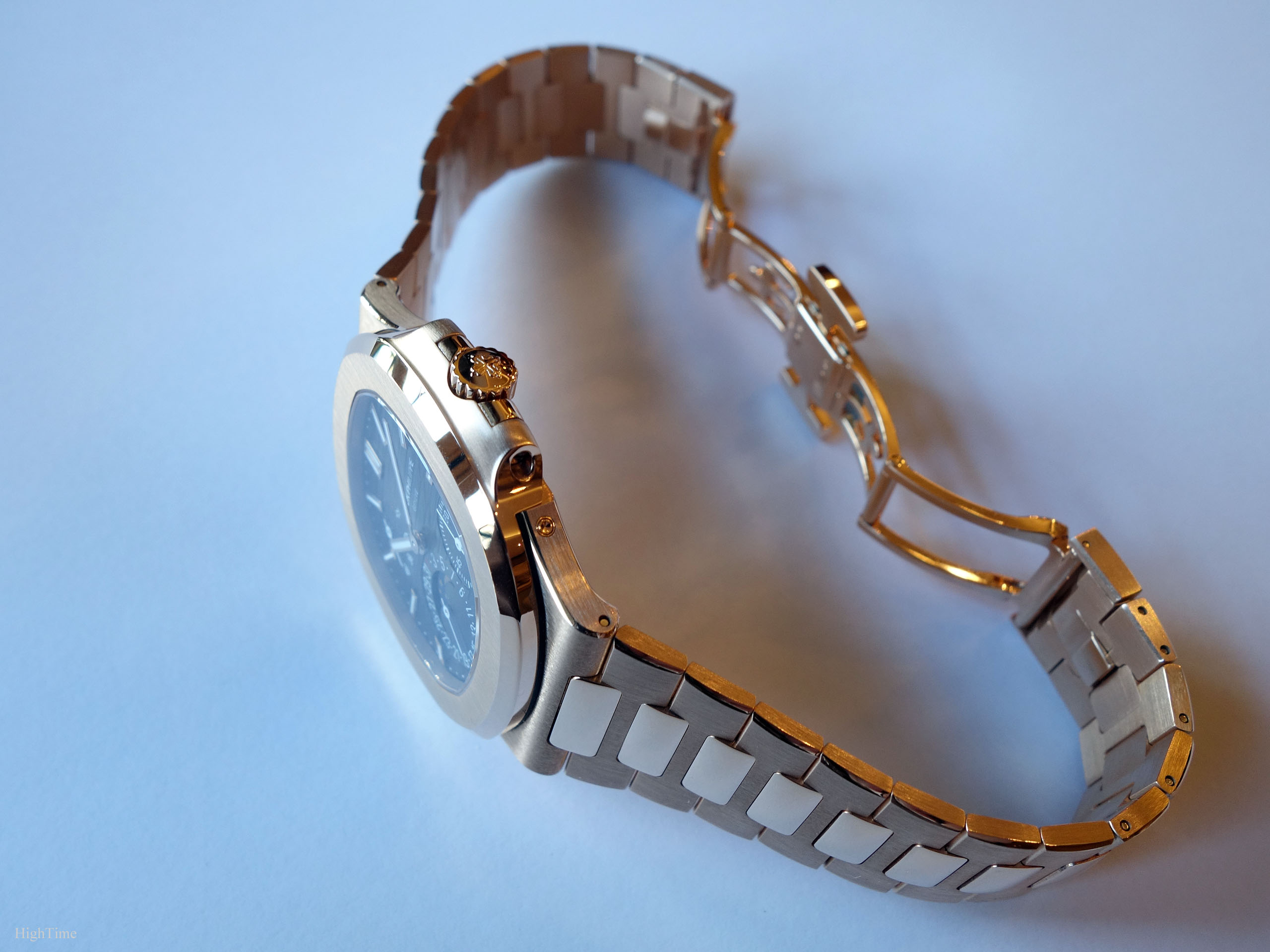 One of the most present feelings when looking at the watch (especially on the wrist) is the harmony between polished and brushed surfaces on the one hand and the overall mild form (case + bezel + bracelet links) and the dial color on the other. This overall picture is very appealing and, to say the least, it isn't something you can experience often in watchmaking. Exciting the observer without falling into heaviness is a rare talent, not just a technical expertise.
A small talk about the new adjustable length mechanism
There is a significant change in late 2022 in the bracelet's design with the introduction of the clasp's new adjustable bracelet length feature.
In 2018 and 2019, Patek Philippe had unveiled 2 major evolutions for its fold-over clasp design:
a "2 pushers" fold-over clasp, more secured and convenient to use (2018,

still valid today

);
an adjustable links display, allowing to easily adjust the bracelet's length (2019,

this is the feature that has just been modified in October 2022

).
I posted in early 2021 an article about those 2 improvements that you can find here.
Historically, the 5712/1A (steel) was – and still seems to be – equipped with a friction fold-over clasp (picture below).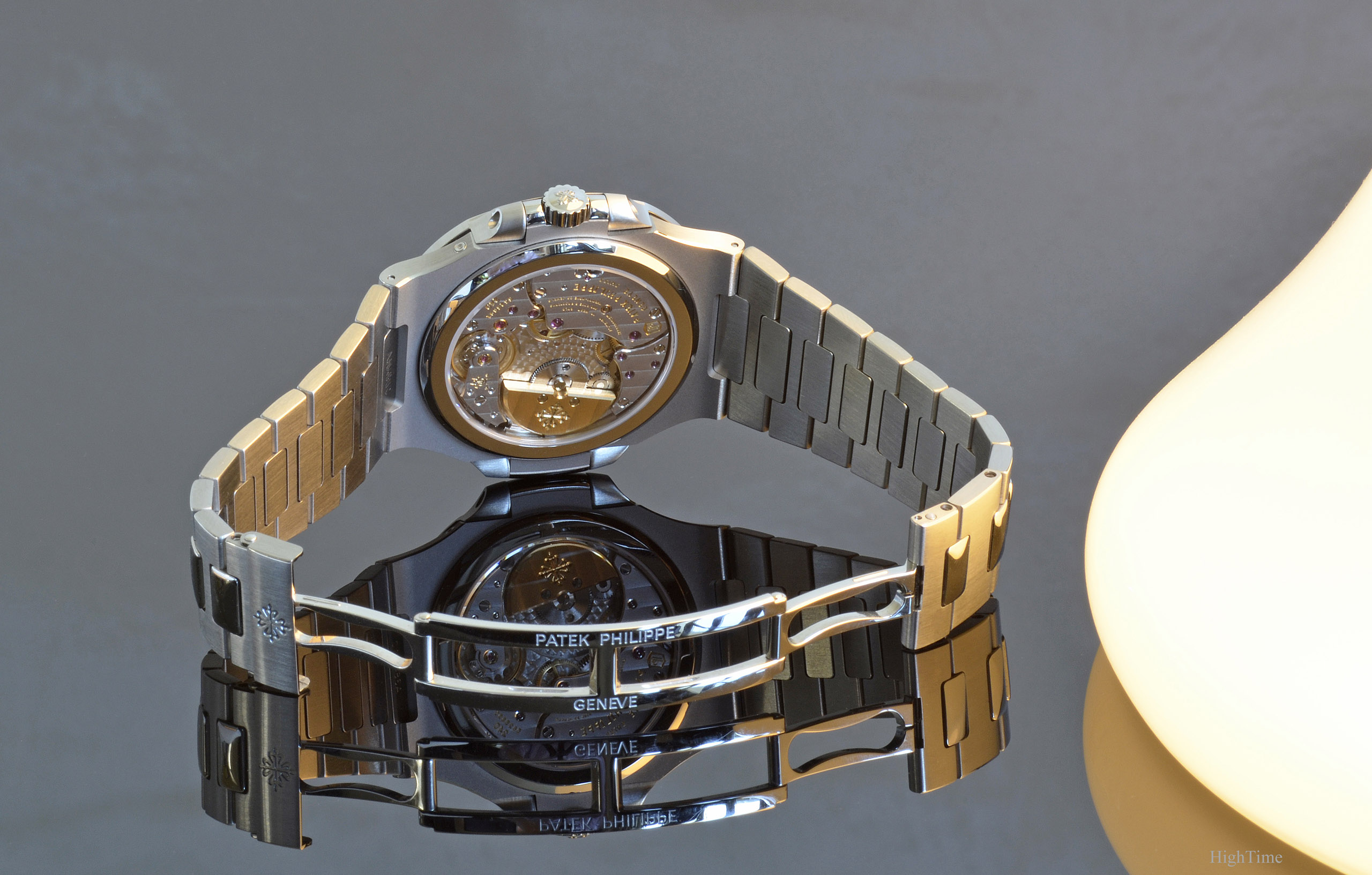 However, in October 2022, together with the launch of the new Nautilus 5712/1R, the new 5811G and the new 5990/1A, Patek Philippe has released an evolution of the bracelet size adjustment mechanism that was presented in 2019: they call it "fold-over clasp with lockable adjustment system".
The main difference from the 2019 version released with the ladies 7118 Nautilus is that it's now locked/unlocked with the help of a pusher (mounted on a spring) while you only had to pull/retract in the previous version (cf. the older article). I don't know if the ladies 7118 adjustment version will remain or if it will be updated by the new one.
Concretely, this is how the new 2022 adjustable link looks like in its retracted position (shorter bracelet length):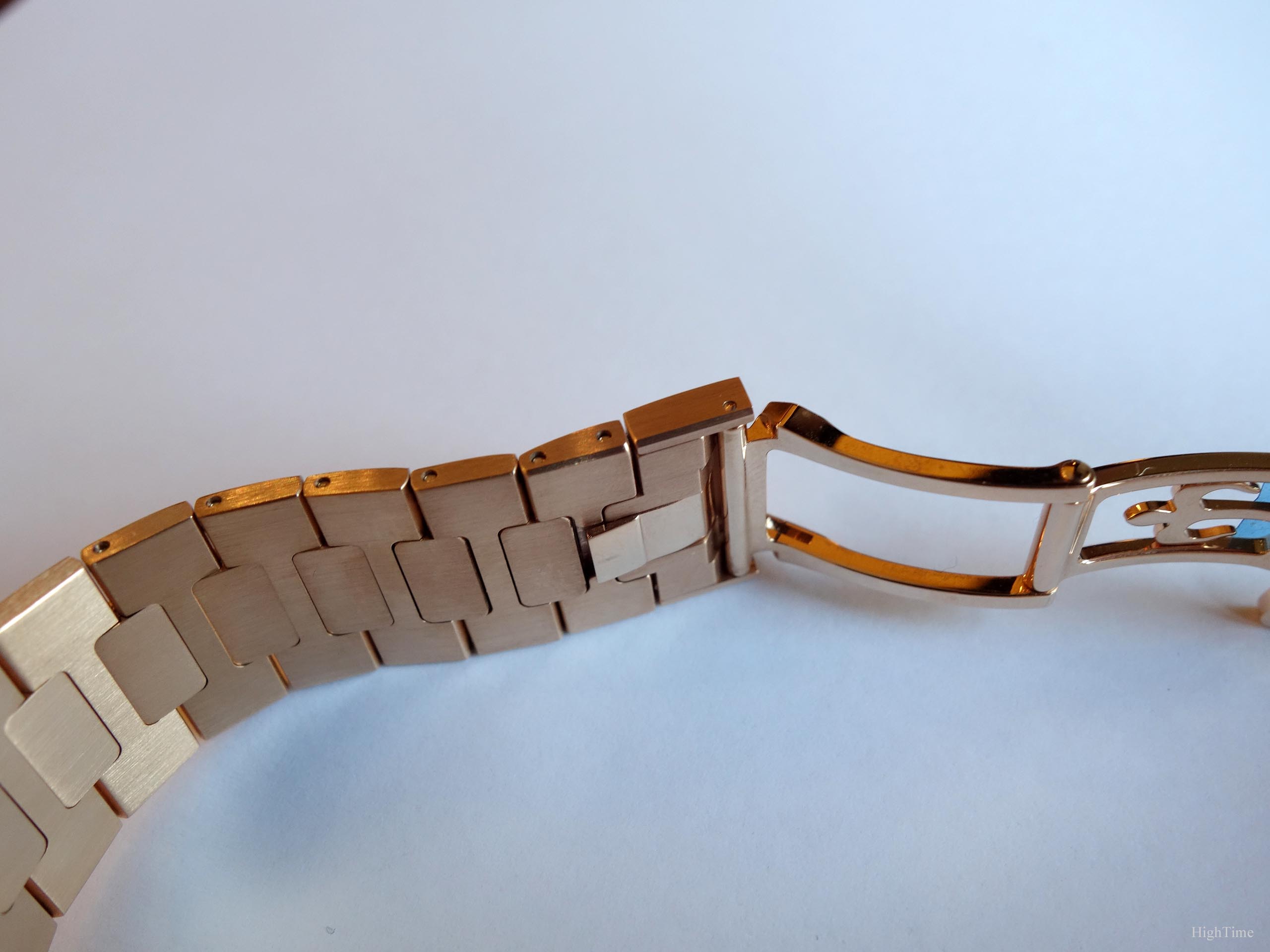 Once, you've pushed the button, you can make the link "slide" from 2mm, which gives this: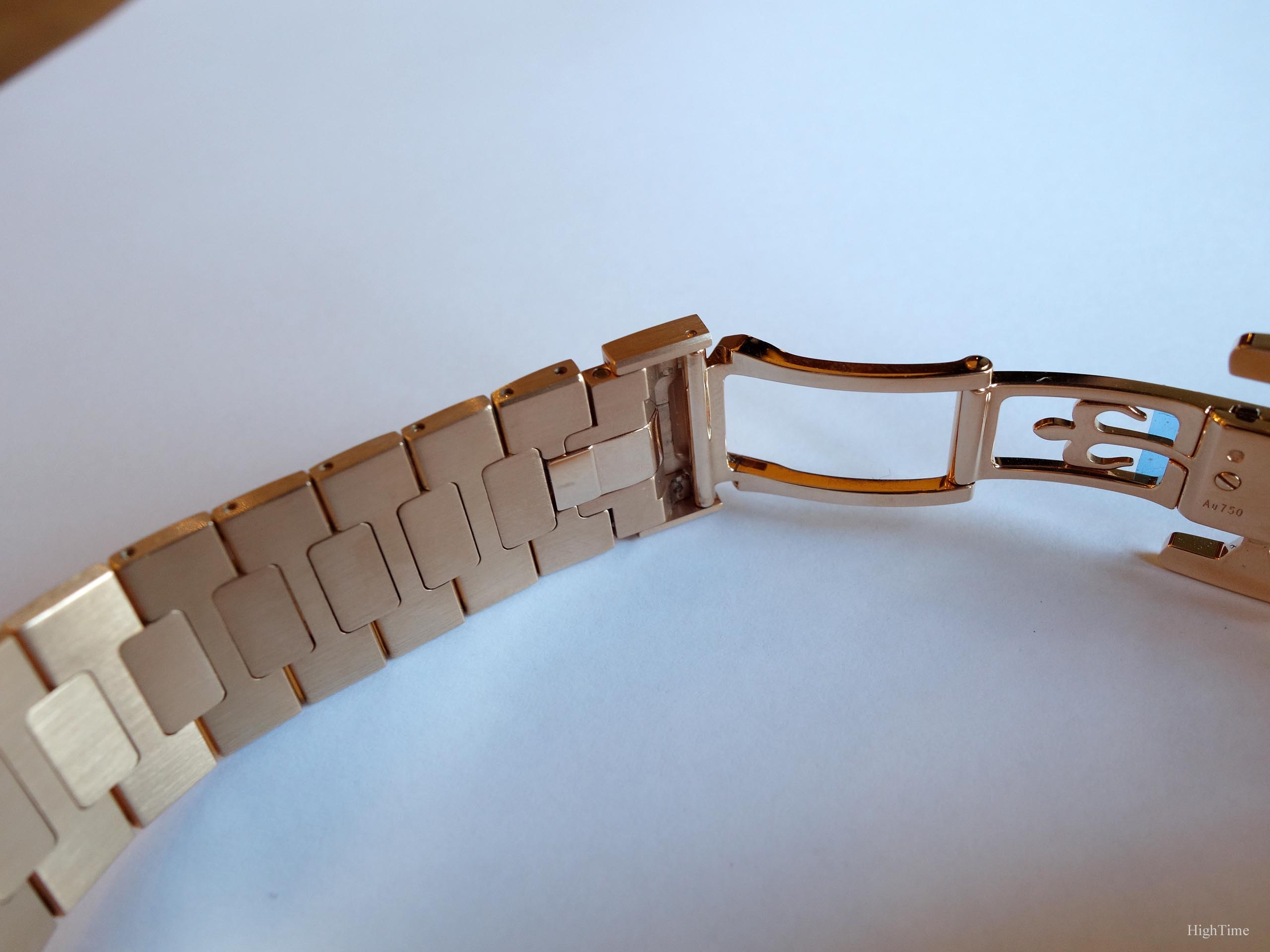 The links are locked into that position. Hence, the owner has to push the button again to retract the link back to its shorter position.
This is how it looks like when both links are "extended", leading to a 2x 2mm increase (hence 4mm in total):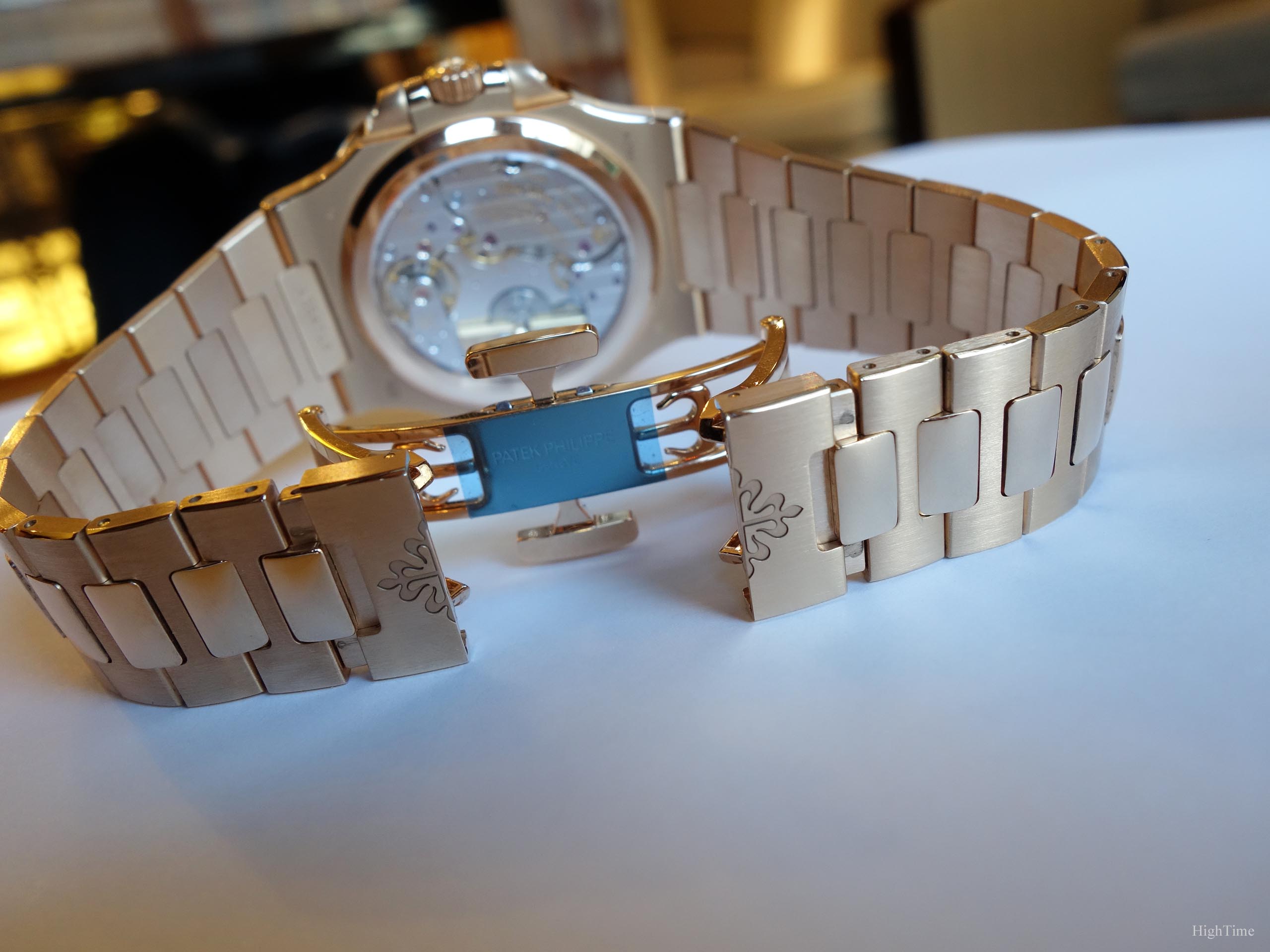 In the end, the patented mechanism remains very simple and easy to use, while being stable as the setting won't slide by itself.
The clasp is beautifully engraved with the brand's Calatrava cross.
The dial, discreet and unique
The warm sunburst brown, black-gradient rim dial counts a lot in the impression the watch leaves (by the way, I think it would also be very nicely worn by women). Though a rather "traditional" color, there is a sort of metallic sheen in the result that fits perfectly rose gold.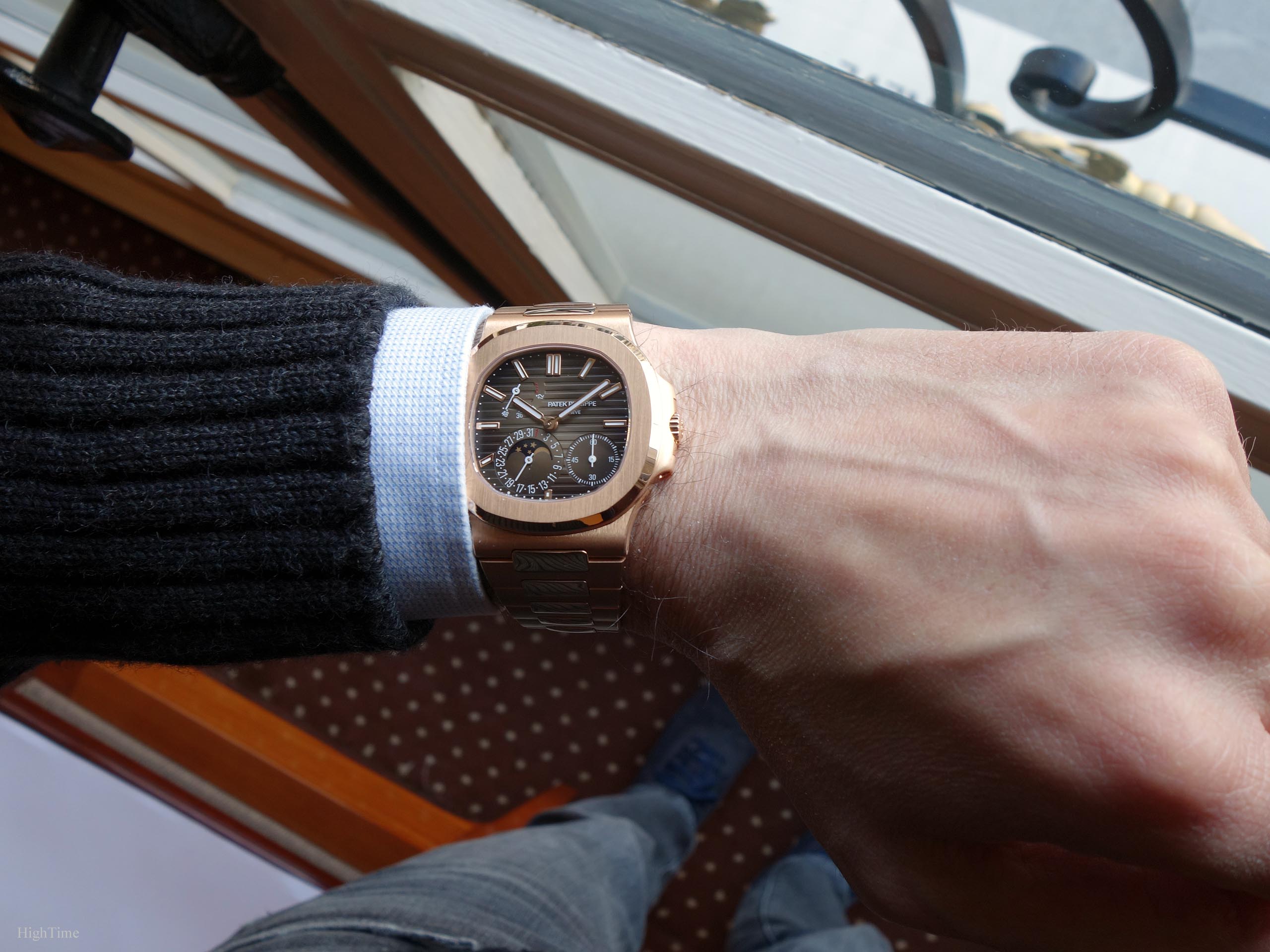 Generally, in the Nautilus or the Royal Oak, we are offered more usual modern dial choices: silver, blue or white. These colors certainly look more contemporary than brown (which isn't a dark chocolate tone) but I would say this one brings warmth as well as a kind of uniqueness considering not many watches can thrive that well with such traditional tone. Instead of playing on the higher contrasts, Patek has privileged a smoother coordination: it's a more conservative and more classical style, less subject to fashion trends. It has this little "authentic" touch I like when it comes to Patek watches. We could find the same idea in the 5905R or the Pilot 5524R. This being said, I would also like to see a modern blue dial in the future.
In the meantime, as with the 5170P/5172G or other 5235 models, Patek has used white printings for the dial. The resulting contrast adds an undeniable contemporary touch while remaing classical.
The dial, usually made from brass or maillechort, is pressed to give its relief and then placed in successive baths in which a chemical reaction provides its color. The color is, as always on the modern Nautilus line-up, very special and far from being made of only one tone and simple paint (this is due to the galvanic coating technique). Once again, it only can be fully appreciated in real. This is a significant craftsmanship I think Patek also masters beautifully and I would say over nearly anybody. In painting, managing different layers of textures and pigments is an art.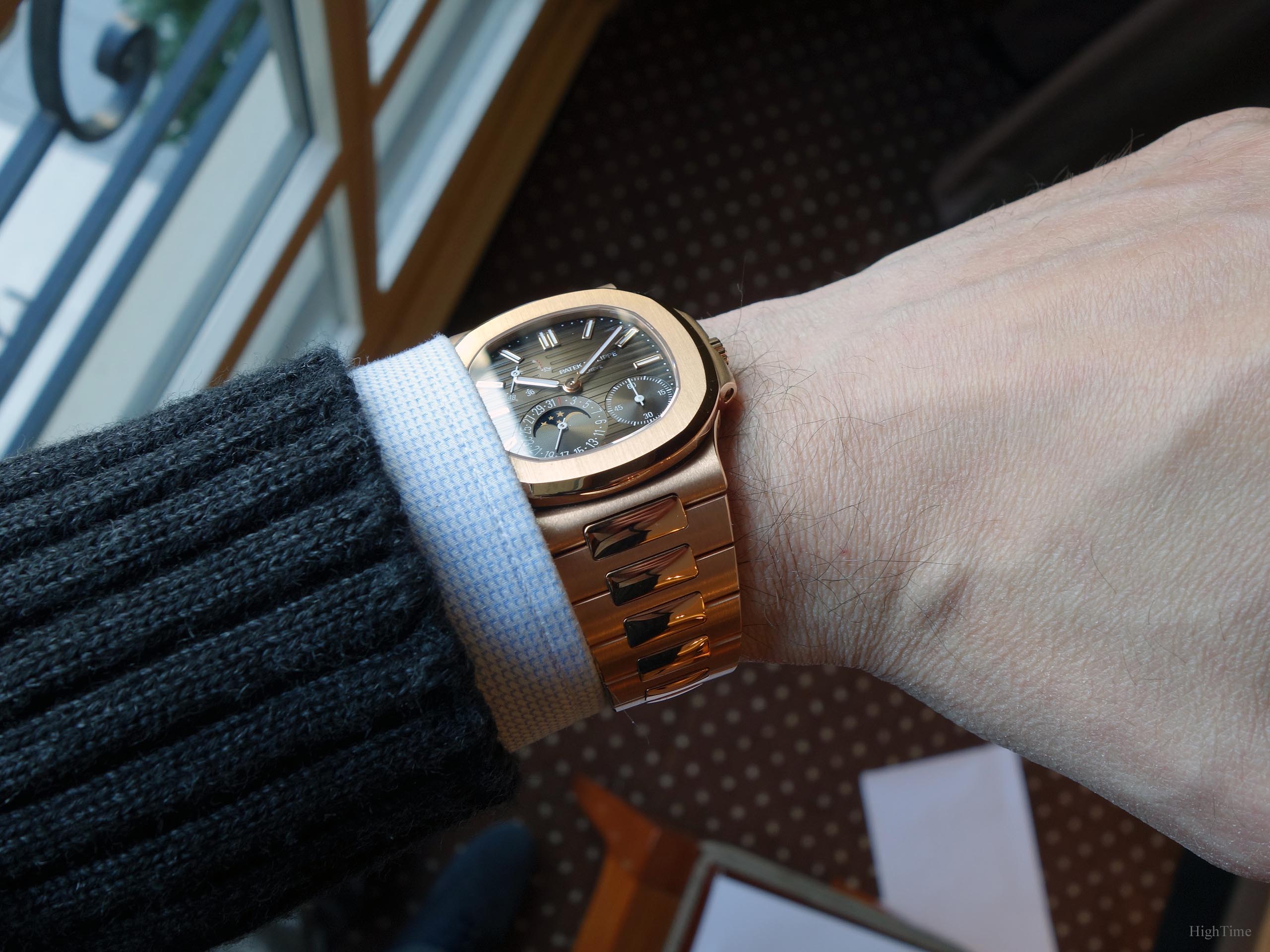 The rose gold applied markers and hands are still as beautiful as they don't look "squared" but very delicately edged in order to keep this visual softness in the dial composition. We already saw in the 5227R's review how the brand cares about every details and especially the markers' shape. As usual, they are filled with Luminova.
Only the real experience can show the powerful attraction it generates and I encourage you, buyer or not, to pay them a visit.
The famous micro-rotor caliber to set the deal
The 5712 includes simple and useful complications. The thin movement used for the 5712/1R is the charming, accurate and reliable 240 caliber base we find in the Perpetual Calendar version (5740G). It's beating at 21,600 vph and showcases its beautiful minirotor. For a 31mm diameter, it's rather slim: 3.98mm for this model and its additional complications, while it's originally 2.5mm.
The 22k gold minirotor, decorated with côtes de Genève, a striated beveling and deeply engraved with a Calatrava cross, is placed on a pearled background and participates to the overall wonderful impression the back leaves. Mechanically, the winding process is very effective (winding counterclockwise by a ball bearing system and 6 jewels) and its power reserve stands at 38/48 hours, indicated by a small hand at 10 o'clock.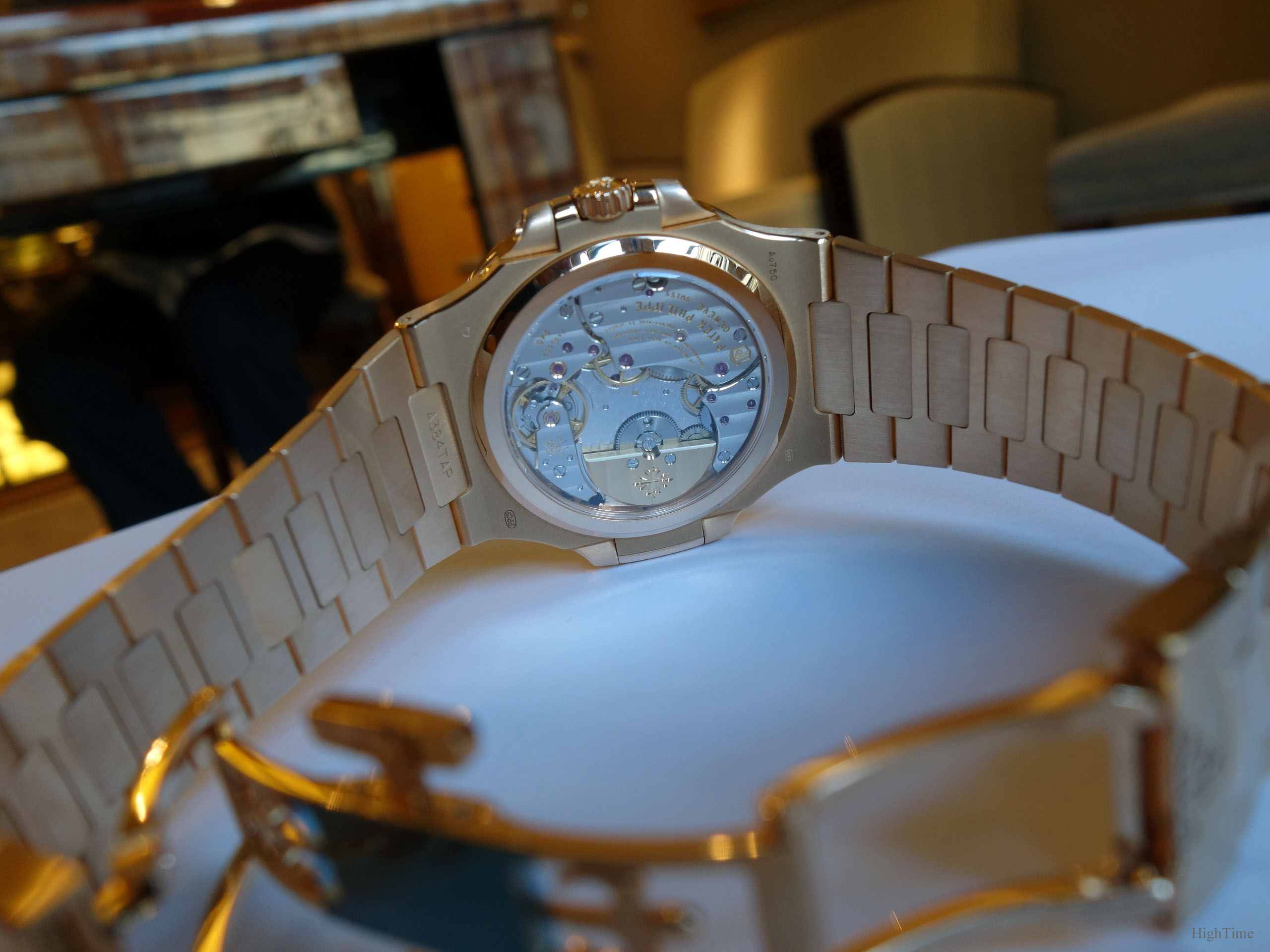 Aesthetically, as for other particularly well-finished watches, no picture reflects the quality of the finish as we can see with our own eyes. The style here is airy, delicate, elegantly shiny and particularly balanced in terms of colors (jewels, engravings, maillechort, brass). In two words: relaxing and refined.
The moonphase disk is a sapphire plate on which was projected gold particles in a vacuum, using a mask made to the right format. As for the date, the hands can be set by two small "invisible" correctors, located at 8 and 4 o'clock.
Like many movements leaving the manufacture today, the 240 caliber is here equipped with the Silinvar spiral (Spiromax) made of Silicon (anti-magnetic, lighter, less friction, no need for lubricant), ensuring an excellent time-keeping performance.
The watch is 60m water-resistant, less than other Nautilus models (same as the 5740G).
Conclusion and Thoughts
Even though the 5980/1R and 5990/1R exist in the catalogue, the Patek Philippe 5712/1R in rose gold is a major addition to the line-up. It's the only one among the thin references (5711, 5712 and 5740) and, hence, fills a need for owners wanting something a little more luxurious and expressive compared to white metals.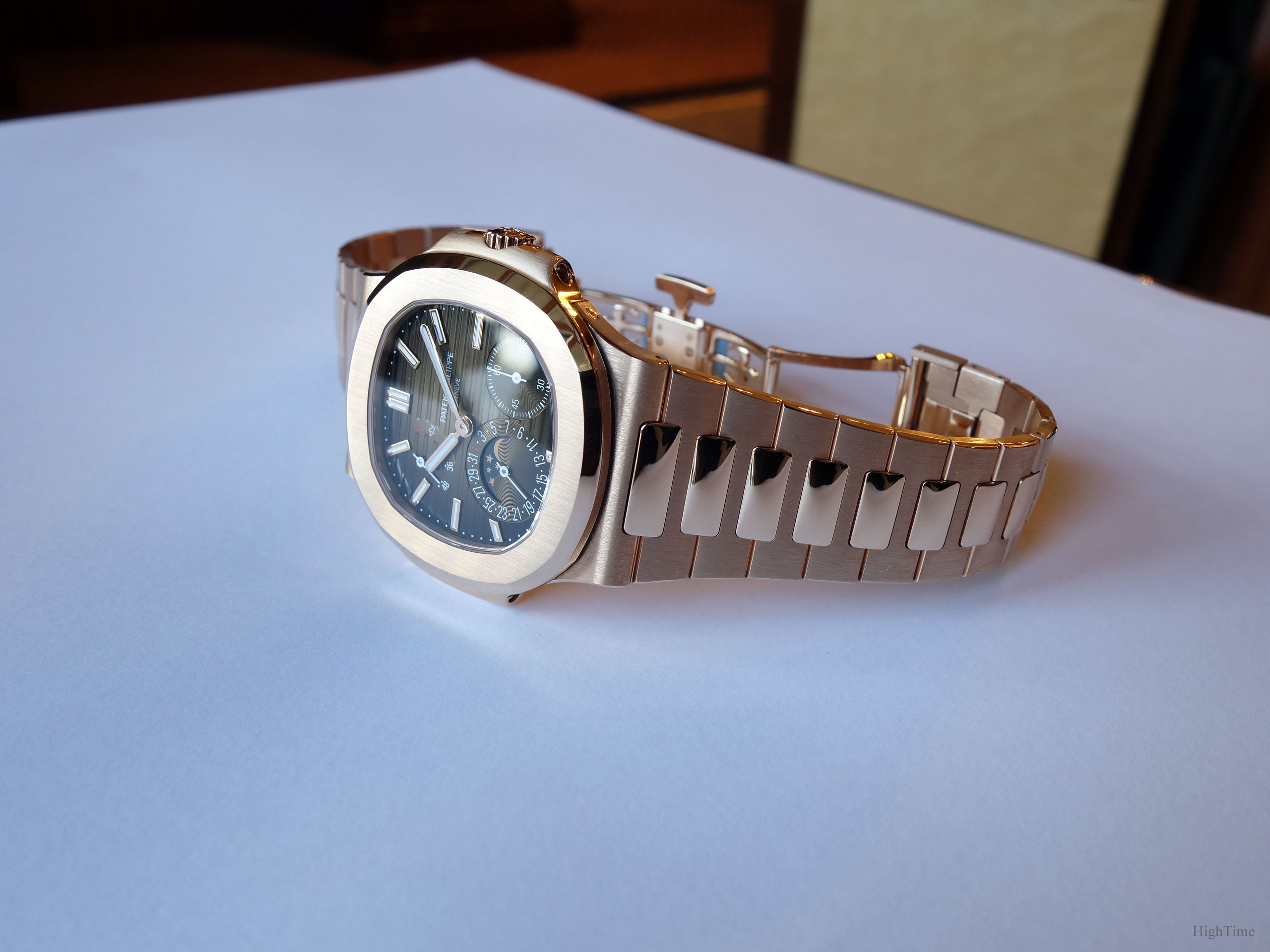 This version exhales a more "tasty", though less discreet, Nautilus "chic" that reveals to be powerfully attractive. Gold brings more than steel in terms of light play, it doesn't show its coldness. It's of course to the detriment of lightness, hence why the material choice isn't only a question of color but also of spirit association. For sure, a hefty gold watch feeling is worth it. The gold "chic" is another unique appealing aspect of a watch and defining part of the luxury world this watch belongs to.
Finally, Patek has chosen to remain in a similar line as the 5980 which also has a black dial that looks a little brown thanks to rose gold reflections. I was at first thinking it could have had a younger dial look but I came to fully understand Patek's direction and think it's a good choice on the long run while the 5712/1R will keep its "retro" charm, inherent to the brand's DNA. Just a matter of taste as I believe the general offer should be widen in order to satisfy so different client profiles over the "larger" world.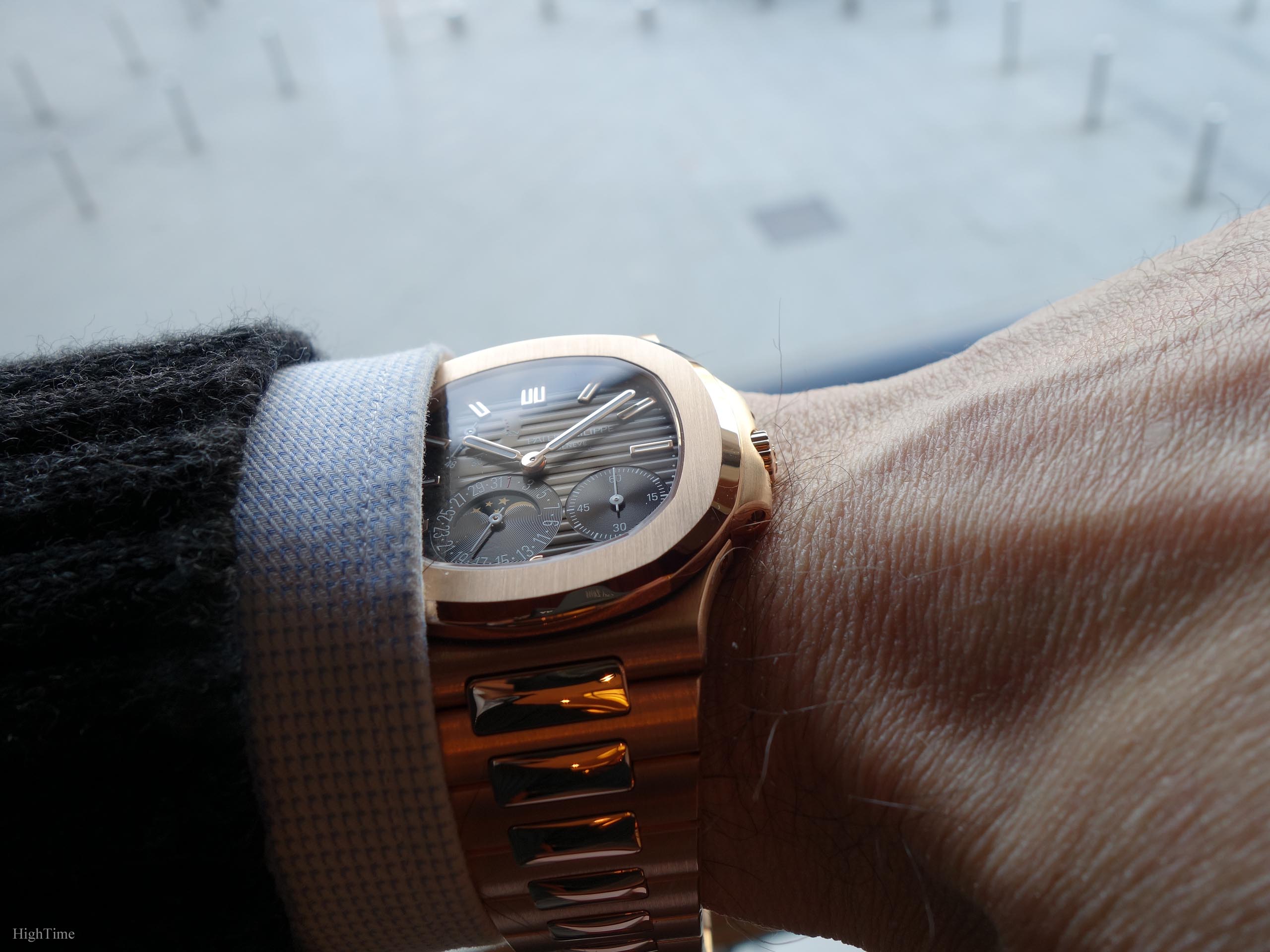 However, thinness is a core ingredient of Patek Philippe's legacy, a complication on its own, an atmosphere that can't be found in a bigger watch. I love that version (but I'm biased as I love nearly all the Nautilus family) and would totally accept this rose gold bracelet reference on my wrist as it brings something that white metals don't. The Nautilus is one of the most sought-after watch on the market and, aside of non-watchmaking-related aspects, there are very solid reasons why.
You can find the clickable Nautilus timeline from its birth in 1976 to 2016 (40th anniversary) here:

The MSRP for the Patek Philippe 5712/1R Nautilus is 82 100 € (incl. VAT) as of today (late 2022) and you can, as usual, find more information on the brand's website, here:
The Nautilus 5712/1R on Patek's website
Thank you for reading!